How to Make Longer Videos for Instagram with Quick Guide

Vanessa Chiang updated on Dec 11, 2020 to Video Editing Tips | How-to Articles
If you want your audience to pay quite a longer attention to your videos on Instagram, you are going to have to make your videos longer. There are many benefits to making your videos longer than how they originally are. You may want to increase the length of your video because you want people to watch it for a longer period.
Regardless of the reason why you want to make your Instagram videos longer, doing that is fairly easy and there are several methods for it. This guide covers some of the easiest ways to make videos longer for the Instagram platform. The guide covers multiple tools so you are not tied to a single product to work with your social media videos.
Part 1. Make a Video Longer for Instagram with EaseUS Video Editor
Whether you are a newbie to Instagram or you are a seasonal user, sometimes it is difficult to come up with a video that is long enough to be posted on your Instagram account. If you have found yourself in this situation, you may probably be looking for ways to make your Instagram videos longer.
Luckily, it is possible to make your videos lengthier than they originally are for your Instagram account. The software that allows you to do this is called EaseUS Video Editor. This versatile software enables you to trim, split, crop, and rotate videos. It offers multiple ways for you to turn your shorter clips into reasonably large-sized videos for your social accounts.
Using this software is as easy as clicking a few buttons. All you need to do is add your Instagram video to the software and you can then make it longer from there.
Stunning Features of EaseUS Video Editor
Trim, split, trim, mix, rotate and merge videos
More than 300 visual effects and 50 transitions
Speech & Text converter makes it easy to add subtitles
Share your video to most trendy video platforms in one step
Method 1. Change Video Speed to Make a Video Longer
If your video already has the required content in it but it is still too short, one way to make it longer is to change the speed of your video. When you capture a video using your camera or smartphone, your video is recorded at a normal speed. However, using EaseUS Video Editor, you can slow down the speed of your video and make it longer.
Slowing down your video makes the video play slowly, which in turn increases the length of the video. This might sound a bit difficult to achieve but it is pretty easy to do that in this software. The following shows how to do it.
Step 1. Select an Aspect Ratio
Open the software and you will be immediately asked to select an aspect ratio for your video. Depending on what type your video is, select one of the options on your screen and continue. This ratio size will be used for the video that you are looking to make longer.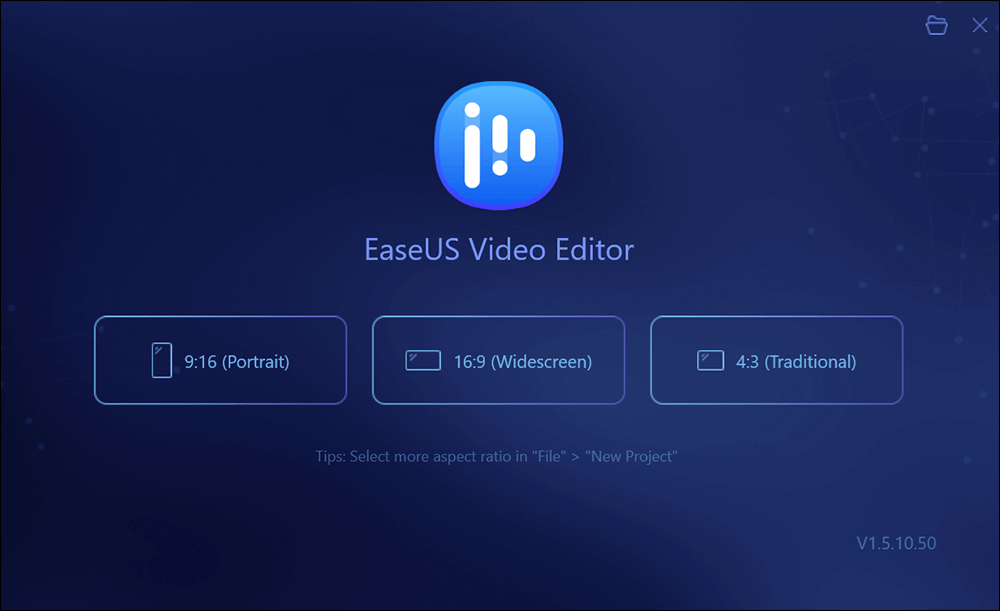 Step 2. Add Your Instagram Video to the Software
Once you are done choosing an aspect ratio for your Instagram video, the second thing to do is to add your video to the software. You can do this using multiple ways. One way to do this is to click the "Import" option and select "Import File". Find your file and add it to the software.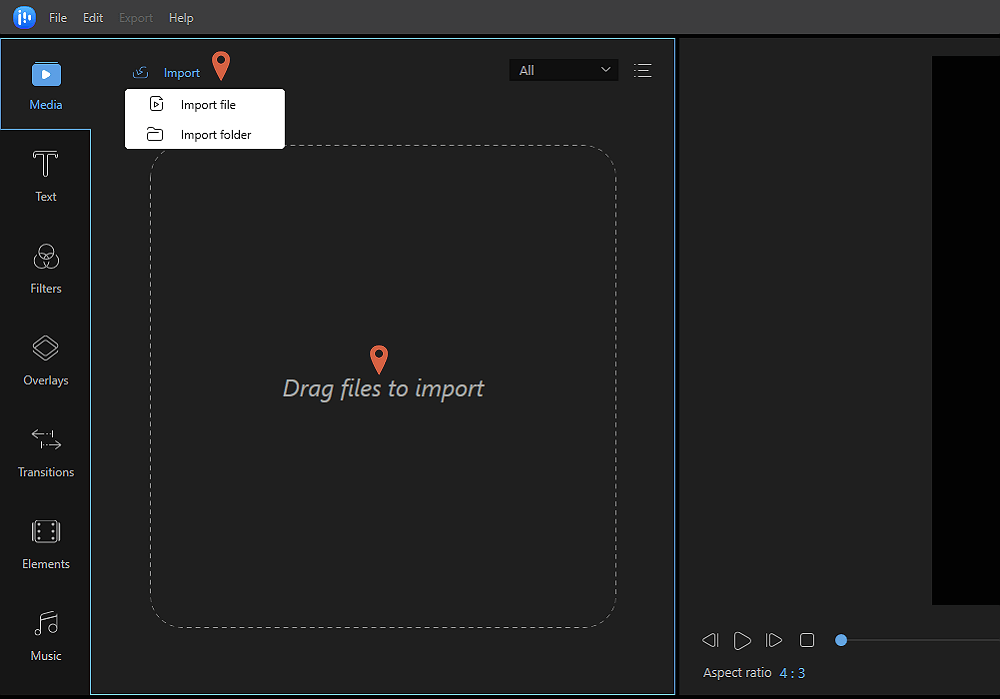 Step 3. Change the Speed to Make Your Video Longer
Drag your video over to the timeline so you can edit it. Right-click on your video in the timeline and select "Edit" to view the video speed option. Drag the "Speed" slider to the left and your video will become longer. Then, click on "OK".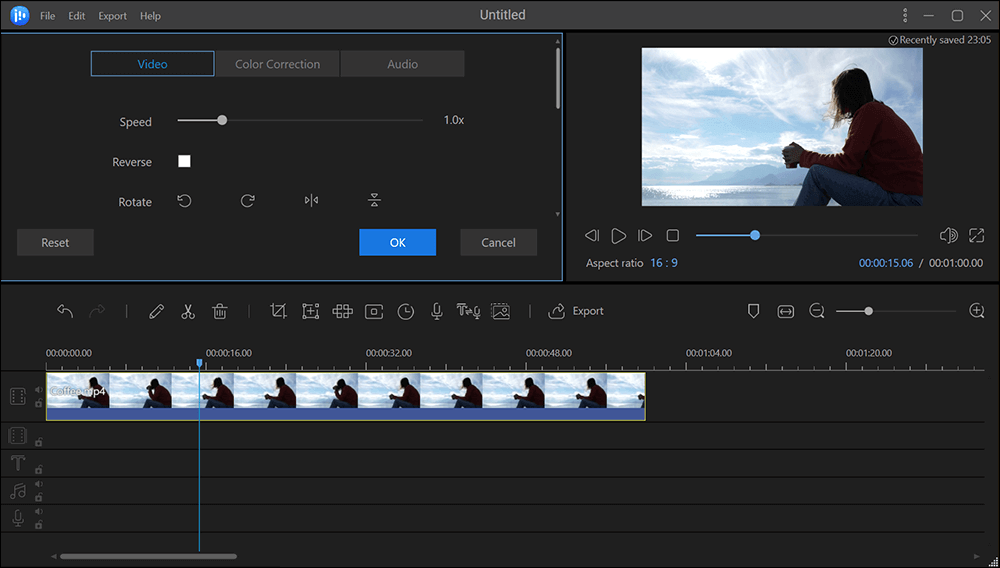 Step 4. Save Your Longer Instagram Video
Take a look at the preview of your video and see if it is all good. If it is, you can now save it to your computer. Click on the "Export" menu at the top, choose the "Video" tab, and select a format for your video file. Then, click on "Export" at the bottom to save your edited video.
Your video should now be longer than what it was before. You can play it using a media player to see that for yourself. When you are ready, you can upload this longer video to your Instagram account from your smartphone.
Method 2. Add Elements to Make a Video Longer
While slowing down is one way to make your Instagram video longer, another way to do that is to add elements to your videos. For example, you can add some relevant photos to your video and that will make your video longer. You can add photos in between your video clips and this will increase the total length of the video ensuring it fully utilizes Instagram's allowed limits.
You can use the same EaseUS Video Editor to add content like photos to your videos. There are some easy-to-follow steps to do this and the following walks you through these steps.
Step 1. Choose an Aspect Ratio
Launch the software once it is installed and choose an aspect ratio for your video file. This ratio depends on what your video is like, but you should get the idea of what to choose from the aspect ratio images on this screen.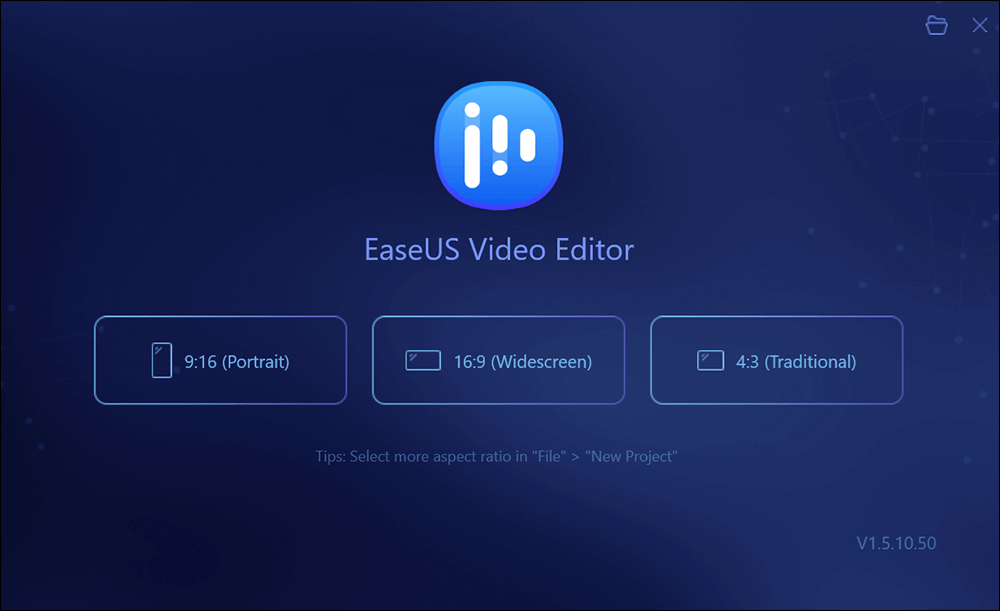 Step 2. Load Your Instagram Video in the Tool
After you have selected an aspect ratio, you need to add your Instagram video to the tool. You can do this by clicking on "Import" followed by "Import File". Then, navigate to where your video is saved and double-click on it to add it to the tool.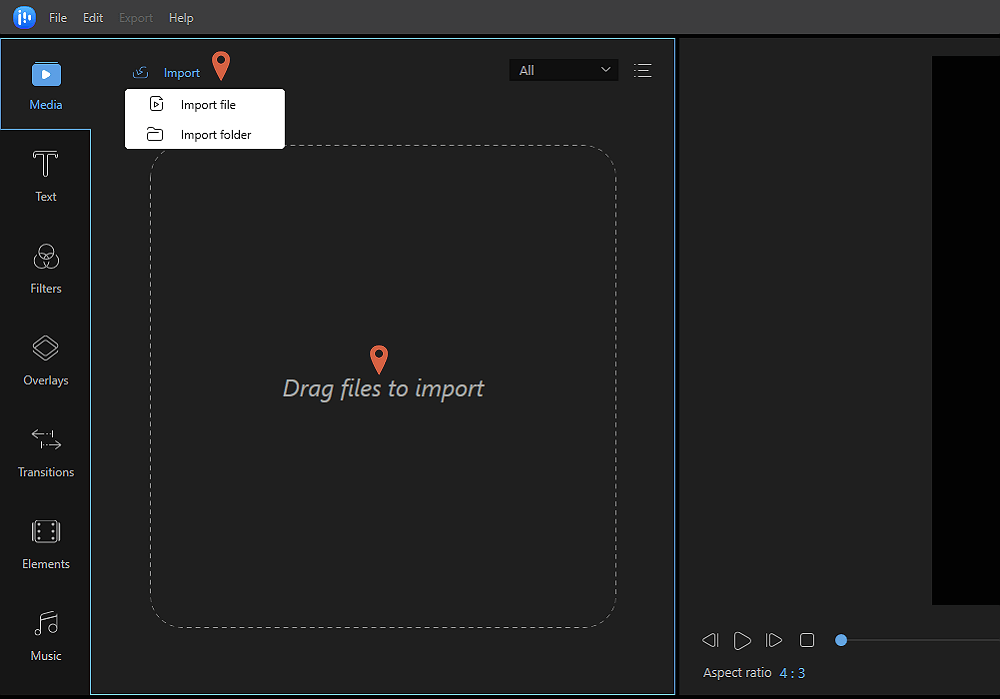 Step 3. Split Your Video Into Multiple Parts
To add a photo in your video to make the video longer, you will need to split your video into multiple parts. To do this, drag your video to the timeline, move the playhead to where you want to split the video, and click on the "Split" option.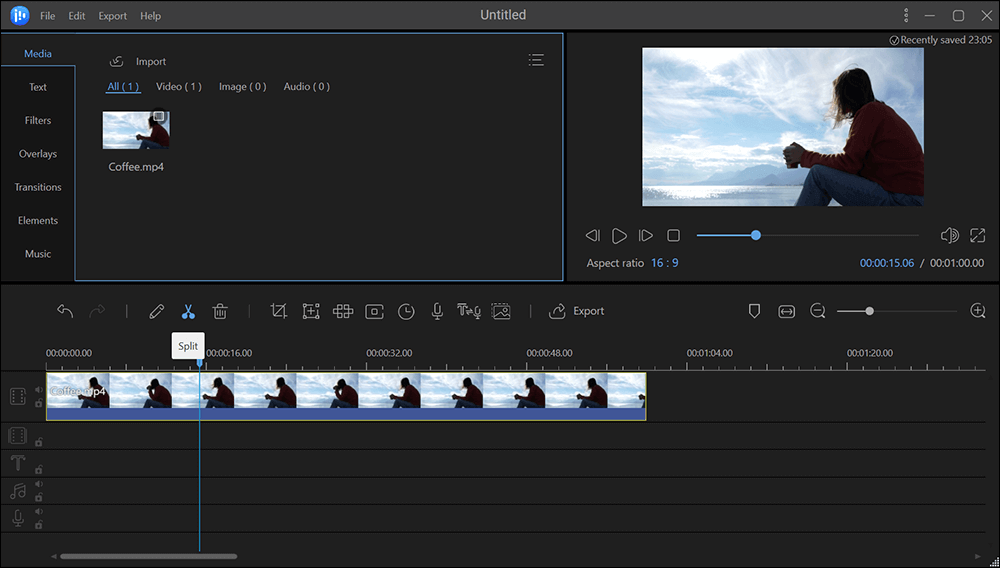 Step 4. Add a Photo to Make an Instagram Video Longer
Once the video is split, add your photo to the tool. Use the steps for adding a video for this. Then, drag the photo and place it where your two split clips meet. Your photo will sit there.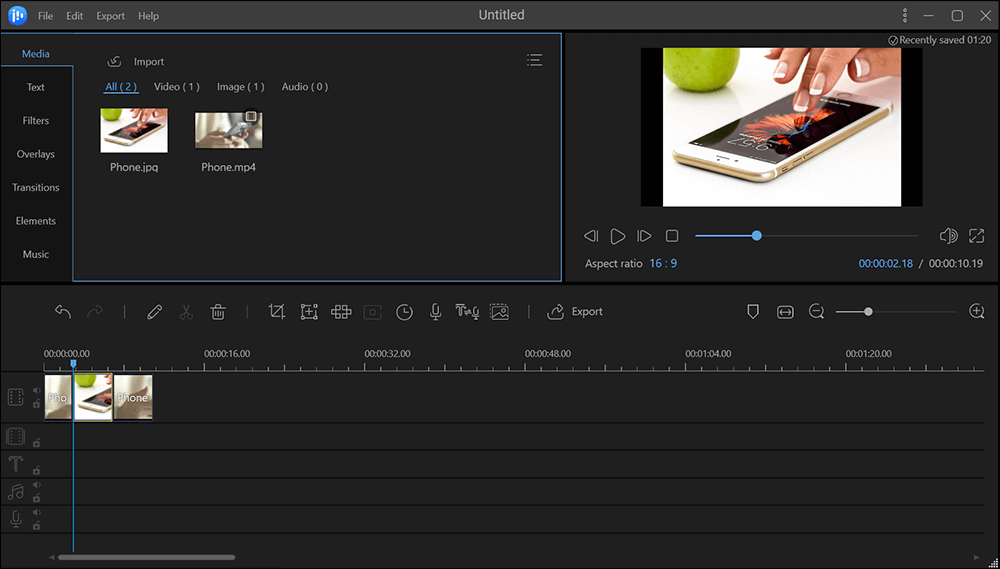 Step 5. Export Your Longer Instagram Video
Now that you have made your Instagram video longer, it is time to save it to your machine. Click on the "Export" menu at the top, select the "Video" tab, and click on a video format. Then, hit "Export" at the bottom to export your video file.
Part 2. Make a Video Longer for Instagram with Online Tools
Desktop programs are ideal for making your Instagram videos longer when you have many of them to edit. If you are only looking to make a few videos longer, then you are better off using an online tool to do your task.
These online tools may not have as many fancy features as the software mentioned above, but they get the job done to some extent. Like said, you should only use these tools when you do not want to install a program on your computer.
The following two tools will help you make a video longer for Instagram using your web browser.
Tool 1. Clideo Loop Video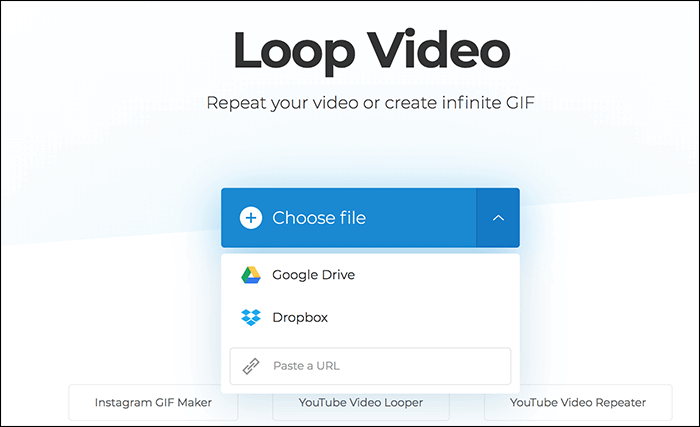 One of the ways to make your Instagram video longer is to loop it infinite times. This helps you show the repetitive video to your audience, and this is sometimes good to do. Clideo Loop Video is an online tool that allows you to do just that. All you need to do is upload your Instagram video to this service and it will turn the video into a longer video for you by looping it.
Since it is a browser-based tool, you do not need to download or install anything on your computer. You can simply launch a browser, head over to the tool, and make your Instagram videos longer.
Pros:
Upload your Instagram videos from multiple sources
Support for several video formats
User-friendly interface
Cons:
Upload files could take too long
Not ideal for several Instagram videos
Does not have as many features as other video editors
Link: https://clideo.com/loop-video
Tool 2. Kapwing
If you do not already know, Kapwing is an excellent resource for editing your videos online and it offers solutions for making your Instagram videos longer as well. The tool that makes that happen is called Loop Video at Kapwing and you can use it to continuously loop your videos so that it becomes longer. It has support for GIF images as well if you want to use those.
Once you access this online service, all you need to do is either upload the video from your computer or enter the URL of the video. It then allows you to loop your uploaded video so that it is lengthier than what it originally was. You can try this for as many times as you want.
Pros:
Add videos from your computer and web URLs
Specify the number of times you want to loop your video
View the final video size before saving the video
Cons:
Download the video could take forever
Relatively a difficult tool to work with
The free version adds a watermark to your videos
Link: https://www.kapwing.com/tools/loop-video
If you are looking to make your Instagram videos longer, the above tools have covered you.
Part 3. Instagram's Requirements for Video Length
If you are an avid Instagram user and you often upload content to it, you are probably aware of the ideal lengths for various videos that you post on this platform. In case you are not sure what those lengths are and you would like some guidance on that, the following will help you out. 
Instagram Feed
Instagram feed is the most common way people access updates from various accounts. The ideal length for an Instagram feed video is anywhere between three to sixty seconds. This is a pretty sufficient time to get your message across to your viewers.
Instagram Stories
The second most popular content type on Instagram is Stories.  Instagram allows you to post Stories with a maximum duration of fifteen seconds. If your video is too short, say five seconds, you may want to make it longer so that it fully utilizes the fifteen-second allowance on Instagram Stories.
IGTV
IGTV is the only Instagram content type where you can post videos that are up to ten minutes in duration. This gives you enough time to tell even longer stories in your videos. If you find your videos are way too short to take full advantage of the ten minutes limit, making your videos lengthier is a good idea to implement.
Instagram Ads
Lastly, if you are running advertisements on Instagram, you may want to make sure that your video ads meet the ad requirements. Instagram lets you post videos up to sixty seconds long in advertisements.
Conclusion
If you believe longer videos perform well on Instagram, then you might want to turn your shorter videos into longer ones. There are many tools to do that but none comes close to EaseUS Video Editor. That is because this tool lets you use multiple ways to increase the length of your video. If you prefer to use an online tool, you have a couple of options to try out as shown above.