How to Increase Video Volume Online & on Windows/Mac

Vanessa Chiang updated on Jun 25, 2021 to Video Editing Tips | How-to Articles
Have you ever encountered this situation: you tried your best to hear the sentences in an important video, but the volume is too low to be heard. This problem may make you miss some essential information and then cause a series of troublesome issues.
This post will solve this irritating problem by introducing some useful video volume boosters and teaching you how to increase the volume of a video with them. Terrific video volume increasers are listed to meet users from all operating systems - Windows, Mac, and mobile devices. 
How to Increase Video Volume Online - 2 Ways
How to make a video louder? The online tools will effortlessly solve this question. You can directly boost your video volume online from a web browser. Online video sound boosters are free, needing no download or installation.
This kind of tool is also able to increase video volume online free. The content below introduces the best two software to increase your video volume online. They are:
1. VideoLouder   
VideoLouder provides a free online volume booster. This software is easy to use and is also convenient to increase the volume of YouTube videos. This program supports importing many common-use video formats, such as AVI, MPEG, MPG, MP4, MOV, and XVID.
But this website is not flawless, and it only allows you to upload 500MB video files.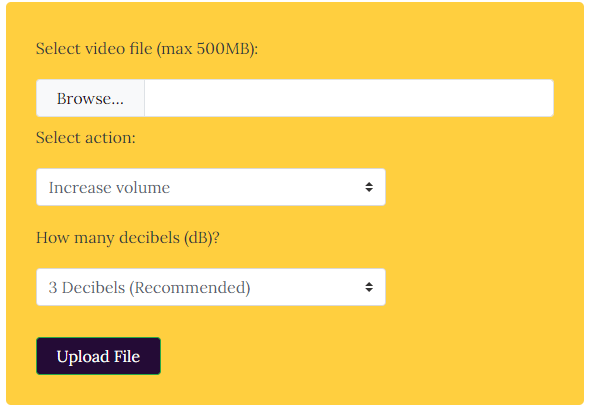 Pros:
Support online increasing video volume
Support importing plenty of files format
Support free to use
How to Increase Volume in Video:
Using this website to increase your video volume is so easy. It only needs three steps.
Step 1. Click "Browse" to import the video files you want to increase.
Step 2. In the "Select action", click the arrow button. Then you can see the "Increase volume" button, and you can click it.

Step 3. In the "Decibels" button, you can also choose the decibels you want and then click the "Upload File" button to upload your convert video.
2. FileConvert
FileConvert is a free MP4 volume increaser. This online tool is working from your web browser, and you don't have to install any software to use it.
Using this website, you do not need to create an account to increase video volume online for free with this video volume booster.
How to Increase MP4 Volume Online: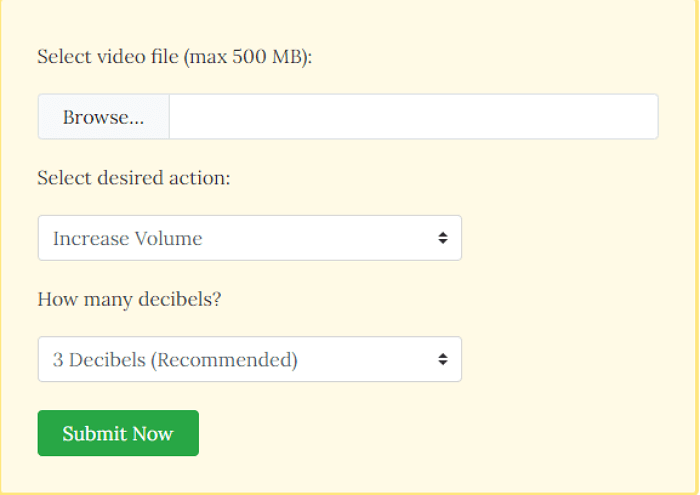 Step 1. Click "Browse" to import the video files.
Step 2. Click the arrow button, choose "Increase volume".
Step 3. Select the decibels you need, then click "Submit Now" to upload your video.
How to Increase Volume of Video on Windows - 2 Ways
How to make videos louder on Windows 11/10/8/7/XP? It's not difficult since there are enough MP4 volume increasers.   In this part, you will find two effective and qualified video editing tools to help you enhance the audio in the video. 
EaseUS Video Editor is a user-friendly program to increase the volume of videos. With this software, you can easily adjust the volume of your videos with several clicks. And besides that, many other functions are available for editing your clips. 
For instance, you can extract audio from video and export it in any audio formats this tool supports. This video sound enhancer supports the most popular audio formats, including WAV, MP3, M4A, FLAC, etc. You can also use it as an audio speed changer to customize the speed of the audio with a few clicks.
Main Features:
Adding music to video easily
Support adjusting video volume
Add sound effects to video
Support most of the popular audio formats
As a versatile video and audio editor on Windows, this program solves various problems in audio editing for you. If you need it to increase the audio volume in your videos, you can click on the button below to download it.
How to Make Videos Loud on Windows:
We will offer beginners a detailed tutorial about using the video sound booster tool of this program. You can follow it to adjust the volume of the audio.
Step 1. Import Video
Choose the desired aspect ratio to begin. Click the "Import" function to add your video to the Media area.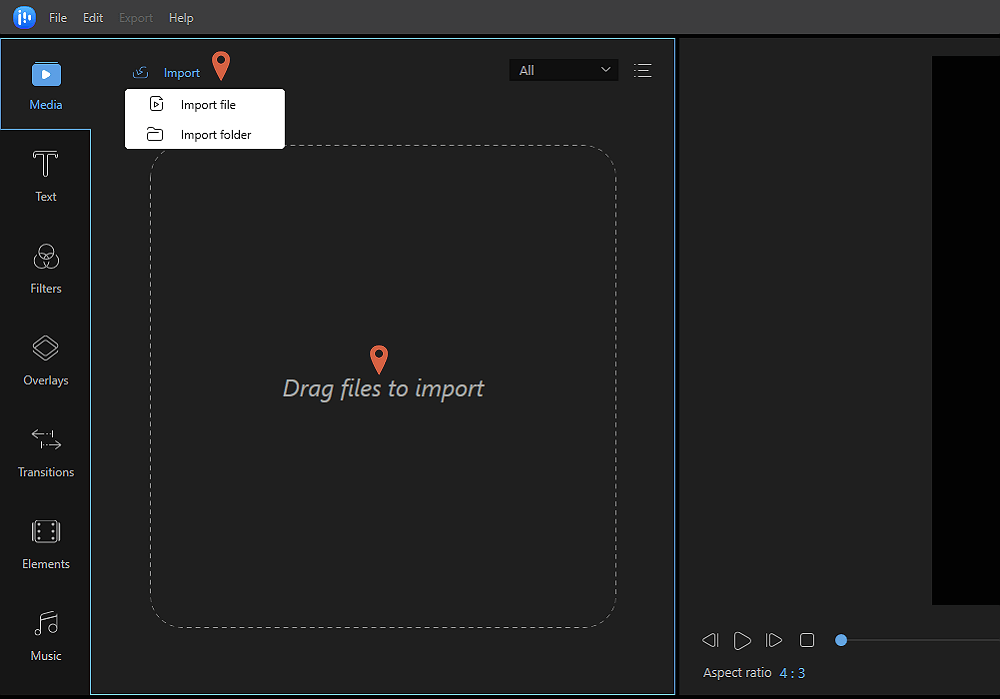 Step 2. Adjust Video Volume Louder
On the right side of the main screen, you can see a Volume button, click it, then you can adjust the video volume louder.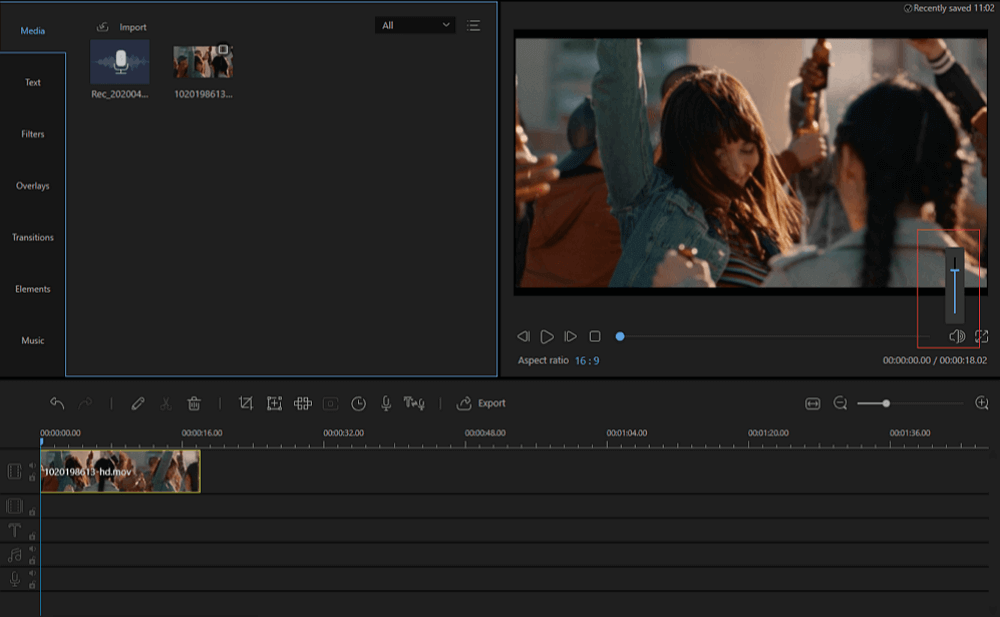 Step 3. Edit Background Volume
If you want to increase your background volume when you are editing your video. First, you need to add background music to your video, and then repeat step 1 to adjust lower video volume. In the end, select music and click "Edit" button, you can see a volume button in the top, adjusting louder or lower you want. When you finish your operation, click "OK" to save you edit.
Step 4. Export Video
After editing your video, save and export your video. You can export your video to any popular video format. And you also can choose TikTok, YouTube, Facebook, Vimeo, and many others and directly upload the ready-made vlog video to the vlogging platform.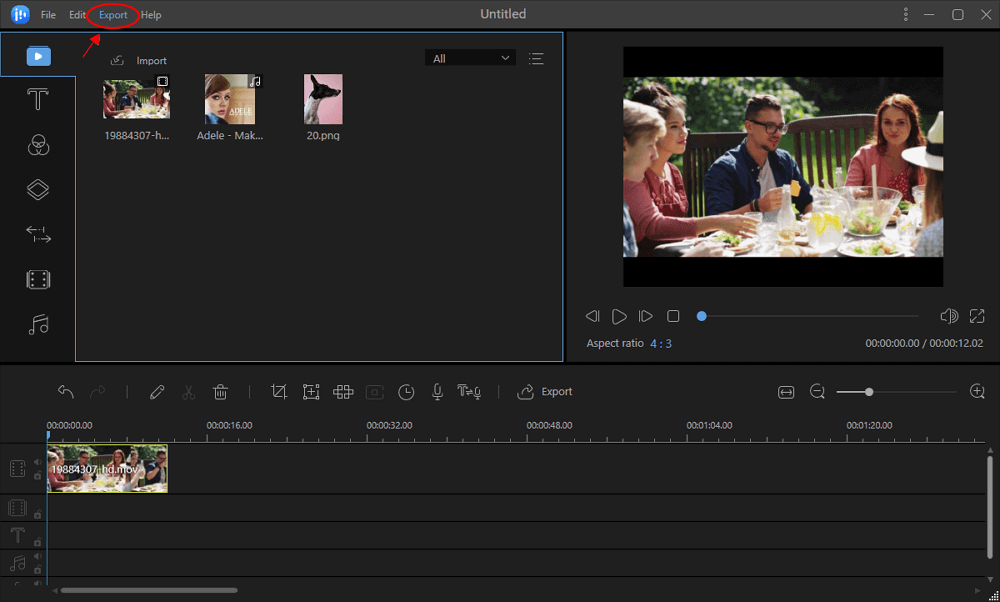 2. VideoPad Video Editor
How to increase the volume of a video? VideoPad Video Editor is a good answer to this question. It is free video editing software developed by NCH Software.
This app provides many extra video editing functions, such as adding text, adding effects, adjusting video volume, etc. In addition to that, it can also work as a video audio enhancer.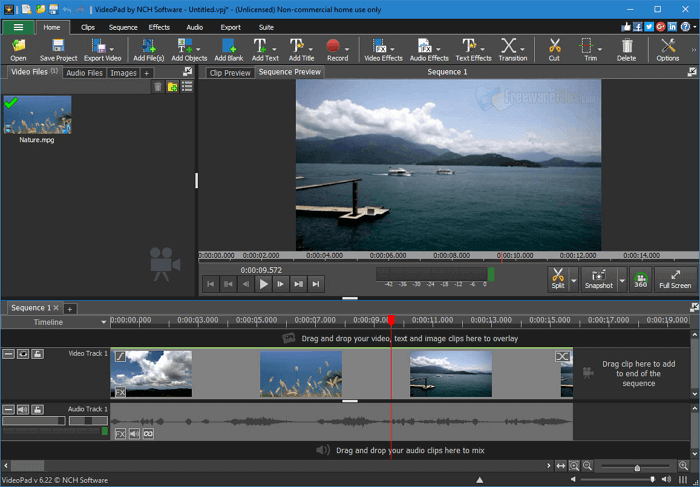 Pros:
Support 50+ visual effects and transitions
Support basic 3D video editing
Support to boost video volume
Support to reduce camera shake
Cons:
Lack of advanced video editing features
How to Make Videos Louder:
Step 1. Click the "Add File" button, import your video, and add it to the video track.

Step 2. In the "Audio Track", click the arrow, you can see the "Track volume" and "Track stereo pan" buttons. In "Track volume," you can make your video sound louder.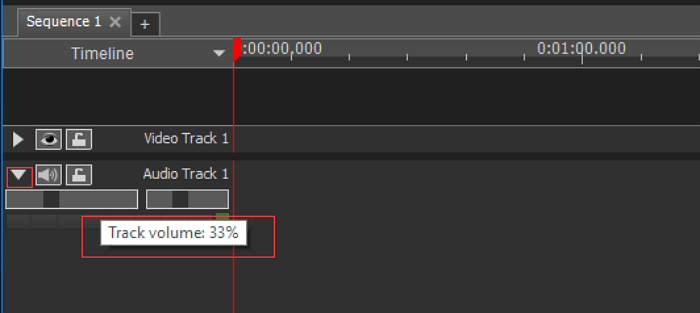 Step 3. Click the "Save Project File" at the top of the screen to save your video.

These two boost video volume methods are using in Windows. Next, I will introduce the method in Mac.
How to Make a Video Louder on Mac - 1 Way
iMovie is the in-built video editing software exclusively for Apple users. The software can work as a video sound enhancer that easily makes your videos louder, be they ordinary videos or YouTube videos.
Furthermore, it also offers filters, transitions, music, text, effects, and additional sound effects to touch the final video.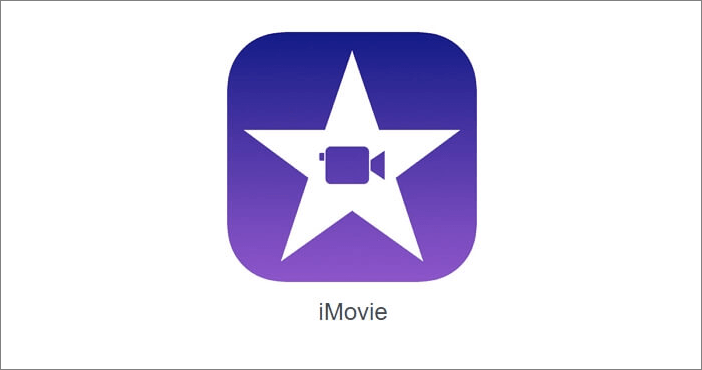 Pros:
Support HD & 4K video
Support boosting video volume
Support video speed change
Support adding video effects and transitions
Cons:
Not support Windows users
How to Increase the Volume of a Video with iMovie:
Step 1. Import the video, and select a clip that you would like to adjust.
Step 2. To show the volume controls, click the Volume button. Then adjust the volume louder.

Step 3. Apply this effect, and save your operation.
How to Make Video Louder Using An iOS/Android App
If you are a deeper phone user, you may really want to find a grateful video volume increase app on your phone. Lucky for you, on this part, I will share with you a video sound enhancer that can help you to increase the audio volume on your portable devices.
AudioFix is a powerful video volume booster app that can instantly adjust and denoise your video's audio. This app is fit for Android and iOS phone systems. No matter which system you use, you both can use this app.
This video sound booster offers an adjustable 6-Band EQ giving you full control of the sound of your video. And you also can use this program to extract the audio from the video. But this app only allowed you to download 1 free video export, and if you need unlimited exports, you may need to pay for it.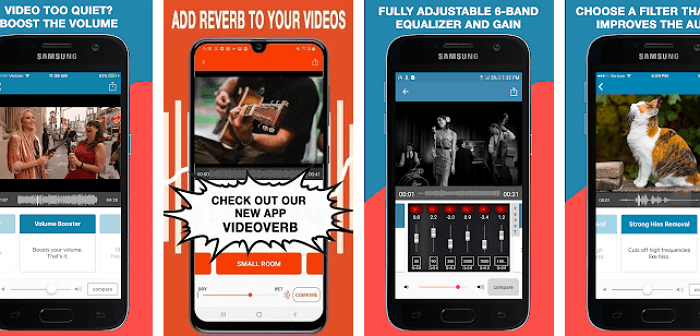 Pros:
Automatically boost the audio in your video
Use a 6-Band EQ to adjust the gain and Q of any frequency fully
Support reducing the noise in the video
Extract and export the audio from your video
Cons:
Often happen software crashing
Spend a long time to upload
How to Use the Video Volume Increaser on iOS/Android:
Step 1. Import or shoot a video in this app. 
Step 2. At the bottom of the main screen, you will see some voice-setting buttons. Select the one you need and apply it, and you also can adjust the audio volume at the bottom.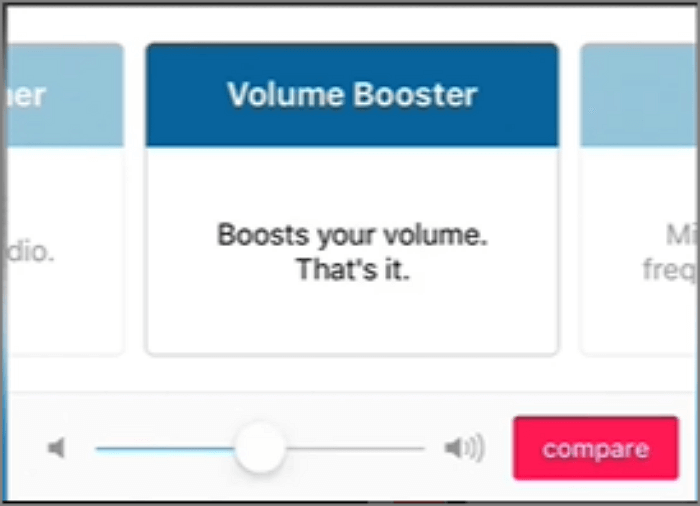 Step 3. When you finish editing, you can select to save the video on your phone or share it online if you want to extract the audio from the video.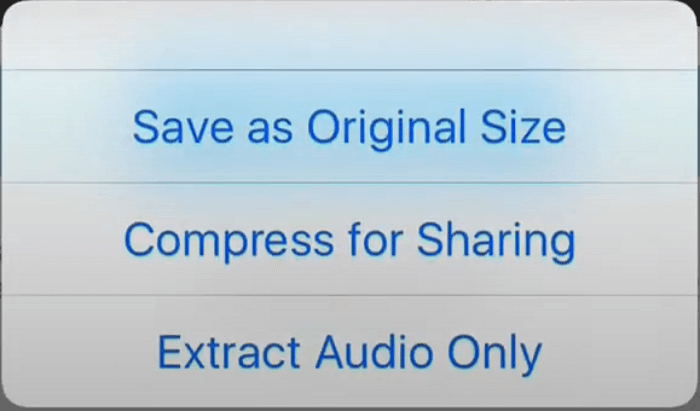 Conclusion
This post solves questions like "how to increase the volume of video" or "how to make video louder". 3 different kinds of tools are introduced - online video editor, desktop video editor, and editor for phones.
If you seek one software with the most stable performance, EaseUS Video Editor will not let you down - it helps you increase video volume effortlessly.