Top 12 Best Birthday Video Maker with Song Free Download

Jane Zhou updated on Jul 30, 2021 to Video Editing Tips | How-to Articles
How to combine photos, video clips, text, and music to make a happy birthday video? If you are making every effort to look for a happy birthday video maker with free templates and songs, you are in the right place. Here we will share the top 12 best free birthday video maker app, which can work well on PC and mobile devices. Read on to find the best happy birthday template video maker that fits your needs.
5 Best Birthday Video Maker for PC
What is the best free birthday video maker for PC? After reading this part, you will find the answer.
You can create your amazing birthday video with this easy-to-use birthday video-making app. EaseUS Video Editor enables you to create incredible video effects like never before. Whether you're a weekend GoPro shooter or a full-time vlogger, you need a powerful yet easy video editor to make impressively professional-looking videos. It has many fantastic features:
Trim, cut, split, rotate, and merge videos
Various simple or complex transitions/filters/overlays are available
Support multiple video and audio track
Create video from photos easily
Support almost all popular video and audio formats
Birthday video maker software free download for PC! 
How to create a happy birthday video on PC with EaseUS Video Editor:
Step 1. Import Pictures and Add to Timeline
Open EaseUS Video Editor, select the correct aspect ratio. Then import target files, clicking "Add to Project" or dragging it into the EaseUS Video Editor timeline.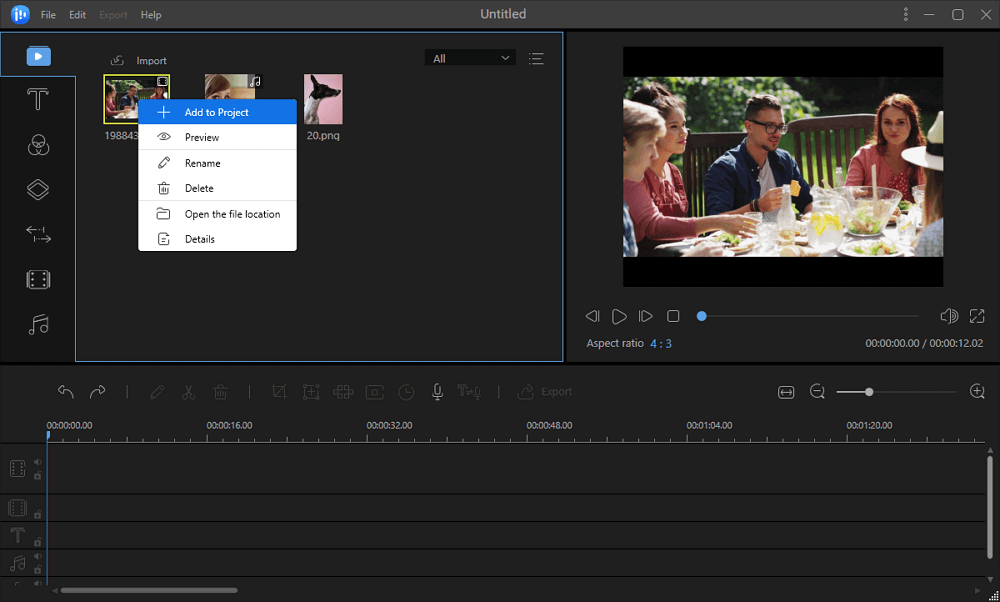 Step 2. Add Filters to Pictures
Choose the Filter style you want to use, drag it to the Filter track in the timeline. Or you can right-click the Filter style and select "Add to Project" to apply the feature to your video as well. Click "OK" to save the changes.
Using this method, you can add different effects to each photo to make them look unique.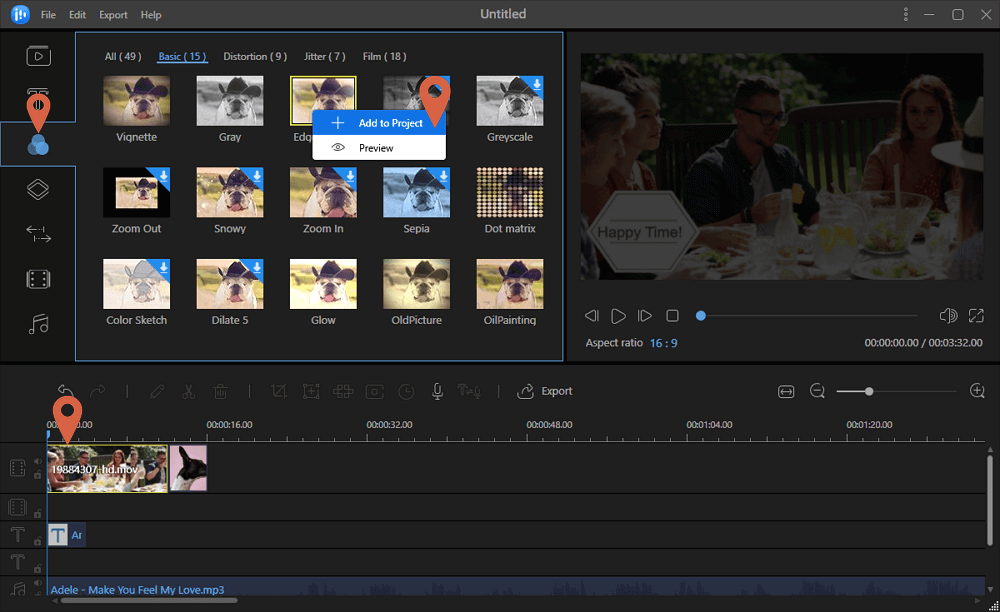 Step 3. Add Transitions to Pictures
Select the picture and choose the transitions style you like. Then clicking "+" or drag it to the track in the timeline.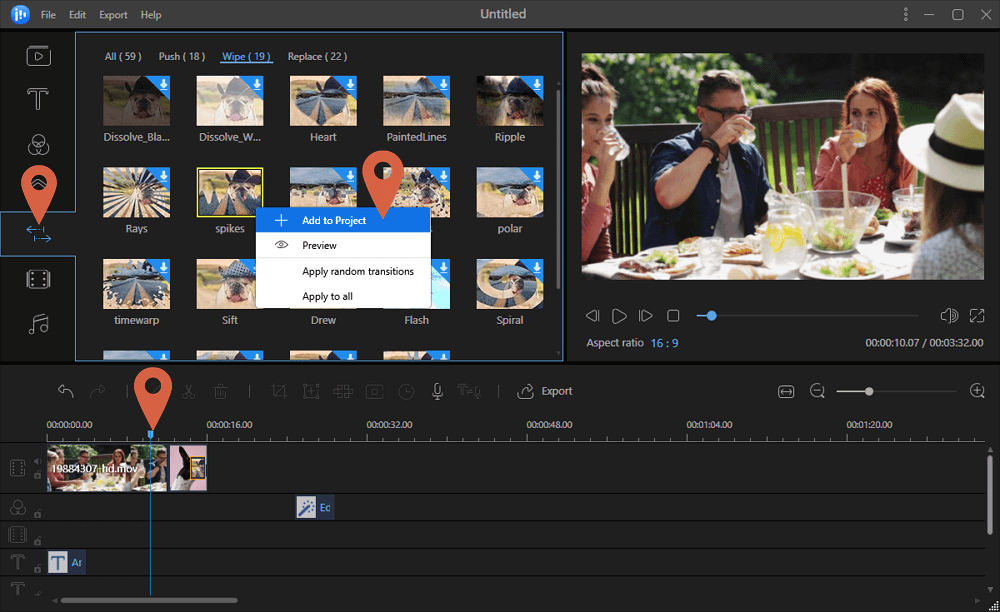 Step 4. Add Music or Import Music in Video
You can click "Music" on the left panel to choose music to add to the video. EaseUS Video Editor offers you many types of audios, including Relaxing, Brisk, Fusion, and Sound effect. Then, right-click the desired music effect and click "Add to Project" to put it to the timeline.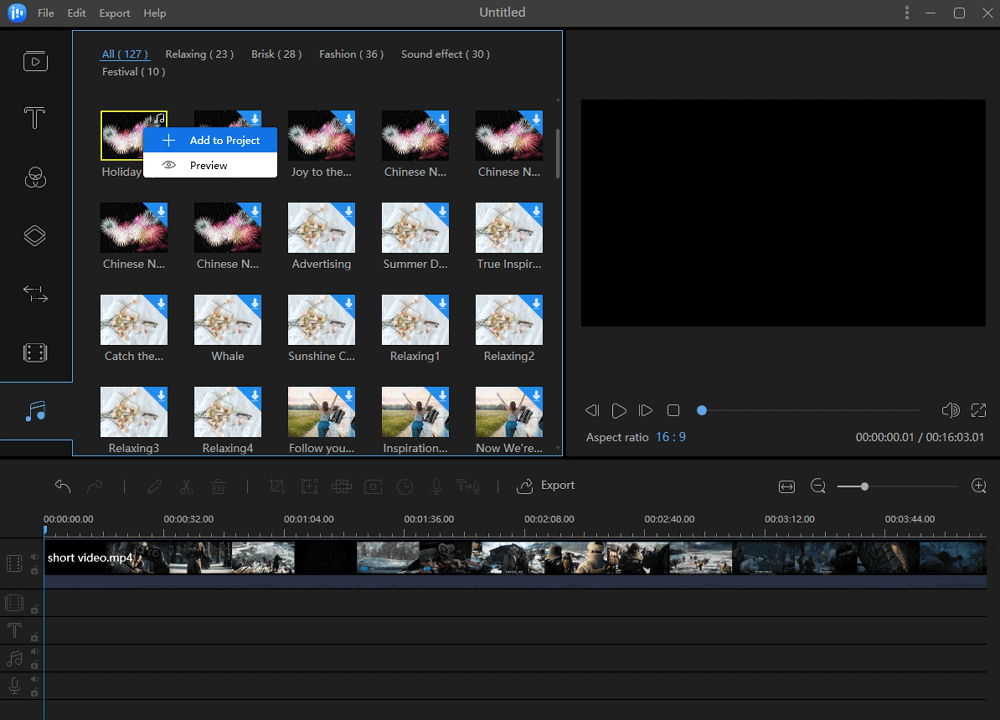 Or, you can import a favored music file and right-click to add it to the project.
Tips: How to Make Your Birthday Video Unique
After completing the steps described above, congratulations on getting an animated photo video with pictures and music. So do you want to make your birthday video more interesting? Based on EaseUS Video Editor, I have provided you with four suggestions. So go and add to your video!
Edit picture image and motion in video
Edit pictures text in the video
Add a beautiful overlay to each picture
Add Elements in your video
Top 2. Windows Movie Maker - Photos
Windows Movie Maker, known as Windows Live Movie Maker, is a small and light birthday video-making app that initially comes with Windows 20 years ago. In Windows 10, Microsoft has offered you a free built-in video app - Photos. It is fun and easy to enhance your digital memories and turn photos into a great happy birthday video with music.
Key features: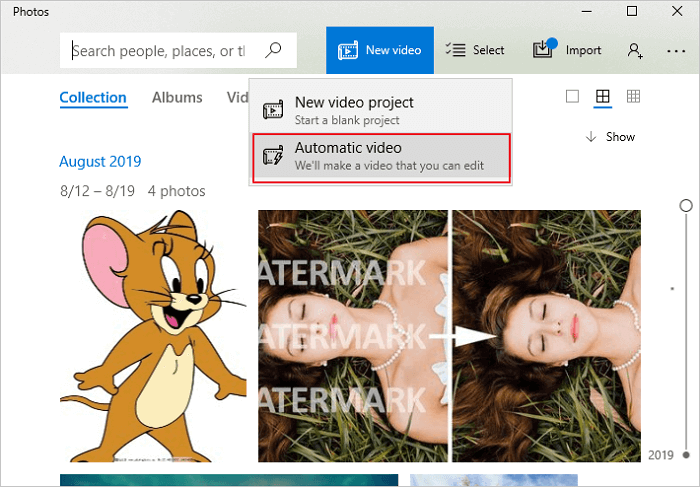 Top 3. Blender 
Blender is the free and open-source 3D video editor for making birthday videos. It supports the entirety of the 3D pipeline—modeling, rigging, animation, simulation, rendering, compositing and motion tracking, video editing, and 2D animation pipeline. Apart from used for creating birthday template videos, it is an excellent tool that is being used for numerous short films, advertisements, TV series, and feature films.
Key features:
It applies to Windows, macOS, Linux
It offers a live preview, luma waveform, chroma vectorscope, and histogram displays
Allow audio mixing, syncing, scrubbing, and waveform visualization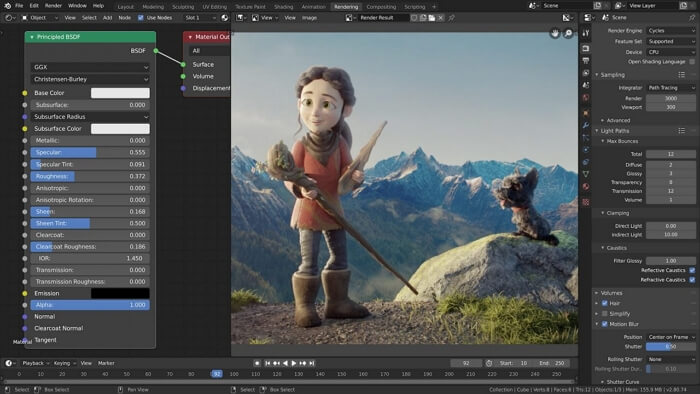 Top 4. Shotcut 
Shotcut is another free, open-source, cross-platform video editor. With the help of it, you can create a happy birthday video on any platform. This video editing app supports hundreds of audio and video formats and codecs so that you can import almost any video to it. In addition, it offers native editing, plus multi-format timelines, resolutions, frame rates, etc., to create and modify your videos.
This software supports 4K resolution, the latest video, audio formats
It has 50+ filters with plenty of types of visual effects
It supports audio volume control, JACK transport sync, Tone generator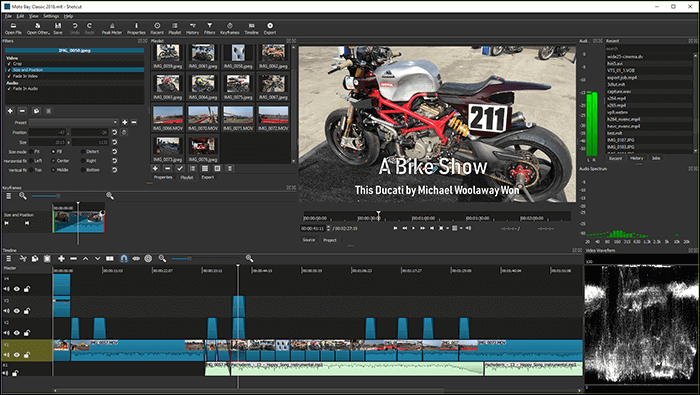 iMovie is a professional happy birthday video-making software with photos developed by Appl Inc. It allows Mac users or iOS users to crop, trim, and arrange video clips in multiple ways. If you are a Mac user, you can try to make a happy birthday video in seconds.
It supports 29 trailer templates, customizes video logs, names, etc.
It allows us to create and edit 4K and HD videos on the iPhone, a camera like GoPro, Ultra HD cameras, and Mac computers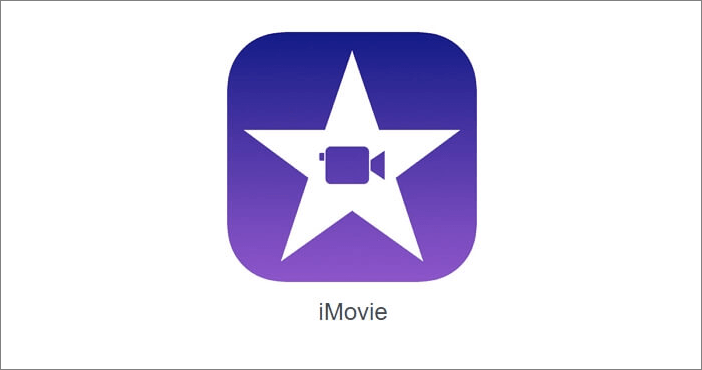 Best 2 Happy Birthday Video Maker APP for Mobile 
Although we prefer to make a delicate birthday video using software on PC, someone who has no access to computers needs to resort to birthday video maker Apps instead. Therefore, we will introduce two excellent Apps on Android and ios in this section. 
Top 1. Birthday Video Maker
You can easily get this application from Google Play, and its operating steps are also straightforward and convenient.
You can import the photos you want to process from your phone into this video maker and then choose your favorite birthday song as the background music. After a few clicks, you can get a perfect birthday video to convey the blessing to your friend. Its neat and simple UI interface and the built-in template make it possible for even beginners to create a birthday video independently.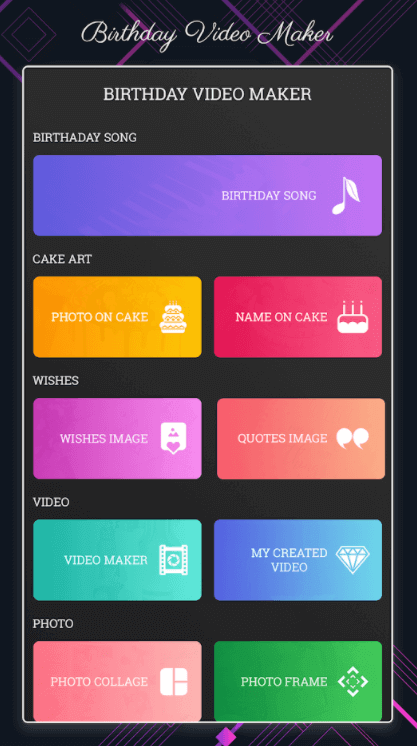 Top 2. Magisto
This birthday video maker can be used both on iPhone and Android. Except for its compatibility, it offers various editing tools to create their own happy birthday videos from the pictures on their phones.
If you have no idea about adjusting your pictures' position, it's a better choice to utilize the pre-installed templates of this App.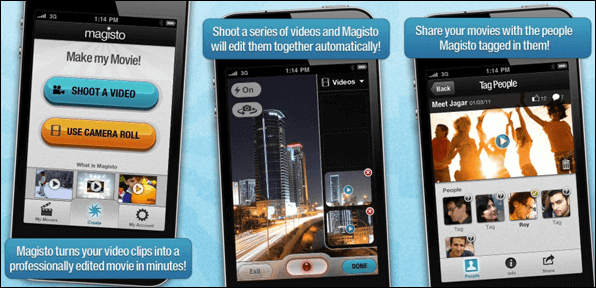 Top 5 Free Birthday Video Maker Online
If you don't want to download or install any third-party software on your computer, you can try online birthday video-making apps. Here we will introduce the top 5 online birthday video-making tools to help you complete the task.
Top 1. Animaker
Animaker is an online birthday video maker that enables you to create a happy birthday video for free. The process is straightforward:
Start from scratch or choose a template you like
Drag and drop props or upload your images
Edit text, add a song and sprinkle some effects
Export it directly to Facebook and Youtube or download
Top 2. Animoto
You can create impressive birthday videos in minutes with Animoto's drag-and-drop video maker. No video editing experience necessary. This online birthday video maker stands out in the social feed. Video gets more likes and shares than other content.
You can create a dynamic slideshow of photos and videos for a boy or girl over the years. First, add text to help tell your story. Then, share your video at a birthday party by showing it on a TV or by using a projector to watch it on a big screen.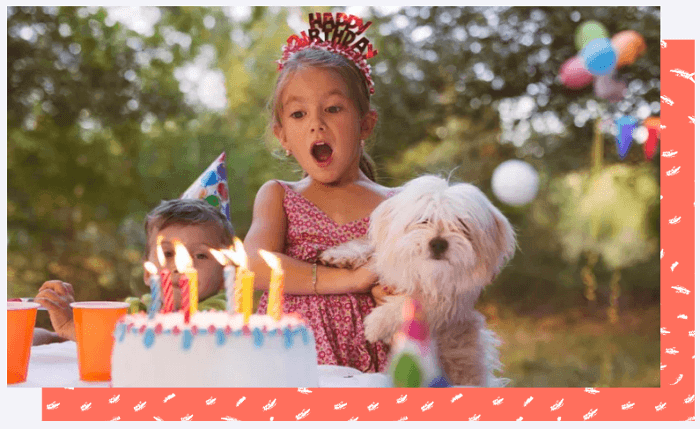 Top 3. Renderforest
Another one I am going to talk about is Renderforest. The impressive feature is that the online tool provides some birthday templates which allow you to make birthday greeting cards and videos and create birthday slideshows with music for friends and family.
It is a cloud-based birthday video maker for creating intro videos for YouTube, explainer animations, kinetic typography, product or service promotional videos, music visualizations, wedding or travel slideshows, mobile app promotions, event invitations, corporate presentations, infographics, and a lot more.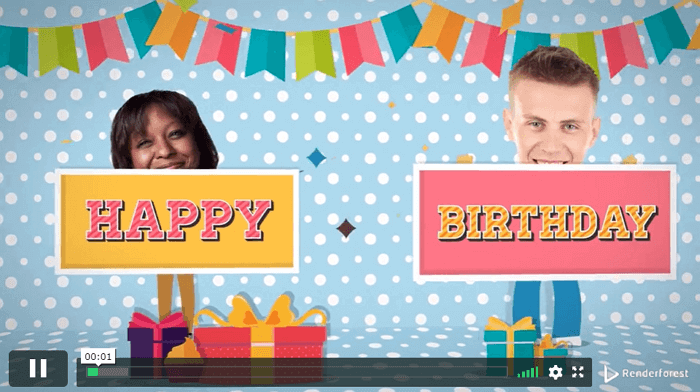 Top 4. Wevideo
If you prefer an animated video for a birthday party, this is the most suitable one. You can make happy birthday videos on any device, including Chromebook, Windows, Mac, and mobile.
Once you upload the audio and images, this website will quickly animate the texts and objects and create a beautiful animated video downloaded in HD.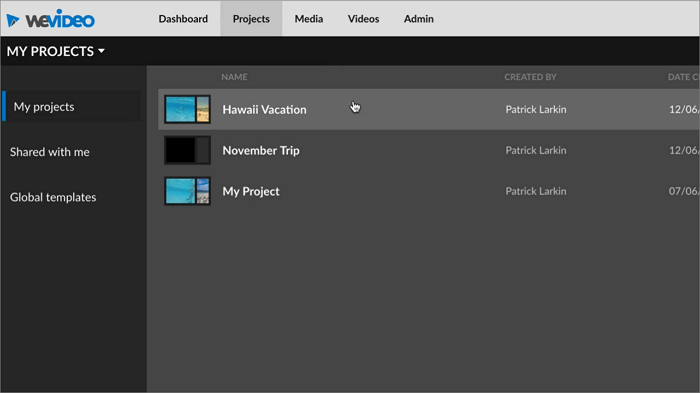 Top 5. JibJab
The last online photo video maker app is JibJab. This site gives users plenty of templates according to different occasions. There's always an occasion to cheer someone up - using their funny, personalized videos with unique style and humor.

Conclusion
As you can see, it is a piece of cake to create a happy birthday video with any one of the birthday video makers above. Among them, EaseUS Video Editor is my recommendation. This free software is easy and fast. Even if you are a beginner, you can use this software to create your happy birthday video.
FAQs About Best Birthday Video Maker
If you still have some problems making a birthday video with the best birthday video makers, some answers may be useful.
1. Which is the best app for birthday video maker?
5 Best Free Offline Birthday Video Editor for Windows and Mac:
EaseUS Video Editor
Windows Movie Maker
Blender
Shotcut
iMovie
2. How can I make a free birthday video?
Step 1. Import Items
Step 2. Add to Project
Step 3. Edit Birthday Videos
Step 4. Export Projects
3. Do you have birthday music suggestions?
Birthday slideshow music suggestions:
Hey Good Lookin
I Go Back
I Hope You Dance
Picture Book
Small Town
My Guy
4. How do I make a birthday video on my Mac?
To make a free birthday video, all you need is a free birthday video maker, like iMovie. It provides various birthday filters, overlays, and background music to create a birthday video from your photos or video clips. For the detailed tutorials, you can move to part 1 to check the details of this application.