12 of the Best CCTV Video Editing Software for Windows/Mac/Online

Jane Zhou updated on Dec 22, 2020 to Video Editing Tips | How-to Articles
Although most people believe that you do not need to edit your CCTV footage, sometimes you may want to do it for various reasons. Maybe the sound in your CCTV footage is not clear and you want to improve it? Or maybe you want to add some text to your video so you can explain to the viewer what they are seeing in the video. To edit your CCTV footage, you are going to need a CCTV video editing software for your Device. If you have not yet found a suitable tool to edit CCTV videos, the following are some of the best software handpicked by us to edit your videos. As you can see, these tools are available for various operating systems including Windows, Mac, and web browsers. The following is a description of each of these tools which will make it easier for you to decide which tool you should go for.
Top 1. EaseUS Video Editor (Windows)
EaseUS Video Editor comes in the first position in the best CCTV video editing software list. The credit for this goes to the developers of the software as they have left no stone unturned to make this into an amazing video editing software.
It offers several features to help you edit CCTV and other videos on your computer. You can use it to split and merge your videos, add various items to your videos, and save your videos in various formats. It works as a video converter as well in case the raw footage of your CCTV comes in a rather odd format. The software offers the following main features to its users.
Software Features:
Split your CCTV videos
Merge your CCTV videos
Adjust various color levels for your videos
Convert your CCTV videos from one format to another
Slow down your CCTV videos
Crop your videos
Add voice narration to your videos
Zoom in your videos
Add a freeze frame to your videos
This software is not going to be heavy on your computer resources. It uses fewer resources and processes on your machine but still manages to produce great results.
How to Edit CCTV Videos using EaseUS Video Editor:
You will probably be interested in finding out how you can edit your videos with this software if you have decided to go for it. There are some very simple steps you need to follow to start editing your videos with this tool.
Step 1. Open EaseUS Video Editor
You'll see there are 4:3 and 16:9 modes for your choice. Select the correct mode based on your original video aspect ratio or the websites that your video will be uploaded to.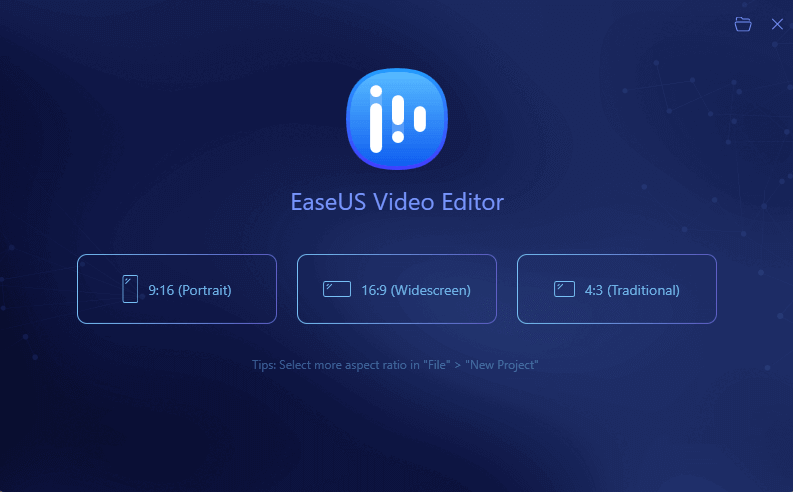 Step 2. Import Videos
You can import the media that you are going to edit, apply texts/filters/overlays/transitions to the video clips. If you install and run the program for the first time, you can learn how to use the basic editing functions step by step via the prompts.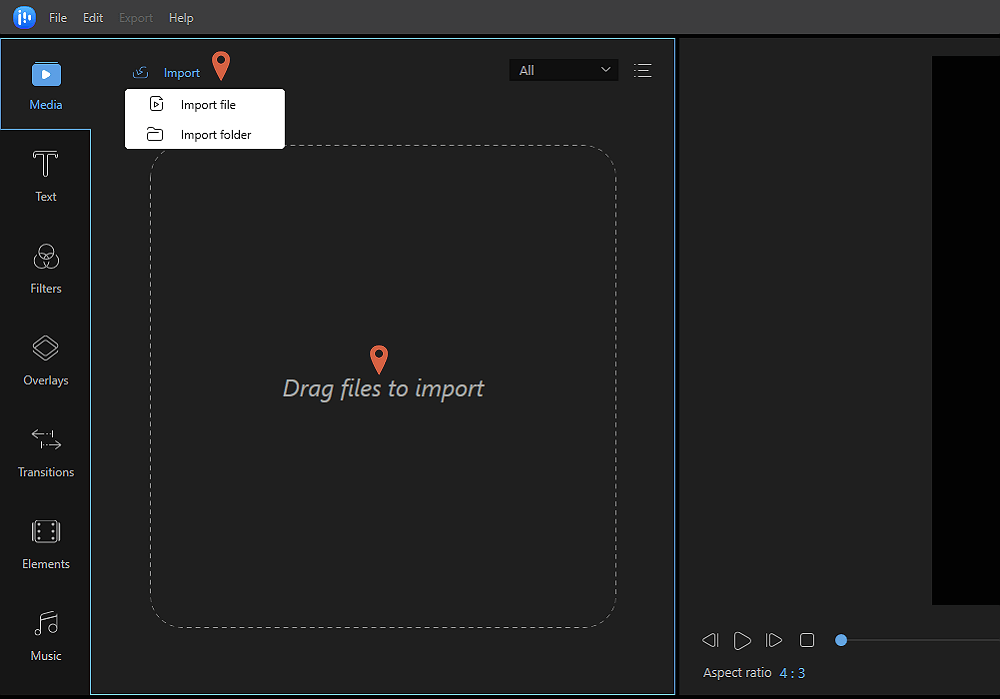 Step 3. Add to Project
Add video clips to the timeline panel by dragging and dropping from the Media Library. You can also right-click the clips in the "Media" and choose "Add to Project" to load them to the timeline.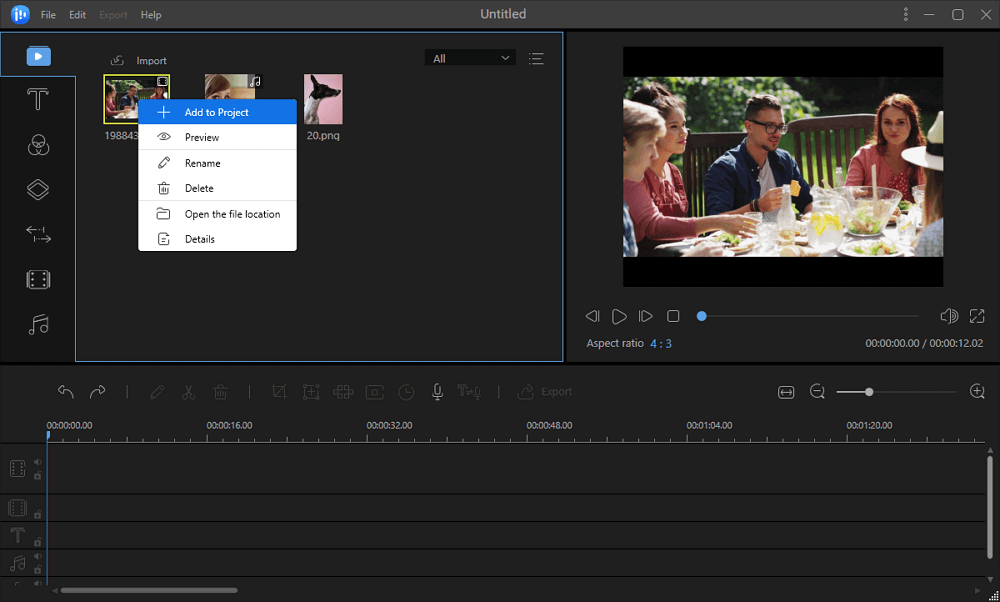 Step 4. Edit Videos
Right-click the video and select "Edit".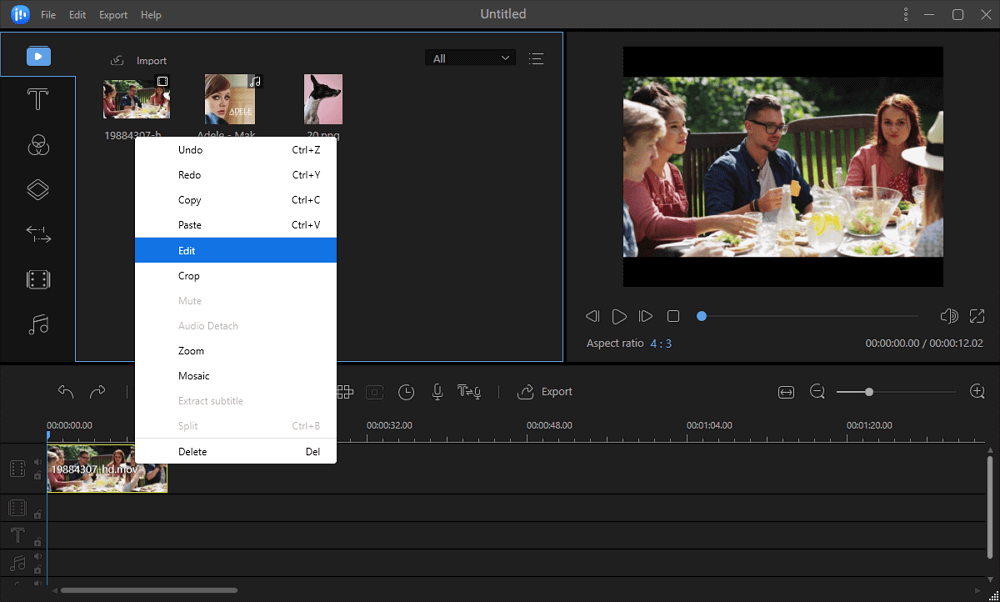 Then, you can split, trim, speed, rotate, add watermark or enhance video clips.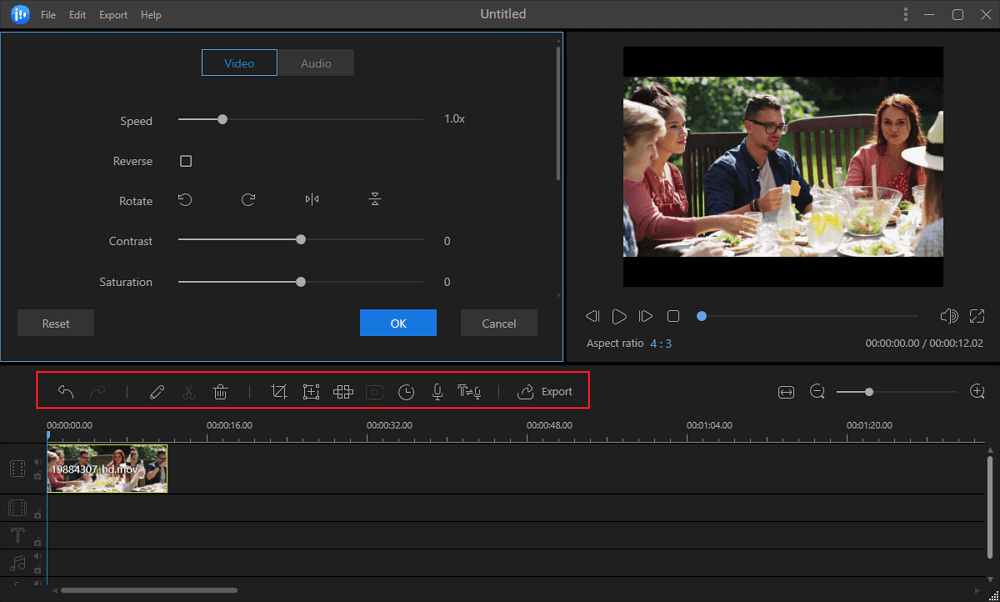 Step 5. Export Projects
Click "Export" in the Toolbar to export the project. There are four available ways to save the project.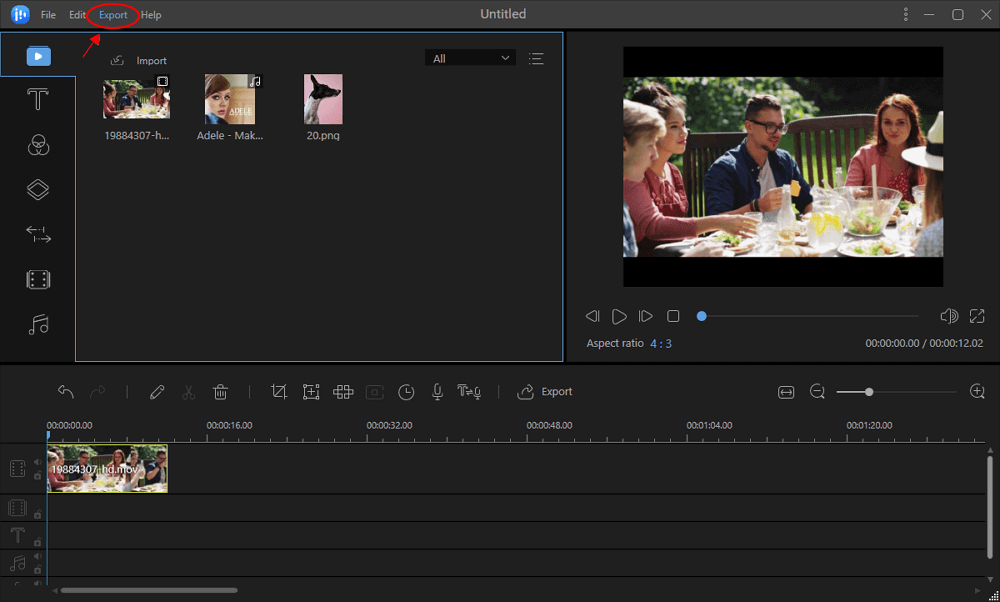 Top 2. Video Editor (Windows)
If you are not looking for a lot of fancy items to add to your video, you can use the built-in Video Editor app on your Windows 10 computer. This app allows you to perform some of the basic video editing tasks on your CCTV videos. It should cover the needs of most basic users out there.
You can use this app to add text to your videos, rearrange your clips, merge and split your videos, and do some other things with them. Since it comes preloaded, you do not need to download or install anything to use it.

Features:
Basic video editing tools
Merge videos
Split videos
Add 3D effects to your videos
Change the speed of your videos
Pros:
Extremely easy to use
Nice and clean interface
No installation needed
Cons:
You cannot do pro-level editing with it
It may not support all video formats
Audio editing is not that great
Top 3. HitFilm Express (Windows)
If you are looking for a simple program that can do wonders, look no further than HitFilm Express. It is one of the best video editing tools you can use to edit your CCTV videos. It comes with all the features you would ever need to edit your videos and there are some extra features as well. You can use this program to professionally edit your videos, add hundreds of effects to your videos, work on unlimited tracks, and so on.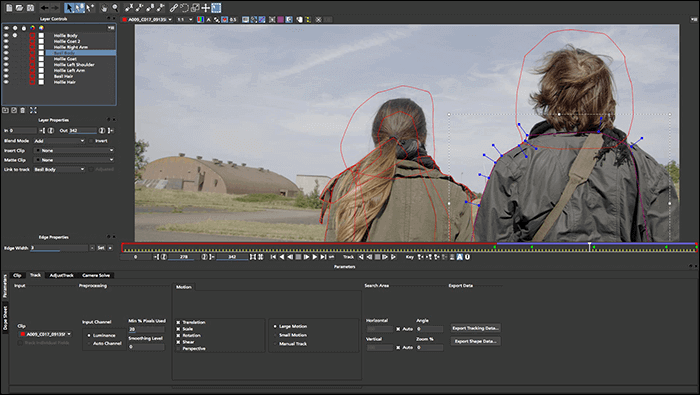 Features:
Over 410+ effects to choose from
Offers video tutorials
An unlimited number of tracks and transitions
VFX effects
Pros:
Simple yet powerful
Works flawlessly on most computers
Suitable for beginners as it has an easy-to-understand interface
Cons:
Not all the features are free
Not good for basic video editing as it is focused on effects-loaded videos
The program occasionally gets stuck on the main screen
Top 4. Davinci Resolve (Windows)
Davinci Resolve packs all the video editing features of the world in a nice package for you to use on your computers. From the moment you install the software to when you start editing your videos, you will find how easy and intuitive it is to use this program on your machine. You will find all your features laid on a nice and clutter-free interface. You can then pick the tools you want to use in your videos and it will let you do it seamlessly. Using various tools is fairly easy and you can do it without having any prior experience.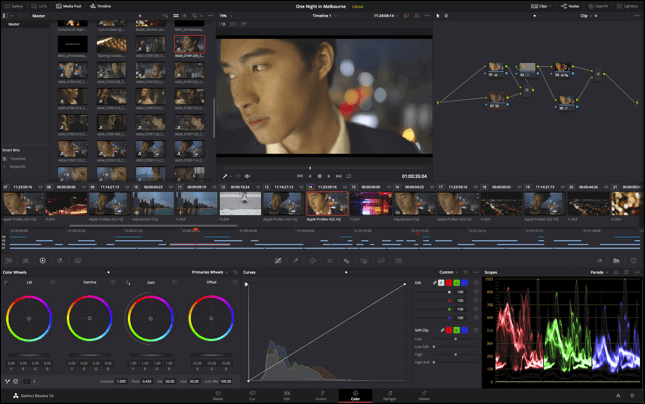 Features:
A large set of features you do not normally get in free apps
8K video editing for your CCTV videos
Adjust color levels to improve your CCTV videos
Manage the sound settings for your videos
Pros:
No need for other apps when you have this
Includes a music manager
High-end editing tool
Cons:
You need a high-end machine to run this program
The shortcuts are not that easy to use
Noise reduction is not offered in the free version
Top 5. iMovie (Mac)
If you are a Mac user, you have one of the best free video editing app available for your machine. It is called iMovie and it is a completely free app developed and marketed by Apple. You can get the app from the official Mac App Store and use it to perform various editing tasks on your CCTV footages. iMovie can help you enhance your CCTV videos by removing unnecessary parts from it, speeding it up or slowing it down, managing the audio part of your videos, and so on. It is a complete package for most video editing tasks.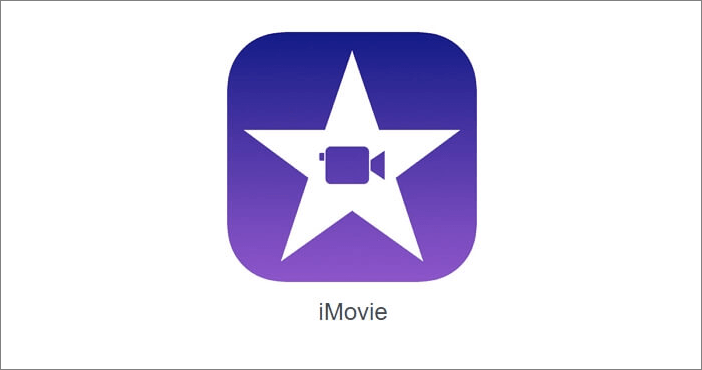 Features:
Support for 4K CCTV and other videos
Exclusively made for iOS and Mac devices
Easy to use options
Convert your CCTV videos
Pros:
Integrates with the macOS
Easily import files from iTunes and other folders
Drag and drop support
Cons:
Lacks some of the pro-level editing features
You cannot do much precision-level editing
The interface does not look good on small screens
Download Link: https://apps.apple.com/us/app/imovie/id408981434?mt=12
Top 6. Avidemux (Mac)
If the reason you want a CCTV video editing software is that you want to cut, trim, and perform such other basic tasks on your videos, Avidemux could be a great choice for you. It is a basic level tool but it does wonders at what it has been designed to do. From letting you cut your videos to filtering them, you have all the tools in it that you want from a video editor of this category. Also, all these options are placed on an elegant interface for you to work with.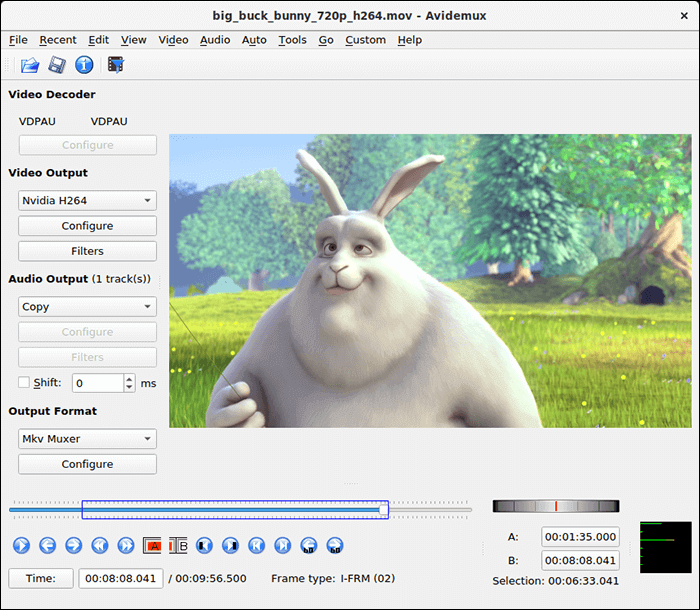 Features:
Support for many file types
Run scripts to perform tasks
All basic tools are included
Pros:
Beginner-friendly software
Clutter-free interface
Task automation
Cons:
No regular software updates
Issues with previewing the filters
The app crashes when used to preview certain effects
Top 7. Blender (Mac)
While many users believe that Blender was developed to make 3D animations, they forget that the program has a fully-featured video editing interface as well. Besides letting you make 3D animations, it helps you to edit your CCTV videos as well. There are a ton of options to work within this software. You can use it to load your CCTV videos and export them in a completely enhanced way. The interface of this software is also customizable if you want to do that.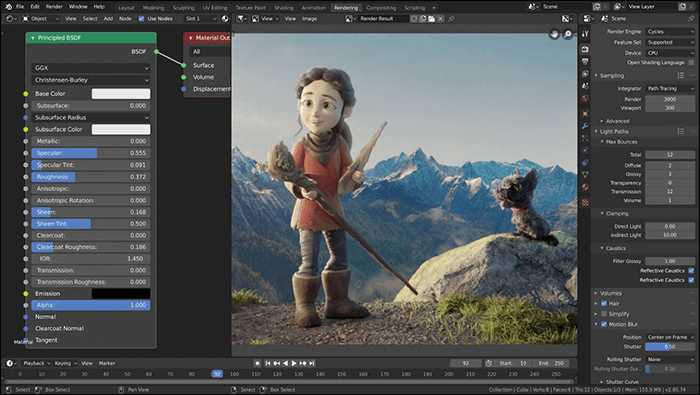 Features:
Make 3D animations
Edit your CCTV videos
Customize the interface to how you want
Pros:
Get both 3D maker and video editor in one package
Change the interface using Python
Draw items on your videos
Cons:
It can get overwhelming for the users who only need a video editor
Cluttered-interface
Takes time to learn to use this software
Top 8. Lightworks (Mac)
Lightworks is a complete package for everyone who wants to edit videos on their computers. Whether you are looking to enhance your CCTV videos or you want to add some extra content to them, this tool will help you do that with ease on your computer. It comes with a range of features including the ability to trim your videos, use VFX, add wide frame videos, and export your videos in various formats. You also get a ton of free content with this software.
Features:
Basic user interface
Extremely easy to use the timeline
Use many royalty-free items in your CCTV videos
Pros:
Export videos to various video formats
Histogram tool
Make your CCTV videos compatible with all the platforms out there
Cons:
The free version offers limited features
There is no content analyzer in the software
No project sharing options
Top 9. Clideo Video Adjuster (Online)
If there are not too many CCTV videos to be edited, you could use one of the many online video editors to enhance your footage. Clideo Video Adjuster is one of these online tools that let you refine your CCTV videos without having to download or install anything on your machine. All you need to do is head over to their site, upload your video, and start editing your CCTV video with many tools. You can use the tool to adjust various levels for your videos including brightness and saturation.

Features:
A completely web-based CCTV video editing tool
Clean and user-friendly interface
Convert your CCTV videos
Pros:
Works with all video formats
Support for various effects for your videos
Fast and secure
Cons:
Not suitable for large CCTV videos
Downloading edited videos takes ages
Privacy concerns
Top 10. Adobe Spark (Online)
Adobe has been a popular name in the creative world and they have an online tool called Adobe Spark to help you edit your content online in your browsers. The tool has a video editor built into it that lets you edit all kinds of videos including CCTV videos. As it uses the robust Adobe infrastructure, all your loading tools load in no time and you are ready to start enhancing your CCTV footage. It includes all major features like video trimmer, video resizer, and so on.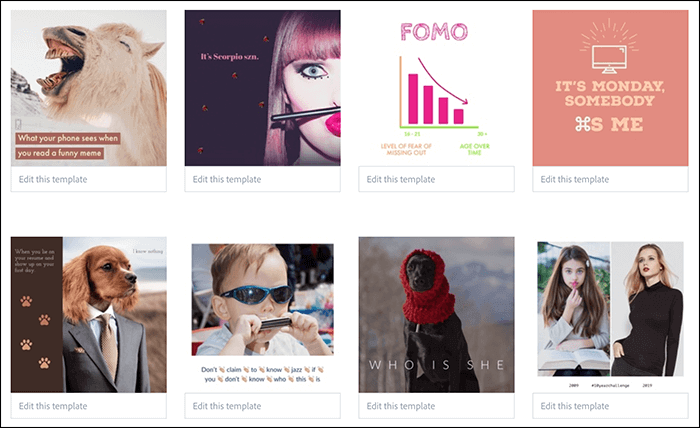 Features:
Fast-loading online video editor
Edit and add music to your videos
Add text and narration to your CCTV videos
Pros:
Works from any web browser
Share the video from within the tool
Professional layouts
Cons:
Uploading and downloading videos sometimes take too long
Adds a watermark to your videos
Sometimes the interface gets buggy
Top 11. Panzoid Video Editor (Online)
Unlike many other online video editors, Panzoid Video Editor follows more of a Photoshop-like approach to help you add and edit your videos in your web browsers. It has a smartly designed interface that keeps many of the tool's functions and you can access these features pretty easily on the main interface. There is a live preview option as well that lets you preview the changes that you have made to your video. You also have a multi-track timeline where you can arrange and work with multiple of your files at any given time.

Features:
Organized interface
Multiple editing tracks
Render your video on computer and cloud
Pros:
Pro-level editing for free
A limited number of ads
Tons of effects
Cons:
Sometimes it takes forever to load the interface
The interface is obsolete
You cannot add files from cloud storages
Top 12. ClipChamp (Online)
ClipChamp has many templates for you to choose from to edit your CCTV videos. No matter what style you like, this tool has most layouts covered and you should find at least a few options for the design that you like for your videos. Once the main interface loads, you will find a fully-featured toolset on the left-hand side of your screen. That is where you can choose and work with various tools. There is a desktop-tool like a timeline as well that holds your files for you while you edit them.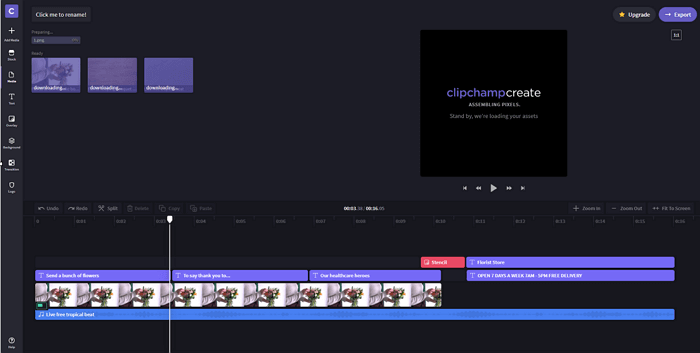 Features:
Loads of features to edit CCTV videos
Many prebuilt styles to choose from
Export your video in various resolutions
Pros:
Compress your videos before exporting
Multiple aspect ratios support
Free stock footage to add to your CCTV videos
Cons:
Some features require a purchase
The free version adds a watermark to your videos
The interface could have used some bigger icons
Conclusion
If you have been looking for CCTV video editing software free download, our guide has given you a ton of great options to choose from. If you use Windows as your primary operating system, EaseUS Video Editor is the one you should go to edit your CCTV videos. For other platforms, you can pick one from the options we have suggested above.