Best 11 Video Speed Controller for Chrome and PC of 2021

Jane Zhou updated on Oct 19, 2021 to Video Editing Tips | How-to Articles
Do you have the same awkward problem when you're watching a video? Some videos are so long and boring that you want to speed them up. But some videos are crucial, like instructional/tutorial/presentation videos, which are so fast that you can't keep up with what's going on, then you need to slow down the video to get details. 
If you are looking for a video speed controller that can slow down or speed up a video, this tutorial will help you greatly. We collected the top 11 video speed controllers for Chrome and Windows 10, or mobile phones. Check them out and pick the suitable one. 
Free Video Speed Controller for Windows 10 
When it comes to the best video speed controller for Windows 10 PC, EaseUS Video Editor is worth mentioning first. This video speed changer software can instantly speed up video up to 5x times. On the contrary, you can also slow down the video up to 0.2x, which means a one-minute video will run for 20 minutes. 
Apart from that, this software provides plentiful editing tools, including, filters, transitions, texts, overlays, elements, music, and more. Also, you can use it to merge, rotate, reverse, or split your video clips to make them more attractive. Last but not least, it is easy to learn and use, and you can operate it within a few minutes!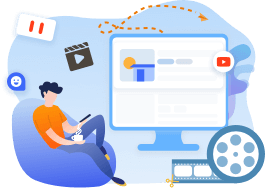 EaseUS Video Editor
Easy & smart video editing software for beginners
An easy-to-use video speed controller for Windows users.
Support customizing background with the Chroma Key feature
Provide a number of video special effects, like filters, transitions, etc.
Export edited videos in various formats
Trusted by TechRadar, Fstopper, etc.
How to Speed Up/Slow Down Video With EaseUS Video Editor:
Step 1. Import the source file
Launch EaseUS Video Editor. On the home screen, you can import the source file by either clicking the "Import" option or simply dragging the video to the appropriate area.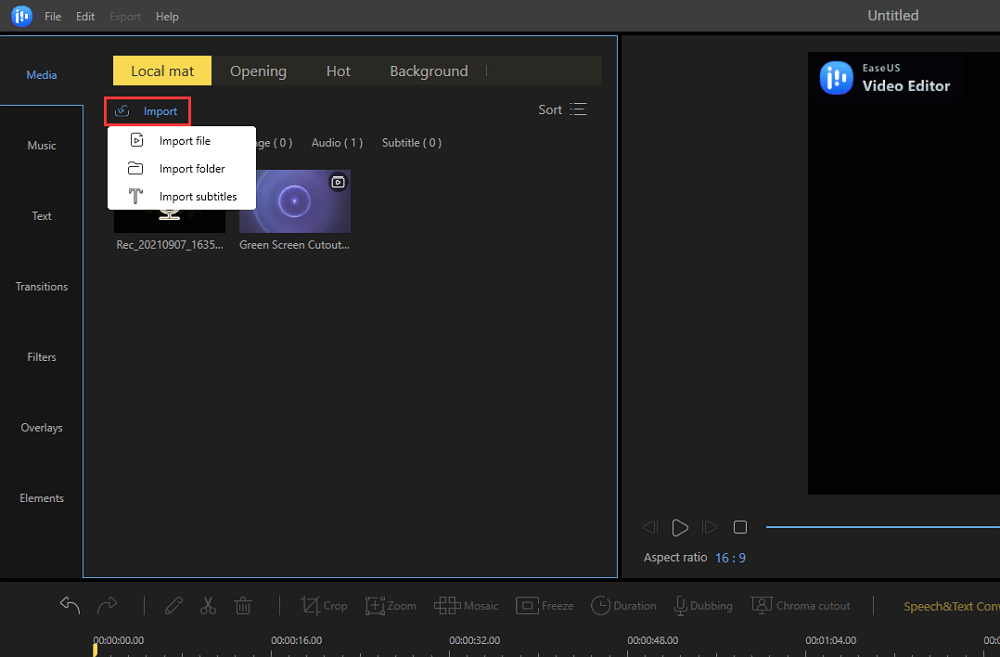 Step 2. Add to project
You need to add the imported file to the track by choosing the "Add to Project" option, or you can drag and place the video to the track as you want.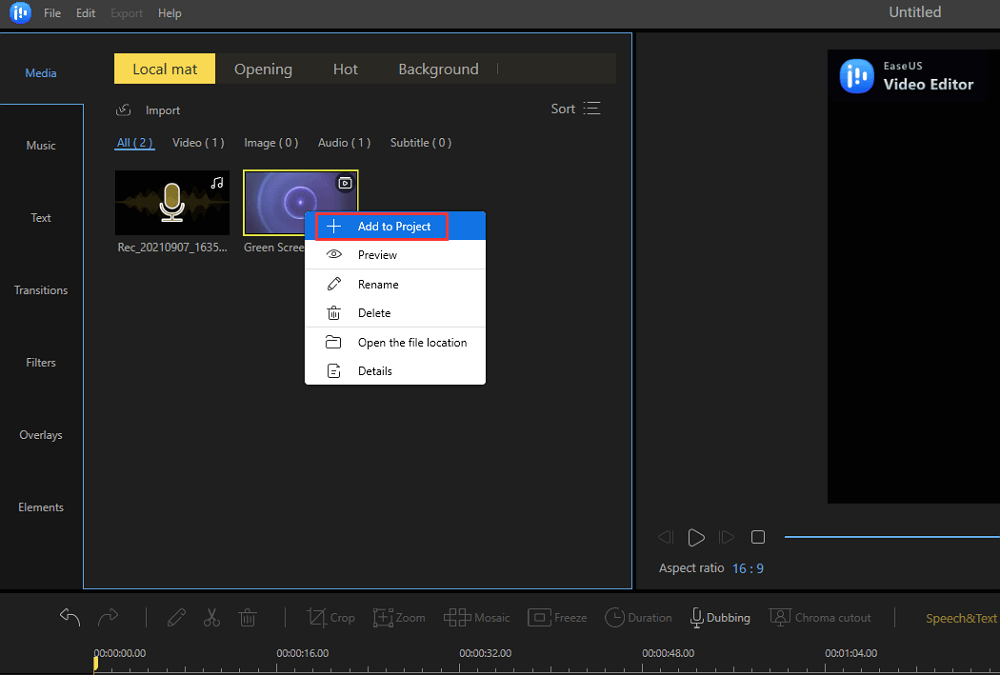 Step 3. Change the speed of your video
Select the video or part of the video you want to increase the speed. Double click the video on the track, or click on the pencil icon to open the editor where you get the Speed Slider. To increase the speed of the video, slide it to the right, and you should see the speed increasing.
Follow the same as above, but this time move the slider to the left instead of right. Notice that the length of the video will increase in the timeline.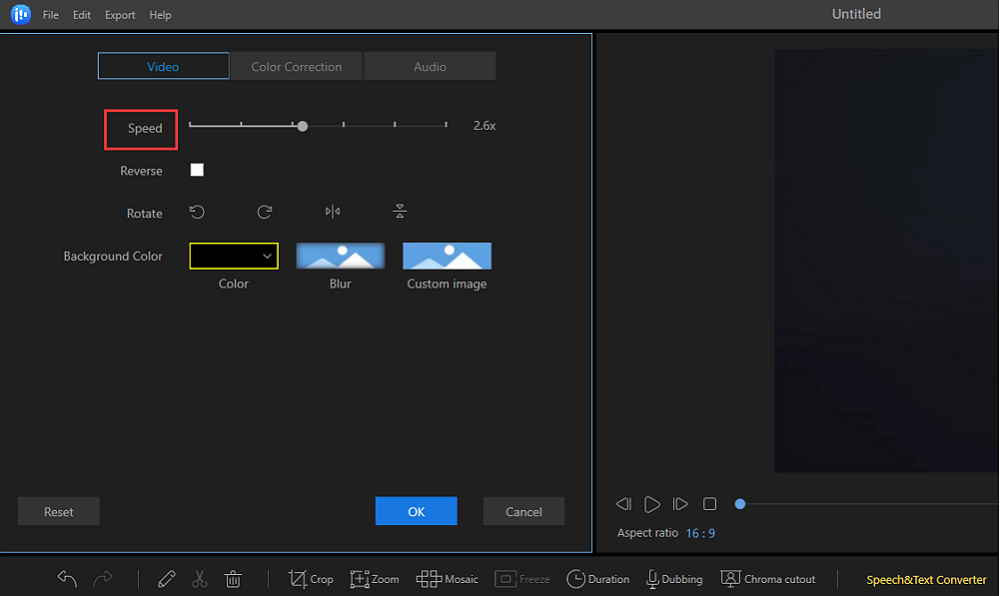 Step 4. Export the video
Once you have adjusted the video speed, click on "Export", and select the media format or platform in which you want to export the video. Make sure to choose the quality of output, video encoder, frame rate, and bitrate.
Now just free download this great video speed controller for PC and start making your video masterpiece!
Best 8 Video Speed Controllers Chrome Extension
However, today, we often don't have much time to watch dozens of minutes long. Some websites (such as Facebook and Twitter) do not allow you to change the speed of the video. Thankfully, several available and reliable video speed controller Chrome extensions let you adjust the speed of the videos on these popular websites.
Here, we introduce you to eight favorite video speed controllers for Chrome. You can add them to Chrome to change the speed of videos on any website.
#1. Video Speed Controller
Video Speed Controller for Chrome enables you to speed up or slow down videos quickly and easily. Whether you want to watch videos in 0.5x, 1.5x, 2x, or 4x speed, this Chrome video speed controller lets you use special hotkeys or buttons to adjust the speed of your videos as you enjoy your videos.
You can use this utility to speed up, slow down, advance, and rewind any HTML5 video with quick shortcuts. It helps you optimize your video viewing by allowing you to quickly adjust the playback speed and rewind the video for more last-minute listening.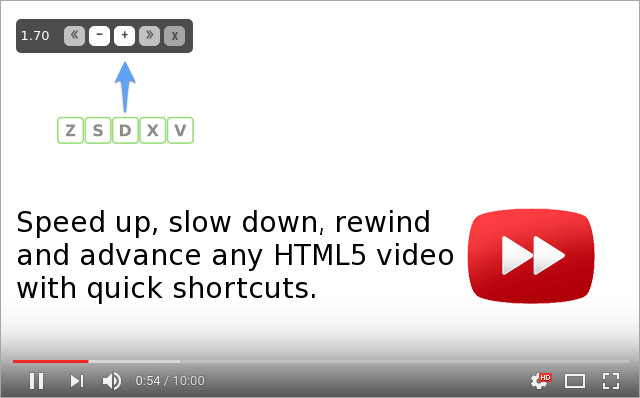 2. Video Speed Manager 
With Video Speed Manager, you can manage your video speed, slow down, advance and rewind using the keyboard. This video speed controller extension has no limits on speed. It lets you change the speed for html5 video without any effort. Increase and decrease the playback speed, advance, and rewind the video many times as you need.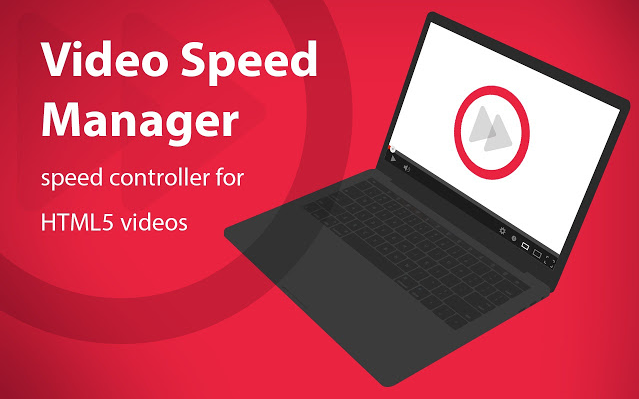 #3. Video Speed Control - Only for Firefox
Video Speed Control add-on lets you easily control the playback speed for all HTML5 video elements. To use this plug-in, you need to open a web page containing HTML5 video elements. Then, play the desired video element and open the toolbar to pop up the UI. 
It can change the playback speed from 0.07x to 16x for any video element. And it is compatible with chrome, opera, and firefox browsers on all operating systems.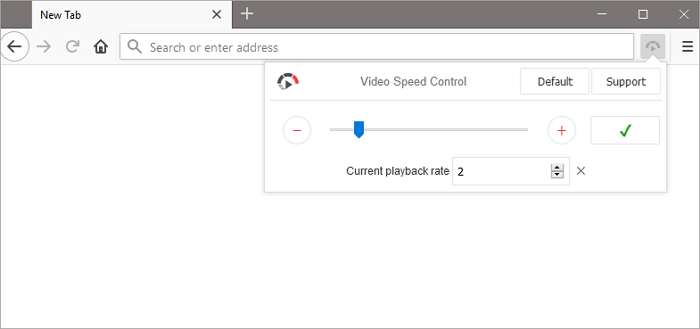 #4. Playback speed - for Firefox
Playback speed is a Firefox add-on that adds shortcuts to the web browser that you may activate to change the video speed of HTML5 on sites like YouTube and others. It offers you many shortcuts to change the speed quickly.
Anytime you want to speed up or slow down a video on Firefox, this tool can help you finish it quickly and easily.

#5. Dynamo - for Safari
There are many video speed controllers for Chrome and Firefox and online, but the video speed changers for Safari are scarce. Here we find a useful tool to help Safari users named Dynamo. With some simple keyboard shortcuts, you can easily change the video speed. It works on a lot of video streaming websites. You need to install it from the Apple Store, activate it, and start using it.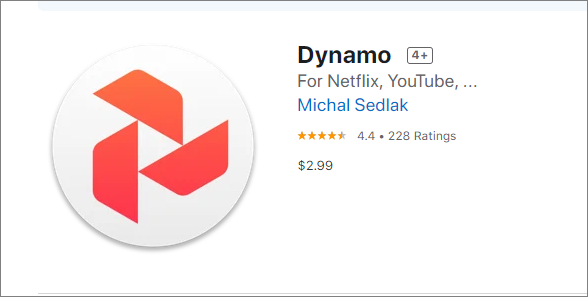 #6. Kapwing 
Kapwing is a popular online video speed manager, with which you can do a lot of video editing operations. One of the most famous functions of Kapwing is that you can change a video's speed double (2x) or quadruple (4x). There are also options to change the audio track's speed or download the changed video with no audio.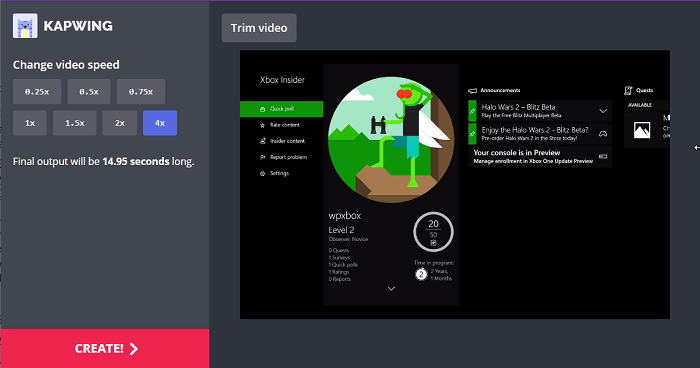 #7. EZgif 
Ezgif is an online video editing tool that allows you to make GIF files, convert video to GIF, resize, crop, split, and add effects/text to GIF. Meanwhile, it is an online video speed controller, too. This tool works on your web browser, so you don't have to install any software to change the video playback speed. You can use it to speed up or slow down any video file.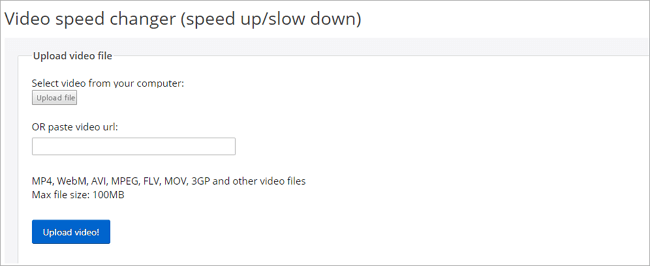 #8. Clideo 
Clideo is a video speed controller that enables you to select the speed of your video from 0.25x to 4x and mute it if you want. It supports most video formats, including MP4, AVI, MPG, VOB, WMV, MOV, and more. Besides, this video changer uses the highest level of online security to ensure the security and privacy of your documents.

Recommend Video Speed Controller for Android and iPhone
As a PC may not accessible sometimes when you need to speed up or slow down a video, we recommend you two video speed controllers for mobile device users.
#1. Video Speed: Fast Video and Slow Video Motion
Android users. That is Video Speed: Fast Video and Slow Video Motion. This tool enables you to slow your video or fast them as you want. Share your edited video on social media with friends and family.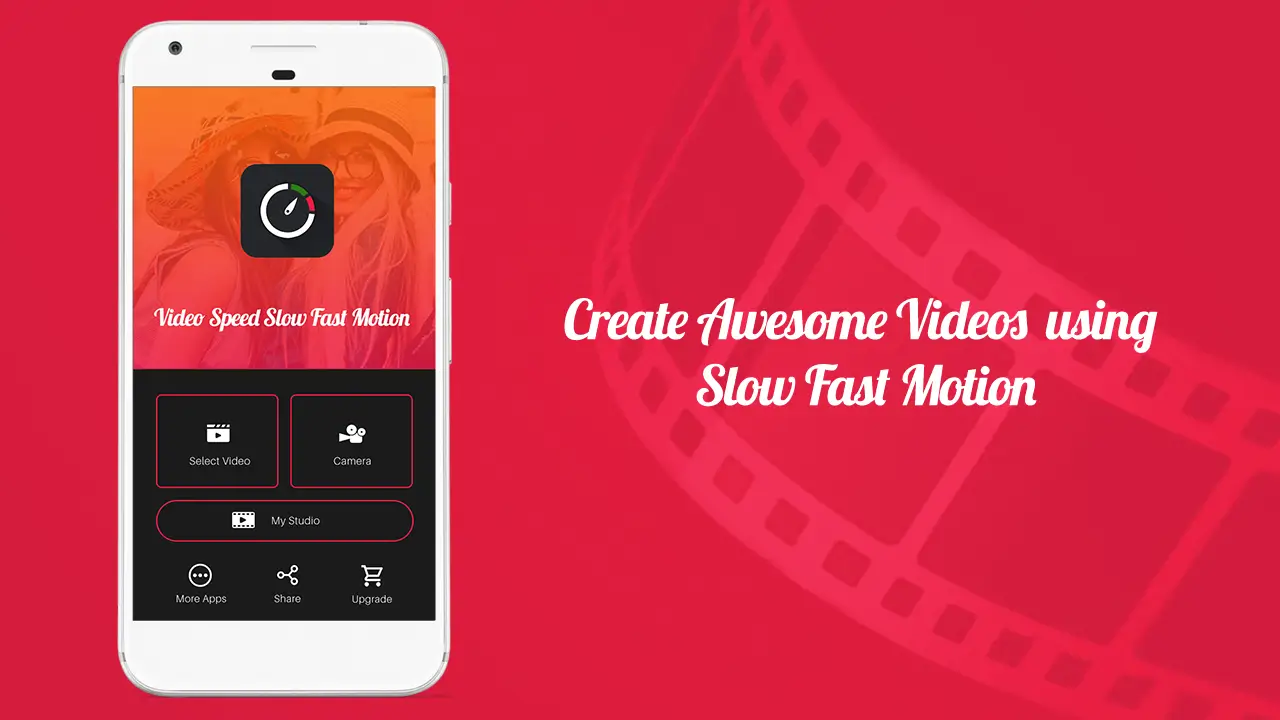 #2. Videoshop
After acquiring the video speed controller for Android, you may wonder if there are similar applications for iPhone users to change video speed. Here we will introduce Videoshop, an easy-to-use video editor with plenty of useful tools. Instead of controlling the video speed, it supports adding background music, voice-over, text, photos to your video.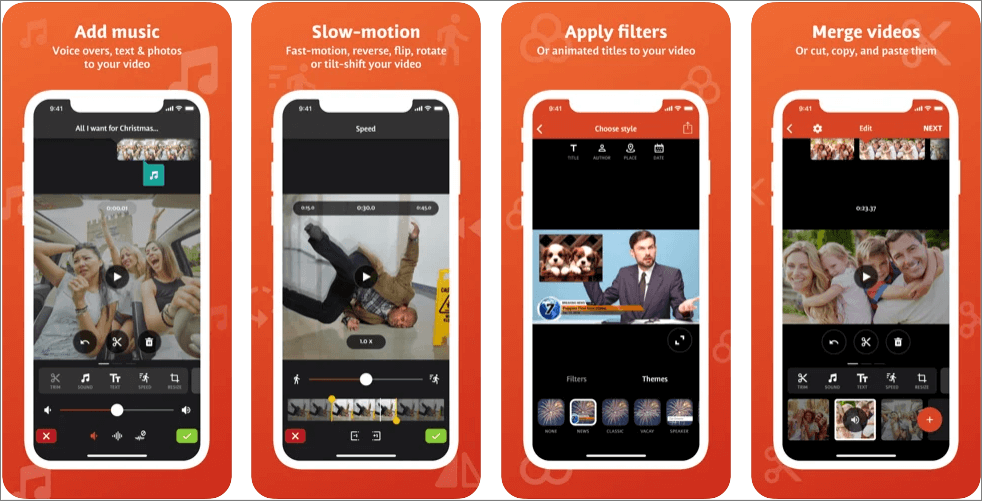 To Sum Up
We have demonstrated the top 11 excellent video speed controllers on this page. If you need a desktop video speed changer for Windows 10 computer, EaseUS Video Editor is just what you need. It has all the basic and advanced video editing features, ranging from video conversion to video sharing. Give it a try.
While if you need a video speed controller Chrome extension, you can choose one from the recommended extensions. But must pay attention to the security, download the install from a secure and formal resource. For people who want an online video speed controller, select one of the three.
Video Speed Controller Chrome FAQs
If you have more questions about the video speed controller, read more related FAQs.
1. How does video speed controller work?
After adding a video speed controller on your web browser, you hover over the indicator and see the video speed change buttons. You can click to increase or decrease the speed or use the keyboard shortcuts to adjust.
2. How do I use the video speed controller in Chrome?
To use the video speed controller in Chrome, you need to download this extension and add it to Chrome. Once the extension is installed, navigate to any page that offers HTML5 video, and you'll see a speed indicator in the top left corner of the video player. You can hover over the indicator to reveal the controls to accelerate or slow down, or use your keyboard:
- S - decrease playback speed
- D - increase playback speed
- R - reset playback speed
- Z - rewind video by 10 seconds
- X - advance video by 10 seconds
- V - show/hide controller
3. How can I speed up my html5 video?
To speed up your html5 video, you can add the HTML 5 Video Speed Control to your browser, the unlimited speed controls that are perfect for watching lectures on Khan Academy, YouTube, and any other website at 2x, 3x, or even more. You can download it now from the Google Chrome App Store.