Top 14 Best Video Editing Software for Gaming in 2021
Daisy
updated on Feb 05, 2021 to
Video Editing Tips
|
How-to Articles
Most gamers who only used to play games in their bedrooms are now making their gameplays available in the form of videos. If you are a regular user of sites like YouTube, you have likely come across videos that show how a game is played and how the missions are advanced. If you are into gaming and want to put the best of your gameplays in front of people, you are going to need some best gaming video editor software.
A good gaming video editor can improve your raw gaming footage and make it popular with the viewers. This guide describes some best video editing software for gaming, and now let's jump onto the list.
Part 1. Top 6 Best Free Gaming Video Editor on Windows
Most of you work on Windows PC, so you will learn the 5 best free gaming video editor in this part. Just take a look at the following software.
Top 1. EaseUS Video Editor - Best Gaming Video Editor
Most video editing software that you get in the market are usually focused on one specific area, however, that is not the case with EaseUS Video Editor. In addition to being a great video editor for most purposes, it is a great software to edit gaming videos as well.
With its comprehensive set of tools, you can make your gaming videos more engaging, professional, and overall better without much hassle. The software offers a ton of features to help you enhance your gaming videos. Here we list some of those features so you know what it is capable of doing.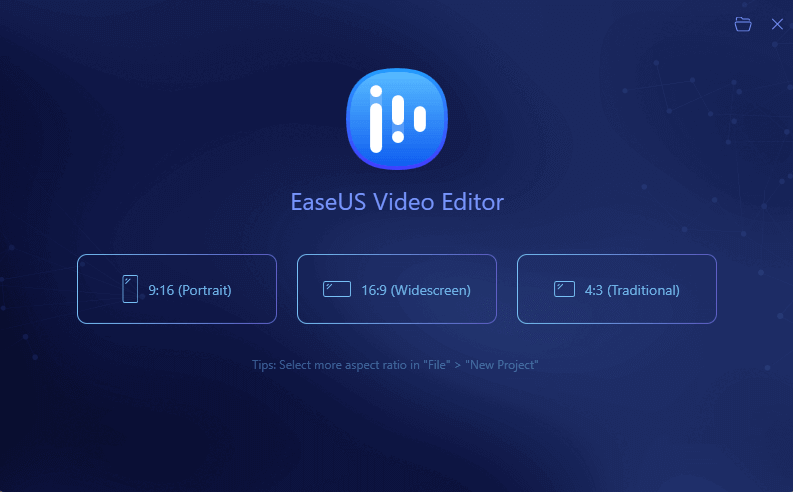 Key Features of EaseUS Video Editor:
Import your gaming videos in almost any format
Add some nice titles to your videos
Fix the color issues in your videos
Detach the audio if you do not like it
Save your gaming video in various formats
Certain gaming video editors require certain computer configurations. However, when it comes to EaseUS Video Editor, you only need a basic machine to run it. If you can run any of the aforementioned games on your computer, you can run the software without any issues.
Now download EaseUS Video Editor to edit your gaming video with advanced tools.
Top 2. Video Editor of Windows 10
Windows 10 comes with a built-in video editor for gaming to help you edit any kind of your videos. You can use it for your gaming videos as well, however, it may not have all the features you need. If you just need some basic tools, you can have a try.

Pros:
No need to download
Easy to use
Cons:
Only basic features are available
Only work on Windows computers
Top 3. VSDC Video Editor
VSDC offers a non-linear video editing interface and helps you edit your gaming videos with ease. Using it, you can apply a lot of video and audio effects to your videos to improve your videos significantly. Apart from that, it also allows you to convert your gaming videos from one format to another as well.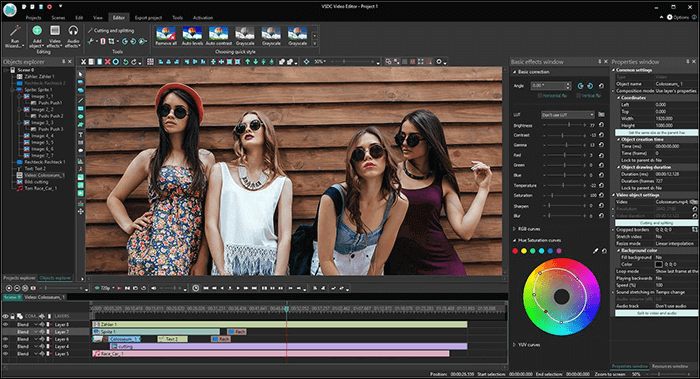 Pros:
Lots of effects to use
Advanced features like motion tracking
Cons:
Difficult to learn
Unstable
Top 4. Icecream Video Editor 
Icecream Video Editor is a great tool to combine your videos and photos, and it is equally a great gaming video editor as well. You can use the software to add transitions, trim videos, adjust the video, and perform many other tasks related to your videos.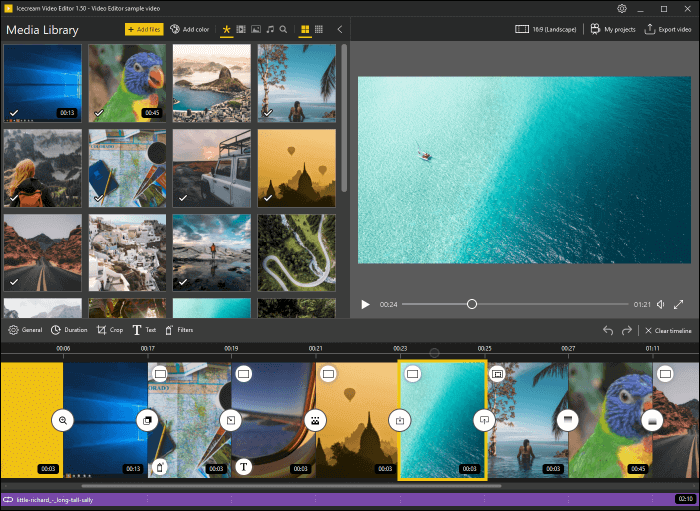 Pros:
Extremely easy to use
Intuitive GUI
Cons:
Does not have all the features you may need
Occasional bugs and issues
Top 5. OpenShot
OpenShot is free, yet an amazing and powerful video editor you can use to edit your gaming videos. It comes loaded with most features you need to enhance your gaming footage and put it in front of the world.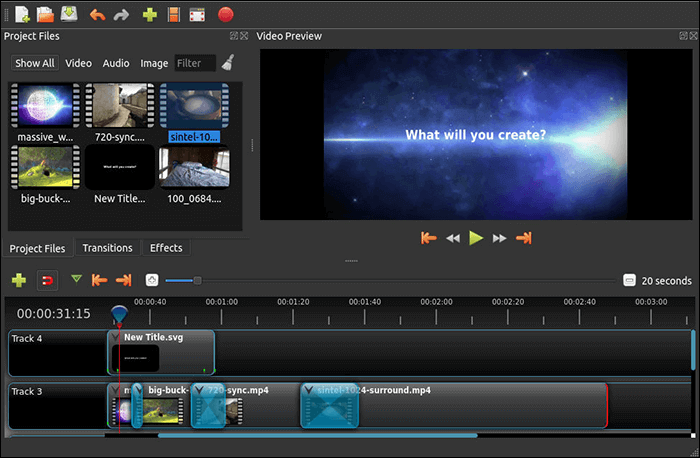 Pros:
Unlimited tracks for editing
3D animations
Cons:
A limited number of effects
Occasional freezing issues
Top 6. Lightworks
Lightworks is a professional video editor, which has been used on many of the finest films in cinema history. Nowadays, more and more people use it to edit their gaming videos with the advanced editing tools it offers. When editing gaming videos, you can apply special effects, trim, cut, change frame-rate, and do many others of your videos. After editing, you can save the game video in your desire format and upload it to social media platforms directly like YouTube and Vimeo.
Pros:
Offer basic and advanced editing tools
Simple and intuitive user interface
Support various file formats
Support HD resolution
Cons:
No 3D video editing tools
Can't adjust video speed
Part 2. Top 5 Video Editing Software for Gaming on Mac
If you are using a Mac computer, you also have many options to edit gaming videos on your Mac computer. Here we collect the best 5 Mac gaming video editor for you to choose from.
Top 1. iMovie
If you are going to edit gaming videos on Mac, iMovie is your go-to solution for most of your video editing needs. It provides many visual effects and templates and works perfectly fine with gaming videos. After editing, you can directly upload the gaming video to social media platforms like YouTube.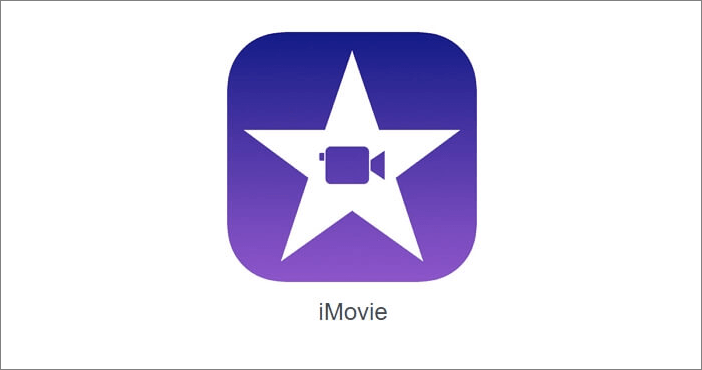 Pros:
Free and preloaded on Macs
Extremely easy to use
Cons:
Only available for Apple devices
No advanced effects
Top 2. Kdenlive
Kdenlive is yet another great video editor for gaming that is both free and open-source. It comes preloaded with many features like multi-track editing, a customizable interface, and automatic backups. You can easily create an amazing gaming video with Kdenlive.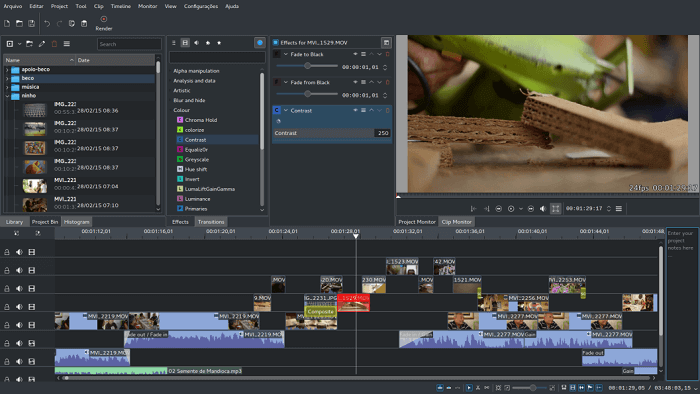 Pros:
More than one tracks to for editing
Proxy editing
Cons:
Difficult to use
Fewer effects
Top 3. Shotcut
Shotcut is a great gaming video editor. This gaming editing software supports a wide range of video file formats. In addition, it also supports images as well so you can use those in your gaming videos.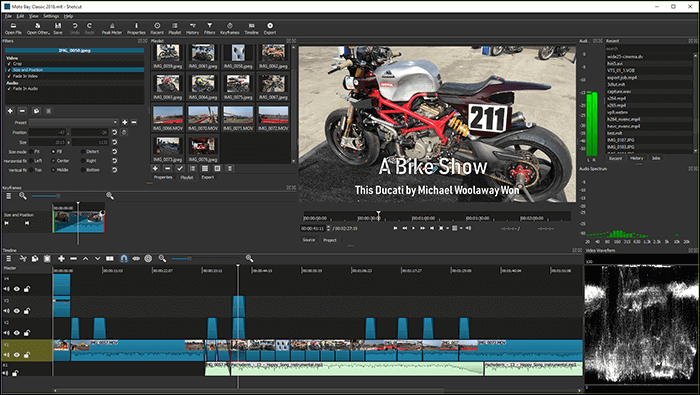 Pros:
Support for a wide range of formats
Audio editing
Cons:
Cluttered interface
Not many templates are available to use
Top 4. Avid Media Composer
Avid Media Composer is another gaming video editor. This video editing software for gaming helps you tell stories but you can use it to tell your gaming stories as well. It is a perfect tool to retouch your game videos and make them good enough for the world to see.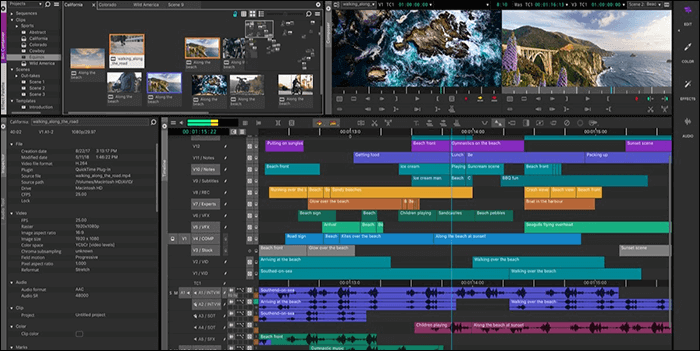 Pros:
Focused video editor
VFX effects
Cons:
Not the best editor for web videos
Suitable for advanced users
Top 5. Olive Video Editor
Olive Video Editor provides premium-level features at no cost to help you make your gaming videos look professional without breaking your bank. It can do a ton of things to help you edit your videos, which include timeline editing, adding your music tracks, and so on.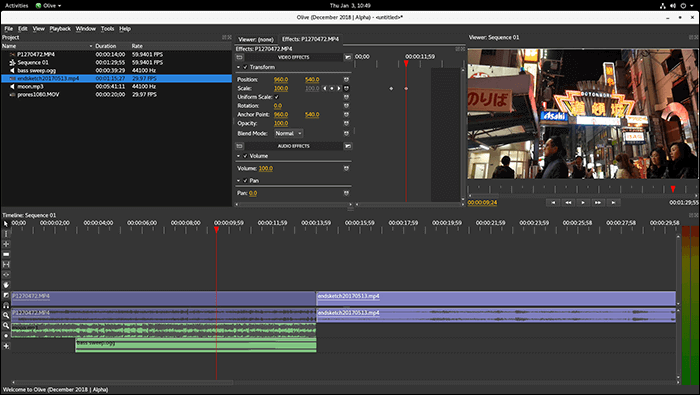 Pros:
Professional editing features
Free of cost
Cons:
Unstable
Not suitable for learners
Part 3. Top 3 Best Free Gaming Video Editing App
Apart from gaming video editing software on the computer, there still are some video editing apps you can use. If you are searching for a gaming video editor, you will get the best solution in this section.
Top 1. Powder
Powder is one of the best iPhone gaming video app you can't miss. It allows you to trim your video clips, cut the middle part of the video to get the best part, add visual effects, or add music to the video in a few seconds. Moreover, it offers you the option to record your game clips on your iPhone. After editing, you can directly post your video game clips to Instagram, Tiktok, or Snapchat.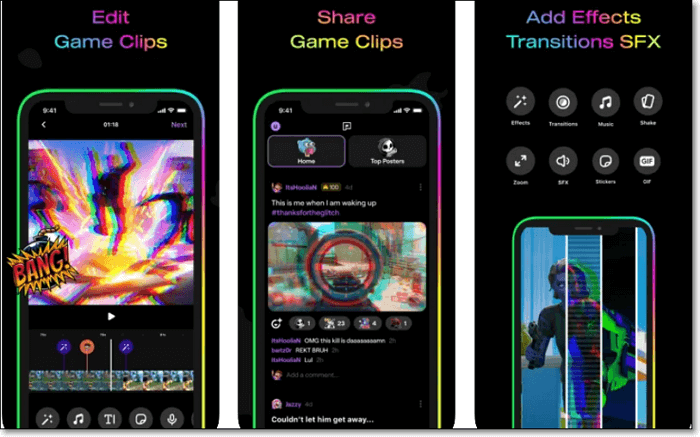 Pros:
Free and easy to use
Enable you to record gaming video before editing
Allow you to import videos from Camera Roll, PC, Xbox, etc.
Cons:
Require iOS 12.o or later
Top 2. Splice
As a gaming video editing app, Splice is popular all over the world. It makes it easy to create fully customized, professional-looking videos on your iPhone. You can tap to trim clips, adjust transitions, add slow motion effects to create amazing gaming videos you can share. Even if you are a beginner, you can create incredible videos like a pro with this gaming video editing app.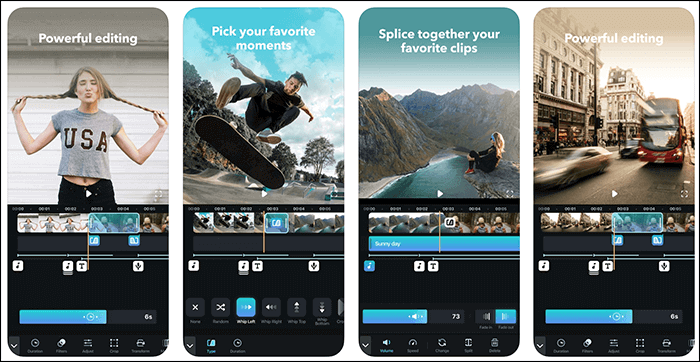 Pros:
Apply filters and adjust background colors, orientation, and many more
Trim, cut, split, and crop your video and photos
Allow you to use a background song from your own iTunes collection
Cons:
Functions of the free version are limited
 Top 3. WeVideo
WeVideo is an easy to use gaming video editing app, which comes with cloud storage and screencasting functions for professionals. Using this free gaming video app, you can easily trim videos, add filters, change the speed, apply background music to your video clips. Moreover, it supports video capture and 4K resolution, which will meet almost your needs.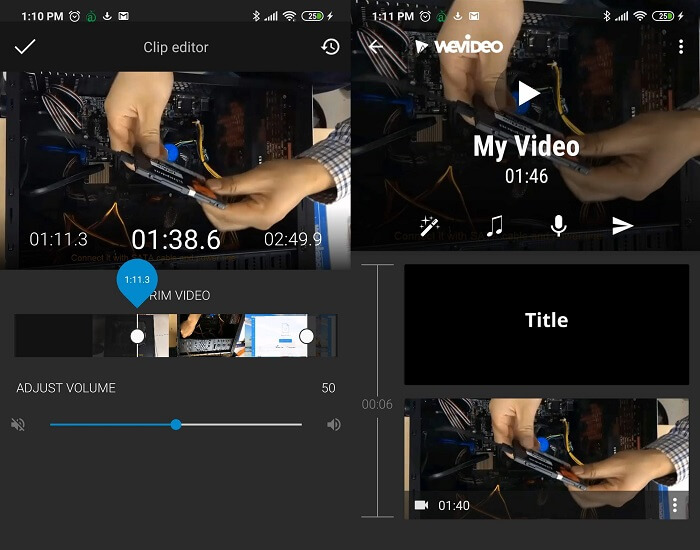 Pros:
Available for both iOS and Android phone
Offer a lot of filters, transitions, and overlays
Support sharing the video clip over social media platforms
Cons:
Cloud storage is limited to 10 GB
Conclusion
If you are new to the gaming world and are finding it a bit hard to find the right gaming video editor for your gameplays, our list of some of the software is certainly going to help you out. You will even discover some new software that you have never heard of before. We hope the list helps you choose the right software for your usage.
Frequently Asked Questions
If you still have problems, you can read on and learn more details.
1. What is the best video editing software for gaming?
There is a lot of gaming video editing software on the market, like EaseUS Video Editor, iMovie, vsdc, Openshot, and many more. If you are a beginner, your best choice is EaseUS Video Editor. Even you are a novice, you still can create popular gaming videos like a pro with this software.
2. What do gaming YouTubers use to edit their videos?
There are some gaming video editors that YouTubers use to edit their videos.
EaseUS Video Editor
iMovie
Inshot
Openshot
...
3. Where can I edit gaming videos?
You can edit gaming videos with the best free video editing software. This post has covered 14 best free gaming video editor, and you can choose anyone from it according to your needs.
4. Can You Record Game Videos?
It is possible to make a video out of your gaming sessions. It is because your game is played on your computer's screen and your screen can easily be captured using EaseUS RecExperts.