2021 Best & Free YouTube Thumbnail Maker: Create YouTube Thumbnail Easily

Vanessa Chiang updated on May 26, 2021 to Video Editing Tips | How-to Articles
Creating an eye-catching thumbnail for YouTube videos is one of the key points to expand your influence on social media like YouTube, Facebook, Twitter, Instagram, etc. When you browse "YouTube thumbnail maker" online, you may get lost with the overwhelmed result. Some people prefer to create a video cover on their own with a specialized tool like EaseUS Video Editor, the best video editing software for beginners, or with an image processing tool while some people prefer YouTube thumbnail templates via an online YouTube thumbnail maker.
Either demand you have, you can find the best free YouTube thumbnail maker here. This article will show you the best free YouTube Thumbnail maker and detail on how to create YouTube thumbnail quickly and easily.
Something You Need to Know about YouTube Thumbnail
To assist you customizing a qualified YouTube thumbnail for your YouTube videos, here are some specifications for you to follow:
Pixels: 640min
Resolution: 1280*720
Supported formats: JPG, GIF, PNG
Max Size: 2MB
Aspect Ratio: 16:9 (most used in YouTube players and previews)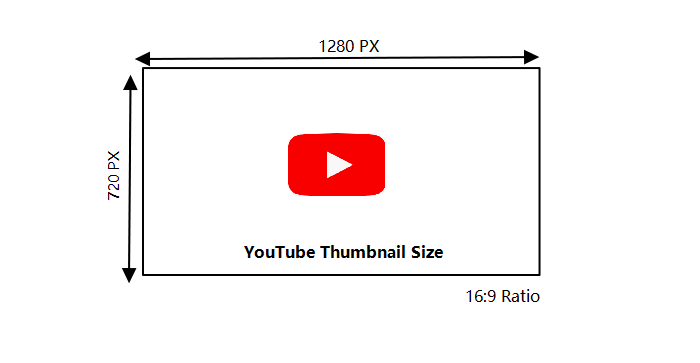 Best & Free YouTube Thumbnail Maker for PC 
As you can judge from its name, EaseUS Video Editor is more than a free YouTube thumbnail maker for pc but a comprehensive video editing software. Being capable of importing images, photos, videos, audios, and cropping these materials as a video, EaseUS Video Editor also supports creating a video cover for YouTubers. Besides, you can also use it as a video converter for Windows 10 to convert videos to audio, convert video to gif, convert MP4 to MP3, convert YouTube video to MP3, MOV to MP4, MOV to GIF, etc.
Some of you may have the same doubt here about what EaseUS Video Editor can do for you in creating a YouTube thumbnail, right? If it's so, continue reading and check it out.
Pros:
Customize the Thumbnail ratio - 16:9
Support all the key video, audio, and image formats
Support PIP editing, displaying more video or images on the screen
Provide adding stylish text, title or subtitle
Offer various visual effects like filters, overlay, elements, etc., to thumbnail
Support to customize the resolution
Cons:
Only works on Windows computers
Tutorial: How to create a YouTube thumbnail with EaseUS Video Editor
Step 1. Launch EaseUS Video Editor and select the ratio aspect, such as 16:9 for YouTube thumbnail.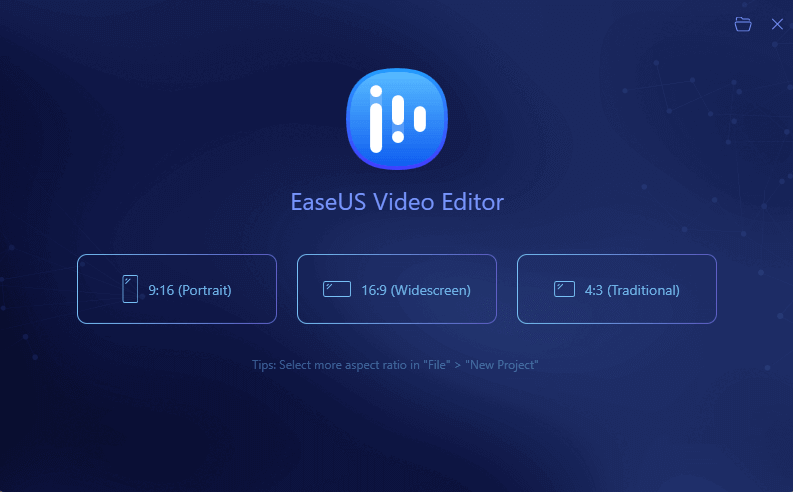 Step 2. Import files, like images, photos, and others. Click "Import" to load your images or photos that you want to use it create the video cover.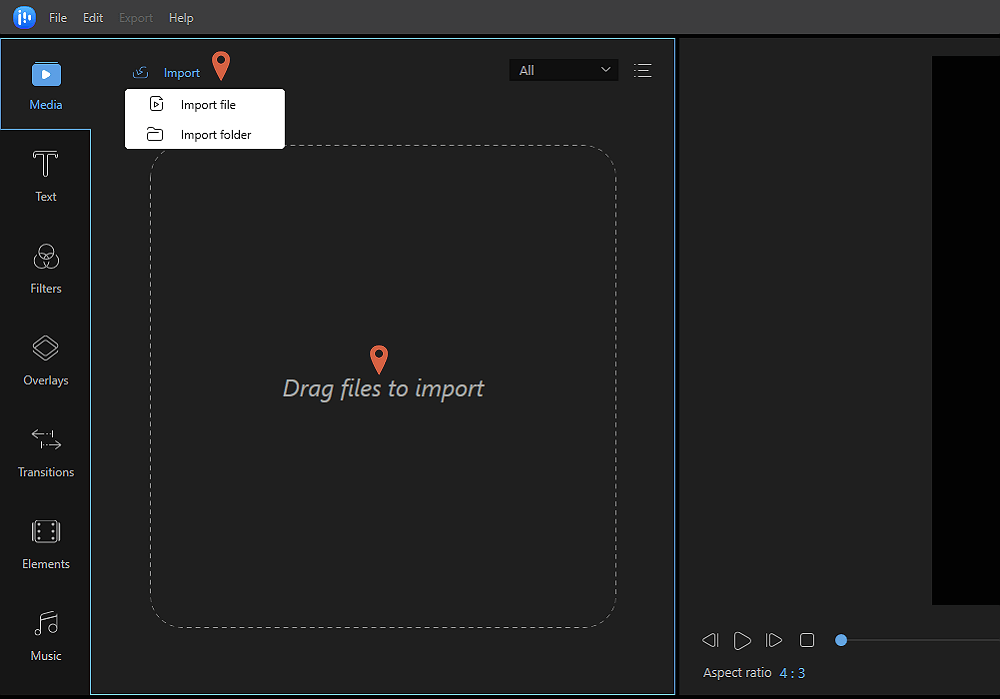 Step 3. Right-click the imported file and select "Add to project". Then your media file will appear on the timeline.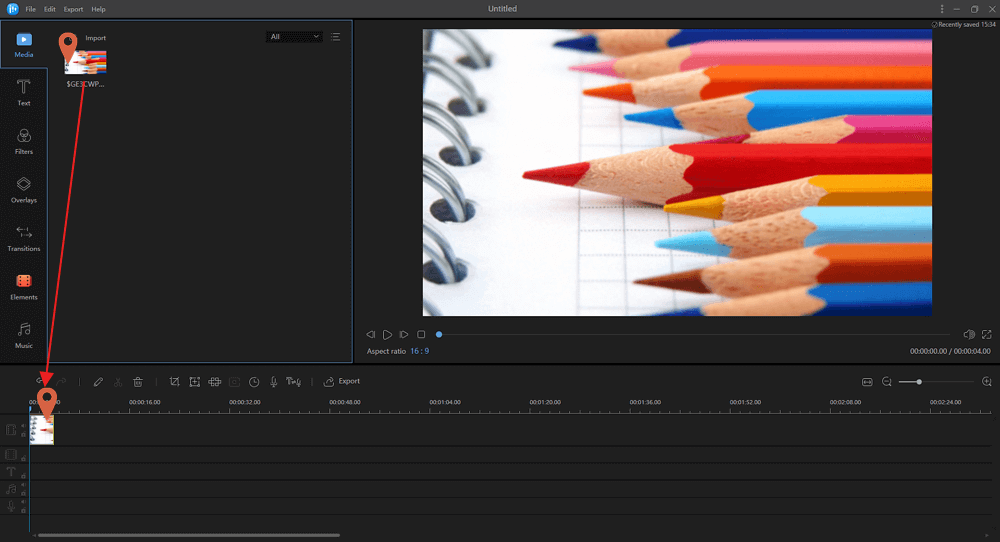 Step 4. Customize video cover by adding text, filters, overlays, etc.
Click "Text" and download the desired text style and right-click it to apply to the project. Also, you can double-click to edit the text and change its settings.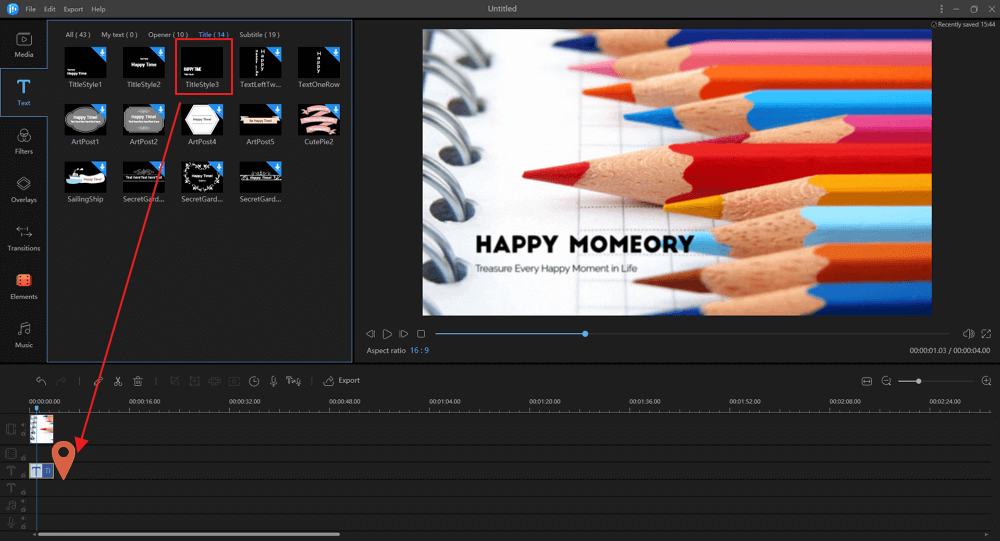 Click "Filters" and download a favored one and right-click it to apply to the project.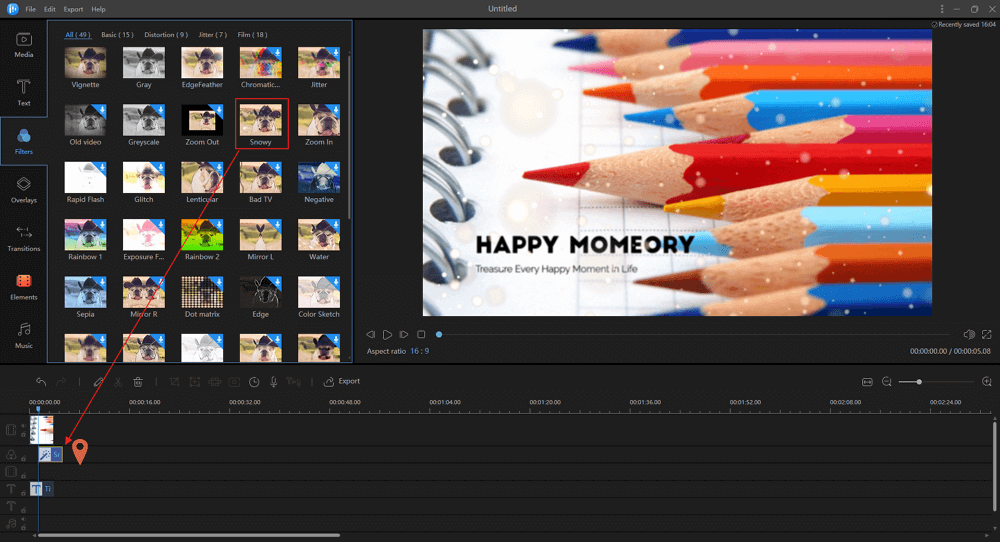 Click "Overlays" and download a beautify overlay and right-click it to apply to the project.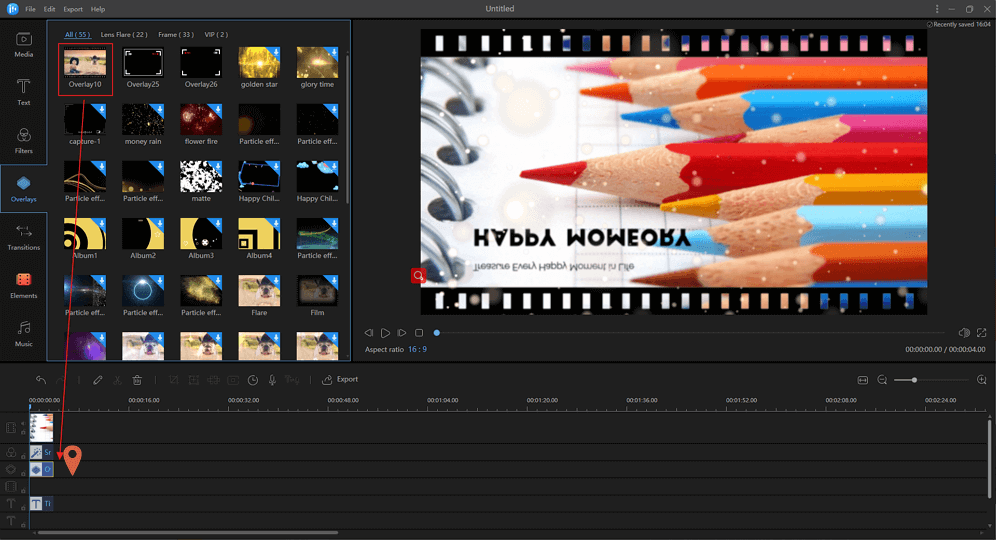 Step 5. Save and export video cover. Click "Export" to save the video cover as MP4, MOV, or GIF.
After exporting the video, you can play the video on your computer, taking a screenshot for the Thumbnail and saving it as .png or .jpg. Then, you can then upload the PNG, JPG, or GIF picture to your YouTube video as a thumbnail.
Best & Free YouTube Thumbnail Maker Online
Many of you like to directly create YouTube Thumbnail online. There are a lot of online YouTube thumbnail maker tools on the internet, but you may get confused while selecting. Given this, we will share with you some free online YouTube thumbnail maker in this part. Just read it and find the best free thumbnail maker to create an attractive YouTube thumbnail by yourself.
1. Adobe Spark
Adobe Spark, as an online YouTube thumbnail maker, it contains multiple types of YouTube thumbnail templates. With pre-generated templates, users only need to simply select desired templates, change titles and text, etc., to design a beautiful and professional cover for your YouTube video.
Like EaseUS Video Editor, Adobe Spark also does more than simply generating YouTube thumbnail. With it, you can also design social graphics, web pages, short videos, etc.
Pros:
Customize size and shape
Support a range of different examples of themes and sliders
Supports upload photos from local drive or download images online
Supports dozens of styles and fonts for typography
Cross-platform online YouTube thumbnail maker
Cons:
Some templates are not a free 7-day free trial
How-to Guide: Generate a YouTube thumbnail using Adobe Spark
Step 1. Go to Adobe Spark's homepage on your browser and sign in with your Adobe account or social media account.
Step 2. Select a size - Youtube thumbnail and click the Next button.
Step 3. Choose provided photos or click the Upload button to upload your own images or search for free photos online. Then click "Next" to continue.
Step 4. Double-click to edit text. You can select the desired text style, font, size, opacity, etc.
Step 5. Beautify the thumbnail by choosing pre-generated templates, design, colors, layout, and resize, etc.
Step 6. Set a file format for the created YouTube Thumbnail and click "Start download" to download it.
After this, you can upload the downloaded thumbnail to your YouTube video and start to capture your fans online.
2. Other Online YouTube Thumbnail Maker
Apart from Adobe Spark, there are many popular online YouTube thumbnail maker that you can use. Here is a list of online thumbnail maker for you to choose.
Canva
Fotor
Snappa
Fotojet
...
Conclusion
This page mainly introduces two free YouTube thumbnail maker software to you to create a customized thumbnail for YouTube videos. You can pick one of them based on your needs.
If you need to create a thumbnail with your own aspiration, EaseUS Video Editor with its fully-featured functions can help you out.
If you prefer time-saving access to generate a YouTube thumbnail, the online YouTube thumbnail maker, like Adobe Spark, is preferable.