6 Best GIF with Sound Makers: Make a GIF with Sound on Windows/Mac/Online

Vanessa Chiang updated on Jun 25, 2021 to Video Editing Tips | How-to Articles
While GIFs are one of the best ways to express anywhere, there is one thing which we will always miss—Sound. This post shares some of the excellent tools and software to make GIFs with sound. We can make one on Windows, Mac, or any platform using these tools, but before, here is something to understand about what it means to have sound added to an image.
What Is GIF with Sound Called? 
Technically, GIF format cannot have sound. It is only a repeating of a set of images. So, what should be done to make an animation with music? There are two ways - WebM or MP4. Both of these files can be placed on a website and played using a browser. While the WebM files are for browsers, small MP4 files can easily play on any platform. These formats include images and sound, and they are as small and short as GIF files.
That said, GIF with Sound is extremely popular. There are websites dedicated to such GIF files. They are widely used to share birthday wishes, sarcastic expressions, say thank you, and more. Since GIFs will never have sound, you will have to use tools to send GIFs with sound. Some of the tools listed in the post will help you take a YouTube URL and create a small video from it. It is evident that it will be short but will have sound. Any standard software should make it run in a loop to make it look like a GIF file.
Why Can I Hear This GIF with Sound?
As mentioned above, if you are looking at an image that plays itself like a GIF file but also has sound, then it is either WebM or MP4 File. GIF files were never made to have audio, nor will they have in the future. That's where the WebM file came into action. These files were created for the internet, which offered a smaller size but better experience.
Some websites put an MP4 file instead of WebM and make it look like a GIF. Since the file size is less compared to regular videos, it loads up quickly and plays sound along with it. It should be clear that WebM is an audiovisual media file format. It was built to bring in royalty-free alternate to HTML5 video and audio elements.
How to Make a Gif with Sound? 6 Best GIF with Sound Makers 
The list includes a combination of 6 software. Two are for Windows, the next two can be used on Mac, and the last set is online tools that work on any platform. Do note that the applications will create video files instead of GIF files.
#1. Make a GIF with Sound on Windows 
Applies to: Make GIF with sound on Windows 10, 8.1, 8, Windows 7, etc.
EaseUS Video Editor is a professional video editor that offers audio, video, and image editing tools. It is a perfect tool to get started if you are a beginner and want to get your hands dirty with video editing. The user interface is straightforward; the tool offers over 300+ effects, including free background audio, supports the high-quality format, and social media integration.
Here is the list of features:
Very easy to use video editor
Supports multiple inputs and output format
Offers visual effects such as Text, Elements, Transitions, Filters, Audio
Split, Cut, Trim, Color correction, and more
High definition output video and audio format
Here is an exciting thing about this software. Let's come to one clear understanding. You can either use an existing GIF file and add audio to it, or you can first create a GIF file from the images you own and then add audio to it. It works both ways.
Steps to Add Sound to GIF using EaseUS Video Editor
Step 1. Import the GIF File
You can add multiple photos and even custom audio files to use as background audio. Since the sequence is particularly important for GIF files, make sure to add the GIF in the right sequence. You can either drag and drop them to the timeline or click on the plus icon.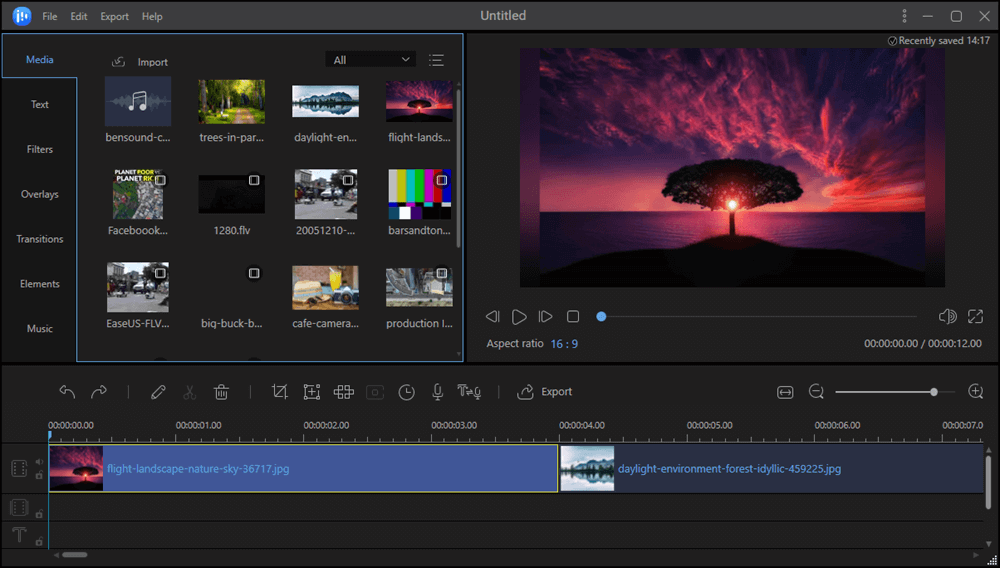 Step 2. Import the Music File
The video editor offers hundreds of background audio music which you can download and apply it to the images. Make sure to align them correctly to the length of the images or GIFs.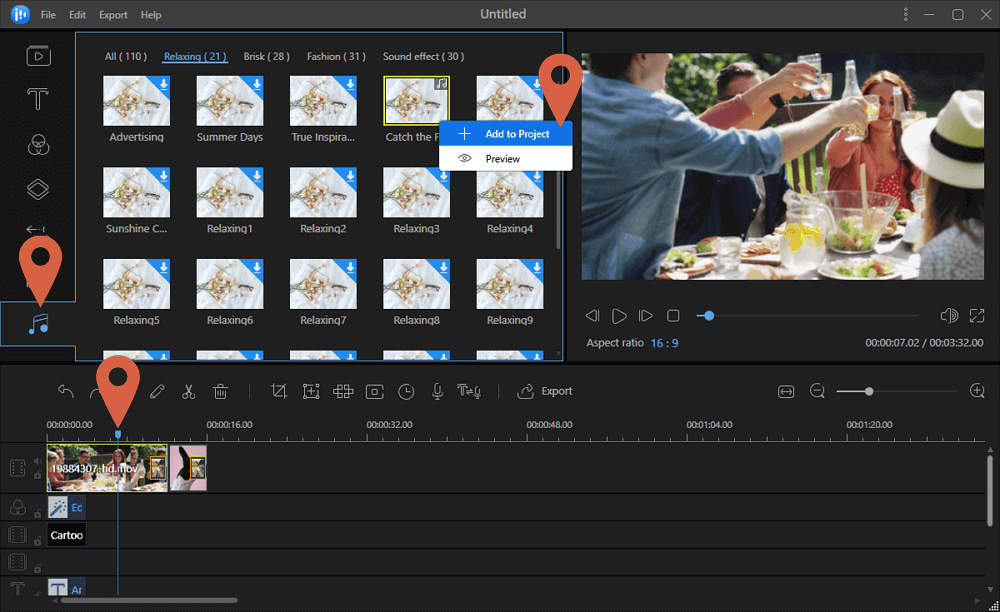 Step 3. Export the GIF with Sound
If you want to achieve the same what a GIF file can achieve, make sure to keep it short. When exporting the file, select the quality to best.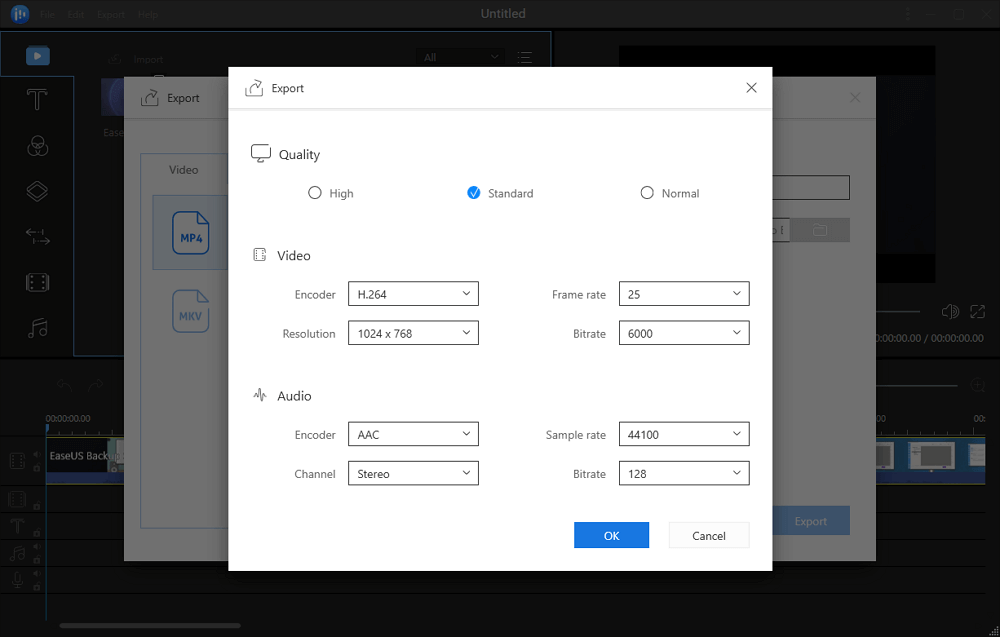 2. Windows Photo App
Windows Photos App is a built-in video editor that can help you create an image file with audio. The software supports a wide variety of formats and supports background audio. Since the software is easy to use and preinstalled, it becomes easy to access it right away.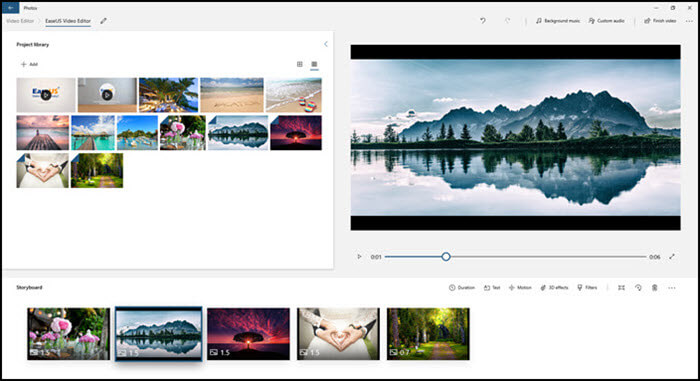 Step 1: Open Video Editor and add images and GIF files to which you want to add audio. You can also download images from the built-in Bing integration.
Step 2: Next, drag each image into the timeline, which is called storyboard here. Each image gets its section, which makes adding a specific audio file to each image. Once you have set the sequence of the image, click on the Background Music option on top of the preview to download and apply it.
Step 3: Video Editor offers additional tools such as adding text, 3D effects, filters, and title cards. All this will make sure the final video comes out impressive.
Step 4: Click on Finish video next to Custom audio. It will open the export options where you can choose the quality of the video. Under More options, you can choose to disable hardware acceleration if your PC is not very powerful.
Download: The software is preinstalled in the system. You can always download it from Microsoft Store if you cannot find it in the Start menu
#2. Make GIF with Sound on Mac
Applies to: Add sound to GIFs on macOS like Catalina, Mojave, etc., and older Mac OS X.
1. iMovie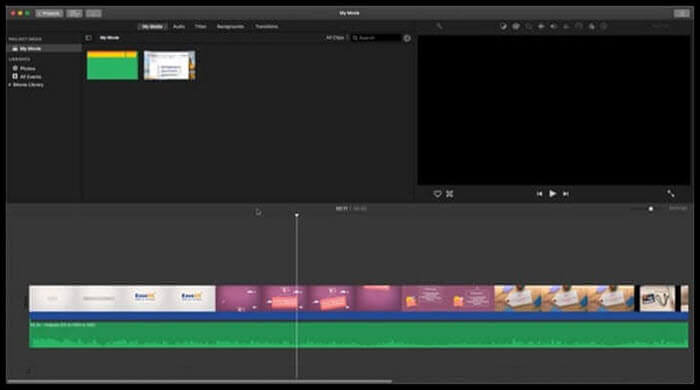 iMovie is a free yet excellent app for macOS users that can be installed from the App store. The app is a full-fledged video editor that can create movies, trailers, and GIFs with audio. The app offers a non-linear timeline to add multiple images and background audio to combine into one.
Step 1: Open iMovie App and add the images into the media tab or directly into the timeline. Next, you can choose from the available background audio or add one from your MacBook.
Step 2: To make sure the GIF creates the effect you are looking for, align both image and the audio file. You can also choose to add effects, increase the speed of the files, and manage audio so it sounds best.
Step 3: Once you are done creating a useful gif, it's time to export it to be shared everywhere. Make sure to choose the output quality, depending on which social media sites you plan to upload. Since you can repeat the export process
2. Shotcut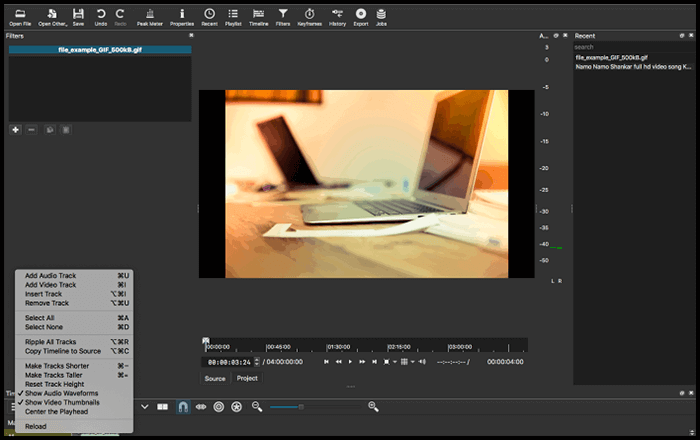 Shotcut is a professional video editor, which is also a cross-platform editor. It offers support for a large variety of audio and video format. In addition, it offers native timeline editing, webcam capture, audio capture, network stream playback, and more. When it comes to editing, it also offers color, text, noise generators as well.
Step 1: Open the Shotcut video editor and import the gif file into the software. If you are planning to create a GIF file out of images, you can add that too.
Step 2: Right-click on the menu at the bottom left and selected add an audio track. The next step is to align both of them together. It is here where you manipulate the images and adjust the audio track.
Step 3: Finally, export the gif and audio file as a video file. Ensure to keep the GIF as small as possible so the final video serves the same purpose as the GIF file.
#3. Add Sound to a GIF Online
Applies to: Create GIF with sound online, suite for all Windows, Mac, and even mobile phone users.
1. Kapwing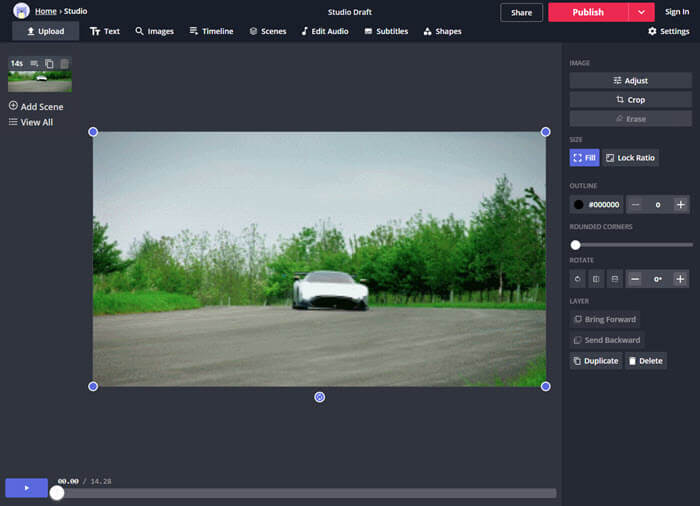 Kapwing is one of the brilliant online editors that can help you get effects timelines, sense, background audio, and features available in software editors. The service offers a dedicated service using which you can create audio in GIF in three steps.
Step 1: Open the audio to the GIF service and upload the GIF file.
Step 2: Next, you can use the audio section to upload audio on your computer or extract from a YouTube video or try a sample. You can always adjust the length and part of the audio mixed with the final GIF file.
Step 3: You can also choose to add effects, add more GIF files, scenes, and subtitles. Once you are done, click on publish to download the file.
2. Gif Sound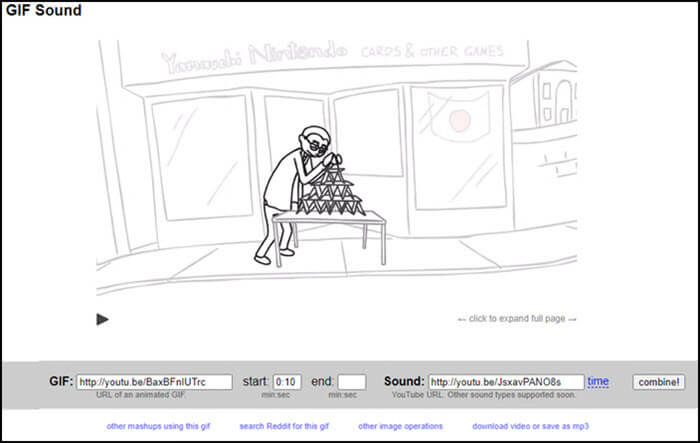 Gif Sound is an online tool that takes a straightforward approach to mix gif and audio files. There is no editor, no resources, but a combiner. It is also an excellent place to find some funny GIF files. It is instead a mashup tool that you will enjoy using.
Step 1: Open the website, and it will offer two input boxes. The first is where you place the GIF URL, and the second is the link for sound.
Step 2: Once you add the links, set the start and end time, and then click on the combine button.
Step 3: Finally, click on the download button to get the file in MP4 or FLV format. You can then upload it anywhere where the format is supported, and it will play the gif with audio.
Conclusion & GIF with Sound FAQs 
Now that you have experienced all the tools to create GIFs with Sound when using Windows, EaseUS Video Editor is the best tool you can use. It offers a full-fledged video editor that can do almost anything when editing video, image, and audio files - EaseUS Video Editor is the easiest and the best choice for Windows beginners.
1. How do you add sound to a GIF on the iPhone?
The best way to add sound to a GIF file is to use the iMovie app on the iPhone. It's free software where you can use an existing GIF file or set of images. Then you can add background audio and create a small MP4 file. The file can then be uploaded to websites that can play them.
2. How do I post a GIF with Sound? 
Any website which can play WebM or MP4 is a suitable place to post a GIF with Sound. YouTube and Facebook are the best examples which allow users to upload image with sound files. Once uploaded, anybody with a YouTube App or Facebook app can play them to see the image and the sound effect that was added to the file. EaseUS Video Editor can create such files and export them into Mp4 format.
3. Is post GIF is the same as posting videos
Yes, it is. Like how we upload an image to most social websites, you can upload GIFs to websites like Reddit, Facebook, YouTube, and more. Since these GIFs with audio are small files, you will be able to upload them quickly without consuming a lot of bandwidth. Since the websites support the format, you don't need any special player to view them. It will focus on the mobile application and even on the browser. EaseUS Video Editor offers social profiles for such videos making it easy to create videos for those websites.