How to Remove Background Noise from Video with Ease

Jane Zhou updated on Jun 25, 2021 to Video Editing Tips | How-to Articles
When filming a video on a busy street, blaring sound from ambulance sirens or continuous honking of cars and buses can create an unpleasantly loud noise. It can ruin your shots. But how to remove background noise from video for free?
The following guide will help you overcome such audio challenges while staying within a limited budget. Refer to this post to find the best noise removal tool to assist you in reducing background noise effortlessly.
How to Remove Background Noise from Video on Windows
EaseUS Video Editor is an excellent tool for creating fascinating home movies, picture-in-picture videos, and alluring travel clips. The software offers all the tools required to remove noise, enhance colors and audio, edit video. In addition, it helps to produce impressive results, thanks to its wide range of features and a vast collection of video filters and overlay effects. 
What's more, it is also a useful tool to remove background noise from video. You can use the inbuilt noise remover tool to get rid of the background noise captured in a video. The tool has a particular function called "Audio Detach". Here's how to use it to remove the background noise from your video free. Along with this, you can also use the Record voiceover tool to replace those noise or silence with your voice to create a perfect balance in the video.
You can check the below tutorial to reduce the noise from your video with EaseUS Video Editor:
Step 1. Import the source videos
Launch EaseUS Video Editor. On the home screen, you can import the source video files by either clicking the "Import" option or simply dragging the videos to the appropriate area.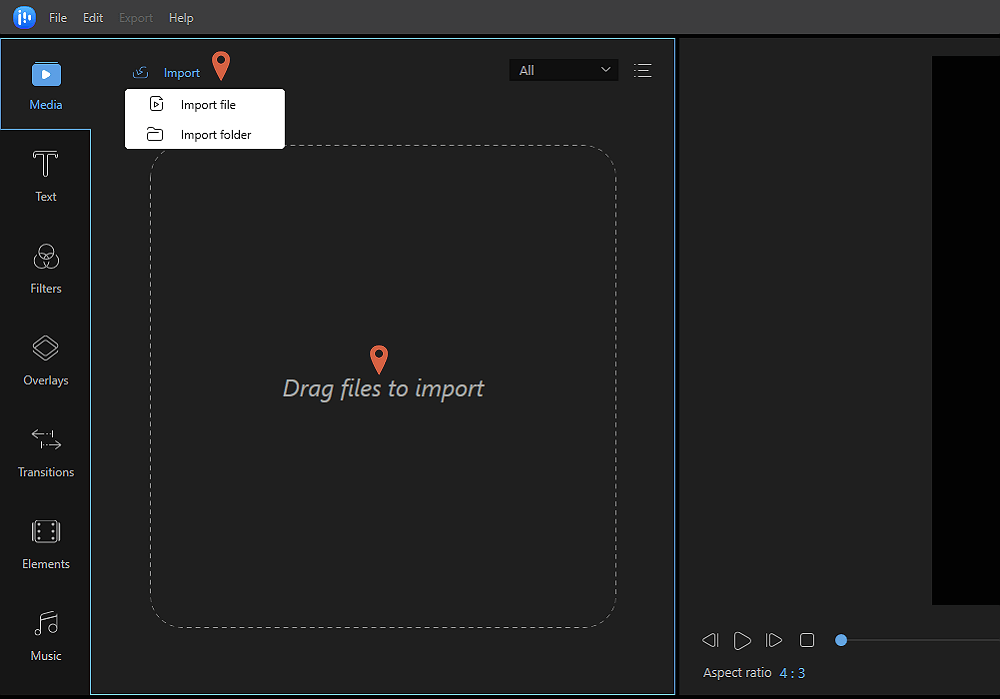 Step 2. Add video to the timeline
Right-click the video clip and select 'Add to project' to add the video to the timeline.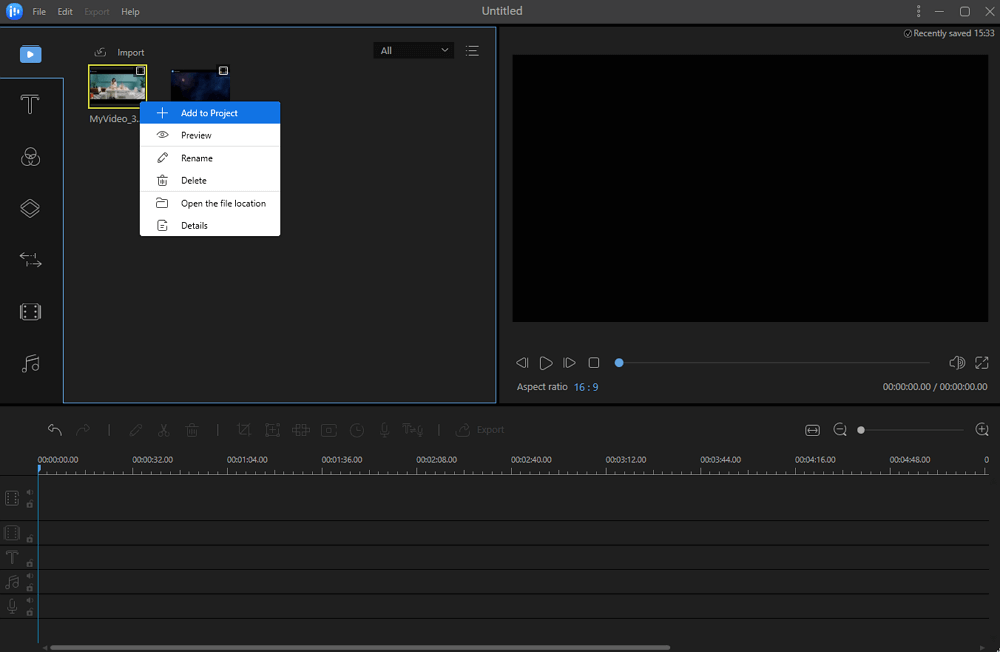 Step 3. Access audio detach option
While the video is running, right-click the timeline video and choose 'Audio Detach' option from the menu. The background music will be deleted from the timeline video. You can further optimize the sound file by exporting it, and then editing and mixing it with any other software.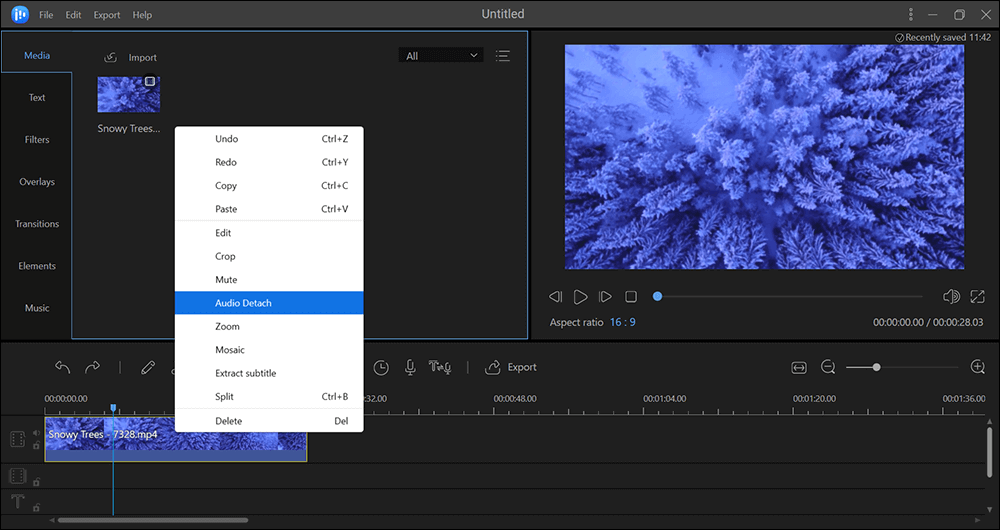 Step 4. Export the edited videos 
Now, click "Export" on the toolbar to export the edited video. Under the "Video" tab, choose a file format for the edited video. You can also edit the file name, customize an output folder and settings, and then click "Export".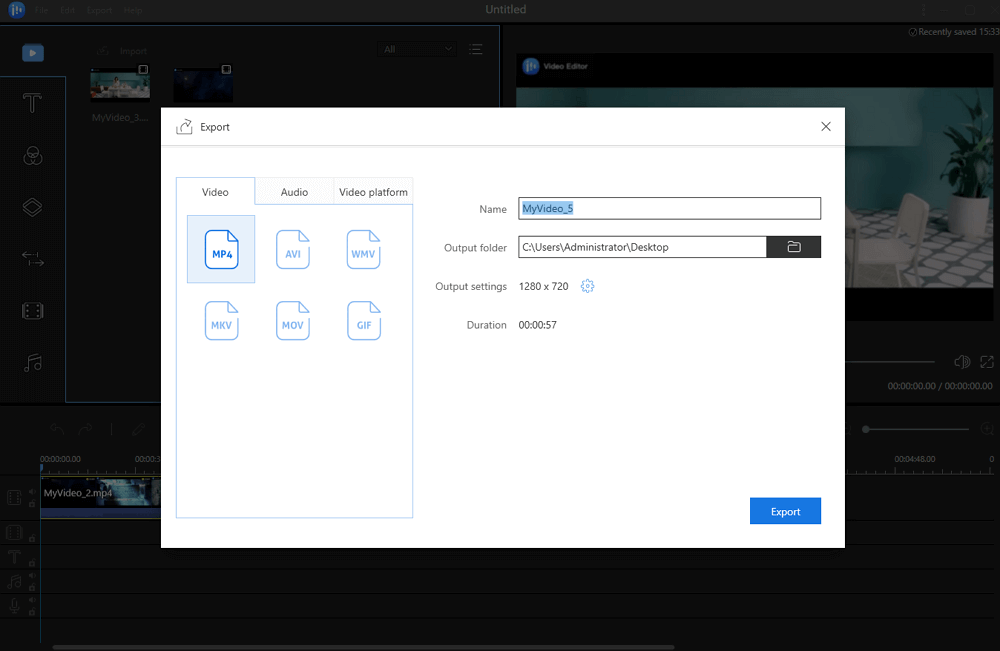 How to Remove Background Noise from Video on Mac Free
Removing background noise from the video is much easier for Mac users, as a great video editing software is pre-installed. That's iMovie. iMovie can enable you to turn your video footages into amazing movies with editing features in few clicks. Apart from that, it is also a helper to make clean background noise from your video, and you can get a video with high-quality sound by checking the following steps.
Steps to reduce background sound with iMovie:
Step 1. Open iMovie, and import the video clip in it.
Step 2. Find and click the Noise Reduction and Equalizer button, then check the Reduce background noise option and drag the slider of the percentage reduction you want to apply.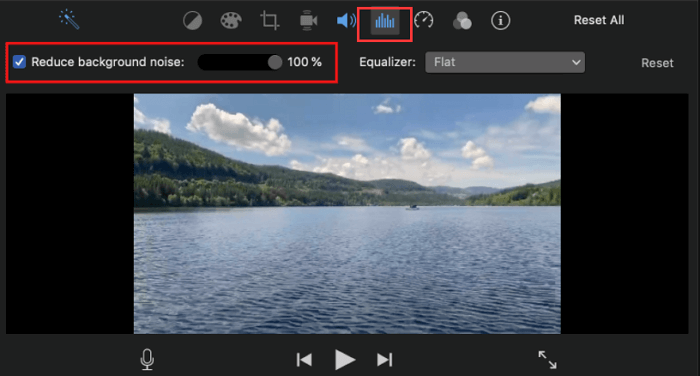 Step 3. After that, you can watch the video in the preview window. Then, if you are satisfied with it, you can export and save it on your computer.
How to Remove Background Noise from Video Online 
If you do not want to download or install any third-party software on your computer, you can remove background noise from video online for free. Here we will show you two free online tools and details on removing background noise from video online.
 1. Kapwing
The modern editor for videos, GIFs and images can help you remove background noise from video online easily. You can easily remove distracting background noise from your video and replace it with another sound or music that you want. You can also trim some parts of your video while editing the audio portion of it.
Step 1. Add the video to the editor's interface
Go to the Kapwing website and navigate to the 'Tools' section. From its interface, scroll down and look for the 'Mute Video' tab. Add a video file to it by dragging and dropping the file in the space provided there.
Step 2. Save the edited video
Once your video is uploaded, it will automatically be muted. Click the 'Create' button to wait for a while. Once done, save your video.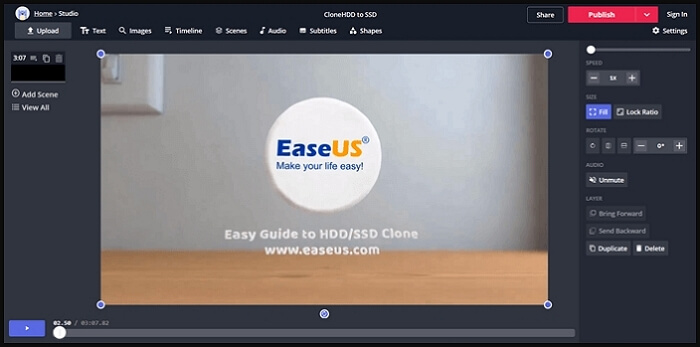 2. AudioRemover
AudioRemover supports many various video formats, like MP4, AVI, MOV, and many more. It makes it easy to remove noise from any video online for free. Also, with this online tool, you can mute a video online in just a few clicks if you like. Most importantly, the uploaded file will be deleted automatically after a few hours to protect your privacy.
Step 1. Upload your video
Go to AudioRemover's homepage. Click "Browse" to select the video that you want to remove background noise from, and then choose the "Upload Video" option. It may take some time, depending on the video length and your bandwidth speed.

Step 2. Remove background noise from video
Once completed, click the "Download" button to save the video on your computer.
Note: The size of a video is limited to 500M.
How to Remove Background Noise from Video on Android
Video Noise Cleaner is an app designed for removing background noise on your Android device. It allows you to clean the noise like wind, hiss, hum, buzz, white noise, and more in a single click. After editing, you can easily save the video clip to your gallery or share it with others. Besides, this noise remover supports almost all video and audio files so that you can make any noise removing work quickly.
How to remove noise from a video on Android:
Step 1. Download Video Noise Cleaner, then open it and load your video file.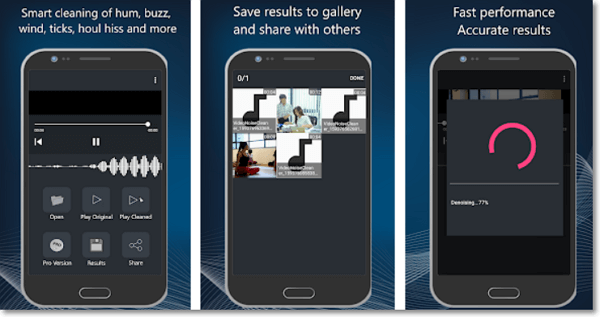 Step 2. When the video is imported, tap the "Play Cleaned" button to remove the noise from your video.
Step 3. Export or share the video with your friends via Whatsapp, Facebook, or other social software.
How to Remove Background Noise Using Audacity
Audacity is a famous free software to remove background noise from video. So if you want to remove background noise from audio with Audacity, it is possible. The only drawback is that once the background noise is removed, it will export only in audio format. The original audio can then be replaced with the one you exported from Audacity.
Step 1. Install FFMPEG Library
Open Audacity, and click on the Edit menu, and select preferences. Navigate to Libraries, and click on the Download button next to the FFmpeg library. It will take you to the https://lame.buanzo.org/, from where you can download the FFmpeg-win-2.2.2 zip file. Once downloaded, install the library, and go back to the Audacity preferences. This time click on the Locate button. It will automatically detect the library and add it to its reference.
Step 2. Import, and Find the noise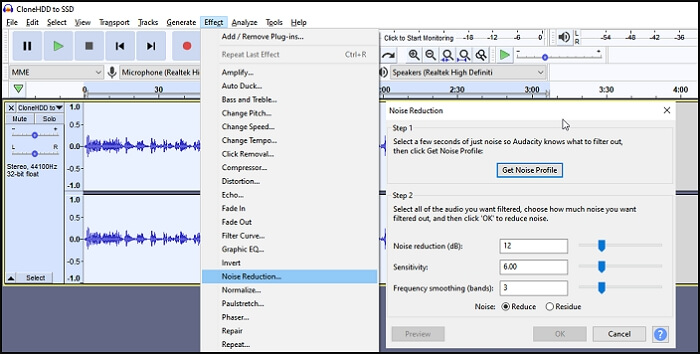 Next, import the video, and it will internally convert it into audio format. So in the editor, you will not see any video, but only noise. Audacity can remove noise from any video or audio when you help it to identify the noise. Select part of the audio, which is noise, and then click on the Effect menu, select Noise Reduction. Then click on Get Noise Profile, and it will automatically treat the selected audio as noise.
Step 3. Remove Noise and Export.
The next step is to apply this noise filter throughout the audio. Audacity offers you to choose the noise reduction amount in DB, sensitivity, frequency smoothing. When you click ok, it will remove the background noise automatically. Lastly, you can export the audio and then use it again in a video editor.
Conclusion
Although you strongly believe that video or audio recording should be done in the quietest setting possible, there still will be anomalies and noise problems. In such times of crisis, the list of these background noise removal tools will prove to be your saving grace.
We strongly recommend EaseUS Video Editor for removing the background noise from a video. It has the simplicity of use and functions of professional software under a single interface. Apart from removing the noise, you can also add voice-over, create subtitles from audio, and more.