How to Extract Audio from Video on Windows 10/Mac/iPhone/Android/Online

Jane Zhou updated on Mar 22, 2021 to Video Editing Tips | How-to Articles
Sometimes, when you're watching an MP4, movie, or animation, you might enjoy the audio clip in the video file. And the audio file may have no other resources available. In this case, how do you keep the audio alone? Based on similar needs, we create this tutorial to show you how to extract audio from video files, including MP4, AVI, FLV, MPEG, and more. We've come up with 7 different ways to help you get audio from MP4 video on Windows 10, Mac, iPhone, Android, and online.
Best 7 Ways to Take Audio from Video:
1. How to Extract Audio from Video on Windows 10
EaseUS Video Editor is one of the most popular video editing tools that offer you all the basic and advanced features. You can use it to add texts/special effects/metadata/filters to a video, crop/rotate/merge video, convert MP4 to GIF, convert MP4 to MP3, and more. Of course, it also allows you to rip audio from video and save it in MP3 and AAC formats.
If you want to make your audio more impressive, you can add fade-in and fade-out as the sound effects to your files. EaseUS Video Editor also offers you some background music clips as built-in elements. You can choose the most suitable one according to your preference.
Key Features of EaseUS Video Editor:
The main interface is simple and user-friendly
Extract audio from youtube for other types of videos
Increase volume of MP3 to suit your requirements
Support editing audio files with basic tools, like trimming, splitting, and merging
Sync audio and video in a simple way
Share audio files to YouTube, Facebook, and other platforms
EaseUS Video Editor, the best audio extractor that supports separating audio from video effortlessly. Download it now!
How to Split Audio from Video on Windows 10:
Follow this guide to rip audio from video and save it in the format you like.
Step 1. Launch EaseUS Video Editor on your computer. In the Media part, click the "Import" button in the upper left corner to load the source video. Or you can directly drag and drop files to import.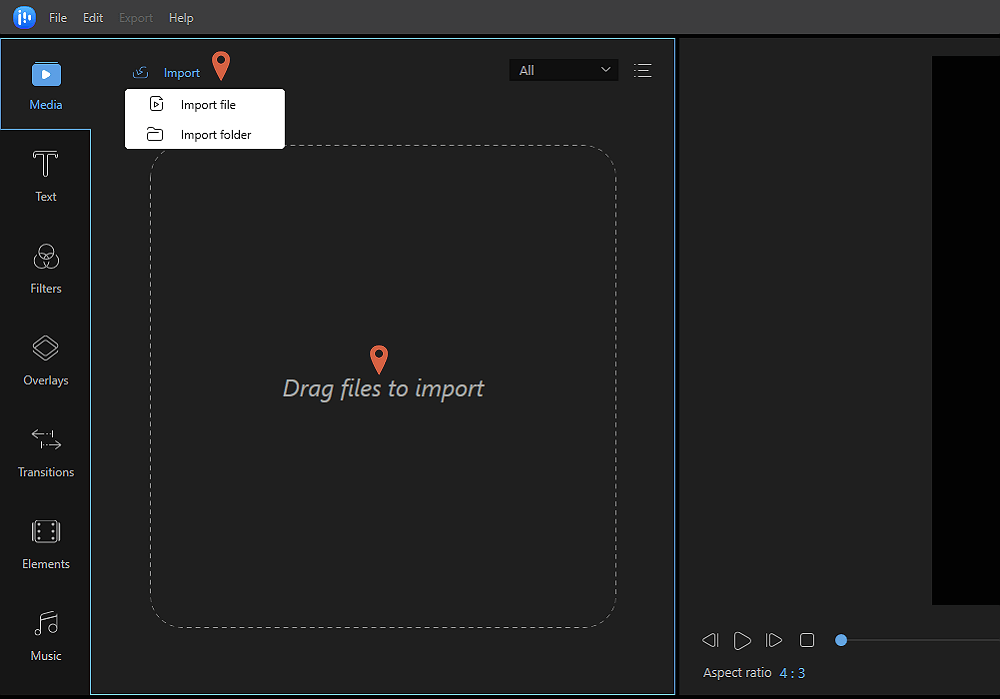 Step 2. Right-click the video and choose "Add to Project" to add the file to timeline.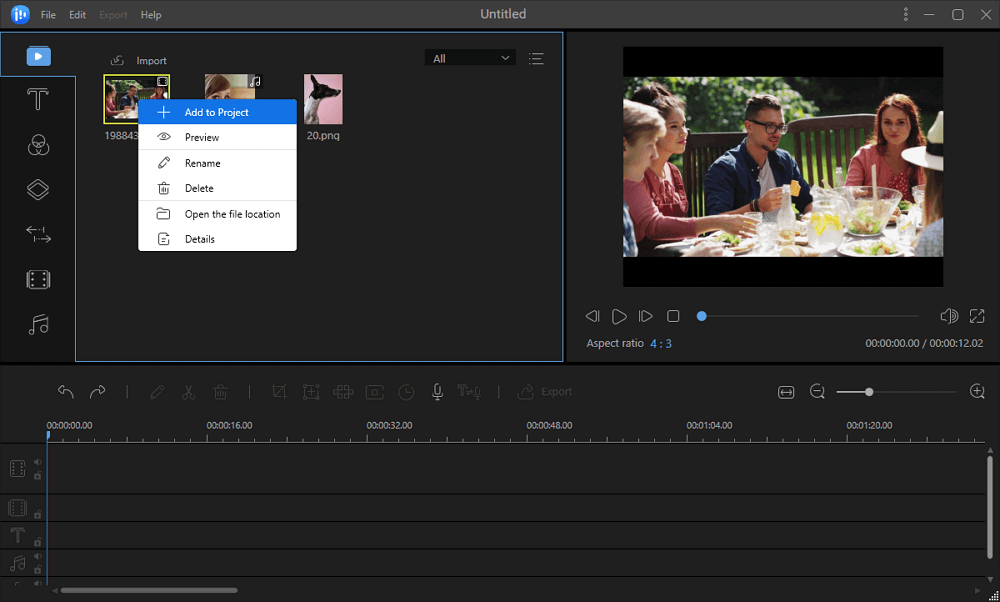 Step 3. Right-click the video on the video track, and choose "Audio Detach". Then, the audio file will be loaded to the soundtrack.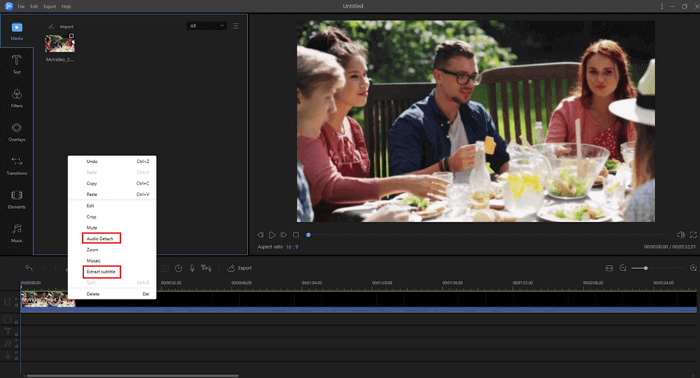 Step 4. Click the "Export" button to save the extracted audio to your computer. Two output audio formats are available: MP3 and AAC. Before click the second "Export" button, you can customize the settings.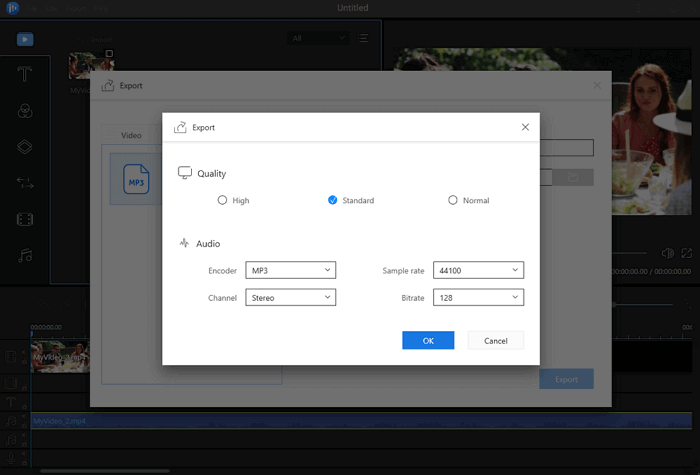 2. How to Detach Audio from Video with VLC Media Player
On a Windows computer, one built-in media player, called VLC, can strip audio from video. VLC is a free and open-source portable cross-platform media player software that supports many audio and video compression methods and file formats, including DVD-Video, video CD, and streaming protocols. You can use the Convert/Save feature of this program to pull audio from YouTube video in a few clicks.
Step 1. Open VLC. Go to "Media" > "Convert/Save."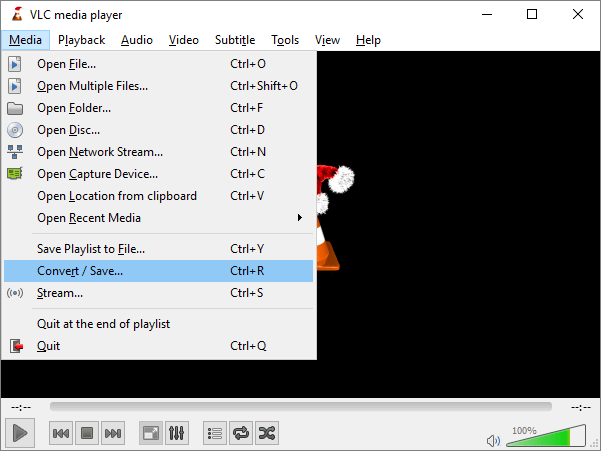 Step 2. Once you click Convert/Save, a dialog box will pop up to select the file you need to extract audio from. You can click "Show more options" to select the precise timeline you need an audio file for. Then, click "Convert/Save."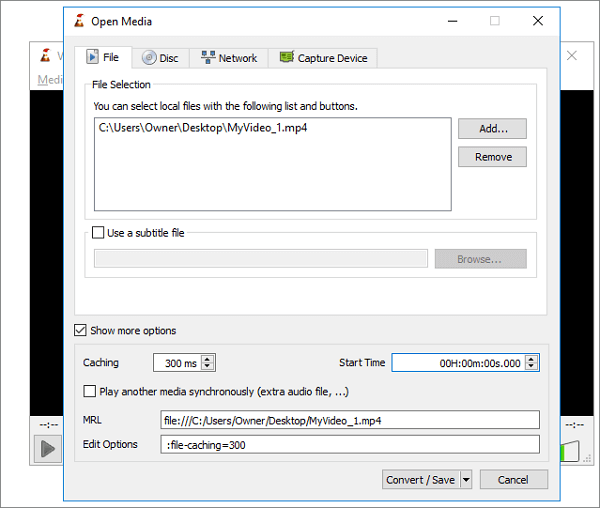 Step 3. Next, a Stream Output box will appear. You can select either OGG or MP3 as an output profile. Click "Browse" to set the name and destination of the audio file. Then, click "Start" and let the data stream. When the process is finished, open the MP3 file.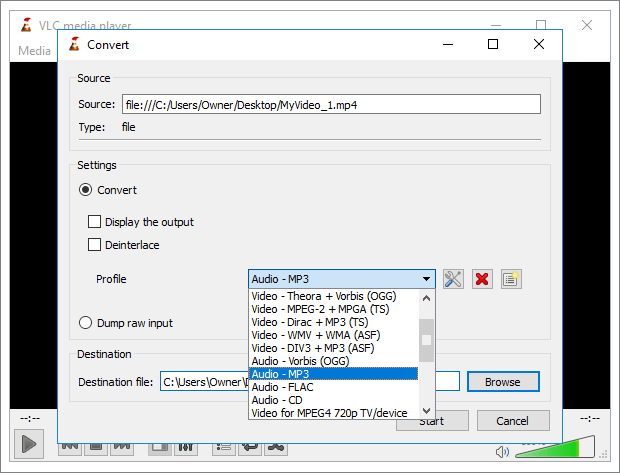 3. How to Extract Audio from Video Online for Free
Audio Extractor is a free online app that can help extract audio from video with ease. You can open files from your local computer, Google Drive, Dropbox, or a URL. Besides saving the detached audio file in MP3 or WAV, you can also save it as an iPhone ringtone.
Note: This tool has a limit to your original video files. The maximum size of a file you can open is 2048 MB.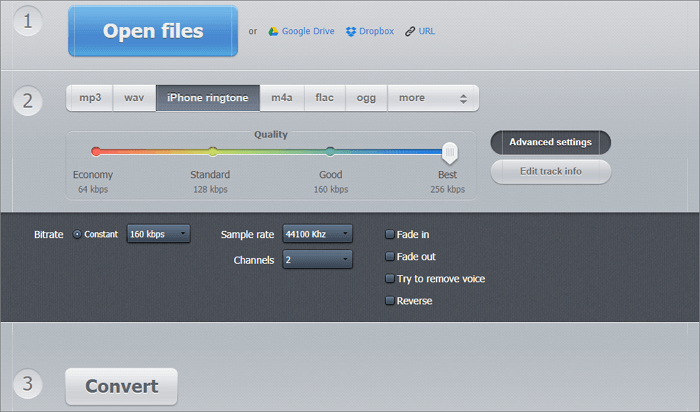 Step 1. Open the online audio converter (search Audio Extractor in Google).
Step 2. Click "Open files." And choose the format in which you want to convert the sound.
Step 3. You can click Advanced Settings to customize the audio files. Then, click "Convert" and wait until the file is converted; then click "Download."
Try: https://audio-extractor.net/
4. How to Extract Audio from Video Audacity
Audacity is a free and open-source digital audio editor and recording application software. You can use it to extract audio from video on Windows, macOS, Linux, and other Unix-like operating systems. Audacity is one of the best software for versatile audio engineering requirements. To extract audio from the video clip with Audacity is easy, do as following guides.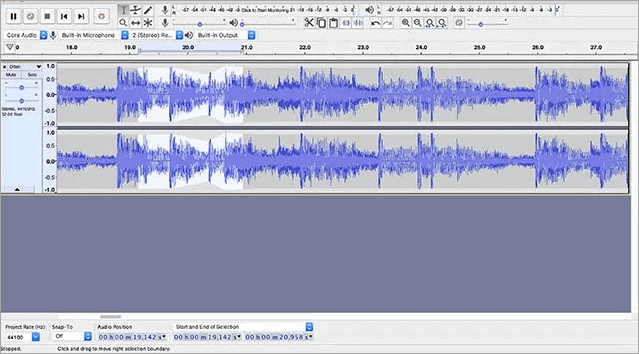 Step 1. Download and open Audacity on your Windows or macOS computer.
Step 2. Click "Open Files" and then go to "File" again and select the "Export" option and choose "Export as MP3", "Export as WAV" based on your needs.
Step 3. Follow the on-screen instruction to finish separating the audio from the video at the end.
5. How to Split Audio in iMovie on Mac
iMovie is a rich-featured and cross-platform video editing software that can be used by users of iOS and macOS. People can easily create their own videos by merging the video clips on their devices together with its help. Then, it's also very convenient for them to share those works with their families and friends.
You can easily split audio from videos in iMovie on Mac since the operation is simple and practical. Now, try to take audio from video by yourself.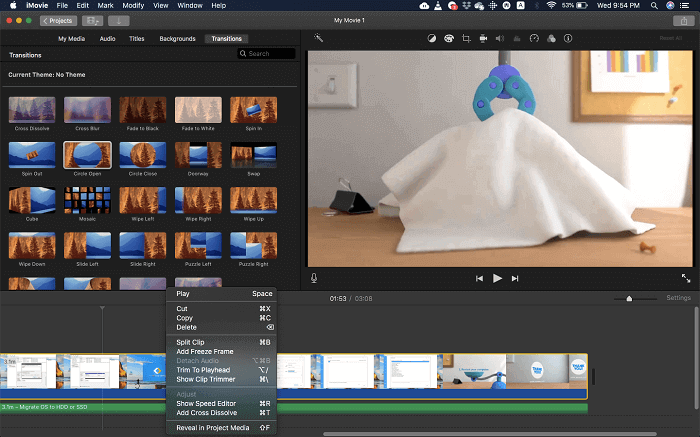 Step 1. "Share" (i.e., Export) your iMovie project as a File. After your video file is done rendering, go to where you saved it.
Step 2. Right-click it, and choose "Encode Selected Video Files."
Step 3. Choose"Audio Only" from the drop-down menu next to "Setting." Then, choose to "Continue."
Step 4. A few seconds later, your audio file will appear in the m4a format.
6. How to Extract Audio from Video iPhone
To separate audio from video on the iPhone, one way is to use iMovie, which is the best video editing program for iPhone users. By default, iMovie imports audio and video from the same source into one clip. You can detach the audio from a video clip easily.
The extracted audio clip behaves just like any other audio clip in iMovie. You can re-edit optionally, such as move it, trim it, apply an audio effect to it, and so on.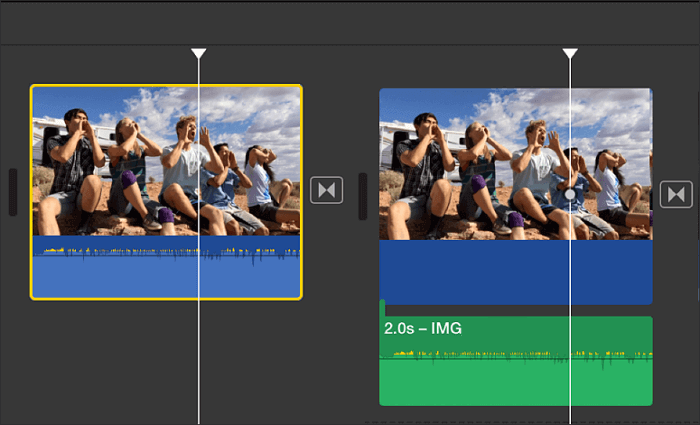 Step 1. In the timeline, select a video clip with audio.
Step 2. Choose "Modify" > "Detach Audio" (or press Option-Command-B). The audio will then be removed from the video clip quickly and appears on the audio track (with a green bar) attached below the video clip.
Step 3. Now, you can save or edit the extracted audio file as you want. You can attach the audio clip to any other video file.
If you want to do it on your phone directly instead of on the computer, you also can use an app on the App Store. To extract audio files on your phone, you need to download a play store app called Extract Audio from Video. After importing the video file in MP4, 3GP, or WEBM, you can choose the target audio format. Then click "Extract" to save the removed audio file.
7. How to Extract Audio from Video Android
To extract audio from video on Android phones, it's a little tedious to convert video online. But you can use an Android app to make it effortlessly. Video to MP3 Converter is a capable video redacting application that provides you four options: Audio Cutter, Video Cutter, Video to Audio, Output.
You can tap on "Video to Audio" and select the video file you want to extract the audio from. Choose either Simple or Advanced mode, then tap on "Convert" at the bottom to begin. When finished, you can either play the audio or set it as your ringtone on your phone.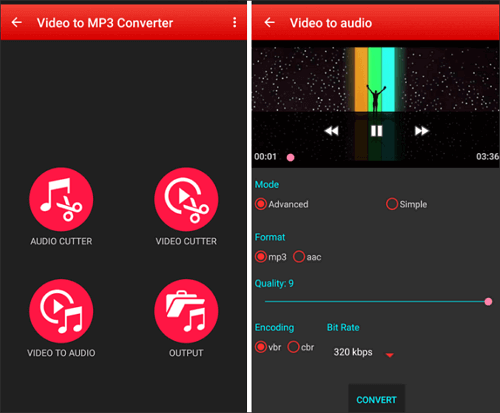 Conclusion
With the six audio extracting software introduced here, you can quickly extract audio from video on Windows 10, Mac, iPhone, or Android phone with ease. The audio extractors mentioned can handle all the common video files downloaded from YouTube/Instagram/Facebook/Vimeo, and any recorded videos.
If you want to do more video editing work, such as create effects like "Picture in picture," correct color, animate text/vide/effects, and more, we recommend you try an exclusive video editor, like EaseUS Video Editor, to upgrade your video editing skills.
FAQs About How to Separate Audio from Video
1. How do I extract just the audio from a video?
Extracting audio from a video is not difficult. All you need is an audio extractor software, like EaseUS Video Editor. With it, you can easily extract audio from MP4 or other format videos.
2. Can you separate audio from video?
Yes. You can separate audio from video with a lot of audio extracting software on the market. Here is a list of freeware you can try.
Best Audio Extractor in 2021:
EaseUS Video Editor
VLC Media Player
QuickTime Player
Audacity
...
3. Can VLC extract audio from a video?
Yes. VLC can help you extract audio from video easily. For the detailed tutorial steps, you can move to Part 2 in this article.
4. How can I extract audio from a video online for free?
You can try online audio extracting software, like Audio Extractor. Using these tools, you can easily separate audio from video online for free.