How to Color Correct Video in 6 Best Color Correction Software

Vanessa Chiang updated on Mar 22, 2021 to Video Editing Tips | How-to Articles
What Is Color Correction in Video Editing? 
According to Wikipedia and other professionals, color correction is defined as a process that uses color gels, filters, the change of light and color to make a stage, a picture, a television show, or even a movie more natural or fantasy.
Video editors can apply color correction technology to change the video color temperature, gel nomenclature, white balancing, etc., to gain the desired scenes in videos. For example, you can brighten a dark video using color correction.
Can I Color Correct a Video?
Is color correction complex? Yes. The process of color correcting a video is complex and curling for beginners using professional video editing software.
Some of you may wonder to know "Can I color correct a video" as a beginner with no color grading or theoretical background of color correction. The answer is Yes.
With the development of video editing technology, it has become easier for all amateurs to color correct a video using advanced video editing software.
On this page, you will find the easiest way to color correct a video as a beginner and a list of 5 color correction software for professionals. If you are looking for a way to brighten your video, making it more realistic or fantasy, pick up one and follow the how-to tutorial listed below to make your video a masterpiece with ease.
Easiest Color Correction Software for Beginners - EaseUS Video Editor
Applies to: Color correct video in Windows PC, no technical skills required.
Best for: Video Editing Beginners
EaseUS Video Editor, judging from its name, is clear that this software is designed for people to create a video. It is a DIY video editing software that offers basic video editing features, such as clipping, trimming, zooming, cropping, etc. with intuitive & simple guidelines for beginners to create a video with ease.
Besides basic video editing features, EaseUS Video Editor also contains some advanced video effects that enable any levels of users to promotes their video appearance. You can add text, overlay, filter, video opener, special visual effects, music, etc., to a video. Color correction is also enabled in this software. 
Windows beginners can easily apply this software to correct the video color by adjusting its contrast, saturation, brightness, hue, highlight, and shadow, etc., settings.
Color Correction Tutorial - How to Color Correct a Video
Here is a step-by-step tutorial that you may follow to color correct a video and make your video professional in only a few clicks using EaseUS Video Editor.
Learn how to improve your video quality via color correction software now:
Step 1. Import Video
Run EaseUS Video Editor on your computer, select a desired video aspect ratio. Drag or import a video that you want to color correct to this color correction software.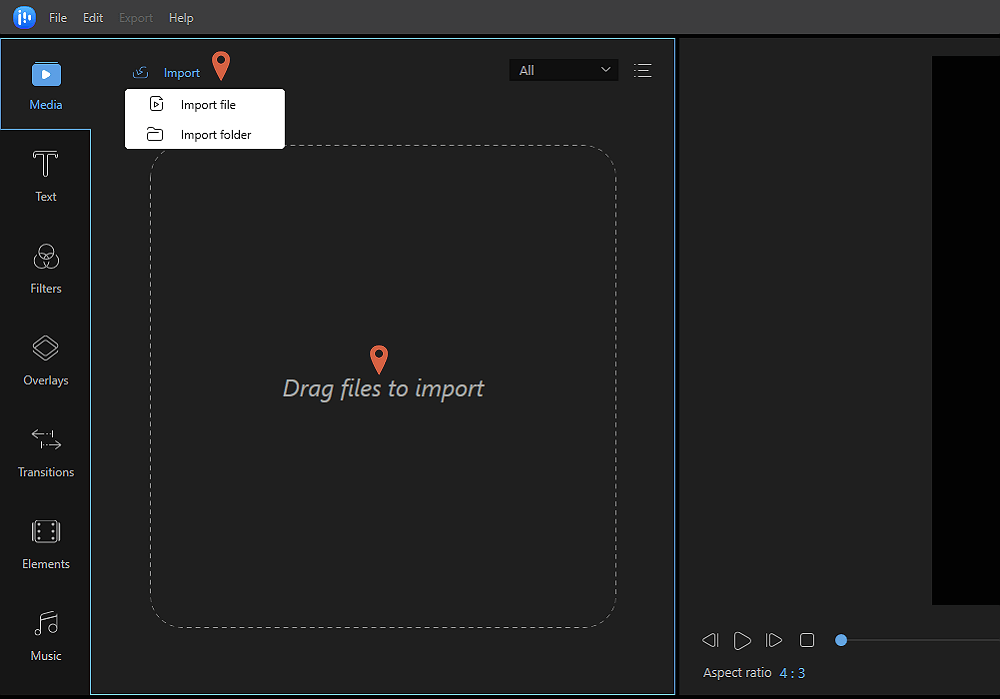 Step 2. Create a Video Project
Right-click on the imported video and select "Add to Project" to create a new video project. You can also drag the video to the timeline.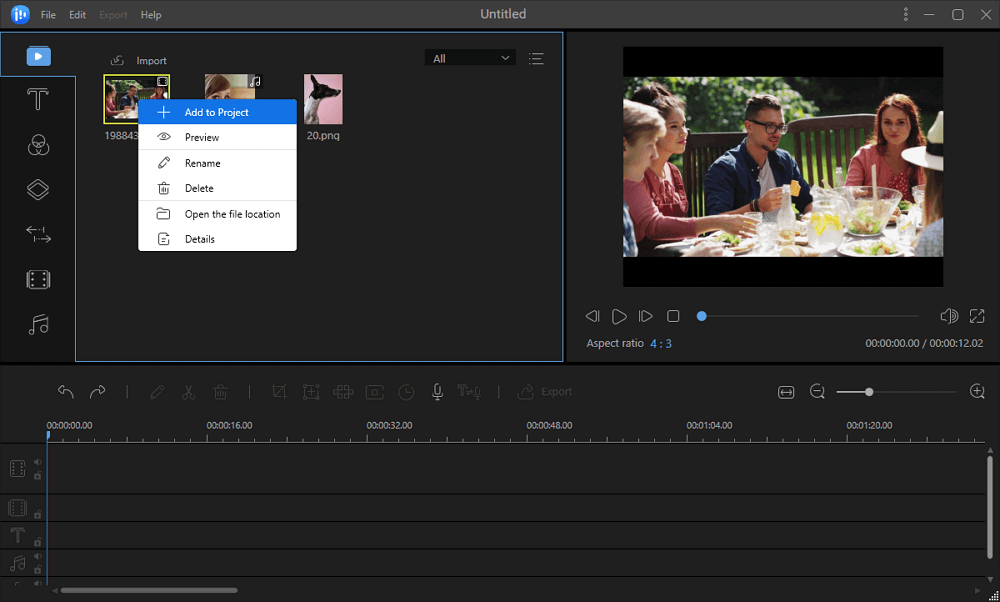 Step 3. Color Correct Video
Select the added video in the timeline, click the Edit icon.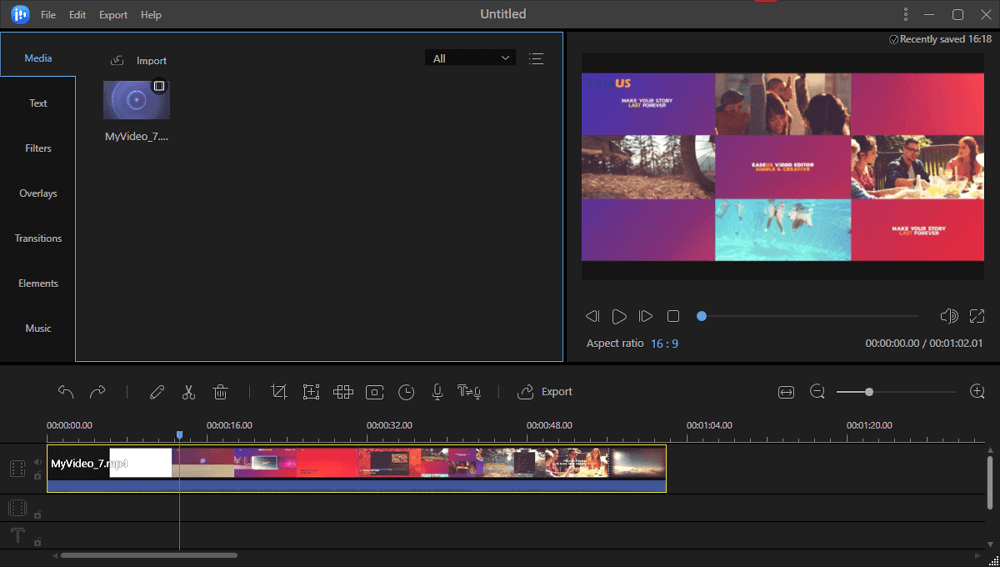 And then adjust the respective settings that are related to color correction, including Contrast, Saturation, Brightness, Hue, Highlight, Shadow.
By changing these settings, you can change the color outlook of your video.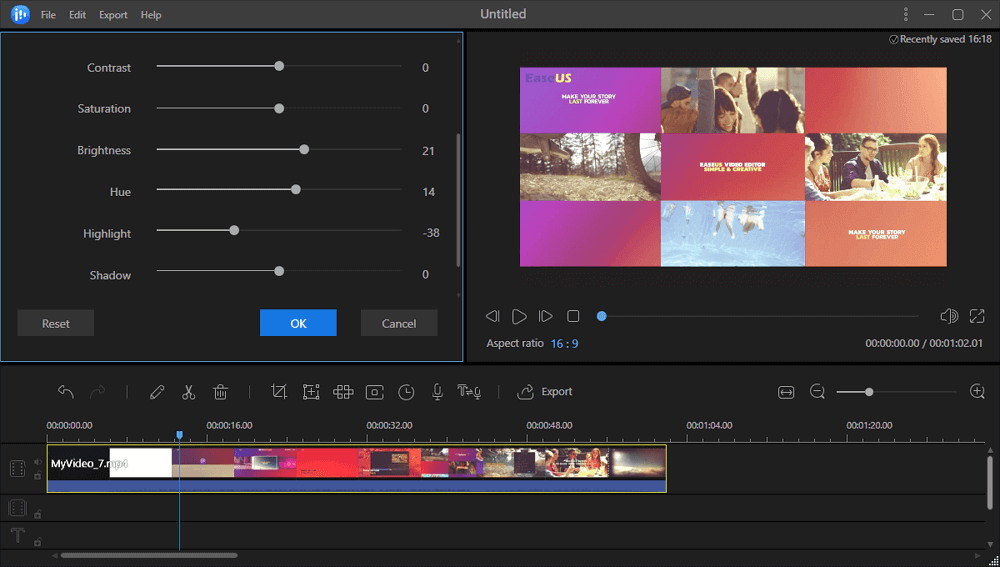 Step 4. Export Video
After correcting the video color, you can also add more visual effects such as texts, filters, overlays, transitions, etc., to your video. 
When you are done, click the Export button and set the desired format for your video, then export and save it on your PC. 
You can also choose to export and share the corrected video onto a video platform.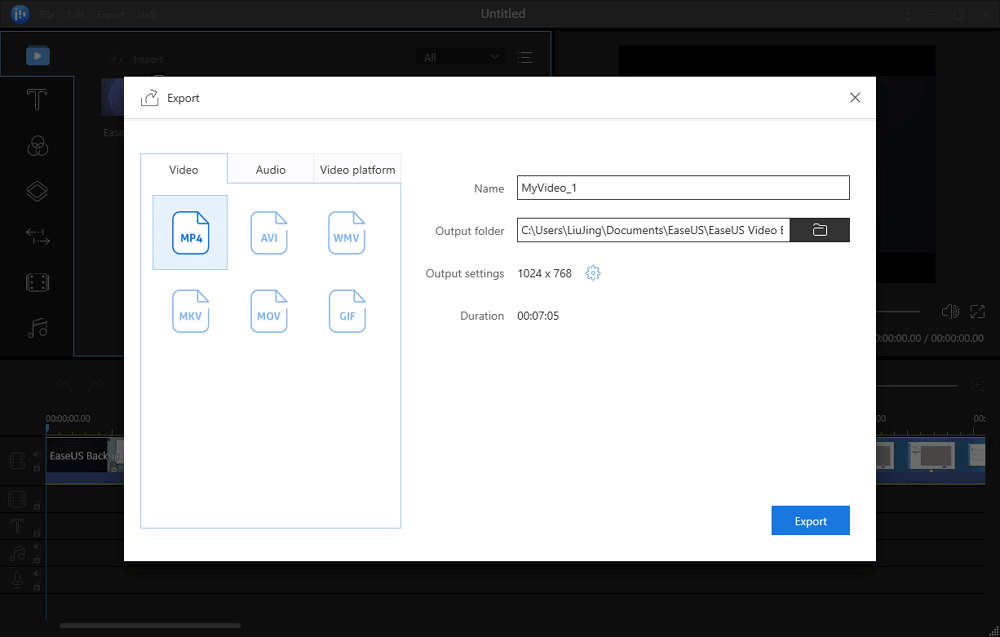 5 Best Color Correction Software for Professionals
Applies to: Offer advanced color correction software for professionals on Windows and Mac, color grading or color correction skill required.
Best for: Experienced video editing amateurs and professionals. 
For most video editing beginners, EaseUS Video Editor is fair enough to reach most users' needs in video editing and color correcting. But it is still way far of becoming a professional tool in color correcting nor video editing.
If you are an experienced amateur or a professional video editor, the following list of 5 best color correction software can help you efficiently edit and enhancing the videos to a fancy effect as you want:
Most covered software in the list is only compatible with Windows OS. Make sure that you pick up the right software for color correcting or grading on your video.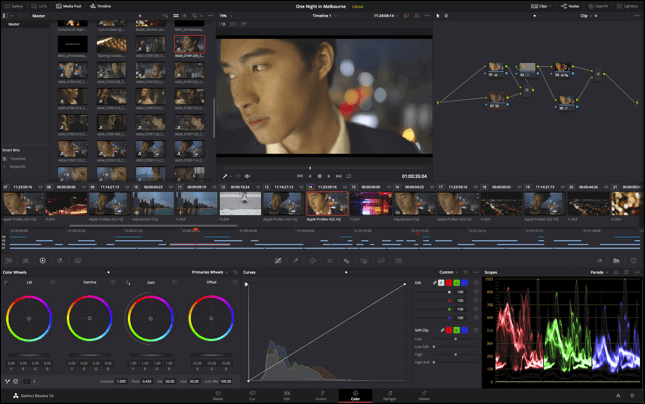 Davinci Resolve is a professional video enhancing software that supports 8K video editing, color correction, visual effects, etc. Users can instantly move between editing, color, effects, and audio within a single click.
Users can manipulate light and color in multiple ways. Lift, gamma, gain, log and offset color wheel, and contrast controls make it easy to precisely adjust color correction in videos. You can also change the luminance from red, green, and blue channels to create unique looks on your video.
Video Tutorial - Color Correction using Davinci Resolve
Source from: YouTube; Created by: SonduckFilm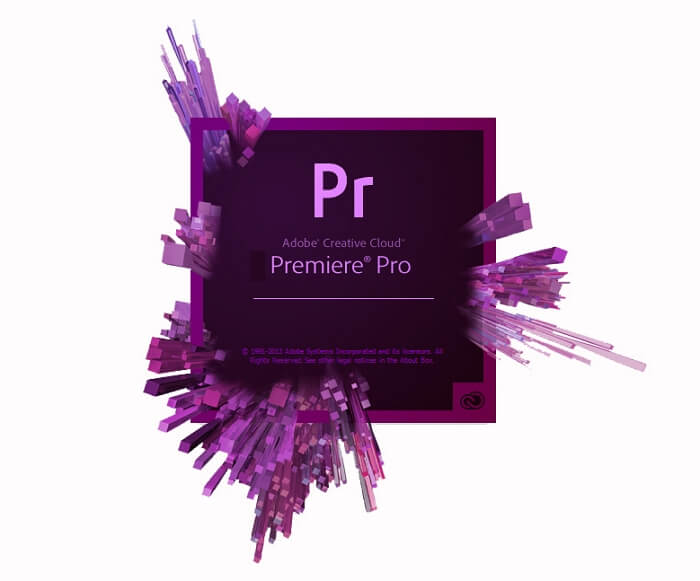 Being it a professional video editing software, Adobe Premiere is widely used by video editors on both Windows and Mac computers to trim, clip, cut TB shows, movies, videos, etc. It also supports users to craft footages into attractive films and videos by adding creating effects.
Adobe Premiere Pro contains a color grading feature that allows any user to color correct a video using its Lumetri color panel, color match, and one-click LUTS, features. It enables you to adjust every detail and even automate color correction within just one click.
Video Tutorial - Color Correct a Video with Adobe Premiere Pro
Source from: YouTube; Created by: Cinecom.net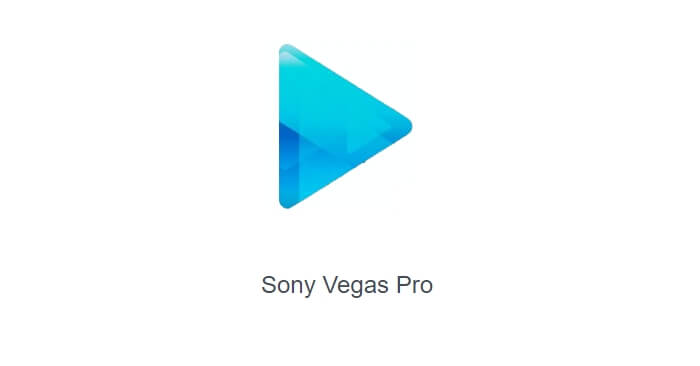 VEGAS Pro works as a non-linear video editor, which brings innovative approaches and editing tools to speed up the workflow, making video editing more efficient and more creative. 
VEGAS Pro also offers a color grading tool that empowers users to color correct videos in the workflow fast and flexibly. 
Unified color grading workflow, LUT export, and HLG HDR support make your video look perfect as a film.
Video Tutorial - Color Correct a Video using VEGAS Pro
Source from: YouTube; Created by: Dato Aliff Alex

Adobe Premiere Rush is a cross-platform color correction software that supports Windows, Mac video editing. Adobe Premiere Rush is more line a minimized application for video editing that users can use it to shoot videos on mobile devices, edit videos, change color, size, font, etc., in the video.
Available on Windows, Mac, iOS, and Android.
Video Tutorial - Video Color Grading and Filters using Adobe Premiere Rush
Source from: YouTube; Created by: Mike Russell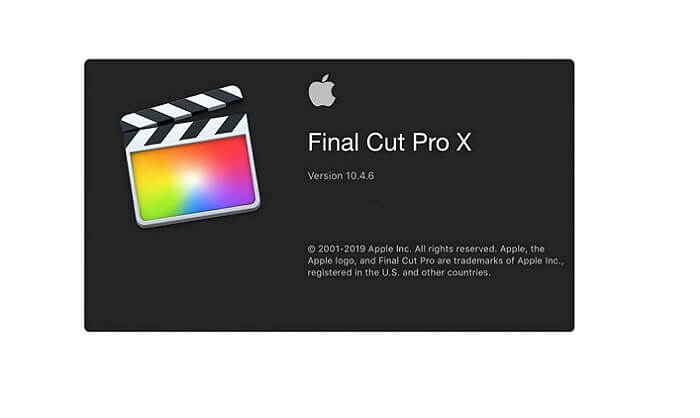 Final Cut Pro X is a Mac-based video editing software that provides professional features to enhance your video like a pro. A dedicated color inspector with color wheels, color curves, hue/saturation curves, and keyframes, etc., allows you to adjust color corrections over time. The range of video brightness is also adjustable via the HDR footage settings. Unlike the traditional controls, unique color wheels make it handy and easy for color correct videos by combining hue, saturation, and brightness into a single, simple interface.
Video Tutorial - Color Correction on Video using Final Cut Pro
Source from: YouTube; Created by: Nitty Gritty Studios
Conclusion
We covered six video editing software for both Windows and Mac users to color correct a video on this page. 
As for a beginner, don't miss EaseUS Video Editor. It's efficient and powerful in color correction that any level of users can effectively reset the color of a video in only a few simple clicks.
Both Mac and Windows beginners who prefer a pro-like but free color correction software, pick up Adobe Premiere Rush. 
Professional video editors can apply Davinci Resolve, Adobe Premiere Pro, and Final Cut Pro to enhance the video color, producing fancy movies and films.
Color Correction/Grading FAQS
If you have more questions in color correction or color grading, follow the listed questions, and you will find a brief answer that may release your doubt immediately.
1. Should I color correct before or after editing?
During video editing, it's more advised that you color correct a video after editing. If you color correct the footage before editing, you will cut or delete some elements in the video. As a result, the color corrected part may also get removed.
It's wise that you color correct a video after making everything ready. 
2. How do you color correct an image?
There are many ways that you can color correct an image. 
On the phone, you can use the Photos app or a professional photo editing app to color correct the photos or images.
On Windows and Mac, there are also many image editing software that supports color enhancing your pictures and photos.
3. What is color grading?
Similar to color correction, color grading is a technical process that adds atmospheres, emotions, filters, changing contrast, color, saturations, etc., to improve the appearance of an image or a video for different environments.