Top 5 Photo Overlay Editors for Free in 2021

Vanessa Chiang updated on Oct 09, 2021 to Video Editing Tips | How-to Articles
Overlay means blending two or more photos into one picture or adding some images or texture overlay to a photo, making the photo funnier. Do you know how to make overlays? This post will show you the top 5 photo overlay apps on Windows/phone/online. You can pick up the most suitable one from them and add the pic overlay to your photo.
Top 5 Photo Overlay App for PC/Phone/Online:
Best Overlay Photo Editor on Windows 
If you want to find powerful image overlay software, EaseUS Video Editor will be your best choice. EaseUS Video Editor is an all-in-one video editor with a simple interface. So whatever you are a beginner or a professional, you can easily create a perfect video. This powerful overlay photo editor offers you plenty of overlays templates, including old photo overlay, vintage photo overlay, as well as cute ones. Those overlays can be suitable for any picture you have. 
And this photo overlay app for PC also provides plenty of editing tools, no matter videos or photos. You can drag and drop all the video and photo materials to the timeline, and edit them freely, such as rotate, cut, or crop them. In addition to those essential editing tools, it also offers you many advanced tools, like the Green Screen editing tool. 
Key Features:
A free video overlay software
Simple interface that enables users to understand and operate
Other editing options, such as video trimming, mosaics, etc.
Support many popular file formats
Support free download
Click on this button for free download and get this excellent overlay photo editor on your PC. No registration is needed.
How to Make Overlays Using EaseUS Video Editor:
Step 1. After you launched the software on your computer, the first step is to import video files by simply dragging to appropriate are or clicking import file to add media library. Then click "Add to Project".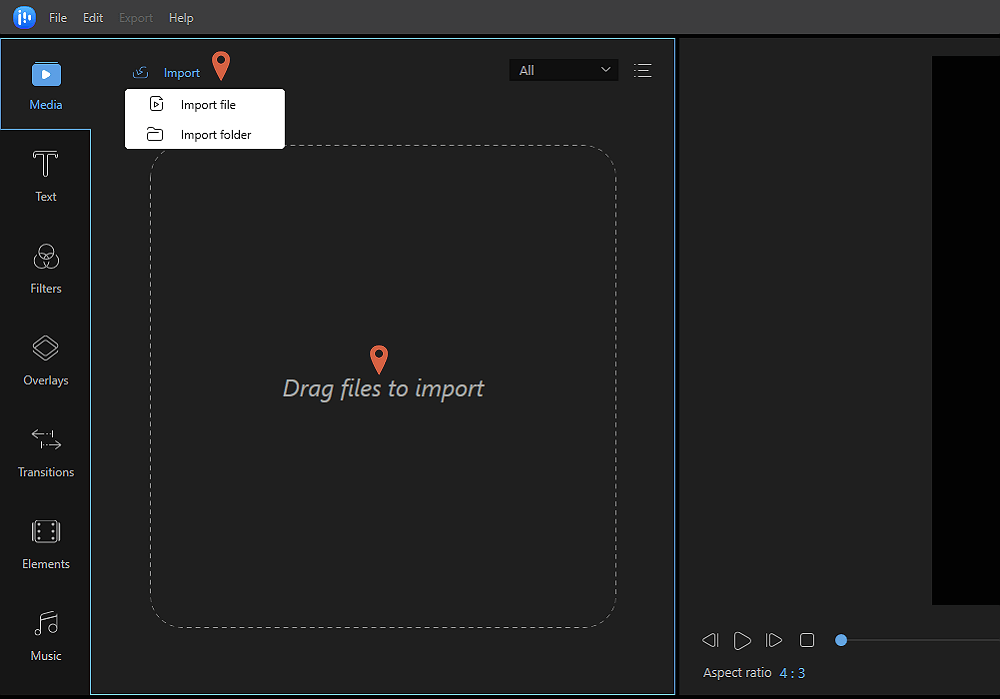 Step 2. After adding a video file to the project. Click "Overlays" on the left, This will direct you to another window where multiple overlay options are available. You can choose whichever you want to apply to.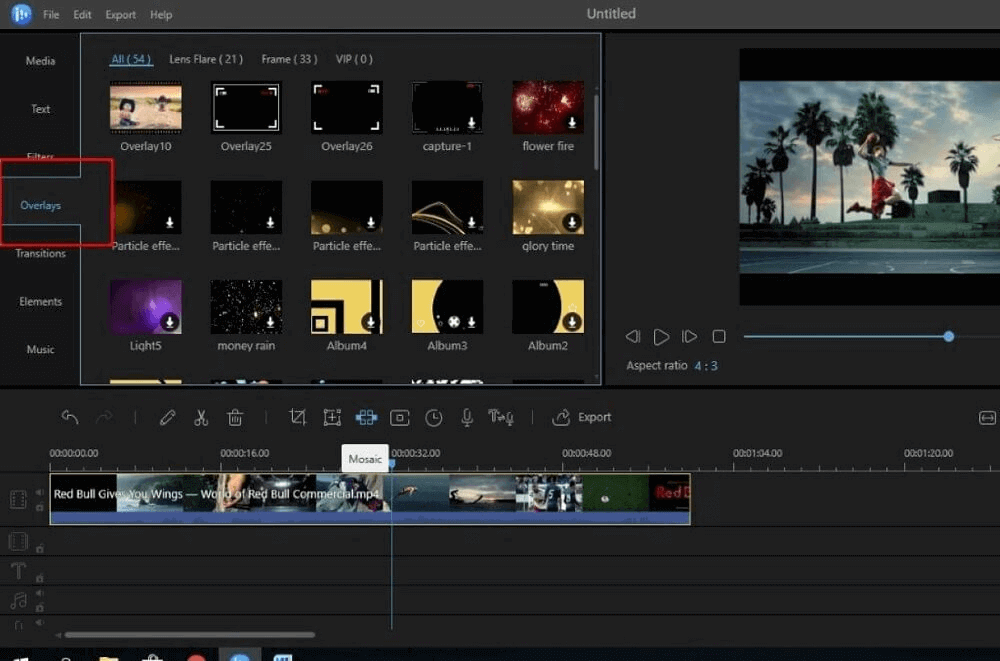 Step 3. Select a material and right-click "Add to project" to apply the effect. You can also click + on the bottom right corner.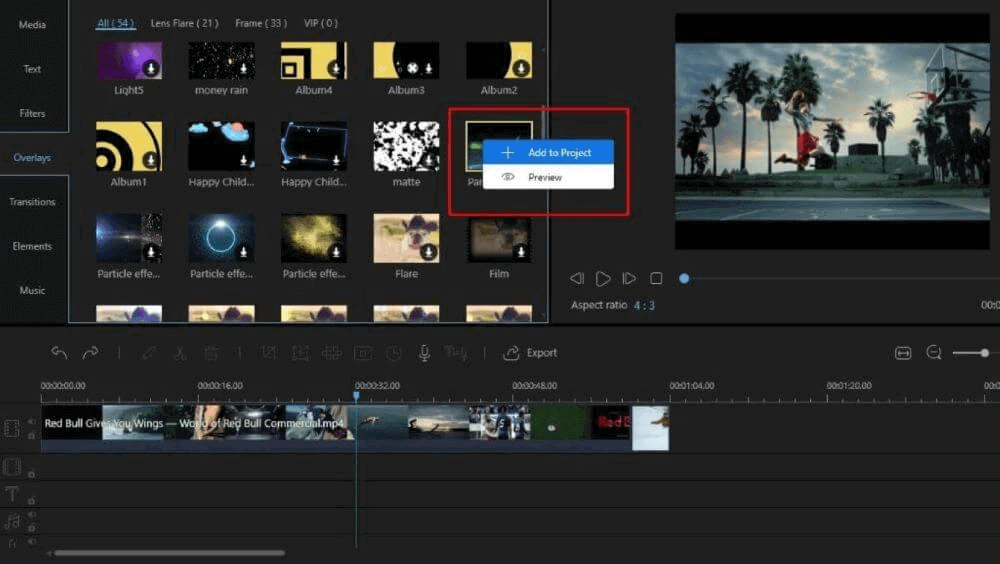 Step 4. After you add the overlay to the video, it will appear on the video, and then you can choose where to apply overlay video on the other video by dragging it to the left or right. It is easy to adjust the length.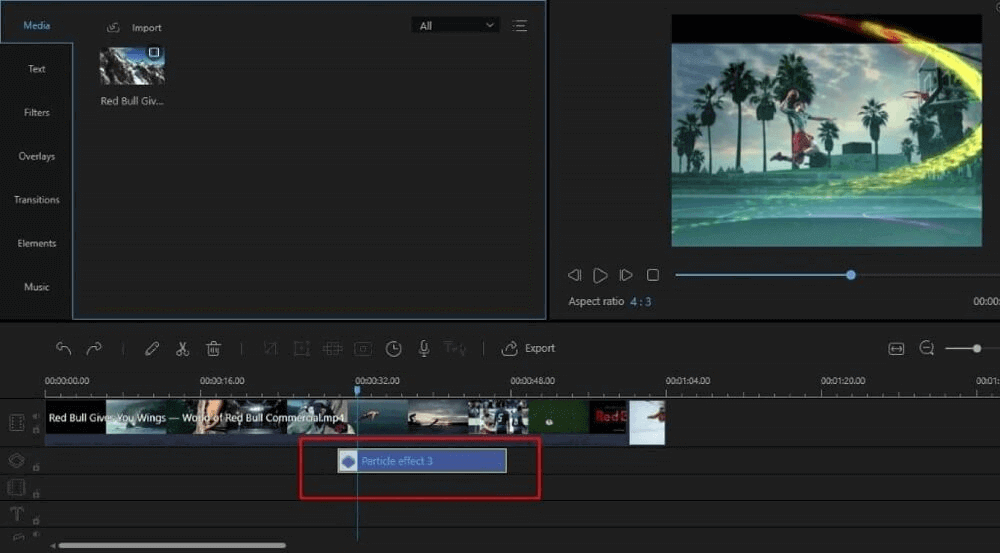 Step 5. After you overlay a video, you can customize video speed, rotation, saturation, etc. You can also add texts to the video or picture in the next section. You can preview the video clip on the right screen tab.
Step 6. When you finished your video overlay and editing click "Export". In the export window, you can customize the video format, name output folder, and settings, and you can directly upload it to social media platforms as well.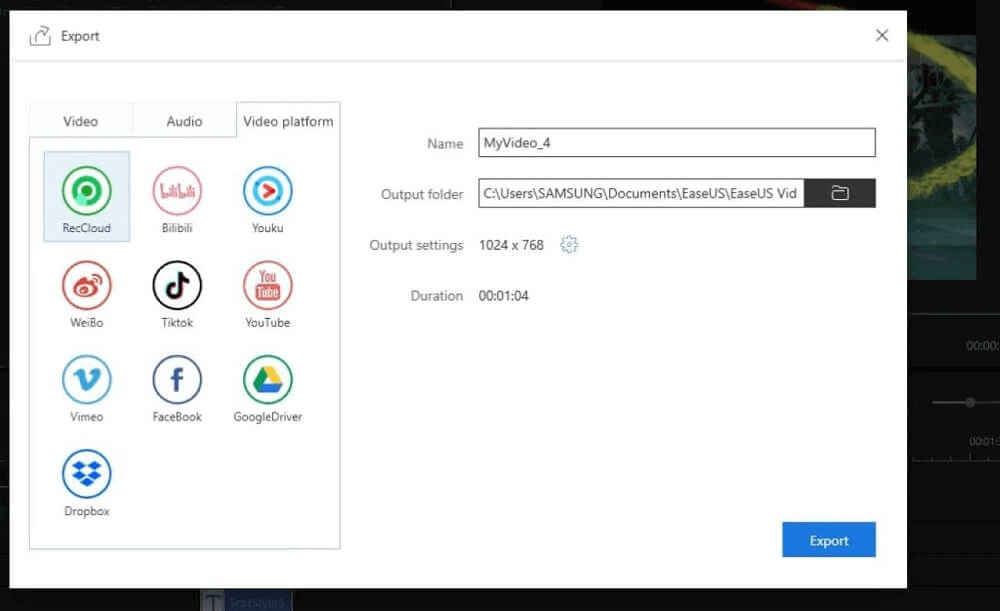 Best Photo Overlay Editors Online
If you do not want to download or install any software, the online tool is a better choice. So, in this part, I list two online tools; there are:
#1. FotoJet 
FotoJet is an online overlay editor that you can use this tool to overlay pictures online with ease and fun. This app provides various overlay styles, such as grunge, cute, montage, vintage photo overlay, old photo overlay, etc. You can add these pic overlays and make your pictures perfect and funny. And this software also provides kinds of free overlays to decorate your photos, and you need to launch this website and click some buttons to create a fantastic overlay picture.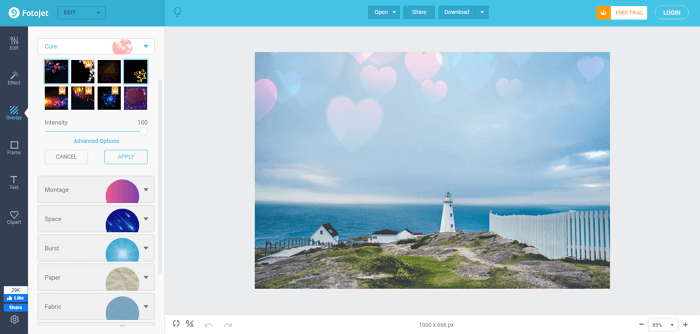 Key Features:
Support adding an overlay to pictures
Support graphic design
Support plenty of picture editing tools
Cons:
Some functions and effects need to pay for use
Need to according an accord at first
#2. Photofunny 
Photofunny is a free online photo editor in which you can create fun effects and montages, photo frames, and more. This app provides a lot of photo edit functions that you can make for your picture. Especially the overlay function, using this function, you can easily blend two images onto one photo and add other effects, such as frames, stickers, and filters, to your photos.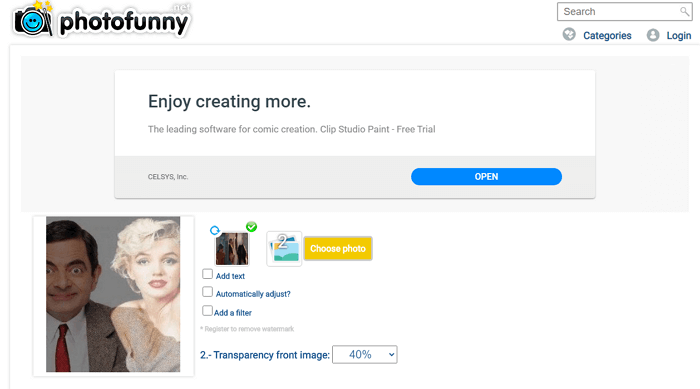 Key Features:
Support adding an overlay to pictures
Support collage photos function
Support online montages photos
Cons:
Do not support overlay effects
Have too many ads
Best Photo Overlay App on Phone
If you are a professional mobile phone user, two overlay photo apps are recommended to you. One is for Android, and another is for iPhone. There are:
#1. Photo Overlays - Blender (Android) 
Photo Blender is a mobile app for Android users, which is a one-stop app for all of your photo blending, overlay photo, and photo editing needs. You can easily blend two or more pictures, overlay photos, and some advanced photo editing and enhancement options using these blender tools. And this app meanwhile provides a lot of picture editing functions that you can use to blend or mix photos to enhance the photo's beauty.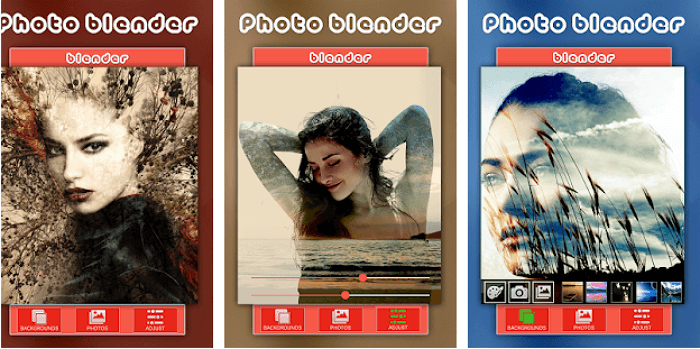 Key Features:
Support plenty of effects to apply in pictures
Support apply an overlay to give double exposure
Support mixing and blending two or more images
Support enhance photos quality
Cons:
Do not connect with the internet and download more backgrounds
When the image is smaller, and the frame cannot adjust it
When you click the back button that you will lose the image and have to start over
#2. Piclay Photo Blend Overlay (iPhone) 
Piclay is a complete overlay photo app for iPhone. This app provides overlays, mirrors, and collage functions that you can use to edit your photos. But, except for the basic edit functions, this app has another robust tool - Overlay Mode. You can use this function to blend two images from your camera to create a transparent/double exposure effect. And you even can apply sunsets, flowers, vintage photo overlay, or old photo overlay to your picture and create a unique double exposure masterpiece.
But, in this app, you need to pay for some function to remove watermarks and ads.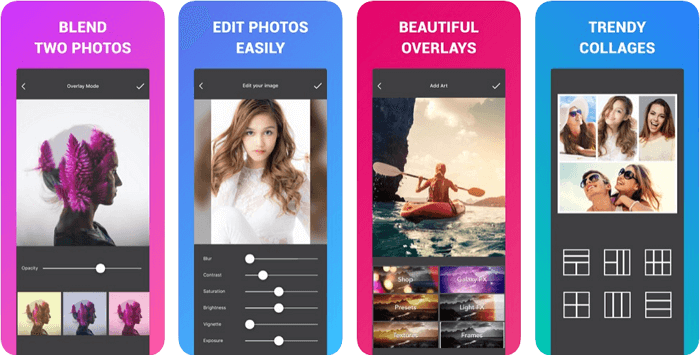 Key Features:
Support adding an overlay to photos
Support four different mirror/reflection effects to add to your photos
Support plenty of effects
Support directly share on Instagram, Facebook, and other platforms
Cons:
Some functions need to pad for the money
Need to spend a lot of time load
Have too many ads
Conclusion
To sum up, this post talked about the best five photo overlay app for PC, online, and phone, and listed each app's pros and cons so that you can choose the one according to your needs. But, considering the balance from price, function, and practicability, I still suggest you choose EaseUS Video Editor.
If you have any questions about our software, you can leave a message to us, and we will try our best to solve your problem. In the end, I hope this page will help you!
FAQs About Adding Overlay to Photos
Here are some questions about adding an overlay to photos. If you want to read more, you can keep on reading.
1. What is a photo overlay?
In photography, overlays are an image or texture added as an additional layer to your photograph using an editing program.
2. How does overlay work?
Overlay combines Multiply and Screen blend modes. The parts of the top layer where the base layer is light become lighter, the parts where the base layer is dark become darker. Areas where the top layer is mid-grey, are unaffected. Thus, an overlay with the same picture looks like an S-curve.
3. How do you overlay pictures online?
Quick online tool to overlay images with transparent adjustment. Select your image in the tool, add an overlay image, adjust the overlay image to fit the base image, and set the blend amount to the preferred transparent level.