Top 4 Ways to Convert GIF to MOV on Windows, Mac, Android and Online

Jane Zhou updated on Jul 29, 2021 to Video Editing Tips | How-to Articles
GIF is a format for the exchange of images. It is capable of storing compressed data without loss of quality in the format of not more than 256 colors. As it shows the movement without sounds, some people may find it not interesting enough. Thus, many people want to convert it to MOV.
In this article, we will discuss how to convert GIF to MOV on different devices. The GIF converters we list below could do you a big favor. Choose the one compatible with your system.
How to Turn GIF into MOV on Windows 11/10/8/7
When it comes to converting GIF to MOV, Windows users must not miss EaseUS Video Editor. This video editing software is a professional audio and video converter for Windows 10. It tends to help users, especially amateurs, to convert files without losing any quality.
With this program, you could convert files of more than 50 formats, such as GIF, MOV, MP3, MP4 and so on, into the file you want. As is designed for beginners, it is quite user-friendly. To make full use of this application, you need to follow the steps below.
Step 1. Import Source File
After launching EaseUS Video Editor, the first thing to do is simply dragging the target file to the media library. You can also click "Import" to do the same.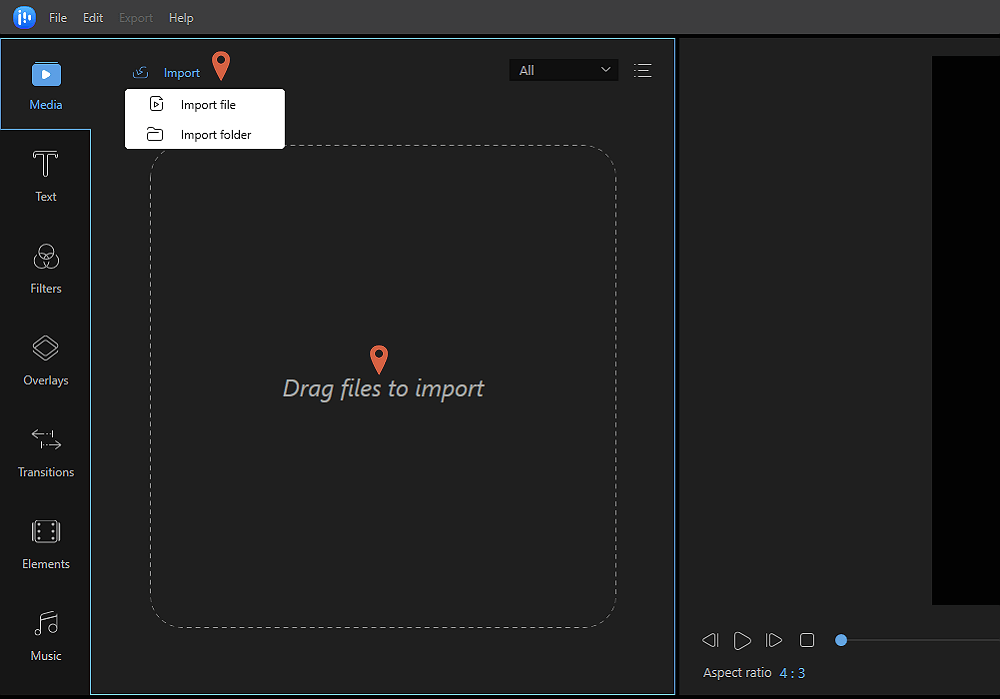 Step 2. Add to Project
The next step is adding the imported file to the project. After adding a source file to the media, you can click "Add to Project" or drag the file to the timeline.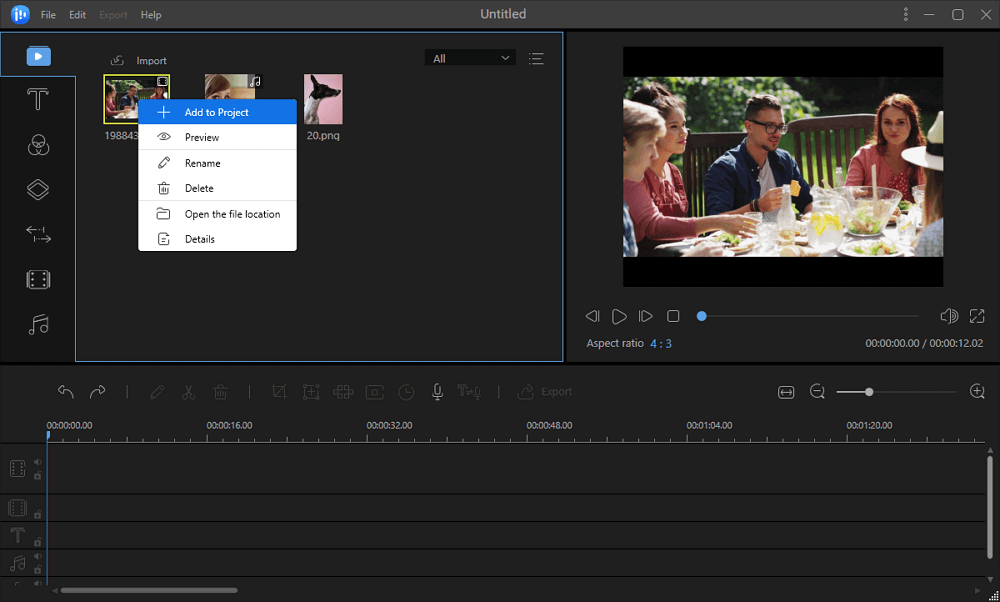 Step 3. Export the File
Now you can export the file by clicking the "Export" button.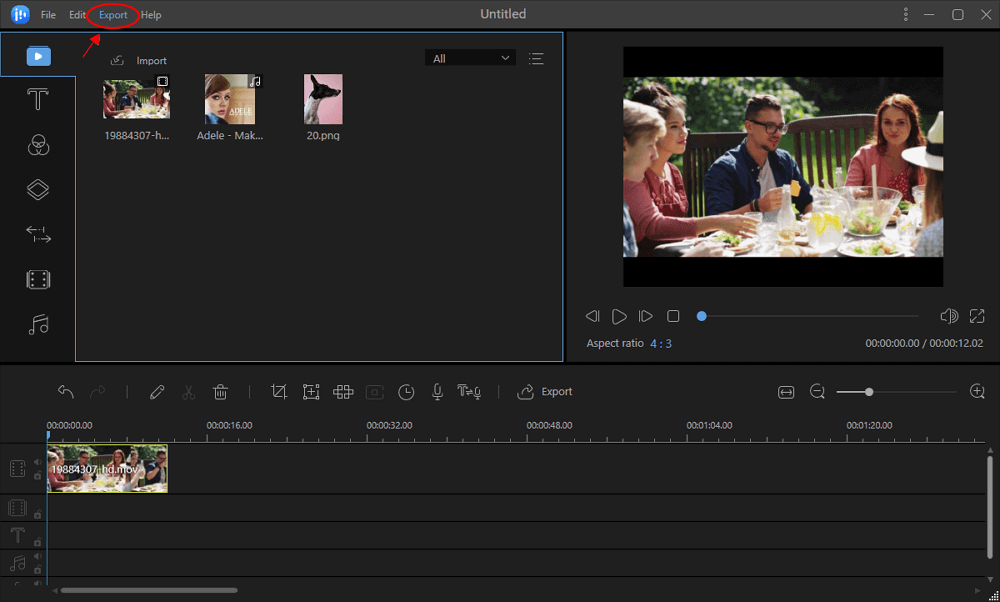 Step 4. Save as MOV
You can select MOV as the destination format and export it to your device. On the right pane, you can customize the file name, output folder, output settings, and duration as you wish.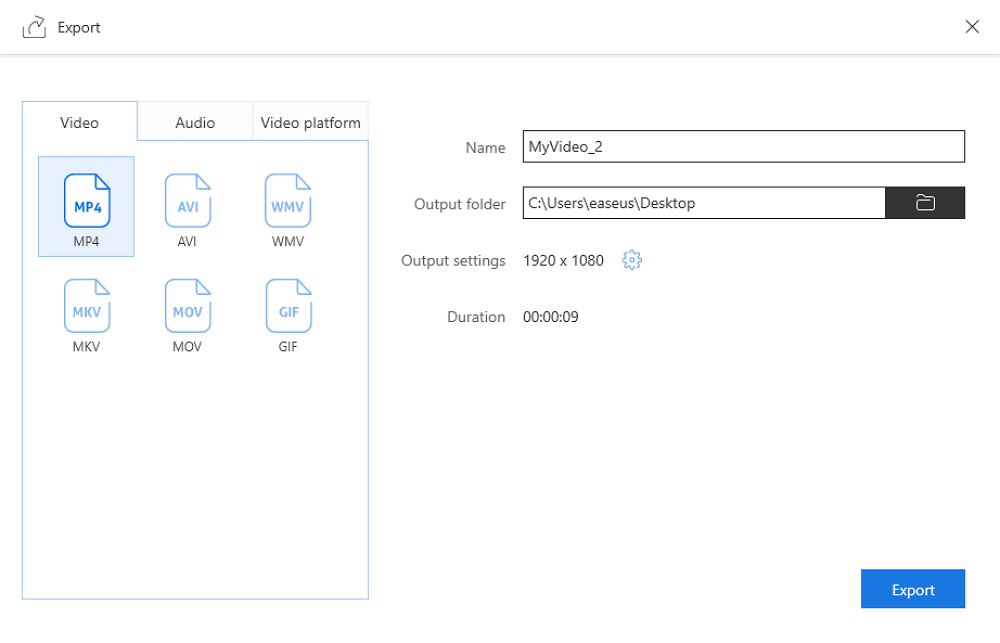 You may also want to: Convert MOV to GIF 
How to Convert GIF to MOV on Mac
If you are a Mac user and you want to turn GIF into MOV, you may need to download GIPHY Capture. This is an application that can help people change GIF to MOV easily and quickly.

With GIPHY Capture, you can convert a GIF file to a MOV in just three steps. Let's check what you should do from the tutorials below.
Step 1. Launch GIPHY Capture on your Mac and wait for the tool to open a green square that appears on your screen.
Step 2. Open the GIF file that you wish to convert to a MOV format. You can adjust the green box on the video to make it fit.
Step 3. Click the "Start Recording" button to create a MOV video. When the process is completed, the GIF file will be converted into a MOV one.
Step 4. Now you can save the file to your device.
How to Change GIF to MOV Online
Some of you may don't want to install any software on your computer, then you can rely on some online converting tools. After having tested many online tools, we picked out the top 2 ones to share with you in this part. Just read to find your desired one. 
#1. Convertio
Convertio is the first online file converter we want to introduce to you. On this website, you could not only convert files but learn some basic knowledge of the files you want to convert under the conversion square. The extra information on its website is undoubtedly a benefit out of expectation.

To change GIF to MOV is also simple and easy with this tool. Let's check what you need to do below following the tutorial.
Step 1. Select files from Computer, Google Drive, Dropbox, URL, or drag a file from your desktop to the page.
Step 2. Choose MOV or any other format you need as a result (more than 200 formats supported).
Step 3. Let the file convert and you can download your MOV file right afterward.
#2. CloudConvert
CloudConvert is an online converter that can convert over one hundred types of files into your target file format, including MP4, GIF, DOCX, MOV, M4V and so on. With its help, you could convert a GIF to a MOV without much effort. Besides, as it is an online tool, you don't have to download anything, all you need to do is open the website and follow the steps below.

Step 1. Set the file formats you want to convert from and to.
Step 2. Click the "Select File" button to import the GIF file you want to convert from your computer. You can also use URL, Google Drive, OneDrive and Dropbox to import a file.
Step 3. You can modify the Width, Video Codec and other settings from the "Option" menu below.
Step 4. Wait for the online converter converting files for you and save the edited file to your computer.
How to Convert GIF into MOV on Android
GIF to Video is a simple GIF converter compatible with the Android system. And it requires Android system vision 4.3 and later. This application enjoys good fame since it is simple and quick during work. If you are an Android user, you must not miss this APP.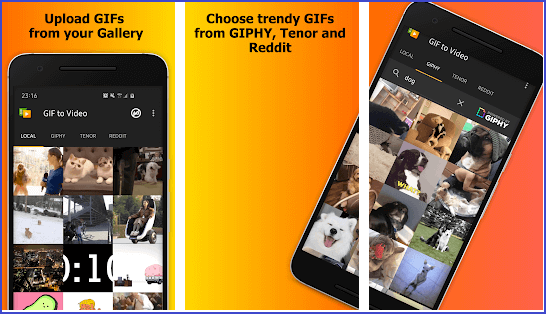 To turn GIF into MOV with this application, you just need to follow the tutorial below.
Step 1. Import your GIF video files from Reddit, Giphy, or local GIFs into the program.
Step 2. Hit the Convert icon to have the GIF files converted to any file format.
Step 3. Set the video codec, the speed, scale type as well as other parameters.
Step 4. Save the MOV file to your phone.
Conclusion
To sum up, you need to choose different tools helping you turn GIF into MOV based on the system your device equipped with. The situation varies, but it's safe to say that EaseUS Video Editor is the best GIF to MOV converter for most Windows users. If you are a Windows user, go to the official website and download it.