10 Best Voice Editors to Enhance Your Voice Recordings
Tracy King
updated on Dec 11, 2020 to
Video Editing Tips
|
How-to Articles
There are many occasions when you may want to edit a voice recording. Maybe your video needs some commentary, and you can add it by first recording your voice, editing it, and adding it to your video. In case your video does not already have audio, then you can record a voiceover and get it added to your video to make it more appealing.
There are countless reasons why people need to edit voice recordings, and there is almost an equal number of software to help you do it. If you are looking for software to edit your voice recordings, you need to make sure you choose the right one as it can make or break your video.
To help you out with the task, here we have listed some of the best video voice editor software you can use to edit voice recordings on your computers. These have been handpicked by us, so rest assured you are going to get high-quality software to use.
Easiest Windows Free Voice Editor Recommendation: EaseUS Video Editor
When it comes to software choice, Windows users have always been lucky, and they have enjoyed the most number of software no matter the task. For voice recording and editing, you have an amazing software called EaseUS Video Editor to use on your Windows PC.
The software allows you to edit and add voice recordings to your videos. You can record a completely new voice for your video, or you can add one of the existing audio files from your computer. Once you have added a recording to your video, you can edit it using the built-in options in the software.
Pros:
Record and add voiceover to video in a single click
Use any existing voice recording for your video
Edit various audio levels for your recording
Support for many audio formats
Multi-track editing
Safe and secure
User-friendly interface
Cons:
The free version will put a watermark on your video
As you can see, it is a feature-loaded software to help you edit your voice recordings and add them to your videos.
How to Edit Voice using EaseUS Video Editor:
With this voice editor software, you do not need to go through dozens of steps to add and edit your voice recordings. You can quickly load your video files, record your voice, and get the content ready.
The following shows how you can do it in this software.
Step 1. Select an Aspect Ratio
On the first screen, you will be asked to choose an aspect ratio for your video. Select the ratio that best fits your video file and continue.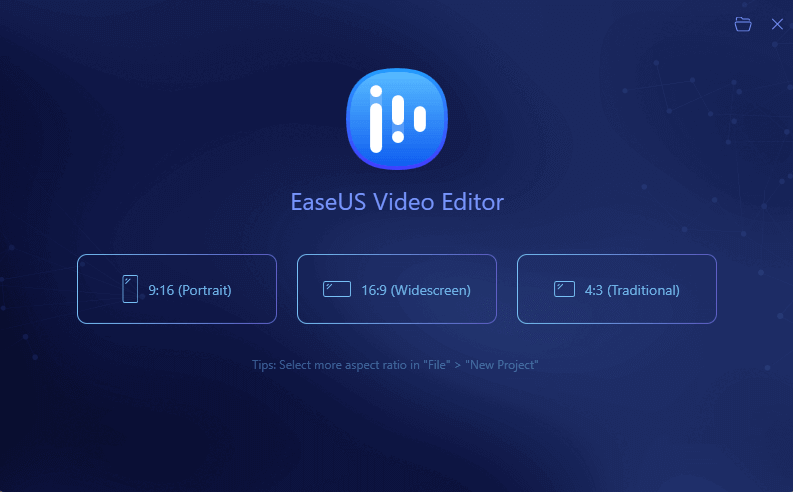 Step 2. Add Your Video to the Software
You now need to add your video to the software. To do it, click on "Import" followed by "Import file". Choose the video on your computer and it will be added. Then, right-click on it and choose "Add to Project" to add it to the timeline for editing.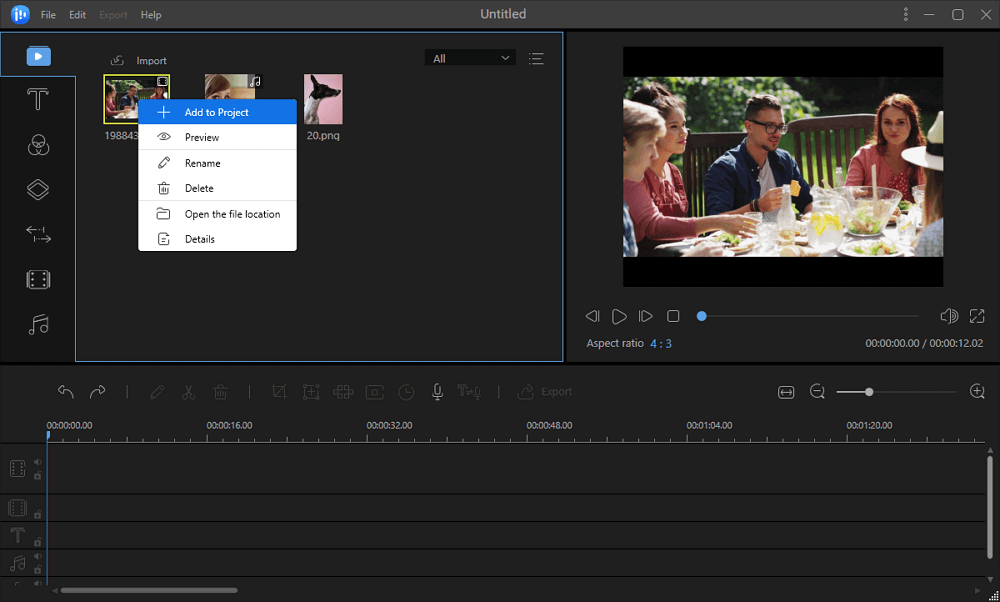 Step 3. Add a Voiceover to Your Video
If you want to add some commentary to your video, click on the "Record voiceover" button in the software. It will let you record and add your voice to your video.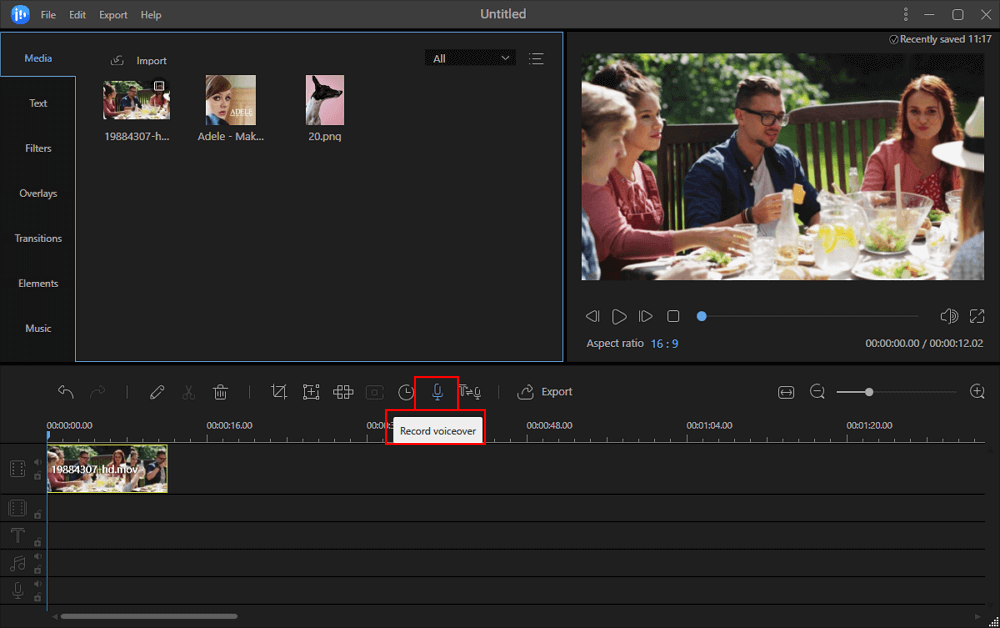 Step 4. Edit Your Voice Recording
Right-click on your voiceover and select "Add to Project" to add it to the timeline. Right-click on it in the timeline and select "Edit". You will then be able to adjust various audio levels for your voice recording.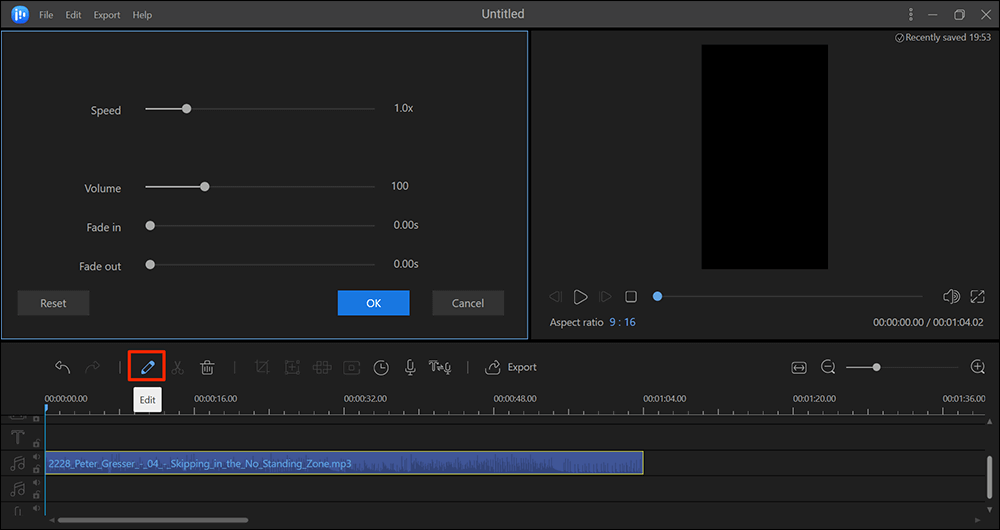 Step 5. Export Your Video with Your Voice Recording
Finally, when you are done editing your voice recording with this best video voice editor, click on "Export" at the top and choose an output format to save your video file.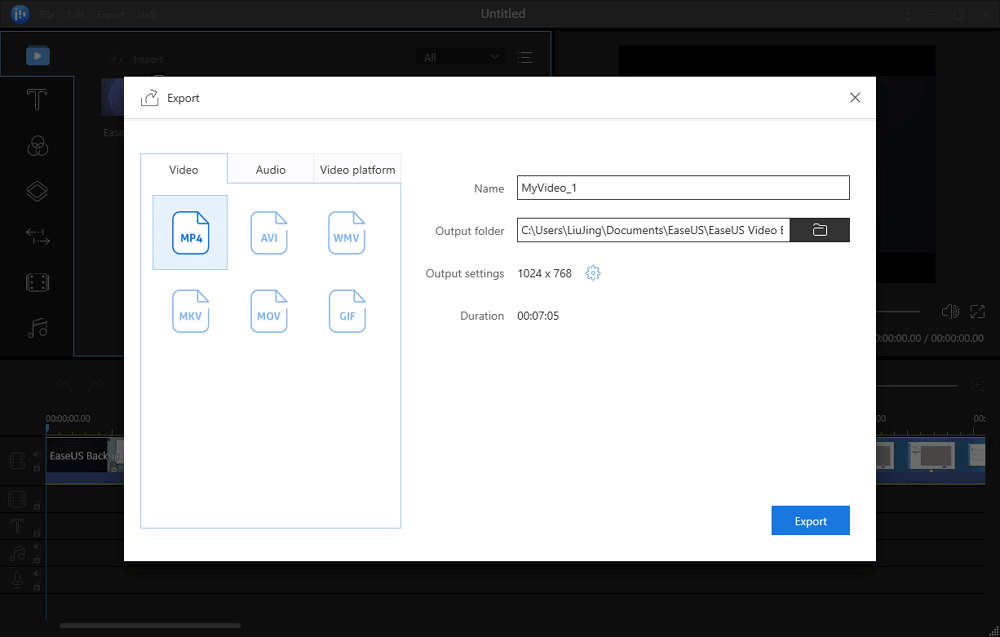 Your file should be ready to play on your computer. When you listen to the audio in your file, you will find how crisp and sharp it is, all thanks to the amazing capabilities of EaseUS Video Editor.
What Is the Best Free Voice or Audio Editor? Top 4 Best Free Voice Editors Recommended
If you are looking for more voice editor options, then there are a few more as well to help you edit voice recordings on your computers. 
Free Voice Editors for Windows (2 Recommendations)
While there may be several other software to edit voice on a Windows PC, the following are two recommended ones as they offer better features.
Software 1. Audacity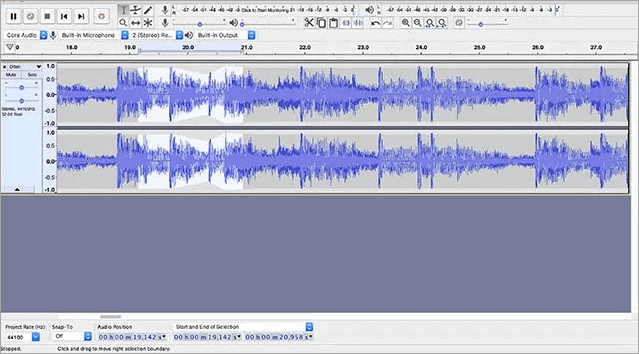 Audacity has been around for decades, and it is one of the free and open-source software that helps you edit and do voice recordings on your computers. It is a cross-platform software meaning it runs on multiple operating systems.
You can use it to create new voice recordings, edit your existing recordings, and perform many other tasks on them. It gives you an entire screen full of tools to edit your audio files.
Pros:
A plethora of voice editing tools
Cut and merge voice
Do voice recordings
Cons:
Does not look modern
Has no advanced voice editing features
Software 2. Ocenaudio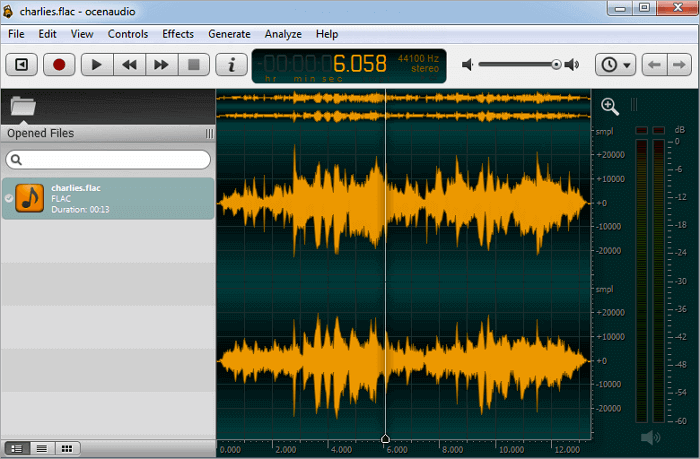 Ocenaudio is known to be easy to use yet powerful voice editing software. It works across multiple platforms and allows you to mix your audios, record voice, and edit them however you want on your computer. It comes with features like real-time previews, so you know exactly how your voice recordings are going to sound like.
Pros:
Powerful voice editor
Select multiple files at once
Easily edit large voice recording files
Comprehensive spectrogram
Cons:
No multi-track editing
Only supports mono files
Best Free Voice Editor for Mac (1 Recommendation)
Many voice editor software that is available for Windows also works on Mac but Apple has its software to let you edit voice recordings on your Macs.
Software 1. GarageBand

If you have been using a Mac machine for a long time, you have probably heard of GarageBand. It is Apple's very own software to help you edit audio and voice recordings on your Mac and iOS-based devices. It is a fully-featured program containing all the options you ever need to edit your voice files.
You can simply grab the software off of the official Mac App Store and get started with your voice recordings. You can load your files, record new ones, add effects to your files, and perform many other actions with this software on your machine.
If there is one software to edit all types of audio files on a Mac, it is GarageBand.
Pros:
Loaded with many features and options
Exclusively available for Mac and iOS
Use your instruments with the software
Support for many drummer styles
Cons:
Only two layers of effects for each track
Resource-intensive
Free Online Voice Editor App (1 Recommendation)
If you do not do a lot of voice editing on your computer and it is an occasional task for you, it might be a good idea to use one of the online video voice editor tools to do the task. It will save you from downloading and installing any software on your computer, and you can use the tool without using many resources on your machine.
Tool 1. TwistedWave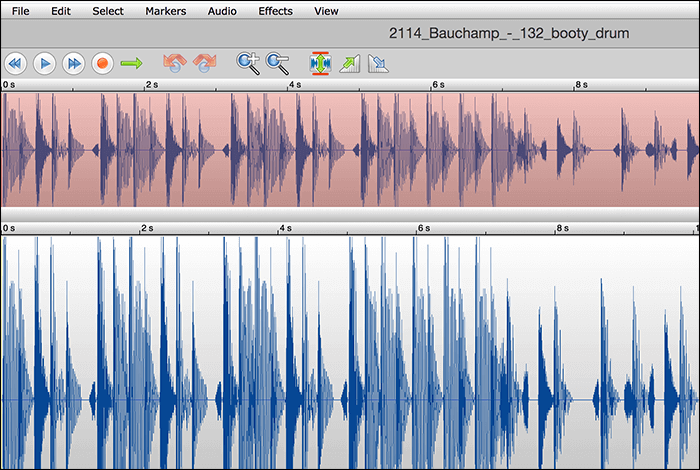 TwistedWave is an online voice editor tool that allows you to upload your voice recordings and start editing them from within your browser. You do not need to download or install anything to use the tool. Simply access the tool website, and you can use the tool and its various features in your browser.
On the main interface, you are going to find your tracks and the features to edit your file. The top menu bar has options like adding markers, adding effects, and looping and recording new files.
Pros:
Completely web-based tool
Various editing tools
Edit existing voice recordings
Make new voice recordings
Drag and drop support
Cons:
Limited options
Need to upload and download files for each editing
Top 5 Best Voice Editors for Professionals
If you have reached a certain stage where you need a professional-level software to do voice editing, then you are going to like some of the following options. These software options have been developed keeping pro-level users in mind, and you are not going to be disappointed by them.
Software 1. Adobe Audition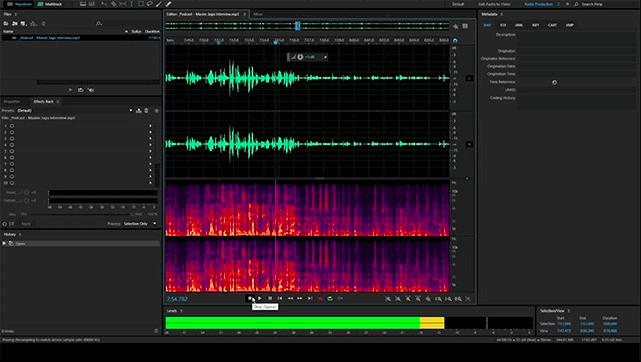 Adobe Audition is one of the most used software for professional-level audio and voice editing. It comes with a full suite of tools to help you do pretty much everything you want to your audio files. You can use it to record new voices, edit your saved voice recordings, and even integrate audio files from various sources.
It can be used to remix your voice recordings as well to give that extra boost to your already-great voice recordings. In case there is an issue with your recordings, the software allows you to fix them as well.
Pros:
All professional tools to do voice editing
Record new voices and edit existing ones
Fix broken audio files
Easily create a podcast
Cons:
Expensive
Less customizable
Supported OS: Windows, Mac
Software 2. Acoustica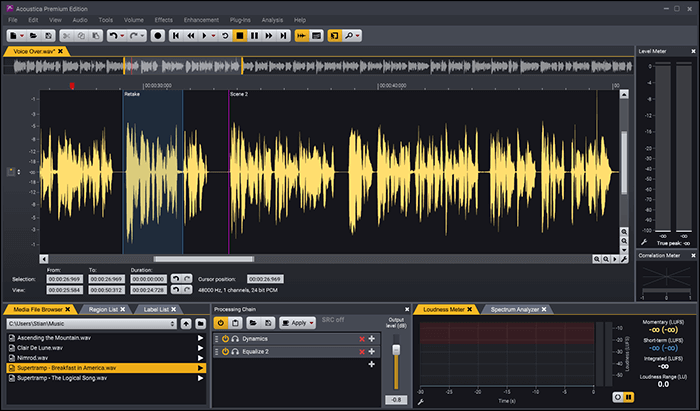 Acoustica is an award-winning software for professionals to edit and remix audio files. It is a perfect choice for some expert-level voice editing on your computers. You can use it to record crispy voiceovers for your videos and then edit them to enhance your audios even further.
It offers many features to its users, including phono filter, high-quality audio editing, restoring your audio, and a spectral for your files. You also get the multi-track editing feature, so multiple of your files can be edited at the same time.
Pros:
Extend features with plugins
Remove background noise from your voice recordings
Multiple track editing
Easy to learn and use
Cons:
Supported OS: Windows, Mac
Software 3. Reaper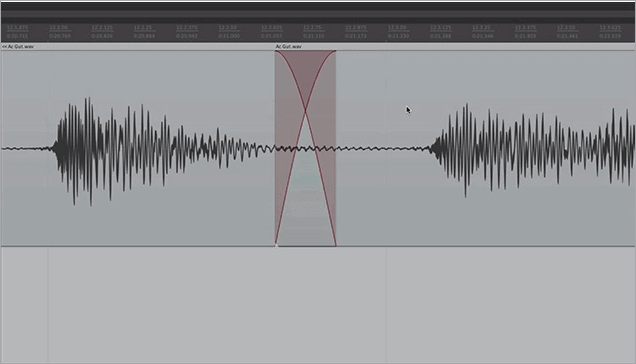 Reaper promises to help you produce and edit music without any limits. When you install the software and start using it, you get to realize what it says is indeed the truth. It allows for more creative freedom where you can do whatever you want with your voice recordings.
It offers powerful multichannel routing for MIDI and audio files. You can use it to edit your voice recordings without being concerned about the bit depth and sample rate. You can automatically stretch the timebase if you want to do it.
Pros:
Embed plugins into the software
Diagrams for routing
Hundreds of effects to add to voice recordings
Automate tasks
Cons:
No support for LV2 plugin standard
Dropdown menus are too lengthy
Supported OS: Windows, Mac, Linux
Software 4. Sound Forge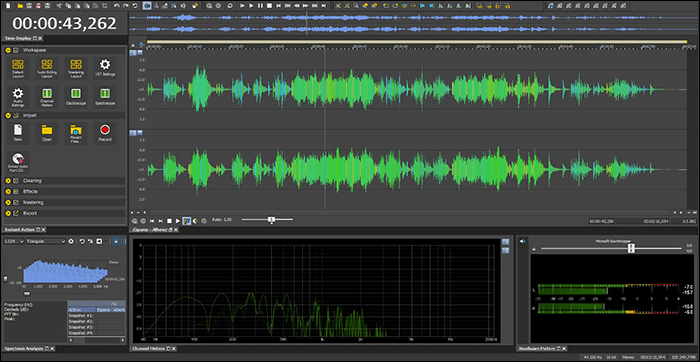 Sound Forge enables you to record, edit, and master voice recordings on your computers. It also helps you to fix any recordings that may not have done very well in the first stage. You can use the cleaning feature to clean-up redundant items in your files.
What the software mainly focuses on is precise editing. You can edit your voice recordings very precisely and to the point you want. It is something that is not offered by other software.
Pros: 
Quickly access essential tools
Windows context menu support
Color-code your sound waves
Modern spectroscope
Cons:
It does not save your last used effects in presets
Takes too long to load large files
Supported OS: Windows, Mac
Software 5. Logic Pro
If you are a Mac user who wants to do professional-level voice editing, Logic Pro should be your natural choice. It is a software developed by Apple to allow Mac users to create some amazing sound and voice recordings on their machines.
It comes with features like smart tempo that automatically match the timing of your tracks.  It comes preloaded with drum kits to help you add root and jazz to your music files. It even pairs with your iOS-based devices and lets you use them as remotes for the software.
Pros:
A large collection of effects and instruments
Thousands of royalty-free music files included
Quickly load and edit voice recordings
Keep your voice recordings in track with Smart Tempo
Cons:
Expensive
Not supported on Windows
Supported OS: Mac
Conclusion
There are dozens of voice editor software available in the market, and it is easy to get overwhelmed. However, our list above should help you pick the right software for your particular voice editing tasks.
If you want to pick one for your Windows PC, EaseUS Video Editor can be a great choice. Mac users can go for GarageBand as it is exclusively built for them. Online users can use TwistedWave as it is and more convenient to use. For extremely professional-level editing, Adobe Audition could be a good software for you.