Top 10 Best Free Audio Joiners to Merge Audio Files in 2021

Jane Zhou updated on Mar 22, 2021 to Video Editing Tips | How-to Articles
The need to combine the audio files can be for many reasons. It can be a music file you need to merge or a call recording. When it comes to merging audio files, most of the users need to reply on either smartphone or anything that comes as a part of the operating system. Maybe you don't need to merge audio files often, but when needs come, it is difficult to find the right tool to do it. Here is the list of top 10 best free audio mergers for Windows, Mac, and online users. Use the online audio joiner tools to combine audio files if your audio file doesn't have anything sensitive.
Top 10 Best Free Audio Joiner for Windows/Mac/Online
It is a professional-grade software that offers a complete solution for video and audio editing. You can use to split, combine audio files, trim, add effects to video and audio files. Apart from there are two crucial audio features available with the editor
Speech and Text Converter:
Subtitles are useful for those who have difficulty with the accent in the studio. The editor has an inbuilt speech and text converter. It can create text from the audio and automatically sync with it. You can always correct the text in the caption.
Voice Over:
Assuming your video has a part where audio is not clear. You can always voice-over that part of the audio to make it clear. All you need to do is move the placeholder from where the audio has to be removed and then start recording. That audio in the video will be replaced with the voice-over audio.
Since it is a video editor as well, if you have a video of which you want to create a cinematic effect, then EaseUS offers a lot of effects for free. All you need to do is download and apply it.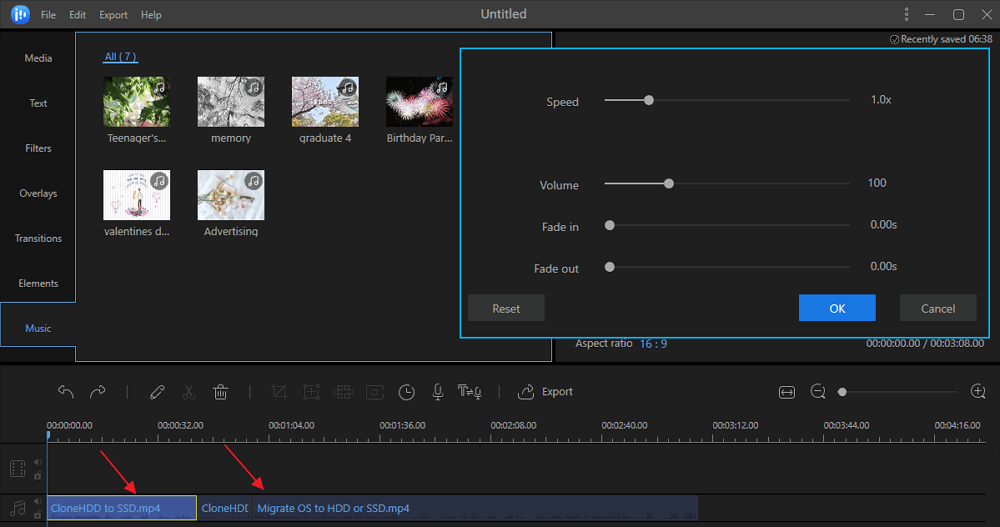 Pros
Over 300+ effects which include text, filters, overlays, transitions, elements, and music
Extract audio from video files
Can export in MP3 and AAC format with a highest possible bitrate
Increase or decrease sound with fade-in, and fade-out effects
Overlay audios on each other in a non-linear time zone
Zoom, Mosaic, Blur, Freeze Frame
A special video speed changer software and audio mixer software
Cons
Only Available for Windows
Platform: Windows
How to Merge Audio File
Step 1. Import the source audio files
Launch EaseUS Video Editor. On the home screen, you can import the audio source files by either clicking the "Import" option or simply dragging the audio files to the appropriate area.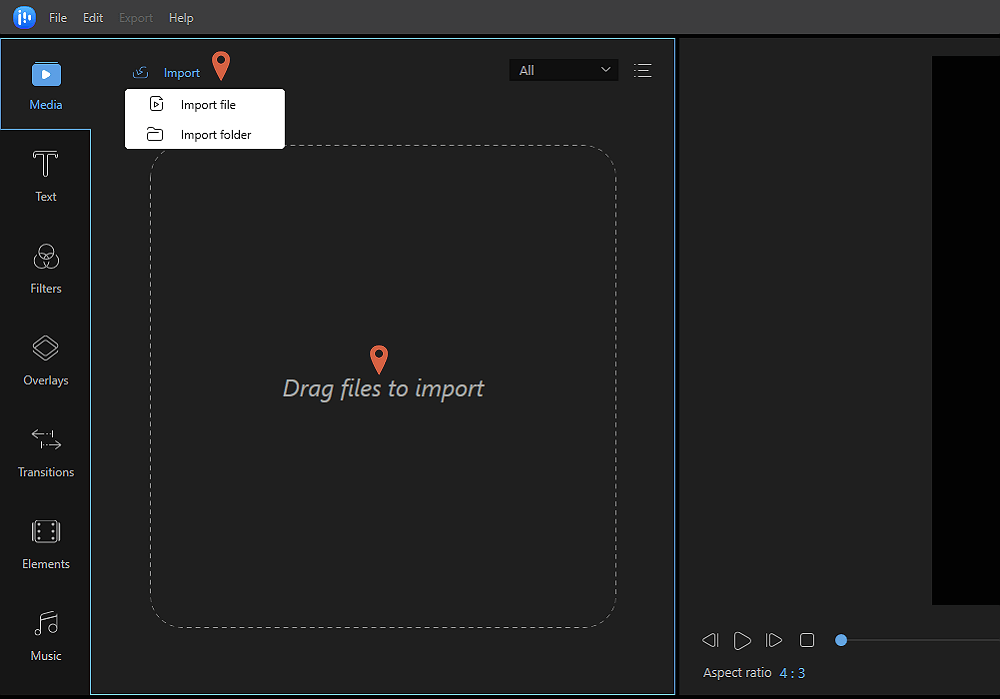 Step 2. Add to project 
You need to add the imported files to the audio track by choosing the "Add to Project" option, or you can drag and place the video to the road as you want. When you select "Add to Project", the audio files will be added to the same audio track in order. If you're going to put the files in different timelines, you can drag and drop them manually.
Step 3. Export the merged audio files 
To combine multiple audio files together, you need to select all the target videos and click "Export" on the toolbar to export the combined audio. Under the "Audio" tab, choose a file format for the edited audio. You can also edit the file name, customize an output folder and settings, and then click "Export".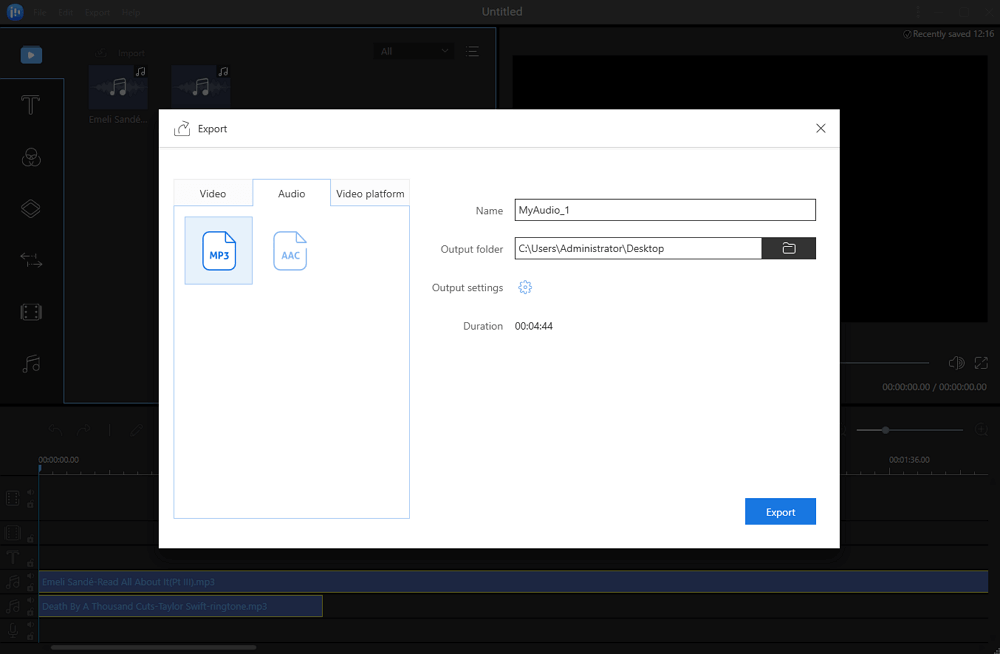 2. Audacity
It's a famous audio editor that offers powerful tools to edit and merge audio files. The software provides a professional-looking graph where you can see the waveforms of the audio, and then choose what to keep and remove. The software also offers a powerful audio recorder that can take input from an external microphone and save the recording on your computer.
To merge audio, you can drag and drop multiple files, and they will be arranged on top of each other. When you are ready, click on the Export menu in the File menu and save as MP3 or any other audio format.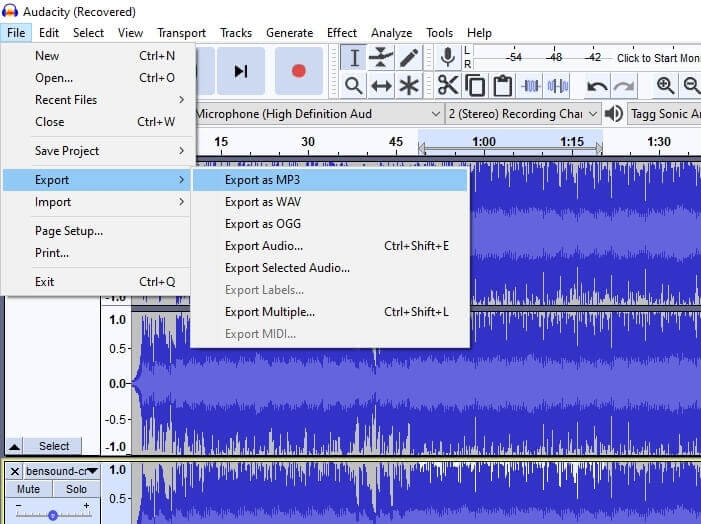 Pros
Editing tools help you precisely edit videos
Does not take a toll on the hardware
Change tempo and speed without distorting its pitch
Remove noise from audio once you train it.
Cons
Lacks loops, sequencers, and an interface that can help you make music
Export MP3 only in variable bitrate which is not great for podcasts
Platform: Windows
Download: https://www.audacityteam.org/
3. Copy Command on Windows
If you do not want to install software or upload it to an online tool, Windows allows you to merge audio from the command prompt. Here is the command you can use is as follows: copy /b *.mp3 c:\merged.mp3
The command above means it will find all MP3 files in the directory and join them together into the merged.mp3 file. If you want to add only a few files, you can add them accordingly using a "+" sign in between.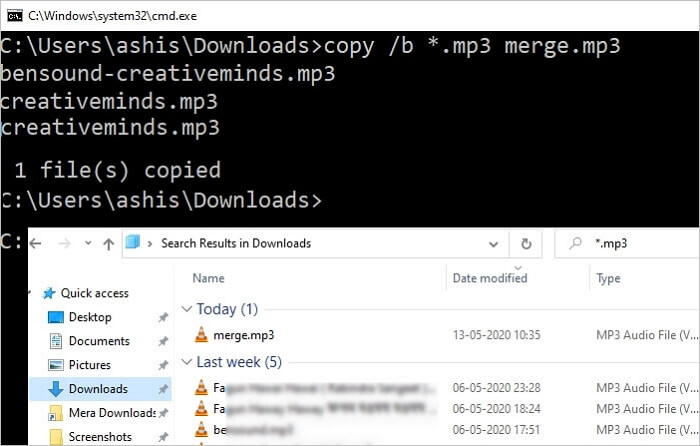 Pros
No need to install a software
The simplest way to merge audio files without losing quality
Cons
Not possible to edit the files
No way to change the format of the output file
Cumbersome to use.
Platform: Windows
4. WavePad
It's a portable audio editor, which like any other audio editing software, offers waveform editing experience. If you want to edit and merge audio on the go, this is for you. The list of main features of the software include:
Zero crossings allow you to cut the audio to obtain smooth transitions precisely.
Audio interpolation helps in making the digital audio sound better.
Meter clip threshold to set the sensitivity.
Apart from these, you also get the usual, insert, delete, swap channels, amplify, fade in and out, linear or logarithmic sound editing, and option to perform reverse and inversion of audio files.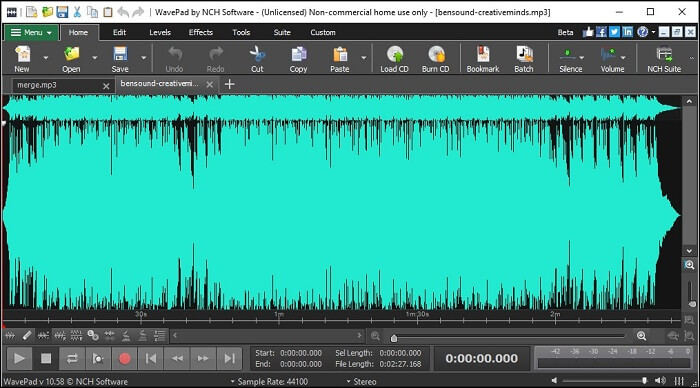 Pros
Supports more than 40 different file formats
Offers filters, sound effects along with the sound library
Perform reverse and inversion of audio files.
Insert, delete, swap channels, amplify, fade in and out, linear or logarithmic sound editing
Cons
Not possible to process files in batch
GUI is too complicated for general consumer
Platform: Windows
Download: https://www.nch.com.au/wavepad/index.html
5.  MP3 ToolKit
It's free software that allows you to do almost everything with an MP3 file.  Once you open the software, use the menu to open MP3 Merge. Here you can add as many files you want to merge. The feature list includes an mp3 converter, cd to mp3 ripper, mp3 tag editor, mp3 merger, mp3 cutter, and mp3 recorder. The software is easy to use, and if you are only cornered with merging audio files, this is what you need.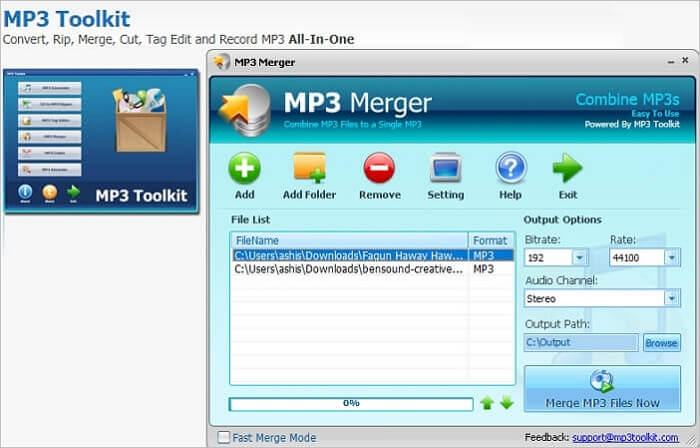 Pros
Supports other formats like WMA, WMV, MP4, WAV, OGG, FLV, MOV, M4P, M4A
Add folder which allows you to merge a lot of files
Change bitrate and audio channel
Cons
The user interface is incredibly old
No option to split or edit audio files
Platform: Windows
Download: https://www.mp3toolkit.com/index.html
6.  EArt Media Audio Editor
It is an all in one audio editor which offers a lot of features apart from merging audio files. You can choose to record, split, join, convert audio files easily. Highlights of the software allow you to add effects such as amplify, fade-in and out, reverse audio, reduce noise, and so on.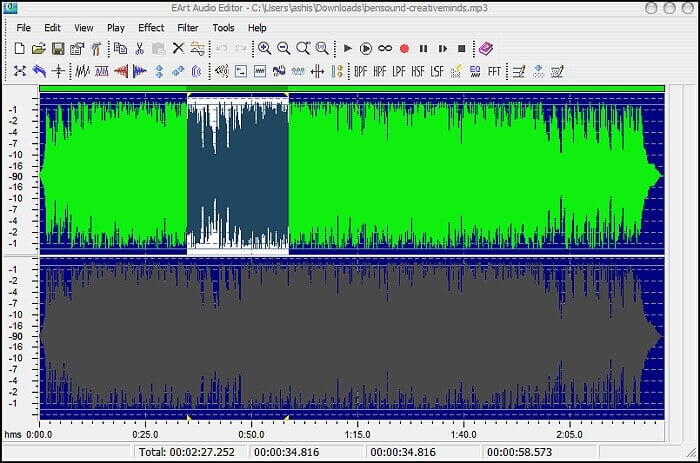 Pros
Supports MP3, WMA, WAV, OGG, VOX, RAW
Apply filters such as Brand Pass Filter, High Pass Filter, Low Pass Filter
Displays audio file in waveform
Record Audio from a microphone or any other source
Cons
The user interface is old, and there are too many options which can be confusing
Platform: Windows
Download:  https://sourceforge.net/projects/mp3splt/
7. QuickTime
The software is available for free to all macOS users and is capable enough to merge audio. You can also use it as an audio merger. They can be from a video to other audio files. To merge, first, open an audio file, and then click on edit, and select Add clip to end. You can then select an audio file. Finally, to merge both the audio file, save as one of the available audio formats.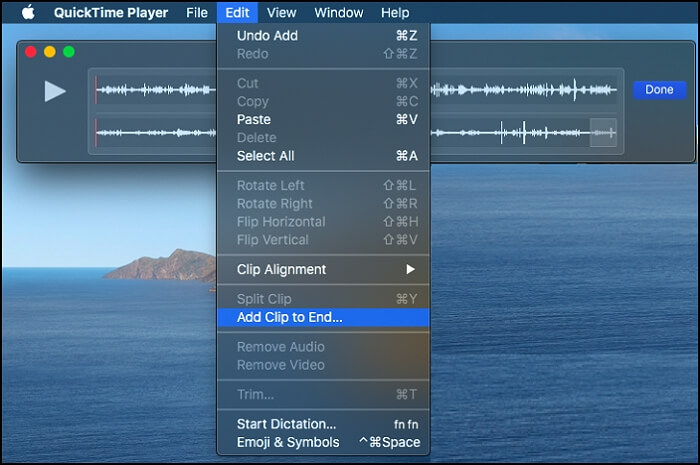 Pros
The easiest way to merge file without any complicated operation
Merge audio and video file audio into one file
Trim and split audio
Cons
No way to add a file to the start, but only to the end
Platform: macOS
Download: https://support.apple.com/downloads/quicktime
8. iMovie
iMovie is an excellent software for video editing, but also offers you to join multiple audio files.  The only trick here is to keep all audio files into one track, which usually separates into two. Once you have them together, you can export the audio file as one file.
iMovie offers a lot of effects for audio, free background music, and the option to change tempo, speed, and more.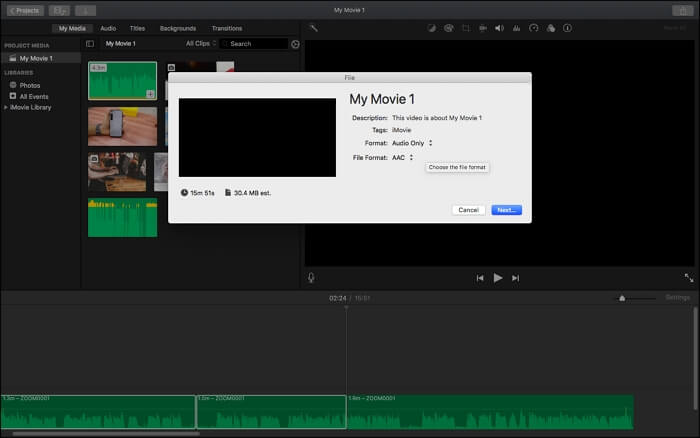 Pros
Easy to use interface to merge audio files.
Offers better options compared to QuickTime player
All controls to edit audio file is available which is useful before merging the files
Cons
Using software which is so feature-rich for merging audio file can be too much for some users.
Platform: macOS
Download: https://www.apple.com/in/imovie/
9. Audio Joiner
It's an online tool that you can use to join multiple audio tracks into one. You can combine songs, crossfade between them. The tool supports over 300 file formats; it can be one of the best tools. To join all, add audio files to uploaded, then change length when needed, and lastly, choose a format in which you want to download the audio files.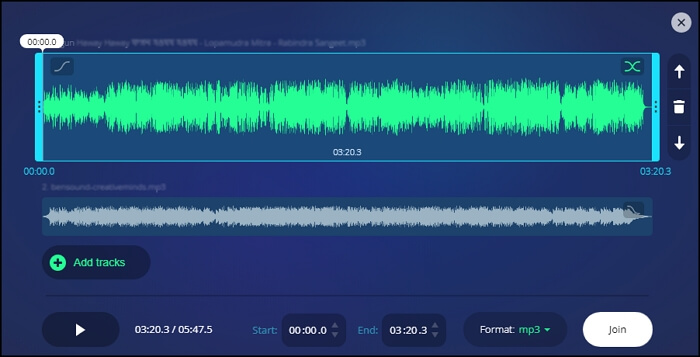 Pros
Add songs from its online collection
No limit on the number of tracks you can join
Extremely easy to use
Configure the specific playback interval for each track
Cons
While they remove the files, but privacy concern remains
No option to split, and add audio in between another video
Platform: Online
Try: https://audio-joiner.com/
10. Clideo Merge Audio
It is an easy to use online tool where you can upload as many files as you want. To merge, first, upload the files from your computer and open the editor. Here you can change the order, add crossfade, and then choose to merge them into one. Once the process is complete, you can download the files in the same or selected format. However, it's only a primary tool to add audio files.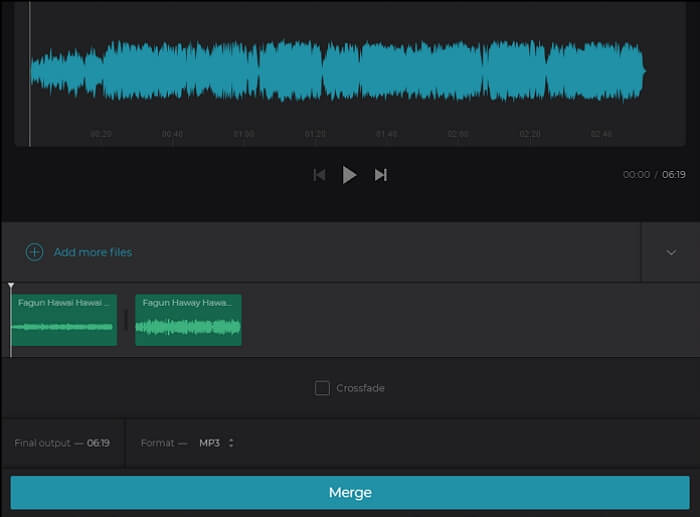 Pros
Compatible with all the popular audio formats like MP3, WMA, OGG, WAV, and others.
Import from Dropbox, Google Drive or any direct link to the file
Supports Crossfade
Cons
No way to split files
No way to speed up or change the tempo
Platform: Online
Try: https://clideo.com/merge-audio
Conclusion
So as you can understand, there is no scarcity of the audio joiner tools. You have it available in macOS, Windows, and then you have the online tools. If you are using Windows, It is best to use EaseUS Video Editor, which is free to download and offers a plethora of choice to edit audio and video files. Investing in this software makes sense. It can edit both audio and video files. So if you ever wish to create a fantastic memory in the form of video, a slideshow, or a picture with a background, you don't have to look anywhere else.