15 Best Free Instagram Video Editors for PC/Smart Phone/Online

Vanessa Chiang updated on Mar 26, 2021 to Video Editing Tips | How-to Articles
Instagram has become an indispensable social media platform in our daily life. More and more people use it to share their interesting moments or tutorial videos with others. However, there are times when you want to edit a video by clipping, adding some special factors. At this time, an Instagram video editor can help you a lot.
This page includes the 15 best free Instagram video editors for beginners to help Windows PC, Mac, and mobile phone users to create an Instagram story video or make a fun edit and share to Instagram for free. 
Main Content of This Post
Top 3 Free Instagram Video Editors for Windows
In this part, we will introduce the 3 best free Instagram video editors for Windows users and their pros and cons, read on and pick your favorite one.
Applies to: create Instagram story videos, fan edits, funny videos, etc., and share to Instagram account for video editing beginners, amateurs, and professionals.
EaseUS Video Editor specializes in offering all levels of Windows users with professional video editing features so as to create professional-level videos with ease. Windows 10/8.1/8/7 users can apply this software to create an Instagram story video or make Instagram fan edits on their own in only a few clicks.
Besides, it also offers hundreds of visual effects like Text, Filters, Overlays, Transitions, Elements, etc., to help you beautify the video and share it with your Instagram friends for free. For more information about EaseUS Video Editor, check its Pros and Cons as listed below:
Pros
Support most key video formats, including .avi, .mpeg, .mp4, .wmv, .mov, etc.
Support major image formats, including .bmp, .jpg, .gif, .tif, .heic, etc.
Support basic video editing, trimming, clipping, cutting, splitting, rotating, zooming, etc.
Support hundreds of professional visual effects, including 40+ text templates, 40+ filters, 50+ transitions, 30+ overlays, 60+ elements, etc.
Support free editing and exporting videos, sharing videos to social media platforms like YouTube, Instagram, etc.
Enable users to blur video background
Add text to video, add music to video, and add images to video, etc.
Cons
It doesn't support video editing on macOS and Mac OS X
Tutorial: Make Instagram Video and 1-Click Share to Instagram using EaseUS Video Editor
All levels of users can create funny, engaging, and professional-level videos on Windows PC using EaseUS Video Editor. Follow this detailed guide to learn how to make an Instagram video and share to Instagram in only a few simple clicks:
First. Create an Instagram video on your PC
Step 1. Open EaseUS Video Editor
You'll see there are 4:3 and 16:9 modes for your choice. Select the correct mode based on your original video aspect ratio or the websites that your video will be uploaded to.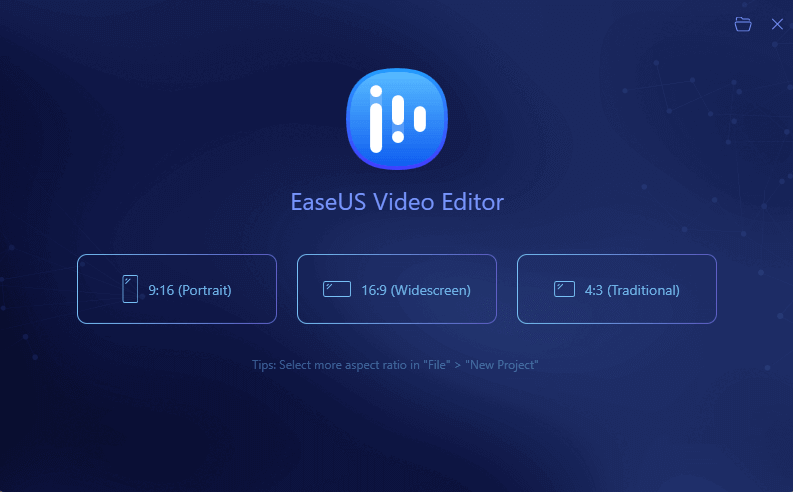 Step 2. Import Videos
You can import the media that you are going to edit, apply texts/filters/overlays/transitions to the video clips. If you install and run the program for the first time, you can learn how to use the basic editing functions step by step via the prompts.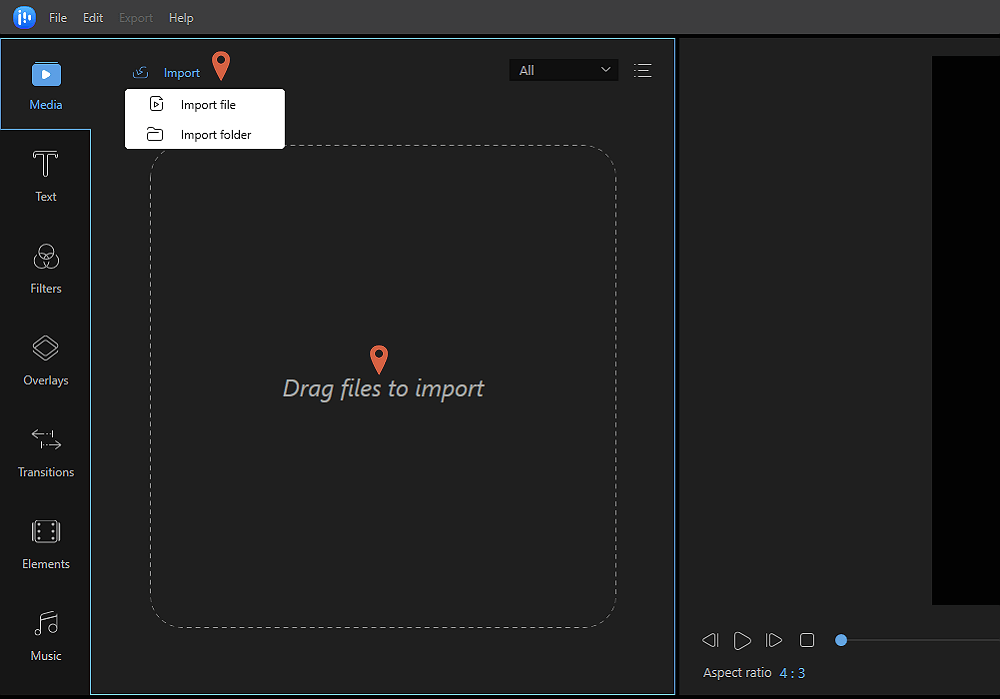 Step 3. Add to Project
Add video clips to the timeline panel by dragging and dropping from the Media Library. You can also right-click the clips in the "Media" and choose "Add to Project" to load them to the timeline.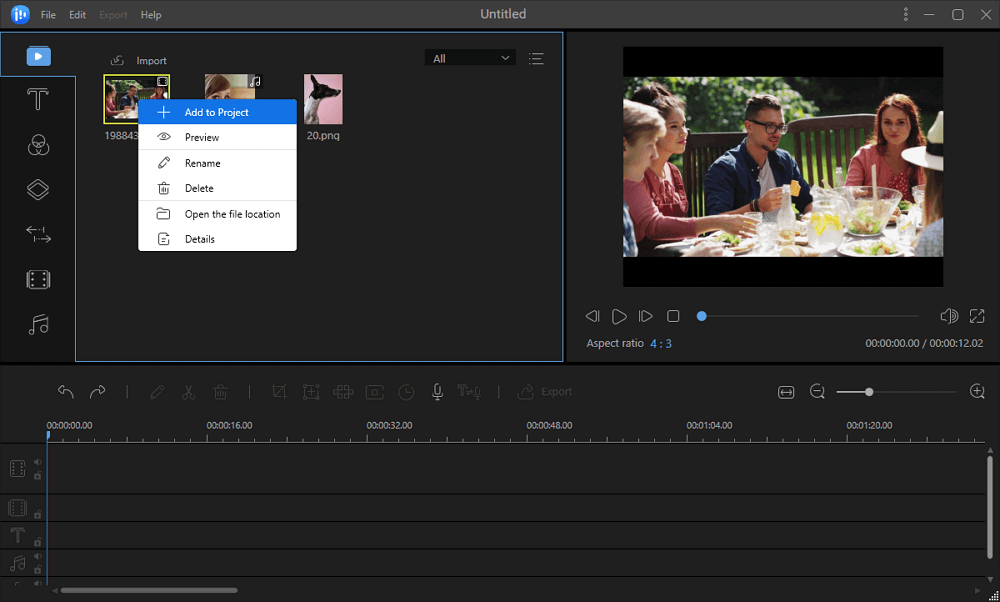 Step 4. Edit Videos
Right-click the video and select "Edit".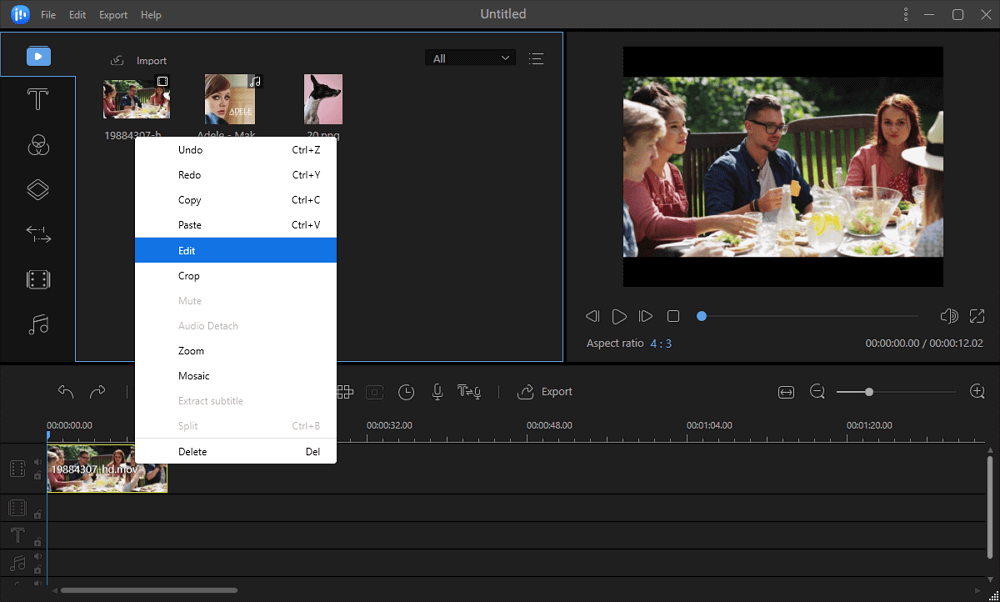 Then, you can split, trim, speed, rotate, add watermark or enhance video clips.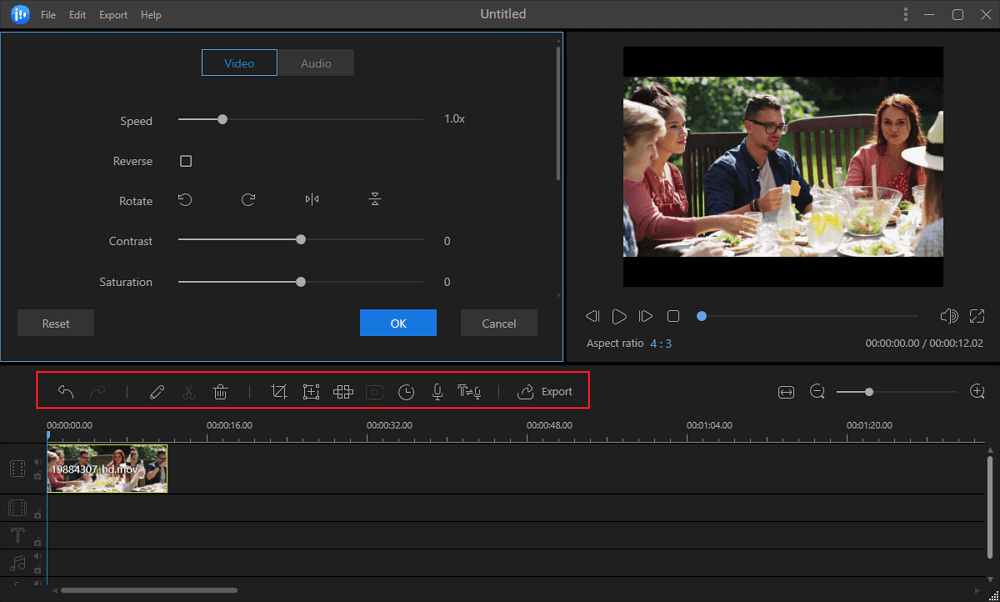 Step 5. Export Projects
Click "Export" in the Toolbar to export the project. There are four available ways to save the project.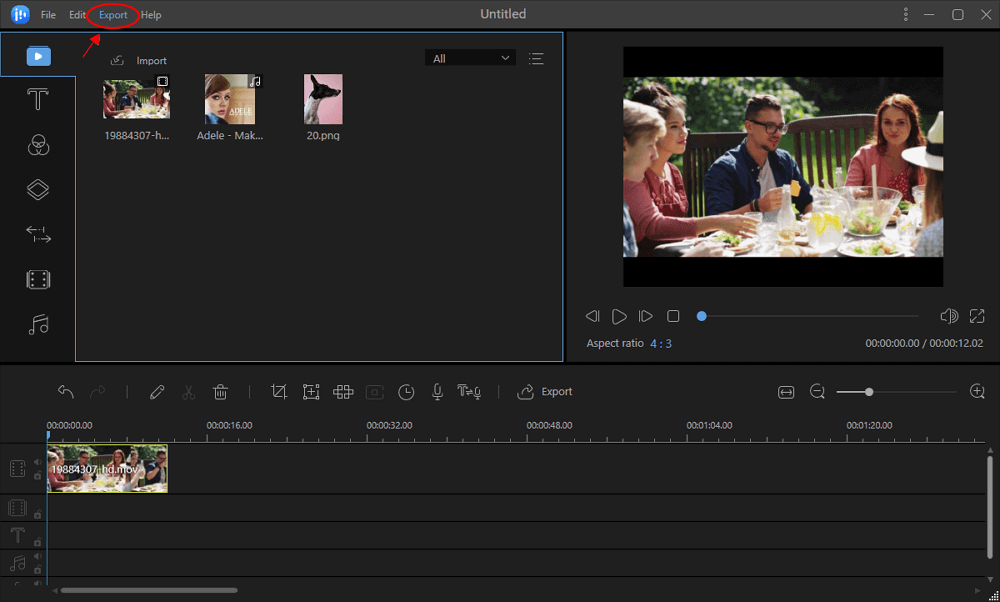 Next. Upload video to Instagram
Step 1. Sign on to Instagram with your account.
Step 2. Go to IGTV and click "Upload".
Step 3. Click the "+" icon and browse to select your created video to upload to Instagram.
You can add a cover, details, etc., to the video. When you finish, you can click "Post" to start uploading your video to Instagram.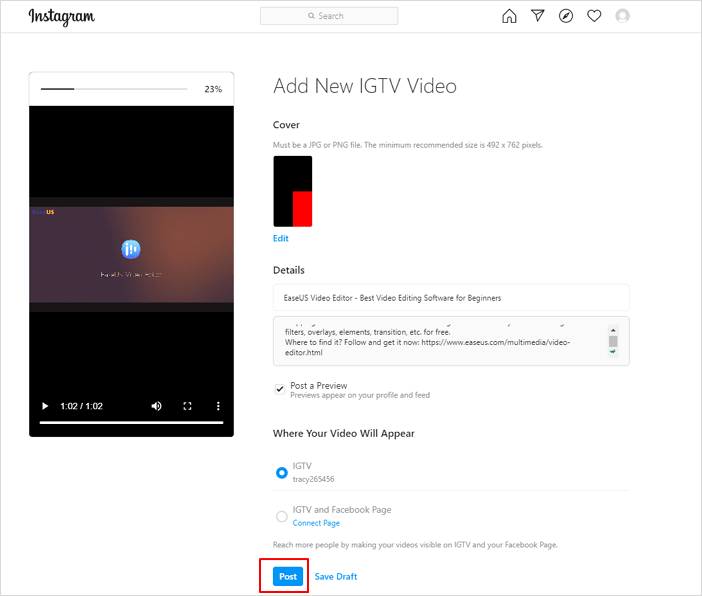 After this, your friends and followers will be able to view and tag your video on Instagram.
Applies to: create long and complex videos for free and export them in high quality.
If you are looking for a user-friendly tool that can help make Instagram videos, VSDC Free Video Editor will not disappoint you. It is a feature-packed program that allows you to bring your videos from any source and apply various effects to them. You can use many options in this tool to edit your videos Instagram-ready for your account.
Some of the things you are going to like about this tool include the ability to load a video in nearly all formats, support for green-screen effects, trendy filters that you would love to use, and custom profiles that make it easier for you to quickly save a video with your custom settings.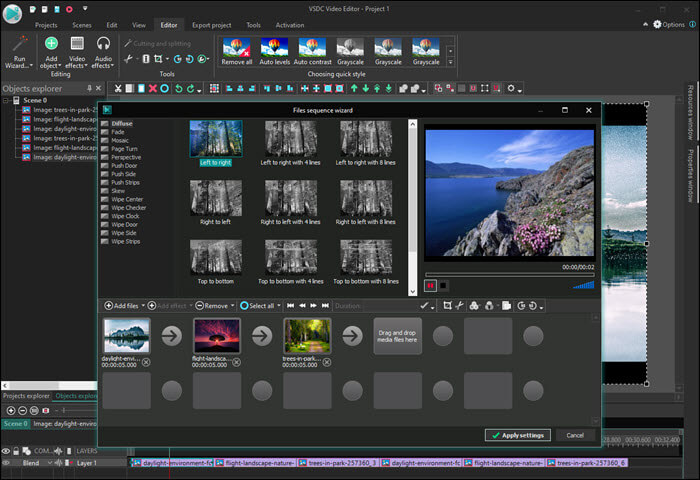 Pros
Sync your videos with music for Instagram
Fix your shaky Instagram videos
Add voice recordings to your videos
Resize Instagram video easily
Cons
You do not get everything for free
Many options are not easy to find
The beginners might find the interface a bit confusing
Applies to: create basic slideshows using images, audios, videos, etc., on Windows PC.
Windows Photos App is a built-in Windows video editing app that supports creating basic slideshow videos with video shots, images, music, and audio files. Windows users can also apply this app to create attractive Instagram videos by trimming, splitting, and adding advanced visual effects, such as Text, Motion animation, Filters,  3D effects, Filters, etc.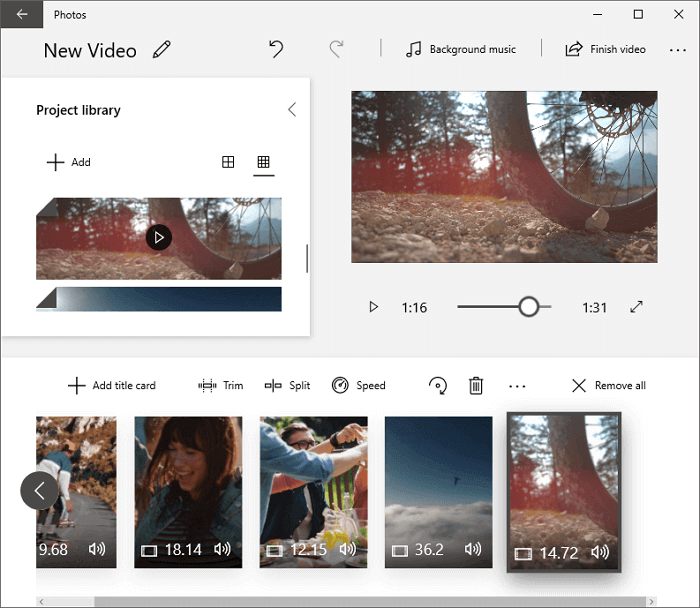 Pros
Support basic video editing with trimming, splitting, set duration, etc.
Support advanced video editing features - Text, Motion, 3D effects, Filters, Add title card, etc.
100% Free
Cons
It doesn't support adding a text opener, built-in sound effects, changing text size, etc.
Top 3 Free Instagram Video Makers for Mac
In this part, you will find the 3 best Instagram video editing software, programs, and apps for Mac users that are used and recommended by the most advanced Instagrammers for creating attractive videos or fan edits for free. 
Check out and pick up the right one to create an engaging video and share it with your friends on Instagram with ease. 
1. iMovie (for Mac)
Applies to: create basic videos on Mac computers; Compatible with all macOS and Mac OS X.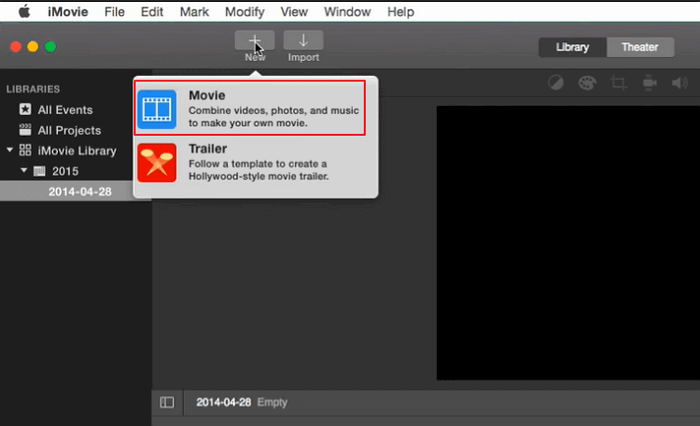 iMovie, being similar to Windows Photos App, is a built-in Mac video editing software developed by Apple Inc. With simple and intuitive interface, iMovie can be adapted by any Mac user to create videos and share on social media platforms, like YouTube, Instagram, etc.
Pros
100% Free
Support basic video editing by trimming, clipping, detaching audio, etc.
Support to add transitions, effects, filters, etc., to video.
Support 4K resolution
Support multiple video and audio tracks
Cons
Limited video editing features
It doesn't support Windows OS
2. OpenShot (for Mac, Windows, Linux)
Applies to: create and edit videos on Mac, Windows, and even Linux computers for free.
OpenShot is an open-source video editing software, developed by NCH Software, which supports users to edit videos with basic and advanced editing features on Mac, Linux, and Windows. Being compatible with Mac, Windows, and Linux operating systems, users can create and edit videos across platforms.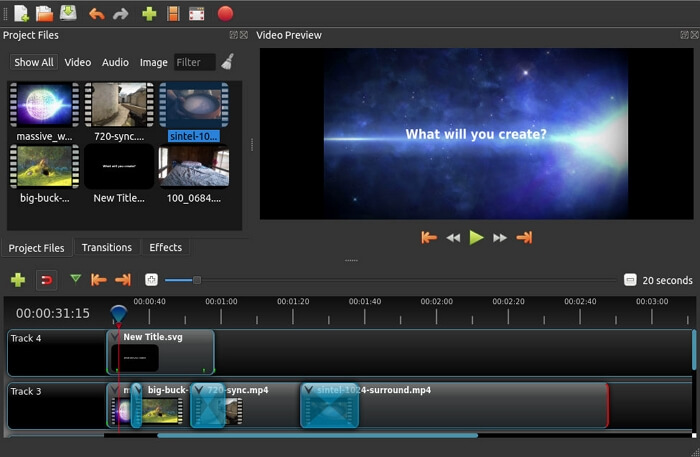 Pros
100% Free
Support basic video editing, including trimming, slicing, unlimited tracks, etc.
Support advanced video editing features, adding videos and text effects, edit audio waveforms, add 3D animations, slow motions, etc.
Cons
Lack of some video editing feature
Applies to: create videos with unlimited tracks and add special effects on them.
If you are an Instagram user who likes to post videos with VFC updates, you are not going to find a better tool than HitFilm Express. It is loaded with tons of features to make your videos as engaging and Hollywood-like as possible. You will be stunned to see all the effects that this Instagram video editor has for you in the store.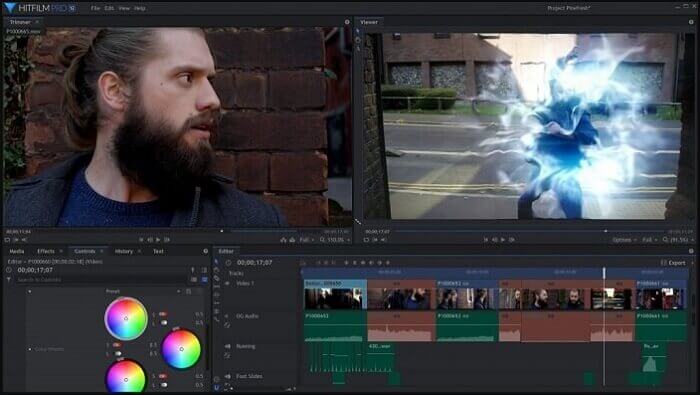 It is a professional-level Instagram video maker and editor that helps you create content that your professional audience will love to watch. It offers both 2D and 3D composing so you can work with any of these. There are over four hundred effects to choose from so you will never be short of that.
Pros
Hundreds of effects for your Instagram videos
Unlimited timeline tracks for your content
Many tutorials available to learn how to use this tool
Cons
Learning required before you can use this tool
The free version only allows you to use limited features
The user interface is not that neat and clean
Top 5 Free Instagram Video Editor Apps for iPhone/Android
Some Instagramers may consider editing Instagram videos on Android and iPhone more convenient than that on a PC. Here we will recommend several Instagram video edits apps for Android and iOS users.
1. iMovie (for iOS)
Applies to: create Instagram videos on iPhone, iPad, etc., devices for free.
iMovie also has an iOS version for iPhone and iPad users to apply this video editing app to play videos and even edit videos on their phones. With a streamlined design and intuitive Multi-Touch gestures, iMovie allows iOS users to create Hollywood-style videos with 14 templates and even beautify videos with other 8 unique themes.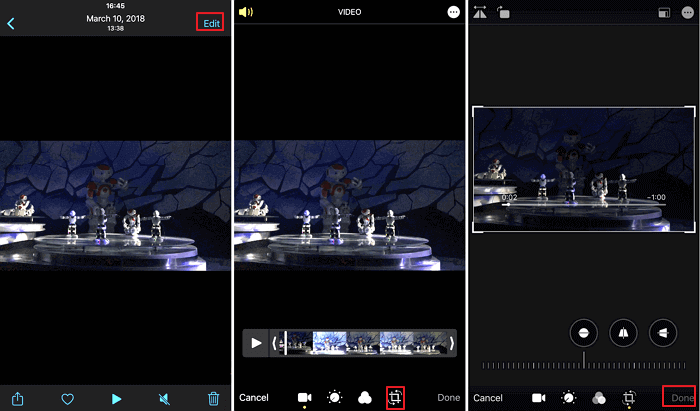 Unlike creating videos on a computer, it's more flexible to edit and upload videos to Instagram from users' phones. 
Pros
Support to edit 4K videos
Support to add music to video
Support to add basic filters to video
Cons
Lack of advanced video editing features
Applies to: use different color filters to make your video stand out and export 4K 60 FPS Instagram videos.
If you have not heard of KineMaster, you have been missing out on one of the best tools that you can use to make and edit Instagram videos. With this tool, not only can you edit your videos with basic effects but you can add a ton of new and exciting effects to make your videos more engaging. You can combine your multiple videos with this app so they can all be merged into one easily. Also, it offers options to reverse your videos, adjust color levels for your content, blending modes, and many more.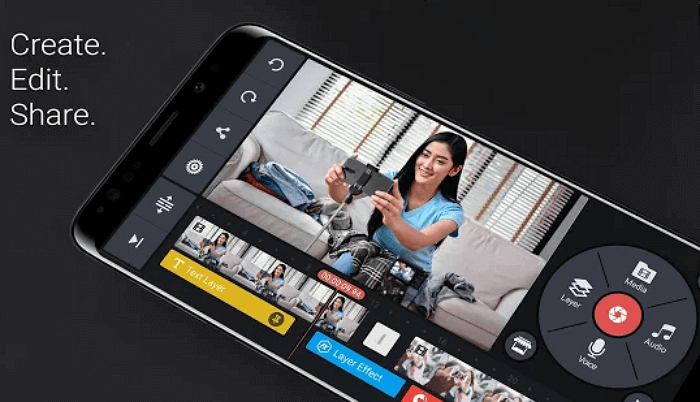 Pros
Export videos in 4K for your Instagram account
Easily share videos to many social platforms
Tons of color filters to use
Cons
Some buttons are too large to work with
Does not support some file formats
Apples to: adding simple designs to your photos and videos on an iPhone or iPad.
A Color Story is described as a design kit that allows users to add modern and colorful designs to your photos and videos anywhere. Instead of speaking it as a video editor, it works more like a photography app with tremendous effects.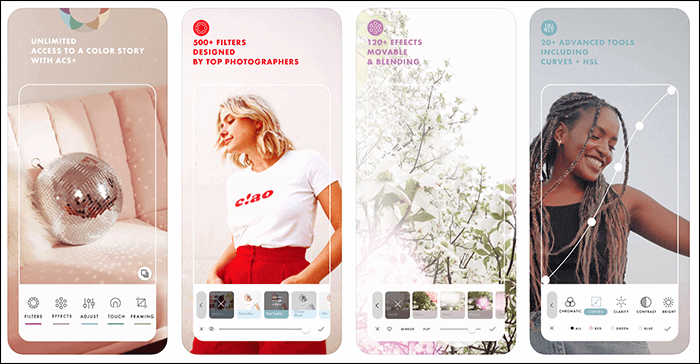 With it, you can design and publish colorful and stylish photos online. You may also apply it to beautify your video and share it on Instagram.
Pros
Support to draw in texture or color
Support 60+ modern fonts
Support 200+ designs
Support multiple stickers, backgrounds, etc.
Cons
Applies to: edit and create Instagram short videos on Android phones.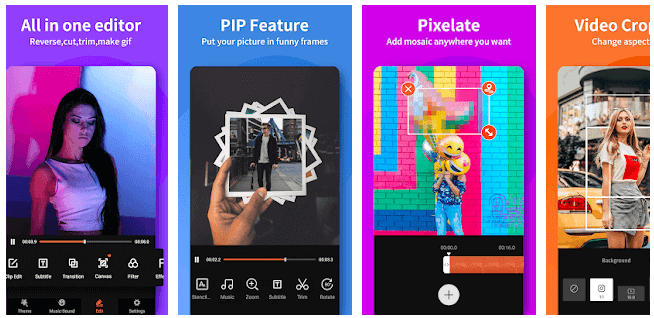 VideoShow is widely used by Android users to enhance their videos and photos on their phones. With it, you can effectively edit and add effects to a video or a photo on your phone for free.
Users can use VideoShow to make memes, videos, and even slideshows with photos, music, stickers, and even sound effects. Young people can also apply this app to improve their photos and sharing their projects with their friends like a pro.
Pros
Support HD export, no quality loss
Support to make videos with photos, music, stickers, etc.
Support basic video editing features, including trimming, merging, splitting, reversing, rotating, blurring, etc.
Cons
It charges for exporting videos with high resolution.
Applies to: create professional and high-quality Instagram videos and customize animated subtitles for your videos.
Adobe has been the king in the media editing field, and if you love Adobe's tools, you are going to like the Adobe Premiere Rush app. This app is built to help you use the company's robust editing tools on your smartphone to make and edit Instagram videos. No matter the type of video, you can make and refine it with this app on your Android device.
It allows you to make videos in a pretty quick process that your videos look professional and appealing on your Instagram profile. There are many easy options to manage your video editing tasks, like the ability to drag and drop your content. You also have motion graphic options and templates if you want to use them.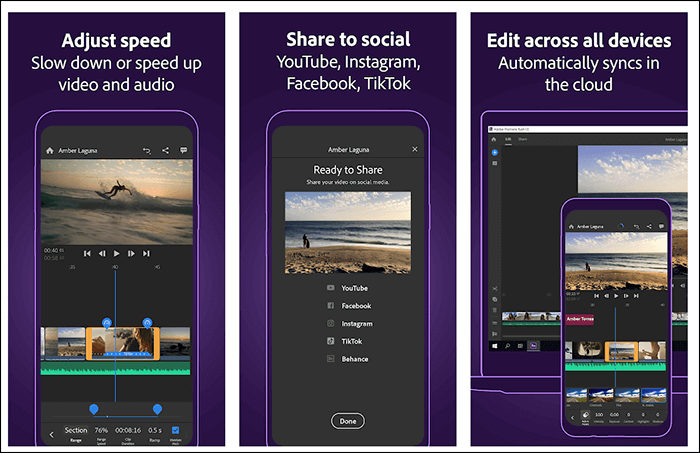 Pros
Support for multi-track Instagram video editing
Quickly crop videos so they fit Instagram requirements
Come with many audio tools
Cons
You can only save three videos in the free version
It is relatively expensive
Does not always work with all Android devices
Top 4 Online Instagram Video Makers for Free
Season Instagram users would like to use an app because they have videos to make and edit regularly. However, if you only post videos on your Instagram profile once in a while, you will probably prefer something that does not take up your device's memory.
Online tools are the answer to that. These online Instagram video editor services help you make and edit your videos right from your browsers. You do not need to install anything as they work from within your browsers. The following are some of these tools.
Applies to: create and edit Instagram videos online for free.
Unlike Windows and Mac video editing software, WeVideo is designed to help all platform users to make videos on Windows, Mac, and online via browsers. In other words, as long as you have a browser, you can easily create a captivating video online.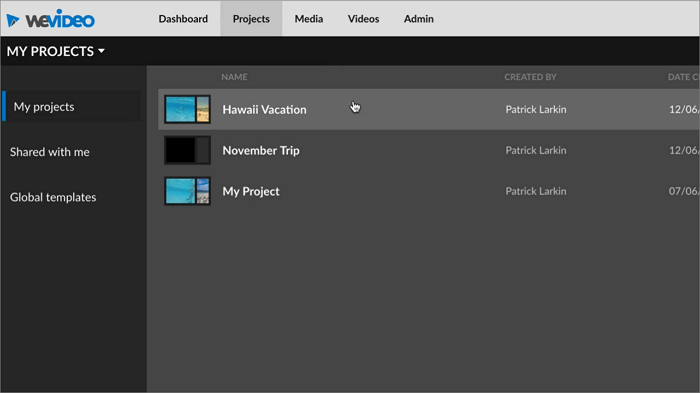 Users can flexibly create videos for Business, Education, and Life. 
Pros
100% Free
Support 1GB Cloud storage
Support to add text, audio, transitions, and backgrounds to video
Support to download created a video to computer
Cons
Low video resolution - supports 480P only (It charges for upgrading video resolution.)
Limited publish time - 5min/month
Requires to sign in with an account
Applies to: create stylish videos online with pre-created templates. 
Being similar to WeVideo, Adobe Spark is another free online video editing software that enables beginners to upload and create a stylish video via a browser on Windows or Mac computers. With pre-created video templates, text templates, any level of users can create attractive Instagram videos in only a few clicks.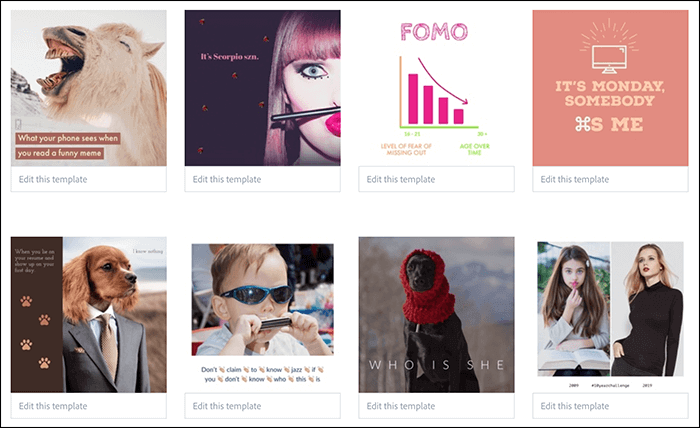 Pros
Support multiple pre-created video templates
Support to add text to video, changing fonts and text style
Support to download videos to PC or share to online platforms like Facebook, Twitter, Classroom, etc.
Cons
Only 7-day trial
some templates are not completely free
Require to sign in with an account
Applies to: create or edit videos online using browsers on Windows or Mac computers. 
Kawping is another optimal online video editing app that supports Instagrammers to simply upload videos, images, and even music, etc., to create a slideshow video for free. You don't need to acquire professional video editing skills using this software on Windows, Mac computers.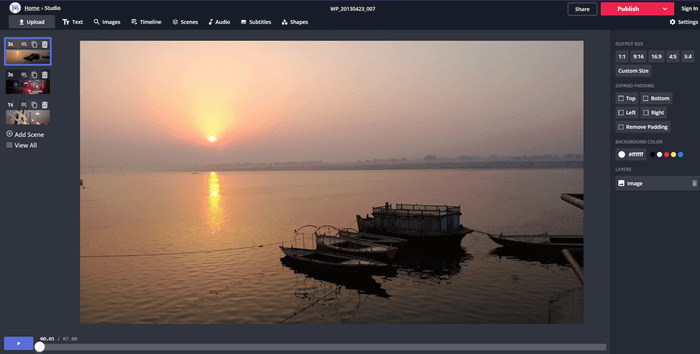 Pros
Support to add text, subtitles to video
Support to add images to video
Support to trim, duplicate or delete scenes
Support to add music to video
Cons
Apples to: create Instagram videos with your image, audio and video for free and in good efficiency.
Clideo Instagram Video Maker is an online and easy to use service that helps create content for your Instagram profile. Using this tool, you can add various types of files like videos, images, and audio and mix them to come up with something nice. This content then can be shared with your Instagram account allowing all of your followers to see it.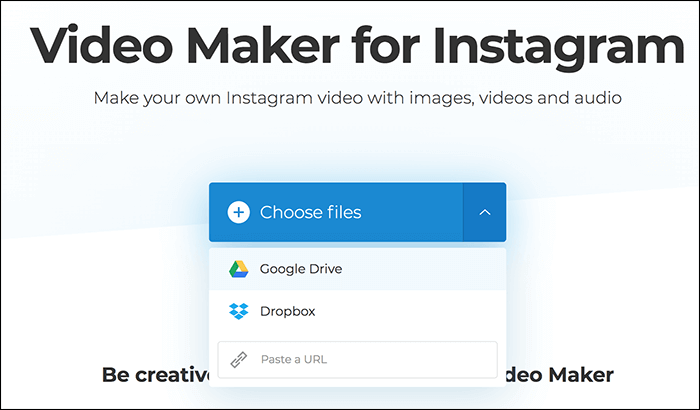 Pros
An ideal tool to use for when you only want to make a few Instagram videos
Support multiple file types
Export your videos in many formats
Cons
If videos are too long, they can take quite a while to upload
You are not sure who your video will be shared with
Conclusion
This page covers 15 practical and powerful video editing software, programs, and apps to help all levels of Windows, Mac, mobile phone, and online users to edit and create attractive Instagram videos. From the above-listed video editors, you may feel still difficult to pick up the best one to edit an interesting video and upload it to Instagram.
For a Windows beginner, you can take EaseUS Video Editor to efficiently create a professional-level video within only a few simple clicks.