5 Vertical Video Editors: How to Make a Vertical Video on Your Own

Vanessa Chiang updated on Dec 22, 2020 to Video Editing Tips | How-to Articles
What Is Vertical Video?
A vertical video is also known as a portrait video. These videos are taller instead of wider, and they usually have an aspect ratio of 9:16. They are ideal for viewing on a smartphone as they have such tall displays. A vertical video will have a resolution of 600 x 900 or higher with a 9:16 aspect ratio. For comparison, a landscape video would have a resolution of 900 x 600, meaning it would be wider than a vertical video.
Vertical video vs. Horizontal video
Most people tend to take videos in the landscape orientation or horizontally. This is primarily because most of the content that we consume nowadays is shot in a horizontal orientation. It is also suited for capturing actions or when there are a bunch of people as it provides a wider field of view. However, the rising popularity of smartphones has also led to an increase in the popularity of vertical videos. For the uninitiated, vertical videos are ones that are taken in portrait mode. They are ideal for recording POV (Point of View) videos and when one needs to capture the action and show it up close to viewers.
If you are primarily recording a video for social media or for sharing it with an audience that will primarily watch it on their phone, you should record a vertical video as it would be more suitable in such scenarios.
Is Vertical Video the Future?
Vertical videos are the future, all thanks to the popularity of smartphones. As smartphones become popular, vertical videos, too, will become popular. The popularity of vertical videos has also been boosted by social media platforms like Instagram, Facebook, Snapchat, and TikTok, all of which are based around creators sharing content in vertical format. In fact, even YouTube ended up adding proper support for vertical videos on its platform due to an increase in its usage. Vertical videos provide an ideal viewing experience on smartphones, which typically have tall displays as it does not require one to tilt their phone for an enjoyable viewing experience.
How to Make a Vertical Video?
The following section will cover 5 video editors for creating vertical videos on Windows, Mac, Online, and Mobile phone in detail. Just choose one of your needs. 
It is important that one uses an excellent video editor to edit their vertical videos if they want their creative juices to flow. EaseUS Video Editor perfectly fits the bill as it is a feature-packed full-fledged video editor that is simple to use. The video editor supports a plethora of video formats and resolutions and packs over 300+ visual effects and transitions divided into categories like Text, Filters, Overlays, Transitions, Elements, and Music. 
All the effects are entirely free to use and come as a part of the video editor. You can easily cut, rotate, speed/slow down, zoom, mix audio, apply filters, and do much more with your vertical videos and photos using EaseUS Video Editor. The timeline approach of EaseUS Video Editor is straightforward to understand. You can even import and add your background music to your vertical videos. There's also an option to add voiceover to video at the click of a button.
EaseUS Video Editor also has optimized presets for all major social media platforms so you can easily export your final edited vertical video in an appropriate format and resolution in a jiffy. Here is the list of effects available for your vertical videos:
Text: Types of Text include openers, subtitles, end style, low third, title motion, art post, and more
Filters: You get access to 49+ filters
Overlays: There are 55+ overlays
Transitions: There are 59+ transitions categorized into push, wipe, and replace
Elements: There are over 88 such elements
Guide: How to Make a Vertical Video with EaseUS Video Editor
Step 1. Select an aspect ratio for your project
Select an ideal aspect ratio for your vertical video. Ideally, you need to select a smartphone or a 9:16 aspect ratio for the best results. You can choose more aspect ratios from File -> New Project.
Step 2. Import your vertical video
You can drag and drop multiple vertical videos you want to edit into the import tab. After you are done importing the video files, drag them to the timeline at the bottom and arrange them as per your liking.
Step 3. Editing the video
Once your timeline is prepared, you can proceed to cut, trim, or zoom into videos. To add effects or filters, go to the Text/Filters/Overlays/Transitions/Elements or Music tab, and then click the '+' icon that you see. You will have to download some effects before you can apply them to the timeline.
After the effects have been added, you can move it around in the timeline to adjust its position. You can also extend its length by dragging it from the left or right edge.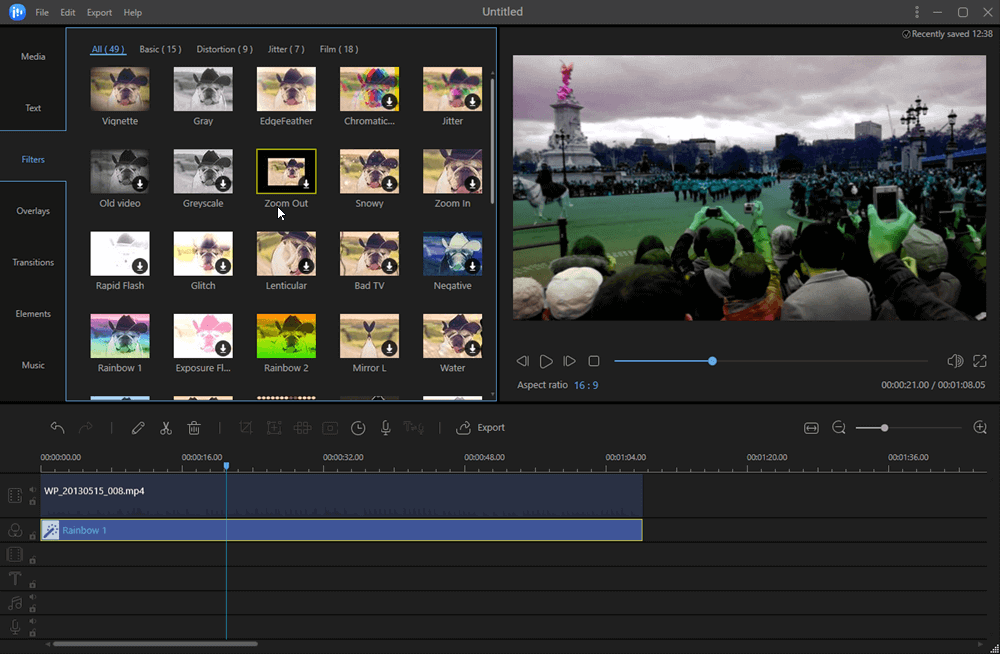 Step 4. Exporting the edited vertical video
Click the Export button from the menu bar on the top and then select your desired video format - MP4, AVI, MKV, MOV, etc. make sure to choose output settings before the export.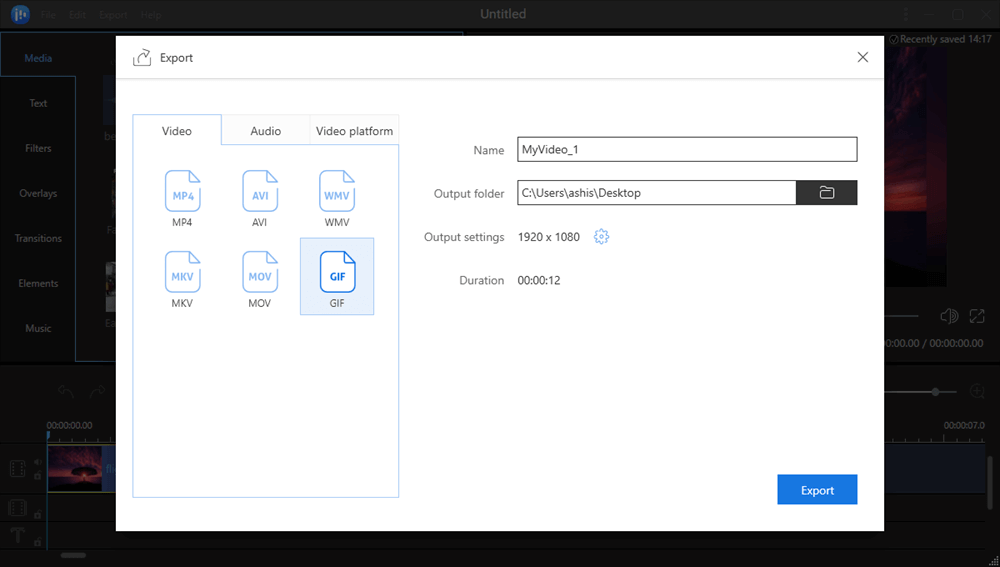 #2. Make a Vertical Video on Mac using iMovie
iMovie is Apple's video editor for macOS that's targeted for people with basic video editing use. One can use iMovie to create and edit a vertical video and also trim it and add various effects to it. You can also use iMovie to rotate a horizontal video to a vertical one or vice versa. It also offers color correction, skin tone, white balance adjustment, along with other features like freeze frame, instant replay, and more.
Pros:
Cross-compatible with iPhone and Mac
Easy to use interface
High-quality filters and effects
Free to use
Cons:
Only available for Mac and iPhone/iPad 
Step 1: Open iMovie on your Mac and proceed to create a new project with a name of your choice. Now drag and drop the video your vertical videos in the iMovie timeline. You can alternatively import the video first and then drag it into the timeline below as well.
Step 2: Proceed to add various effects and transitions to the video if you wish to. You can also trim the video or merge multiple videos into one if you want to. Edit the video as per your liking.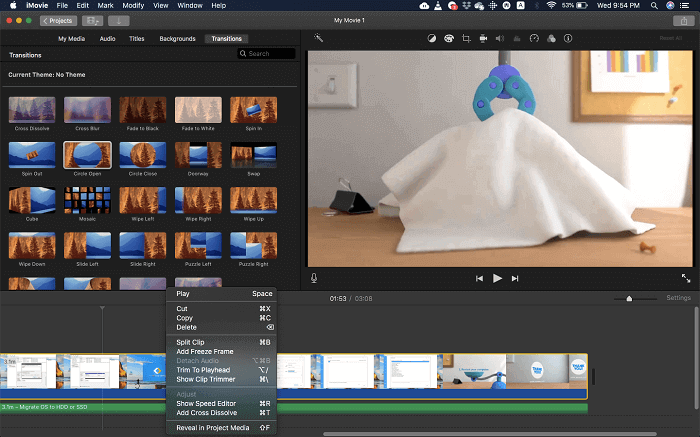 Step 3: If you want to rotate a horizontal video vertically, enable the cropping tool located right above the video preview. You will see the buttons to rotate the video to the right or left near the Reset button. Click on it and rotate the video vertically.
Step 4: Once you are done with all the changes, go to File > Share and proceed to select the output destination. Make sure to select the right destination as iMovie will automatically apply the best export settings according to that. For greater control, you can export the video as a File and then select your desired settings.
#3. Android Vertical Video Editor: Premiere Rush
The popularity of vertical videos has also led to a number of video editors for mobile popping up. Adobe's Premiere Rush is an ideal tool for creating and editing vertical videos as you can directly use it to shoot vertical videos and import it into the app's timeline for editing purposes. Adobe Premiere Rush is a fairly powerful video editor multitrack timeline that will let you crop your vertical video, mirror it, add music or titles, apply video effects, and more. You can also arrange the videos on the timeline as per your liking, overlay text on them, customize the titles, and more. Premiere Rush also syncs with Adobe's Creative Cloud, so if you use Premiere Pro on your PC, all your changes would be available on it as well.
Pros:
Customizable built-in effects
High-quality effects
Directly share to Instagram, YouTube, etc.
Cons:
Only compatible with selected Android smartphones
The free version is limited to 3 video exports per month.
The paid membership is expensive.
Step 1: Open the Rush App on your phone. Tap to the 'Plus Sign' (+) at the bottom of your screen.
Step 2: Now add your existing vertical video using the 'Add Media' button or shoot a new vertical video by clicking the 'Take Video or Photo' option.
Step 3: You can add Titles, Transitions, Colour/ filters, Change speed of the vertical video, audio, and many more by selecting options given at the bottom of the screen.
Step 4: After you are done editing the vertical video, tap to the share button at the top of the screen, and then click 'Export.'
#4. iPhone Vertical Video Editor: iMovie
iPhone users should use Apple's iMovie for editing vertical videos. Given that iPhones have excellent video recording quality, they can record a vertical video and then directly edit it on the device as well. The app can be downloaded for free from the App Store, and it is the mobile counterpart of its Mac version. It offers the same presets, effects, and timeline-based approach as the desktop version of iMovie. Using iMovie, you can easily add various effects to your vertical videos, merge multiple clips together, overlay texts, speed up clips, stabilize them, and more. Another benefit of using iMovie on the iPhone is that the library is also compatible with iMovie on the Mac. So, you can start editing a vertical video on your iPhone and then resume it later on your Mac or vice versa. This level of flexibility is offered by very few editors out there.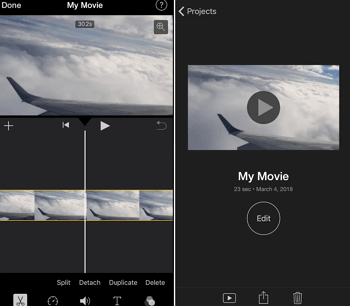 Features:
Magnetic timeline-based approach
Smooth and easy to use
Plenty of effects, transitions, etc
No watermark
Supports a wide range of video formats
Pros:
Cons:
Limited feature-set
Not as advanced as other full-fledged video editors
Step 1: Open iMovie and press the '+' button to start a new project. Tap on Movie and then proceed to select the vertical video you want to edit. Tap the Create Movie button at the bottom then.
Step 2: Proceed to edit the vertical video as per your liking by adding various effects to it, trimming it, speed ramping it, etc.
Step 3: Press the Share button and select the Save video option to export your edited vertical video.
#5. Online Vertical Video Editor: WeVideo
If you are looking to make or edit a vertical video online, you can use an editor like WeVideo. It supports a wide variety of video formats and aspect ratios, including vertical videos. WeVideo offers over a million pieces of stock media, including music tracks that you can use in your vertical video. There are also plenty of titles, effects, and transitions to choose from and which one can apply to their vertical videos in a breeze. The good thing is that you can use WeVideo to directly export your finalized vertical video with the correct aspect ratio and settings for sharing on social media platforms like Facebook, Instagram, and YouTube.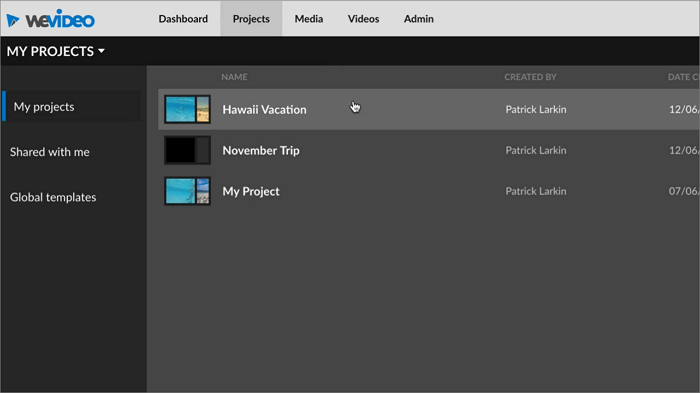 Pros:
Massive media library
Offers preset for all major social media platforms ideal for vertical videos
Hundreds of effects, motion titles, and transitions for use in videos
Also available for Web, Android, and iPhone
Cons:
Publish time is limited to 5 mins/month
Max supported video resolution for free accounts is 480p
No access to essentials music, videos, and images in free accounts
Cloud storage is limited to 1GB
Watermark is added to final video in free account 
Step 1: Sign up for WeVideo. Click on Video from under the Create a new section on your Dashboard.
Step 2: You will have to select an aspect ratio for your video now. Make sure to select 9:16 since you are going to make and edit a vertical video.
Step 3: Proceed to drag and drop your vertical video in the My Media section of Wevideo. Then drag the video into the timeline below.
Step 4: Add various effects to your video. You can select them from the Text, Audio, Transitions, and Backgrounds tab at the top.
Step 5: Click on Finish to output your edited vertical video.
Conclusion
There are plenty of video editors out there that will easily let you create a vertical video and edit it as per your liking. A good vertical video editor would allow you to add effects, overlay text, and use various transition effects. Of all the tools mentioned for various platforms, EaseUS Video Editor for Windows is the best as it offers the best of both worlds: ease of use and features. It will not only let you convert your horizontal video to vertical but also add various effects to them. It is by far the easiest video editor you can use for creating vertical videos.
FAQs About Vertical Video
There are some questions about the vertical video, if you want to know more, you can keep on reading:
How to make a vertical video horizontal?
You can use a video editor like EaseUS Video Editor on Windows, iMovie on Mac, or WeVideo to convert a vertical video to horizontal. Do remember that if the video is not shot properly, the final converted video could look a bit odd as a horizontal video is going to lack the extra height of a vertical video. 
Is it better to film vertical or horizontal?
Depending on the use case and the scenario, you will need to decide if you need to film a video vertically or horizontally. For social media like Snapchat, Instagram/IGTV, and TikTok, vertical videos are the best, and shooting horizontal videos for such platforms should be strictly avoided. If you are shooting a video for YouTube or if there are a lot of people involved or if you are shooting a beautiful place, then in such scenarios, you should record a video horizontally.
How do I convert video to vertical for IGTV?
If you are looking to post a video to IGTV, you should first convert it into a vertical format using EaseUS Video Editor. The process is relatively simple as you will first have to import the video and then just rotate it to a vertical orientation. Make any changes to the video if you wish to and then export it.