Best Ways to Make a Facebook Slideshow on Windows PC

Vanessa Chiang updated on Dec 11, 2020 to Video Editing Tips | How-to Articles
Making a slideshow is an excellent way to communicate with others or express yourself when you have many things to show in a series. A slideshow is usually a set of images and videos that users can view one after another. Since Facebook doesn't support uploading a Microsoft PowerPoint, creating a Facebook slideshow is the only option.
In this post, you will learn how you can create a Facebook slideshow in various ways.
How to Make a Slideshow for Facebook Ad on PC
Facebook allows you to create a slideshow when you create a Facebook Ad. It works only on PC using the Publishing Tool. You can do it only for Pages but cannot send it as a usual post.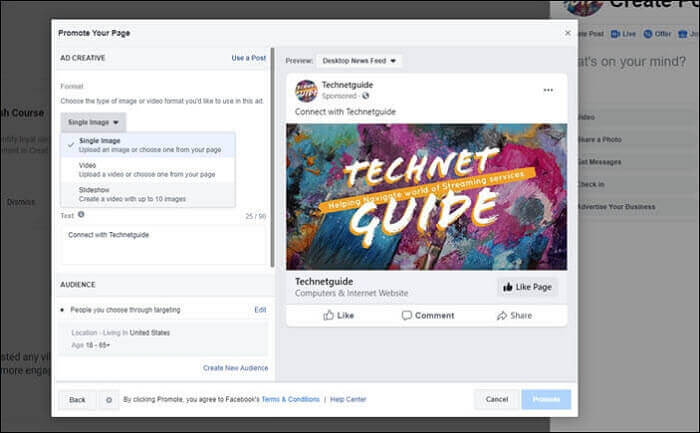 Step 1. Open your "Facebook Page" and click on the "Publishing Tools" menu on the left panel. Then click on the "Creator Studio" menu available on the left panel under the tools section.
Step 2. On "Create Studio," click on the "Post Something" box, and then select the "Advertise Your Business" option. Next, click on "Promote Your Page," then click on "Single Image Option," and change it to "Slideshow."
Step 3. In the last step, you can add up to 10 pictures and follow Ad settings such as target audiences, budget, and so on. Finally, make the Ad goes live.
How to Create Your Slideshow for Facebook Using EaseUS Video Editor
If you want to create a slideshow on Facebook from your personal account, you can upload a video with images and background music. EaseUS Video Editor offers exhaustive tools that can help you create a video using images, background music, and transitions. Facebook is known to prioritize videos over the regular posts in the algorithms and preferences so that you can achieve a better publicity effect.
This video editor offers a non-linear timeline where you can combine multiple images and videos. You can add them on top of each other, add transitions, and add background music. It also offers all basic editing tools which allow you to merge videos, remove parts that are not required, and enhance colors with this video enhancer. All these will help you create an effective slideshow.
Key Features of EaseUS Video Editor:
Free background music, effects, transitions, and filters are available
Fast processing even on slow hardware
Export directly to Facebook
Enhance audio and video
Don't miss this best Windows 10 video editor. Download it now!
Steps to Make a Slideshow with EaseUS Video Editor:
Follow this guide and create your own masterpieces!
Step 1. Add images to the video track
Open EaseUS Video Editor, click "Import" to choose the source file you need. After that, drag and drop the image into the timeline.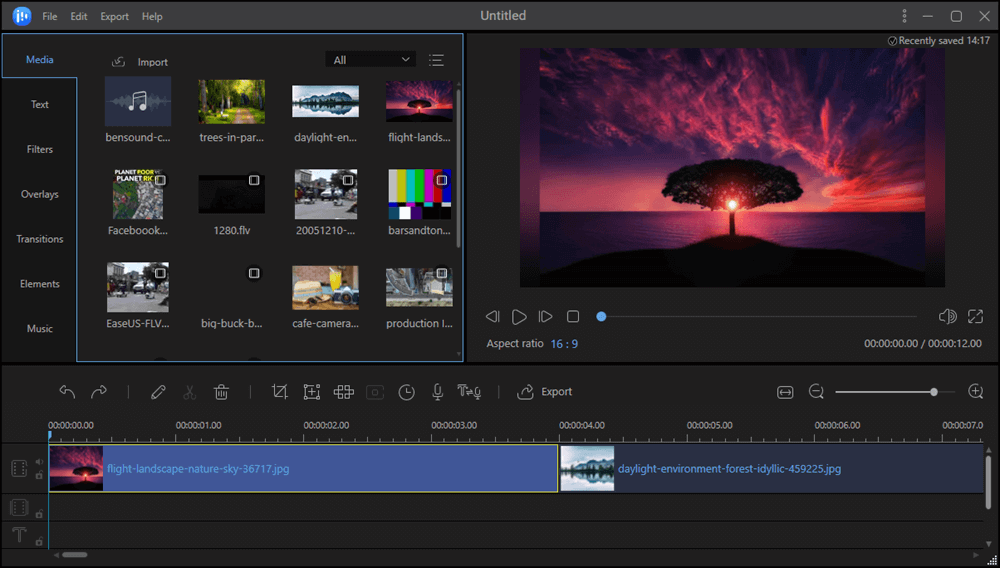 Step 2. Set image sequence and duration
You can drag the image to change the sequence for the images. For the duration, you just need to select the image and click on the timer icon in the toolbar to change it. 

Step 3. Crop, zoom, add mosaic
Click the button in the toolbar, You may crop, zoom the images, and you may also add mosaic to the images to cover part of the image.

Step 4. Change image orientation
Here you can rotate the image to left or right, and flip the image up or down.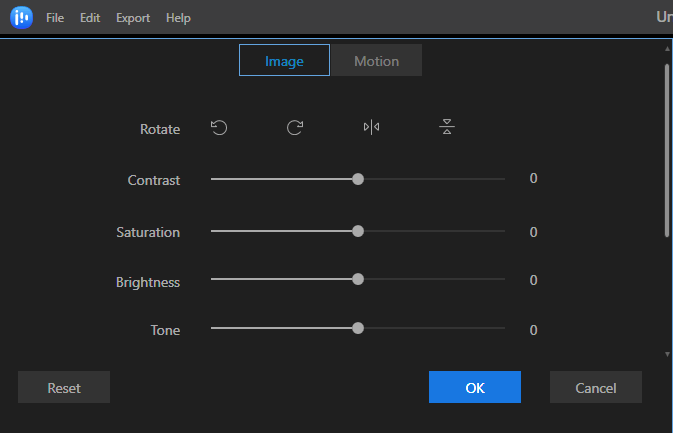 Step 5. Adjust Image color profile
You can change Contrast, Saturation, Brightness, Tone, Highlight, Shadow settings using the slider. If the image is not in full screen, the editor adds a black background to it. And that's changeable.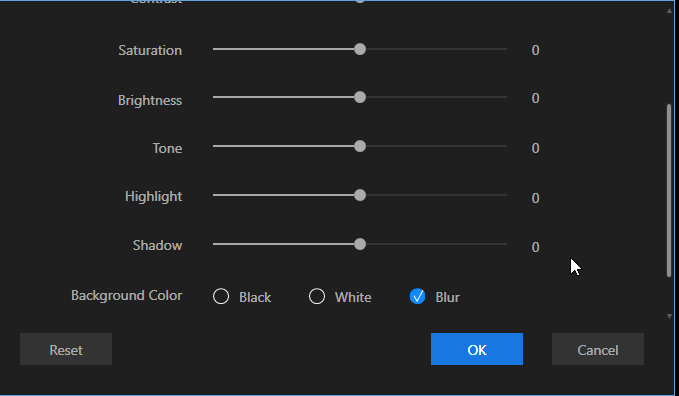 Step 6. Apply image (s) motion
The motion section helps you add some cool effects to your pictures. You can add effects such as Move Left, Zoom In, Zoom Out, and more.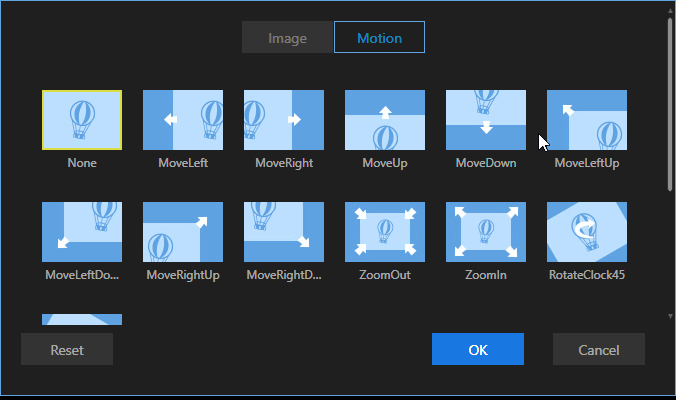 Step 7. Add music to the slideshow
Now you may import the music file and drag it to the timeline. You may add several music clips here, and change the sequence as you like.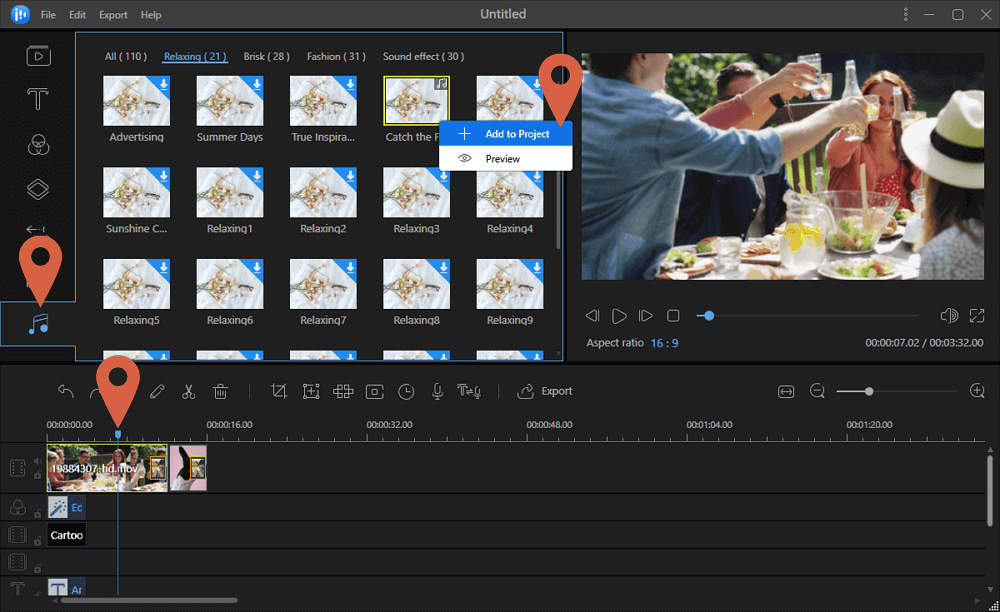 Other Ways to Make a Facebook Slideshow
Many online tools can create a Facebook slideshow using videos and images you upload.
Clideo Slideshow Maker
It's an online tool that allows you to make slideshows using images, videos, and background music. The editor can instantly merge videos, add a song, offer video combining options if you have images and videos of different resolutions, and support large media formats.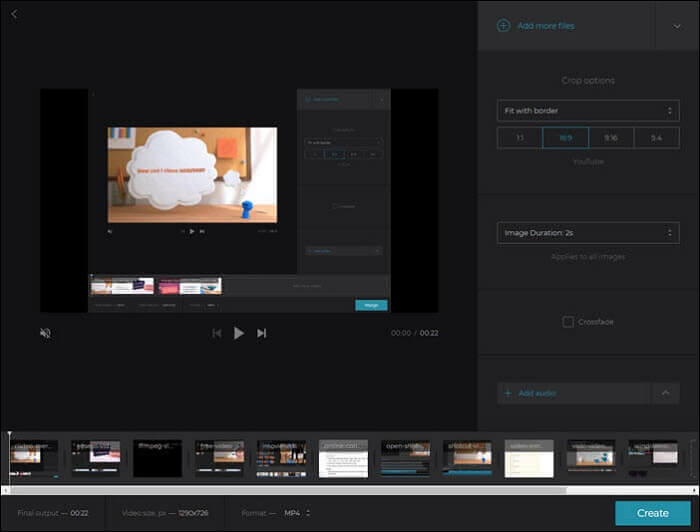 Features:
Combine multiple elements
Setup output ratio based on where you want to upload
Support adding background audio
Step 1. Open Clideo Slideshow Maker on the browser, and then choose files by clicking. Once the upload is complete, it will open a slideshow editor.
Step 2. You can set an image sequence in the editor, select each image's duration, set output ratio, and add crossfade. You can also add files from Google Drive and Dropbox.
Step 3. The final step is to click on the Create button and download the video. You can then upload the slideshow video on Facebook.
Website: https://clideo.com/slideshow-maker
Adobe Spark
Adobe Spark offers an online and mobile application for creating some fantastic slideshows. You can create a widescreen slideshow or a square slideshow, which will fit most of the scenarios. The tool also offers a branding option for professionals.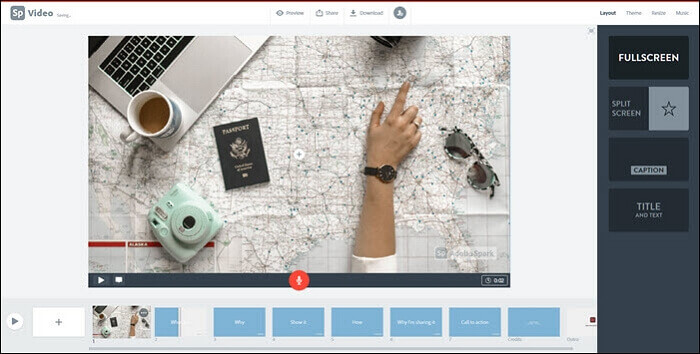 Features of Adobe Spark:
Offer beautiful typography and themes
Support multiple social platforms
Free to use
Create both videos and images
Step 1. Launch the application and select the photos from free resources, or you can upload your own images or videos.
Step 2. Once you have selected the photos, click on "Create," and now you need to select a template. Scroll towards the end and look for Spark Video Widescreen and Spark Video Square, which will allow you to create a video slideshow.
Step 3.  Once done, you can add various effects, text, and animations to each element. Lastly, you can choose to download it as a video or an image. Now, you can upload your slideshow video to Facebook.
Website: https://spark.adobe.com/sp/
Conclusion
EaseUS Video Editor is an excellent tool if you want to create a Facebook slideshow. Since videos are effective on all platforms, it's meaningful to make a video with effects and transitions than just uploading plane images.
There are many tools to create Facebook slideshows, but some of them, like online tools, are limited in terms of features. If you want to make an impact, you should pick up EaseUS Video Editor, which offers tons of features to make an outstanding slideshow in the form of video.