What is Offline Backup Software? 
Suppose you experience performance issues on your device or think of upgrading your PC or Windows or sending it to repair; it is essential to store your data securely. That is how a backup helps. 
While backup works online and offline, the latter lets you restore your PC without needing the internet. Not only that, but it is also available right away. You can save your backed-up data to another system or an external drive like a USB, CD, DVD, or similar.
So, if you are wondering about the Top 10 Offline Backup Software Recommended in 2022, we have covered you!
Offline Backup vs. Online Backup 
The users use offline Backup and Online Backup both. Many nowadays prefer only online backup, and even some offline backup software is more functional online. What are the key differences that they share? Which one is better? If you are thinking about these, we have an answer!
Offline Backup 
Offline backups are preferred over online ones as they do not send your data to any external location, keeping them secure. Moreover, as the file is not in any secondary location, you can access it faster and retrieve it. You can save the data on any folder of your device, any other device, or preferable external drives. The pretty cool part is you do not have to put in much effort to set up and configure the process. Most software works with its default settings and saves up all your data. 
Pros:
Faster to save and restore
Simple to use
Secure
Cons:
You need a lot of space on your computer to backup data.
Though offline backup software provides the cloud storage option, if you do so, you need internet access. Suppose you have too much data to backup and low storage on your device; you can go for cloud drives. The process becomes online with this software also! 
You may be interested in: Windows 10 Offline Update
Online Backup 
Online backup covers the downside of offline backups. The process requires network connectivity, yet many store data on a Cloud drive so you can access the files and programs at any instant. The process is longer and more reliable. For this, you have to set up the wizard and complete the backup process. 
It saves costs as your system does not need much memory or an External Drive to backup your data. Thus, it saves your costs. Online backup software has better support and gives you more control over your data. Since it requires internet access, it takes a bit longer to backup. It is easier to restore your backup data through this mode.
Top 10 Offline Backup Software 
Whether your OS fails, the Windows crashes, or any similar issue occurs, having a backup always helps. Offline Backup allows you to save all your data without any network connectivity to your PC to an external drive or a secondary folder. You can even retrieve the backed-up files without network access to your PC. Here, we have a list of the best offline software! 
They are as listed below:
Let's roll onto their features! 
How about an online backup tool that not only lets you backup files but also apps and their configurations?
If yes, then the EaseUS Todo Backup tool is highly recommended! 
You can backup in one click, with its fast, efficient, and reliable. Besides, all your data remains safe in it. The process is lossless, so you do not worry about losing anything. It does not matter if you have a good hand with technology! With its interface simpler than Windows OS, be it a fresher or tech freak, anyone can use it easily! Everything is simple, whether you want to clone a hard drive or backup programs and files. This tool will backup its configurations if you use Adobe and Figma software. 
Pros:
Friendly GUI
Good for Beginners
Credible Free Version
Lifetime License Available
Cons:
Business plans are costly
System Requirements
Your Windows OS should have a minimum 500 MHz processor or more. Also, your device should have at least 2 GB of RAM for Windows 10/11 or earlier.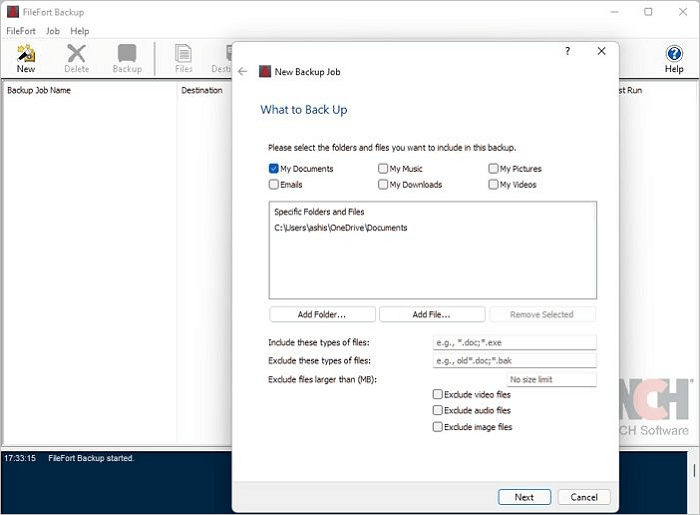 How about an updated yet stylish interface tool for offline backup?
If yes, then the Filefort Backup Software does something similar! A stylish interface gives you a good experience while you backup. The Good part is that the interface is stylish yet simple to use. As the utility does not create a system image that you can back up to another disk, it cannot be recommended as a full backup solution. You can create a copy to your external drive like a USB, CD, DVD, or similar.
After downloading the software, you will get a wizard that prompts you to configure and run the backup process. All the files can be backed up to external disk drives or even to a remote FTP server if you know about it. You can even encrypt backups. If you are someone who backs up offline data quite often, then the utility schedules them with a fixed frequency. This software, in turn, automates your backups. It can save the files as ZIP or BKF type. 
Pros:
Backup as ZIP or BKF files
Schedule backups
Simple to use 
Cons:
Difficult to access Backup data
Cannot automate backup when PC is not in use
System Requirements 
The software is suitable for Windows 11, 10, 8.1, 8,7, XP, and Vista. If you use a Mac, then it is suitable for Mac OS 10.5 up to 10.14.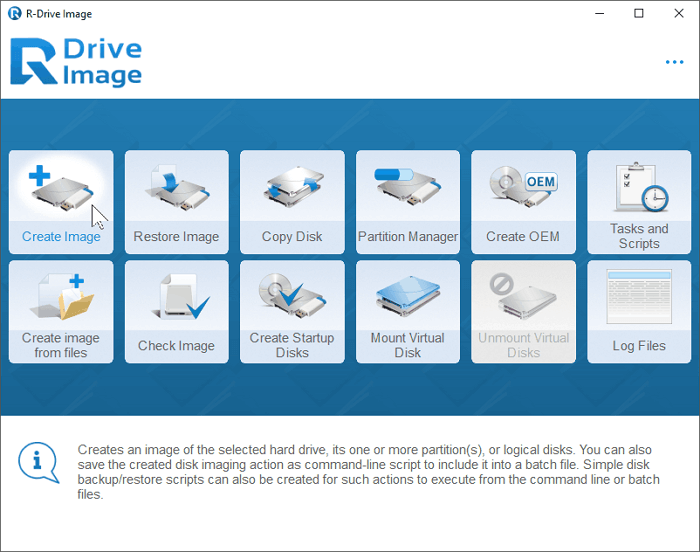 How about a full-offline backup software?
If yes, then R-Drive Image lets you do it! You can backup images and files into an image and backup them to external drives whenever required. Storing every bit of data in an external hard drive is an efficient utility software. Further, you can restore the backup image to a removable device. Using this software, you can also retrieve your files with a created backup when your system fails.
Pros:
Partition image files
Secure data
Fast
Reliable
Modern 
Cons:
Proprietary images in Consumer does not offer end-to-end encryption
System Requirements
The offline software is compatible with OS versions from Windows 2000 to Windows 11. Also, you need some administration permissions to access the software on your device.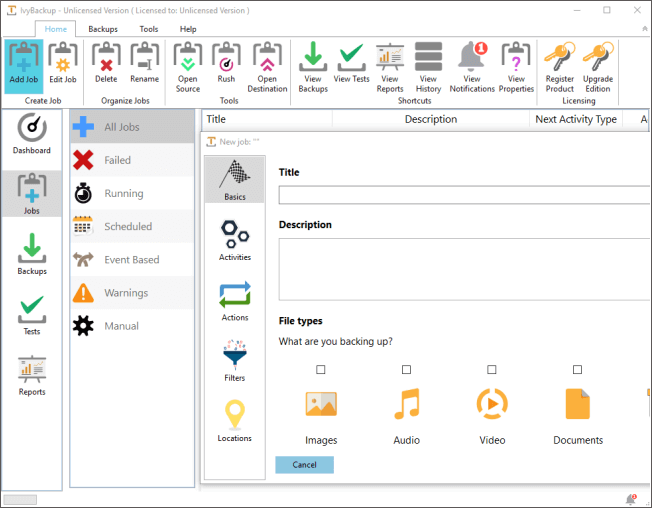 How about a utility software that is faster in creating backups?
If yes, then you should look out for Ivy backups!
The software is fast in creating backups. With a friendly GUI, freshers to veterans can nail backups quickly. If you do not want to backup all the files, you can select specific ones, and the software will only backup those files. It helps to save time, especially if you want to backup only your important files and folders or some essential data. It has a crucial downside. As it uses Cloud computing technology to store backups, you need an active internet connection to access those files. Therefore, it is not a legitimately full-offline backup! 
Pros:
Fast
Easy-to-use
Less space required
Cons:
System Requirements:
Your system needs the availability of 4GB of free RAM. You can use it for Windows 8 or later, like 10/11.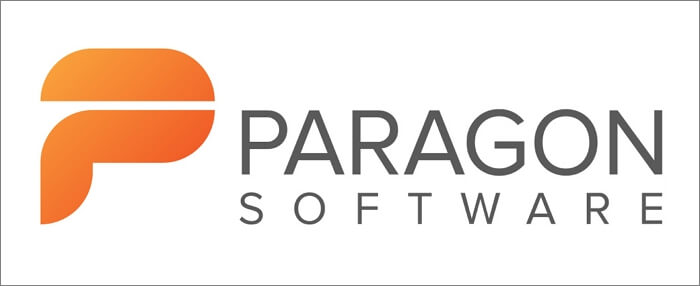 How about an offline backup software that is entirely free?
If yes, then you should consider Paragon Backup and Recovery Free software! 
It gives you a vast range of options for you to backup offline. You can even automate your backups. The free plan is for your personal use. Being an offline software, it does not use Cloud Computing Technology. The backup is safe, reliable, and secure for your personal use. Whether your OS fails, crashes, or similar, you have a backup that keeps you safe. You can save it on any of the external drives. Besides, the options enable partitioned backup.
Pros:
Easy to use
Free for personal use
Lossless backup
Cons:
The enterprise plan is not free
System Requirements:
Your computer should have 300 MHz or high processing speed. It should have a minimum of 256 MB of RAM. Also, you should have a WinPE Recovery CD of at least 512 MB. The external drive should support BIOS. 

How about an offline backup software that can automate backup to specified directories and external drives?
If yes, then the Cobian Backup 11 lets you do so! 
You can automatically backup your directories to external drives and additional folders. However, if you want to backup files to an FTP server, you need an active internet connection, so the backup software is not entirely offline. The process is as simple as that of any other backup software. You can compress the backed-up data and encrypt it for security. 
Pros:
Reliable
Stable backup 
Encrypt your data
Compress backup files
Cons:
Supports only file backup
Outdated interface
System Requirements:
It can run on all Windows OS, be it Windows 2003, XP, Vista, 7,8, or Windows 10.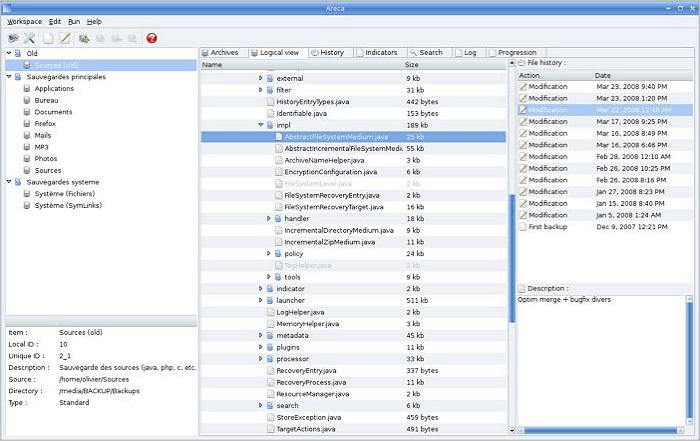 How about an offline backup software wherein you can select specific files for backup?
If this is your purpose, then the Areca Backup serves it well! You can backup your files and folders, select where you want to back it up, and do so by creating a file copy or creating zip archive files. You can store them and retrieve data offline. It is easy peasy for Beginners, and you do not need to make any advanced setup to run it. Besides, the clone will be available on your device with an XML file extension, and you can edit it. 
Pros:
Easy to use
Quick backup
Specify files to restore
Cons:
System Requirements:
The program is suitable for Windows 2000, XP, Vista, 7, 8, 2002, and 10 OS. Besides, it is suitable for all 32 and 64-bit versions.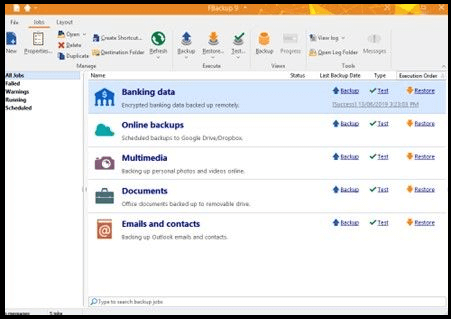 How about a backup program that is free for personal and business purposes?
The FBackup offline software is free for personal and commercial use. You can configure automatic backups per specified date and time and schedule the process. Whenever you choose to have a full-offline backup, it will create a Standard ZIP compression file. As it Compresses using ZIP64 technology, you can backup up to 2 GB of your data. If you want an uncompressed backup, you can go for cloud storage; however, you need to retrieve files via an internet connection.
Pros:
Compressed files save memory
Free to use
Automate backups 
Cons:
System Requirements:
To function, you need a Windows Server DP, 2023 7, 2008, 8, 8.1,2012, 10, 2017, or 2019. Besides, your system should also have at least 200 MB of minimum free disk space. Further, if your backup data is more than 200 MB, you need additional storage.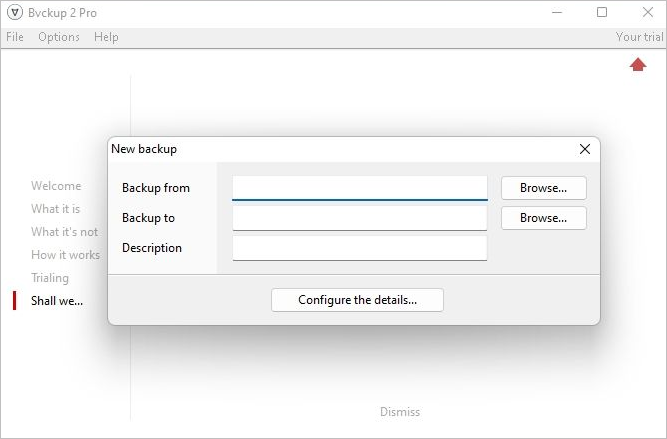 How about an offline backup software that automatically backups data when it detects changes on your device?
If yes, then the Bvckup 2 does the thing!
It keeps a watch on the source and thus backs up data whenever required. You can do the entire backup at once or complete the process in chunks. The offline software enables you to backup at a specified frequency. Also, if you want it not to run at selected instances, you can do so. 
Pros:
Quick backup
Catchy GUI
Powerful software 
Occupies less space
Cons:
It does not support Time Machine backups
System Requirements:
The software works on Windows 10, 11, and earlier versions of Windows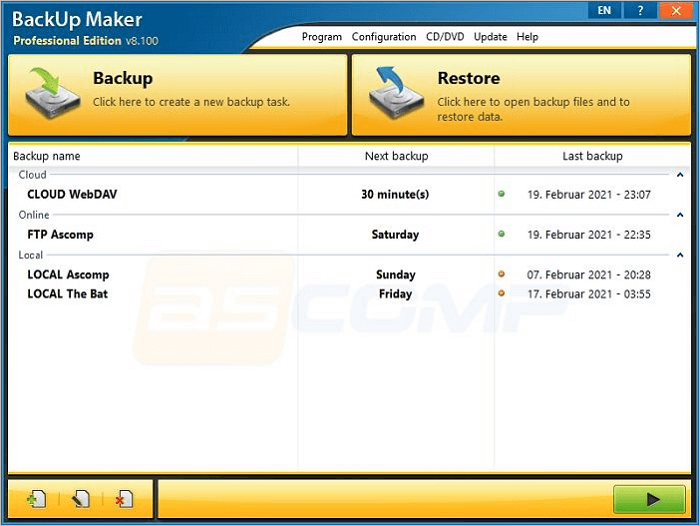 How about a customized offline backup software?
The Backup Maker software enables you to tailor your data backup process to your needs. Whether you want an automatic or manual backup to an external drive, it lets you do it all. However, if you save it to cloud storage and then retrieve it, then you need internet connectivity for the part. You can even backup data securely through FTP or FTPS. Further, you can choose to backup only altered data or new files for the following data. It even lets you split the process into different devices. 
Pros:
Automate your backups
Schedule backups
Spit the backup process as needed
Cons:
Software contains malware
System Requirements:
It is suitable for Windows OS from Vista to 11. Also for Windows Server from Window 2003 onwards and later one. It is apt for both 32-bit and 64-bit.
How to Use EaseUS Offline Backup Software
When talking about EaseUS offline backup software, we must note why we recommend it!
Amongst the ten backup software, EaseUS Todo Backup has the best features. Some software being offline does not keep your data secure. The tool provides you with software backing up all your data, including programs, files, photos, video, media, and even app configurations. It does a full-offline backup in the form of images. You can then move them to an external drive or computer.
The software saves up faster and lets you access them quickly and faster. Suppose you want to clone up a hard drive or external drive, which is the most suitable. This tool keeps all your data safe and secure. Throughout the process, you do not lose any inch of data. You can schedule the process to backup every week. 
It creates a partition and helps you make a bootable backup in Windows. Though some believe its enterprise plans are costly, the difference is worth it. If your firm is low on budget, you can opt for the online process of the utility that uses Cloud storage. 
Here the steps of how to use EaseUS Todo Backup are listed below:
Step 1. Click "Select backup contents" to initiate a backup.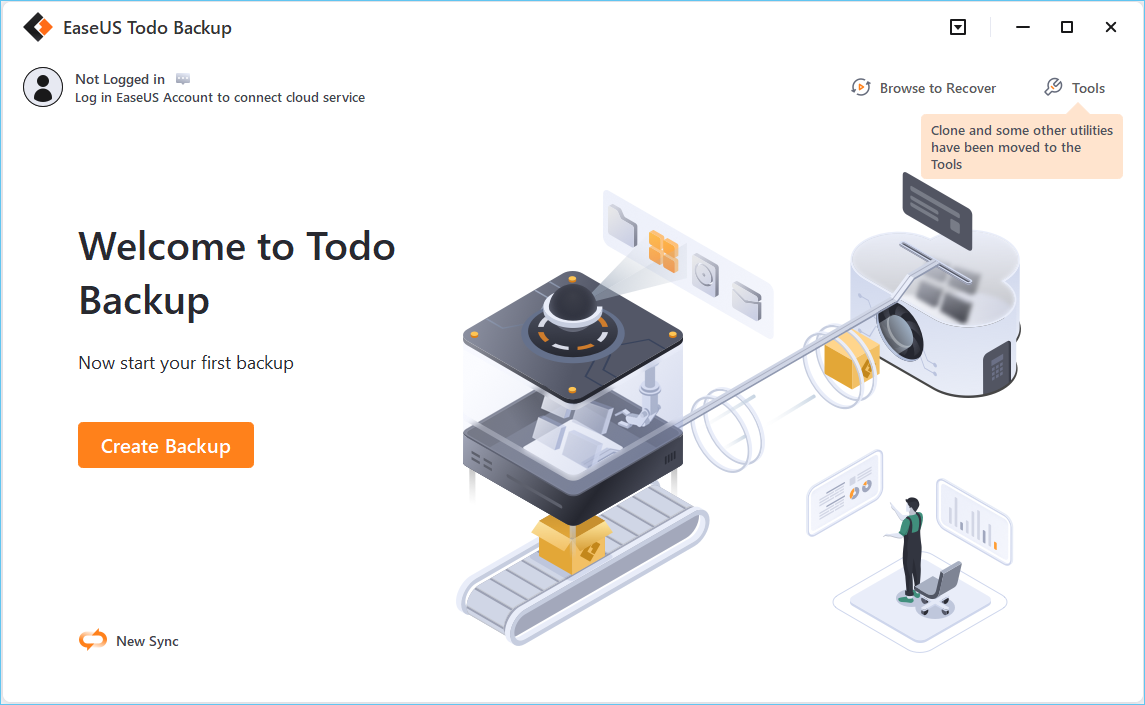 Step 2. There are four data backup categories, File, Disk, OS, and Mail, click File.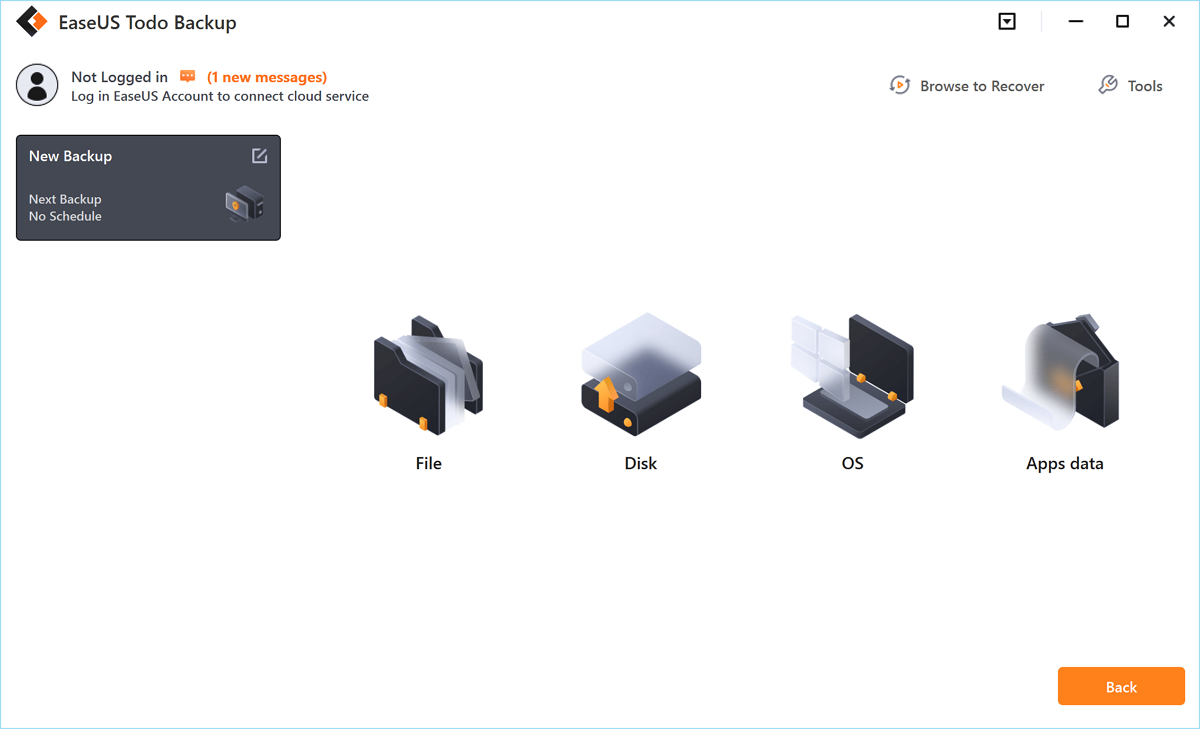 Step 3. Local and network files will be displayed on the left side. You may extend the directory to choose which files to back up.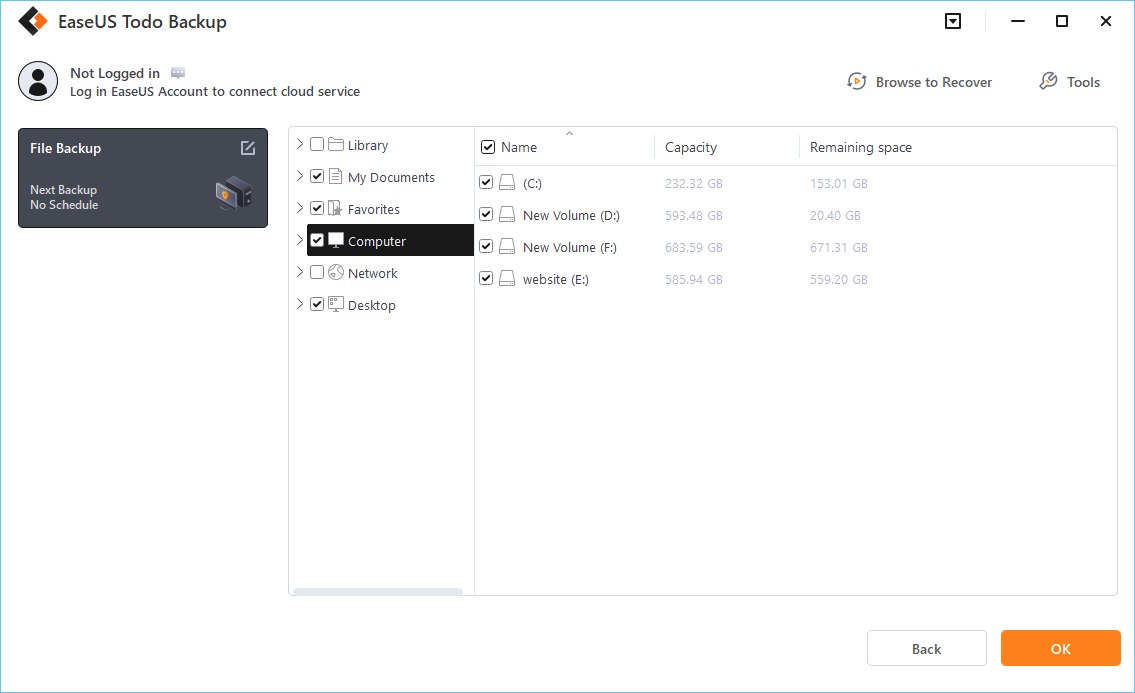 Step 4. Select the location where you want to store the backup by following the on-screen instructions.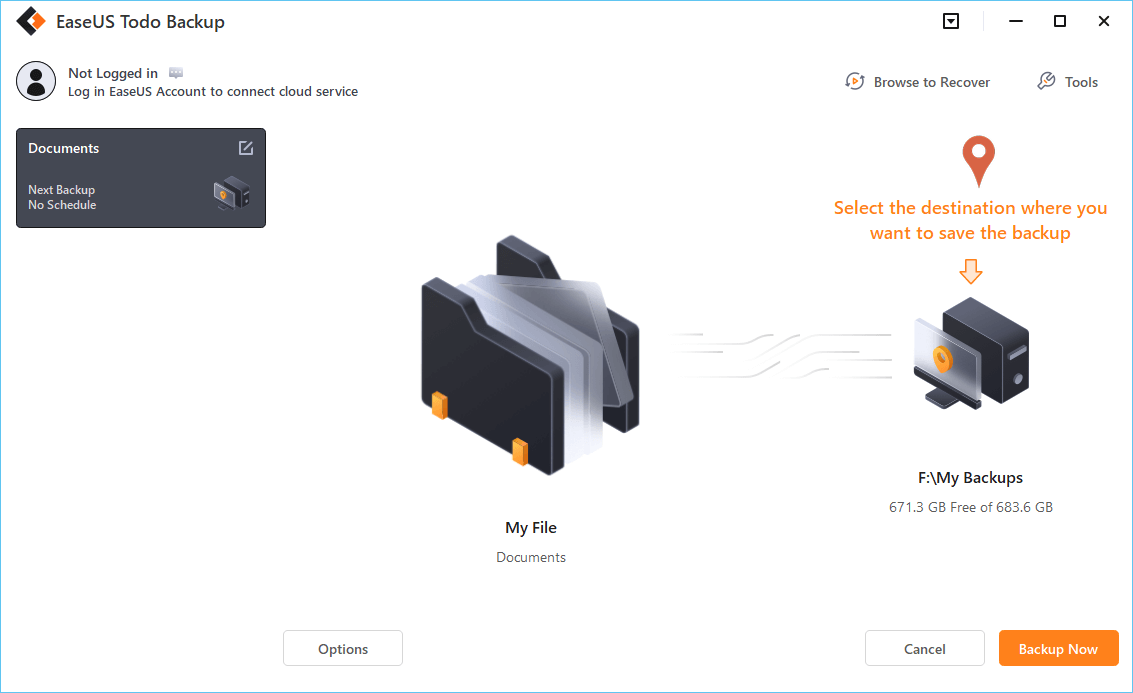 Click "Options" to encrypt the backup with a password in "Backup Options," and to setup a backup schedule and choose to initiate a backup at a certain event in "Backup Scheme." There are a variety of other customization options available for the backup process.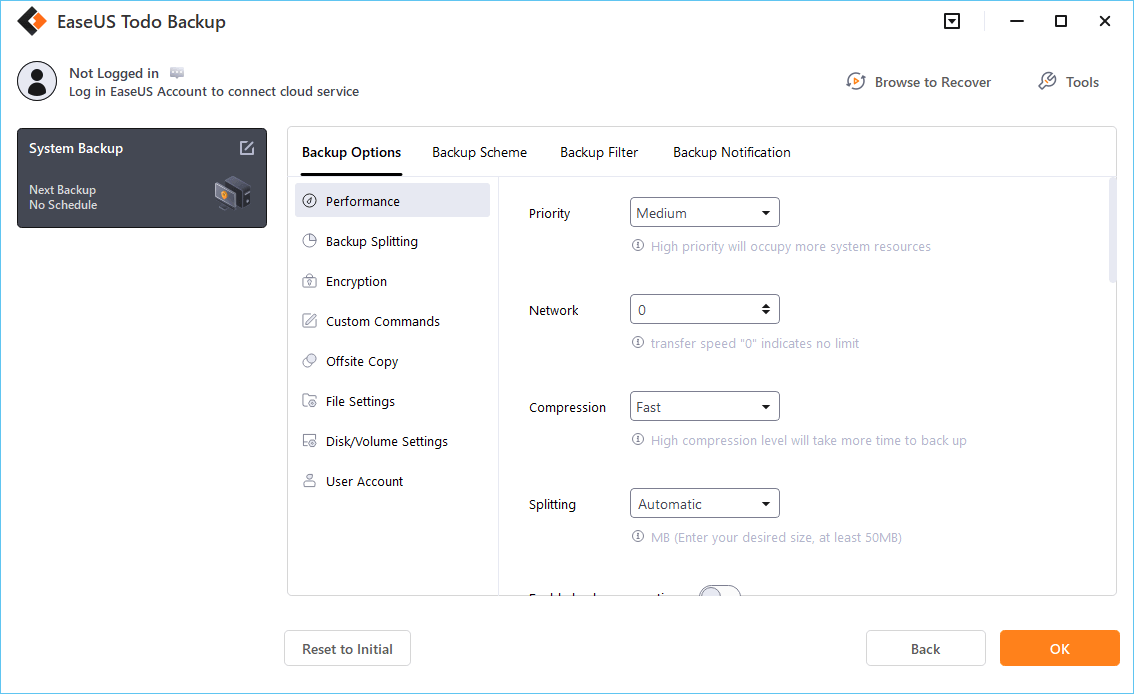 Step 5. You may save the backup to a local disk, EaseUS' online service, or a NAS.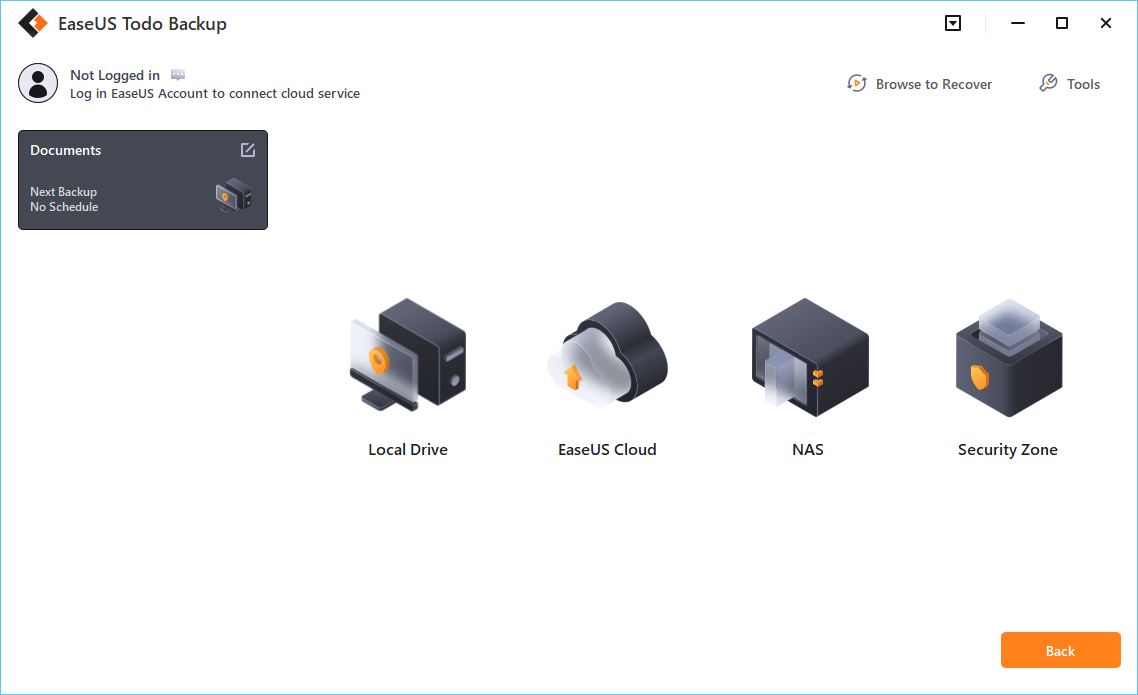 Step 6. EaseUS Todo Backup enables customers to back up data to a third-party cloud drive and its own cloud drive.
If you want to back up data to a third-party cloud drive, choose Local Drive, scroll down to add Cloud Device, add your account, and then log in.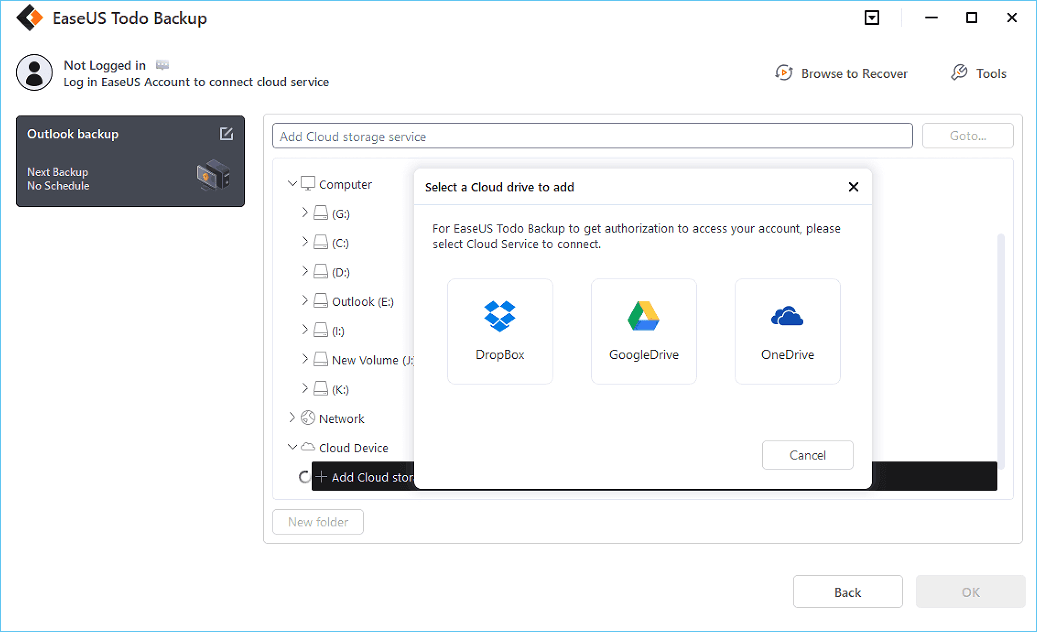 You can also save backups to EaseUS's cloud storage service. Sign up for an EaseUS Account and log in after clicking EaseUS Cloud.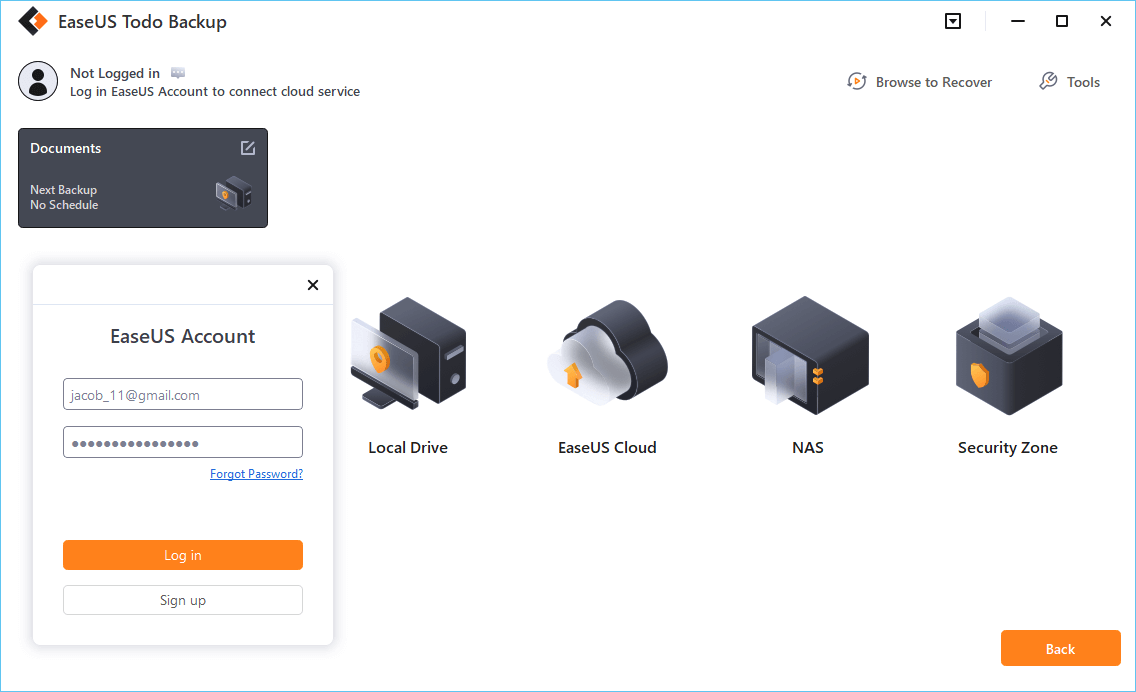 Step 7. To begin backup, click "Backup Now" Once the backup process has been finished, it will be shown as a card on the panel's left side. To further manage a backup job, right-click it.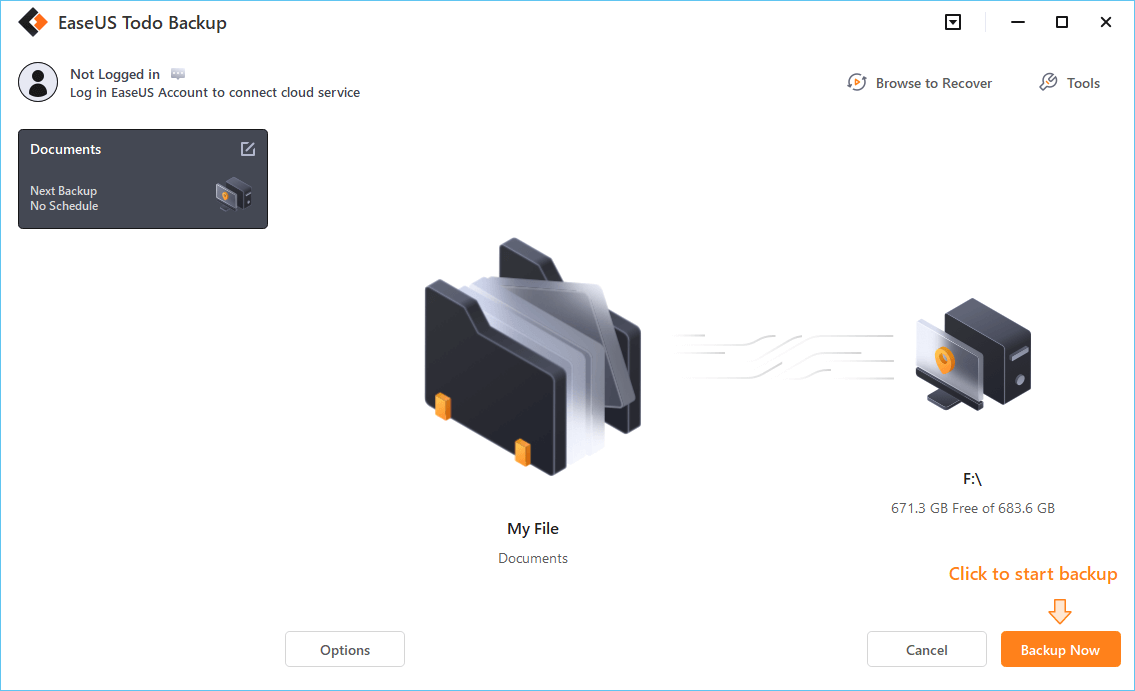 Frequently Asked Questions
There might be some queries of your kind about backup software! We will answer some common ones here. 
1. What is backup software used for?
Backup software creates a copy of your data. In this way, you can transfer them to any other device or, most commonly, to external devices. 
2. How to choose offline backup software?
There are several prerequisites when choosing offline backup software. The utility should be safe, secure, under your budget, and promote full-data backup. Most importantly, you should not lose any backed-up data before you retrieve it. The backup copy should be easily accessible. For enterprises looking out, you should check your budget or go for online backup software that provides you with cloud drive support. Moreover, the technical assistance should be instant. 
3. What are the benefits of full backup? 
Full backups are easier and faster to clone your data. It keeps all the information in a single file and restores them faster. 
Summary
You would have gotten your answer when thinking about the Top 10 Offline Backup Software Recommended in 2022. Offline software lets you get a backup and restore files faster and keeps them safe. There are several handpicked backup software that our experts suggest, but you should consider their features and then narrow them down!
We recommend using EaseUS Todo Backup for all your needs. The procedure is straightforward, quick, safe, secure, and reliable! Most importantly, it fully backs up your data and supports partitioned backup.

Cedric Grantham is one of the senior editors of EaseUS who lives and works in Chengdu, China. He mainly writes articles about data recovery tutorials on PC and Mac and how-to tips for partition management. He always keeps an eye on new releases and loves various electronic products.

Written by Roxanne
Roxanne is one of the main contributors to EaseUS and has created multiple posts on digital devices like PCs, Mobile phones, tablets, Mac, etc. She loves to share ideas with people of the same interest.
Taking everything into consideration, we can say that EaseUS Todo Backup Home can offer you a little extra sense of security with a set of advanced tools. The interface provides quick adaptation, every process guiding you all the way through so you don't get stuck or further damage your system rather than keeping it safe.

 Read More

EaseUS Todo Backup Free lets you create backups of your important files or your entire computer through its streamlined interface. Just choose the backup type you'd like to get started, and let the program do the reset.

 Read More

EaseUS includes all the features I expect from backup software like versioning, incremental backups, and scheduling. For more advanced users, EaseUS allows you to install a pre-boot environment onto your hard drive so you can use it to restore files without burning a CD or putting it on an external USB drive.

 Read More

EaseUS Todo Backup
Smart backup tool for your files and entire computer in Windows 10/8/7.
Install Windows on Multiple Computers at Once? No Problem!
Learn how to install Windows 11/10/7 and special programs/software on a batch of computers. Use 10 minutes to do the 10 hours work without making a single mistake!
Get Free Solution!