EaseUS Todo Backup for Windows 11 - Key Takeaways
Having a backup of all your important files is imperative. No one wants to lose their data. Your data contains valuable information that needs to have a record. Backing up your data is the best way to keep it safe. As Windows 11 is here, everyone is looking for Windows 11 system and data security solutions. EaseUS Todo Backup (website) comes with multiple features catering to the needs of a variety of Windows 11 users, including:
Disk/partition/OS clone
Windows 11 migration to HDD/SSD
Windows 11 transfer to a different computer
Disk/partition/file/OS/email backup and recovery
Transfer Windows 11 OS and programs to a portable USB drive
SSDs (Solid-State Drives) perform much better than HDDs in many known aspects, like speed, reliability, and durability. That's why so many users, including you now, take it as a more suitable data storage or system installation option. With its increasingly known advantages and decreasing prices, SSDs become more and more popular.
Why Choose SSD over HDD
When you consider upgrading your hard drive, you can either migrate hard drive to a larger one or migrate from an HDD to SSD, depending on what the hard drive is used for. If your hard drive is for data storage, switching to a bigger HDD could be quite helpful to store much more content. However, if your hard drive is the system disk, learn how to install an SSD without reinstalling Windows is a more advisable choice for you can boost your computer performance to a great extent. 
Advantages of SSD over HDD
Structurally speaking, an SSD is flash storage with no moving parts, while an HDD is magnetic storage with mechanical parts inside. That decides SSDs are much smaller than HDDs, both in size and capacity. Although SSDs have less capacity, there are multiple advantages of SSDs that will make you think the defect of size negligible based on the technology they use:
Faster reading and writing speed
Better performance and reliability
Stronger durability
More energy-saving and less noise-making
 Tip

Given its pros and cons (like a smaller size, higher price, and easier to wear out), the optimal use of an SSD is to apply it as the system disk on your computer.
What Can You Benefit After Switching to SSD
More directly, with an SSD installed on your computer as the system disk:
You can boot your computer, open applications, and access files much faster
Your data stored on SSD are much safer
You will spend less money on electricity bills and enjoy a quiet working environment
Based on the information above, it's really a wise choice to clone your existing HDD to an SSD. Then here comes the question, how to clone an HDD to an SSD. As far as I know, there is no built-in tool in Windows that allows you to clone a hard drive to an SSD. Luckily, there is third-party software for you to finish the task.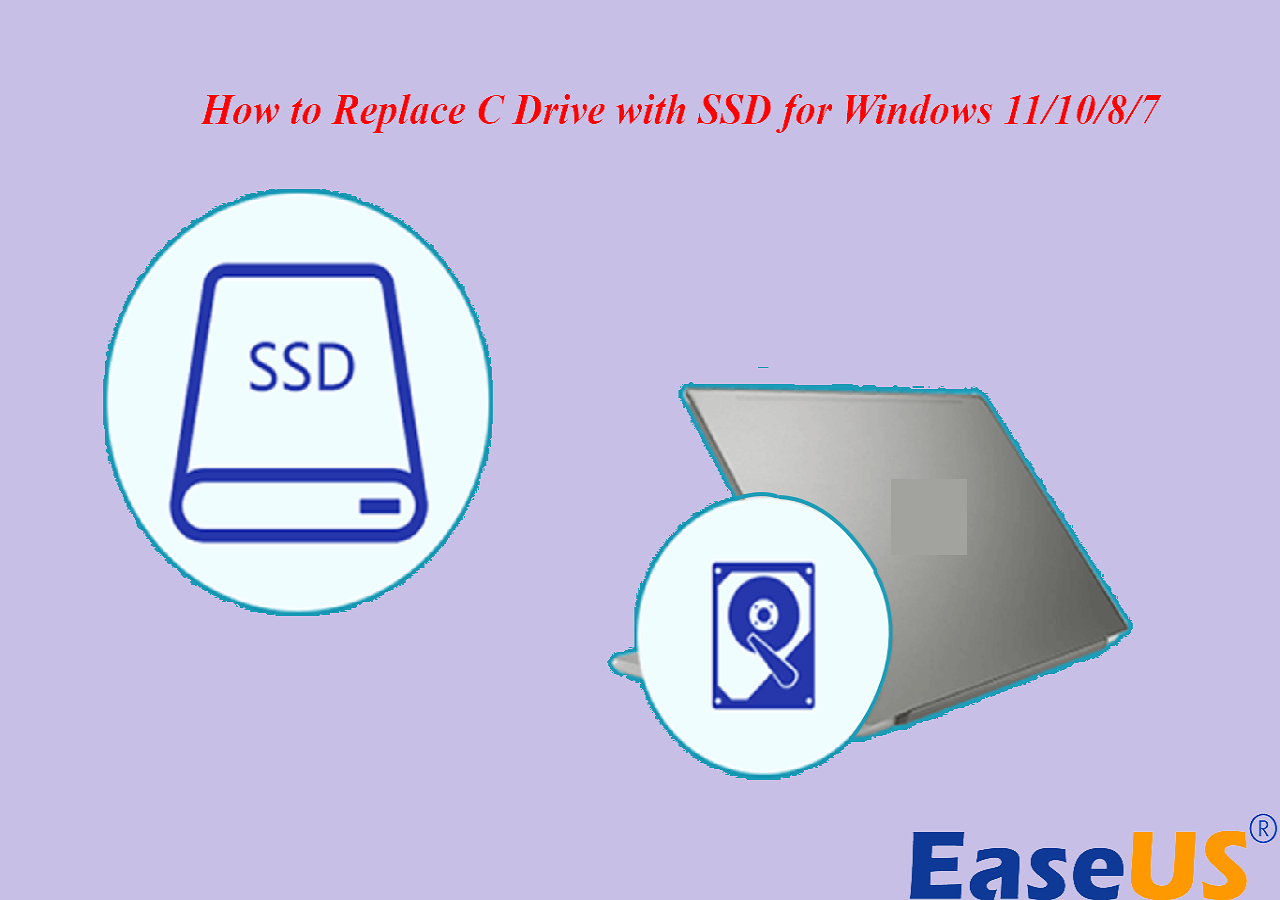 How to Clone an HDD to an SSD
With the Windows backup software - EaseUS Todo Backup, you can effortlessly clone your hard disk, be it the system disk or data disk, to an SSD. Yet before you start, there are some preparations you need to make in order to have a smooth cloning process:
If there are files existing on your SSD, make sure you back it up (EaseUS Todo Backup can help) in advance before the disk clone. Cloning an HDD to the SSD will erase all the data on the target device.
Make sure the capacity of the SSD exceeds the used space on your HDD, or there will be boot issues or data loss after cloning the HDD to your SSD.
Make sure the partition style of the target disk is in accordance with the source disk. If not, you will need to convert from MBR to GPT or vice versa.
To check the partition style of the HDD and SSD:
Step 1. Connect the HDD/SSD to a computer.
Step 2. Right-click "This PC" and choose "Manage" > "Disk Management".
Step 3. Right-click on your disk and choose "Properties".
Step 4. Switch to the "Volumes" tab. Under Disk Information, you can see the partition style of your disk.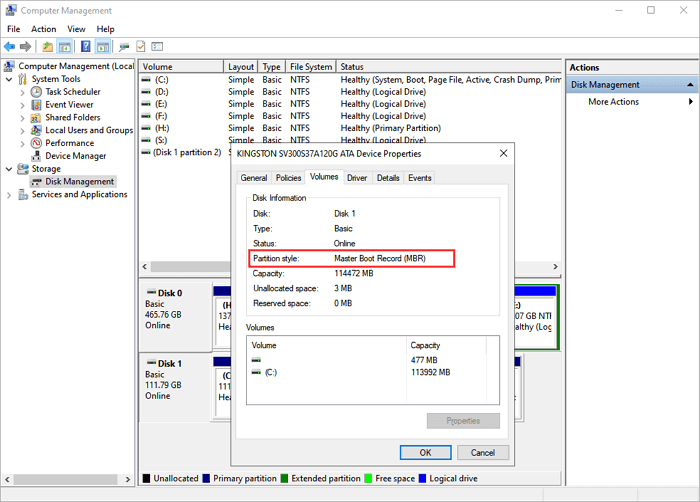 Meet all the requirements above? Now you can clone your HDD to an SSD following the guide below:
You may have noticed that there is a system clone option in EaseUS Todo Backup, which enables you to clone your Windows from one disk to another. If the used space on your HDD is larger than the total size of your SSD, which is quite common, you can consider migrating OS to your SSD only. As long as your SSD is larger than the used space on your system and boot drive, you can clone the OS from your HDD to the SSD without any boot issues. As for the other partitions on the HDD, you can choose either to manually copy the files on them to another hard disk or use the partition clone feature in EaseUS Todo Backup to get things done.
Issues You May Encounter After Disk Cloning
Although many users can successfully clone an HDD to an SSD, there are always some expectations. Here we list some frequently asked questions and the corresponding solutions in case you need it.
Issue 1. Disk Boot Issues
The causes of disk boot issues are various. I'll show you three situations.
You can manually select the disk or partition to clone using the "Clone" feature in EaseUS Todo Backup. However, when you attempt to clone the Windows operating system from your HDD to the SSD by manual selection, you may select the C drive only. That will certainly cause boot issues if the system partition and boot partition are different partitions. (For your information, the boot partition is a primary partition that has the boot loader, which is used to boot the system. The system partition is a partition that contains the OS folder. Both are necessary for booting your computer.) If that's your case, you can contact our support team ([email protected]) for remote assistance. They will help you create the system partition, which will solve the boot issue.
When you try to clone an HDD to an SSD, you may connect the HDD to a computer and make the source disk a USB drive. In such a case, you will need to edit BCD (Boot Configuration Data, which helps to make the Windows system partition bootable) on the cloned SSD. For a detailed guide on how to edit BCD, you can refer to the official document from Microsoft.
Another culprit for disk boot issues after disk cloning is the lack of a necessary driver. Fortunately, you can use DSIM (Deployment Image Servicing and Management), a Windows built-in command-line tool, to add the driver. Also, you can refer to the official document from Microsoft for help.
If there is any situation you cannot handle after cloning your HDD to an SSD using EaseUS Todo Backup, feel free to contact our support team ([email protected]) for assistance.
Issue 2. Software Asks or Activation
The software installed on your system disk may ask for activation after you clone the HDD to SSD. Here you will need to contact the software producer. They will help you reactivate the software.
Issue 3. Get a Misaligned SSD After Cloning
It happens that your SSD is misaligned after the disk cloning. Misalignment will reduce the performance of your SSD. Thus, if you find your SSD is misaligned, you can use the 4K alignment feature in the free partition manager - EaseUS Partition Master to align sectors on your SSD. You can check the alignment of your SSD following the steps below:
Step 1. Press "Windows + R" and enter msinfor32.
Step 2. Go to "Components" > "Storage" > "Disks".
Step 3. Check the value of "Partition Starting Offset". If the value is not divisible by 4096, your SSD is misaligned.
The Bottom Line
To minimize the possible issues, I recommend you follow the guidelines strictly to clone an HDD to an SSD. If you do have encountered unexpected issues you cannot fix after using EaseUS Todo Backup, contact our support team is welcomed.
FAQ on Clone HDD to SSD
1. Is it OK to clone HDD to SSD?
SSD performs better than HDD in many aspects, so most people choose to replace HDD with an SSD. You can clone HDD to SSD in Windows 11/10/8/7 with the aid of disk clone software, like EaseUS Todo Backup, to clone your hard drive to SSD.
2. Does cloning a drive make it bootable?
EaseUS Todo Backup will clone OS and all the boot-related partitions or files to ensure it's bootable. So you can use it to clone a hard drive with confidence.
3. How do I transfer everything from HDD to SSD?
To transfer all data in your HDD to SSD, you can use the cloning feature to create a bootable SSD, so you don't need to reinstall the Windows system on the new SSD.

Updated by Larissa
Larissa has rich experience in writing technical articles. After joining EaseUS, she frantically learned about data recovery, disk partitioning, data backup, and other related knowledge. Now she is able to master the relevant content proficiently and write effective step-by-step guides on computer issues.

Jean has been writing tech articles since she was graduated from university. She has been part of the EaseUS team for over 5 years. Her special focuses are data recovery, disk partitioning, data space optimization, data backup and Mac OS. By the way, she's an aviation fan!