Introduction
We've provided you a lot of solutions about migrating hard drive to a larger one through disk clone, but when you try to migrate to an SSD, things get a little more confusing. Instead of upgrading to a bigger drive, people usually migrate or copy Windows to a smaller drive, a lot of files-like photos, music, movies, and games that might not all fit on the SSD. Fortunately, it becomes pretty easy now, and you can get all these done within munites. But what do you need before migrating OS to an SSD?
What You Need for migrating system to SSD
1. Backup everything and then deleting your personal files.
Your documents, movies and music from the current hard disk should all be deleted, which will make your Windows installation small enough to fit on the SSD.
2. Clone your current disk onto the SSD, and completely wipe your current drive.
From there, all your user folders - like My Documents, My Music, etc. will be moved to the original hard drive, and restore all your personal files from the backup image. In this way, you can enjoy the benefits of high speed to migrate while keeping all your documents and files readily accessible on a second drive.
Given these troubles, many people wouldn't upgrade their windows 7 hard drive unless they have no choice. So is there any easy and safe way to solve this problem - upgrading to a larger disk without reinstalling Windows 7 system or losing any data?
How to upgrade Windows 7 system hard drive?
Surfing on the Internet, you will find numerous ways to help you out. Of course, the common recommendation offered by most people is to choose professional hard drive clone software which can create an exact copy of one hard drive to another one, keeping all the partitions and data including the operating system intact as they were in the original (source) disk. Among sea of software, which one is the best for your PC and the data? Here you may try EaseUS Todo Backup, professional hard disk clone software, offered by EaseUS software, which will help you effortlessly upgrade Windows system drive such as to clone Windows 8 to SSD.
There are a variety of ways to go about this, but we've found this to be the simplest and most reliable method. The following is what you'll need:
Clone to a Solid-State Drive Without Reinstalling Windows with EaseUS Todo Backup
With this Windows 7 hard drive clone freeware, you won't be annoyed by losing your data or reinstalling Windows 7 system on the new disk. Just a few clicks help you to upgrade Windows 7 system drive to SSD without reinstallation.
Step 1. Launch EaseUS Todo Backup and click Clone. And it will pop up the below window and choose the source disk (Windows system disk) you want to clone.Click "Next".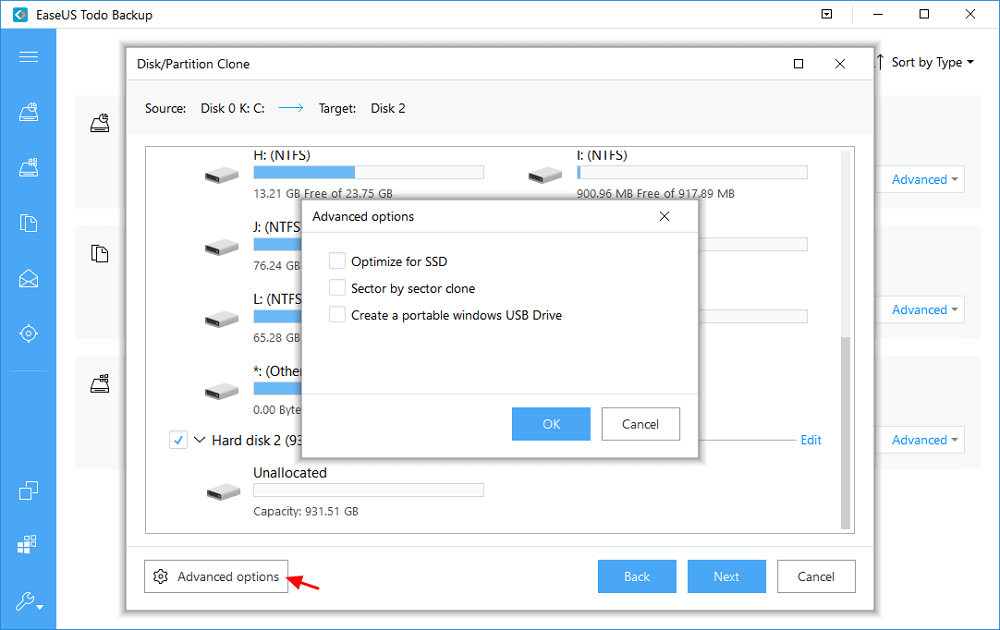 Step 2. Choose the destination disk (SSD). Under Advanced options, tick Sector by sector clone, with it, we can clone all sectors from source disk to the destination disk. We can preview the disk layout in advance, then click Proceed to clone.