What's the Best Disk Cloning Software for Windows 10
If your hard drive has run out of disk space, exposed to disk write/read failures, or becomes too slow to boot Windows, you will request a hard drive replacement. There are a number of reasons why you might want to clone a disk or clone a hard drive. The following are four typical scenarios for disk cloning.
Upgrade a hard drive: make upgrading from a small one to a big one, or from an old one to a new one
Change HDD to SSD: to keep consistent with the new IT era of installing light and fast SSD on a desktop or laptop
Create a backup image: to maintain a full and exact copy of a hard drive or a partition for future use, for example, unexpected disaster recovery
Recover data from a damaged hard drive: to gain a way of retrieving data from a corrupted hard drive that becomes inaccessible, or not readable
Use disk cloning software to create a bootable USB or CD/DVD drive.
To clone a hard drive means to make a 1-to-1 copy of the original drive. It's the quickest and easiest approach to replace a hard drive along with its data. By cloning a disk to a new one, you can escape from the tedious work of transferring data and programs to the new drive. Since disk cloning has so many benefits, what's the most popular disk cloning software on Windows10? EaseUS Todo Backup has its competitiveness.

Download the Best Disk Cloning Software to Clone Disk
EaseUS hard drive cloning software has a slick interface and a range of cloning options. It provides many advanced features that are not limited by time, and these advanced functions can only be found in the commercial versions of its competitors, for example:
Support Disk/Partition Clone
Support Operating System Clone
Support Cloning OS to a Portable External USB
Make cloned OS, cloned disks like HDD/SSD bootable after cloning
After downloading and installing EaseUS disk cloning software, you can begin to clone disk to disk. The cloning process is simple to follow, and you can learn it in a few seconds. However, you still need to take a close look at the several underlying points so that you can make full use of them without difficulty.
1. It's possible to clone a larger hard drive to a smaller one, for example, 512GB to 256GB, but the used space of the 512GB hard drive should be under 256GB. The rule applies to a drive partition as well.
2. As soon as you launch EaseUS Todo Backup on your computer after installation, the software will prompt you a message asking you to create an emergency disk. This is a very helpful feature in case your computer crashed and won't boot someday. You can try to boot the machine from the EaseUS Todo Backup bootable disk to perform a recovery.
3. What if you're planning OS migration from HDD to SSD? You can also ask EaseUS Todo Backup for help.
Check both video and text tutorials on how to clone HDD/SSD with EaseUS hard drive cloning software. 
Top 9 Free Disk Cloning Software to Clone Hard Drive
In addition to EaseUS hard drive cloning tool, there are many other disk cloning programs available. It can be a challenge to select one. To save your time, we recommend these hard drive cloning tools based on their ease of use, how powerful they are, and their overall usability and reliability.
List of the popular hard disk cloning software:
Acronis True Image
Acronis True Image (https://www.acronis.com/en-us/personal/computer-backup/) is a fast and powerful cloud disk cloning tool and imaging application. It also features advanced artificial intelligence technology and blockchain data notarization, providing real-time protection against encryption and ransomware. This high-quality disk cloning software is a great choice for personal users to back up and protect your systems. You can start the 30-day free trial.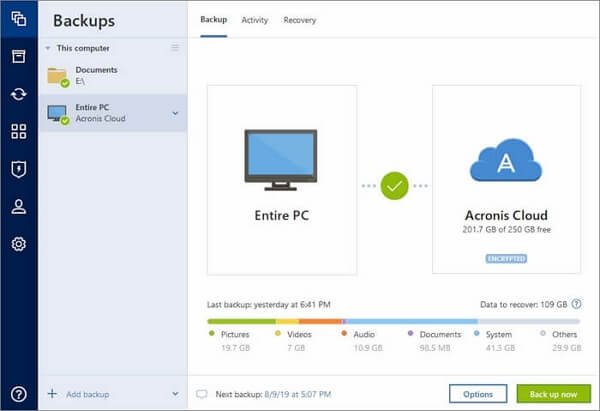 Key features:
Compatible with both Windows and Mac systems
Run a backup in the background while working on other tasks
Unique cyber protection solution effectively safeguards all of your data, apps, and systems
Multiple disk cloning and backup options: Mirror imaging, Disk cloning, and All-in-one recovery drives
Clonezilla
Clonezilla (https://clonezilla.org/) is one of the top free disk cloning, disk imaging, data recovery program. There are three versions of Clonezilla available to download: Clonezilla Live, Clonezilla Lite Server, and Clonezilla SE. The Clonezilla SE version or server edition of the program can clone over 40 computers at the same time. It's is a great open-source disk cloning and imaging software.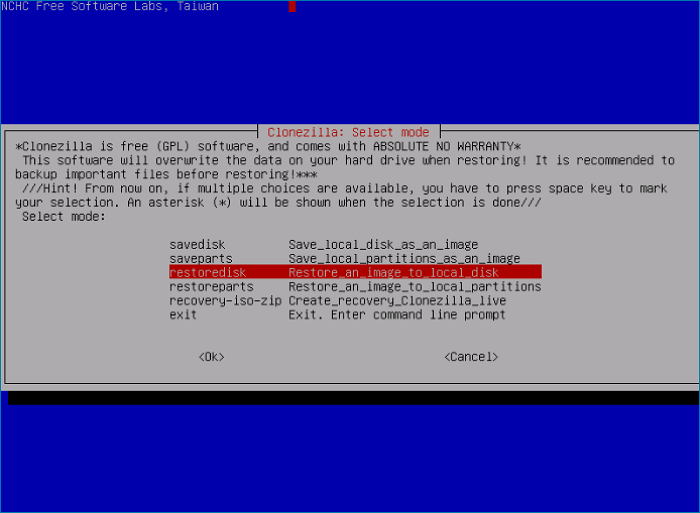 Key features:
Clone disk/partition to a separate hard drive
Support Windows, Mac, and Linux operating systems
Support multiple file system: FAT 12/16/32, ext2/3/4, NTFS, HFS+, UFS
Provide a number of encryption options to encrypt disk images with eCryptfs or use AES 256-bit encryption
Macrium Reflect Free Edition
Macrium Reflect Free Edition (https://www.macrium.com/reflectfree) is a very popular hard drive cloning solution for both personal (especially the free version) and commercial/enterprise use. It is compatible with Windows operating system, enables you to do disk imaging and disk cloning, allows you to access images from the file manager, and creates a Linux rescue CD. You can fully restore non-booting systems with the free version, as well as schedule backups or create live images of your OS.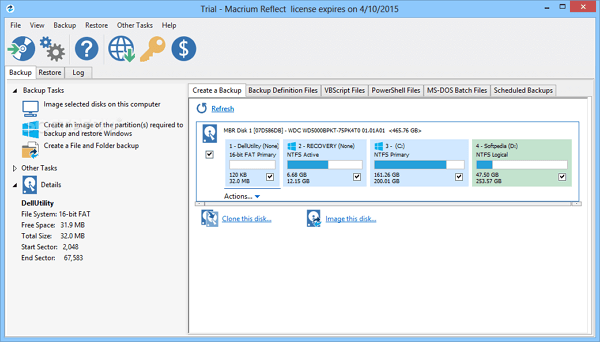 Key features:
Easy to use and intuitive user interface
Clone an entire hard drive or specific partitions
Rapid Delta Cloning increases cloning speed by copying file system deltas 
The free license also covers business use
Support Windows 10/8.1/8/7/Vista/XP plus Linux
Support FAT 12/16/32, exFAT, NTFS, HFS+ and ReFS
Paragon Backup & Recovery Free
Paragon Backup & Recovery Free (https://www.paragon-software.com/free/br-free/) is a free disk cloning software that can create backups and partitions. You can use this hard drive cloning tool to back up the operating system and migrate it to a new computer. You can also choose to copy the entire hard disk or partition. Its quick recovery allows you to return to normal operations after a system problem occurs.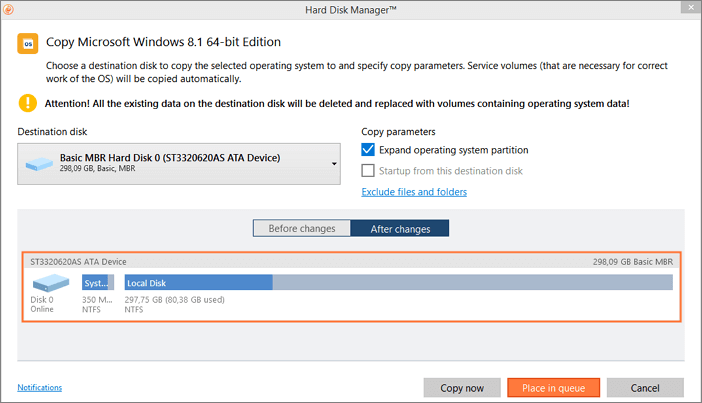 Key features:
Come with a wizard to assist the user in restoring backup images
Recovery Media Builder tool enables you to create your own recovery environment
Community Edition is available completely free for the non-commercial purpose
Backup files, volumes, and disks entirely or pick one at a time
[email protected] Disk Image (https://www.disk-image.com/index.html) is a disk cloning and imaging tool for Windows that can be used to make an exact copy of any PC disk. The disk images may be used for backups, PC upgrades, or disk duplication purposes. It is compatible with Windows XP, 7, 8, 8.1, Server 2003, Server 2008, Server 2012, Server 2016, Linux, FreeBSD, and Solaris.
The free version of this hard drive cloning program allows you to create and restore disk images, compress images, and mount images as virtual drives.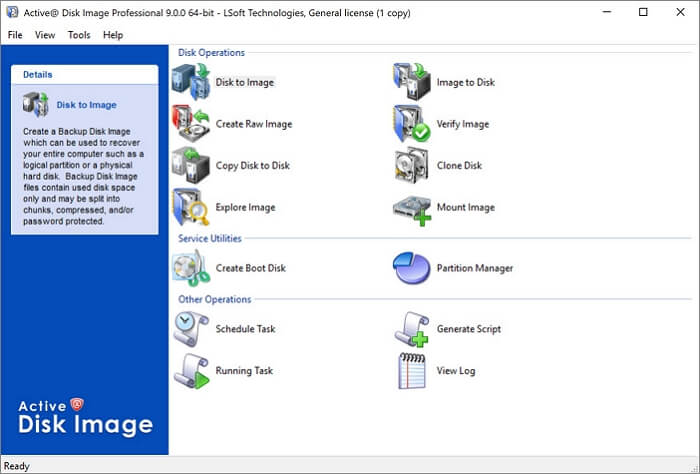 Key features:
Support storage devices including HDD, SDD, USB, CD, DVD, Blu-ray, and more
Variable disk copy utilities: Disk to Image, Image to Disk, Create Raw Image, verify Image, Copy Disk to Disk, Clone Disk, Mount Image, etc.
Provide three image compression options: fast, normal, and high
Mount images as virtual drives
Iperius Backup 
Iperius Backup (https://www.iperiusbackup.com/index.aspx) is a complete Windows utility for data backup and hard disk cloning. The software supports cloud services such as Google Drive, OneDrive, Dropbox, Amazon S3, Azure Storage, and more. Cloud backups are secured with AES 256-bit encryption to ensure your data is safe. 
Iperius Backup is a top HDD or SSD disk cloning and imaging tool for enterprise users that enables you to perform files, databases or VMs backup.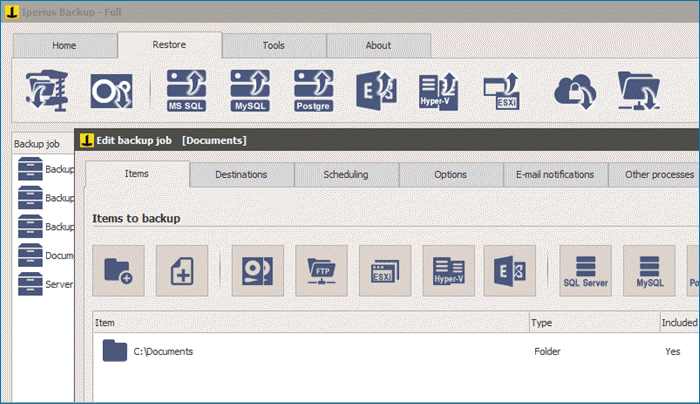 Key features:
Support incremental backup and synchronization
Support hard disk cloning, P2V, recovery drive creation
Backup databases including Oracle, MySQL, SQL Server, PostgreSQL, and MariaDB
Backup to NAS, USB drives, FTP, Cloud, S3
Free to trial
Symantec Ghost Solution Suite
Symantec Ghost Solution Suite (https://www.broadcom.com/products/cyber-security/endpoint/management/ghost-solutions-suite) is one of the top hard disk imaging software that enables you to copy hard drive on Windows, Mac, and Linux operating systems. This hard drive cloning tool provides full solutions for imaging and deploying desktops, laptops, tablets, and servers.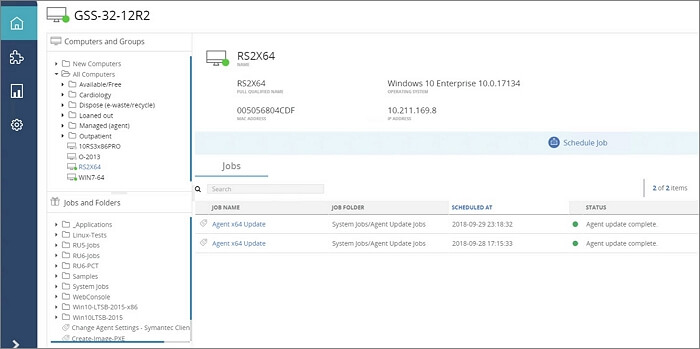 Key features:
Web-based user interface outfitted with wizards
Migrate OS from HDD to SSD
Compatible with various operating systems, including Windows, Mac, and Linux
DriveImage XML
DriveImage XML (https://www.runtime.org/driveimage-xml.htm) is an easy to use and reliable program for imaging and backing up disk and partitions. It provides two versions: Private Edition allows users to use without charge and Commercial Edition for commercial use. This disk copy tool enables you to create safe "hot images" from drives in use. Images are stored in XML files, allowing you to process them with 3rd party tools.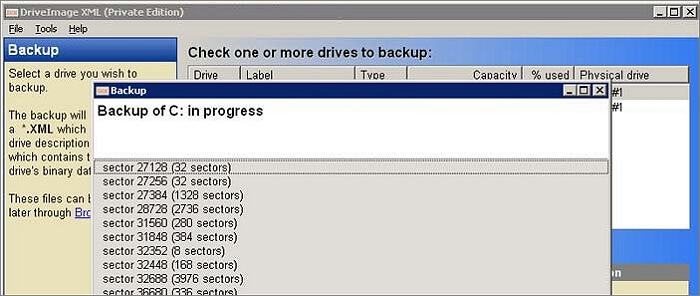 Key features:
Clone directly from disk to disk, from drive to drive
Schedule automatic backups
Support Windows XP, 2003, Vista, Windows 7, Windows 8, Windows 10
Backup, image and restore drives formatted with FAT 12, 16, 32, and NTFS
O&O Disk Image
O&O Disk Image (https://www.oo-software.com/en/diskimage-backup-your-data) is a comprehensive disk management software with full features, including disk cloning, imaging, and remote scripting for Windows 7+ operating systems. With this hard drive cloning tool, you can back up an entire computer or single files whenever you want – even while the computer is being used. O&O DiskImage lets you carry out a system restore onto a computer whose hardware is different from the original machine.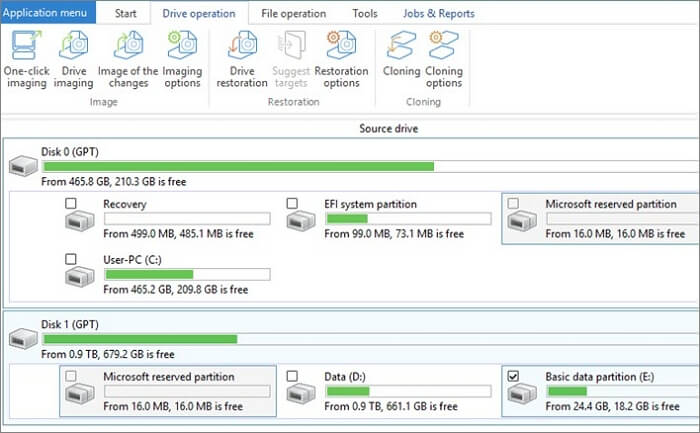 Key features:
Easy to use and highly customizable
Support Incremental and differential backups
Support SSD drives and the latest UEFI System
Clone the entire hard disk and restore even to a system with different machines
The Final Word
When it comes to the suggestion of the best disk cloning software for Windows 10, we put EaseUS Todo Backup on the top list in terms of its ease of use, capability, smooth cloning experience, and system clone feature, which you can never enjoy in other third-party utilities.
Download EaseUS disk clone software now and spend the least effort to copy and clone a hard drive. EaseUS hard drive cloning software is just what you need to copy the exact data content of one hard drive to another, file-by-file and sector-by-sector. No data loss or system boot errors will ever happen.
Furthermore, it's a versatile data backup and recovery program for Windows computers, Windows-compatible storage devices (external hard drives, flash drives, memory cards, etc.), and network drives. Let this video introduction give you a quick glimpse at what EaseUS Todo Backup is meant to help you with the daily computer safety and facility.
Frequently Asked Questions About Free Disk Cloning Software
The following are the top topics related to free disk cloning software and how to clone a disk. Check the brief answers to these problems.
Does Windows 10 have cloning software?
Windows 10 doesn't come with hard drive cloning software. For cloning software for Windows 10, try EaseUS Todo Backup. It is a tool for cloning a hard drive. You can use this tool to make full copies, upgrade HDD to SSD, and replace the old disk without any data loss.
How do I clone my OS to SSD?
You can use the best disk cloning software - Ease Todo Backup to clone Windows 10 to a smaller SSD with the steps below.
Step 1. Connect the new SSD to your PC. Run EaseUS Todo Backup for Windows 10 Clone.
Step 2. Select "System Clone". Choose the new SSD as your target disk for saving the cloned Windows 10 system.
Step 3. Then click "Proceed" to start cloning Windows 10 to HDD/SSD now.
After this, insert your new SSD into your computer and reboot the PC, change the boot order to set computer boot from new SSD with cloned Windows 10 system:
Restart PC and press F2 or F8 to enter BIOS settings.
In the Boot option, select the new SSD as the new boot drive and save all the changes.
Exit BIOS and restart the computer, you should be able to see Windows 10 running on your new SSD without any problems.
What's the best free disk cloning software?
There are many excellent disk cloning software that enables you to clone a disk easily:
Top free disk cloning software of 2022:

Updated by Larissa
Larissa has rich experience in writing technical articles. After joining EaseUS, she frantically learned about data recovery, disk partitioning, data backup, and other related knowledge. Now she is able to master the relevant content proficiently and write effective step-by-step guides on computer issues.

Jean has been writing tech articles since she was graduated from university. She has been part of the EaseUS team for over 5 years. Her special focuses are data recovery, disk partitioning, data space optimization, data backup and Mac OS. By the way, she's an aviation fan!