Overview of GPT Disk Cloning
Compared with a traditional hard drive, SSD offers faster data reading/writing/transfer speed, a safer way to protect data, and better performance in a severe environment. Thanks to all the advantages, SSD is becoming increasingly popular. And more and more users are deciding to upgrade their old HDD to SSD.
What is GPT Disk?
To explain a GPT disk, I want first to tell you what GPT is. GPT is short for GUID Partition Table. It stores data about how all partitions are organized and how the operating system is booted throughout the drive. Some data can still be booted and recovered if a partition is wiped or damaged.
If you want to use a new disk, you should first initialize it to either MBR or GPT. Which partition style you should choose is not decided by random. This is related to the boot method of your computer. MBR is booted by BIOS, and UEFI boots GPT.
Can I Clone GPT Disk to MBR SSD?
Generally speaking, you can clone a GPT disk to an MBR SSD. Usually, if you need to clone from a GPT disk to a new SSD, you can initialize the SSD in Disk Management to GPT first. Suppose your SSD has been used before, and it is an MBR SSD. In that case, you don't need to re-initialize it, and the cloning job would be quickly done by using a professional cloning tool - EaseUS Todo Backup. It is the software that allows you to clone GPT disk to SSD in Windows 11/10/8/7 without any startup issue.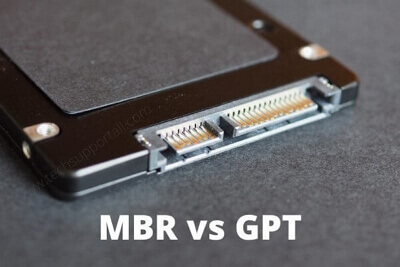 How to Clone GPT Disk to SSD in Windows 10/8/7
EaseUS Todo Backup is one of the top data backup programs that can directly clone GPT disk to SSD without conversion while the destination disk remains bootable.
With an intuitive interface, you can easily use this application to do entire or selective file backup, disk/partition backup, Outlook backup, cloud backup, as well as a system backup.
 Tip

If the SSD is an empty disk (shown as unallocated space), you can first initialize the SSD to a GPT disk before cloning. But if it's already been used, you can start clone, whether it's a GPT or MBR disk.
You may first watch this three-minute video tutorial to learn the procedure for cloning GPT disk to SSD.  
Step 1. On the main page, find and click "Tools". You can see clone and other utilities.
Step 2. Choose the source disk or partition, click "Next".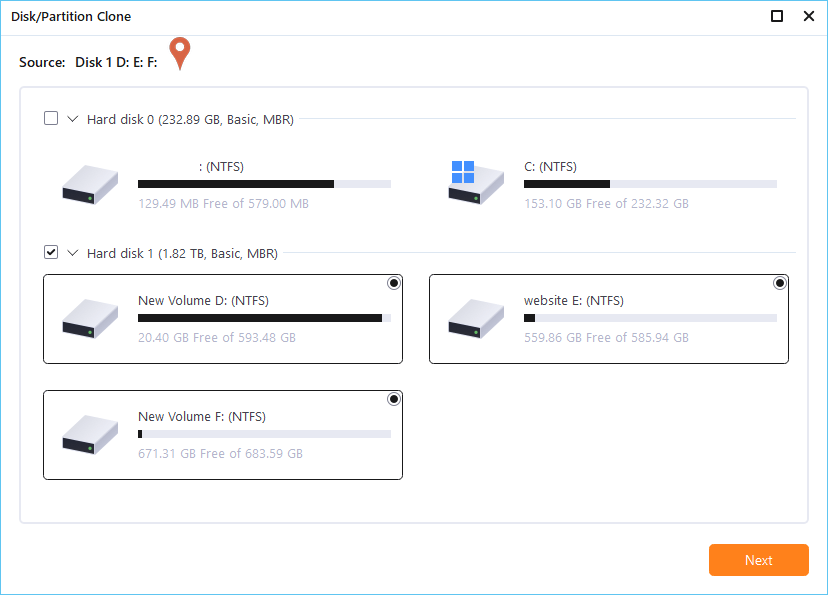 Step 3. Then you need to choose the target disk. Make sure the target disk is larger than the source disk or partition.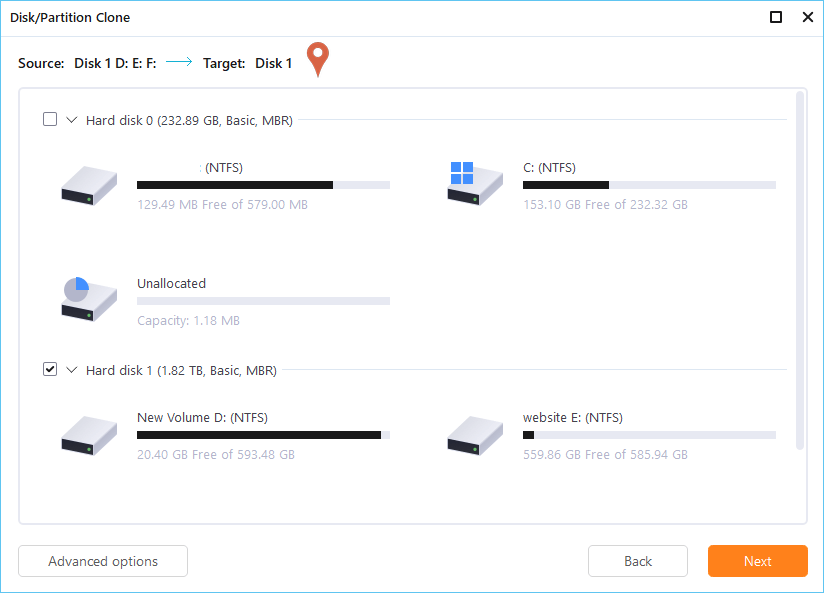 Step 4. A warning window will inform you that clone would permanently wipe out all data on the target disk/partition, if you want to start clone, click "Continue."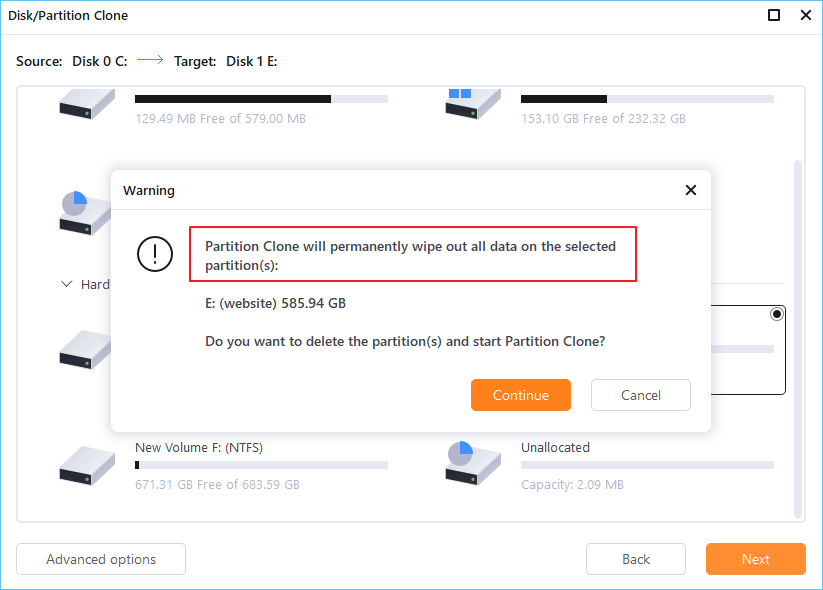 How to Initialize SSD to MBR/GPT
Here in this part, you can follow our guide to initialize a new SSD to MBR or GPT. You don't need any third-party tools to finish this job, you can do it within the Windows system.
Step 1. Make sure your SSD is correctly installed on the computer, then go to Disk Management.
Step 2. Find and right-click the SSD you want to initialize, and then click "Initialize Disk". If the disk is listed as Offline, first right-click it and select Online.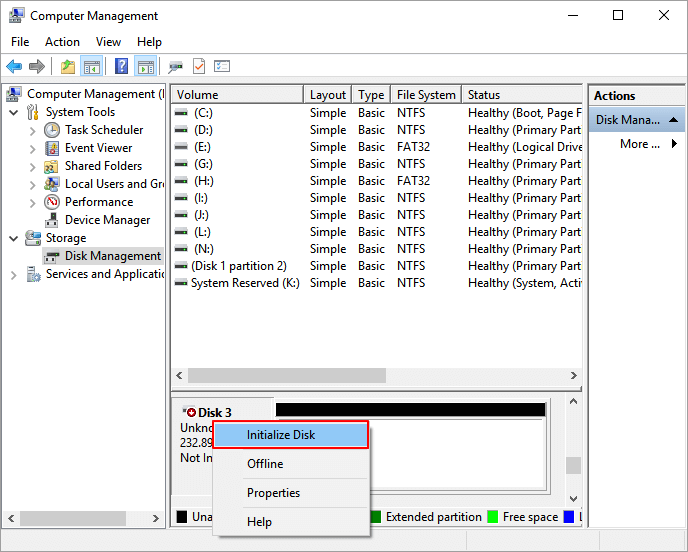 Step 3. In the Initialize Disk dialog box, select the correct disk to initialize. And then click OK to accept the default partition style, or you can change the partition style (GPT or MBR) as you want.
How to Fix Boot Failure While Cloning MBR Disk to GPT
You may have trouble cloning the MBR disk to GPT SSD. That's because when you migrate OS to SSD/HDD by disk cloning, both the source disk being cloned and the destination disk receiving the clone must be either MBR disk or GPT disk. Otherwise, you may suffer a boot failure issue after disk clone. Then how to clone the MBR disk to GPT without a boot problem? Link to the topic page to get the correct guide.
FAQ
1. Can you clone a GPT disk? 
Yes, as long as the source and target disk is connected, you can clone a GPT disk with third-party tools like EaseUS Todo Backup.
2. How do I clone a GPT disk to a smaller SSD?
Before starting to clone, you should check the used space on the source GPT disk. As long as the used space of your GPT disk is smaller than the target SSD, you can clone from a larger GPT disk to a smaller SSD.
Step 1. Go to Disk Management, check the used space of your source GPT disk, and make sure it is smaller than the target SSD space volume.
Step 2. Launch EaseUS Todo Backup, click Tool > Clone.
Step 3. Choose the source disk or partition as well as the target disk.
Step 4. The clone would permanently wipe out all data on the target disk/partition and click "Continue" to the next step.
Step 5. Click "Proceed" to start cloning.
Note: If your target SSD is MBR, and you want to boot from it after clone, make sure to convert it from MBR to GPT after or before cloning.
Daisy is the Senior editor of the writing team for EaseUS. She has been working in EaseUS for over ten years, starting from a technical writer to a team leader of the content group. As a professional author for over 10 years, she writes a lot to help people overcome their tech troubles.

Roxanne is one of the main contributors to EaseUS and has created multiple posts on digital devices like PCs, Mobile phones, tablets, Mac, etc. She loves to share ideas with people of the same interest.