Part 1. Why Do You Want to Clone/Move HDD to New Computer
After running your computer for a few years, you may find that it gets slower and slower day by day. Perhaps it's time to invest in a new computer to replace the old one. Here's a real case from Cnet Forums:
"How do I move an old SSD to a new PC without reinstalling Windows 10 and apps? Hi everyone, 10 years ago I built a very high-end liquid-cooled desktop and was very pleased with it. Unfortunately, all good things come to an end and the poor computer decided its components could no longer take the beating. I'm starting my next build and would like to know if there are methods to use my existing SSD drive in the new computer so I don't have to reinstall Windows 10 (64-bit) and all the applications I currently use. Reinstalling the OS and all of my software will take weeks and not something I want to spend my time on. Any and all advice would be appreciated. Thanks in advance."
As far as I know, quite a lot of people gave up the thought because it is really a tedious job to reinstall the operating system, programs, and personal data on their own. Why are you bothering? You can find a perfect solution on this page. If you wish to keep the same system configuration, data, programs, and settings exactly the same on the old machine while replacing a new computer, just follow the advice to clone your Windows 10 hard drive to this new computer. 
Part 2. Can You Move a Windows to New Computer
If you are cloning or moving a data disk, it is easy. When it comes to moving Windows installation hard drive to another computer, things could become more difficult. You must take the Windows activation issue and the device drives conflicts into account. 
In Windows 7, it introduced driver conflicts, especially with lower-level hardware like your hard drive's SATA controller. As a result, you only receive a blue screen that is preventing you from entering your system. Windows 8 and 10 are much better in handling these conflicts. When you throw an existing Windows installation at a new PC, it'll perform its first-time setup as if it were a new computer, grab drivers for your new hardware, and hopefully drop you onto the desk. That is to say, if you are using Windows 8/10, you can solve the conflicts. This could all vary from PC to PC, and you never know what driver conflicts or performance issues may lay underneath the surface of a seemingly fine setup. 
Windows activation is another problem in the process. There are three types of Windows license key - OEM, Retail, and Volume. If your license is retail or volume, things are not so bad. The Windows activation process is designed to make sure you only install that copy of Windows on one PC at a time, so changing a computer's motherboard–or even some other bits of internal hardware–will result in the Windows system becoming deactivated. Thankfully, you can just re-enter your activation key. OEM ("original equipment manufacturer") copy is designed to be locked to the hardware they were originally installed on. Microsoft doesn't want you to be able to move those OEM copies of Windows to another computer. If you want to move the OEM license to another computer, ask the Microsoft support team to activate the license for you. 
Part 3. How to Clone/Move HDD to New PC 
No matter your computer is Windows 7, Windows 8 or Windows 10, you can always clone or move HDD to the new computer. Whenever we discuss cloning Windows 10 from one computer to another, compatibility and start-up issues are our top concerns. To avoid these worries and clone the Windows system without removing and installing disk, we highly recommend you try the "System Transfer" function provided by EaseUS Todo Backup. This tool can help you to clone Windows 10 from the old computer to the new one with a bootable disk. And it ensures a successful system boot-up from cloned hard drive on the new computer. Now, prepare a proper WinPE emergency disk/USB, and let's begin to clone a PC by creating a Windows 10 system backup.
Step 1. Create an Emergency Disk to USB
1. Connect an empty USB flash drive or external hard drive (with over than 100GB space) to your PC.
Note: Initialize the USB or external hard drive as MBR, and create two partitions: set the first partition as FAT32 and the second partition as NTFS.  
2. Run EaseUS Todo Backup and click "Tools" > "Create Emergency Disk".
3. Choose USB as the disk location to create the emergency disk and click "Create".
The bootable disk will help you boot computer and transfer system image to the new PC.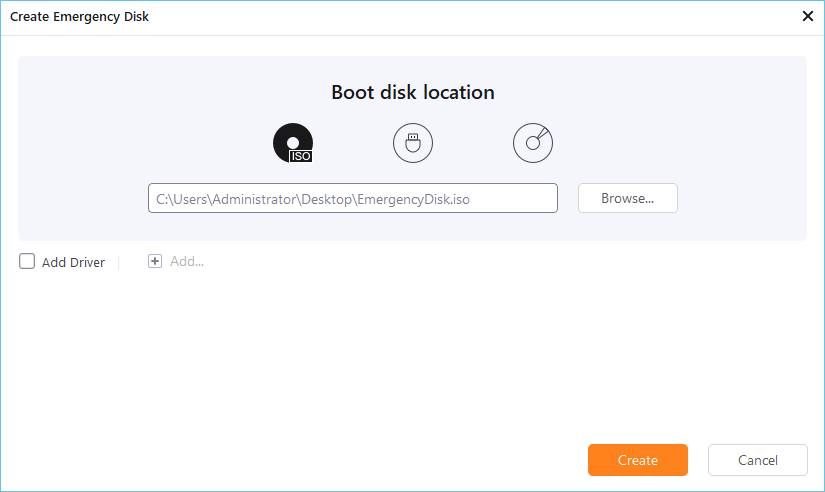 Step 2. Create System Backup Image on Source Computer
1. Click "OS" on the main page and Windows OS will be selected by default.
2. Choose the second partition of the USB drive which contains the emergency disk to save system image.
You may also save system backup image to another empty external disk (which must be equal or bigger than the system C drive).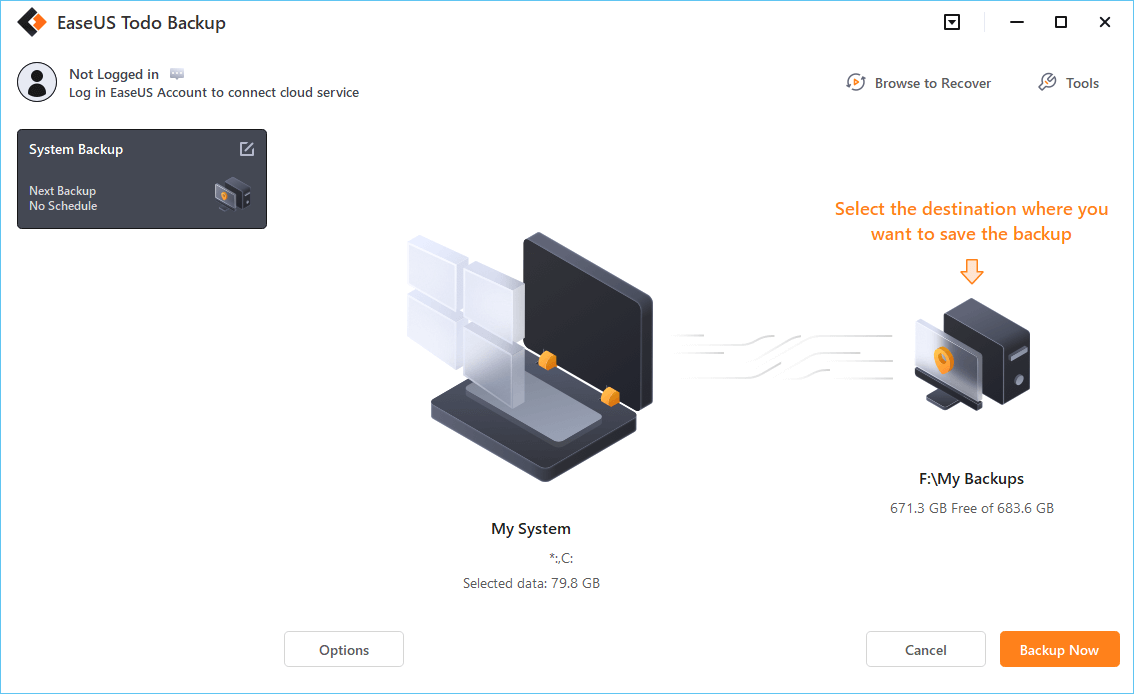 3. Click "Backup Now" to start creating a system backup image to the target device.
Step 3. Boot Target Computer from EaseUS Todo Backup Emergency Disk
1. Eject EaseUS emergency disk and system backup image USB and connect it to the new computer.
2. Restart PC and press "DEL/F2/F10/F12" to boot into BIOS. 
3. Go to the boot menu and set the computer to boot from the EaseUS Todo Backup emergency disk.
If you want to restore the system image to a GPT disk, you need to change the boot mode to EUFI in BIOS. Then your computer will enter EaseUS Todo Backup main interface.
Step 4. Transfer System to the New Computer
Note: Restoring system image to the new computer will erase the data on the target disk. Remember to back up the files in advance or use an empty disk to restore the system image to avoid data loss.
1. On EaseUS Todo Backup main interface, click "Tools" > "System Transfer".
2. Select the system image on your USB external drive and click "OK" to continue.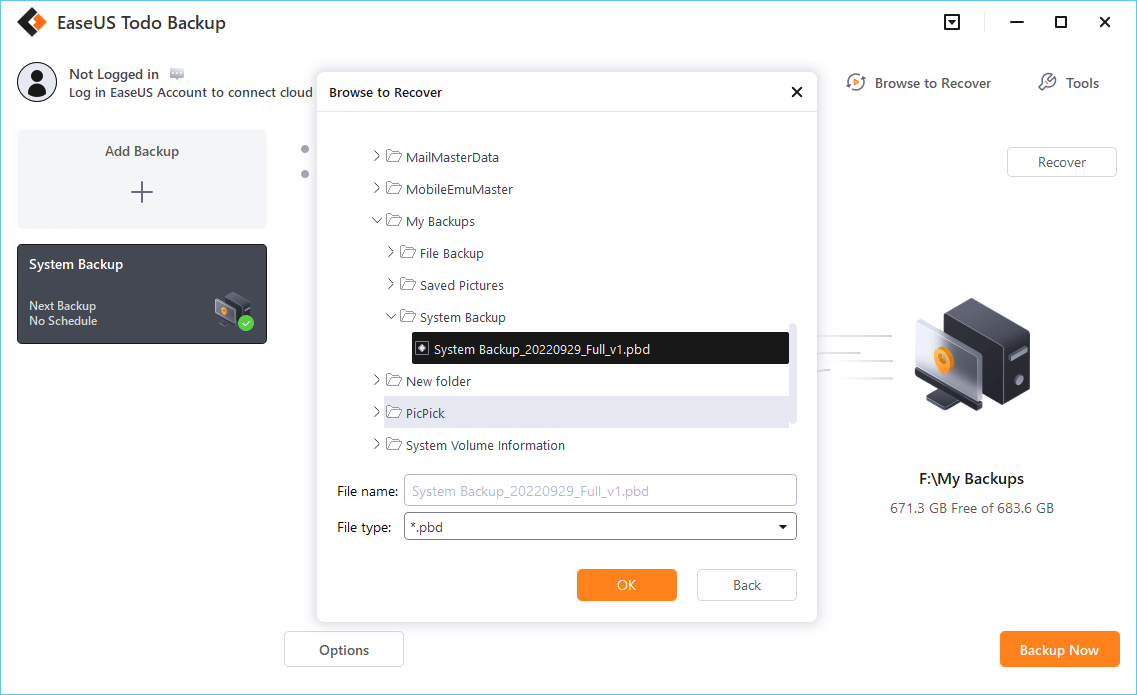 3. Then click "Proceed" to start transferring the system to a new computer.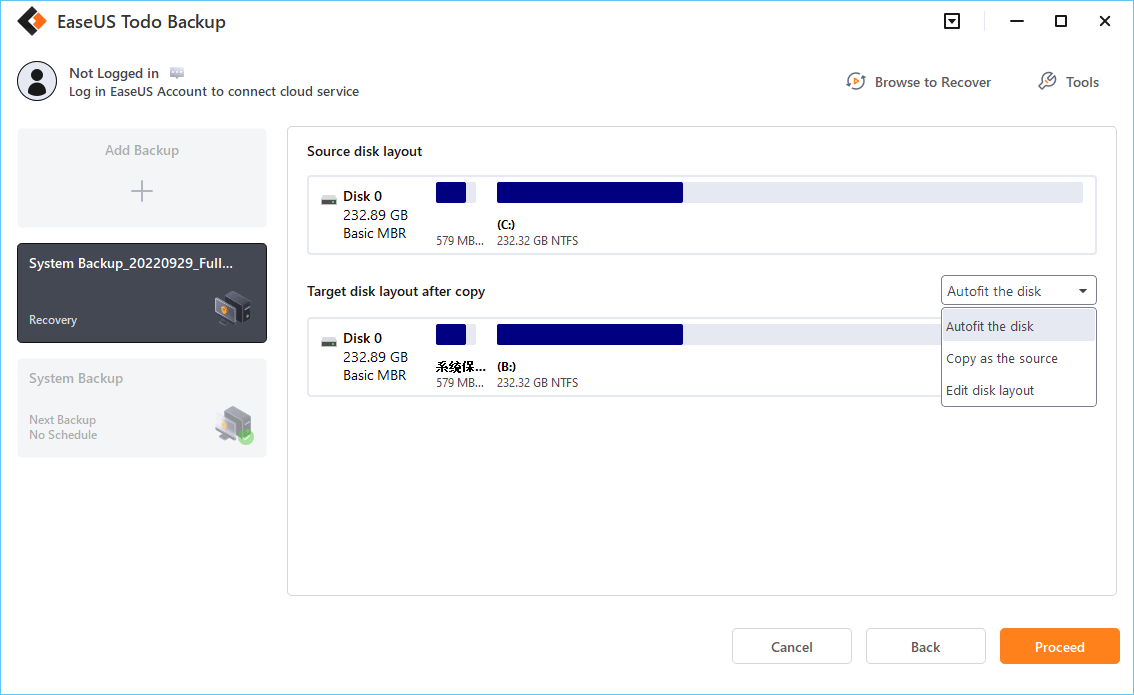 Step 5. Restart PC with transferred system
1. Enter BIOS and set computer to boot up from the drive with the transferred system.
2. Save all changes and restart your computer.
3. Update all drive drivers and programs to ensure all things will work just fine on the new computer.
Conclusion
This method will do you a great favor in transferring hard drive to a new computer without reinstalling windows 10. But if you are faced with an unknown problem and don't know how to fix it, you can always contact our support team or perform a fresh install. We are always your companion and we are glad to help.
Daisy is the Senior editor of the writing team for EaseUS. She has been working in EaseUS for over ten years, starting from a technical writer to a team leader of the content group. As a professional author for over 10 years, she writes a lot to help people overcome their tech troubles.

Roxanne is one of the main contributors to EaseUS and has created multiple posts on digital devices like PCs, Mobile phones, tablets, Mac, etc. She loves to share ideas with people of the same interest.