A device locked with BitLocker ensures data security. But can you clone it without disabling BitLocker?
BitLocker encryption allows users to secure their data with a password or fingerprint - depending on the device. While the feature has been around for more than 16 years, it has picked up pace in recent years because of its extensive usage.

But, while it secures data, it also risks losing data in case of forgotten passwords. However, the one thing that many wonder about is whether or not they could clone BitLocker encrypted drive without having to remove it. Let's find out.
Introduction
BitLocker is an encryption method Microsoft introduced in the later Windows Vista service packs. However, since then, it has become a paramount part of their drive management and security in Windows operating systems.
It allows the users to ensure full-volume encryption with the help of password protection. However, nowadays, laptops and computers feature fingerprints and facial recognition. So, a user can employ this for encryption as well.
However, cloning an encrypted drive might seem like an impossible feat, but it can be done. Today, we'll answer this question and find out how you can clone BitLocker Encrypted drive. So, let's keep digging.
Can You Clone a BitLocker Encrypted Drive? What Will You Need?
Cloning a BitLocker encrypted drive can be a tricky deal. Mainly because it's encrypted through the AES encryption algorithm. In simpler terms, it's a strong encryption method, ensuring thorough data security.
However, it's possible, so what you'll need is:
A new and empty hard drive with equal or more space than the encrypted drive.
Reliable disk cloning program with thorough encryption incursion.
Uninterrupted power supply - because power loss can cause data loss.
Now, the first thing depends on you - where exactly do you want to clone your hard disk? To another hard drive? To a new SSD, extension, or USB? So, if you're set with that, you'll need proper software next.
Preferably a professional tool like EaseUS Disk Copy; here's why:
If you have EaseUS disk cloning software, then you'll easily be able to clone the BitLocker Encrypted device to another partition. However, even with this remarkable software, one question remains, do you need to disable BitLocker before cloning a drive?
Do you plan on using EaseUS Disk Copy, the answer is yes. Because if you do plan on using this program, then you don't need BitLocker enabled to clone the partition to another storage device.
More referential articles about cloning partition to another storage device you want to know:
How to Clone BitLocker Encrypted Drive [Step-By-Step Instructions]
Now that we know what we need let's discuss the cloning process. In this section, we'll explore the ways you can clone the encrypted drive to another one with the help of software. So, to help you understand, here's what you'll have to do:
Process 1. Make Sure the Second/Target Drive Is Connected
This process depends on you and how you go about doing it. In order to make sure everything goes smoothly, if you have a SATA or HDD device, then make sure it's connected internally. While you can use USB converters, connecting your device internally is suggested.
Once you're done connecting the partition, ensure its presence by doing this:
Step 1. Press the "Windows" button on your keyboard.
Step 2. Type Disk Management and open the tool.
Step 3. Check if your disk is detected.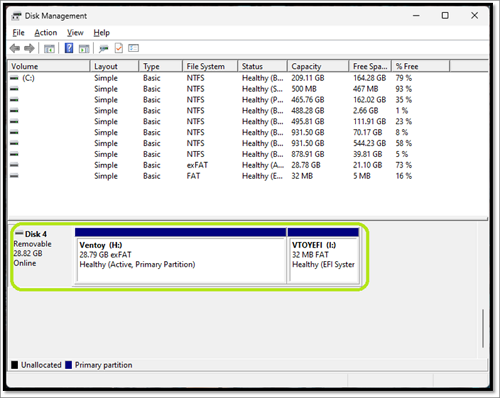 Step 4. Done.
As you can see here, the device is connected. So, make sure your device is connected too before you move on to the next process.
Process 2. Download the Disk Cloning Software: EaseUS Disk Copy
This process requires you to download the cloning software of your choice. However, we suggest using EaseUS Disk Copy to keep it simple and easy. Therefore, once the tool is downloaded, you can garner a lot of benefits through it. For instance, this tool allows you to clone devices such as Hard Drives and SSDs in various spectrums like IDE, SATA, ESATA, M.2, NVME, etc. By the way, you may move on to Process 3. Cloning Procedure to get to know how to use this app.
Process 3. Cloning Procedure
This process will help you clone your BitLocker encrypted drive to another partition. Therefore, ensure you followed the steps mentioned in this article thoroughly. Once everything is ready, here's what you'll do:
1. Download, install and run EaseUS Disk Copy on your PC.
Click Partition Mode and select the source partitions that you want to copy or clone. Click Next to continue.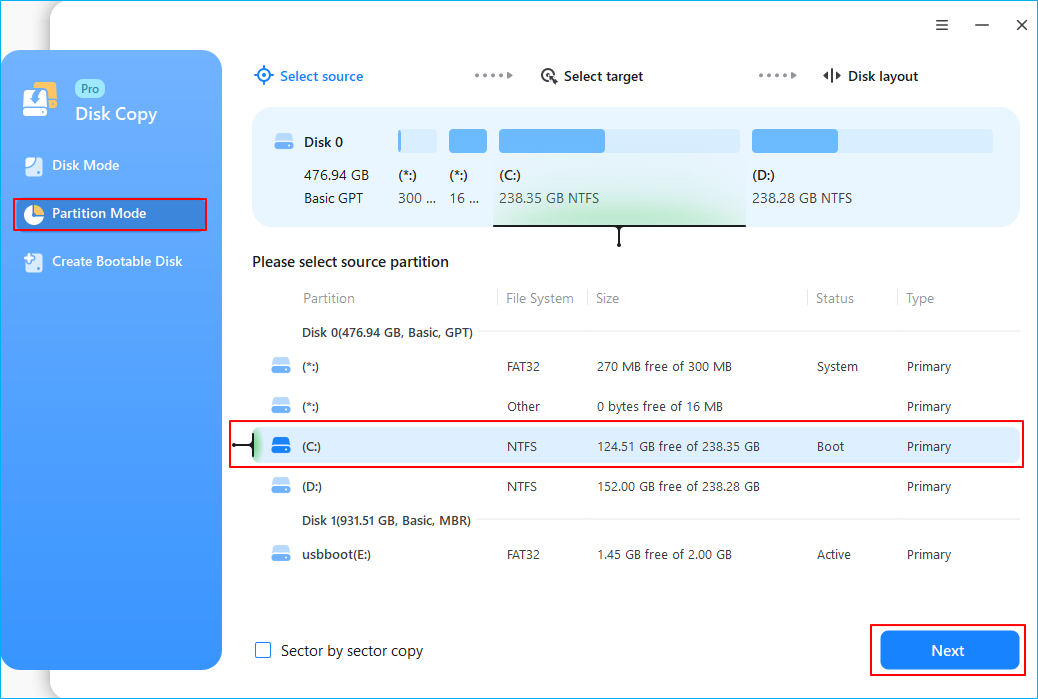 2. Select the target partition where you want to clone/copy the source partition to and click Next to continue.
Check and edit the partition layout: Autofit the disk, Copy as the source or Edit disk layout.
Autofit the disk is recommended.
Copy as the source option will copy/clone the same layout of partitions from your source disk to the destination disk.
Edit disk layout allows you to manually resize or move partition layout on the destination disk.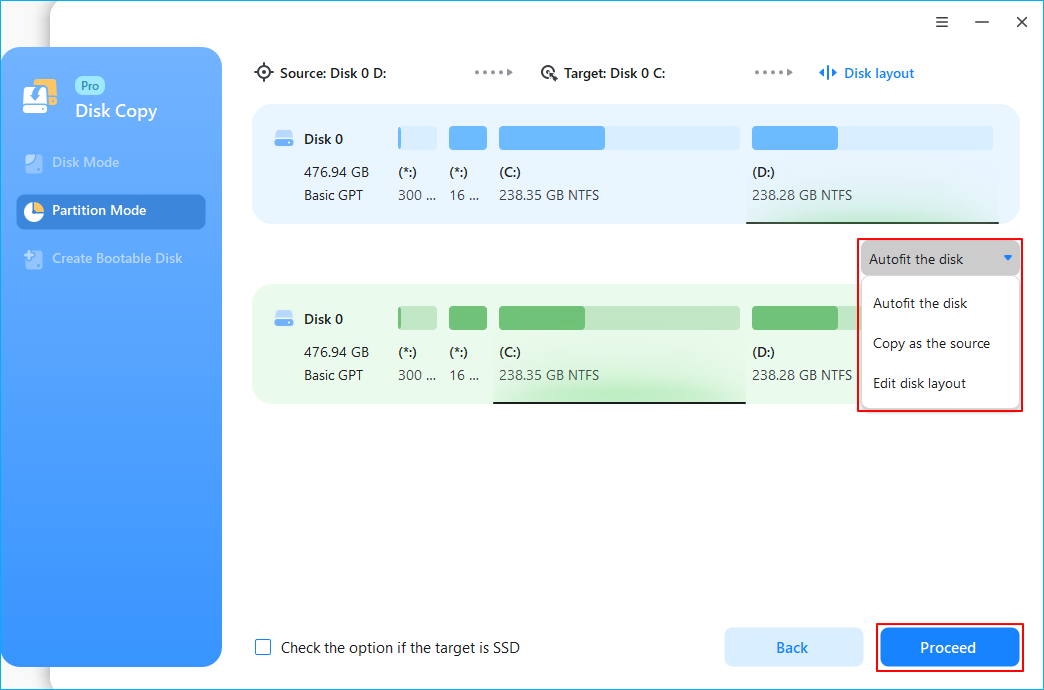 3. Click OK if the program asks to erase data on the destination partition.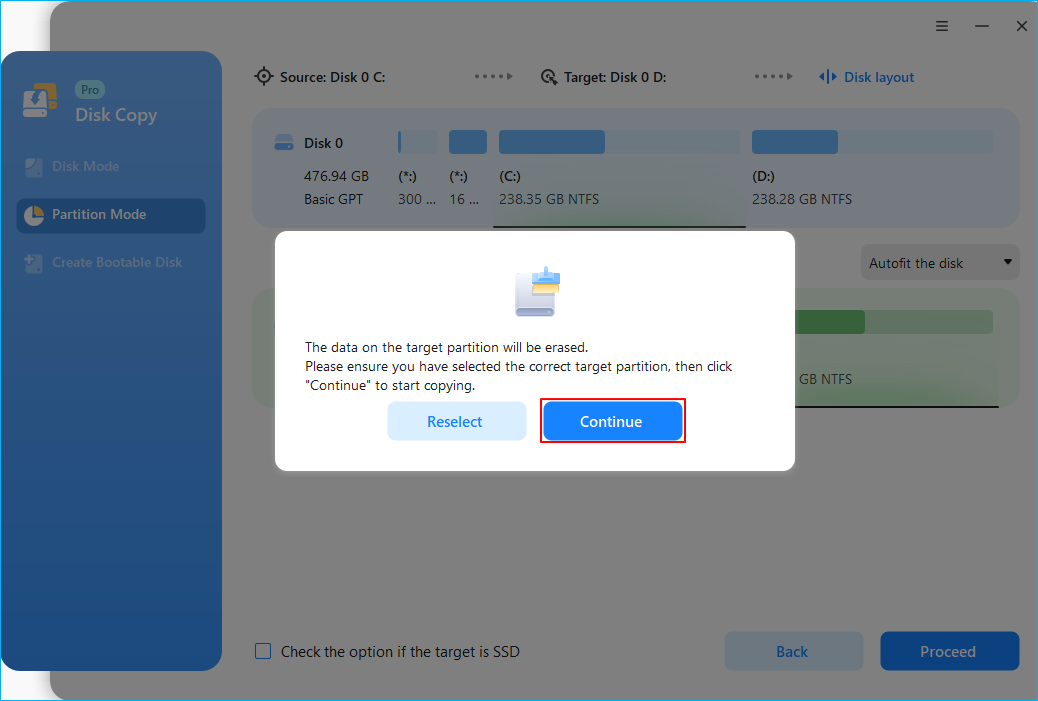 Click "Proceed" to start the partition cloning or partition copying process now.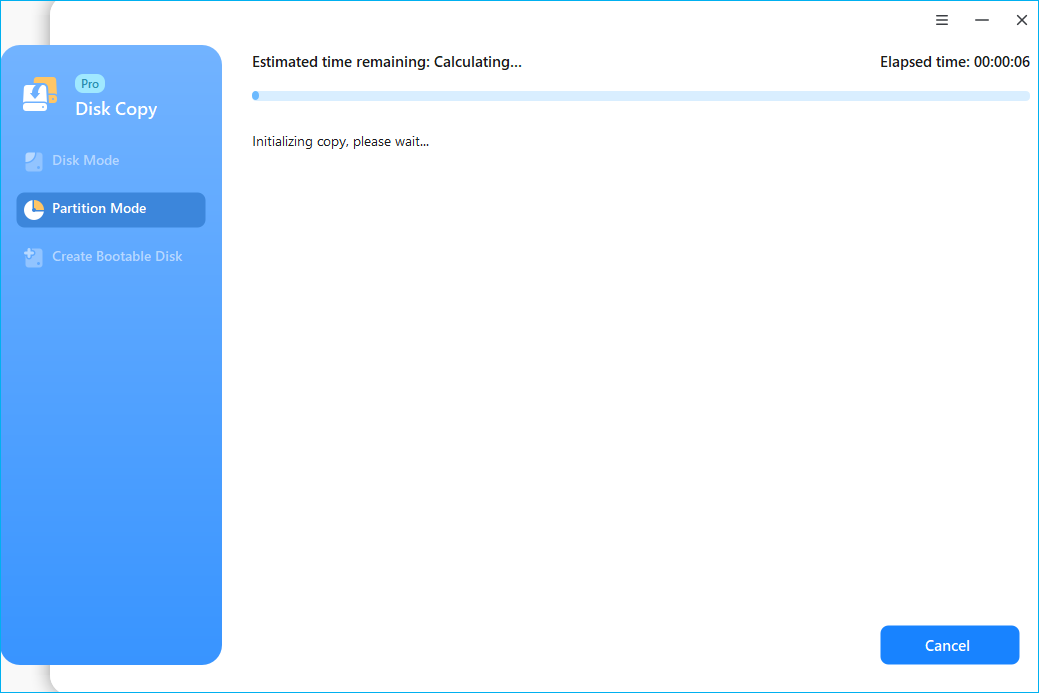 This will help you clone your BitLocker encrypted drive to another partition without any hassle. Next, it'll depend on the speed of your drive & computer and the amount of data present in the encrypted device.
But what else can you do to the BitLocker partition with EaseUS Disk Copy? Once you're done cloning your BitLocker drive data to another drive, you can use EaseUS Disk Copy to do these:
Clone the data in BitLocker encrypted HDD/SSD partition
Migrate BitLocker encrypted data in removable devices, such as USB Flash Drive, External HDD, etc
Mobe BitLocker encrypted data to another computer
Therefore, you can try EaseUS disk clonine software for various operations and assistance with BitLocker encrypted devices.
How Do I Disable BitLocker after Cloning? [Detailed Guide]
Once you're done with the BitLocker encrypted drive, it's natural that you'd want to remove it. So, if you wish to disable BitLocker after cloning, here's how you can do it:
Step 1. Press the "Windows" button on your keyboard.
Step 2. Type "Control Panel" and open it.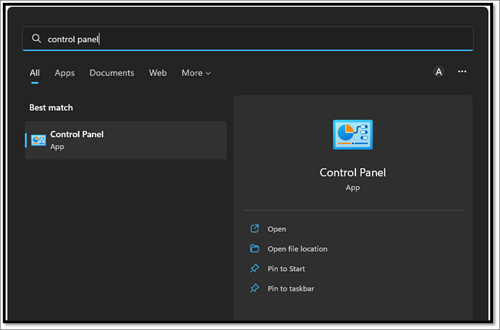 Step 3. Head into System and Security.

Step 4. Find and click on "BitLocker Drive Encryption".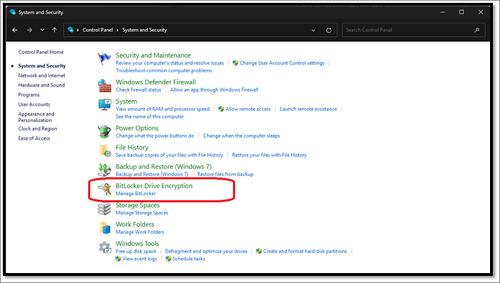 Step 5. Find and click on "Turn off BitLocker" and confirm when prompted.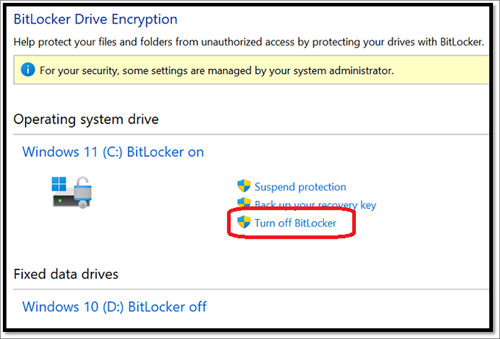 Step 6. Done.
This will prompt your operating system to decrypt the encrypted drive, and it might take a little while—depending on the size of your drive.
Conclusion
We sincerely hope this article helped you address your BitLocker-related issues and that you found it easier to fix after reading it. As avid computer users, we run into such problems every day. And our idea is to help our readers fix issues like how to clone BitLocker encrypted hard drive to another storage option.
Therefore, let us know what you think in the comments below, as it'll encourage us and also help us understand what you want to read next on our website. So, follow these methods, and use EaseUS Disk Copy to ensure moving BitLocker encrypted data to another drive smoothly.
FAQs About BitLocker Encrypted Drive
If you have any additional queries in your mind, then find the answers in our FAQ section below:
1. Does BitLocker Encrypt the Entire Drive?
Yes, it does. BitLocker is made to encrypt an entire partition on any storage device, including data and system drives.
2. Can BitLocker Encrypt External Hard Drives?
Yes, it can. All you have to do is insert the external drive you wish to encrypt with it, then follow the usual encryption procedure to protect it with BitLocker. On the contrary, you can use EaseUS Disk Copy to clone an external drive, just as we showed you in this article.
3. How does BitLocker Encrypt and Protect a Hard Drive?
BitLocker alleviates the data security by encrypting the device with password protection. When a device is decommissioned or recycled, the data is also rendered useless if it was protected by BitLocker. Therefore, BitLocker ensures the safety and security of a hard disk and the data within it with advanced encryption algorithms.
Was this page helpful? Your supoport is truly important to us!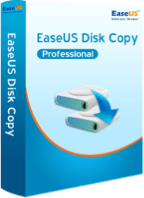 EaseUS Disk Copy
EaseUS Disk Copy is a well designed and very easy-to-use HDD/SSD cloning and migration tool, a tool which should be ideal for anyone wanting to quickly and easily migrate an existing system disk to a new disk (or newly installed SSD drive) with the minimal of configuration required.
Updated by

"I hope my articles can help solve your technical problems. If you are interested in other articles, you can check the articles at the bottom of this page, and you can also check my Facebook to get additional help."…

Read full bio

Written by

Tracy became a member of the EaseUS content team in 2013. Being a technical writer for over 10 years, she is enthusiastic about sharing tips to assist readers in resolving complex issues in disk management, file transfer, PC & Mac performance optimization, etc., like an expert.…

Read full bio