What's the best software to clone failing HDD/SSD that has bad sectors?
"I have a 2TB Seagate drive that is failing with 34% bad sectors. I plan to clone it to a 2TB WD Black hard drive. Yesterday, I tried some cloning software but got 'failure to copy' error in the same way and then it just stopped the cloning task. Now I really need to find the best cloning software that can clone (OS, programs, files, etc) HDD with bad sectors. Any advice shall be greatly appreciated."
Disk cloning software usually works for events when you upgrade hard disk from a smaller one to a larger one, or from an old one to a new one. By cloning operating system, installed programs, files, emails, photos and other data would largely save time and energy to reinstall them. But once your old hard drive is diagnosed with bad sectors, most of the time, the cloning procedure will be interrupted immediately. Thus, to find a powerful disk and partition cloning software that can clone bad sectors becomes significantly important.
EaseUS sector by sector clone enables to clone hard drive with bad sectors
Taking bad sectors into consideration, EaseUS Disk Copy, known as the best disk clone software and disk/partition cloning software in the market, provides a unique cloning feature called sector by sector clone. When the software detects blank or logically bad sectors from the source disk, it won't terminate the process but work on the bad sectors cloning without interruption.
Clone hard drive with bad sectors to new HDD/SSD:
Step 1. Get the best disk copy software to clone disk with bad sectors
EaseUS Disk Copy which is fully compatible with Windows 10/8/7. You can just apply this software to help you upgrade and clone all data on the hard drive with bad sectors to a new disk with ease now.
Step 2. Clone hard drive - HDD/SSD with bad sectors to a new drive
Note: Do remember to connect both new hard drive and old drive with bad sectors to your computer as a storage device before starting the disk cloning process.
Prior Notice:
The "Sector by sector copy" asks the size of your destination disk to be at least equal to or larger than that of the source disk. Leave this feature unchecked if you wish to clone a larger hard disk to a smaller hard disk.
All data on the destination disk will be completely erased, so take care.
Step 1. To start copying/cloning an entire disk to another, choose this disk as the source disk under "Disk Mode" and click "Next".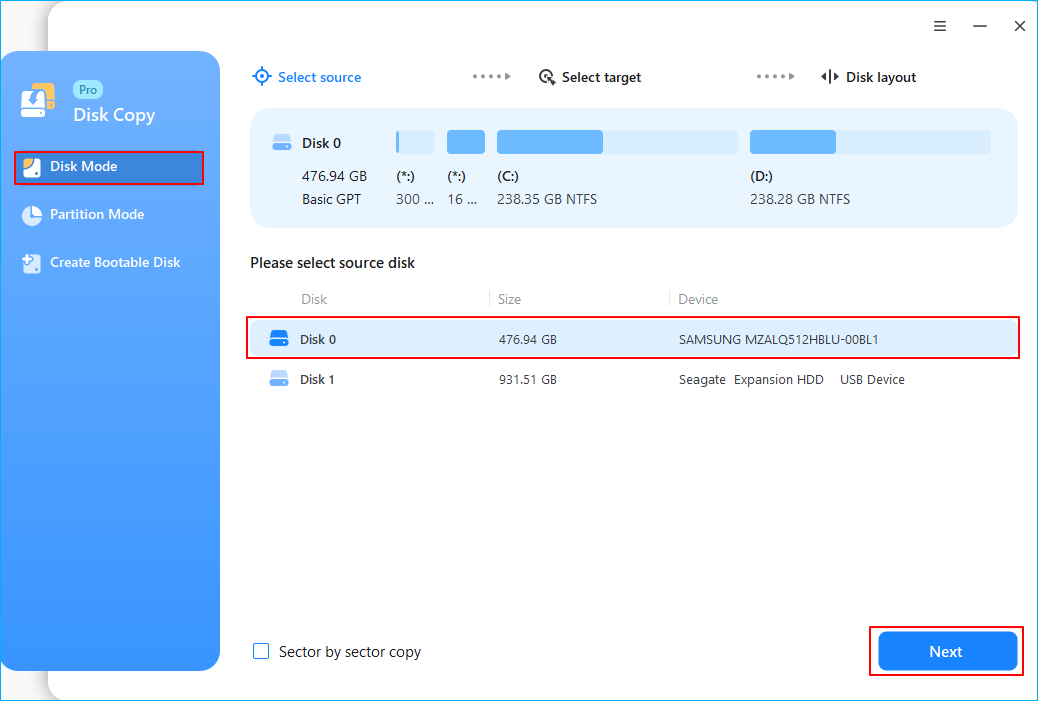 Step 2. Choose the other disk as the destination disk.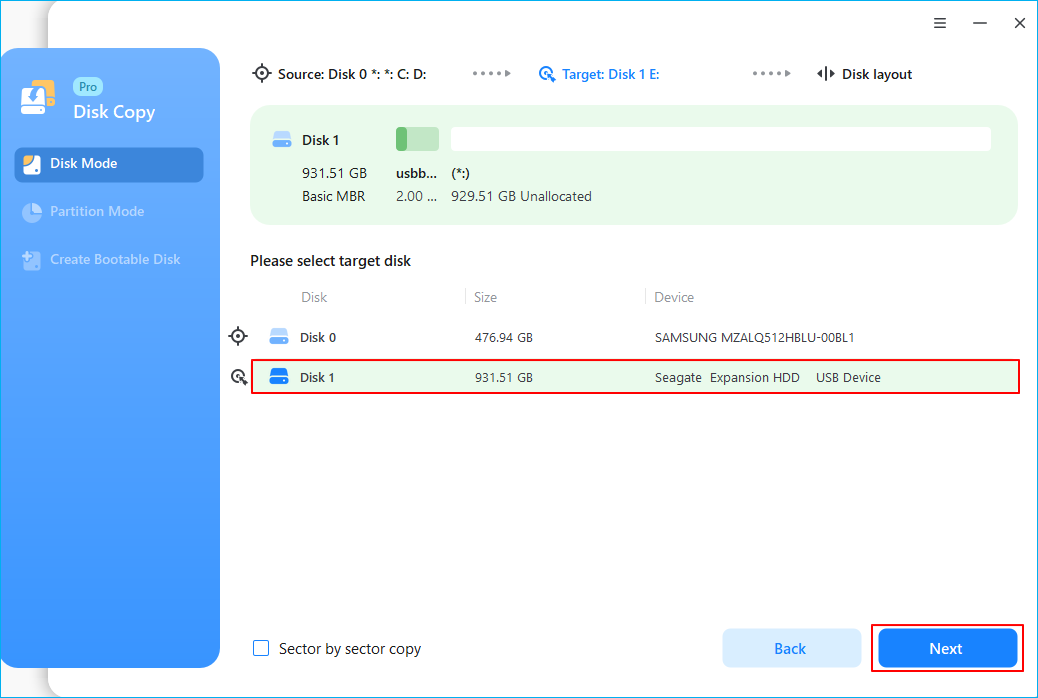 A message now appears, warning you that data will be lost. Please confirm this message by clicking "OK" and then click "Next".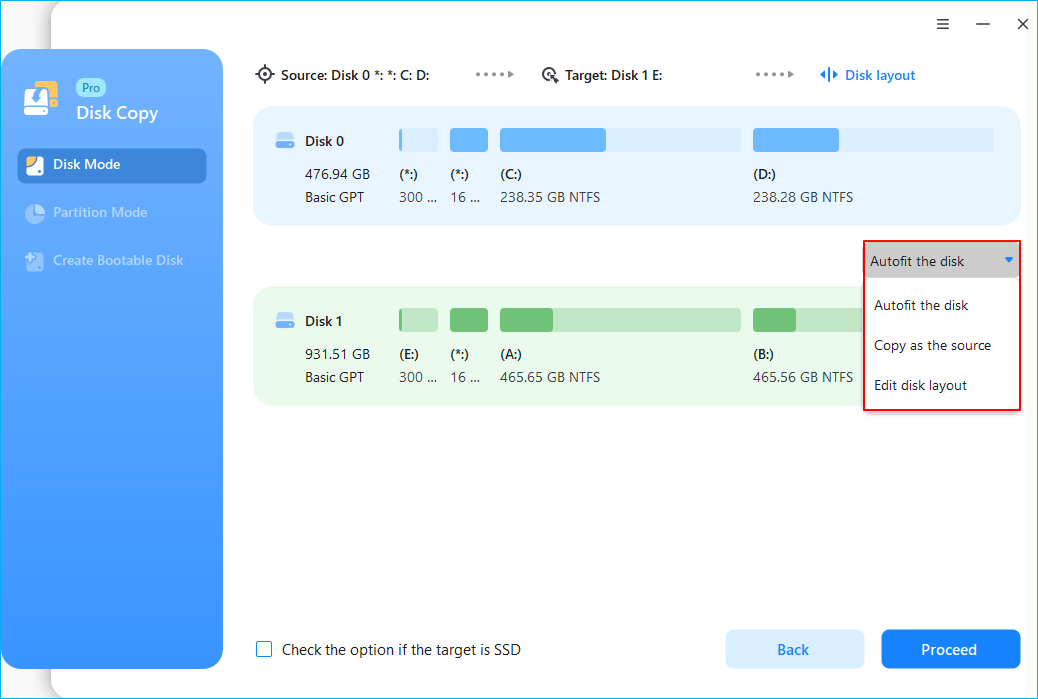 Step 3. Check the disk layout of the two disks. You can manage the disk layout of the destination disk by selecting "Autofit the disk", "Copy as the cource" or "Edit disk layout".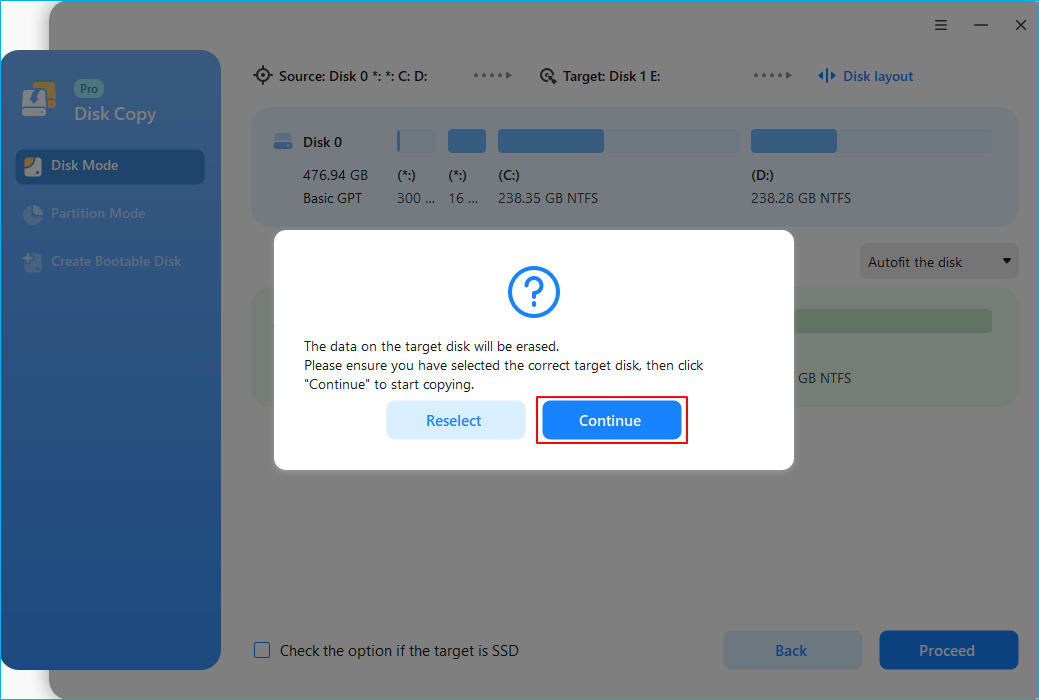 "Autofit the disk" makes some changes by default on the destination disk layout so that it can work at its best status.
"Copy as the source"does not change anything on destination disk and the layout is same as source disk.
"Edit disk layout" allows you to manually resize/move partition layout on this destination disk.
Tick the "Check the option if the target is SSD" option to put your SSD in its best performance.
Step 4. Click "Proceed" to officially execute the task.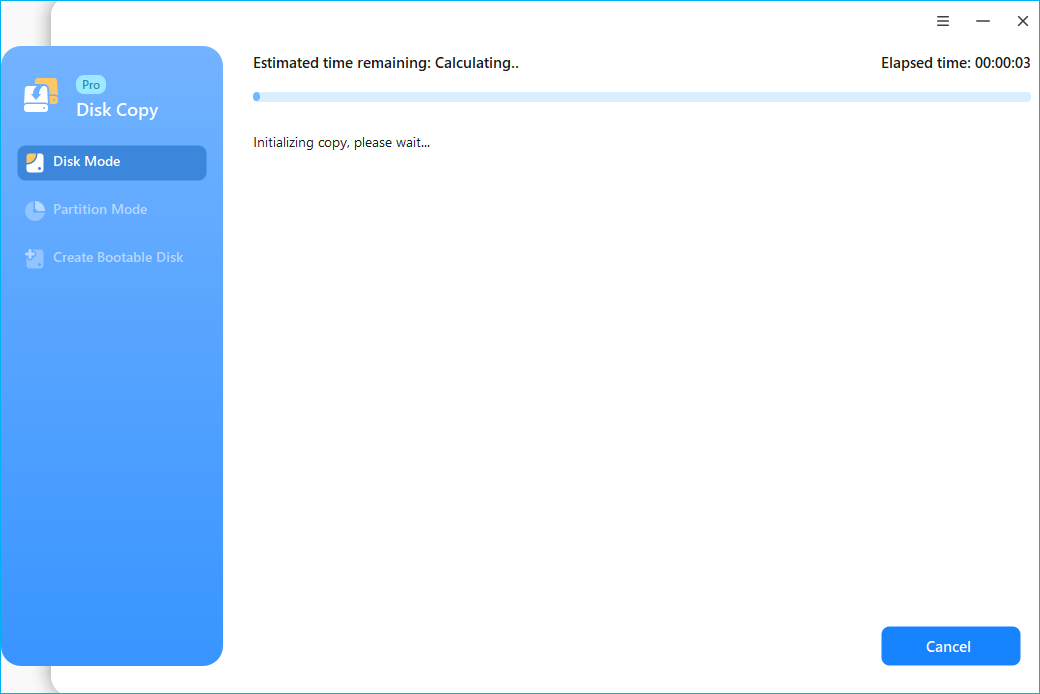 After this, you can reset the computer to boot from system disk and then you can use the cloned data from hard drive (HDD/SSD) with bad sectors on the new disk without any problems.