Maximize Hard Disk Capacity
Free partition manager makes the best use of hard disk space and keeps your PC running at the highest performance. Keep original data intact!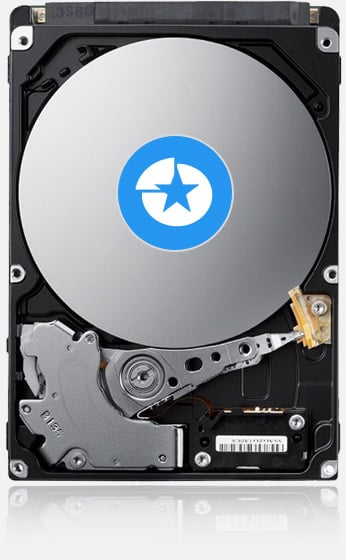 Resize or move partitions of different sizes and reallocate disk space in a reasonable way

Merge partitions into a larger partition with much more disk space to solve low disk space problem

Check Partition

Check partition property and ensure whether there are disk errors on selected partitions

Clear away useless or sensitive data on selected partitions thoroughly to keep your privacy protected

Format or Delete Partition

Format HDD, SSD, USB, memory card, SD card or delete partitions cautiously to make your disks or partitions accessible and available for disk repair

Change Partition Label

Create or change the label of selected partition or drive letter for better reference. It's much easy to identify all marked or target partitions & disks fast
EaseUS Partition Master Free Makes Disk Partition Management Easy
The best free partition software for Windows 10/8.1/8/7/Vista/XP, helps to create, delete, resize, move, expand, shrink, split, wipe, format, copy or clone partitions for HDD, SSD, USB drive, memory card, and other removable storage devices

EaseUS Disk or Partition Clone Wizard
Disk or partition clone wizard, included in EaseUS Partition Master Free, easily makes full copies of entire disk or partitions to transfer data on source disk to target one for disk replacement or hard drive upgrade. It could be done in a few clicks for data or system migration between HDD and SSD, or MBR disk and GPT disk, cloning HDD to SSD, or cloning SSD to another one.

EaseUS Partition Recovery Wizard
Partition recovery wizard in EaseUS partition manager free helps to recover deleted or lost partitions on unallocated disk space quickly after hard drive failure, virus attack, system crash, formatted partition, repartition or other cases
The Best Free Partition Tool for Windows System
Deal with hard drive capacity allocation tasks and redistribute free space to improve system performance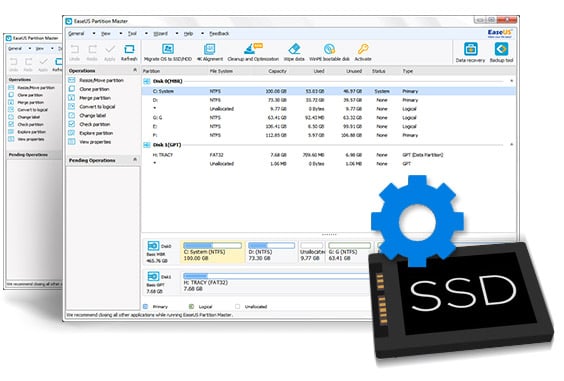 SSD 4K Alignment

Get partitions on SSD correctly aligned to maximize SSD performance and speed up your PC

Disk/Partition Conversion

Convert logical partition to primary, primary partition to logical, FAT to NTFS partition, MBR disk to GPT or even GPT disk to MBR

Cleanup and Optimization

Clean up junk files and large files to free up storage space and optimize disk performance
Language Supported:
English, Deutsch, Español, Français, Italiano, Português, Polski, Nederlands, 日本語, 中文 (繁體), Dansk
Help Us Translate EaseUS Partition Master to Your Language. Click Here >>
Compare and Get 20% OFF
Partitioning Features
Click Here to See Complete ComparisonSimplify to View Main Difference Only

$47.96 $59.95

Free lifetime upgrade

Make sure that you get any updates of the newest version for lifetime free of charge. Only $16.00 for forever peace of mind!

Buy Now
Free Trial

$207.20 $259.00

Free lifetime upgrade

Make sure that you get any updates of the newest version for lifetime free of charge. Only $80.00 for forever peace of mind!

Buy Now
Free Trial
Disk cleanup and optimization

Clean up junk files, large files and optimize disk performance
Disk/Partition conversion

Convert primary partition to logical, logical to primary, FAT partition to NTFS, convert data disk between MBR and GPT
Support Windows Storage Spaces

Easily manage virtual disks created from free space in a storage pool
Tech Reference
Free partition manager software makes disk partitioning easy across different storage media without data loss under Windows environment
Operating System

Windows 10/8.1/8/7/Vista/XP
Devices Supported

Parallel ATA (IDE) HDD
Serial ATA (SATA) HDD
External SATA (eSATA) HDD
SCSI HDD
Solid-State Drive (SSD)
All levels of SCSI, IDE and SATA RAID controllers
RAIDed configurations (hardware RAIDs)
IEEE 1394 (FireWire) HDD
USB 1.0/2.0/3.0 HDD
Large capacity hard disk
Removable device, such as flash drive, memory card, memory stick and so on
File System Supported

EXT3
EXT2
NTFS
FAT32
FAT16
FAT12
ReFS
Hardware Requirement

CPU: at least with X86 or compatible CPU with main frequency 500MHz
RAM: equal or larger than 512MB
Disk space: hard disk drive with 100MB of available space
Users' Review
Dennis M Hogan

Just to leave a word about EaseUS partition master free on our production environment. I resized two big partitions on the same server and your product did the trick successfully in about 2 hours

Matt Thompson

Over the past 20 years I have partitioned hundreds of drives. None of the methods used were anywhere as straightforward as using EaseUS Partition Manager. A brilliant and elegant program

J.Balga

Good day. Thank you very much for an excellent program. The program is great and excellent.
Write a Review
30 days Money Back Guarantee

Transactions Protected

Trusted by Millions of Users

7 X 24 Service & Live Chat