PartitionMagic Overview (Pros & Cons)
PartitionMagic is a utility for hard disk drive partitioning originally made by the Power Quest Corporation but now owned by Symantec in 2003. The software runs on Microsoft operating systems, including Windows XP, 2000, NT, Me, and 98. It's incompatible with Windows Vista and later versions. A bootable disk for partitioning drives must be used instead. It is capable of resizing, creating different drives (partitions), and other modifications to hard disk drives without losing any information on the hard disk drive.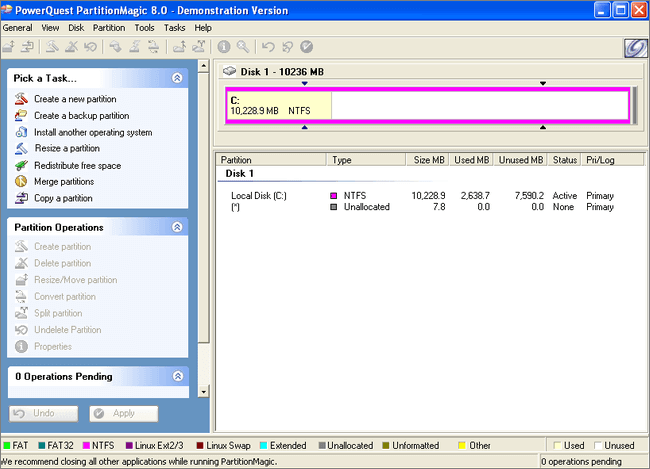 Pros
Totally free
Easy to use and install
Resize, move, merge partitions without data loss
Create bootable media to manage hard disk partitions under Windows PE
Cons
Not compatible with Windows Vista/7/8/10
Will not release any update
The interface is very old and out-dated
Many advanced disk management operations are not supported, such as convert MBR to GPT
Common Problems of PartitionMagic 64 Bit
Although Partition Magic can resize and create different drives, it has many problems in our daily life. Here are some real cases that some users have been faced with:
Case 1. "I'd like to know when Partition Magic will be available that will support Windows 7 64 bit computers."
Case 2. "Hey, I cannot change my partition table on Windows 10, any partition magic tool recommend for me?"
According to Norton's official site, we can learn that "Due to changing consumer usage trends and Symantec's desire to offer the highest quality and most innovative solutions for the latest operating systems, Symantec has discontinued Norton Partition Magic 8.0". This means that the following Windows systems such as Windows 10/8/7 may not get partition management support from the partition magic software offered by Norton.
EaseUS Partition Magic Software Overview (Pros and Cons)
Then, how about partitioning and managing disk partitions in new Windows 11, Windows 10, Windows 8, or Windows 7? Since PartitionMagic is not compatible with Windows 7/8/10, you need a partition magic alternative to better manage the hard drive. A professional partition magic software is what you need to partition Windows 11/10/8/7 64 bit without data loss. The partition magic Windows 10 64 bit alternative - EaseUS Partition Master can do you a favour, help you to create and resize hard drive easily without data loss. EaseUS Partition Master is an all-in-one disk partition manager. As one of the best disk management tools, it has many highlights.
Download Partition Magic Alternative for Windows 11/10/8/7 64 Bit
The user-friendly interface with comprehensive wizards greatly simplifies the operation of managing your partition and ensures every feature in this product could be easy to find and navigate. If you are looking for a versatile and secure Windows partition manager for Windows Vista/7/8/10 64 bit, EaseUS Partition Master must be your best choice.
Pros
Very easy to use 
User-friendly interface
You can receive the latest update
Compatible with Windows XP, Vista, 7, 8, 10, 11
Compatible with Windows 2019/2016/2012/2008/2003 (Server version)
Include lots of useful operations (resize/move/merge/clone partitions)
Cons
Some additional features are included only in the Pro version 
EaseUS Partition Magic Software VS PartitionMagic
You can see why EaseUS Partition Master is the best alternative to Partition Magic by looking at the chart below.
Features
EaseUS Partition Master
PartitionMagic
Operating system supported
Windows 11/10/8.1/8/7/Vista/XP 
Windows NT, 95/98, ME, 2000, and XP
File system supported
NTFS/EXT3/EXT2/FAT32/FAT16/FAT12
NTFS/FAT16/FAT32 
Main features

Resize/clone/merge/format/delete/wipe/check partitions
Convert between logical and primary partition
Convert FAT to NTFS partition
MBR disk to GPT, or GPT disk to MBR

Create, resize, merge
Supported devices
HDD, SSD, large capacity hard disk (GPT and MBR disk), removable devices
HDD, SSD, and external hard drive
Availability
Lifetime upgrade and technical support
No longer offer
How to Use EaseUS Partition Magic Software to Manage Partitions
You can easily create disk partitions and manage data storage space with the most popular partition management software for Windows. The following is a step-by-step guide on how to shrink, extend, create, and delete a partition. Read on and get more details.
[1] "Resize/Move" enables you to adjust space of a selected disk partition as wish. Right-lick "Resize/Move", you can shrink a volume, extend the other one, or create unallocated space for special use.
[2] "Clone" aims to make two identical hard disks or partitions with the same layout and content. You can use the "Clone" feature to upgrade a hard disk, replace a failing one, backup the drive data and so on.
[3] "Delete" is a common method to remove an unwanted disk partition, turning it into unallocated space.
[4] "Format" is frequently used in many situations. By formatting a drive partition, you can alter the file system, fix some corruption issues, and sometimes remove viruses and malware.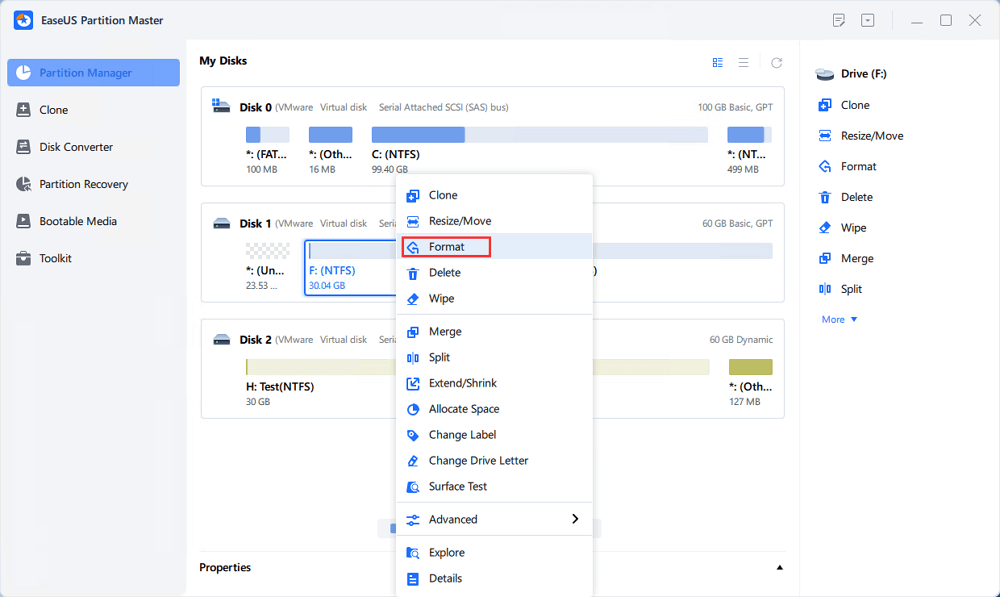 [5] "Allocate space" is very useful when one drive partition space is too much while the other is inadequate. 
[6] "Migrate OS" makes it easy to transfer a Windows installation drive to the other without reinstalling.
[7] Conversion between GPT and MBR, NTFS and FAT32, and Basic to Dynamic is getting more and more popular among EaseUS Partition Master customers. Besides all the listed benefits, there are so many functional yet practical features are waiting you to explore.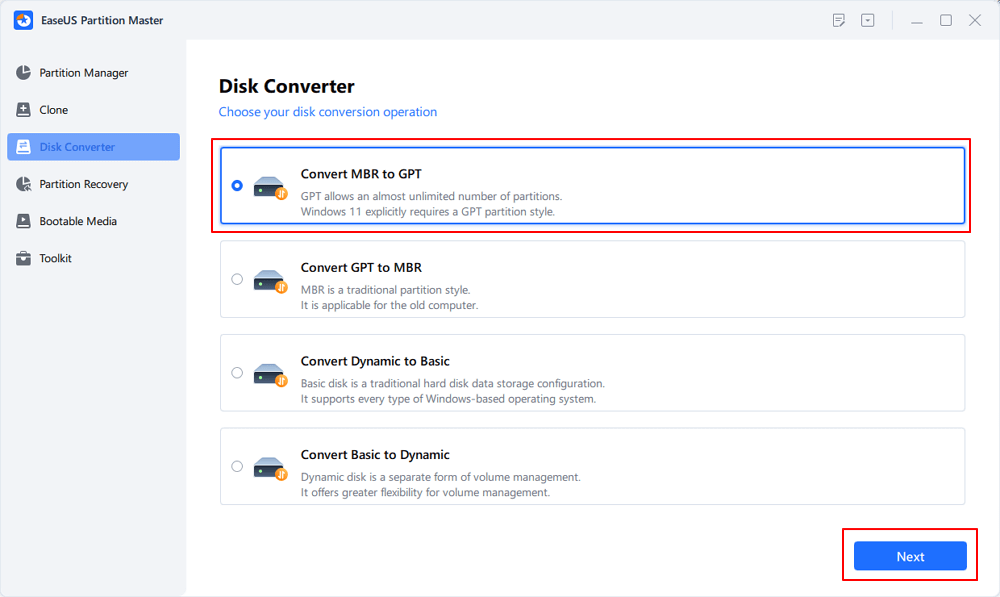 See More About EaseUS Partition Master Edition Comparison
There are different editions of EaseUS Partition Master. They are different in features. You can read the version information directly below. 
Free edition: free for home users and includes basic features
Professional edition: commercial version for desktop and laptop users and include all functions.
Server edition: commercial version for Windows Server users.
According to the partition comparison, you can select the wanted edition according to their features and supported functions easily. 
Conclusion
Although PartitionMagic does a great job of letting you manage your PC's partitions, it does have few features and poorly supports popular Windows operating systems, like Windows 11,10, 8, 7. If you want to perform a deeper dive into your PC's hard drive, check out and try EaseUS Partition Master. It is trusted by more than 10 million customers. With it, you can change your file system from NTFS to FAT/FAT32, resize and move partitions, optimize SSD, and more.
Updated by Tracy King 
Tracy joined in EaseUS in 2013 and has been working with EaseUS content team for over 7 years. Being enthusiastic in computing and technology, she writes tech how-to articles and share technical solutions about Windows & Mac data recovery, file/system backup and recovery, partition management and iOS/Android data recovery.
Daisy is the Senior editor of the writing team for EaseUS. She has been working in EaseUS for over ten years, starting from a technical writer to a team leader of the content group. As a professional author for over 10 years, she writes a lot to help people overcome their tech troubles.