Almost all of the new laptops and PCs come with a 1 TB or 2 TB disk. If the Windows suddenly becomes slow or the C drive gets full, managing your hard-drive partitions effectively is an important aspect, as that allows people to increase C drive space, and make full use of their disks. 
Most modern operating systems contain built-in tools for creating, deleting, or resizing partitions. But many users find that third-party free partition manager Windows 11/10 makes these types of tasks easier. It enables you to create, delete, shrink, expand, format, or merge partitions on your HDD, SSD, or other storage devices. 
Which Windows 11/10/8/7 Disk Management Tool Is Right for Me
There are numerous partitioning managers that one can obtain from the market nowadays. However, not all of the options one can find in the market are suitable for a person or is easier to use. Here are the top picks you should consider if you want to get your hands on quality partitioning manager software:
These eight free Windows 11/10 partition managers can satisfy your basic needs: creating, deleting, or resizing partitions. Except for the basic needs, we have analyzed the tools from versatility, data security, and ease of use to help you find the best free Windows 11/10 disk management tool here:
Top 1. EaseUS Free Disk Management Tool for Windows 11/10
EaseUS Partition Master is the most feature-rich free partition manager for Windows 11/10/8.1/8/7. It has served 10+ million customers for 10+ years.
It promises that you can manage the partition without any data loss. If you are looking for a versatile and secure free Windows disk management tool, EaseUS Partition Master must be your best choice. 
All-in-one free disk management tool with a very simple and user-friendly interface
Besides basic partition management including resize, move, format, create and check partitions.
Follow the guide to manage your partitions in Windows 11/10/8/7.
Step 1: Locate and select the target drive/partition
Launch EaseUS Partition Master and go to Partition Manager, select the target drive/partition to adjust its size, right-click on it and choose "Resize/Move".
Step 2: Resize or move the partition
1.To shrink the partition, simply drag one of its ends to free up unallocated space. Once done, click "OK". 
2. To extend the partition, make sure that there is unallocated space aside (if there isn't, follow the above steps to create some). In the same way, drag your mouse into the unallocated space. Click "OK".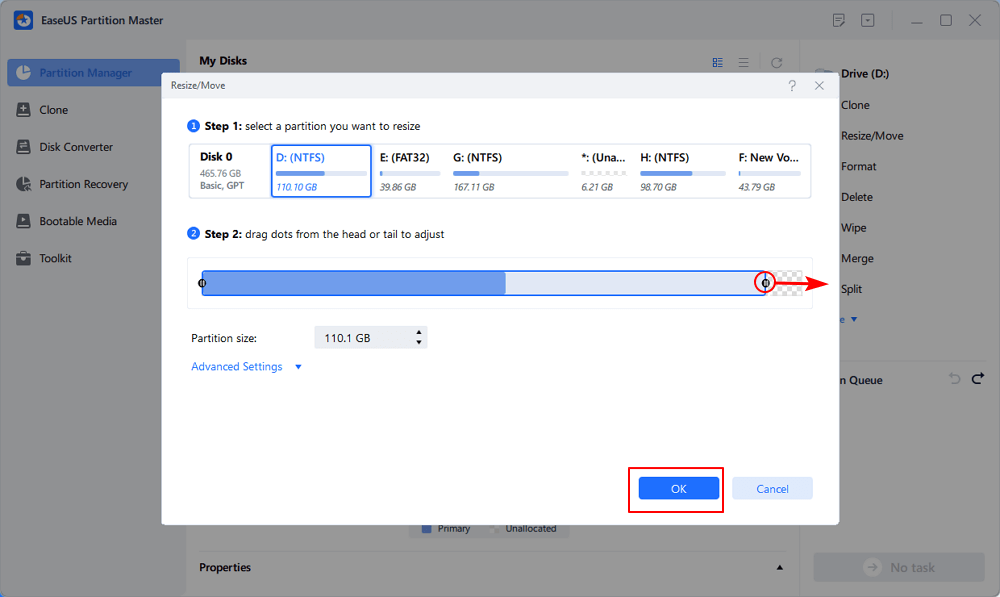 3. To move a partition position, you need to leave unallocated space next to the target partition. If no, free up some unallocated space first.
Right-click the target partition, select "Reize/Move". Then drag the whole partition leftward or rightward to adjust its position. Click "OK" to confirm. 
Step 3: Confirm the result and apply changes
At this step, you will see the new disk partition information & diagram.
To save changes, click the "Execute Task" button and then "Apply".
Pros
Very easy to use
Includes lots of useful operations (4K Alignment, Clone, Format)
You can preview changes before applying them
Cons
Additional features are included only in the Pro version (Convert between GPT and MBR, and convert between dynamic disks and  basic disks)
Extending the system volume requires a reboot
Price: Free. ($39.95 for the pro version)
Download Size: 33.2MB
Top 2. Windows Disk Management - Built-in Free Partition Manager
In fact, Windows 11/10/8/7 comes with a built-in disk management program called Disk Management. It can help you manage hard disk partitions without rebooting the system and any interruption. The features of Windows 10 Disk Management are as follows:
Initialize an HDD or SSD
Change drive letter and paths.
Mark partition as active.
Convert basic disk to dynamic disk
Convert empty MBR to GPT disk, and vice versa
Extend a volume, shrink, delete or create a partition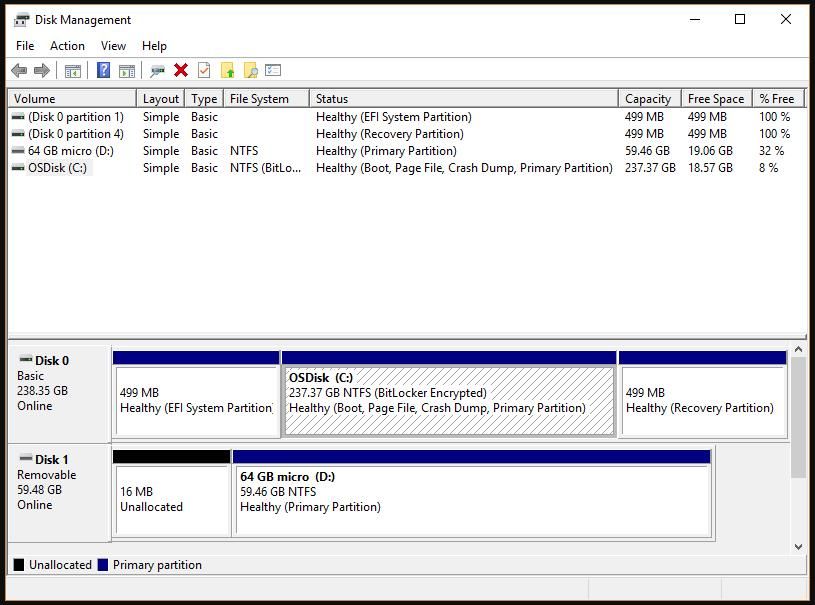 How to Open Windows 10 Disk Management
You can access Disk Management in these ways:
1. Access Disk Management via Run
Use Windows+R to open Run, type diskmgmt.msc in the empty box, and tap "OK".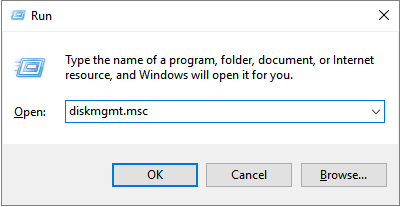 2. Open Disk Management in Computer Management
Right-click the Start and choose "Disk Management" on the left.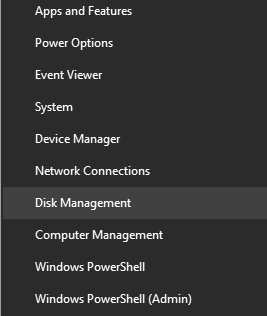 3. Open it via a direct search
Type disk management in the search box on the taskbar and choose "Create and format hard disk partitions" in the result.
Windows 11/10 Disk Management VS EaseUS Partition Manager Software
You have learned about EaseUS free partition software and Windows 10 Disk Management. Take a look at the differences between the EaseUS Partition Master and Windows 10 Disk Management Tool. 
| Features | Windows 10 Disk Management | EaseUS Partition Master |
| --- | --- | --- |
| Merge partitions | ✘ | ✔ |
| Migrate OS to SSD/HDD | ✘ | ✔ |
| Convert dynamic disk to basic disk | ✘ | ✔ |
| Recover lost partition | ✘ | ✔ |
| Copy disk/partition | ✘ | ✔ |
| Rebuild MBR | ✘ | ✔ |
| Create/delete/extend/shrink/format partition | ✔ | ✔ |
| Change drive letter | ✔ | ✔ |
Top 3. Macrorit Disk Partition Expert - Partition Manager Windows 11/10
Macrorit Disk Partition's unsoiled user interface makes it one of the best disk management software. It is a powerful free partition program that allows you to extend, create and format a partition, fix low disk space problem, manage disk space easily on MBR and GPT (GUID partition table) disk.
65% of the features are free (OS migrating and partition management). 
It also has a commercial version, still cannot support dynamic disk.
It offers a portable version, so you can actually use it without having to install it on your PC.
If you are looking for a portable version of the Windows 10 management tool, Macrorit Disk Partition must take into account.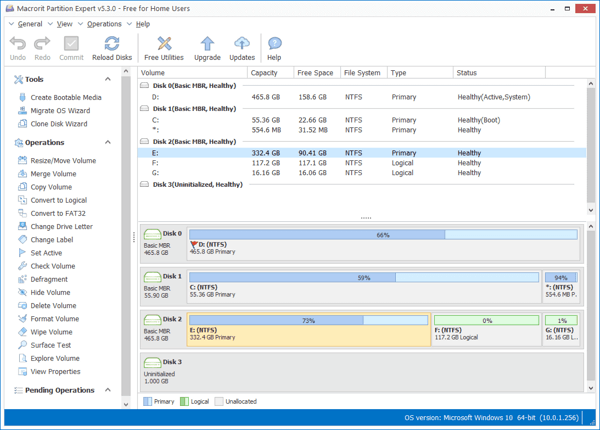 Pros
Very easy to use
It supports up to 16 TB of hard disk.
Cons
Doesn't support dynamic disks 
Price: Free. ($39.99 for the pro version)
Download Size: 23.6MB
Top 4. Paragon Partition Manager for Windows 10 Disk Management
Paragon Partition Manager free is another great little utility that supports Windows 10. It is packed with tools that make managing partitions a breeze. 
50% of the features are free (Basic partitioning, backup and restore).
It has served millions of people for 25 years with a good reputation.
If you are looking for an old-brand software, Paragon Partition Manager free is your best choice.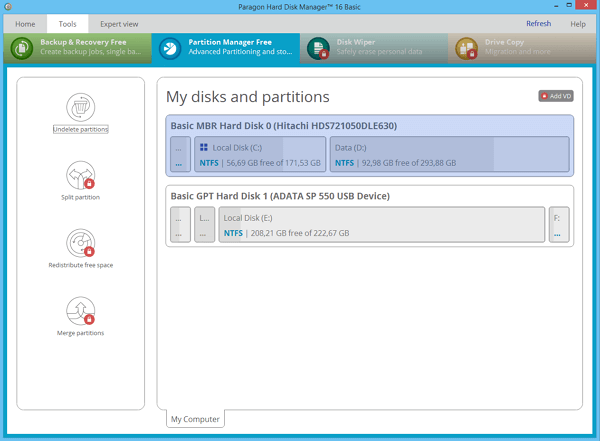 Pros
Easy to use
Convert NTFS file systems into HFS+ drives without reformatting the disk 
Cons
Lots of features are disabled in this free edition (Like disk cleanup, data migration)
Require you to register to get a serial number
Price: Free. ($49.95 for the pro version)
Download Size: 41.59 MB
Top 5. Windows 10 Free Disk Management Tool - Gparted
Another free partition manager that can be counted on is Gparted. It is a disk management software that not only supports Windows but also supports Mac. This software is considered as GNOME (desktop environment composed of free and open-source software that runs on Linux and most BSD derivatives) editor.
This software is totally free, but it's the best choice for advanced users.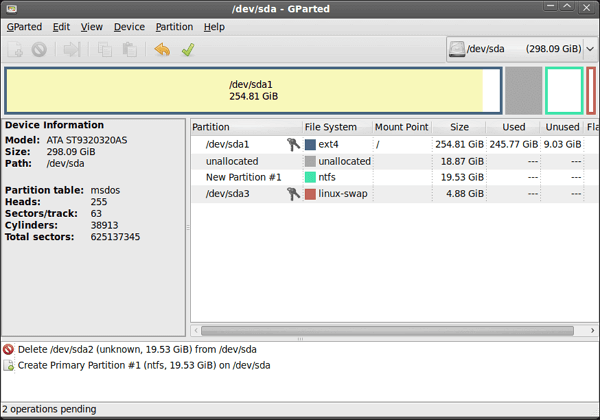 Pros
Doesn't require an operating system
Never requires a reboot to commit changes
Cons
It takes longer to start up because you have to boot the software from a USB.
Doesn't support dynamic disks or other features (Migrating OS, Converting between MBR and GPT)
Really old interface
Price: Free.
Download size: Around 300MB
Top 6. Cute Partition Manager Windows 10
Just like GParted, Cute Partition Manager also needs a bootable device to use it. It enables you to change the file system of a disk, create, manage and delete partitions of the disk. But you need to use a keyboard during the whole operation as it is a text-based application.
Advanced users are suggested. It is not that easy to use, because this software's interface is pretty old and not that secure. But the size of the file is small compared with Gparted.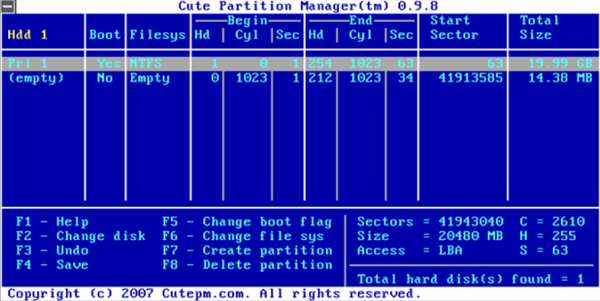 Pros
Doesn't require an operating system
The download size is really small
Cons
No graphical user interface (can only use a mouse)
Must enter the exact size of the partition you want to make (not so user-friendly)
No advanced features (e.g. copying/moving data between drives)
Price: Free.
Download Size: 232KB
Also read: Top 10 SD Card Recovery Software in 2023
Top 7. Windows 10 Disk Management - Active Partition Disk 
Active Partition Manager is a free application that enables you to manage storage devices and logical drives or partitions. This free disk partitioning tool for Windows supports all the partition management features. You can create, delete, format, and name partitions on your computer without shutting down the system.
Pros
It's easy to use and understand
Supports common partitioning functions
You can restore some changes via backups.
Cons
Unable to copy or clone partitions
Extending the system partition might not work for you.
Price: Free (No limitations)
Download Size: 19.46MB
Top 8. Acronis Disk Director for Windows 10 Disk Management
Equipped with the basic partitioning tools, the Acronis Disk Director is a suitable partitioning wizard for those who are just beginning to step into the tech world. It offers a range of features as disk cloning, volume recovery, and partition management. It stores different file systems or operating systems on one disk by creating and managing disk partitions.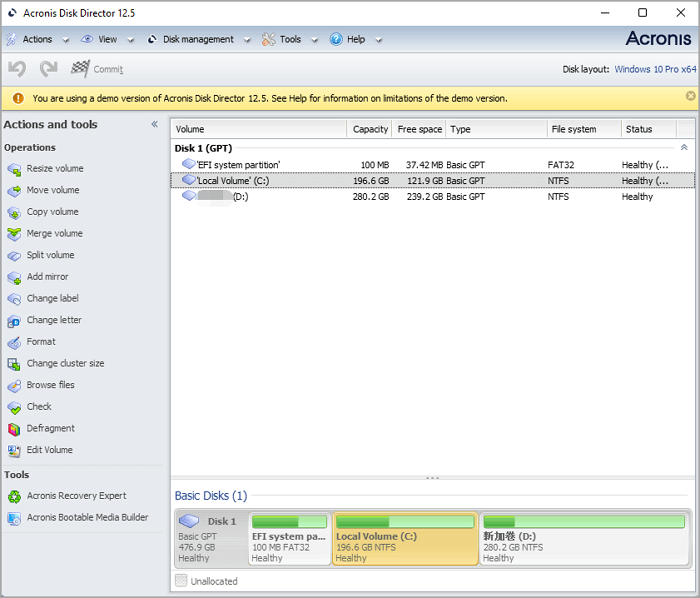 Pros
Intuitive user interface
Allows cloning your HDD to a replacement drive
Offers support for native 4K disks
Cons
Only allows a 30-day free trial ($49.99 for the pro version)
Price: 30-day Free Trial (No limitations)
Download Size: 150MB
Wrap Up
The partition managers introduced on this page are the top eight Windows 10 disk management tools that allow you to organize your hard drive and optimize disk partitions in an effective and efficient way. Among them, the first one - EaseUS Partition Master is highly recommended. To use this disk management tool, don't worry if you aren't experienced.
This tool has a very user-friendly interface and ultimate partition management features. It enables you to enhance your hard drive performance to fix problems like disk running out of space, partition inaccessible, converting disk style/file system, migrating OS to HDD/SSD or modifying disk partition size, etc. Don't hesitate anymore, download and use the EaseUS Windows 10 partition manager NOW!
Partition Manager Windows 10 Frequently Asked Questions
There are some related questions and answers. If you want to get additional help, you can read on.
What is the best partition size for Windows 10?
It depends on your device. If you are installing the 32-bit version of Windows 10 you will need at least 16GB, while the 64-bit version will require 20GB of free space. On a 700GB hard drive, you can allocate 100GB to Windows 10, which should give me more than enough space to play around with the operating system.
What is Disk Management and what does it do?
Disk Management is the tool in Windows used to change drive letters, format drives, shrink partitions, and perform other disk tasks.
How do I open Disk Management?
You won't find a shortcut to Disk Management in your Windows Start menu or Apps screen because it's not a program in the same sense that most other software on your computer is. To open Disk Management via search bar:
Type disk management in the search box on the taskbar and choose "Create and format hard disk partitions" in the result.
What happens if we delete volume in Disk Management?
When you delete a volume or partition on a disk, it will become unallocated space on the disk. You could then extend another partition on the same disk into this unallocated space to add the unallocated space to the partition.

Updated by Cici
Cici has accepted the systematic training on computers at EaseUS. Now she has a detailed understanding of common computer issues, as well as computer backups and disk formatting management solutions.

Brithny is a technology enthusiast, aiming to make readers' tech life easy and enjoyable. She loves exploring new technologies and writing technical how-to tips. On her spare time, she loves sharing things about her favorite singer - Taylor Swift on her Facebook or Twitter.