Applies to: Two to multiple partitions, no matter whether they're adjacent or not
Two approaches: ① EaseUS Partition Master Free ★★★; ②Windows 10 Disk Management ★
---
In some cases, our computer users need to merge two partitions into a single one (e.g. C: + D: = a larger C:); add a block of unallocated space into the Windows system drive; combine multiple volumes together. Along with the demands, people start to ask questions, like "how do I make it for free?", "I want to merge partitions badly, but how?", "Why is there no suggestion for joining D drive and G drive, they are separated by E and F." Are you one of them who asks the same questions? Carefully read this in-depth tutorial because you will find appropriate answers to all purposes of stringing together many disk partitions on one hard drive.
EaseUS Partition Master Free
It's a free partition manager that always ranks on the top recommendation for a comprehensive Windows disk & partition management solution. What makes EaseUS Partition Master popular among worldwide users are mainly about its capability of resizing, deleting, formatting, partitioning or creating a new partition on all types of storage devices. But here you're going to learn the other outstanding feature called "Merge partitions".
Plan A - Merge two adjacent partitions
Step 1. Download the EaseUS Partition Master Free and launch it on your computer after a complete install.
Step 2. Right-click on one partition (e.g. F:) and choose "Merge partition".
Step 3. Choose the other partition (e.g. K:) that you need to combine with the F:.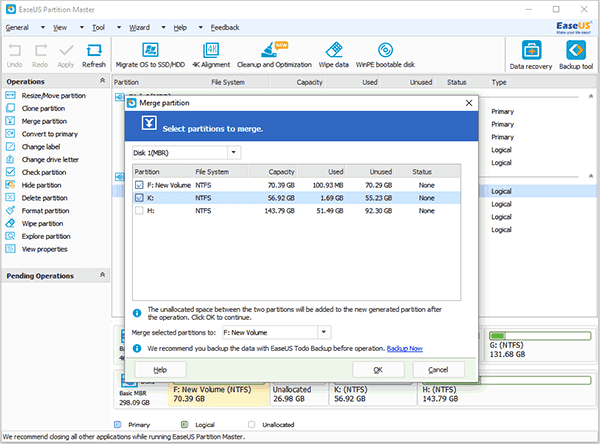 Step 4. Decide which drive letter you're going to preserve. Click "OK" after you make the decision.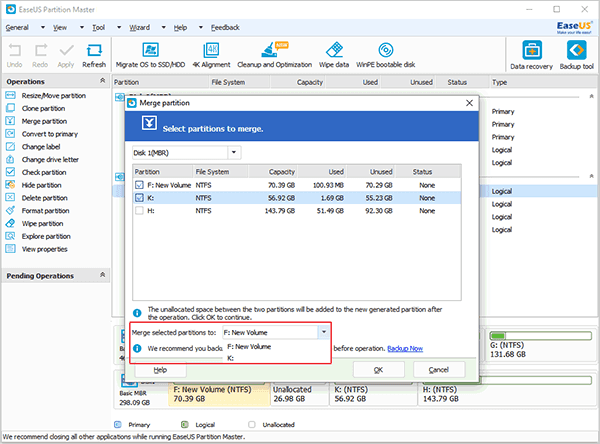 Step 5. Click "Apply" to keep all changes. You should see the neighboring F and K partitions becoming a new larger F partition on the hard drive.
Plan B - Merge non-adjacent partitions

Please refer to the image and clearly understand the distribution of the available partitions on your hard drive. You can move on to this Plan B part only after preparing unallocated space that can be removed flexibly between two partitions. That's the key point to make it happen.
Step 1. Shrink any partition that has free space by using the "Resize/Move partition" feature.
Step 2. Adjust the location of one target partition many times by dragging it towards the unallocated space until it met the other target partition.
Step 3. Repeat the steps in Plan A to merge the two partitions.
How to about merging two more partitions with the software? Just do it in separate steps. First for two, next, for the other two and so on.
Except applying EaseUS Partition Master free to help you combine partitions in Windows 10/8.1/8/7/XP/Vista for free, you can also use this feature to extend partitions such as C: drive when it's running out of space.
Windows 10 Disk Management
It's the inbuilt disk & partition management program in Windows 10/8.1/8/7. The Windows Disk Management works totally different from the EaseUS software, and the following is a simple guide for Windows 10 computers.
Step 1. Right-click on the "This PC" icon on the desktop, choose "Manage", and then select "Disk Management".
Step 2. Right-click on one target partition and select "Delete Volume" from the feature list. (Deleting a partition causes data loss. Back up important data, please.) Yes, you have to delete one partition to continue with the further steps.
Step 3. After the deletion, right-click the other target partition and choose "Extend Volume".
Step 4. Follow the Extend Volume wizard to achieve the gold of making two partitions as a one.
If you see that the "Extend Volume" option is greyed out, it's because the unallocated space produced by deleting a previous partition is not close to the selected partition.
Comparison and Conclusion
So far, we introduced you to two tools that aim to merge several partitions into a single larger one. After carefully reading, you should notice that there are some noticeable differences while applying the third-party software and the Windows inbuilt program. Pick up one partition management solution that works the best according to your own understanding.
| | | |
| --- | --- | --- |
| Features | EaseUS Partition Master | Windows 10 Disk Management |
| Download and install | | |
| Data Loss | | |
| Combine non-adjacent partitions | | |
| Recommendation | ★★★ | ★ |