
About the Author
Hot Topics in 2022
How to Merge Partitions in Windows 11/10/8/7
Merge Partitions Windows 11/10 Quick Navigation
Reducing the number of partitions on computer hard drives is a hot trend, which makes merging partitions a real need for users. You may wonder can you merge partitions in Windows 11/10 without losing data? If yes, how to merge partitions in Windows 11/10/8/7? There are largely three situations of merging partitions in Windows 11/10. And you can combine two partitions without losing data by using EaseUS partition manager.
Applies To: Two or multiple partitions, no matter whether they're adjacent or not.
Tool You Need: EaseUS Partition Master or Windows 10 Disk Management
Check what your specific need is and carry out the exact way to achieve your goal.
1. Merge Two Partitions Adjacent in Windows 11/10/8/7
There are two choices for you to merge Windows partitions. Honestly speaking, using third-party software is much simpler than using Disk Management in such a case. Get to know the details below and you will know I'm not overstating.
Option 1. Merge Two Partitions with EaseUS Partition Master
Merging two successive partitions is pretty easy for the effective partition manager - EaseUS Partition Master. It is an all-in-one partition merger that can be perfectly compatible with almost all 32/64-bit Windows operating systems including Windows Vista/XP/7/8/10/11 and Windows Server 2003 - 2019. More importantly, it helps merge 2 partitions without losing any data.
Unlike Disk Management, EaseUS Partition Master won't require you to delete a volume to create a new space. Instead, as long as the source partition and the target partition (or unallocated space) are adjoining partitions, you can combine them directly.
- EaseUS Partition Master -
Your Smart Windows 11 Update Disk Manager
MBR to GPT Converter, Make Disk Ready for Windows 11.
Migrate Windows 11 to New SSD in 1-Click.
Handy to Extend or Combine Partitions in Windows 11.
Clone and Upgrade Disks without Data Loss.
Step 1: Select the target partition
Right-click on the partition which you want to add space to and keep, and select "Merge".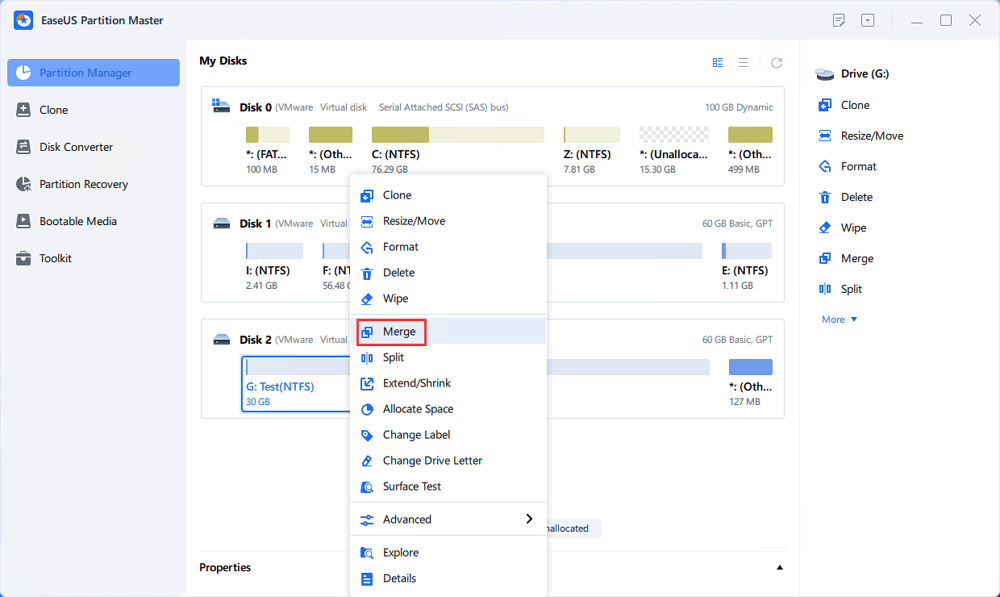 Step 2: Select a neighbor partition to merge
Select one partition next to the former selected partition and click "OK" to continue.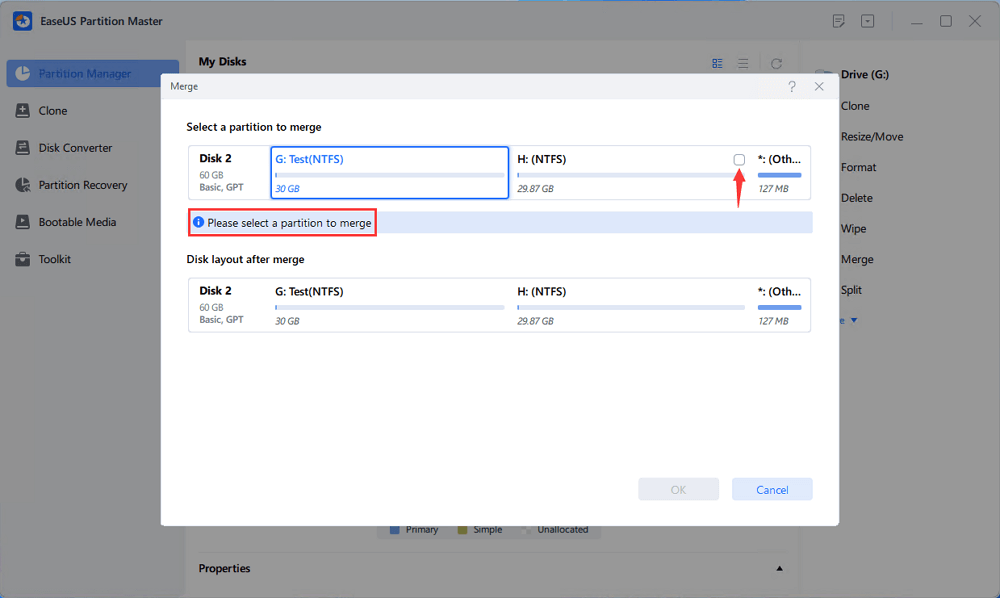 Step 3: Execute operation to merge partitions
1. Click the "Execute Operation" button at the top and then click "Apply".
2. The program will merge space and add files from the second partition to the first partition.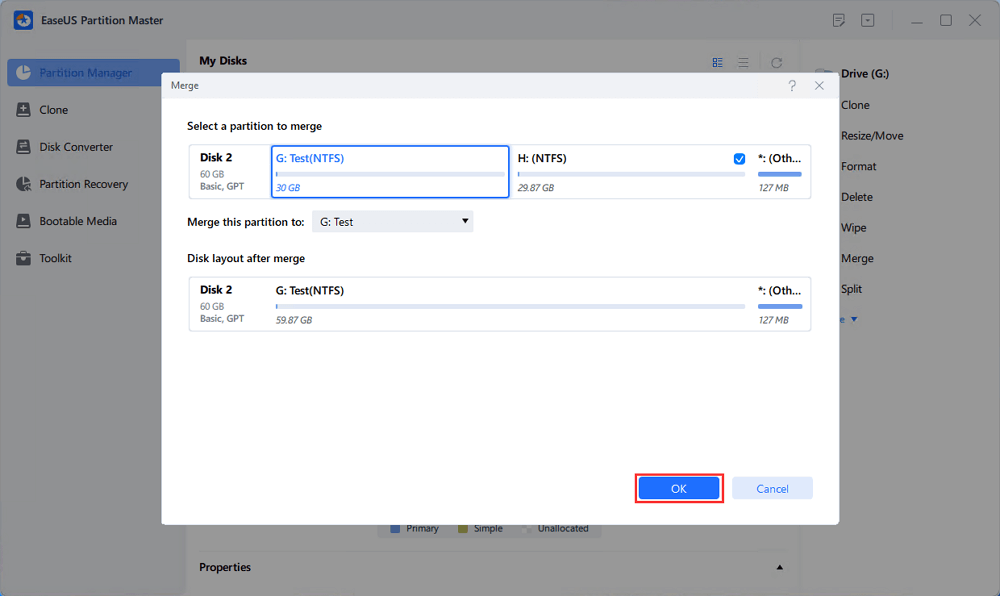 Aside from merging partitions, you can also apply EaseUS Partition Master to partition a hard drive on your own. This video shows how to resize a partition, create a partition, and delete the partition in Windows with a few simple clicks.
Option 2. Combine Two Partitions as One in Disk Management
Whether the partitions you want to merge are adjacent or not, using Disk Management demands you to delete the target partition first to create unallocated space. Because Disk Management merges partitions by extending the source partition with unallocated space. Therefore, you should back up your partition data in advance before the deletion if you choose to use Disk Management. To make the backup, you can either manually copy files or let the free backup software help. After backing up your files, now you can follow to merge partitions in Windows 10 via Disk Management.
Also read: How to back up files automatically.
Step 1. Right-click on "This PC" and choose "Manage" > "Disk Management".
Step 2. Right-click the target partition and choose "Delete Volume". In the prompt, click "Yes".
Step 3. Right-click the source partition and choose "Extend Volume".
Step 4. In Extend Volume Wizard, click "Next".
Step 5. Set the amount of space and click "Next". (You may feel confused in the "Select Disks" window. To your information, the maximum available space means the total size of the unallocated space in the current disk.)
Step 6. Click "Next" > "Finish" and wait for the process to complete.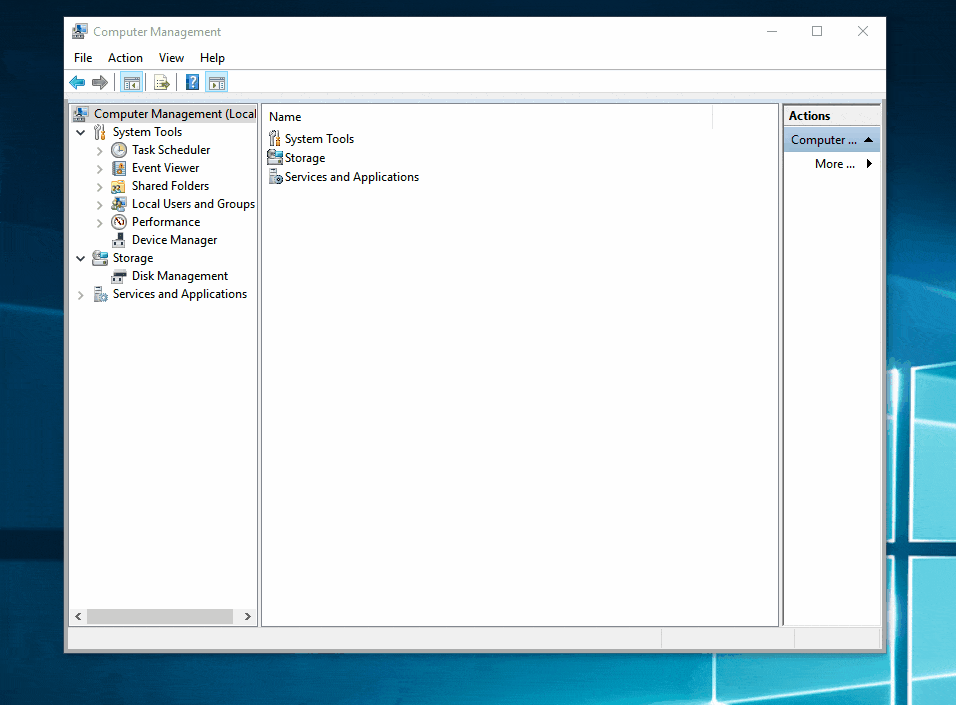 2. How to Merge Two Non-Adjacent Partitions
Both EaseUS Partition Master and Windows built-in Disk Management can merge two partitions that are not next to each other. Using Disk Management to combine non-adjoining volumes is the same as combine two adjacent ones, which you can refer to Option 2 (delete the target partition and then extend the source partition). The way to merge non-adjacent partitions with a professional partition merger varies depending on what is between your source partition and target partition. I'll explain it in detail.

If there is unallocated space between your source partition and target partition, you can directly merge the partitions without deleting any existing volume and the unallocated space in between will be added to the combined partition, too. For example, you can directly merge C drive and D drive in the picture above. (Refer to Option 1 for details.)
However, if there is(are) partition(s) between these two volumes you want to merge, you must delete the target partition with Disk Management. You don't have to delete the partition with the help of EaseUS partition magic. You can also merge non-adjacent partitions with the "Allocate Space" feature. The "Allocate Space" feature doesn't merge the two partitions but moves all the free space from one drive to another. The data still exists in the old partitions. Follow the steps below to allocate Windows 10 partition space even if they are non-adjacent.
Step 1. Right-click on the D: partition with enough free space and select "Allocate Space".
Step 2. Select the target partition - C: drive and drag the partition panel rightward to add the free space from D: drive to C: drive. Then click "OK" to confirm.
Step 3. Click the "Execute Operation" button and click "Apply" to start the process of moving free space from D: drive to C: drive.
3. How to Merge Two Cross-Disk Partitions
The precondition for cross-disk combination is that your disks are dynamic disks. Only dynamic disk supports cross-disk volumes like spanned volume and striped volume. Hence, if you intend to merge partitions that are not one the same disk, you must make sure the disks are dynamic disks, or you need to convert basic disk to dynamic disk first.
Also, you can combine two partitions on different disks either using EaseUS Partition Master or Disk Management. A complete guide to merge disk 0 and disk 1 has been provided already. Visit that guide for detailed instructions.
Additional Information: Reasons to Merge Partitions in Windows 11/10
Merging partitions is the behavior of combining two partitions into a bigger one. It's increasingly popular nowadays since it is convenient. You can enjoy merging partitions on one or more hard drives. According to the needs of users, there are three main reasons for them to merge partitions in Windows.
It's quite common that you find one or more partitions on your computer hard drive is out of space, especially the C drive. To extend the system partition or data partition, the first method that comes into your mind is to merge partitions, which enables you to add more free space to the source drive.
To Save Files More Conveniently
Users, especially game players, prefer not to partition a hard drive for saving the game data, which is always measured by gigabytes, more easily one a single hard drive. However, most of the hard drives on computers are pre-partitioned by the manufacturers. Therefore, most of them decide to merge partitions.
To Locate Files More Quickly
Actually, even if you divide your hard drive into several partitions, you seldom save your files accordingly as you expect. Instead, you store your data randomly on the partitions. That always makes it difficult for you to find the specific file or folder you currently need. To shorten the time you spend searching for files, it's a good choice to decrease the number of volumes by combining partitions.
Is your intention to merge partitions in Windows 10 the same as one of the three reasons? Whether your answer is "Yes" or "No", as long as you attempt to resize your partitions by adding one to another, you can follow the methods above to get it done.
Extra Tips: How to Utilize Disk Space Better
To fully and efficiently utilize your disk space, there are some helpful tips you may be interested in.
Learn how to resize your partition: Common resizing operations (merge/extend/shrink partitions) are useful to make free space. You can use the newly created free space for data storage on your computer, which will balance the usage of the partitions on your computer hard drives. For example, when a partition is out of space, you can either merge it with another one or extend it by using the unallocated space; Even if there is no unallocated space available, you can shrink a partition to get the storage. By doing so, there will be no out-of-space partition nor completely blank partition on your hard drive.
Clean the junk files and useless data on your disk: Don't let the useless files take up your disk space. Never hesitate to remove the items you don't need or junk files produced by the programs from your computer storage, or you will find your computer hard drive is loaded with data and your Windows 10 is getting extremely slow.
Defragment drives regularly: Defragmentation is a process of putting a file that is spread across the hard drive back together. It organizes your disk data in a better way and will improve the read and write speed of the file. To defragment disk partition, you can:
Step 1. Input defrag in the search bar.
Step 2. Choose "Defragment and Optimize Drives" in the search result.
Step 3. Choose the hard disk you want to optimize and click the "Optimize" button.
The Bottom Line
Now you know two tools that help to merge partitions into a single larger one. After carefully reading, you should notice that there are some noticeable differences while applying the third-party software and the Windows inbuilt program. For example, if you want to merge adjacent partitions, using EaseUS Partition Master will free you from deleting your target partition, which is not supported by Disk Management. Besides, even if the third-party software requires you to delete a partition, you can use free backup software to back up your files more effectively. Pick up one partition management solution that works best for you according to your own needs.
FAQs - Merge Partitions Windows 11/10 Without Losing data
If you still have some questions, you can read these frequently asked questions and solve your problems now.
Can you combine partitions without losing data?
Yes, you can merge two partitions without losing data if you use the professional partition manager – EaseUS Partition Master! Here is how to make it:
Step 1. Install and launch EaseUS Partition Master on your PC.
Step 2. Select partitions to merge.
Step 3. Merge partitions.
The program will merge space and add files from the second partition to the first partition.
How do I merge partitions?
To Combine partitions in Disk Management:
1. Press Windows and X on the keyboard and select Disk Management from the list.
2. Right-click drive D and select Delete Volume, disk space of D will be converted to Unallocated.
3. Right-click drive C and select Extend Volume.
4. Click Next in the pop-up Extend Volume Wizard window
5. Click Finish to execute.
In a while, drive D is merged into C drive.
Can I merge C and D drives?
Many people may know that Windows built-in Disk Management can help to merge C and D drive in Windows 10 for free. But the program has its own drawbacks. It requires you to delete the other partition before merging the C and D drives since the Disk Management cannot directly resize the partition. You can easily merge C and D drivers without data loss. Just ask EaseUS Partition Master for help.
Does deleting a partition erase data?
To delete a primary partition, you'll need to erase your hard drive and start over. Deleting a partition will permanently erase any data that is presently stored on it.
About the Author
Updated by Tracy King 
Tracy joined in EaseUS in 2013 and has been working with EaseUS content team for over 7 years. Being enthusiastic in computing and technology, she writes tech how-to articles and share technical solutions about Windows & Mac data recovery, file/system backup and recovery, partition management and iOS/Android data recovery.
Product Reviews
I love that the changes you make with EaseUS Partition Master Free aren't immediately applied to the disks. It makes it way easier to play out what will happen after you've made all the changes. I also think the overall look and feel of EaseUS Partition Master Free makes whatever you're doing with your computer's partitions easy.

 Read More

Partition Master Free can Resize, Move, Merge, Migrate, and Copy disks or partitions; convert to local, change label, defragment, check and explore partition; and much more. A premium upgrade adds free tech support and the ability to resize dynamic volumes.

 Read More

It won't hot image your drives or align them, but since it's coupled with a partition manager, it allows you do perform many tasks at once, instead of just cloning drives. You can move partitions around, resize them, defragment, and more, along with the other tools you'd expect from a cloning tool.

 Read More