Applies to: Two to multiple partitions, no matter whether they're adjacent or not
Two approaches: 1. EaseUS Partition Master Free ★★★; 2. Windows 10 Disk Management ★
In some cases, computer users need to merge two partitions into one (e.g. C: + D: = a larger C:), add a block of unallocated space into the Windows system drive, combine multiple volumes together. Along with the demands, people start to ask questions, like "how do I make it for free", "I want to merge partitions badly, but how", "Why is there no suggestion for joining D drive and G drive, they are separated by E and F". Are you one of them who have the same questions? Read this in-depth tutorial carefully and you will find appropriate answers to all purposes of stringing together many disk partitions on one hard drive.
EaseUS Partition Master Free
It's a free partition manager that always ranks on the top recommendation for a comprehensive Windows disk & partition management solution. What makes EaseUS Partition Master popular among worldwide users? Mainly, it's about its capability of resizing, deleting, formatting, partitioning or creating a new partition on all types of storage devices. And here you're going to learn the outstanding feature called "Merge partitions".
Plan A - Merge two adjacent partitions
To merge two adjacent partitions, refer to the steps below to combine two partitions:
Step 1: Install and launch EaseUS Partition Master on your PC
Right-click on the partition which you want to add space to and keep on the hard drive, and select "Merge".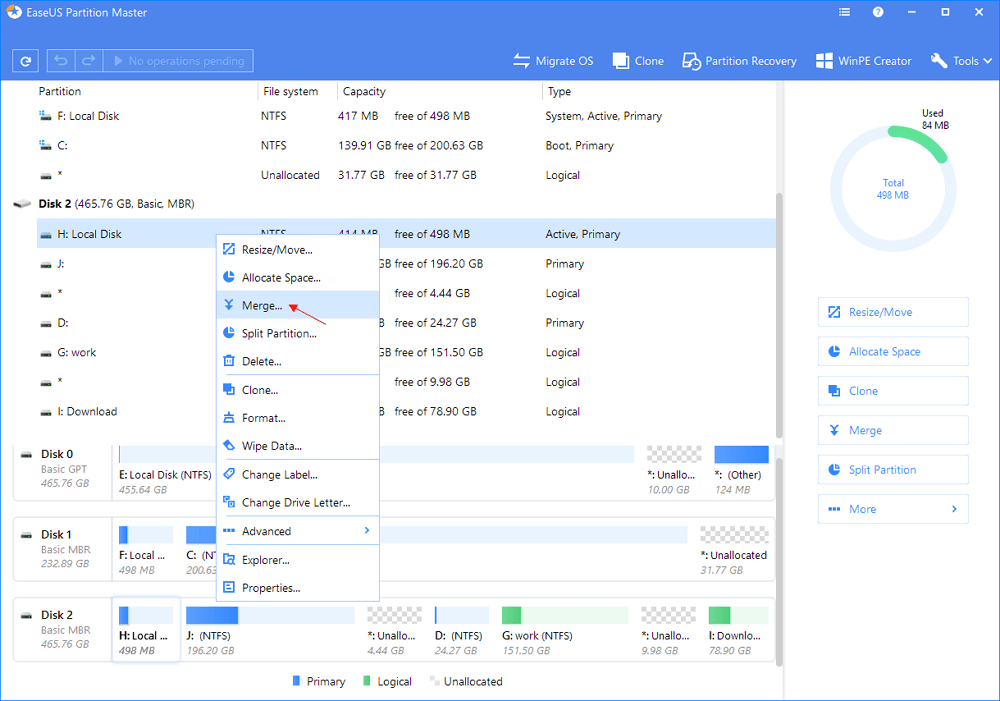 Step 2: Select partitions to merge
Step 3: Merge partitions
Plan B - Merge non-adjacent partitions
If you are planning to merge two non-adjacent partitions, follow the steps for help:
Step 1: Launch EaseUS Partition Master
1. On the main window, right-click on the partition that you want to merge space to another and select "Delete".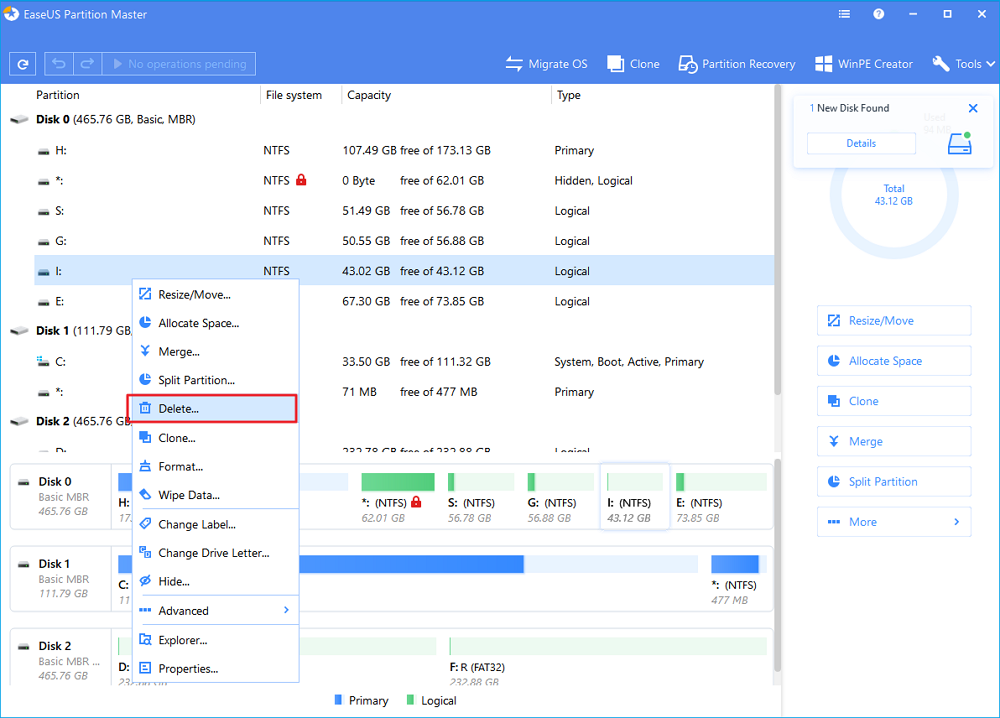 2. Click "OK" to confirm. The deleted partition will display as unallocated.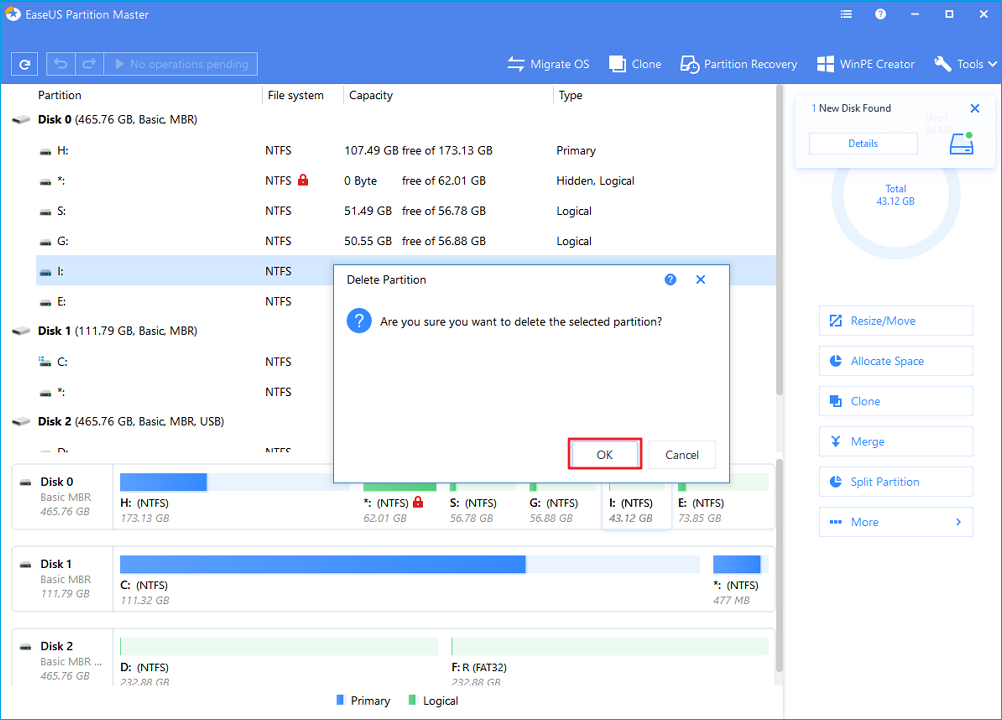 Step 2: Move the unallocated space next to the target partition
1. Right-click on a partition next to the unallocated space and select "Resize/Move".
2. Drag the selected partition forward or backward, moving the unallocated space toward the target partition, and click "OK".
Repeat 1 and 2 until the unallocated space is moved next to the target partition.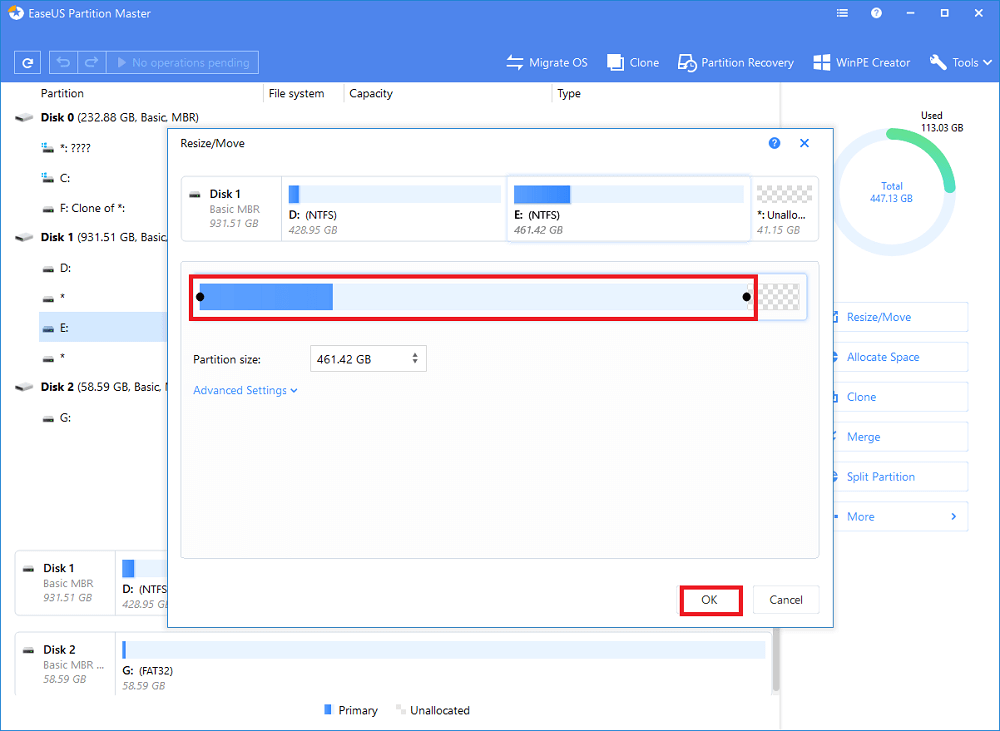 Click the "Execute Operation" button and "Apply" to keep all changes.
Step 3: Merge partitions
If two partitions are separated by unallocated space as listed here below, right-click on one partition (you want to keep) and select "Merge" > Select another partition and click "OK" > Keep all changes by clicking the "Execute Operation" button and "Apply".

Except applying EaseUS Partition Master free to combine partitions in Windows 10/8.1/8/7/XP/Vista for free, you can also use this feature to extend partitions such as C: drive when it's running out of space.
Windows 10 Disk Management
It's the inbuilt disk & partition management program in Windows 10/8.1/8/7. The Windows Disk Management works totally different from the EaseUS software, and the following is a simple guide for Windows 10 computers.
Step 1. Right-click on the "This PC" icon on the desktop, choose "Manage", and then select "Disk Management".
Step 2. Right-click on one target partition and select "Delete Volume" from the feature list. (Deleting a partition causes data loss. Back up important data, please.) Yes, you have to delete one partition to continue with the further steps.
Step 3. After the deletion, right-click the other target partition and choose "Extend Volume".
Step 4. Follow the Extend Volume wizard to achieve the gold of making two partitions as a one.
If you see that the "Extend Volume" option is greyed out, it's because the unallocated space produced by deleting a previous partition is not close to the selected partition.
Comparison and Conclusion
So far, we introduced you to two tools that aim to merge several partitions into a single larger one. After carefully reading, you should notice that there are some noticeable differences while applying the third-party software and the Windows inbuilt program. Pick up one partition management solution that works the best according to your own understanding.
| | | |
| --- | --- | --- |
| Features | EaseUS Partition Master | Windows 10 Disk Management |
| Download and install | | |
| Data Loss | | |
| Combine non-adjacent partitions | | |
| Recommendation | ★★★ | ★ |