Applies To: Two or multiple partitions, no matter whether they're adjacent or not.
Tool You Need: EaseUS Partition Master Free or Windows 10 Disk Management
Reasons to Merge Partitions in Windows
Merging partitions is the behavior of combining two partitions into a bigger one. It's increasingly popular nowadays since there is convenience you can enjoy by merging partitions on one or more hard drives. According to the needs of users, there are three main reasons for them to merge partitions in Windows.
It's quite common that you find one or more partitions on your computer hard drive is out of space, especially the C drive. To extend the system partition or data partition, the first method comes into your mind is to merge partitions, which enables you to add more free space to the source drive.
To Save Files More Conveniently
Users, especially game players, prefer not to partition a hard drive for saving the game data, which is always measured by gigabytes, more easily one a single hard drive. However, most of the hard drives on computers are pre-partitioned by the manufacturers. Therefore, most of them decide to merge partitions.
To Locate Files More Quickly
Actually, even if you divide your hard drive into several partitions, you seldom save your files accordingly as you expect. Instead, you store your data randomly on the partitions. That always makes it difficult for you to find the specific file or folder you currently need. To shorten the time you spend on searching for files, it's a good choice to decrease the number of volumes by combining partitions.
Is your intention to merge partitions in Windows 10 the same as one of the three reasons? Whether your answer is "Yes" or "No", as long as you attempt to resize your partitions by adding one to another, you can follow the methods below to get it done.
How to Merge Partitions in Windows 10
There are largely three situations of merging partitions in Windows 10:
Check what your specific need is and carry out the exact way to achieve your goal.
Situation 1. Merge Two Adjacent Partitions
There are two choices for you to merge partitions. Honestly speaking, using third-party software is much simpler than using Disk Management is such a case. Get to know the details below and you will know I'm not overstating.
Option 1. Use EaseUS Partition Master
Merging two successive partitions is pretty easy for the free partition manager - EaseUS Partition Master. Unlike Disk Management, EaseUS Partition Master won't require you to delete a volume to create a new space. Instead, as long as the source partition and the target partition (or unallocated space) are adjoining partitions, you can combine them directly.
Step 1: Install and launch EaseUS Partition Master on your PC
Right-click on the partition which you want to add space to and keep on the hard drive, and select "Merge".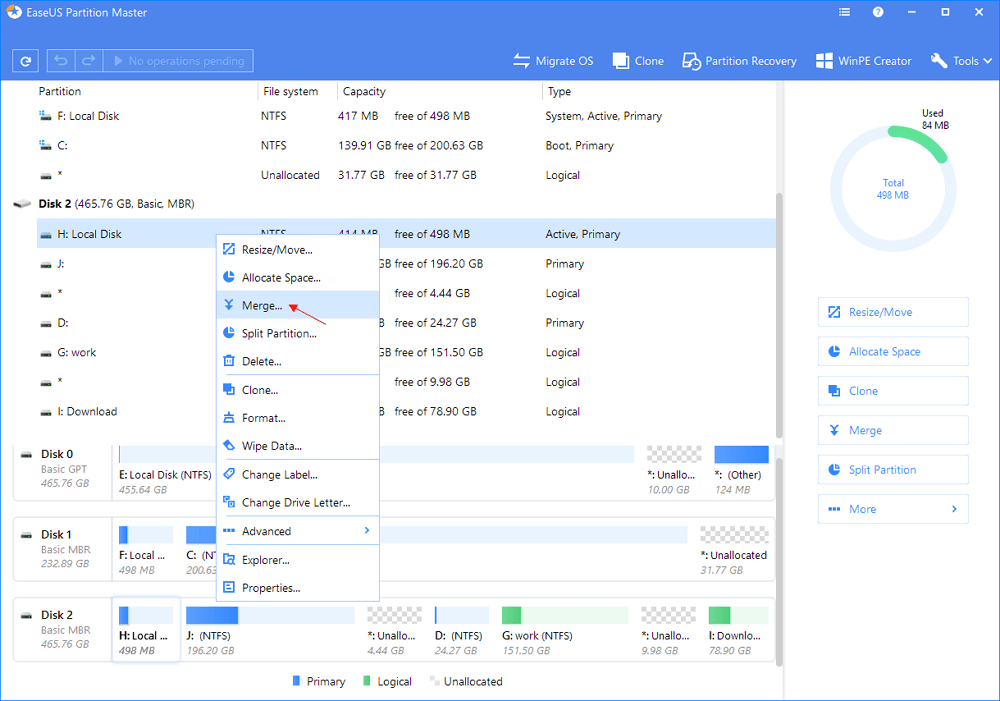 Step 2: Select partitions to merge
Step 3: Merge partitions
Option 2. Use Disk Management
Whether the partitions you want to merge is adjacent or not, using Disk Management demands you to delete the target partition first to create unallocated space. Because Disk Management merges partitions by extending the source partition with unallocated space. Therefore, you should back up your partition data in advance before the deletion if you choose to use Disk Management. To make the backup, you can either manually copy files or let the free backup software help.
After backing up your files, now you can follow to merge partitions in Windows 10 via Disk Management.
Step 1. Right-click on "This PC" and choose "Manage" > "Disk Management".
Step 2. Right-click the target partition and choose "Delete Volume". In the prompt, click "Yes".
Step 3. Right-click the source partition and choose "Extend Volume".
Step 4. In Extend Volume Wizard, click "Next".
Step 5. Set the amount of space and click "Next". (You may feel confused in the "Select Disks" window. To your information, the maximum available space means the total size of the unallocated space in the current disk.)
Step 6. Click "Next" > "Finish" and wait for the process to complete.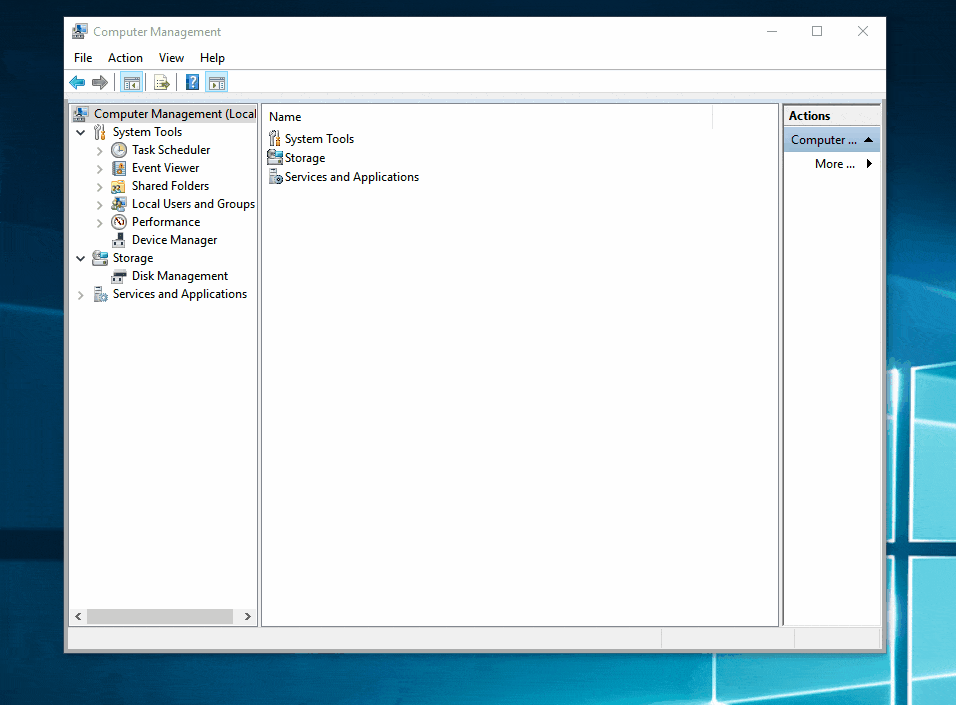 Situation 2. Merge Two Non-Adjacent Partitions
Both the free partition software - EaseUS Partition Master and Windows built-in Disk Management can merge two partitions that are not next to each other. Using Disk Management to combine non-adjoining volumes is the same as combine two adjacent ones, which you can refer to option 2 in situation 1 (delete the target partition and then extend the source partition). The ways to use EaseUS software to merge non-adjacent partitions vary depending on what is between your source partition and target partition. I'll explain it in detail.
If there is unallocated space between your source partition and target partition, you can directly merge the partitions without deleting any existing volume and the unallocated space in between will be added to the combined partition, too. (Refer to option 1 in situation 1 for details.) However, if there is(are) partition(s) between these two volumes you want to merge, you need to delete the target partition first. Luckily, the Partition Clone feature in EaseUS Partition Master allows you to clone one partition to another to make a backup of the files on the partition, which will bring you much convenience.
Step 1: Launch EaseUS Partition Master
1. On the main window, right-click on the partition that you want to merge space to another and select "Delete".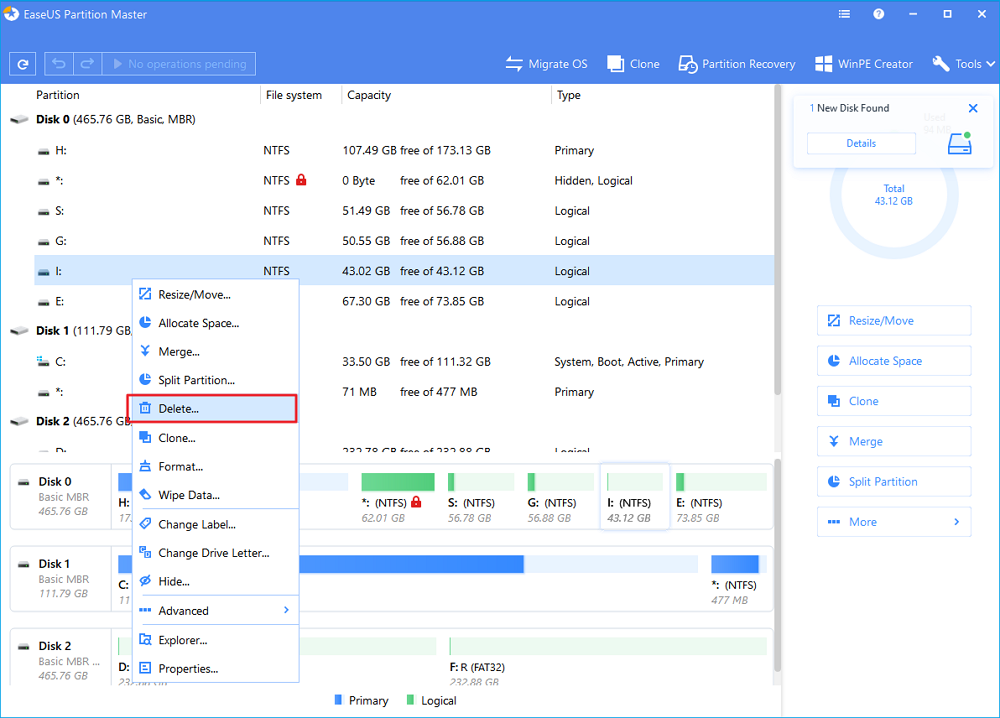 2. Click "OK" to confirm. The deleted partition will display as unallocated.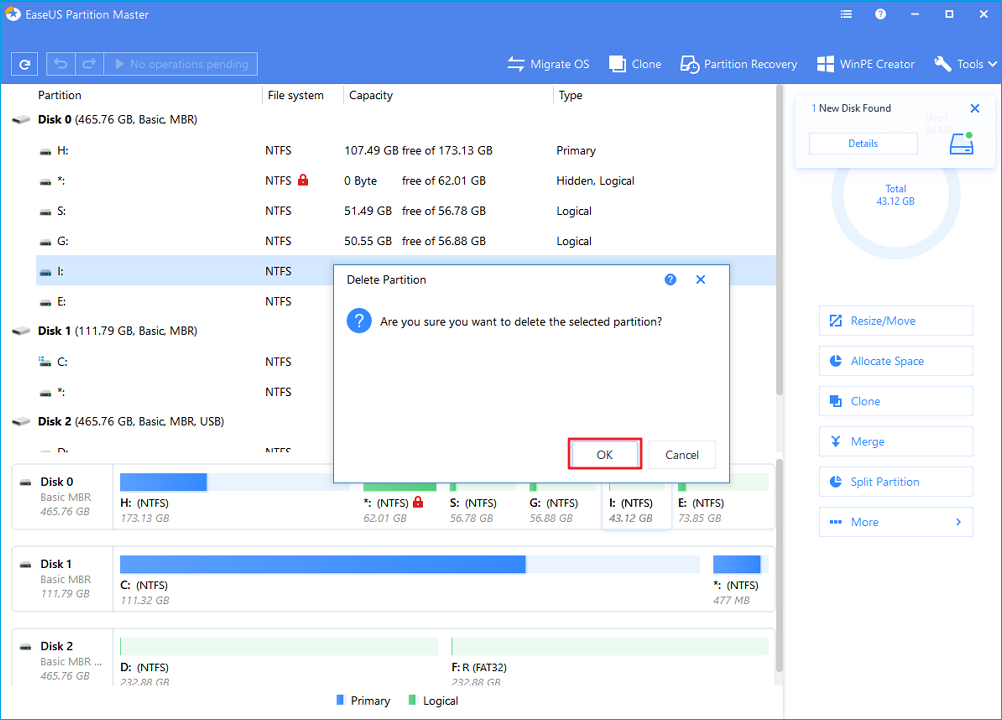 Step 2: Move the unallocated space next to the target partition
1. Right-click on a partition next to the unallocated space and select "Resize/Move".
2. Drag the selected partition forward or backward, moving the unallocated space toward the target partition, and click "OK".
Repeat 1 and 2 until the unallocated space is moved next to the target partition.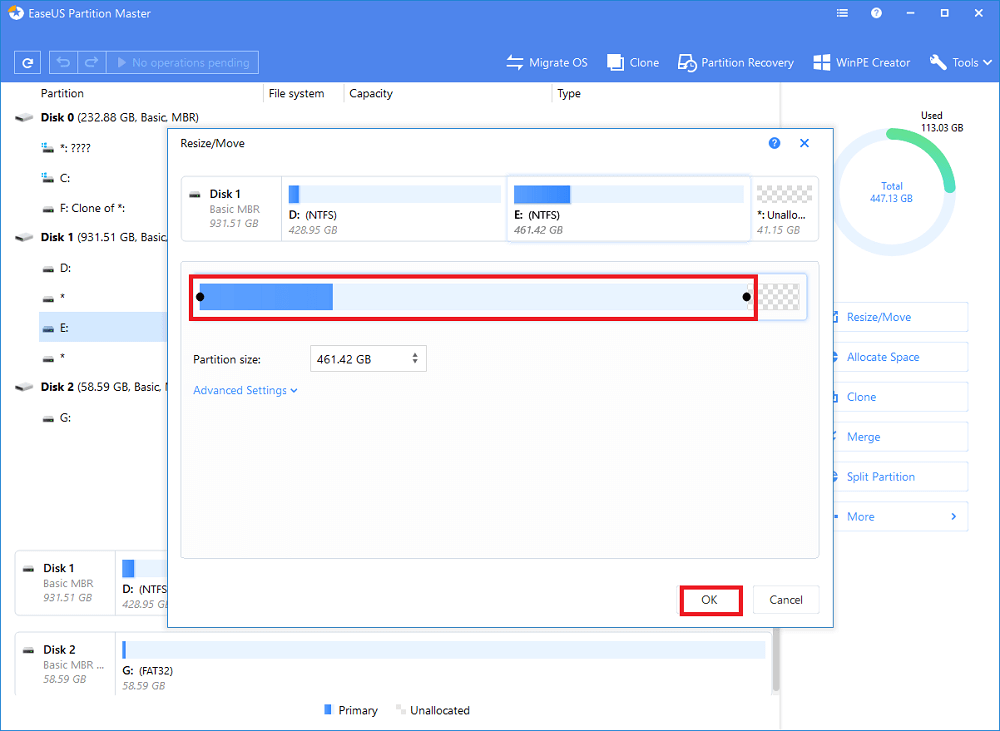 Click the "Execute Operation" button and "Apply" to keep all changes.
Step 3: Merge partitions
If two partitions are separated by unallocated space, right-click on one partition (you want to keep) and select "Merge" > Select another partition and click "OK" > Keep all changes by clicking the "Execute Operation" button and "Apply".
Situation 3. Merge Cross-Disk Partitions
The precondition for cross-disk combination is that your disks are dynamic disks. Only dynamic disk supports cross-disk volumes like spanned volume and striped volume. Hence, if you intend to merge partitions that are not one the same disk, you must make sure the disks are dynamic disks, or you need to convert basic disk to dynamic disk first.
Also, you can combine two partitions on different disks either using EaseUS Partition Master or Disk Management. A complete guide to merge disk 0 and disk 1 has been provided already. Visit that guide for detailed instructions.
Extra Tips: How to Utilize Disk Space Better
To fully and efficiently utilize your disk space, there are some helpful tips you may be interested in.
Learn how to resize your partition: Common resizing operations (merge/extend/shrink partitions) are useful to make free space. You can use the newly created free space for data storage on your computer, which will balance the usage of the partitions on your computer hard drives. For example, when a partition is out of space, you can either merge it with another one or extend it by using the unallocated space; Even if there is no unallocated space available, you can shrink a partition to get the storage. By doing so, there will be no out-of-space partition nor completely blank partition on your hard drive.
Clean the junk files and useless data on your disk: Don't let the useless files take up your disk space. Never hesitate to remove the items you don't need or junk files produced by the programs from your computer storage, or you will find your computer hard drive is loaded with data and your computer is getting slower and slower.
Defragment drives regularly: Defragmentation is a process of putting a file that is spread across the hard drive back together. It organizes your disk data in a better way and will improve the read and write speed of the file. To defragment your computer hard drive, you can:
Step 1. Input defrag in the search bar.
Step 2. Choose "Defragment and Optimize Drives" in the search result.
Step 3. Choose the hard disk you want to optimize and click the "Optimize" button.
The Bottom Line
Now you know two tools that help to merge partitions into a single larger one. After carefully reading, you should notice that there are some noticeable differences while applying the third-party software and the Windows inbuilt program. For example, if you want to merge adjacent partitions, using EaseUS Partition Master will free you from deleting your target partition, which is not supported by Disk Management. Besides, even if the third-party software requires you to delete a partition, you can use the Partition Clone feature in the software to back up your files more effectively. Pick up one partition management solution that works best for you according to your own needs.
100% of people found this article helpful.
Frequently Asked Questions
Why Choose EaseUS Partition Master?

"I've used Partition Master Professional many times to create, delete, format, move, rename, and resize partitions." —PCWorld

"Partitioning tools have come a very long since the days of complicated command line utilities and EASEUS Partition Master is one of the most advanced programs available." —TECH ADVISOR

"I love that the changes you make with EaseUS Partition Master Free aren't immediately applied to the disks. It makes it way easier to play out what will happen after you've made all the changes." —Lifewire
Will the "Migrate OS" feature transfer the Windows system files only or the whole C drive?

To ensure that the migrated system will boot normally, the Migrate OS feature will transfer all the files in the system and the boot partitions. Generally, the boot partition is the C drive so the transfer will include all the files in C.
Does EaseUS Partition Master license apply to multiple computers?

The license of Partition Master Professional and Server editions can be used on 1 computer only, while that for for the Technician and Unlimited editions can be used on multiple machines.
What is the difference between EaseUS Partition Master Trial version and the Free version?

Free is for home users only, with most basic functions available such as partition resize and clone. While trial can help you understand how this product works and test what a full license can do on a business or server OS machine.
Will it cause any data loss after resizing the partition in EaseUS Partition Master?

Generally, it will not cause any data loss or boot issue by resizing a partition. However, in order to protect your data, we suggest that you backup the partition before resizing, in case of any unexpected situations such as power outages, computer hardware failures, etc. You can use EaseUS Todo Backup to backup the partition and its trial version is fully functioned for 30 days.
What should I prepare before resizing the partition?

On the partition that is going to be operated, there might be some files being occupied by other programs. To ensure a successful operation, we suggest that you close all the unnecessary software before resizing that partition. Otherwise, EaseUS Partition Master will detect the partition being locked by the other software and require a reboot to resize the partition under boot mode.
About EaseUS Partition Master
All-round disk & partition management software for personal and commercial use. Let it manage your storage drive: resize, format, delete, clone, convert, etc.