When the C drive (system partition) is out of space or gets full or you simply get the low disk space warning, and hardware upgrades aren't an option, what are you going to do? How to extend C drive or system partition in Windows 10?
Tips to extend C drive in Windows 10
Windows 10 C drive is out of space:

There are a few things you can do in these cases to extend C drive or system partition. These include:
1. Move the print spooler and page file to another drive.
2. You can also merge other partition into C drive for more space.
3. Run Cleanup and Optimization feature in professional partition manager software to speed up your slow computer, clean up those junk files and repair Windows system. This might save you a large amount of disk space.
A combination of these things will allow you to free up a significant amount of space on your C drive. For the users who want to extend C drive, EaseUS Partition Master is right for you.
As magic partition software, EaseUS Partition Master Free Edition is a FREE comprehensive hard disk partition management software to let you enjoy free with all the powerful functions: Extend system partition, Resize and Move partitions, Copy Partition, Copy Disk, Create, Deleted and Format partitions, Hide and Unhide partitions and much more. What's more, the freeware works perfectly with hardware RAID and Windows Operating Systems. Your data is completely protected during all operations.
Apart from the basic and advanced partition manager features, EaseUS Partition Master, an all-in-one disk management solution, also provides powerful partition recovery wizard to recover deleted or lost partition and Copy Wizard other than handling partition management issues like extend system partition, resize/move partition, split/merge partition(s) and so on as partition manager.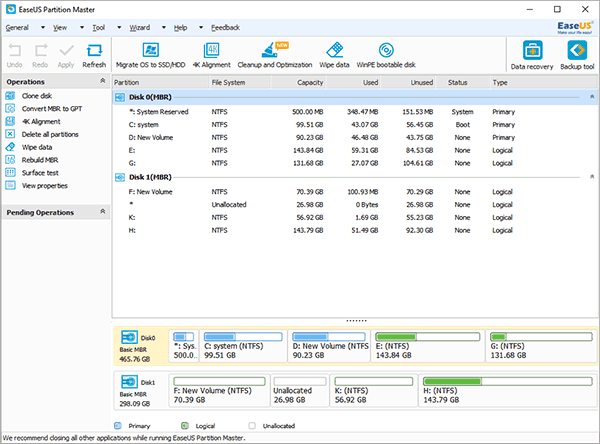 How to extend C drive or system partition with EaseUS Partition Master?
1. Launch EaseUS Partition Master. As the picture shown below, there is no unallocated space to extend the system partition. So first, you have to decrease one of the partitions to gain the unallocated space.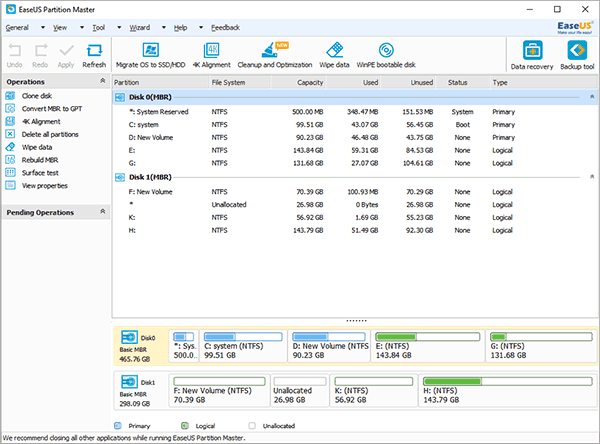 2. Select one partition and decrease it by clicking "Resize/Move partition" and then move it to let the unallocated space be behind the system partition.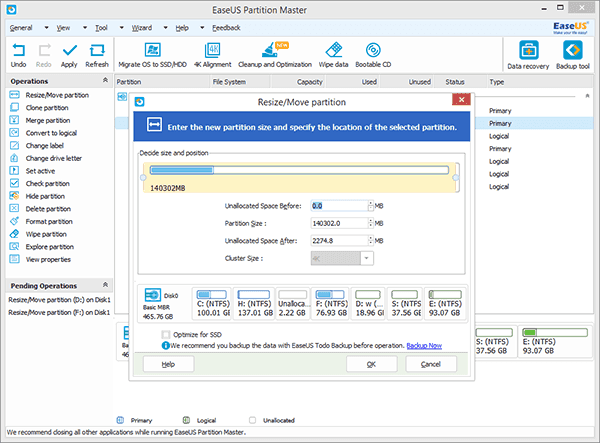 3. Then select the system partition (C: drive), right click it and select "Resize/Move partition" to extend the C: drive.
4. Click Apply.