This page tells what disk partitioning is, the benefits of disk partitioning, and the best disk partitioning tools or disk partition software for Windows 11/10/8.1/8/8/Vista and XP.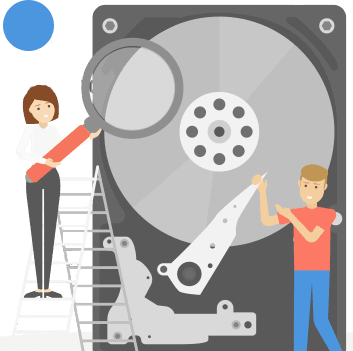 When it comes to partitioning hard drives in Windows with no partition manager software, some of you may feel the same way that things getting complex and inconvenient to resize or move a partition, right?
To keep things simple and your data intact while managing a hard drive or an external storage device, finding a handy and efficient disk partitioning tool seems so necessary. So how will you manage to get such a tool for disk partitioning? Following this guide, we've picked a list of paid and free disk partition software for you to view and get the best out of them to execute disk management tasks efficiently.
In this article, you'll learn:
What Is Disk Partitioning
What Is the Best Partition Tool? Top 7 Recommends
White List of Disk Partitioning Tools Recommend
What Is Disk Partitioning
Disk partitioning or disk slicing is the creation of one or more regions on secondary storage so that each region can be managed separately. These regions are called partitions. It is typically the first step of preparing a newly installed disk before any file system is created...
                                 --Wikipedia
According to Wikipedia, it's clear that disk partitioning is a process that creates one or several partitions on a hard drive, SSD, or an external storage device by using a partition manager tool or software in Windows computers.
Except for creating partitions on a new or a used hard drive, Windows users may also have other partition management needs on their drives, for example, to extend the C drive, merge partitions, convert disks, clone disk, or even migrate OS to a new SSD, etc. 
With the growing demands, it's necessary to find a comprehensive disk partitioning tool to help you partition hard drives and manage disk space on Windows 11/10/8/7. 
The Benefits of Disk Partitioning: Why Do I Need It
So why it's necessary to partition hard drives and manage the storage space on a disk or external storage device? Here, in this part, we'll show you the benefits of disk partitioning:
Items
Benefits of Disk Partitioning
For Storage Devices

Make full use of space in storage devices.
Set a perfect file system to a hard drive, USB, or SD card for gaming, photographing, or storing data.
Make full use of hard disk, SSD, or external storage device space. 

For Windows System

Separate data and OS, protect data from OS crashes or system failure errors.
Optimize OS disk - SSD performance.
Improve the reading and writing speed of hard drives.

For Hard Drive or External Storage Users

Execute multiple operations on hard drives or storage devices.
Stet up disks for specific purposes.
Aside from the above-listed benefits, professional disk partitioning tools are also time-saving and freeing your hands in tackling disk management issues.
What Is Disk Partitioning Tool?
Disk Partitioning Tool, also known as partition manager software or disk utility for Windows, is designed for Windows users to perform basic operations like creating, resizing, formatting, and deleting partitions on a physical disk drive.
The disk partitioning tools could be divided into two types: 
Free disk partition manager tools
Paid disk partition software
Both two types of tools work to execute basic disk management operations. For some users who want to acquire advanced disk management tasks, such as cloning a big HDD to a smaller SSD or migrating OS from HDD to SSD, a reliable & paid disk partitioning software shall stand out. 
What software do I need to use for disk partitioning? In the next part, we'll be showing you 7 top recommended disk partitioning tools (free and paid), and you can pick one to start partitioning your hard drives, SSD, or external storage devices instantly.
What Is the Best Partition Tool? Top 7 Recommends
While searching disk partitioning tools or disk partition manager software online, you may get a long list of recommendations on the result page. You'll need to take time reviewing each recommendation one by one and even spend money and energy testing these tools.
To save you from this, we spent several days testing and comparing available partition manager tools and software on the market. And here, we come up with a list of the top 7 best disk partitioning tools in 2022 for you:
Note that all the recommended tools all work to partition hard disk partitions and even execute some advanced operations. You can now take a quick view of all the tools and pick one that suits you the most for help.
#1. EaseUS Partition Master
Easiest Windows Disk Partitioning Tool & Disk Manager
EaseUS Partition Master is a reliable disk partition software that supports Windows 11/10, older Windows users, and even Server users to quickly solve disk partitioning, low disk space, disk conversion, and even OS migration issues on HDD/SSD. 
Its intuitive UI design and simple guide allow users to straightly accomplish disk management tasks without having any IT knowledge or technical skills. It simplifies the complex process into a few simple clicks.
How to Download:
Supported OS: Windows 11/10/8.1/8/7/Vista and XP
Feature List:
- Basic Disk Partitioning:
Create, resize/move, extend, shrink merge, split partitions
Delete, format, wipe partitions
Change drive letter, change partition label
Hide, unhide partitions, explore partition
Initialize disk to MBR or GPT
- Advanced Disk Management:
Clone disk or partition
Migrate OS to HDD/SSD
Convert disk to MBR/GPT, Basic/Dynamic
Convert partition to FAT32/NTFS, Primary/Logical
Extend C with 2nd disk, allocate disk space
New disk guide
Partition recovery
Adjust disk layout
WinPE creator
4K alignment, change cluster size
Versions: Free, Pro, Server
Pros & Cons: 
Pros
Cons

Free version supports basic disk partitioning features
Easy to use for beginners
Secure data by popping up confirming window before executing operations
No data loss for disk conversion or partition conversion

Advanced features require software activation to a Pro or even higher editions
How to Partition a Hard Drive/SSD: 
Step 1. Launch EaseUS Partition Master to check for free space at the Partition Manager section.
If your hard drive has unallocated space, jump to Step 3 to create partition.
If the hard drive has no unallocated space, continue with Step 2.
Step 2. Shrink a disk partition to create unallocated space.
Right-click on the target drive partition with a lot free space and select "Resize/Move".
Drag either end of the partition rightwards or leftwards to shrink the partition size so as to get ample unallocated space. You can visually know how much space you've decreased in the "Partition size" area. Click "OK".
Click "Execute xx Task" and then "Apply" to save all the changes.
Go back to Partition Manager, there should be unallocated space appearing on the same disk and you can continue with Step 3 tocreate new partition on your.
Step 3. Create a new partition with unallocated space on the target hard drive.
 Right-click on the unallocated space and choose "Create".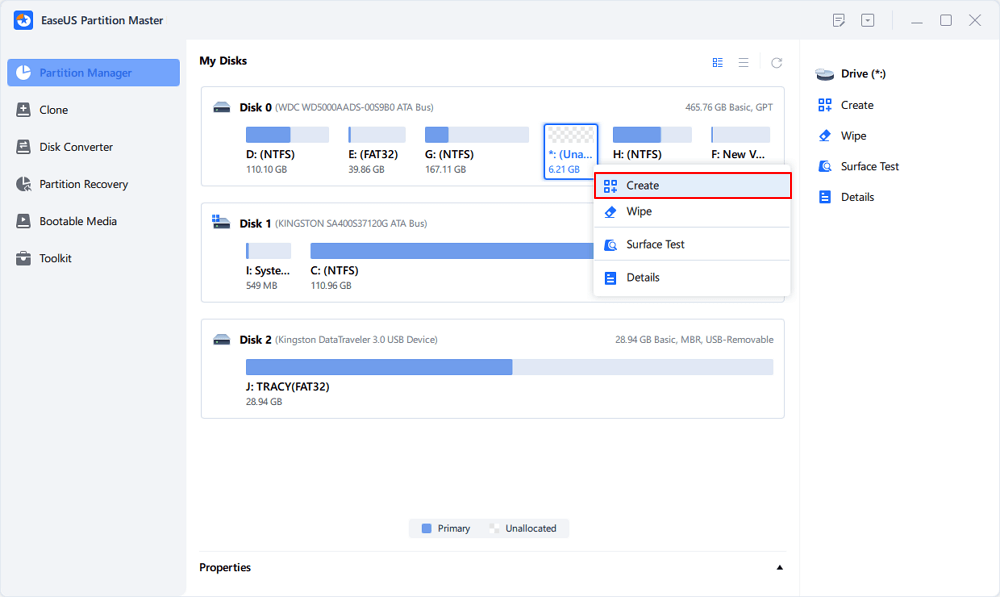 Customize the partiton size, partition drive letter, partition label, file system (NTFS, FAT32, EXT2/3/4, exFAT) and more in the Advanced Settings. Click "OK".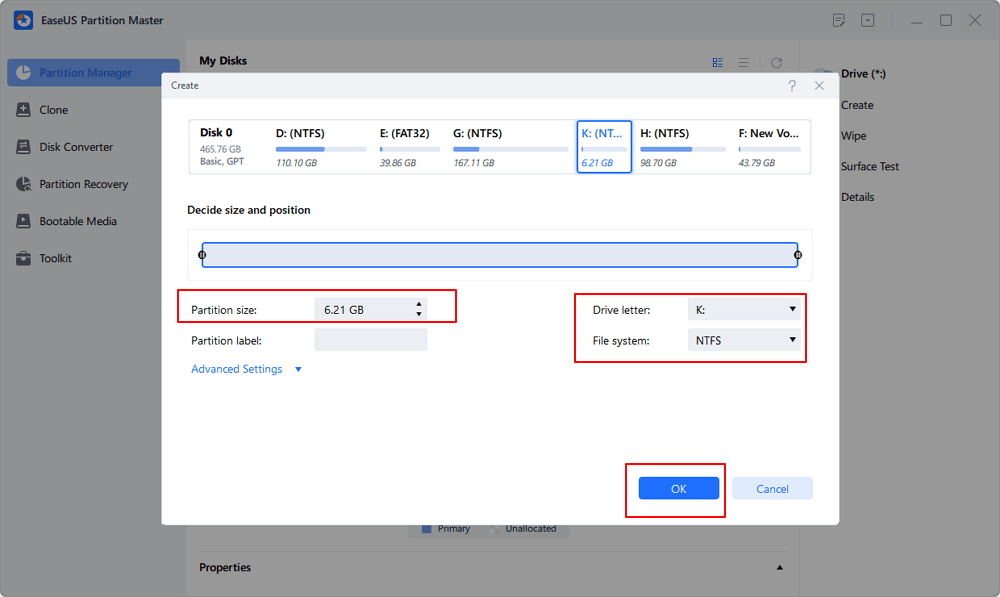 Finally, click "Execute * Task" and "Apply" to complete creating partition with the unallocated space on your disk. Repeat the steps to partition a hard drive and get many more partitions.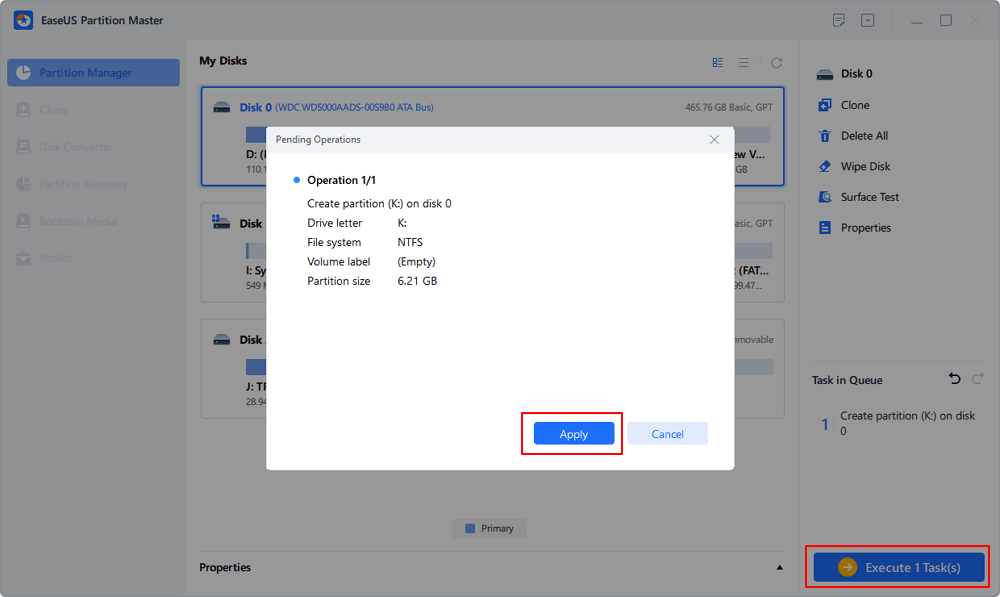 #2. Paragon Partition Manager
Basic Free Disk Partitioning Tool 
Being similar to the EaseUS disk partitioning manager, Paragon Partition Manager is also a third-party tool that helps personal users to organize the hard drive and gain additional space in the existing partitions. Users can apply this tool to manage disk partitions on both internal and external hard drives.
According to Paragon, this disk partitioning software is designed for personal and home users. Business users will need to upgrade the Community Edition to Hard Disk Manager at first. 
How to Download: 
Open this link in your browser, and you'll be able to download this software on your PC: https://www.paragon-software.com/free/pm-express/
Supported OS: Windows 7 SP1 and newer
Feature List:
Resize/Move partitions
Undelete partitions
Create/delete partitions
Change drive letter/volume label
Hide/unhide partition
Check file system
Convert the partition to NTFS, FAT32, APFS, FS 3
Surface test 
Convert MBR to GPT, GPT to MBR
Versions: Community Edition, Hard Disk Manager
Pros & Cons:
Pros
Cons

Powerful in basic disk partitioning
Support convert the partition to Mac file system
Free

Complex for beginners to start
Some features are not available in this edition.
How to Partition a Disk with Paragon Partition Manager:
Step 1. Run Paragon Partition Manager, click the unallocated disk, and select "Create volume". 
Step 2. Set the Volume Label, File System, Drive letter, and click "Place in queue". 
Step 3. Click "Apply".
#3. Acronis Disk Director
Basic Disk Partitioning Software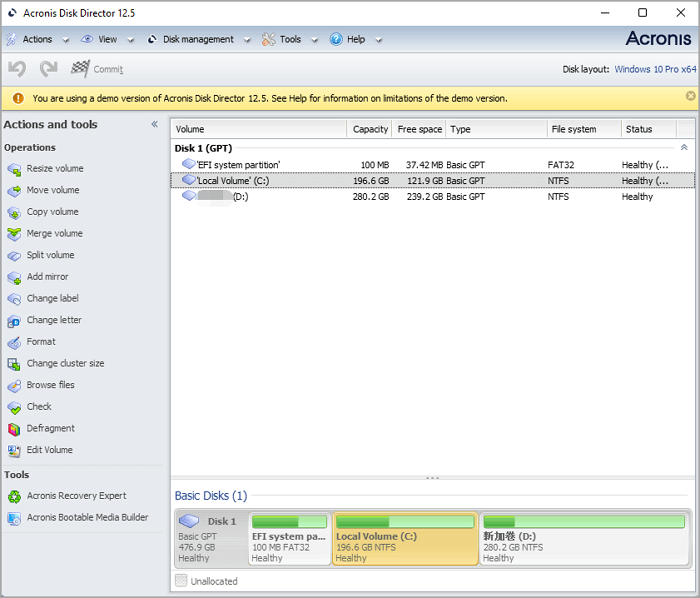 Acronis Disk Director is one of the third-party partitioning software providers, and it delivers a set of basic disk management tools to assist Windows users in optimizing their disk usage and protecting their data. 
Though Acronis Disk Director is not an economic tool for disk partitioning, it still allows normal users to take control of their systems and data via disk cloning, volume recovery, and partition management features. 
How to Download: 
Open the listed link here in your browser, and you'll get access to download it: https://www.acronis.com/en-sg/products/disk-director-home/.
Supported OS: Windows 10/8.1/8/7/Vista/XP
Feature List:
Create partition, change labels, format, and activate a partition
Partition recovery
Clone disk
Convert disk from Basic to Dynamic, and vice versa.
Change partition type
Delete volume, check partition
Clone basic MBR disk
Convert MBR to GPT or vice versa
Versions: Home version, Workstation, Server
Pros & Cons:
Pros
Cons

The official site claims a 30-day trial support

Price is a bit high
Downloading requires names, emails, and even company information
Installation requires personal names and emails
Installation may fail if the internet connection is unstable.
How to Create a Partition with Acronis Disk Director:
Step 1. Run Acronis Disk Director, right-click unallocated space, and select "Create volume".
Step 2. Set volume type: Basic, Simple/Spanned, Striped, Mirrored, and click "Next".
Step 3. Set volume size, file system, label, etc., and click "Finish" to complete.
#4. GParted
Free Partition Editor for Disk Partitions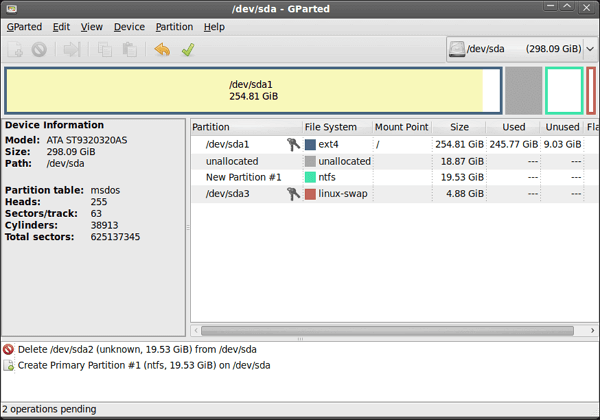 GParted, known as GNOME Partition Editor, is a free partition editor for managing disk partitions on Windows, Linux, and even Mac computers. Users can apply this tool to resize, copy, and move partitions without data loss. 
GParted is also regarded as an open-source tool that any one of you can have access to it, use, change and even improve.
How to Download: 
Open this link in your browser, and you'll be able to have it: https://gparted.org/download.php.
Supported OS: x86 and x86-64 Linux, Windows, Mac OS X.
Feature List: 
Create or delete partition
Resize or move partition
Check partition, change the label
Copy partition
Extend or shrink C drive
Lost partition recovery
Support multiple file systems: btrfs, exfat, ext2/3/4, fat16/32, linux-swap, lvm2 pv, nilfs2, ntfs, reiserfs / resizer4, udf, ufs, xfs.
Versions: Windows version, Linux version, Mac OS X version.
Pros & Cons:
Pros
Cons

Free to use
Support multiple platforms
Free to partition disks
How to Partition Hard Drive with GParted:
Step 1. Select an unallocated space on the disk, then click "Partition -> New".
Step 2. Specify the size, alignment, type, file system, and label of the partition.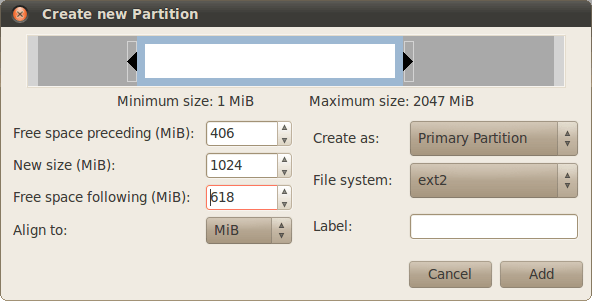 Step 3. Click "Add" to create the partition.
#5. PartitionMagic
Old-Fashioned Disk Partitioning Utility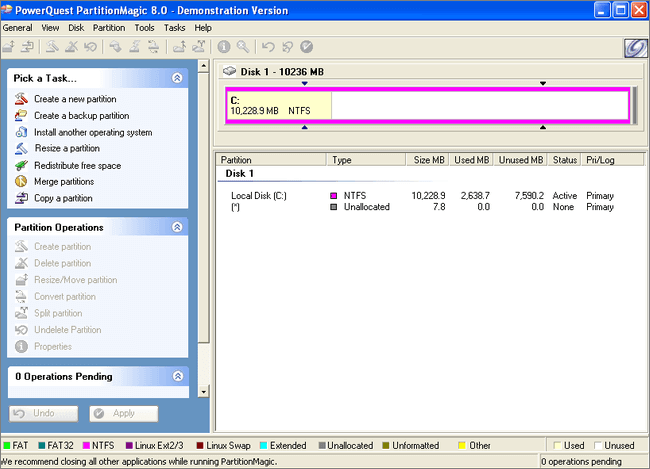 PartitionMagic is a utility software program for hard drive partitioning. It was originally made by PowerQuest and later owned by Symantec. On December 8th, 2009, Symantec's website announced that it no longer offers Partition Magic.
Old Windows users can apply this old disk partitioning tool to resize NTFS, FAT32/FAT16 partitions, copy and move partitions, etc.
How to Download: 
No longer available for download from its official site. A third-party platform is available: https://partition-magic.en.uptodown.com/windows
Supported OS: Windows 2000/XP
Feature List:
Resize partition (with NTFS, FAT32/16)
Convert FAT32 to NTFS
Change cluster size of NTFS, FAT
Merge volumes
Versions: No longer available.
Pros & Cons:
Pros
Cons

Support old Windows systems

Ended support
Incompatible with new Windows operating systems
Editors' Advice: 
Though PartitionMagic was a popular disk partitioning tool, it now, however, has been lagged back. It's no longer compatible with new Windows operating systems, and its company has ended its support. To take good care of your data, system, and storage devices, we suggest that you stop trying to download this software and use this tool.
#6. Disk Management [Free]
Windows Built-in Disk Partitioning Tool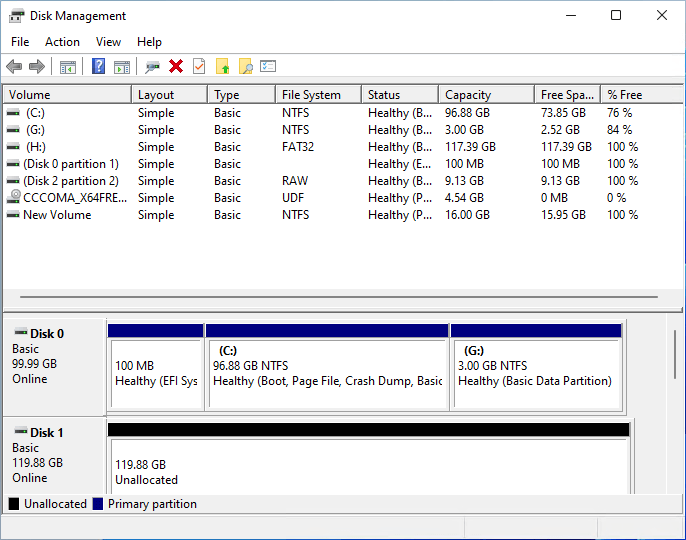 Disk Management, a Windows built-in disk partitioning tool, is regarded as a disk utility for Windows users to create, extend, delete, format, or even shrink partitions without installing third-party tools. When it comes to disk partitioning, Disk Management works as efficiently as these professional partition manager software. 
How to Download: 
Disk Management was pre-installed in Windows operating systems. You don't need to install it. See how to open Disk Management in Windows. 
Supported OS: Windows 11/10/8.1/8/7/XP and Windows Servers.
Feature List:
Create partition
Delete partition
Shrink volume
Format partition
Convert Basic to Dynamic
Convert MBR to GPT, GPT to MBR
Extend volume
Versions: None
Pros & Cons:
Pros
Cons

Free to use
Handy to partition hard drive without installing software
Fulfil basic disk partitioning demands

No data protection mechanism could put users' data in danger.
Not friendly to beginners
How to Create New Simple Volume with Disk Management:
Step 1. Right-click the Windows icon and select "Disk Management" to open it.
Step 2. Right-click unallocated space on the target disk and select "New Simple Volume...".
Step 3. Specify partition label, file system, volume size, etc., with the onscreen guidelines, and click "Next" to continue.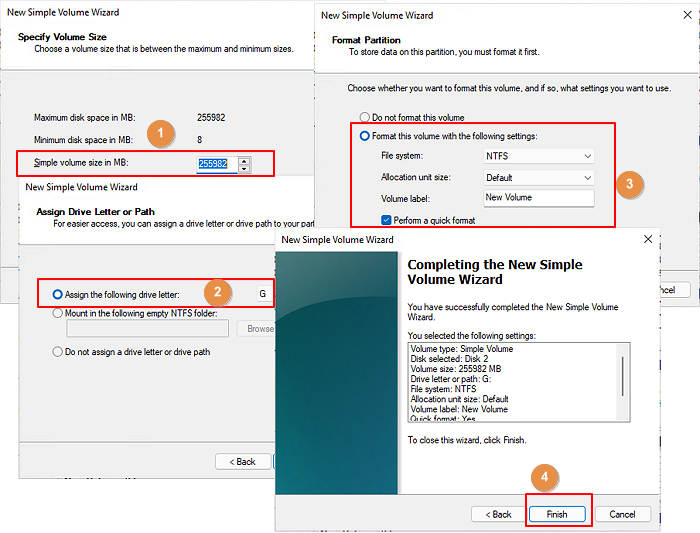 Step 4. Click "Finish" when the setup guide completes.
#7. DiskPart [Free]
CMD Command-Line Disk Partitioning Tool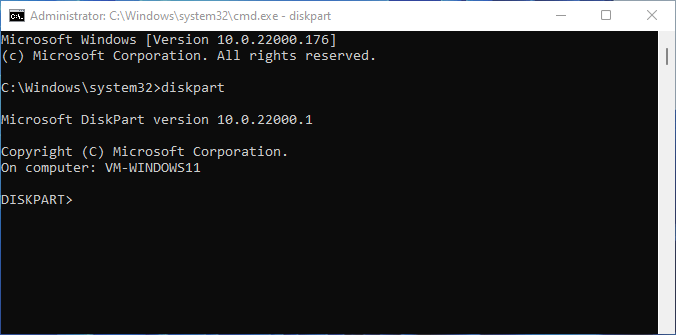 DiskPart is a utility that processes command lines to execute basic and advanced disk partitioning operations on Windows computers. Aside from disk partitioning, DiskPart can also run some computing commands such as chkdsk, SFC and DISM, etc., to fix disk file system errors.
To experienced Windows administrators and developers, DiskPart is handy and more powerful than Disk Management. For beginners, it's not ideal for handling.
How to Download: 
DiskPart is similar to Disk Management, and Microsoft has pre-embedded it into Windows OS. Uses can simply open it without installation. 
Supported OS: Windows 11/10/8.1/8/7/XP and Windows Servers.
Feature List:
Create partition
Delete Volume
Format Partition
Assign Drive Letter
Extend Partition
Shrink Partition
Mark Partition as Active
Clean Disk or Erase Disk
Convert Disk to MBR/GPT, Basic to Dynamic
Check disk error, fix file system error
Check IP address
Clean Disk or Erase Disk
Convert Disk
More...
Versions: fdisk (old), DiskPart(now)
Pros & Cons:
Pros
Cons

Free
Get more control over disk partitions than Disk Management
Support managing disks with or without booting into Windows
Rapid process orders to the operating system

Complex to run
Hard to remember all syntax parameters
No undo options
No confirm option and easy to make mistakes
Serious errors may happen with false commands
How to Create Partition with DiskPart:
Step 1. Right-click the Windows icon, click "Search", type cmd and right-click "Command Prompt" from the list, and select "Run as Administrator".
Step 2. Type the following command lines one by one and hit Ener each time:
list disk
select disk * (Replace * with your selected disk.)
create partition primary size=1024 (1024MB is equal to 1 GB.) (You can also replace this command with "create partition extended size =*" and "create partition logical =*")
assign letter=*
format fs=ntfs quick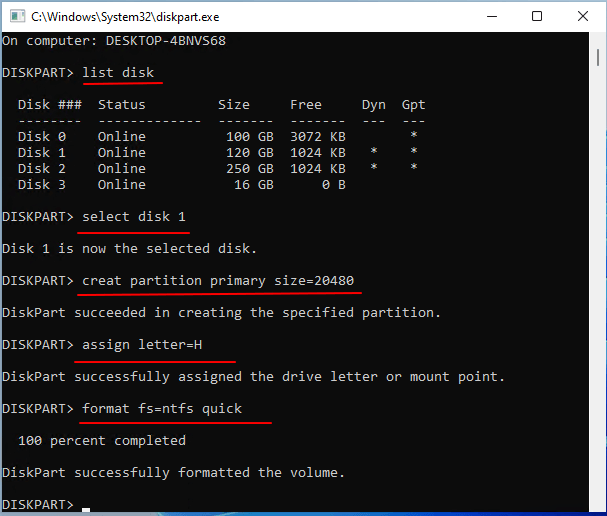 Step 3. Type exit and hit Enter when the process completes.
White List of Disk Partitioning Tools Recommend
After reading the above basic review information about the 7 disk partitioning tools and software, you may have a favored one in your mind.
Still, it doesn't matter if you haven't decided to pick the one. Here is a white list of top disk partitioning tools recommended by EaseUS Editors, hope this can help you to make a decision:
Easiest & professional disk partitioning tool - EaseUS Partition Master, with its simplified UI design and powerful features, shall stand out.
Open source disk partitioning manager - GParted, which is still available for users to use and developers to improve.
Free disk partitioning tool - Windows Disk Management, which fulfills the most basic operation demands in managing hard drives or SSDs on Windows and you can't miss it.
To make your computing life easy and make use of disk space efficiently, it's worth you downloading and applying a powerful disk partitioning tool for help.
Updated by Tracy King 
Tracy joined in EaseUS in 2013 and has been working with EaseUS content team for over 7 years. Being enthusiastic in computing and technology, she writes tech how-to articles and share technical solutions about Windows & Mac data recovery, file/system backup and recovery, partition management and iOS/Android data recovery.