Windows won't allow me to format USB, help!
"Hi there, do you know why does Windows computer won't allow me to format USB drive? I have a USB drive which is now inaccessible. I tried to format the USB drive to factory settings so that it would be available for data saving again. However, I failed.
My computer, installed with Windows 10, just won't allow me to do so. I don't know why. Do you know how to solve this problem?"
If you are having a similar problem for unable to format or can't complete the format process on your hard drive partition, external hard drive, USB, SD or other devices, don't worry. Here in the below, we'll show you two effective methods to fix USB format failure error by CMD and free format utility.
Note: If you have important data saved in your USB, SD card, external hard drive or Windows hard drive partition, please find a powerful data recovery software to get your data back firstly. (EaseUS Data Recovery Wizard might work for you.)
Method 1. Fix 'can't format USB flash drive' error by CMD
1. Connect USB drive or other devices that cannot be formatted to your PC;
2. Press Win + R to open Run dialog, type: cmd and hit Enter to open Command Prompt;
3. Select run as Administrator, type: diskpart and hit Enter;
4. Type: list disk and hit Enter to display all disks on your computer;
5. Type: select disk 0 and hit Enter; (0 is the drive letter of your USB.)
6. Type: clean and hit Enter;
7. Type: create partition primary and hit Enter;
8. Type: format fs=fat32 or format fs=ntfs quick and hit Enter to reset USB drive to FAT32 or NTFS;
9. Type: exit to finish the process.
After this, you'll be able to use your USB drive to save and store new data again.
Method 2. Fix unable to format USB error with free format utility
Format and restore USB to full capacity
If you prefer simpler and easier tool to fix unable to format USB error, EaseUS free format utility can be your best shot. This tool allows you to effortlessly format and restores USB drive to its full capacity within 3 steps.
You can free download and install it on your Windows 10/8/7 etc PCs and follow to restore your USB drive to its full size now:
1. Connect USB/SD or other storage devices to PC, install and launch EaseUS free format utility - EaseUS Partition Free;
2. Right-click on can't formatted USB or storage devices and select Format;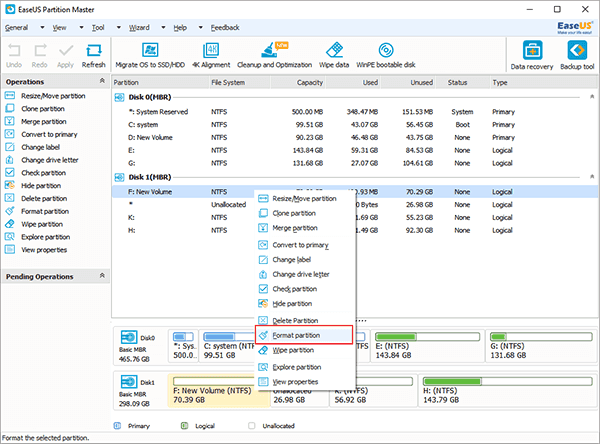 3. Reset the file system of USB to NTFS or FAT32 etc, rename it and click OK;
Finally, click Apply to keep all changes and restore USB to its full capacity.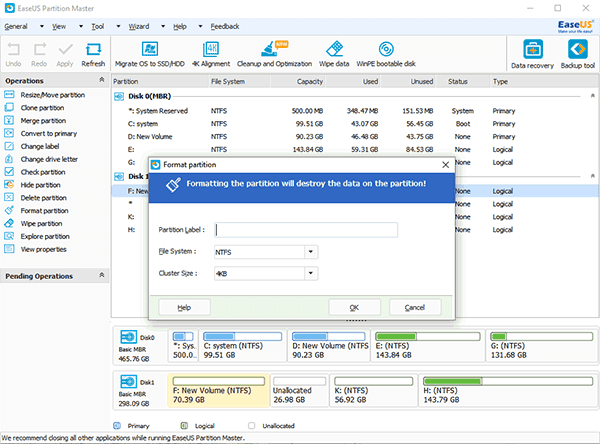 After this, you'll be able to use USB drive for storing data and backup fancy data and important personal documents now.