How to Format Hard Drive Using DiskPart - Quick Format Command 2022
Here on this page, we'll include two free methods to help you quick format or fully clean up a hard drive on Windows 10/8/7 with ease:
Workable Solutions
Step-by-step Troubleshooting
Fix 1. DiskPart Quick Format Command

list disk
select disk *
list volume
select volume *
format fs=ntfs quick...Full steps

Fix 2. DiskPart Alternative - Free Formatting Tool

Run DiskPart alternative - EaseUS formatting tool
Right-click hard drive and choose a format
Choose file system, cluster size...Full steps
Formatting hard disk, USB flash drive, pen drive, and memory card, etc., is meaningful and helpful in solving some device issues. For examples:
1. Incompatible or unsupported file system on a hard drive blocks the computer from recognizing it. 
2. Switch hard drive format, change hard drive to NTFS, FAT32, exFAT, etc., for specific usage.
3. Restore the drive to full size when it only shows partial storage or half-size.
4. Fix RAW, corrupted, or inaccessible errors on hard drives.
Two Hard Drive Formatting Tools - DiskPart vs EaseUS Formatter
Generally, there are three ways to initiate the task:
Windows quick format (by using File Explorer or Disk Management)
Windows DiskPart command
A free third-party hard drive format tool - EaseUS Partition Master
Windows quick formatting is easy to get started but with limited functions, so the latter two options become better choices. Check the comparison list between DiskPart Format Tool and EaseUS Partition Master, and learn which is better for you to refer to:
DiskPart
EaseUS Partition Master Free

Free
Quick format with cmd
Support clean disk
Format disk to FAT32/NTFS
For advanced users
No tech support

Free
Quick format hard drive
Support clean disk
Convert FAT32 to NTFS without formatting
Format devise to FAT32/NTFS/EXT2/3/4/exFAT, etc.
For all levels of users
Email & online tech support are available
Your Quick Guide:
For experienced users, running the DiskPart command to format the disk is quick with instructions in Fix 1.
As a beginner, you can trust the free formatting tool as a DiskPart alternative to format disk in Fix 2. 
Click to download DiskPart alternative formatting tool for free here:
 Notice:

As formatting will clean up the hard drive data completely, to avoid unnecessary data loss, make sure to back up all important data in advance before taking the operations.
Fix 1. Format Hard Drive Using DiskPart Format Command
To use DiskPart to format a disk, you need to follow the commands below carefully. Any mistakes will cause serious problems.
Here we'll take the method of formatting hard drive using CMD on Windows 10 as an example to show you to detail steps:
# 1. Format Disk Using DiskPart Quick Format Command
Step 1. Right-click on the Windows icon, select "Search" and type: command prompt.
Right-click on Command Prompt and select "Run as administrator".
Step 2. Type diskpart in Command Prompt and hit Enter.
Step 3. Type format command lines in DiskPart and hit Enter each time so as to quick format the hard drive:
list disk
select disk 2 (Replace 2 with your disk number)
list volume
select volume 10 (Replace 10 with the volume number of the partition that you want to format)
format fs=ntfs quick(If you need to format a hard drive partition to FAT32 or other file systems, replace NTFS with FAT32, exFAT, etc.)
 Warning

If you input format command without "fs=ntfs quick or fs=fat32 quick" in DiskPart, it will execute a full format on your selected hard drive partition.
This command will erase all saved data sector by sector without data recovery chance. In other words, you'll permanently lose all saved data on the disk. So please double-check and confirm that you've input the right command before hitting Enter.
Step 4. Type exit and hit Enter to close the program when DiskPart reports it has successfully formatted the volume.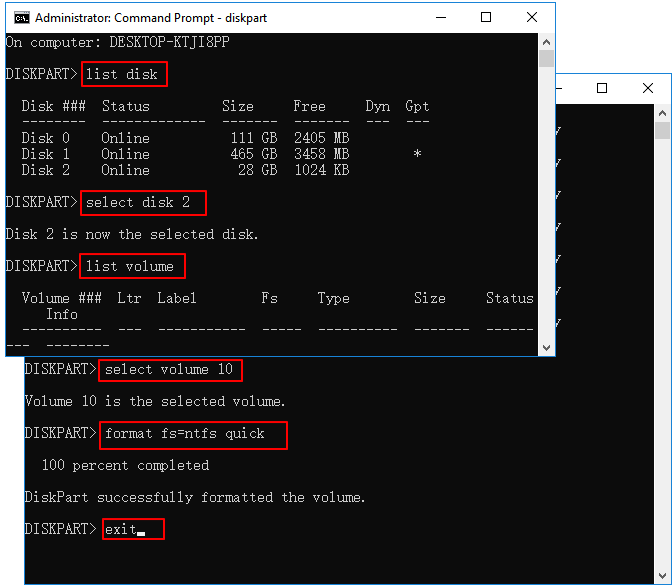 That's a complete guide to formatting a hard disk with DiskPart quick format commands.
# 2. Fully Clean and Format Disk Using CMD Command in DiskPart
If you prefer to completely wipe the hard drive, clean and format a hard drive using the CMD command, follow the operations using DiskPart for help.
Step 1. On Windows 10, press Windows + X, select "Search", and type command prompt, right-click on it and choose "Run as administrator".
Step 2. On the Command Prompt black window, type diskpart and hit "Enter".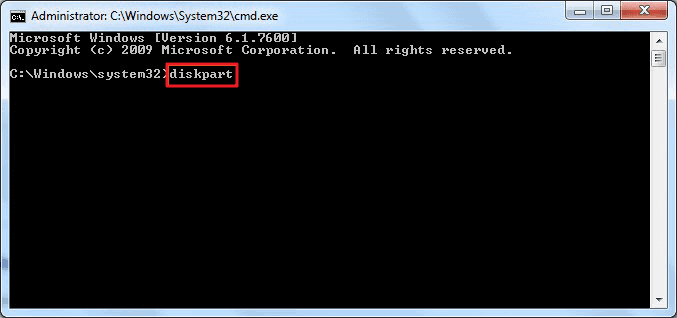 Step 3. Now type list disk and press "Enter".
All the disk drives will be listed, including your external drives that are connected to the computer.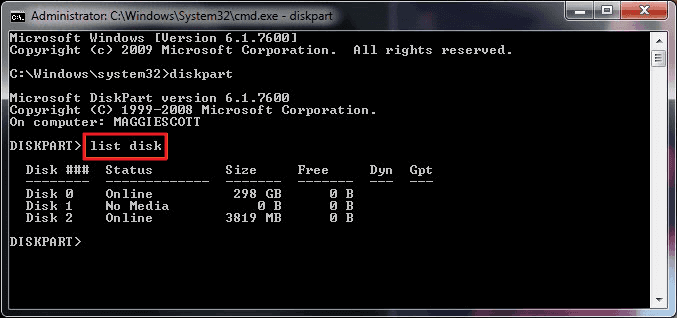 Step 4. Type select disk + disk number, for example, select disk 2 and press enter.
It tells DiskPart to locate and lock disk 2 so as to clean and format it with the continuing steps.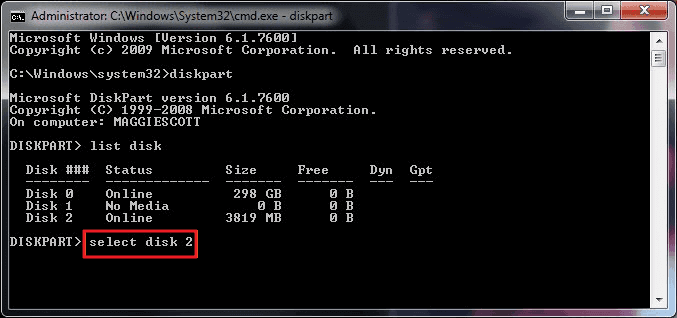 Step 5. Go on to type clean. This step starts to clean up all files and folders on the selected hard disk.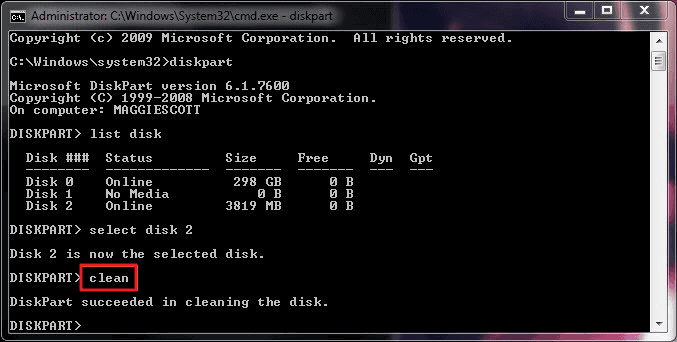 Step 6. Type create partition primary and press "Enter".
Step 7. After DiskPart successfully created the specified partition, type format fs=ntfs (or format fs=exfat) and press "Enter".
It tells DiskPart to format the disk to a specific file system, let it be NTFS, exFAT, etc.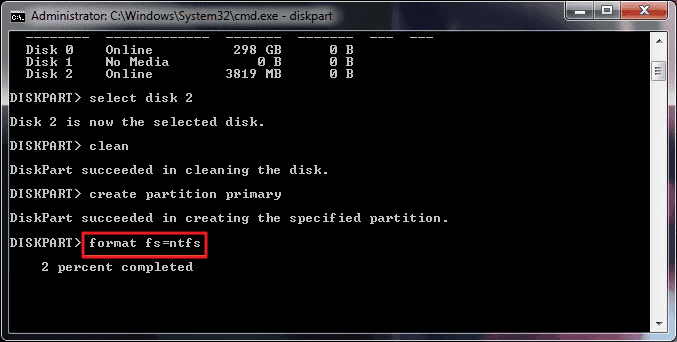 Step 8. At last, assign a drive letter to the newly created partition by typing assign.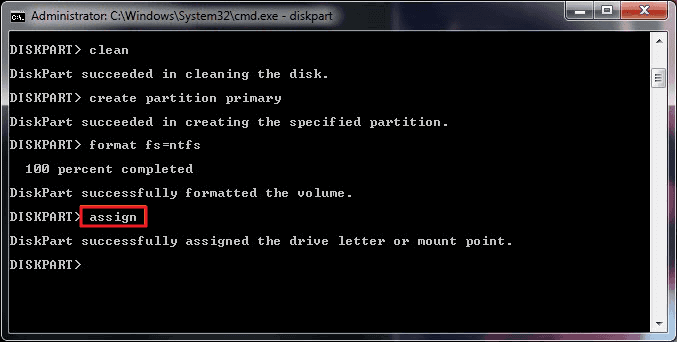 Step 9. Type exit to close the DiskPart Command Prompt window when the process finishes.
Fix 2. Format Hard Drive with Free DiskPart Alternative - EaseUS Partition Master
The other easier way to format disk, compared to Diskpart, is to apply a free DiskPart alternative formatting tool for help. Here we'd like to recommend you try EaseUS Partition Master Free.
It enables you to quickly format or clean up an internal HDD, an external USB stick, pen drive, or an SD card, etc. within only a few simple clicks. 
The whole process is simpler and smoother than formatting a hard drive using the DiskPart command prompt.
# 1. 4-Steps: Quick Format Hard Drive using DiskPart Format Alternative 
Download EaseUS free disk formatting tool and follow the guide below to see how to format the disk.
Step 1. Run EaseUS Partition Master, right-click the hard drive partition you intend to format and choose "Format".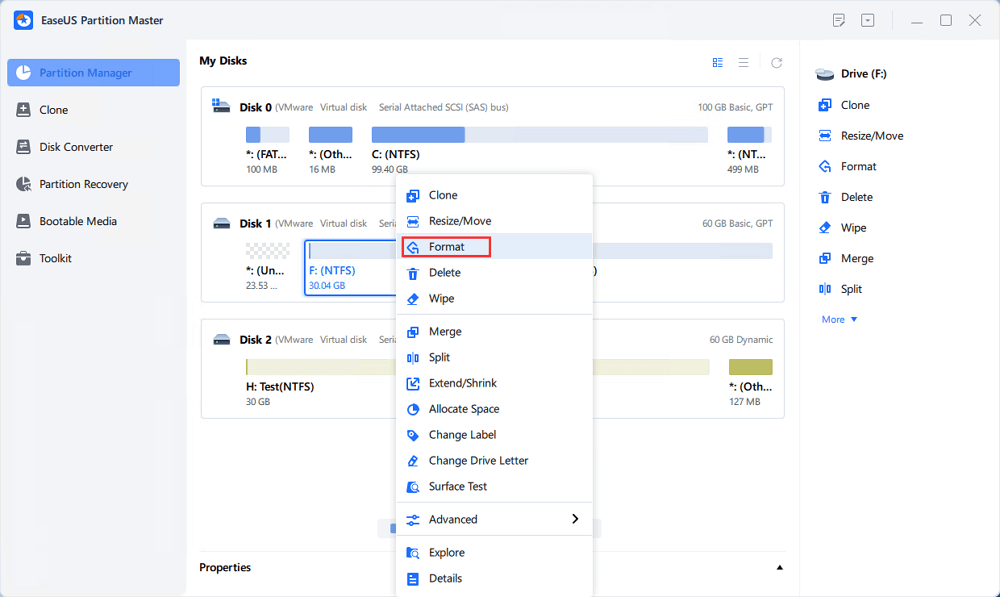 Step 2. In the new window, set the Partition label, File system (NTFS/FAT32/EXT2/EXT3/EXT4/exFAT), and Cluster size for the partition to be formatted, then click "OK".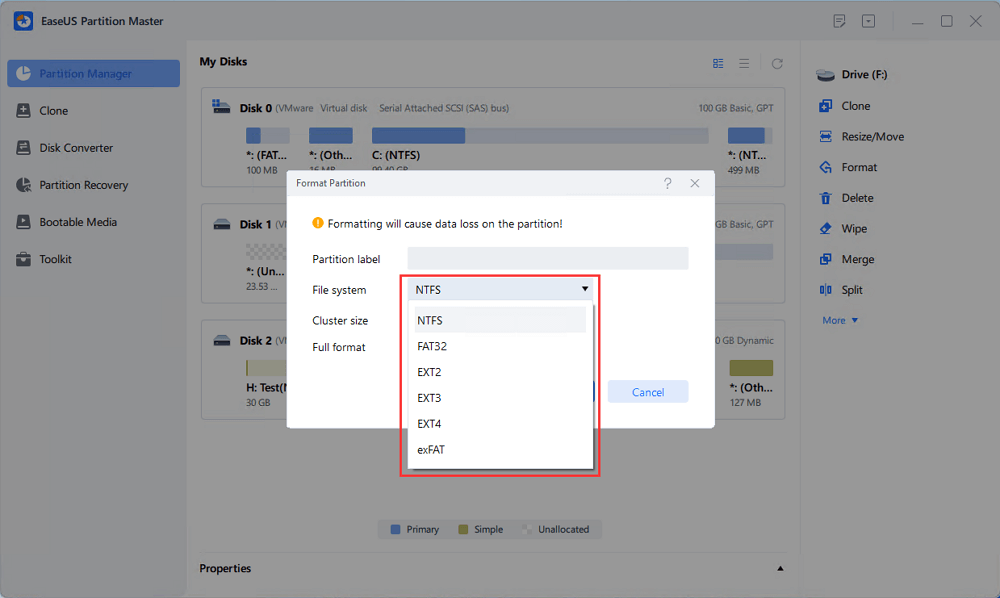 Step 3. Then you will see a warning window, click "OK" in it to continue.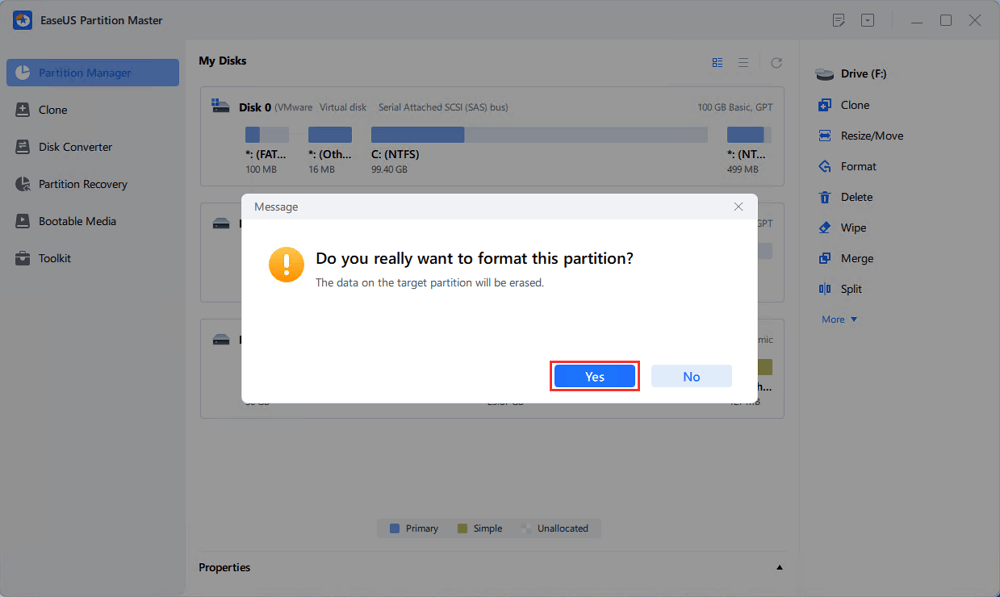 Step 4. Click the "Execute Operation" button in the top-left corner to review the changes, then click "Apply" to start formatting the partition on your hard drive.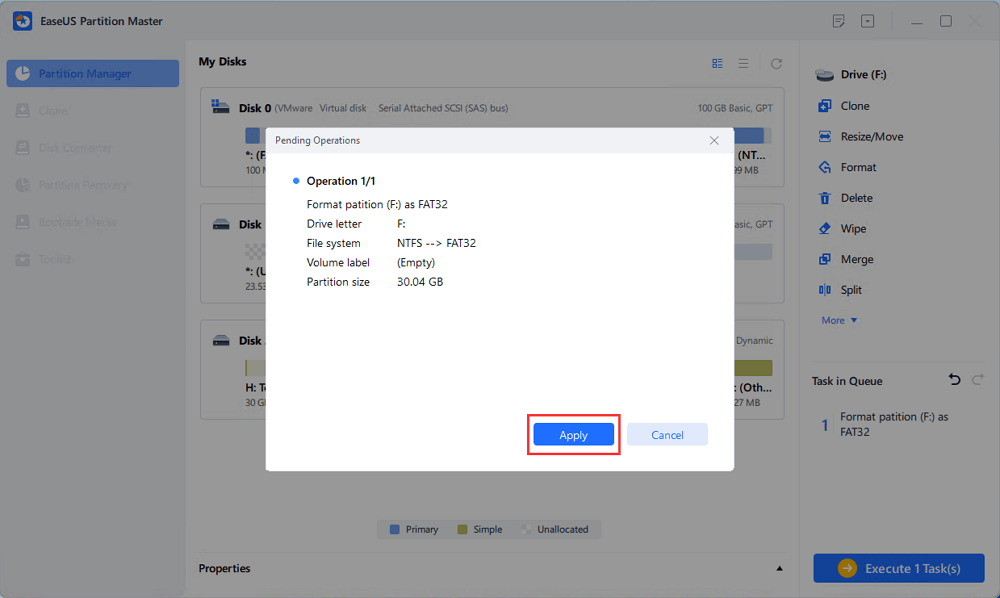 # 2. Clean Up Hard Drive by Erasing Disk
Compared to the DiskPart clean command, EaseUS BitWiper - a newly released disk wipe software by EaseUS simplifies the whole process of cleaning up a hard drive.
With it, you can simply erase everything on a hard drive, leaving it as an empty new drive with full size:
Step 1. Run EaseUS BitWiper. Click the "Wipe Disk" tab.
Step 2. Select the targeted HDD or SSD to wipe.
Notice: Please make sure you have chosen the correct HDD or SSD. Once the wiping starts, your data is irrecoverable.
Step 3. Choose Wiping Method and click "Next."
Choose a suitable wiping method. Recommend EaseUS Secure Erase!
Step 4. Check the warning message and click "Wipe" to confirm.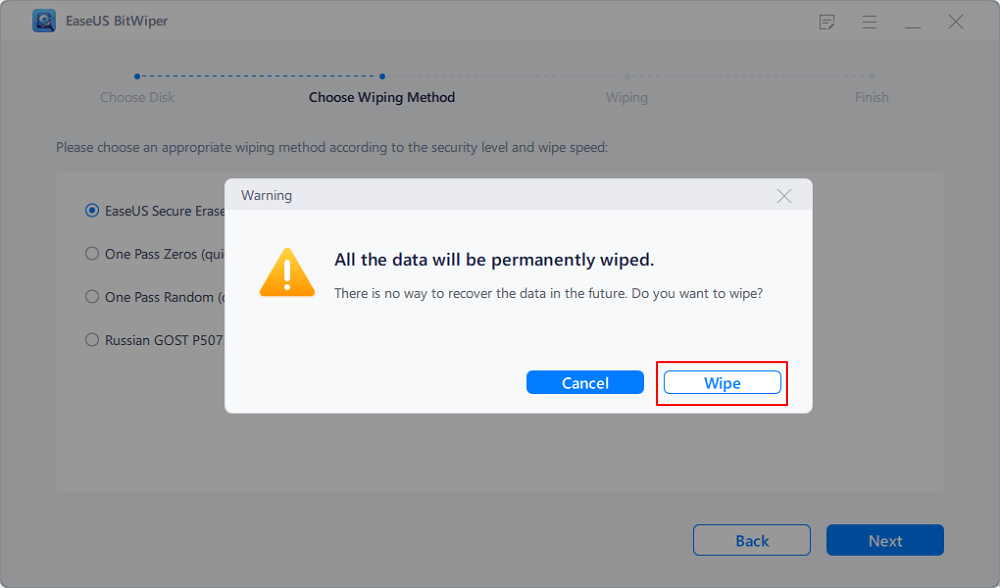 Step 5. Wait for wiping finish and click "Done."
Bottom Line
On this page, we included two major free methods to help you clean and format a hard drive disk by using DiskPart format command lines and DiskPart alternative - EaseUS free formatting tool.
According to many Windows managers and experienced users, you may also try to format a hard drive by using File Explorer and Disk Management on your own.
For quick and smooth operation, EaseUS Partition Master Free should be your best shot.
People Also Ask About Diskpart Format Command
If you are having further DiskPart formatting questions, check the following questions and listed answers for help.
1. How do I use Diskpart?
As DiskPart can execute many operations via different command lines, here we concluded a few of them to help you managing hard disk.
To create a partition: (Open Command Prompt and hit Enter each time.)
diskpart
list disk
select disk 1
create primary partition size=10000mb (or more)
format fs=ntfs (or other file systems)
assign letter=D (or other drives)
exit

For more details about extending or deleting partitions with CMD, you may refer to this guide for help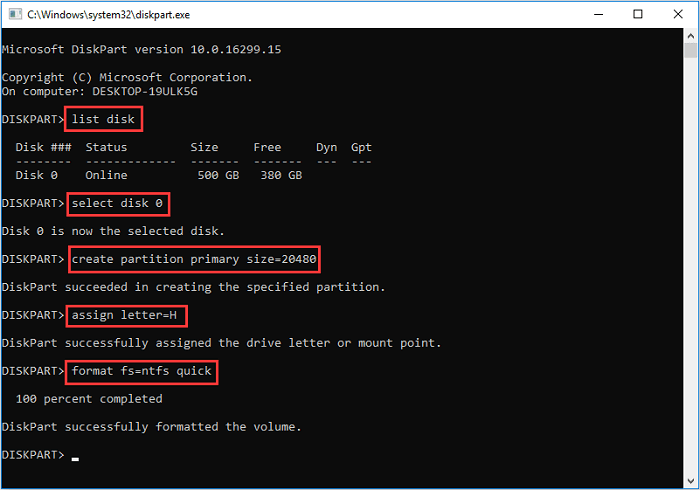 You may also run the DiskPart command to perform the following operations:
#2. Check and fix disk error using cmd
#3. Recover deleted files using command prompt
#4. Fix and repair hard drive errors using CHKDSK command
2. How long does DiskPart take to format?
Being it similar to the Windows formatting feature, you can always apply DiskPart format command to format a hard drive within minutes or half an hour, depending on the hard drive capacity and used space on it.
As estimated, to do a 'full' format on a 1TB hard disk in Windows, will take a long time, like 2- hours, and over a USB 2.0 connection, it may take a day!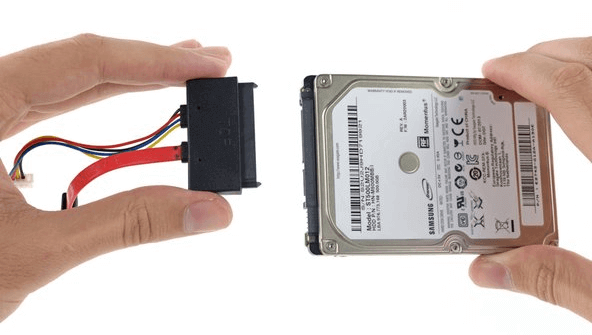 3. What is the command to format a partition with the NTFS file systems?
Follow the process to format a partition with NTFS file system:
1. Right-click Windows icon, "Search", and type "CMD" and then right-click Command Prompt to select "Open as Administrator"
2. Type "list disk" into the command prompt without quotes and hit Enter.
3. Type "select disk 1" without quotes and hit Enter. (Replace 1 with the disk number of your own hard drive.)
4. Type "list volume" without quotes and hit Enter. 
5. Type "select volume 1" without quotes and hit Enter. (Replace 1 with the target partition number on your drive.)
6. Type "format d: /fs: ntfs quick" without quotes and hit Enter. (Replace d: with the drive letter of your target partition.)
7. Type "exit" and hit Enter to close the command prompt.
For further resolutions, check the How-To page or use the Search option on our website - https:www.easeus.com to find more exact solutions bases on your issues. 
Updated by Tracy King 
Tracy joined in EaseUS in 2013 and has been working with EaseUS content team for over 7 years. Being enthusiastic in computing and technology, she writes tech how-to articles and share technical solutions about Windows & Mac data recovery, file/system backup and recovery, partition management and iOS/Android data recovery.

Author Jean has been writing tech articles since she was graduated from university. She has been part of the EaseUS team for over 5 years. Her special focuses are data recovery, disk partitioning, data space optimization, data backup and Mac OS. By the way, she's an aviation fan!
I love that the changes you make with EaseUS Partition Master Free aren't immediately applied to the disks. It makes it way easier to play out what will happen after you've made all the changes. I also think the overall look and feel of EaseUS Partition Master Free makes whatever you're doing with your computer's partitions easy.

 Read More

Partition Master Free can Resize, Move, Merge, Migrate, and Copy disks or partitions; convert to local, change label, defragment, check and explore partition; and much more. A premium upgrade adds free tech support and the ability to resize dynamic volumes.

 Read More

It won't hot image your drives or align them, but since it's coupled with a partition manager, it allows you do perform many tasks at once, instead of just cloning drives. You can move partitions around, resize them, defragment, and more, along with the other tools you'd expect from a cloning tool.

 Read More
About EaseUS Partition Master
All-round disk & partition management software for personal and commercial use. Let it manage your storage drive: resize, format, delete, clone, convert, etc.
Video Tutorial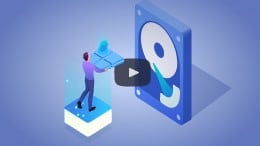 How to Partititon a Hard Drive on Windows 10/8/7
Was This Page Helpful
How Can We Help You
Find answers to common questions below.