Q 1. How can I format my USB to FAT32?
Q 2. How do I format a USB on Windows 10?
Q 3. How do I format a USB flash drive to NTFS file system?
If you are having the same questions as listed here, follow this page and you'll get all answers and practical solutions to format USB with ease.
PAGE CONTENT:
Format USB Flash Drive Using Command Prompt

100% Free USB Format Tool - CMD Alternative
Why Do You Need to Format USB Flash Drive
Usually, HDDs and SSDs are widely used for OS installation and data storage and the removable storage devices like USB flash drives are more used for data transferring and storage.
Due to its portability, flexibility, opportune storage size, with a reasonable price, USB flash drive is still the No.1 external storage device around the world.
While using USB for data transferring or storage, problems about USB flash drive also increase. Formatting USB flash drive is one of the top issues.
Here is a list of reasons why do you and other USB users need to format the flash drive:
Invalid or unrecognized file system: USB becomes RAW, USB is unrecognized by PC.
Corruption or virus-infected: USB flash drive becomes inaccessible or corrupted, USB is write-protected.
Change file system for specific usage: Covert USB to NTFS, FAT32 or Ext 2/3/4 by formatting.
This page mainly illustrates how to format a USB flash drive using Windows inbuilt Command Prompt, and the following is the detailed guide you should strictly follow.
 Notice:

As the formatting process will remove all saved data on the USB drive, backup files before formatting to make sure that you have backed up or saved valuable USB data to another secure location in advance.
How to Format USB Flash Drive Using Command Prompt
Applies to: Format USB to FAT32/NTFS, format RAW USB, repair corrupted USB, etc.
# Advantages of Using CMD
Do you know why we would recommend you using CMD instead of other ways to format a USB flash drive? Here are the advantages of this method:
Advantages
Disadvantages

Complex for some new users
Can't format USB to Ext2, Ext3
# Steps to Format USB to NTFS or FAT32 with CMD
Altogether, you'll walk through the whole formatting process in eight steps, and the time spent will depend on the USB flash drive capacity and used space on it. (The following steps are applicable on Windows 10/8/7 PC.)
Step 1: Type cmd in the search box, then you can get the best match called Command Prompt. Right-click on it and choose "Run as administrator".
Step 2: On the Command Prompt window, type diskpart and press "Enter".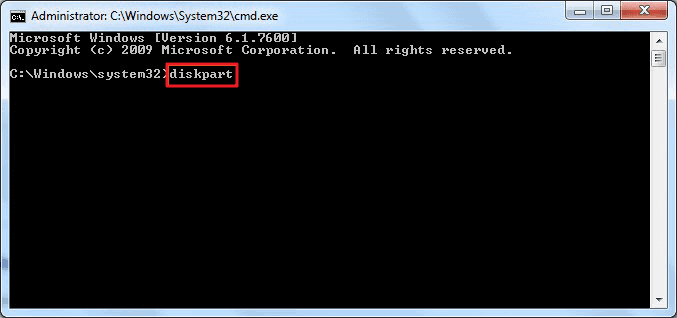 Step 3: Type list disk and press "Enter". According to the list disk information, check which disk is your USB flash drive. For example, disk 2.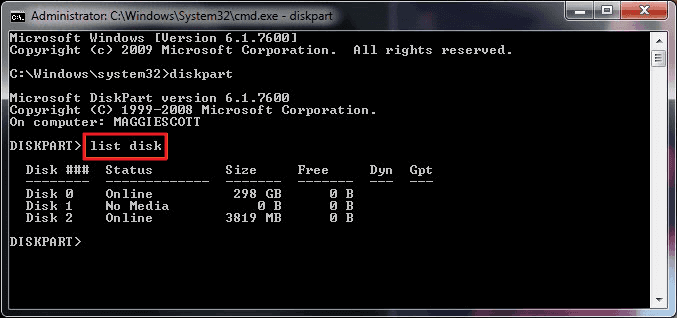 Step 4: Now type select disk 2 and press "Enter".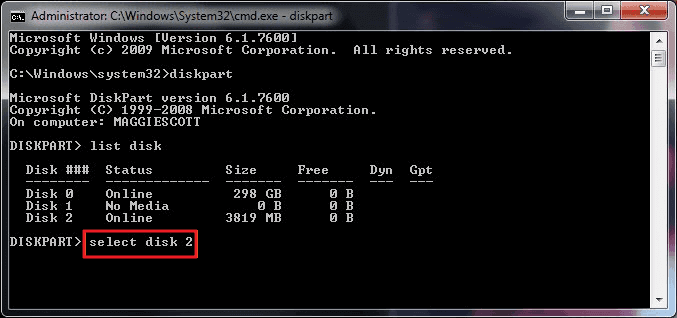 Step 5: Type clean. Wait some time for disk erasing.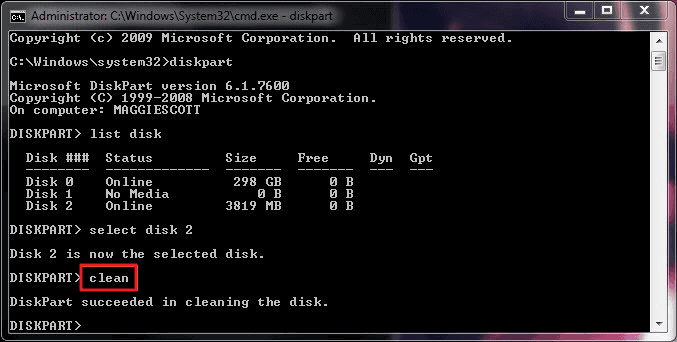 Step 6: Type create partition primary and press "Enter".
Step 7: After diskpart successfully created the specified partition, type format fs=ntfs and press "Enter".
If you prefer other file system formats, change the command NTFS to the desired one, such as format fs=fat32.
As Linux file system Ext2/3 is not compatible with Windows OS, you can refer to a UBS format tool in Part 2 for help.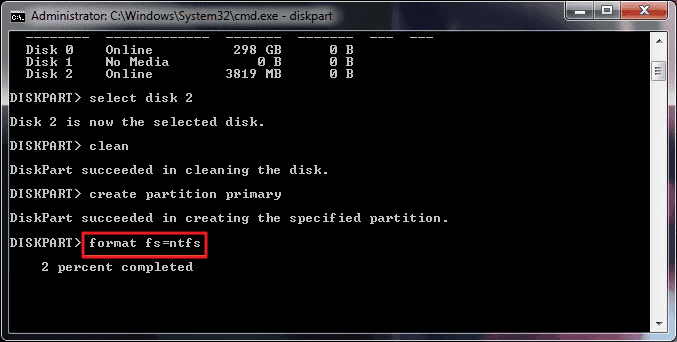 Step 8: Type assign to add a drive letter to the flash drive.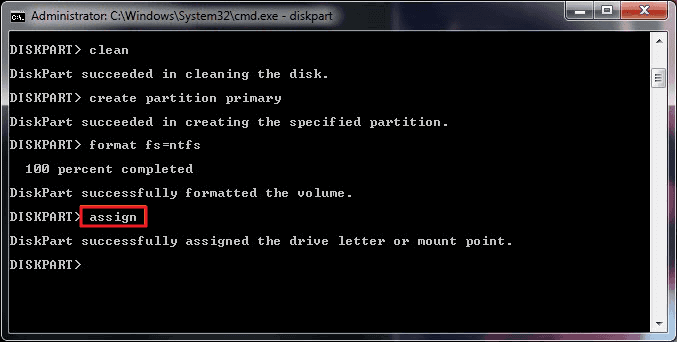 After this, exit DiskPart and you save data to your USB flash drive again.
# Fix Errors While Using DiskPart Format Command
If you get errors while using CMD to format USB flash drives or other devices, don't worry. We've collected two common errors that occur in formatting, and you can follow the provided solutions to resolve them:
Error 1: Diskpart format fs=ntfs stuck at 0, 10, 11, 12...
If the formatting process gets stuck in DiskPart, as the shown message, don't worry. Just wait for the process to complete.
Error 2: Diskpart has encountered an error: Access is denied. See the System Event Log for more information.
If you come across this issue, refer to this link and get rid of Diskpart has encountered an access denied error.
Will You Prefer Free USB Format Tool - CMD Alternative
Applies to: Format corrupted USB, format USB to Ext2, Ext3, format FAT32 USB to NTFS, format USB to FAT32, etc. on all Windows OS.
# 1. Free USB Format Tool vs CMD
Although CMD is capable of formatting a USB flash drive, it also has disadvantages. We think that you might be interested in an easier and more secure USB format tool.
A third-party free partition manager named as EaseUS Partition Master Free Edition can help. Here is a feature comparison between CMD and EaseUS Partition Master Free:
| Comparison | EaseUS Partition Master Free | CMD |
| --- | --- | --- |
| 100% Free | ✔ | ✔ |
| Format USB to NTFS, FAT32, Ext2/3 | ✔ | ✘ (Only support to format USB to NTFS/FAT32) |
| Convert FAT32 to NTFS without formatting | ✔ | ✘ |
| Easy to Use | ✔ (4-step formatting) | ✘ (At least 8 steps as shown in Part 1) |
# 2. Tutorial - Format USB in 4 Steps
With an easy-to-use interface and precise operation in EaseUS Partition Master, you can execute a 100% free and secure USB formatting task on your own.
All levels of users can apply this tool and format USB to usable again with below 3 steps:
Step 1: Launch EaseUS Partition Master, right-click the partition on your external hard drive/USB/SD card which you want to format and choose the "Format" option.
Step 2: Assign a new partition label, file system (NTFS/FAT32/EXT2/EXT3), and cluster size to the selected partition, then click "OK".
Step 3: In the Warning window, click "OK" to continue.
Step 4: Click the "Execute Operation" button in the top-left corner to review the changes, then click "Apply" to start formatting your external hard drive/USB/SD card.
100% of people found this article helpful.
Frequently Asked Questions
Why Choose EaseUS Partition Master?

"I've used Partition Master Professional many times to create, delete, format, move, rename, and resize partitions." —PCWorld

"Partitioning tools have come a very long since the days of complicated command line utilities and EASEUS Partition Master is one of the most advanced programs available." —TECH ADVISOR

"I love that the changes you make with EaseUS Partition Master Free aren't immediately applied to the disks. It makes it way easier to play out what will happen after you've made all the changes." —Lifewire
Will the "Migrate OS" feature transfer the Windows system files only or the whole C drive?

To ensure that the migrated system will boot normally, the Migrate OS feature will transfer all the files in the system and the boot partitions. Generally, the boot partition is the C drive so the transfer will include all the files in C.
Does EaseUS Partition Master license apply to multiple computers?

The license of Partition Master Professional and Server editions can be used on 1 computer only, while that for for the Technician and Unlimited editions can be used on multiple machines.
What is the difference between EaseUS Partition Master Trial version and the Free version?

Free is for home users only, with most basic functions available such as partition resize and clone. While trial can help you understand how this product works and test what a full license can do on a business or server OS machine.
Will it cause any data loss after resizing the partition in EaseUS Partition Master?

Generally, it will not cause any data loss or boot issue by resizing a partition. However, in order to protect your data, we suggest that you backup the partition before resizing, in case of any unexpected situations such as power outages, computer hardware failures, etc. You can use EaseUS Todo Backup to backup the partition and its trial version is fully functioned for 30 days.
What should I prepare before resizing the partition?

On the partition that is going to be operated, there might be some files being occupied by other programs. To ensure a successful operation, we suggest that you close all the unnecessary software before resizing that partition. Otherwise, EaseUS Partition Master will detect the partition being locked by the other software and require a reboot to resize the partition under boot mode.
About EaseUS Partition Master
All-round disk & partition management software for personal and commercial use. Let it manage your storage drive: resize, format, delete, clone, convert, etc.