Must-read Explanation of Disk Formatting
Wiki: "Disk formatting is the process of preparing a data storage device such as hard disk drive, solid-state drive, floppy disk or USB flash drive for initial use."
Formatting a disk for use by an operating system and its applications typically involves three different processes.
Partitioning
High-level formatting
The high-level formatting creates the file system format within a disk partition or a logical volume. Hence, when it comes to formatting a C drive, it's related to the high-level formatting.
About Formatting the C Drive
"Can I format the C drive to install Windows 7?"
"Can I format the C drive to reinstall Windows 10?"
Yes, you can, but not in the operating system! To format C means that you erase the operating system and other information on the C drive, or the primary partition. How can it happen to let Windows allow you to delete the operating system within? You can not like you format other hard drives in Windows.
"You can not format this volume. It contains the version of Windows that you're using. Formatting this volume could cause your computer to stop working."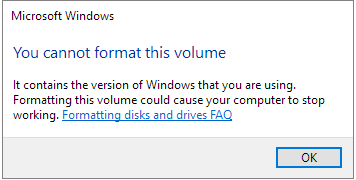 That's the exact error message error you're going to receive when using the general disk formatting method on the C drive.
Whether Formatting the C Drive or Not
According to the pre-sales consulting of EaseUS Partition Master, the purpose of the majority is about erasing an old operating system and leaving room for the new installation. That's unnecessary. Such formatting may occur during the operating system installation. Save the extra steps, please.
There are three methods for you to install Windows 10 without formatting.
But what if you have to? You want to wipe your hard drive clean, to erase all your system information, settings, files and programs on that partition.
From somewhere out of the Windows operating system environment, you can do that. Usually, the four tools are good at erasing an operating system.
1. A Windows setup disk or flash drive (for Windows 10, Windows 8, Windows 7, or Windows Vista)
2. A system repair disc (for Windows 10, Windows 8, or Windows 7)
3. Recovery Console for (Windows XP)
4. Partition magic software for data destruction (for Windows 10, Windows 8, Windows 7, or Windows Vista or Windows XP)
It must be tired after searching for solutions over and over again to 'format' an entire operating system drive, let alone spending more time learning the long-step how-to tutorial. So, let's choose the most straightforward method to start.
Clean the C Drive and Delete the Operating System with EaseUS Partition Master
The WinPE bootable disk allows you to access your hard drive from outside of the Windows OS.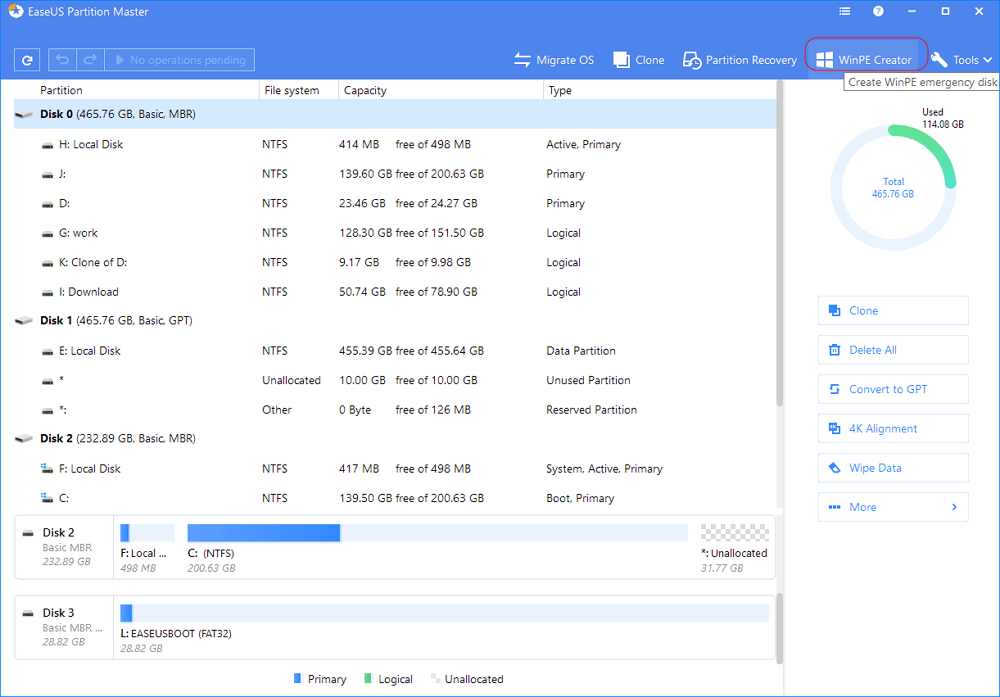 Step 2. Delete Operating System
Boot your computer from the bootable disk by pressing F2 (or other keys according to your PC) while restarting.
EaseUS Partition Master is open after the startup.
Right-click on the hard drive and choose "Delete all partitions". Click "OK" when the software asks you to confirm the operation.
Done.
After wiping the hard drive clean, it's good to remove it from your computer carefully. Try to format and partition the hard drive for reuse in the future.