SSD Full, But It's Not!
"Hey, I have a Samsung 850 EVO 250GB SSD, and I haven't checked how full it is for a while. When I start up, the steam tells me that it didn't have enough space to update. So I highlight everything on the disk and check properties. There is only actually 40gb of space used! My SSD is not full actually! Is there anyone can help me? Can you tell me what's going on and how to fix it? Thanks in advance."
How to Fix SSD Drive Showing Full Issue
Is your SSD full for no reason? Are you bothered by this issue? Does your SSD say it is full, but it is not? Relax! In this post, we have provided you with four effective solutions to fix SSD full for no reason. You can try them one by one until the issue has been resolved correctly. By the way, the solutions can be applied to some specific searches, including hard disk full for no reason, external hard drive says it's full, but it's not, my hard drive is full, but I don't know why, c drive showing full but nothing on the computer, etc.
Solution 1. Show Hidden Files and Folders
For the case that SSD shows full, but no files were seen, you can try to unhide files and folders to determine whether the disk space is occupied by hidden items. Have a close look at the hidden files. Anything suspicious, any big data you were not aware of?
How to show hidden files/folders in Windows 10/8/7
Open "Control Panel" -> "File Explorer Options" -> Click "View" tab -> Check the box in front of "Show hidden files, folders and drives".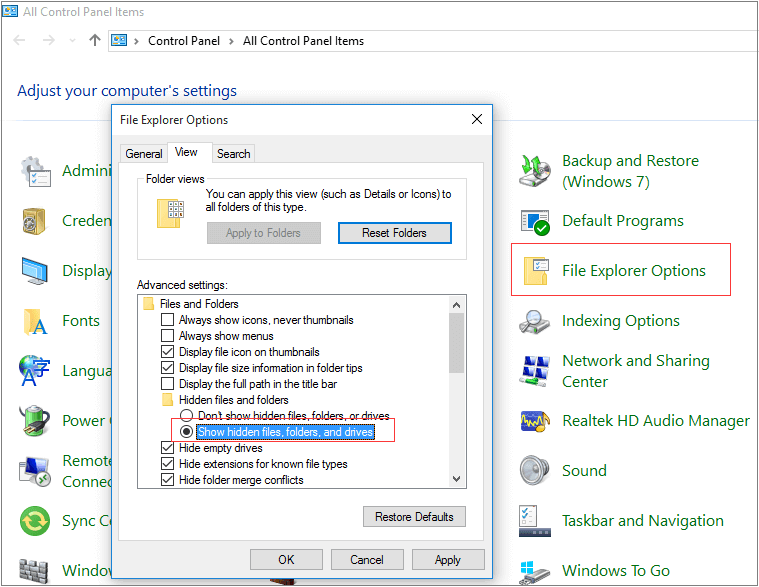 Solution 2. Safe Cleanup of Junk Files and Large Files
Instead of teaching you how to use Disk Cleanup to delete unwanted files and temporary internet files to free up some space, it's easier to start by using a third-party free partition manager software, because all Windows versions are doing the same with it.
Download EaseUS Partition Master Free. Launch it after the successful installation.
Step 1: Launch EaseUS Partition Master. Select "Tools" and click "System Optimization".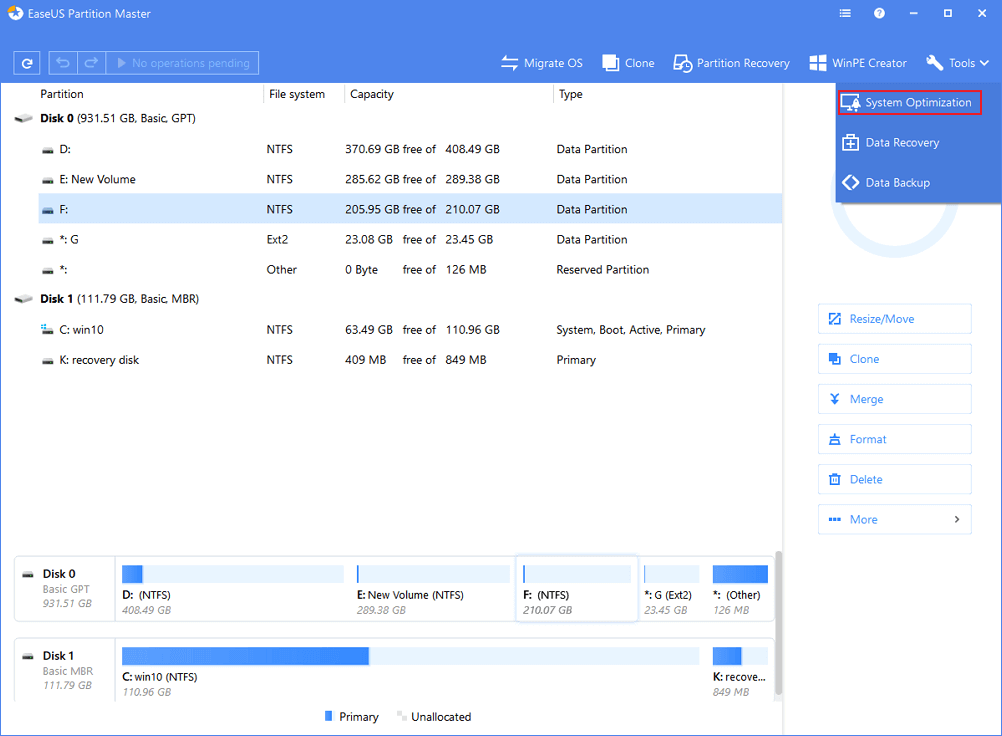 Step 2: Click "Junk File Cleanup". Then you can click "Analyze" to let EaseUS Partition Master find junk files on your PC.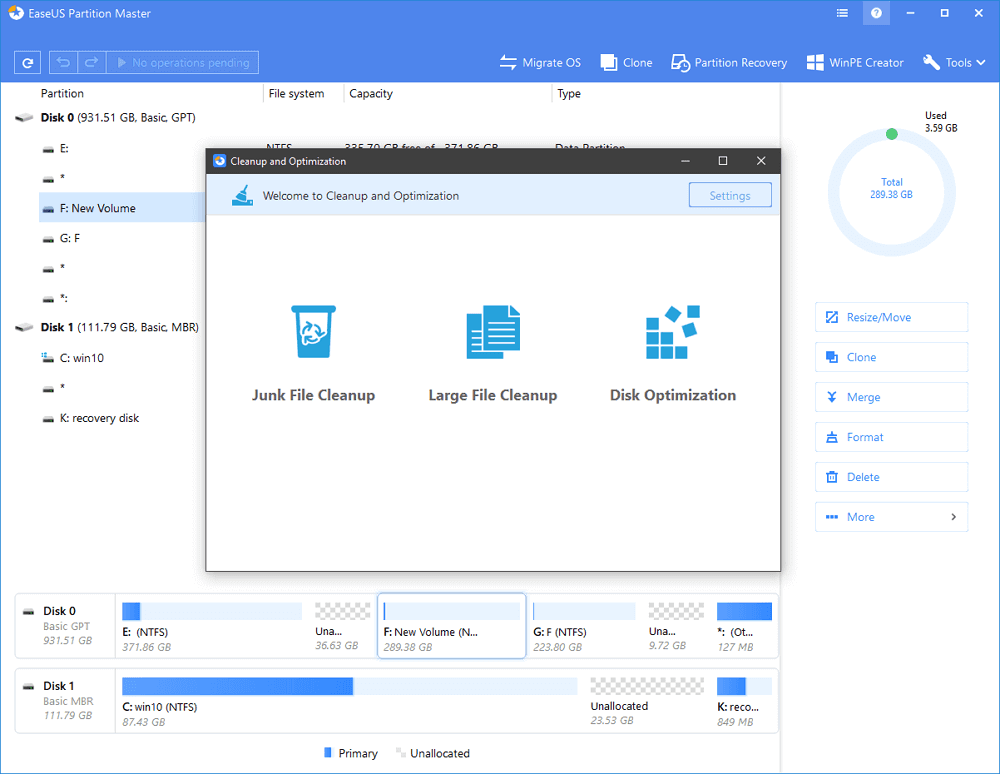 Step 3: You can check and choose junk files and click Clean up. All of the selected junk files will be cleaned and deleted from your PC. Click "Yes" to clean up junk files.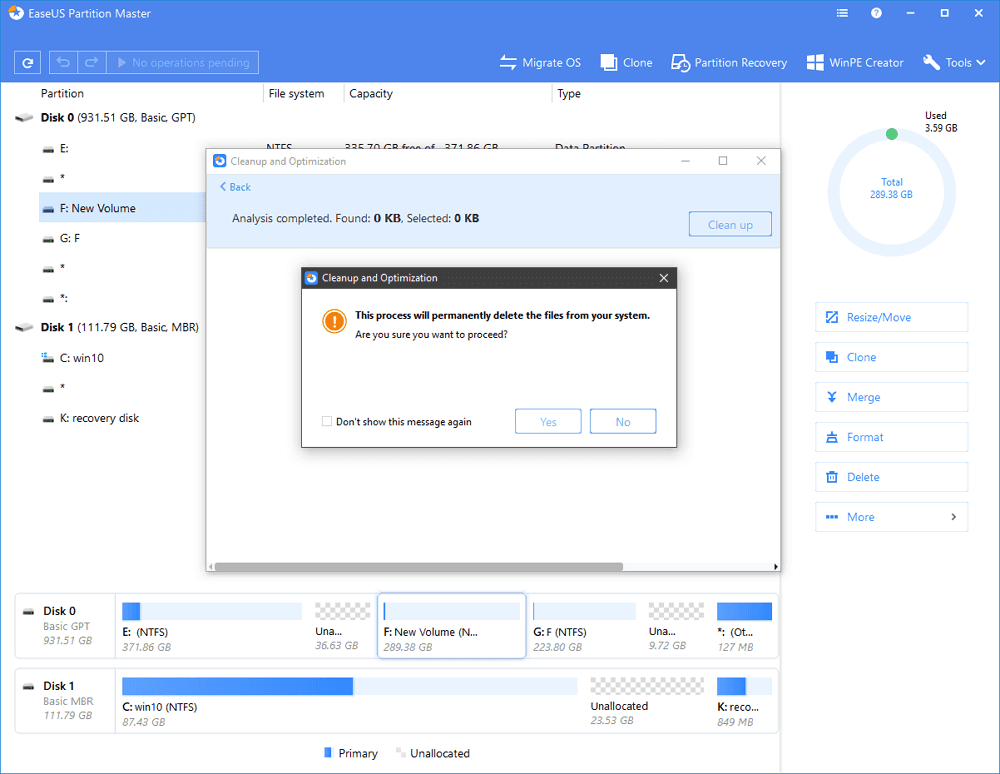 A thorough cleanup of junk files that is usually invisible would help us greatly reduce the likelihood of low disk space on hard drive, and rectify the problem when hard drive shows full but it's not.
How to clean up extreme large files in Windows 10/8/7?
Next, you can proceed with large files cleanup, especially some uninstalled program files and zip compressed folders that taking up a considerable amount of disk space.
Step 1: Launch EaseUS Partition Master in Windows PC. Select "Tools" and click "System Optimization".
Step 2: Choose the right feature - Large File Cleanup that you need to locate, find and delete large files from PC.
Step 3: Select the drive and click "Scan" to let the program locate, find all large files on your disk.
Step 4: Identify and select useless large files and click "Delete" to remove those files from your PC or laptop. A message tells you this process will permanently delete the files, click "Yes" to start the process.
Solution 3. Add Extra Space to Drive C
Are there hidden items that are eating up the disk space without your notice? If yes, to fix hard disk full issue without losing data, use EaseUS Partition Master Free again to extend c drive that is filling up for no reason.
Guide: how to increase c drive space or extend c drive?
Solution 4. Temporarily Disable System Restore
Here is the last resort you can rely on, which is to disable System Restore function in Windows computer temporarily. You'd amazed at how much space has saved from disabling System Restore in a Windows computer.
How to disable System Restore in Windows 10/8/7?
Open "Control Panel" -> "System" -> "System Protection" -> click the "Configure" under Protection Settings -> Select the option "Disable sytem protection".