Overview of Windows 10 Transfer to HDD/SSD
To transfer Windows 10 to new hard drive like an HDD or SSD can be easy and fast if with the help of proficient Windows 10 migration software. Most importantly, for ordinary people, it is hardly possible to properly deal with the critical system data at all. Any single mistake happened to the data would result in a Windows 10 boot failure. Therefore, here comes the necessity of using a Windows 10 OS, files and programs transfer assistant. And EaseUS partition software is what we recommend, with which people are allowed to transfer Windows 10 items from one place to another HDD or SSD, to make the fullest use of Windows 10 at everywhere.
Guide for Windows 10 Transfer to New Hard Drive with EaseUS Partition Master
EaseUS Partition Master has an advanced feature, which is "Migrate OS to SSD". Let me explain it more specifically. This way of Windows 10 transfer can not only benefit the system transfer but also files and programs created or installed on Windows 10 computer hard drive. Because with EaseUS partition manager, users can either migrate a whole hard drive data or just a partition of which to another new hard drive.
Steps for Windows 10 transfer to new hard drive (HDD/SSD)
1. Install EaseUS Partition Master on your Windows 10 computer. Launch it and select Migrate OS to SSD/HDD. Then choose your new HDD/SSD as the destination disk.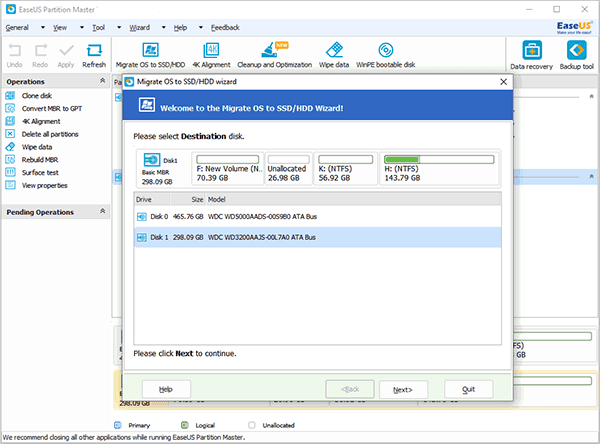 2. The destination disk must be clean without any partitions on it. If there are some, click Yes to allow the program to delete partitions on the destination disk, then click Next to continue.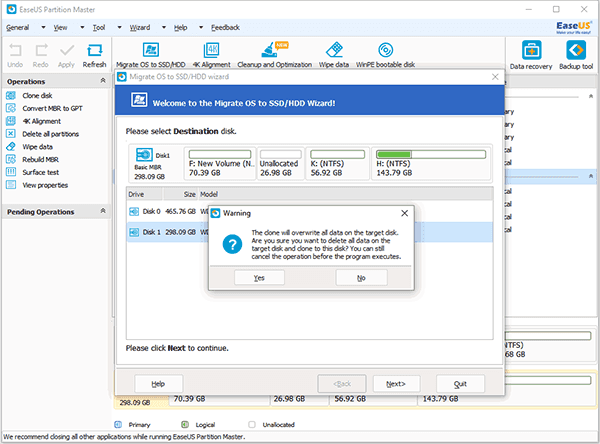 3. You can edit the destination disk after Windows 10 transfer completed. Just drag the double-headed mouse pointer, and adjust the partition size.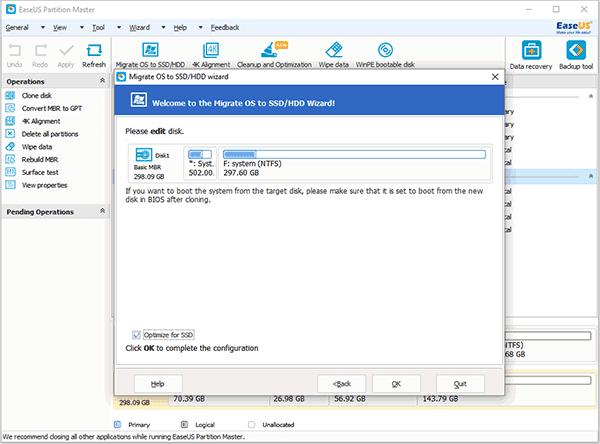 4. Preview the result on the left panel Pending Operations. If it is right, then click Apply to save all the changes. Tick the "Shut down the computer after changes are applied."