On this page, we covered the complete process of how to prepare SSD disk, migrate Windows OS to a new SSD, and make SSD as the boot drive in Windows 11/10/8/7, etc. Follow to learn how to make Windows bootable on your new SSD without any issues.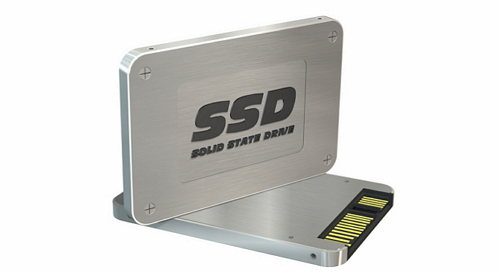 Applies to: All levels of Windows users, designed for beginners.
We will discuss these two questions in detail among the following parts:
How to Change Boot Drive to SSD in Windows 11/10
"I want to install a solid-state drive for my desktop computer, but all my data and Windows 11 is already installed on my 1TB hard drive. Is there any way could help me transfer Windows 11 to the SSD, setting SSD as boot drive, and then use the 1TB hard drive for data storage?
So how do I change the boot drive to SSD in Windows 11, making SSD the boot drive? Help me, please. Thanks in advance."
Nowadays, more and more people choose to upgrade their system hard drive to SSD (short for solid-state drive) due to its faster reading and writing speed and higher stability. However, compared with traditional HDD, SSD usually obtains a smaller storage capacity. In order to achieve a high-performance in Windows PC, combining faster SSD and larger HDD is an excellent choice.
Usually, people would prefer to use SSD as boot drive while having an HDD with a larger capacity to store personal data, files, and applications. To do that, you need to migrate the Windows system from HDD to SSD and then set SSD as the boot drive.
Read carefully and follow to effectively make your SSD bootable on Windows 11/10/8/7, etc. without any issue. Even beginners can do it.
Part 1. Prepare SSD
The first thing to get started is to prepare your SSD. Whether it is a new or an old disk, there are some must-do jobs that must be done in advance.
Tools: ①. An SSD disk (with equal capacity to the used space on your system drive); ②. SSD connection cables; ③. A screwdriver; 
Let's start getting your SSD ready:
Use the screwdriver to remove computer case > Connect SSD to PC correctly via connection cables. 

2. Enable SSD in BIOS
Restart PC > Press F2/F8/F11/DEL to enter BIOS > Enter Setup > Turn on SSD or enable it > Save the changes and exit.
After this, you can restart the PC and you should be able to see the disk in Disk Management. Now, you can continue with the tutorials in Part 2.
Part 2. Migrate Windows 11/10 OS to SSD
If you prefer to switch your current Windows OS to SSD, follow the tutorial steps in the following.
Tools: System clone or system migrate software - EaseUS Partition Master
To migrate OS to a new SSD, you can do it with a manual clone or by using a magic partition manager for help. To move OS to SSD successfully, we highly recommend you try EaseUS Partition Master.
Any level of users can migrate Windows system and boot partitions to the SSD at once with its highlighted feature called "Migrate OS to SSD/HDD".
Tutorial: Migrate OS from HDD to SSD
Make sure the SSD is empty with no partitions and data on it, or else you need to clear them all. Now follow the next steps and learn how to migrate OS to SSD. 
Steps to migrate OS to HDD/SSD:
Run EaseUS Partition Master, and select "Clone" from the left menu.
Check "Migrate OS" and click "Next".
Select the SSD or HDD as the destination disk and click "Next".
Check Warning: the data and partitions on the target disk will be deleted. Make sure that you've backed up important data in advance. If not, do it now.
Then click "Yes".
Preview the layout of your target disk. Then click "Start" to start migrating your OS to a new disk.
Note: The operation of migrating OS to SSD or HDD will delete and remove existing partitions and data on your target disk when there is not enough unallocated space on the target disk. If you saved important data there, back up them to an external hard drive in advance.
Note that it's not the end yet. After OS migration, you still have the last move to take. It is to change the boot drive in Windows 11/10 from the old disk to the new SSD. You can learn the detailed steps in the next part.
Also Read:
If you need to fresh install Windows, follow this link for a detailed guide - Install Windows 10 on SSD.
Part 3. How to Set SSD as Boot Drive in Windows 10 
Whether you've manually installed Windows 11/10 system to SSD or automatically migrated the system to SSD with third-party software, you need to set installed SSD as the boot drive so as to boot up the PC from the SSD.
Here are the steps to make SSD the boot drive on windows 11/10: 
Step 1. Restart PC and press F2/F12/Del keys to enter BIOS.
Step 2. Go to the boot option, change the boot order, setting OS to boot from the new SSD.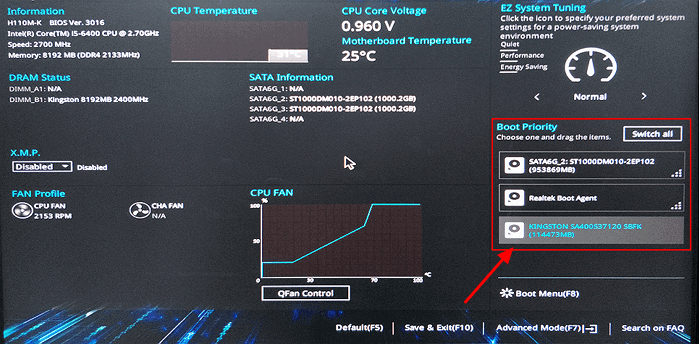 Step 3. Save the changes, exit BIOS, and restart the PC.
Wait patiently to let the computer boot up. After this, you can successfully use the new SSD as your OS disk. 
 Tip

If the source HDD or SSD is MBR with BIOS boot mode but the cloned/migrated SSD is GPT, you need first make SSD as boot drive first in BIOS and then change the boot mode to EFI to ensure proper startup.
Bonus Tips after Setting SSD as Boot Drive
If you are not a computer expert, we highly recommend you use a professional system clone or migration software to copy the Windows 11/10/8/7 to SSD rather than do it manually, which can avoid boot failure due to boot partition loss.
Suppose you have successfully migrated the system to SSD (whether it is our product or not), and correctly set the boot order in BIOS, there are still some issues that you may encounter.
Here we have collected some top concerned issues and you may follow the links to help yourself out:
#2. How to Make Use of Old OS Disk
After migrating OS to SSD, you can use the EaseUS Partition Master to create a bootable disk. Then boot the PC from the bootable drive, enter EaseUS Partition Master, and then delete the old system partition on your own. 
#3. How to optimize SSD performance
If you have further questions, you can either use the search feature on our website or contact our technical support team through [email protected] to help you resolve problems immediately. 
FAQs About Set SSD As Boot Drive
If you have some further questions, check the FAQS and answers here. We may have answers for you.
1. What is an SSD boot drive?
A boot drive contains the Operating System and OS relative files that help to load the system. It also may contain some user's data, such as the user profile, installed programs, application files, etc.
Therefore, an SSD boot drive is a disk that contains your OS, OS data, and some personal data. Also, Windows and Mac computers should be able to load and boot up from the SSD boot drive.
2. Does cloning a drive make it bootable?
It depends. If you cloned a data drive, it's not bootable but only accessible for data storage. 
If you cloned an OS disk, it can be bootable if you remember to change the boot order, setting the computer to boot from the new disk. 
3. How do I transfer my OS from HDD to SSD?
To transfer Windows OS from HDD to SSD, you can use the EaseUS Partition Master with its Migrate OS to HDD/SSD feature for help. It's listed in Part 2 on this page. 
Updated by Tracy King 
Tracy joined in EaseUS in 2013 and has been working with EaseUS content team for over 9 years. Being enthusiastic in computing and technology, she writes tech how-to articles and share technical solutions about Windows & Mac data recovery, file/system backup and recovery, partition management, data transfer, Windows update issues, etc.

Jean has been writing tech articles since she was graduated from university. She has been part of the EaseUS team for over 5 years. Her special focuses are data recovery, disk partitioning, data space optimization, data backup and Mac OS. By the way, she's an aviation fan!