Cloned SSD Won't Boot? Make Cloned SSD Bootable [5 Ways]
Updated by
Gemma
on Sep 24, 2021
Don't worry if you tried all means to upgrade and clone old HDD to SSD but it turned out the cloned SSD won't boot on your computer. Here we've collected 5 effective ways that will make SSD bootable again in Windows 10/8/7:
SSD Not Booting After Clone - Full Guide Content:
If you're also struggling with the same problem and don't know how to fix the SSD is not booting error, you've come to the right place. This post explains why cloned SSD won't boot and offers 5 effective solutions here to solve SSD unbootable error after clone. Read in-depth.  
Causes - Why Is Cloned SSD Not Booting
Here is a list of all possible reasons that can explain why does the SSD won't boot after clone. If you have any one of them, stay here and follow the fixes below to get rid of this error immediately :
The SSD is connected to the PC as an external disk. 
The cloned SSD is not set as the boot disk.
BIOS boot mode is incompatible with the SSD.
The disk cloning process was corrupted or interrupted.
 Incomplete clones, missing boot partitions, or boot components. 
The source disk is unbootable.
The SSD needs specific drivers, etc.
Solutions - How to Fix Cloned SSD Won't Boot Issue, Make SSD Bootable
The following methods are bound to resolve SSD not working after cloning for particular reasons. Follow the step-by-step guides to make the cloned SSD boot normally.
Method 1. Correctly Install the Cloned SSD with a SATA Cable
The disk clone software does not guarantee that the external disk can boot smoothly when using a USB cable. It is best to connect devices to a computer via SATA.
Step 1. Use a SATA cable instead of a USB connection cable.
Step 2. Install the SSD to the computer correctly via the SATA cable.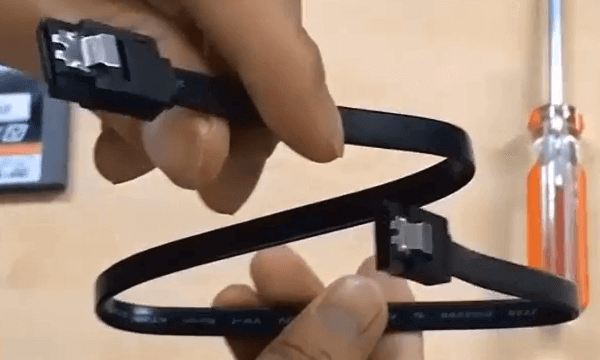 Step 3. Close the computer case and restart the computer.
If the SSD boots up, congratulations. Your problem gets resolved. If not, continue with Method 2. 
Method 2. Change Boot Order in BIOS, Make SSD Bootable as the Boot Disk
If the cloned SSD is not set to be the first boot option in BIOS, your computer won't boot from it. Therefore, you need to access BIOS and change the boot order to set SSD as the boot disk. Here are the steps:
Step 1. Restart the PC. When the startup screen appears, constantly press F2/F12/DEL to enter BIOS.
Step 2. Next, use the arrow key to choose the Boot tap and select the cloned SSD as the first boot option. 
Step 3. Press F10 to save and exit BIOS. And restart your computer.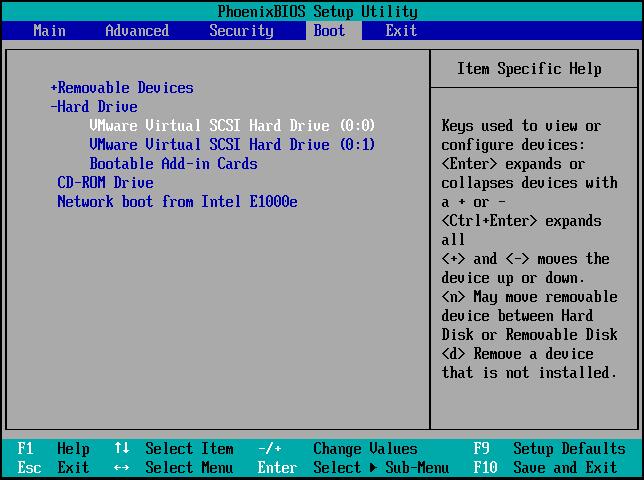 Wait patiently, and if your computer boots up, congratulations. The problem gets resolved. 
Note that, if your original boot disk is MBR, you'll need to set the partition active to make the SSD bootable after clone. And you can fix this issue in the next Method.
Method 3. Set System Partition as an Active Partition
The system partition should be set as the active partition. If the system partition is not set as an active partition, Windows 10 can't boot from cloned SSD. You can set the system partition as an active partition with an easy-to-use partition manager in the WinPE environment. Here is how to do it:
#1. Create a bootable disk and boot PC from it
Reboot PC > Press F2/F8/Del to enter BIOS > Set PC to boot from EaseUS bootable Disk > Reboot PC.
#2. Set SSD system drive as active
Step 1. Run EaseUS partition manager software. On the disk map, right-click the traget partition and choose "Advanced".
Step 2. Then, select "Set Active" from the drop-down menu. The software will automatically execute the operation and create an active partition for you.
#3. Set PC to boot from cloned SSD
Reboot PC > Press F2/F8/Del to enter BIOS > Set PC to boot from the cloned SSD > Reboot PC
After this, your computer should be able to boot up from the cloned SSD and you can make use of all cloned files on the new disk again.
 Notice:

If you've followed through the above three methods, the SSD is still not booting, your SSD may have a problematic clone of your old hard drive. 
The best way out is to re-do the clone. And we'll show you the process in the next Method. 
Method 4. Re-Clone HDD to SSD
Incomplete clone or clone failure will cause the cloned SSD won't boot problem. Besides, if you haven't cloned the boot partition, the cloned hard drive will not be able to boot either.
Reliable disk cloning software - EaseUS Todo Backup can re-execute the disk cloning process, guaranteeing you the cloned hard disk bootable after the HDD to SSD clone.
EaseUS Todo Backup KEY Features
Support smart file backup, system backup, disk, and partition backup.
Support clone USB, external hard drive, HDD, and SSD.
Clone OS from a larger HDD to a smaller SSD without re-installing.
Create a Portable USB to take your Windows anywhere.
Step 1. Launch EaseUS Todo Backup and click Clone.
Then choose the source disk( the SSD) you want to clone. Click "Next".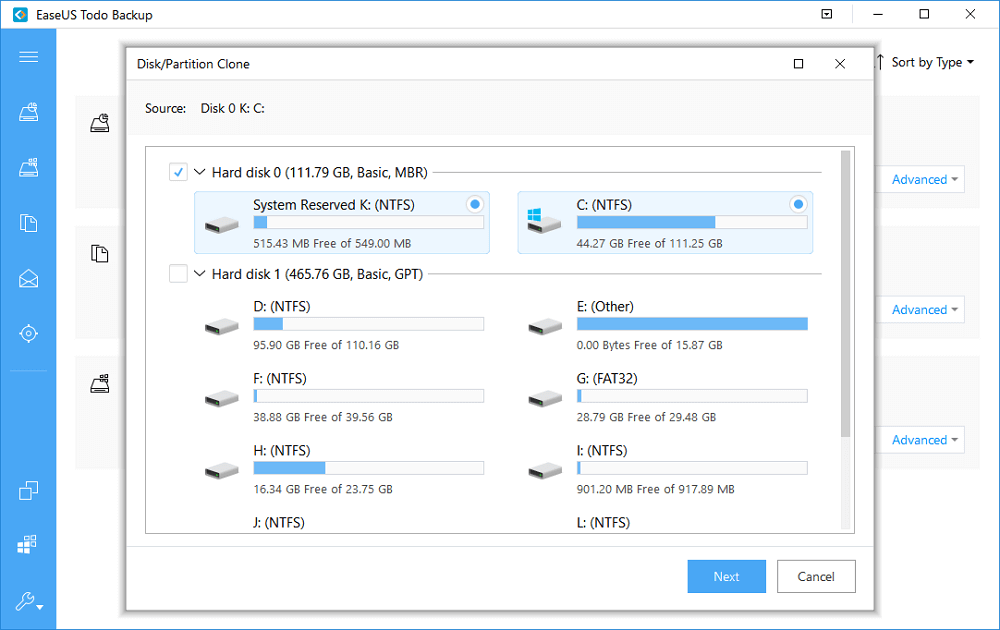 Step 2. Choose the destination disk( the larger solid state drive).
Tick Optimize for SSD, it will optimize the new SSD performance.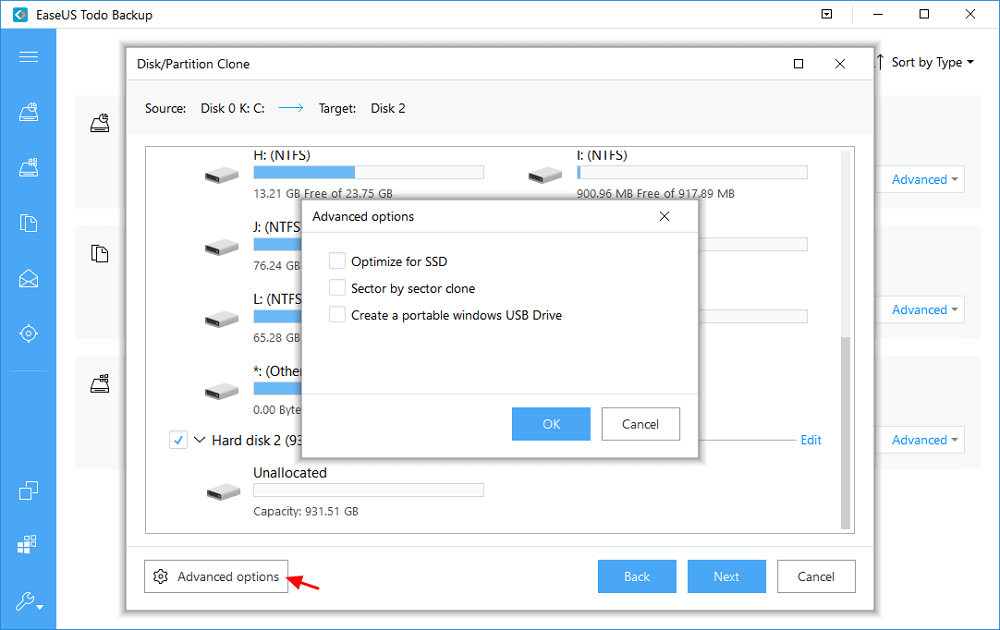 Note: If you decide to change the system disk to a larger SSD or HDD, do remember to change the boot order from the old system disk to new SSD or HDD in BIOS settings. Or you may encounter system boot failure error.
Step 3. Preview the disk layout to confirm the settings of the source and destination disk. Click Proceed to execute disk clone your SSD.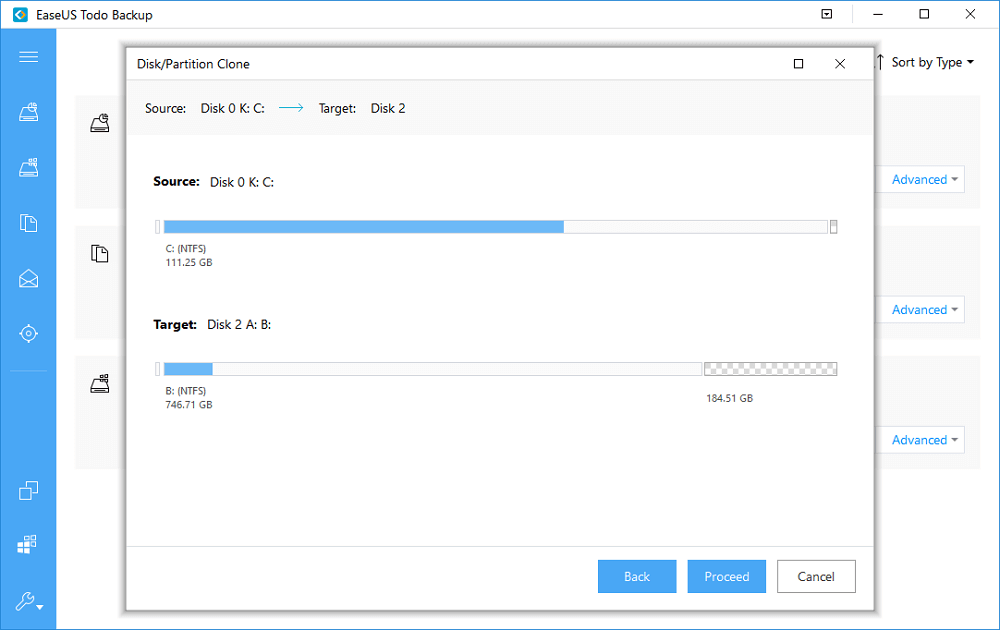 After this, you may repeat Method 1 and Method 2 to install the cloned SSD correctly into your computer and set it as the boot drive.
Then, reboot the PC and the SSD will boot up successfully.
Method 5. Customize 1-to-1 Service to Make Cloned SSD Bootable
If you've tried all the above four methods, but the SSD is still not booting or the cloned SSD won't boot with a black screen, you are now with really a tricky problem.
You can contact EaseUS's technical support team and let them help you via 1-to-1 remote assistance as soon as possible.
EaseUS also provides 1-on-1 remote assistance to fix the  boot issues as listed here:
1. Fix BCD Error: Your PC needs to be repaired. An unexpected error has occurred. Error code: Oxc000000e.
2. Add Necessary Drivers to the Cloned SSD.
3. NVME won't boot after clone.
If the solution above does not work for you, please contact our professionals via
Email
or
LiveChat
on
this page
. To ensure our professional assistance works, you can connect the unbootable system drive to a healthy computer when getting connected with us.
Stay Calm If Cloned SSD Won't Boot, Follow Fixes to Make SSD Bootable
On this page, we collected 5 reliable methods that work to help you fix the cloned SSD won't boot error. To make the cloned SSD bootable again, which method is the best?
Here is Editor's Pick:
1. Follow Method 1 and Method 2 to correctly install SSD and set it as a boot drive.
2. If the OS disk was MBR, follow Method 3 to set the SSD OS drive as active.
After this, your computer should be able to boot up from the new SSD now.
3.  If it's still not working, re-do the clone with EaseUS Todo Backup.
 
Gemma is member of EaseUS team and has been committed to creating valuable content in fields about file recovery, partition management, and data backup etc for many years. She loves to help users solve various types of computer related issues.

Author Jean has been writing tech articles since she was graduated from university. She has been part of the EaseUS team for over 5 years. Her special focuses are data recovery, disk partitioning, data space optimization, data backup and Mac OS. By the way, she's an aviation fan!
Taking everything into consideration, we can say that EaseUS Todo Backup Home can offer you a little extra sense of security with a set of advanced tools. The interface provides quick adaptation, every process guiding you all the way through so you don't get stuck or further damage your system rather than keeping it safe.

 Read More

EaseUS Todo Backup Free lets you create backups of your important files or your entire computer through its streamlined interface. Just choose the backup type you'd like to get started, and let the program do the reset.

 Read More

EaseUS includes all the features I expect from backup software like versioning, incremental backups, and scheduling. For more advanced users, EaseUS allows you to install a pre-boot environment onto your hard drive so you can use it to restore files without burning a CD or putting it on an external USB drive.

 Read More

EaseUS Todo Backup
Smart backup tool for your files and entire computer in Windows 10/8/7.