Case - SSD Not Booting After Clone
"I have a Dell T-5400 workstation with a 1TB HDD with Win10 on it. I installed a 256GB SSD, made a clone of Windows 10 with EaseUS, tried getting that to work for hours, then deleted it, made a new clone with Macrium Reflect, but no matter what I try, I can't get Windows to boot from the SSD. Is there any way to get this to work without a fresh Windows install?"
It is well-known that the SSD (solid state drive) has better properties than traditional hard disk drive (HDD). Compared with HDD, SSD is running more smoothly with the lower voice, and it is faster than HDD. As a result, some Windows users are trying to upgrade the old HDD to SSD for getting better performance. To avoid OS reinstallation, they choose clone HDD to SSD. However, sooner they find a big problem that the cloned SSD won't boot in Windows 10/8/7.
Here this page has all details of how to clone and migrate Windows OS or fresh install Windows OS to SSD without boot issue. You may follow and give it a fresh try: Migrate/Install Windows OS to SSD.
Before you can set out to fix the SSD booting problem, figure out the reasons and then solve it respectively.
Reasons - Why Cloned SSD Won't Boot
In general, people clone everything including disk, partitions, and files when choosing "clone" feature. However, what if users are faced with a booting problem? There are a lot of reasons would cause the SSD won't boot after clone. And here we have concluded part of reasons.
1. The source disk can't boot. That is to say, if the source disk you cloned has bad sectors, it may cause cloned SSD won't boot. If this happens, we are sorry to tell you that we cannot fix the damaged or corrupted source disk.
2. Set the wrong drive to boot from. The source disk can boot, however, you take out the source disk and connect it to another computer. Then you clone the source disk without booting from the source disk. During this process, you may encounter an unbootable SSD.
3. You simply connect the SSD to a computer with a USB.
4. The SSD needs specific drivers.
5. There are some errors during the cloning process.
6. GPT/MBR conflict.
7. Others.
Solutions - How to Make Cloned SSD Bootable
According to the reasons above, you can figure out what makes your SSD fail. As there are different reasons that cause cloned SSD won't boot problem, here we provide you with different ways to solve the problem. Follow these methods below to boot from your SSD with ease.
To readers: If the source disk (the disk you clone) itself is unable to boot, the methods below cannot help. You'd better go to a store and fix the source disk first.
Method 1. Set the Correct Drive to Boot
On computer A, you have a disk 0 and you want to clone it. However, you take out disk 0 and connect it to Computer B. You starts the cloning process and the SSD is unable to boot. Why does the cloned SSD can't boot? You forget to set the source disk as the drive to boot. To solve the problem, follow this:
1. Restart the PC
2. Press F2/F12/DEL to enter BIOS
3. Set to boot from the source disk
If the computer doesn't boot up from the source disk, please remove the old disk and replace it with the source disk. And restart the computer, you should be able to see Windows boot up and then you can clone the source disk to SSD.
Method 2. Correctly Connect the SSD to Your Computer
Use a SATA cable instead of USB to connect the SSD to the computer. The disk clone software does not guarantee that the external disk can boot smoothly when using a USB cable. It is best to connect devices to a computer via SATA.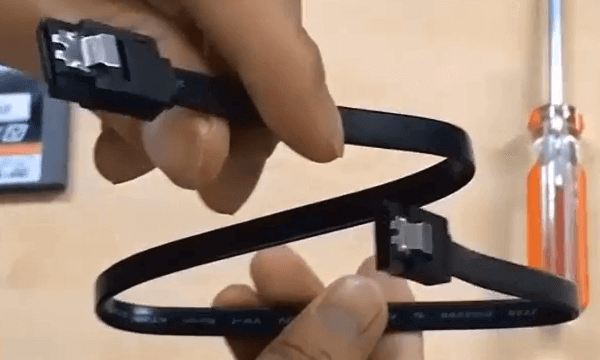 If the notebook can't connect two disks at the same time through SATA, select the Create a Portable USB option when you are using EaseUS Todo Backup.
Method 3. Add Necessary Drivers to the Cloned SSD
Some SSD may need the necessary driver support if you want to boot from it. Add the necessary device drivers after you have finished the disk cloning process. You are suggested to use SATA to connect the SSD to the computer. The SATA controller will either be embedded on the motherboard or a SATA add-on card. SATA add-on cards are more likely to prompt for an additional driver. In either case, if the drive is not recognized by the operating system setup, you will need to supply a controller device driver.
The SATA controller driver can usually be found on the CD or website of the system, motherboard or SATA controller card manufacturer.
If the SATA controller is recognized during Setup without special drivers, then you can complete the installation. After the initial setup, check for driver updates from the OS or controller manufacturer.
When performing a new installation from DVD of Windows 8/7/Vista, the system will ask you where you want to install Windows. If the SSD is not displayed, click the Load Driver option.
Method 4. Restart the Cloning Process and Fix the Errors
If you have encounter errors during the cloning process, you can either choose to fix the error or restart the cloning process. This will certainly help you fix the unbootable problem and make it boot.
It is highly recommended that you use the best free cloning software - EaseUS Todo Backup which allows you to clone HDD to SSD with simple steps. And you can boot from the cloned SSD successfully.
Step 1. Launch EaseUS Todo Backup, expand the menu and choose "Clone" from the feature list.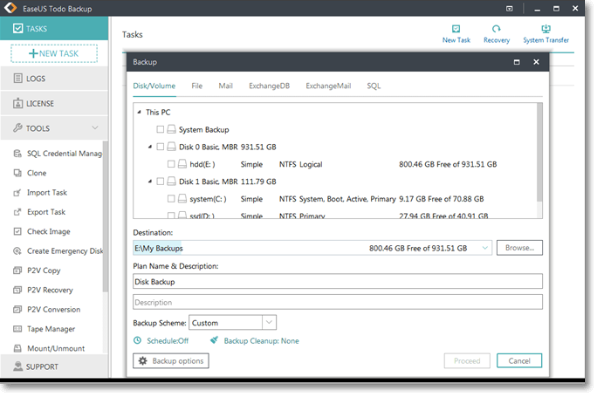 Step 2. Which drive do you want to clone? Choose this entire hard disk or simply a single partition on it as the source disk. Click "Next".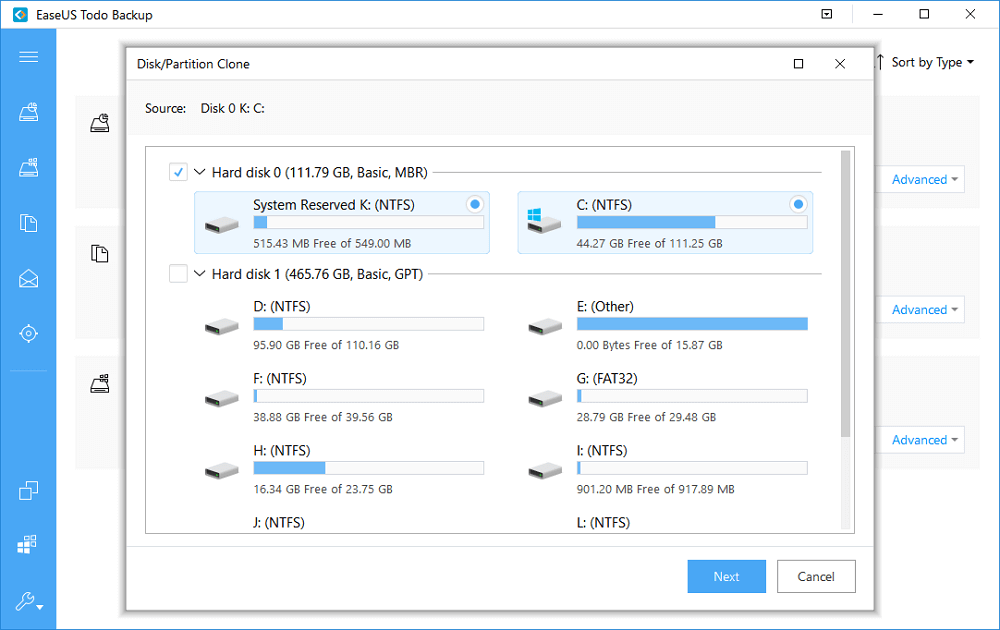 Step 3. Since you're going to clone the selected drive to an SSD, choose the SSD as the destination disk. Also, tick the option "Optimize for SSD" within "Advanced options" to achieve a better SSD performance after clone. Click "OK" and then click "Next".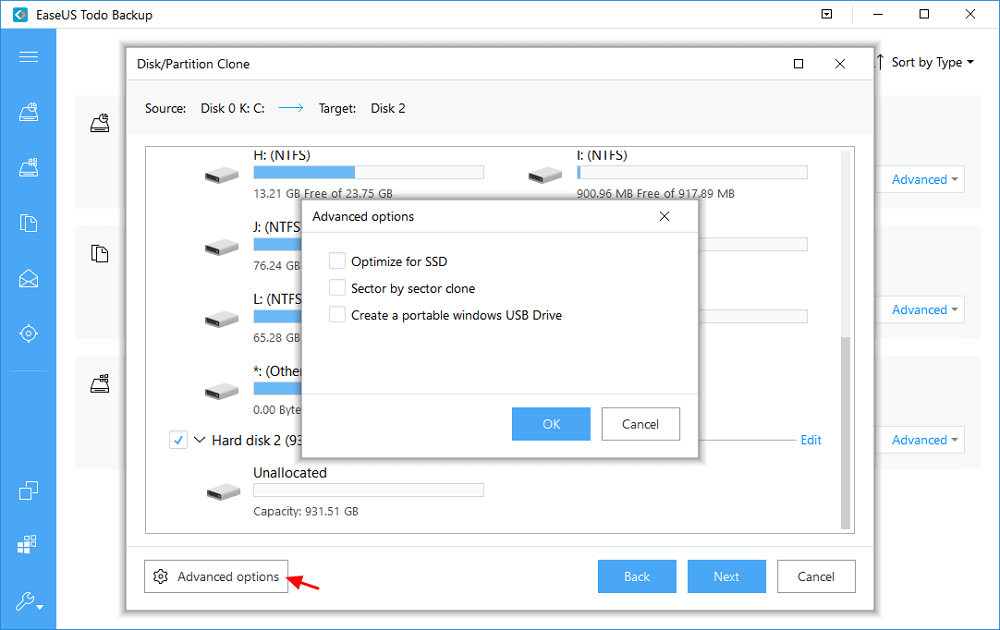 Step 4. Preview the disk layout and click "Proceed".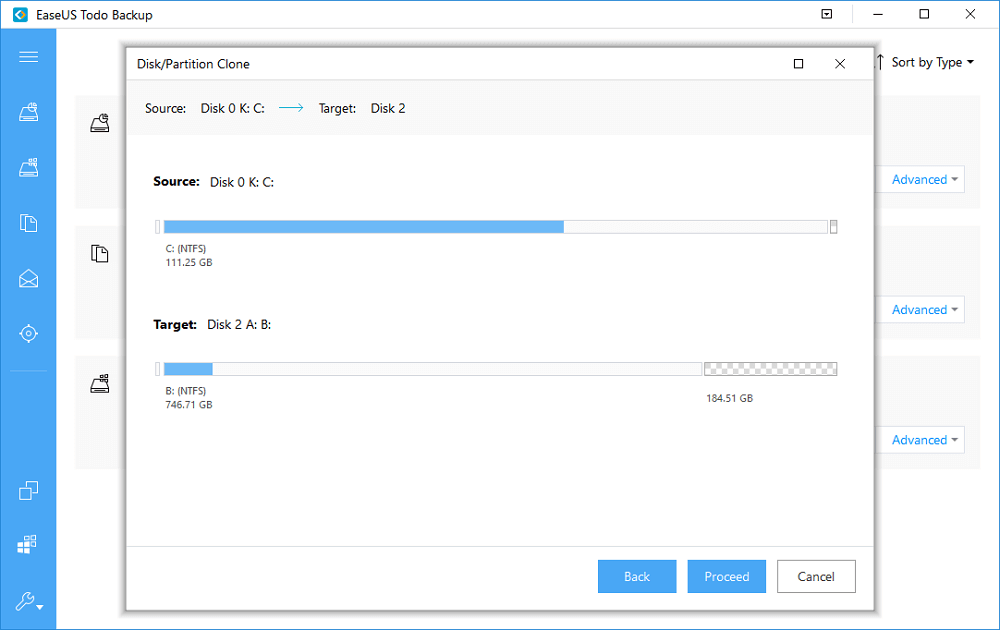 Method 5. Fix GPT/MBR Conflict
If you clone the GPT HDD to MBR SSD or clone the MBR HDD to GPT SSD, it is necessary to solve the conflict. You can refer to this post: How to Clone MBR Disk to GPT Disk/SSD.
Important: If you have GPT/MBR conflict, make sure the following things:
Your operating system is 64-bit
Your computer allows UEFI mode
If your computer only supports for Legacy boot mode, you can convert GPT to MBR, and then your disk can boot successfully in Legacy boot mode.
If your SSD still cannot boot, you can contact us and let us know more to help you as soon as possible.