EaseUS Disk Copy Windows 11 Features
To upgrade to the newly released Windows 11, your computer's boot mode should be UEFI, the disk partition style should be GPT, and Secure Boot should be enabled. What if you need to replace a new hard drive or a larger hard drive for Windows 11 update but don't want to give up the data on the old hard drive? EaseUS Disk Copy could be a handy tool that helps you finish the process.
Supports cloning MBR disk to Windows 11 required GPT disk. 
Smoothly migrates Windows 11 from HDD to SSD.
Supports cloning disk/partition/os.
Fast and reliable Win 11 cloning software, save your time and labor.
Read Also: How to Download and Install Windows 11>
Western Digital hard drives are one of the popular hard drives in the world. When bad sectors appear on the disk especially on WD My Passport hard drives, it will result in hard drive crashes or failures, poor performance, data loss disaster, system boot problems, etc. It's quite difficult and annoying if your WD HDD contains bad sectors.
Read this tutorial and learn how to check Western Digital hard drive bad sectors and replace WD HDD without losing data. Besides, three simple WD HDD repair tools and solutions are introduced to help corrupted WD HDD effectively. 
Part 1. How to Check WD HDD Bad Sectors
When you encounter bad sectors on WD HDD, the first thing to do is to know the situation. You need to check the bad sectors.
To check the bad sectors on your hard disk, there are free tools that can help - EaseUS free partition software and Western Digital Data Lifeguard. Select one to test and check how many bad sectors are existing on your drive. 
1. Check WD HDD Bad Sectors with EaseUS Free Partition Manager
Trusted and recommended by millions of users, EaseUS Partition Master Free with its Surface Test feature can check bad sectors on hard disk, USB flash drive, pen drive, SD memory card, and other storage devices without formatting. The Surface Test feature will identify bad sectors by reviewing the hard drive.
Step 1. Open EaseUS Partition Master. Right-click the disk that you want to check, and then click "Surface Test".
Step 2. The operation will be immediately performed and all bad sectors will be marked as red.
Once it finds bad sectors, it will make bad sectors with red color and let the operating system not to use them so to protect the saved data. You will know how many bad sectors are existing on your WD hard drive from the test result.
 Notice:

If there are too many bad sectors, the scanning process will be stuck. Wait patiently.
If the situation is serious, with an abnormal noise coming out during the disk test, you may not clone your disk with data to a good hard drive. 
2. Test Bad Sectors Using Western Digital Data Lifeguard
Many users mistakenly take Western Digital Data Lifeguard as a bad sector repair tool as it can test the existing bad sectors on WD HDD and other types of storage devices.
Its Extended Test feature actually can only be applied to detect bad sectors. The test may take several hours (which is not as efficient as EaseUS Partition Master) depending on the size of the drive.
Step 1. Download Data LifeGuard Diagnostic (WinDlg_124.zip) and extract WinDlg.exe from the ZIP file.
Step 2. Right-click WinDlg.exe and select "Run as Administrator".
Step 3. Put a checkmark on "I accept this License Agreement" and click "Next" to continue. This will let the program detect the installed hard drives on your PC.
Step 4. Select and highlight the hard disk you want to test and click the "Run test" button.
Step 5. In DLGDIAG, select "Option", choose "EXTENDED Test".
Step 6. Click "Start", and then wait for the test to finish.
Step 7. Close the test window, and click "View Test Result" on the new pop-up window.
Part 2. How to Repair WD HDD Bad Sector Without Data Loss
After the disk bad sector detection is completed, you can choose different processing methods according to the number of the bad sector.
 Tip

If your hard drive still can work with the existing bad sectors and you have no plan to replace the disk, back up your important data to another device. Then follow bad sector repair tools for help. Some of them may cause data loss more or less.
1. Perform Low-level Format to Repair WD HDD Bad Sector 
If the test result displays some bad sectors on your WD HDD, you can try to remove or repair bad sectors using the low-level format. It will regenerate the disk layout and structure. But serious data loss is unavoidable. Also, it cannot be executed by ordinary users. with serious data loss. 
A better resolution for this case is to replace the bad WD hard drive with a good one as recommended in the following method. But if you insist, back up data to another disk first and then take your drive to the local repair center or your manufacturer for a low-level format.
2. Replace Western Digital Hard Drive with Bad Sector to a New HDD
If the disk is badly damaged, it is impossible to repair the bad sectors. In case of this, your wise choice is to replace the bad WD hard disk with a new one.
To avoid data loss, we suggest that you take a powerful disk cloning software - EaseUS Disk Copy to help you switch the hard drive by directly cloning WD HDD to a new hard drive. This capable disk copy tool allows you to clone hard drive with bad sectors, clone hard drive that won't boot, Clone HDD to M.2 SSD, and so on. 
Video Tutorial for Disk Cloning
For disk cloning, the video has listed the details you need to mention. Watch the video tutorial and learn how to replace Western Digital hard drive with bad sectors to a good one.
Do remember to connect your good new hard drive to the computer as a storage device before cloning the Western Digital hard drive with bad sectors to the good one. EaseUS Disk Copy will skip the existing bad sectors, only taking your data to the new disk.
Step 1: Download, install and run EaseUS Disk Copy on your PC.
Click "Disk Mode" and select the hard drive that you want to copy or clone. Click "Next" to continue.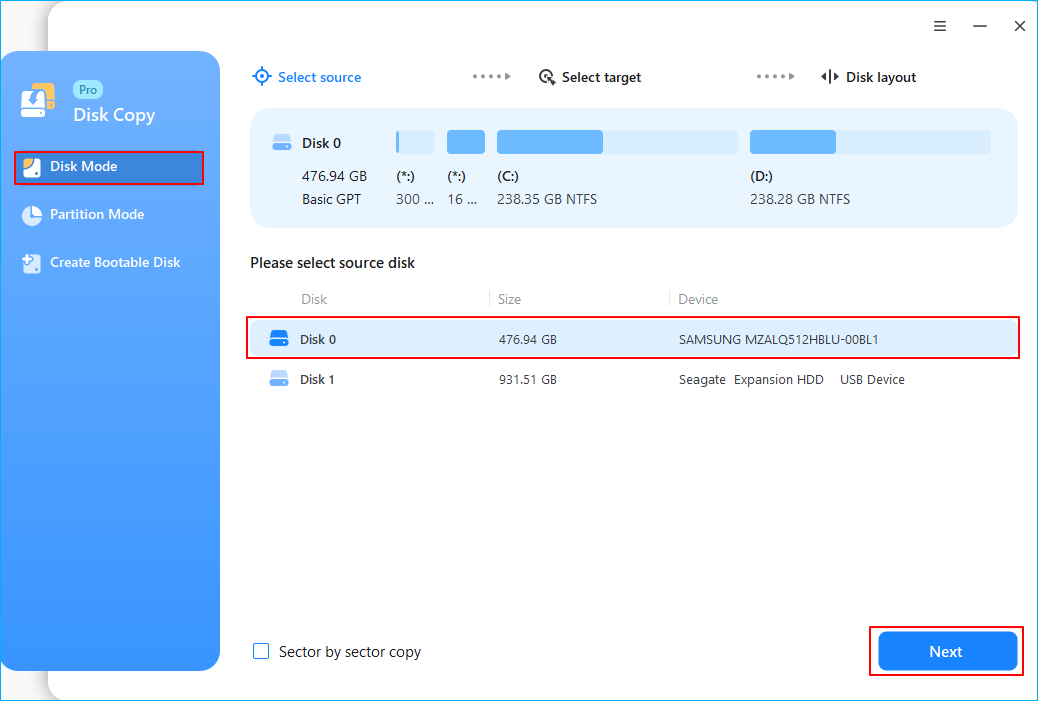 Step 2: Select the destination disk.
Note: The destination disk should be at least the same big or even larger than the source disk if you want to copy or clone the source hard disk.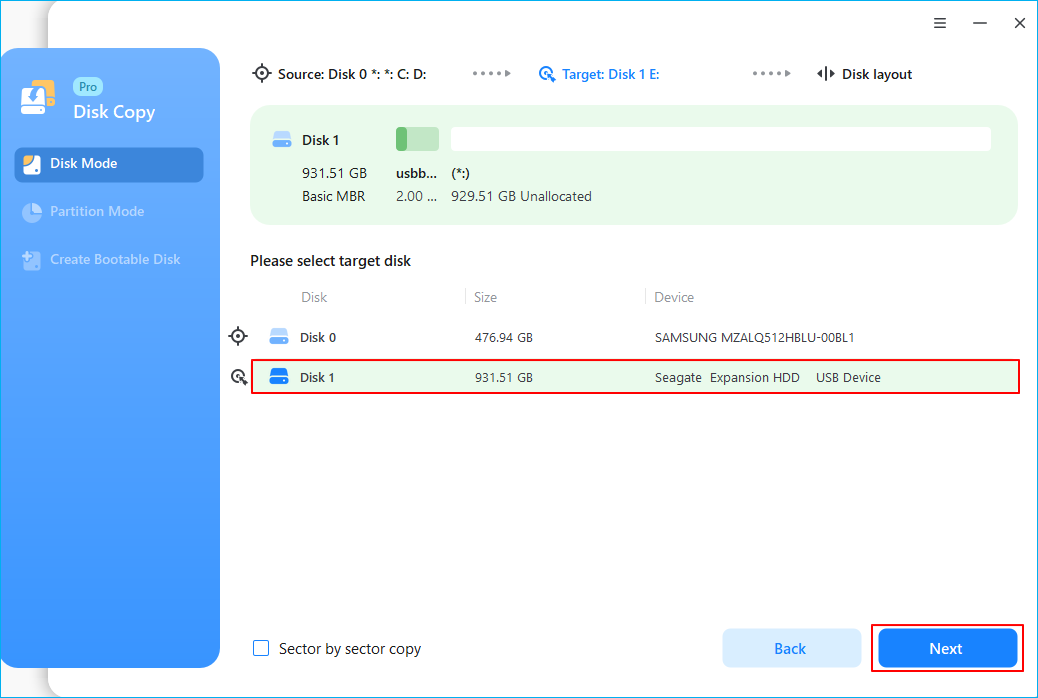 Step 3: Click "OK" to confirm if the program asks to erase data on the destination disk.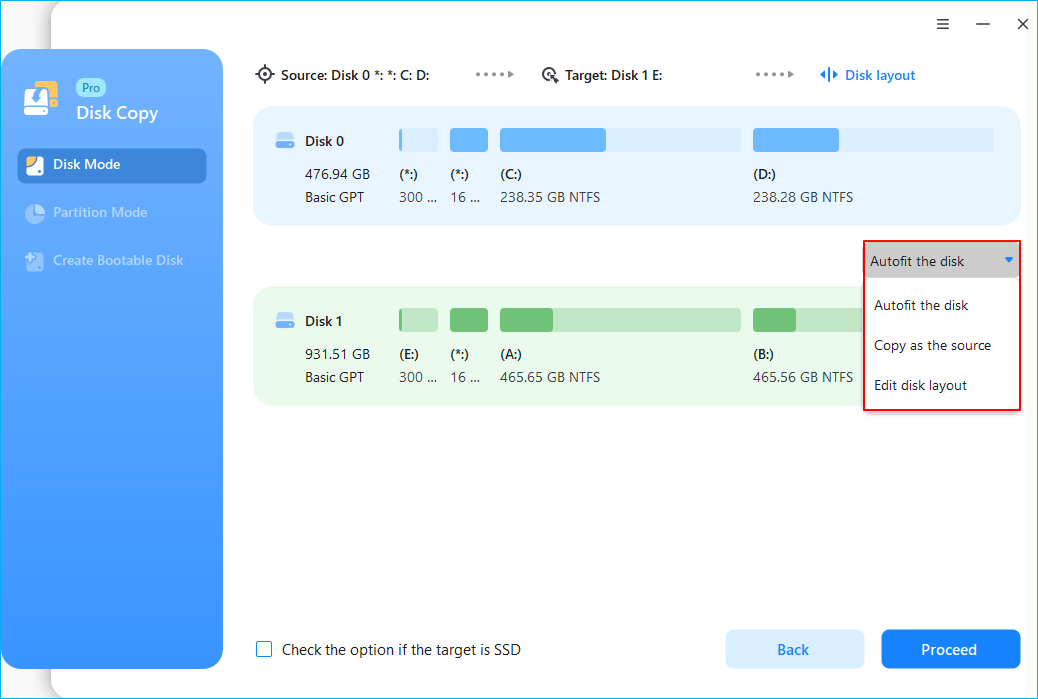 Step 4: Check and edit the disk layout.
If your destination disk is an SSD drive, do remember to Check the option if the target is SSD.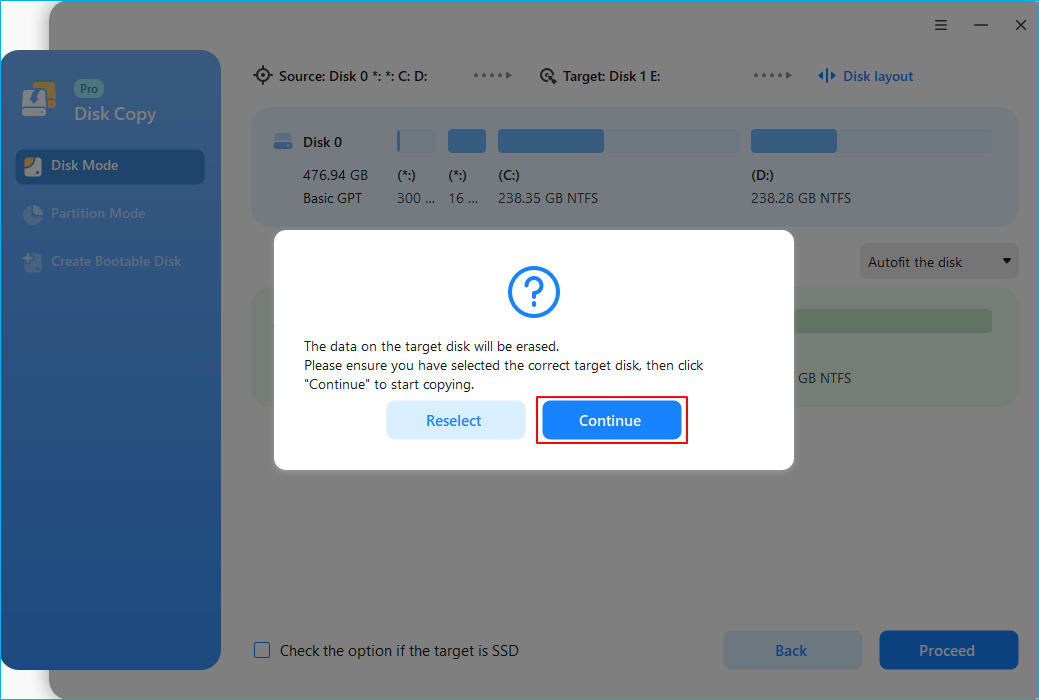 Step 5: Click "Proceed" to start the hard drive cloning process.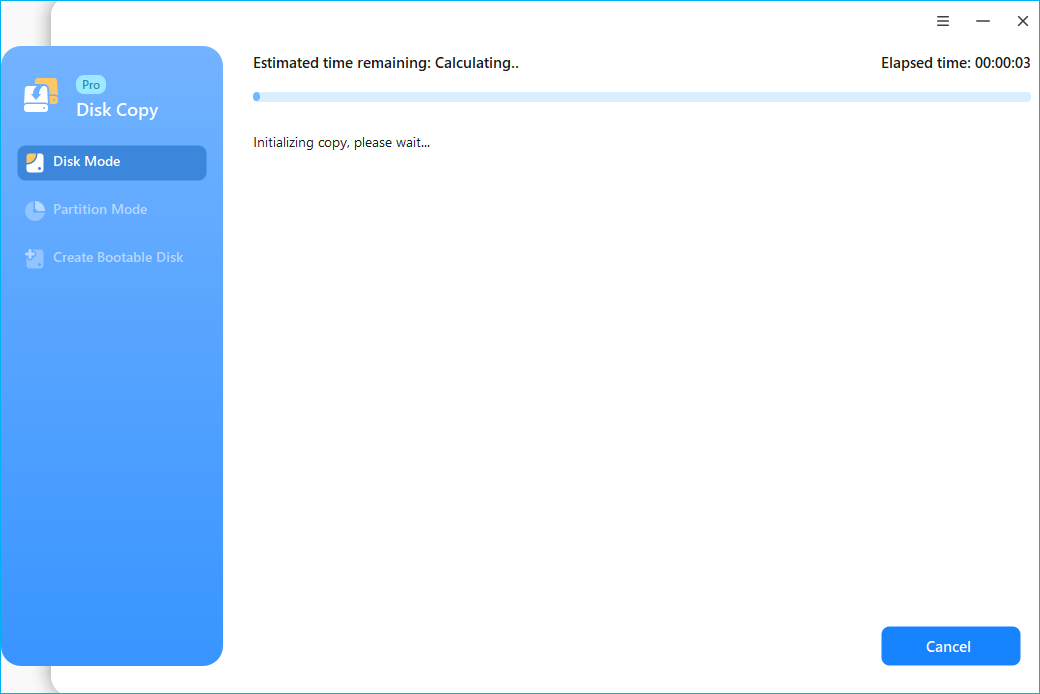 All you need to do is to wait for the process to complete. You can apply and activate this software to help you upgrade and clone the hard drive with bad sectors and restore data as much as possible.
When the cloning finishes, shut down your computer, insert the newly upgrade hard drive to your computer and replace the old Western Digital hard drive, set the computer to boot from a new hard drive instead of the old one in BIOS. Then you can see the precious data you have restored.
Part 3. 3 WD HDD Repair Tool and Solutions to Fix Corrupted Hard Drive
The bad sectors cause physical damage to the disk and cannot be repaired. However, hard disk logical damage caused by other reasons, such as the corrupted file system, can be fixed. Here are the three solutions to repair corrupted WD HDD. 
1. Run Disk Check in File Explorer
Step 1. Open This PC in File Explorer. Right-click the WD hard drive partition and select "Properties".
Step 2. On the Tools tab, click the "Check" button under the top. Then, click "Error checking" > "Scan drive if wanted or Repair drive if errors were found".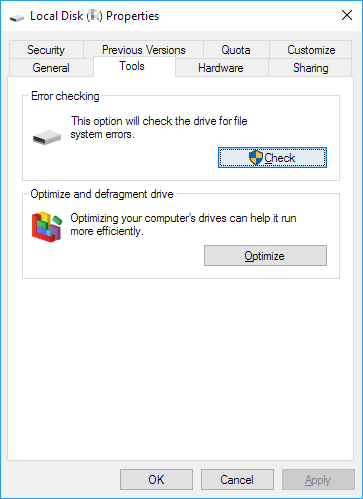 2. Run CHKDSK Command and Format Hard Drive
Step 1. Run CHKDSK command to fix soft bad sectors.
Press the Windows key and type cmd.
Right-click "Command Prompt" and choose "Run as administrator".
Type chkdsk E: /f /r /x and hit Enter. (Replace E with the drive letter of your hard drive.)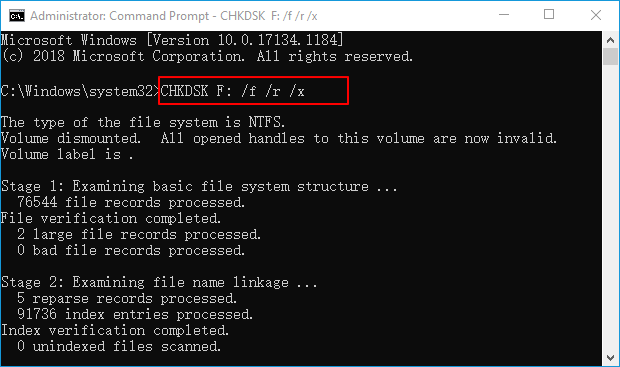 Step 2. Format hard drive to usable again
Open Windows File Explorer, locate and right-click on your hard drive.
Select "Format", reset the file system as NTFS, tick "Quick Format" and click "Start".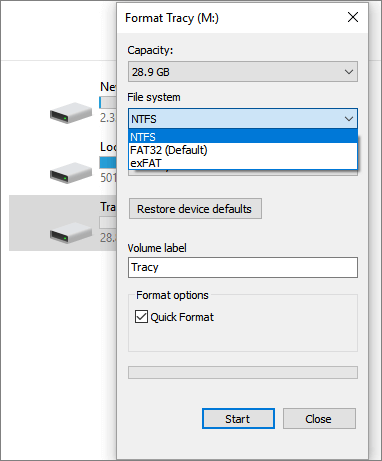 3. Use CHKDSK Alternative - EaseUS Partition Master Free
The Check File System feature in EaseUS Partition Master is a free alternative tool to the CHKDSK command. You may also apply this feature to repair logical bad sectors on your WD HDD.
Check the full guide on how to use the Check File System of EaseUS partition manager to repair corrupted WD HDD.
To Sum Up 
This page mainly talks about how to test bad sectors existing on your WD hard disk and how to repair bad sectors on WD HDD.
To test bad sectors, you may try Surface Test in EaseUS Partition Master or run Extended Test on Western Digital Data Lifeguard.
To protect your disk from being damaged by bad sectors and your previous data, the best choice is to clone and replace the WD HDD with bad sectors to a good drive.
What's more, in the last part, you can also learn three useful ways to repair corrupted hard drives by checking and fixing the corrupted file system. Hope these guides can help you.
EaseUS Disk Copy
Clone an old disk to a new one
Clone a small disk to a large one
Clone HDD to SSD
TRY IT NOW
Video Tutorial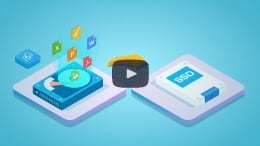 How to Clone HDD to SSD on Windows 10/8/7