Before diving into the detailed information about how to clone HDD/SSD to M.2 SSD, let's see what you will use and what you need to prepare. Here is a table for you.
🧰Tools You Will Use
EaseUS Disk Copy

 

📃Preparations

Install M.2 SSD or NVMe M.2 SSD
Boot Windows from the SSD
Download Disk Cloning Software - EaseUS Disk Copy
Transfer OS from SSD to M.2 SSD Problem
Most people are looking for effective ways to clone SSD to M.2. Here is the real user case from a technology forum: 
"I am trying to clone my boot drive from 500GB Samsung 840 Evo SSD to M.2 1TB Samsung 961. There are too many applications, settings, and licenses on that system that I don't want to re-download or re-activate. Instead, I want to clone Windows 10 from SATA SSD to M.2 SSD. How can I do it?"
If you also need to upgrade your SSD or HDD and don't know how to clone SSD to M.2 or NVMe M.2 SSD, you are in the right place. In this article, we are going to show you how to clone HDD/SSD to M.2 SSD with professional disk cloning software - EaseUS Disk Copy.
What's more, if you clone Windows 10 to M.2 SSD, you'll also need to know how to boot your computer from the cloned M.2 SSD. You can learn all the information here.
How to Clone SSD to M.2 SSD/ NVMe M.2 SSD in Windows 10
M.2 SSDs are better than ordinary solid-state drives. The speed of M.2 with NVMe protocol is very fast. For example, Samsung's SM960/961 has a reading speed of up to 3200MB/S, which is more than 6 times that of an ordinary SSD. Therefore, some users with large file transfer and high-performance operation requirements will upgrade HDD or SSD to M.2 or NVMe M.2 SSD
Next, we will give you detailed explanations of how to clone HDD/SSD to M.2 SSD in five steps.
1. Install M.2 SSD or NVMe M.2 SSD on Your Computer
Turn off the laptop and then disconnect both the power cable and any other connected cables. Unscrew the back panel and remove it to install the new NVMe SSD properly into the M.2 slot on the motherboard. 
Make sure your computer detects the newly added M.2 SSD. If your SSD not showing up in Windows 10, fix the issue in time.
2. Start Windows 10 from the Source/Original SSD
In general, after you connect the M.2 SSD to your computer, it won't boot from the empty new M.2 SSD. But there is a situation in which some users will connect both the original SSD and M.2 SSD to another computer. In this case, the computer may start from the blank M.2 SSD and cannot boot.
To avoid this kind of startup problem, you need to go to the BIOS to confirm whether your computer is booted from the original SSD.
3. Free Download Disk Cloning Software to Clone Hard Drive to M.2
Whether you want to clone a system disk with Windows OS or a data disk to M.2 SSD, disk cloning can help you avoid all the tedious jobs of reinstalling Windows and all of your applications. You can clone SSD or HDD for disk upgrade, system migration, data transfer, file backup, or some other purpose.
EaseUS Disk Copy has a powerful cloning capacity and advanced & flexible cloning features. It can help you easily clone SSD to M.2 SSD without cloned HDD won't boot issue, which you might suffer while using other disk cloning tools. Download this software to enjoy these highlights:
Disk Copy Highlights:
An easy and fast cloning process
Professional technical support
Compatible with Windows 11/10/8.1/8/7
4. Clone SSD to M.2 SSD with Step by Step
Activate this software, and follow these steps to clone a hard drive to M.2 SSD.
Video tutorial on how to HDD to M.2 SSD:
To make things easy and smooth, you may follow this video as a guide. You can make it on your own: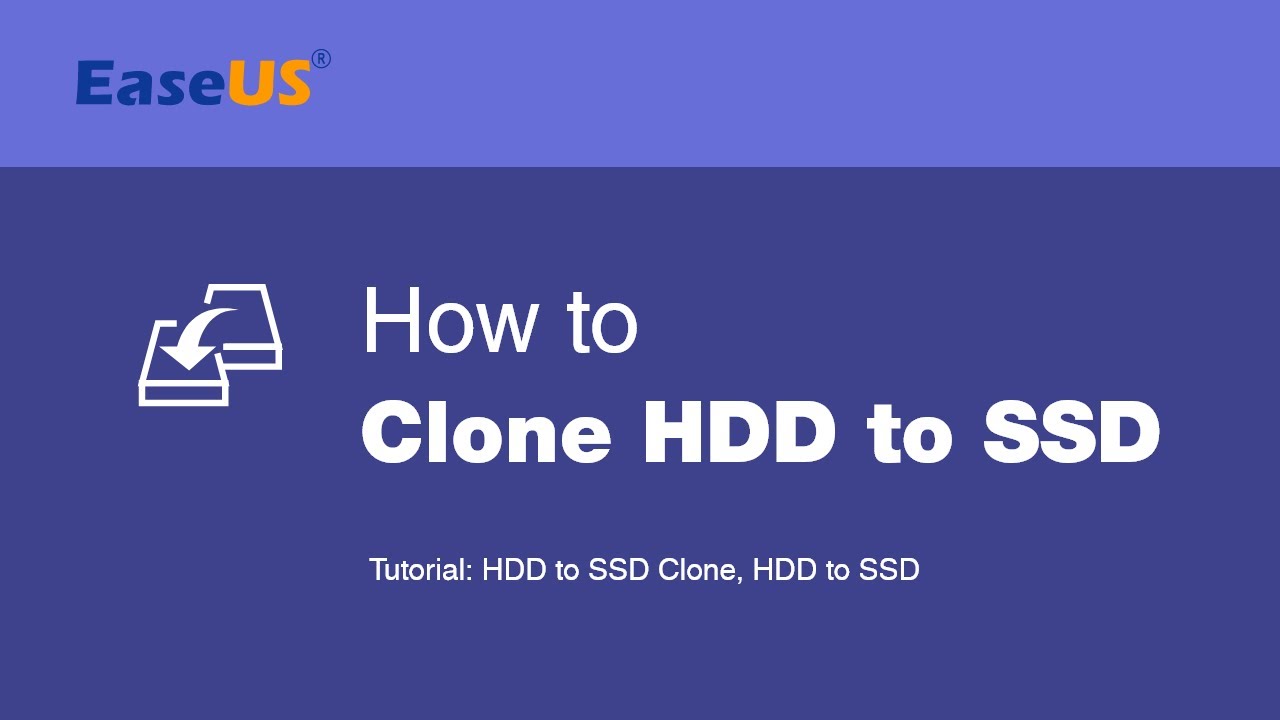 Steps to clone HDD to M.2 SSD
Prior Notice:
The "Sector by sector copy" asks the size of your destination disk to be at least equal to or larger than that of the source disk. Leave this feature unchecked if you wish to clone a larger hard disk to a smaller hard disk.
All data on the destination disk will be completely erased, so take care.
Step 1. To start copying/cloning an entire disk to another, choose this disk as the source disk under "Disk Mode" and click "Next".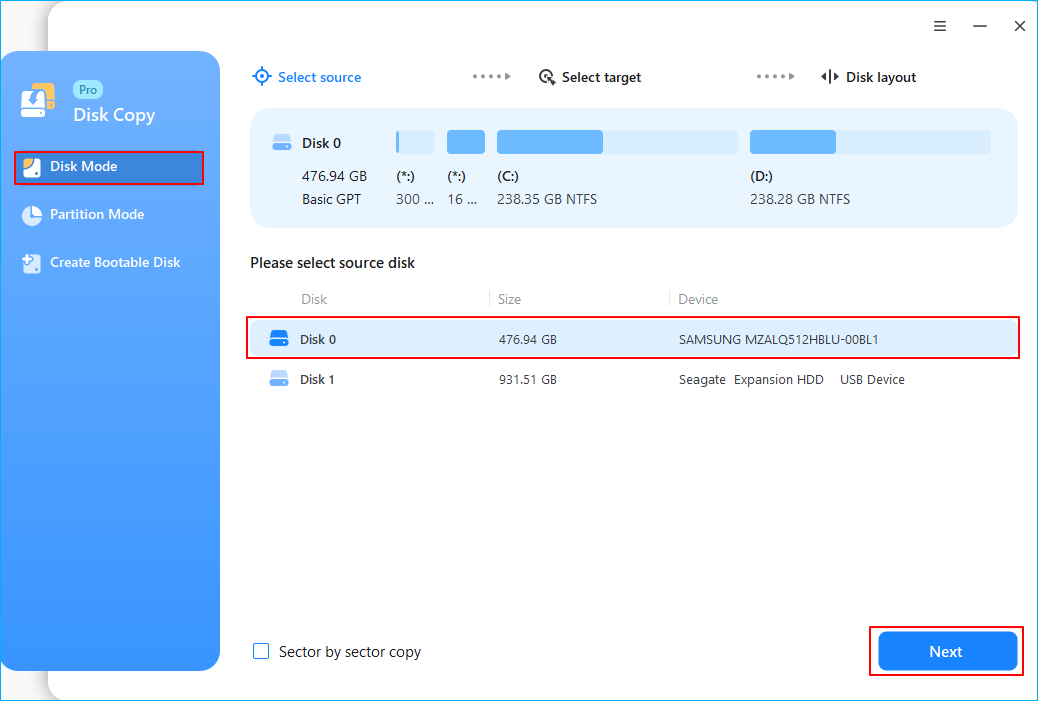 Step 2. Choose the other disk as the destination disk.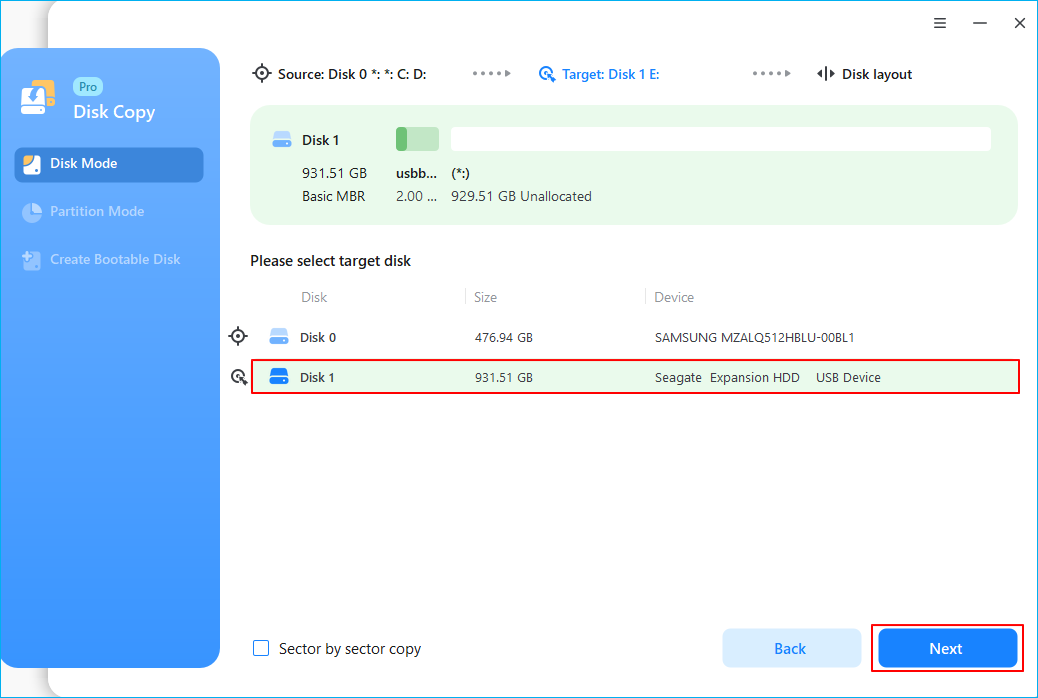 Step 3. Check the disk layout of the two disks. You can manage the disk layout of the destination disk by selecting "Autofit the disk", "Copy as the source" or "Edit disk layout".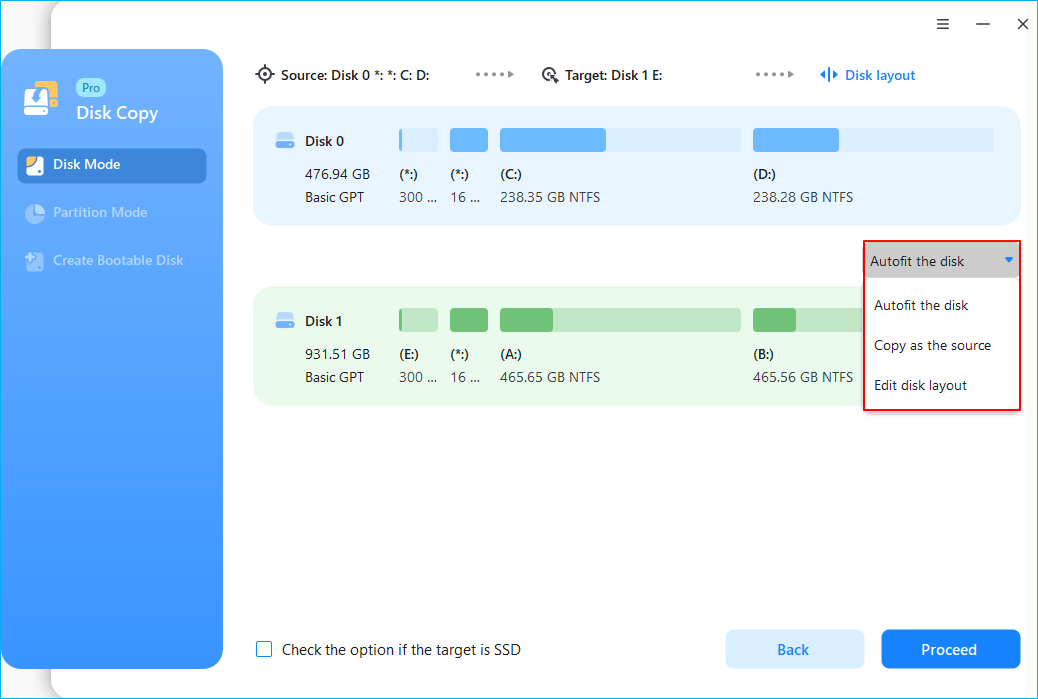 "Autofit the disk" makes some changes by default on the destination disk layout so that it can work at its best status.
"Copy as the source"does not change anything on destination disk and the layout is the same as source disk.
"Edit disk layout" allows you to manually resize/move partition layout on this destination disk.
Tick the "Check the option if the target is SSD" option to put your SSD in its best performance.
A message now appears, warning you that data will be lost. Please confirm this message by clicking "OK" and then click "Next".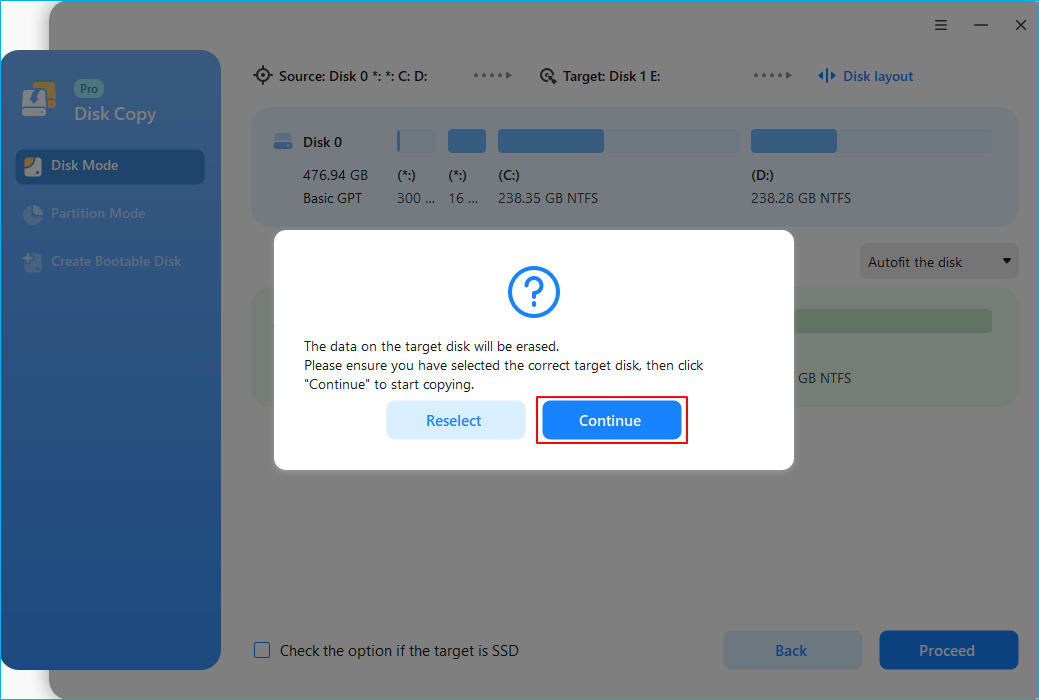 Step 4. Click "Proceed" to officially execute the task.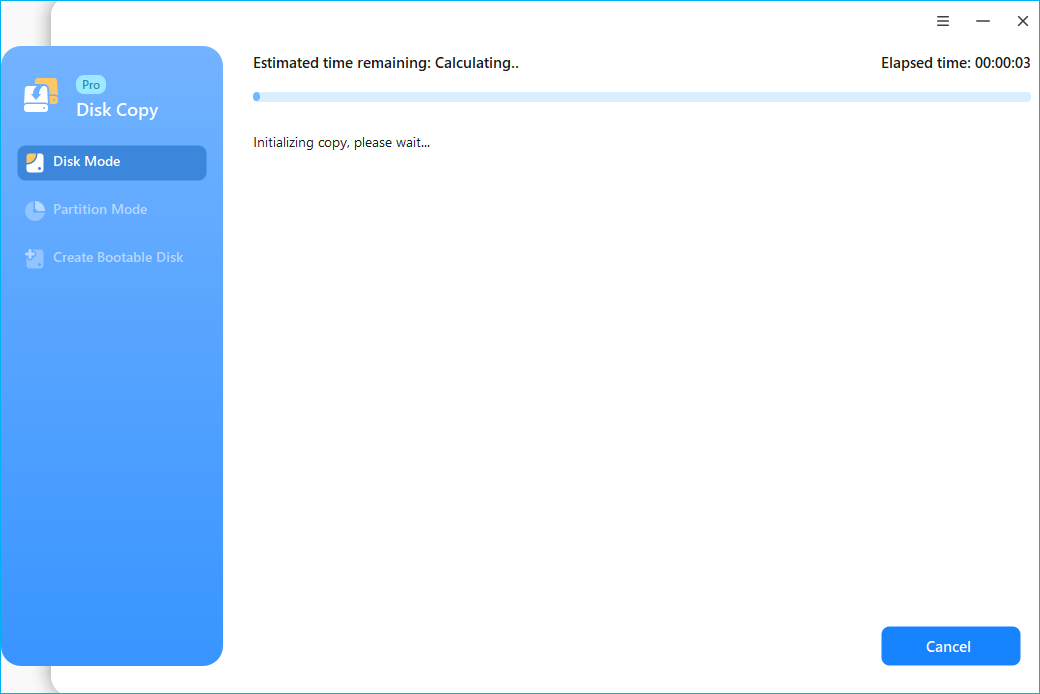 If you want to learn how to clone HDD to M.2 NVMe SSD on Windows 10 using Ghost, You will get your answer in this post. 
5. Set Your Computer to Boot from Cloned M.2 SSD/NVMe M.2 SSD
If you clone Windows 10 from SSD/HDD to M.2 SSD, you need to manually set the boot sequence. Restart your computer and press F2, Esc, or F8 to enter BIOS. Then, set to boot from the cloned M2. SSD. You may need to disable secure boot control to see the SSD as a bootable drive. 
 Tip

If the source HDD or SSD is in MBR boot mode but the cloned/migrated SSD is in GPT, it is necessary to make SSD first in the device boot order in BIOS and change the boot mode to EFI to ensure proper startup.
If your laptop boots as usual and you see all of your programs and settings just the way they were before (except much faster), all went well. 
Additional Information About M.2 SSD
An M.2 SSD is used in internally mounted storage expansion cards of a small form factor. It is designed to enable high-performance storage in thin, power-constrained devices, such as ultrabooks and tablet computers. This SSD supports multiple protocols and applications such as Wi-Fi, USB, PCIe, and SATA.
Pros:
Takes up less space and uses much less power 
Can read and write at much faster rates
Supports PCIe, SATA, USB 3.0, Bluetooth, and Wi-Fi
Cons:
1 TB SATA SSD can cost about $100 (expensive)
Limited capacity (Maximum 2 TB)
If a laptop is compatible with the M.2 spec, the device's operating system should already include the required Advanced Host Controller Interface (AHCI) drivers to install the M.2 storage card. If your laptop doesn't meet your need, give up buying this SSD. If you can fulfill your needs, enjoy the high performance of your new SSD now.
Conclusion
That is how to clone SSD or HDD to M.2 or M.2 NVMe SSD by using EaseUS Disk Copy. If you still encounter can't set SSD as a boot drive or cloned SSD won't boot problem, contact our technical support team through [email protected] to solve the problem. 
FAQs on How to Clone HDD/SSD to M.2 SSD
1. Can I clone just the operating system to SSD?
Yes, you can clone only the OS to an SSD. You need to use professional disk cloning software like EaseUS Disk Copy to help you transfer the C drive to a new SSD.
2. How to upgrade m.2 SSD without reinstalling Windows?
For upgrading an M.2 SSD without reinstalling Windows, you can choose to clone it. Cloning can help you upgrade a disk to a larger one or a smaller one without Windows reinstallation.
3. Can I transfer OS from SSD to SSD?
Yes, you can easily transfer your operating system from an SSD to another one with the help of OS migration software like EaseUS Disk Copy. It can also help you to install Windows 7 on an NVMe SSD.
Was this page helpful? Your supoport is truly important to us!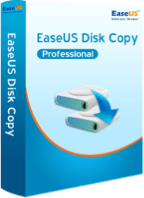 EaseUS Disk Copy
EaseUS Disk Copy is a well designed and very easy-to-use HDD/SSD cloning and migration tool, a tool which should be ideal for anyone wanting to quickly and easily migrate an existing system disk to a new disk (or newly installed SSD drive) with the minimal of configuration required.
Updated by

Larissa has rich experience in writing technical articles. After joining EaseUS, she frantically learned about data recovery, disk partitioning, data backup, and other related knowledge. Now she is able to master the relevant content proficiently and write effective step-by-step guides on computer issues.…

Read full bio

Written by

Brithny is a technology enthusiast, aiming to make readers' tech lives easy and enjoyable. She loves exploring new technologies and writing technical how-to tips. In her spare time, she loves sharing things about her favorite singer - Taylor Swift on her Facebook or Twitter.…

Read full bio