Applies to: Migrate Windows 10 to a new hard drive/SSD, transfer Windows 7 to a new hard drive, move Windows 8 to a new drive, etc.
This page provides a detailed tutorial guide to help you move OS to another drive without reinstalling the Windows OS and applications. We are going to teach you how to set up your PC with some tools before moving OS to a new drive. Moreover, some follow-up tips about setting up computer boot from the new disk will also be included. 
EaseUS Disk Copy Windows 11 Features
To upgrade to the newly released Windows 11, your computer's boot mode should be UEFI, the disk partition style should be GPT, and Secure Boot should be enabled. What if you need to replace a new hard drive or a larger hard drive for Windows 11 update but don't want to give up the data on the old hard drive? EaseUS Disk Copy could be a handy tool that helps you through the process.
Supports cloning MBR disk to Windows 11 required GPT disk. 
Smoothly migrates Windows 11 from HDD to SSD.
Supports cloning disk/partition/os.
Fast and reliable Win 11 cloning software, save your time and labor.
Read Also: How to Download and Install Windows 11>
Download One awesome OS Migration Software - EaseUS Disk Copy
How Do I Transfer My OS to a New Hard Drive?
"I want to copy my Windows OS hard drive to a new hard drive and make my PC boot from the new hard drive. Which is the best?"
System partition out of disk space is a common problem that may cause the computer to run extremely slowly. The most frequent way is to extend system partition with free partition manager software. But what if your system disk is used up?
Usually, increasing the overall capacity of computers by adding a new disk is a way out. However, using the new disk as a second data hard drive is not the best workout. It will be wiser to transfer the entire OS hard drive to a new hard drive, switching the system disk.
So how to switch the whole system disk, including the OS, applications, and data to the new drive? Continue reading, you will find a reliable disk copy software that will help you out, moving OS with data to a new disk in only a few clicks.
EaseUS Disk Copy - Best OS Moving Tool
Obviously, you don't want to spend a lot of time and energy reinstalling the OS and all applications again on the new hard disk. Unlike data transferring, installed programs can't be moved to another drive-by simply pressing Ctrl + C and Ctrl + V. 
An all-in-one resolution for you to transfer Windows OS, installed applications, and disk data to a new larger hard drive is to clone the whole system disk to the new drive.
To do so, you will need professional disk cloning software for help. EaseUS Disk Copy enables you to transfer OS to a new hard drive with a few clicks.
To guarantee a smooth OS disk migration process, please activate this tool to a pro version in advance. Click the button and gain an activation key immediately:
Designed with an intuitive interface, any level of users can apply it to transfer OS to the new hard drive/SSD on Windows 10/8/7/Vista/XP without reinstalling the operating systems and applications.
Video Tutorial about how to transfer OS to another drive:
How to Transfer OS to New Drive - Here is the Full Process
Follow through the OS disk migration process and set up your OS bootable on the new drive now:
1. Check your Hard Drive
One thing is Important! You need to make sure that the new hard drive has the same size or larger size. Otherwise, your transfer process will fail. You can delete the temporary files to free up disk space.
And your computer is not infected with the virus and the operating system is not damaged.
2. Preparations 
1. A New SSD (Bigger than the used space on your old hard drive)
2. A Screwdriver
3. A USB 3.0 to SSD / 2.5-Inch SATA Hard Drive Adapter
4. Download Disk Cloning Software - EaseUS Disk Copy
P.S. We also show the tool you need on the video tutorial.
#3. Transfer OS to New Hard Drive using EaseUS Disk Copy
Step 1: Download, install and run EaseUS Disk Copy on your PC.
Click "Disk Mode" and select the hard drive that you want to copy or clone. Click "Next" to continue.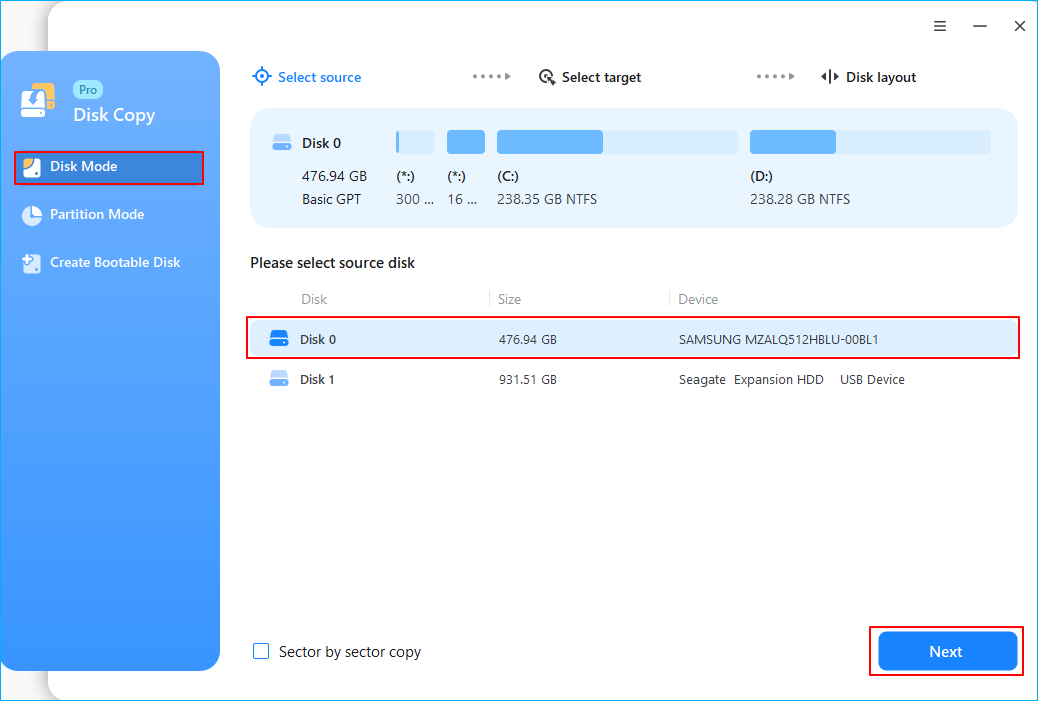 Step 2: Select the destination disk.
Note: The destination disk should be at least the same big or even larger than the source disk if you want to copy or clone the source hard disk.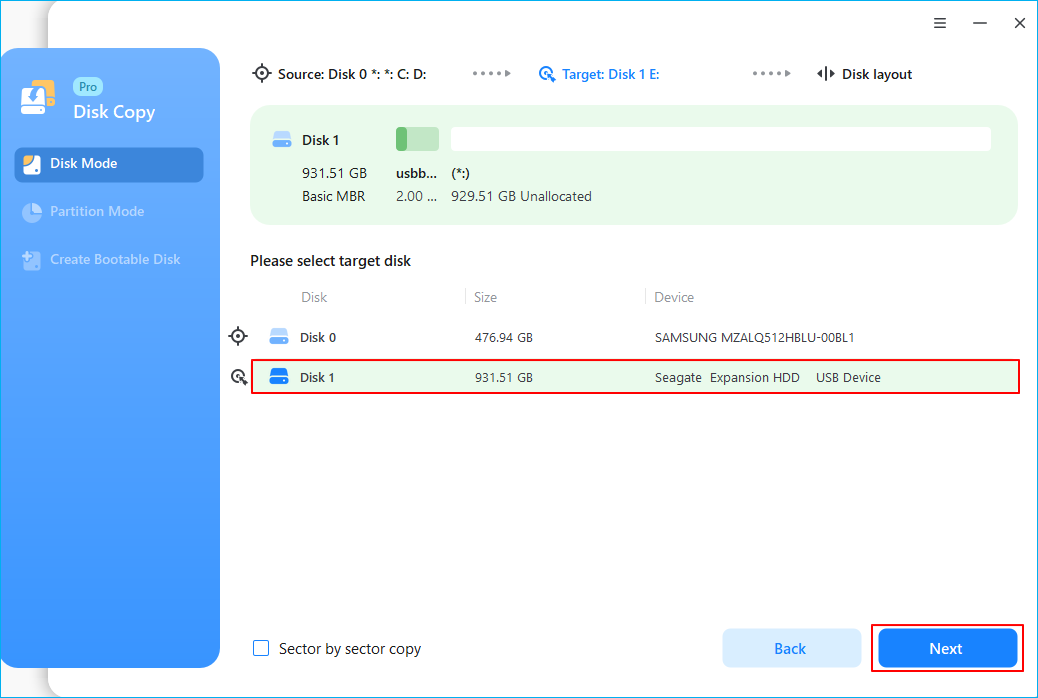 Step 3: Click "OK" to confirm if the program asks to erase data on the destination disk.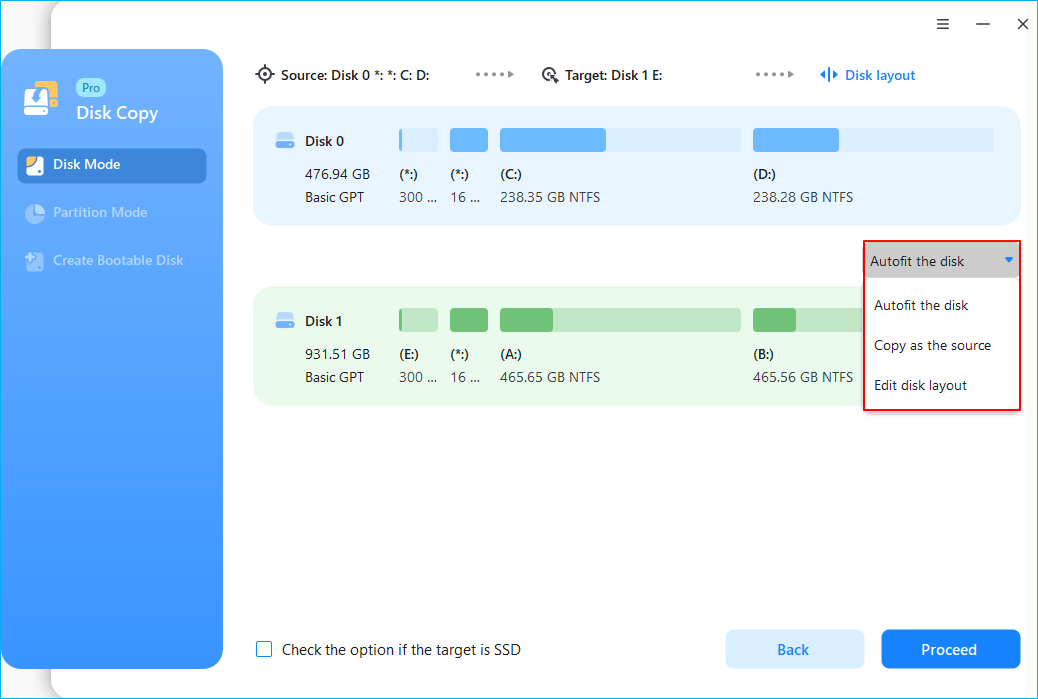 Step 4: Check and edit the disk layout.
If your destination disk is an SSD drive, do remember to Check the option if the target is SSD.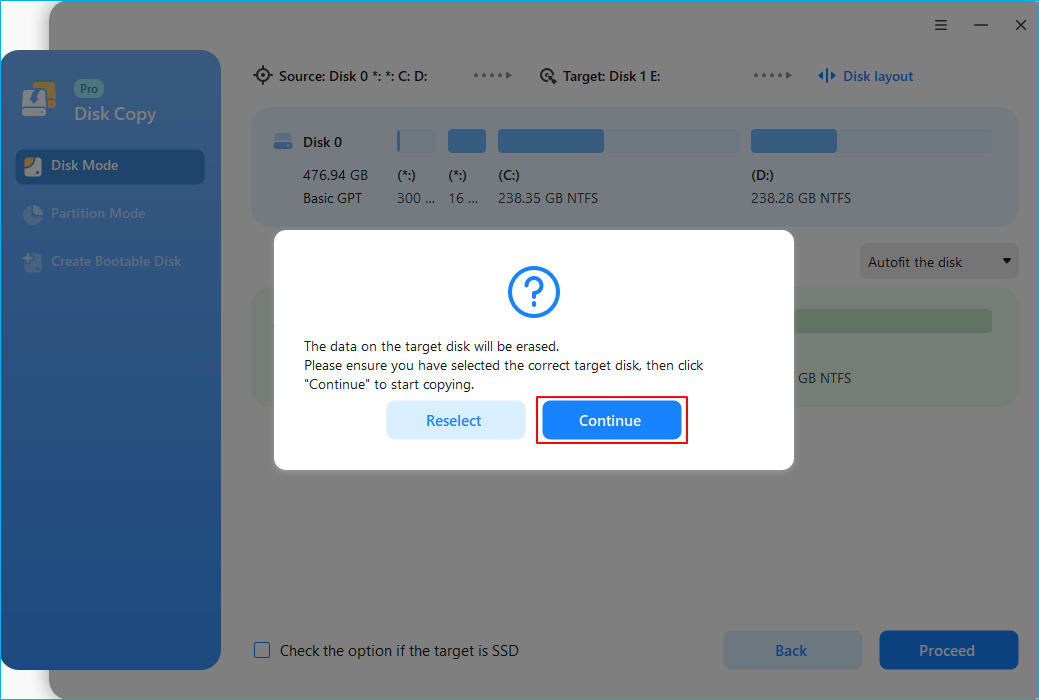 Step 5: Click "Proceed" to start the hard drive cloning process.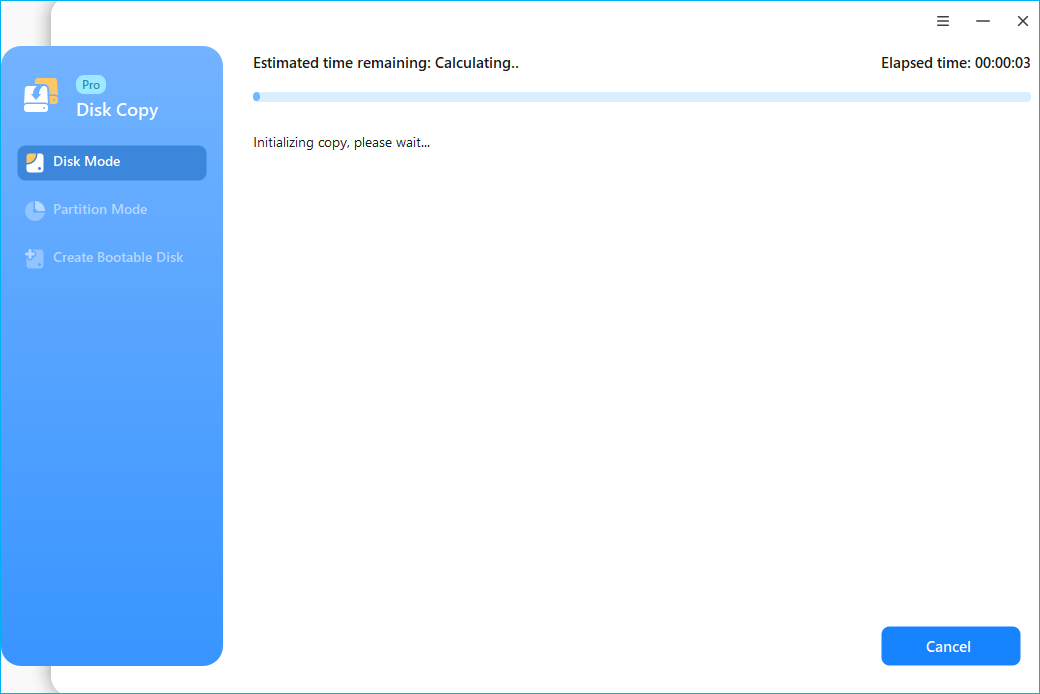 #4. Set Up Windows OS Boot from New Hard Drive
After cloning, you are not done yet. One more operation that you need to follow - setting up the computer, booting OS from new hard drive:
Step 1. Restart PC and press F2/F12/Del keys to enter BIOS.
Step 2. Go the boot option, change the boot order, setting OS to boot from the new disk.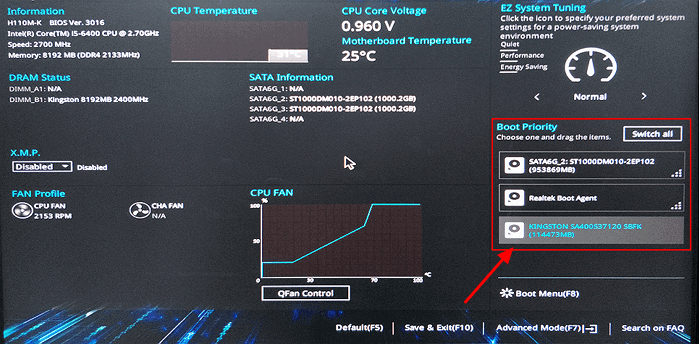 Step 3. Save the changes, exit BIOS, and restart PC.
Wait patiently to let the computer boot up. You will find that nothing changed on your computer, the OS is bootable, the applications are functional, and the data are safely saved on the disk. 
The only thing changed is that you have switched the disk and you can delete everything on the old disk, using it as a second data drive by now.
Conclusion
On this page, we covered a complete process of guiding you to switch system disk, moving OS to a new hard drive or SSD without reinstalling OS and applications using EaseUS Disk Copy.
Also remember to follow the OS drive setting-up guide, making Windows bootable on the new drive. The provided method on this page also works to migrate OS to SSD disk, such as migrating OS to M.2 SSD. 
EaseUS Disk Copy
Clone an old disk to a new one
Clone a small disk to a large one
Clone HDD to SSD
TRY IT NOW
Video Tutorial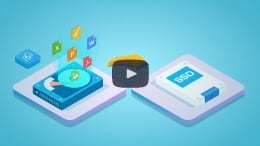 How to Clone HDD to SSD on Windows 10/8/7