Windows Easy Transfer - the Windows inbuilt file transfer software
EaseUS Disk Copy - the best hard drive duplication software
In the beginning, we introduce you to two pieces of applicable software when it comes to copying a hard drive to a new computer. By reading the short supplementary information, you can easily tell what exactly they work for. 
To be specific, you can choose one assistive tool by referring to the rules as follows.
One. Copy only data/folders
This happens when your new computer already has Windows operating system installed, and you wish to transfer the personal files from the old hard drive to a new one so you can access the data on the new computer.
Or, you want to clean install Windows 10/8.1/8/7 on your new computer instead of continuing using the system configuration on the previous hard drive.
By the way, Windows Easy Transfer is not available in Windows 10. Use its alternative software called EaseUS Todo PCTrans for Windows 10 file transfer if necessary.
Two. Copy operating system, programs, data, and files. i.e., everything.
In fact, over 60% of people don't expect to lose the Windows environment they're used to playing. Even though they changed to a new computer/laptop with a brand new HDD/SSD installed, they want to restore everything completely from the old hard drive to this new machine.
Now it's not about a simple data migration between two hard drives but everything, including data, folders, operating system, programs along with all their customized settings. At this moment, EaseUS Disk Copy now comes to play.
Guide: How to Copy Hard Drive to New Computer
Connect the new drive to the computer with the proper cable. Then use EaseUS hard drive duplicator software to copy a hard drive to a new hard drive. Finally, put the new drive into your newly invested computer without losing the system, data, and applications you have been accustomed to.
Video Tutorial:
Step-by-Step Guide:
Activate EaseUS Disk Copy for a smooth disk copying or cloning process.
1. Download, install and run EaseUS Disk Copy on your PC.
Click Disk Mode and select the source disk that you want to copy or clone. Click Next to continue.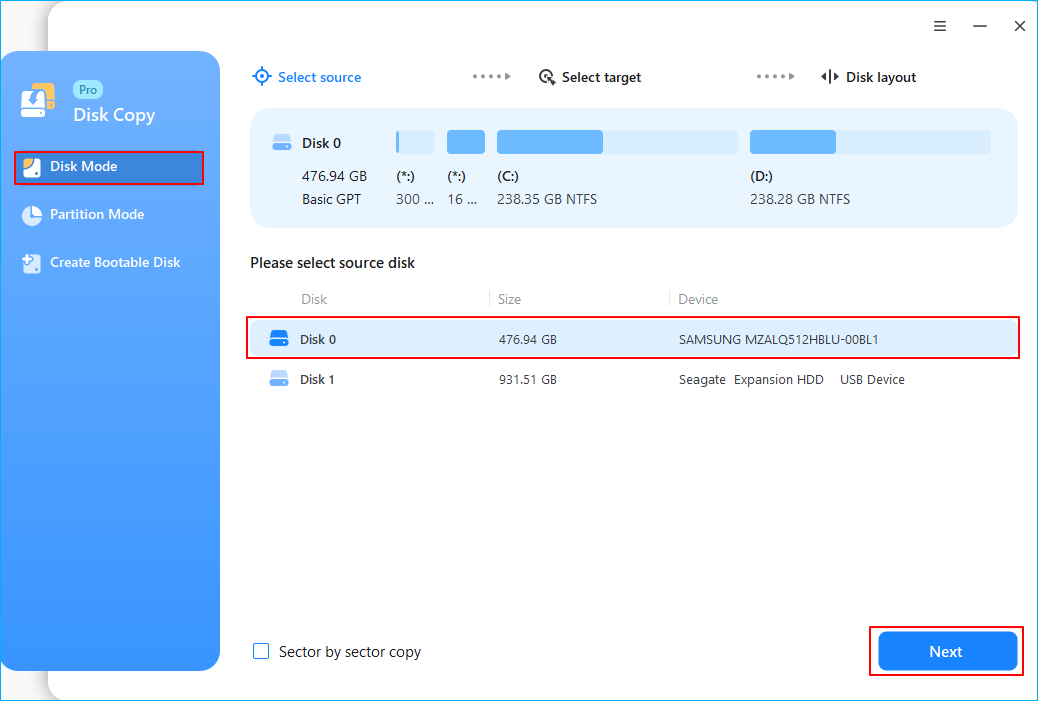 2. Select the destination disk where you want to clone/copy the old disk and click Next to continue.
Click OK to confirm if the program asks to erase data on the destination disk.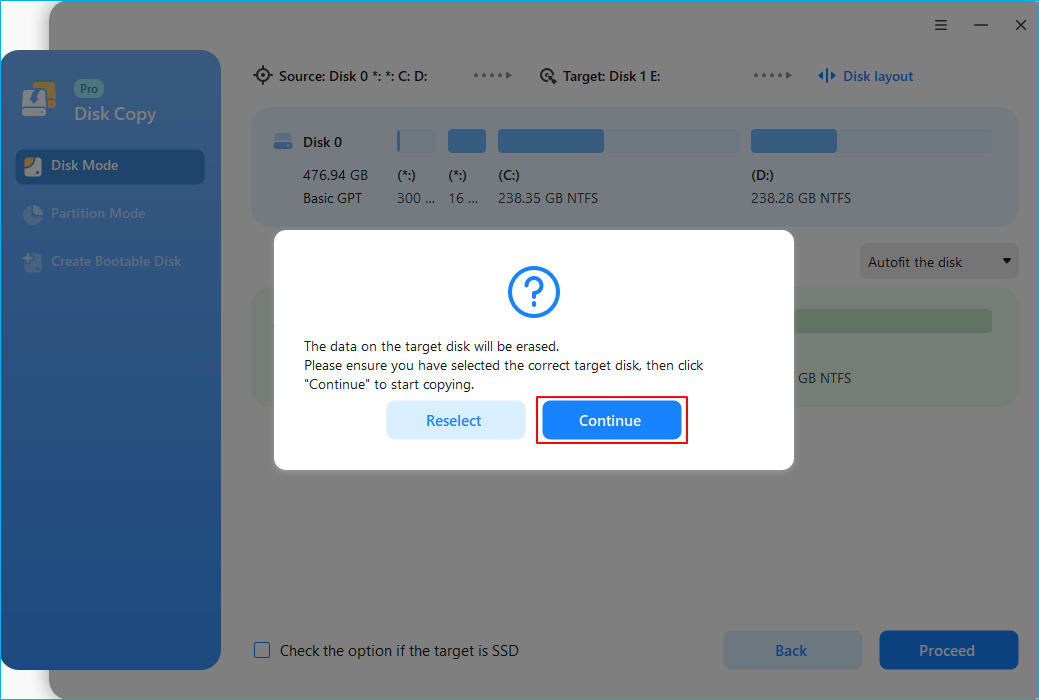 3. Check and edit the disk layout as Autofit the disk, Copy as the source or Edit disk layout.
Autofit the disk is recommended.
Copy as the source option will copy/clone the same layout of partitions on your source disk to the destination disk.
Edit disk layout allows you to manually resize or move partition layout on the destination disk.
If your destination disk is an SSD drive, do remember to tick Check the option if the target is SSD.
Click Proceed to start the disk cloning or disk copying process now.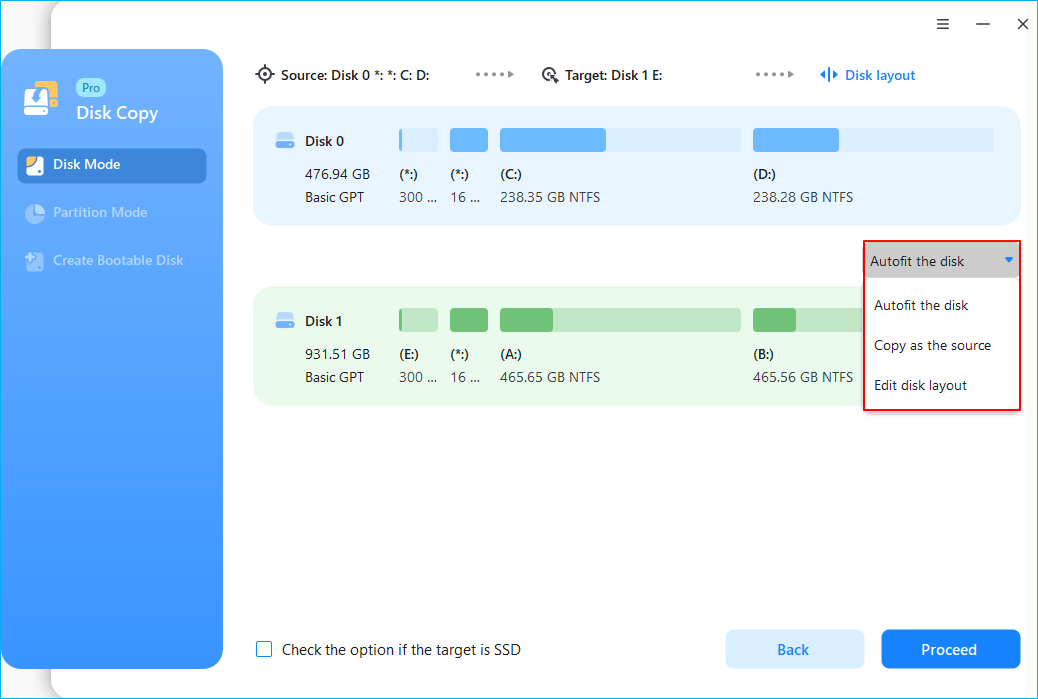 Was this page helpful? Your supoport is truly important to us!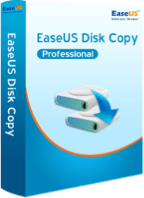 EaseUS Disk Copy
EaseUS Disk Copy is a well designed and very easy-to-use HDD/SSD cloning and migration tool, a tool which should be ideal for anyone wanting to quickly and easily migrate an existing system disk to a new disk (or newly installed SSD drive) with the minimal of configuration required.
Updated by

"I hope my articles can help solve your technical problems. If you are interested in other articles, you can check the articles at the bottom of this page, and you can also check my Facebook to get additional help."…

Read full bio

Written by

Jean is recognized as one of the most professional writers in EaseUS. She has kept improving her writing skills over the past 10 years and helped millions of her readers solve their tech problems on PC, Mac, and iOS devices. …

Read full bio