This page introduces you a third-party free Windows 10 file transfer tool to help with fast, safe, convenient program files, users files, documents/music/picture/app files transfer from Windows Vista, XP, 7, 8, 8.1, 10 to Windows 10 PC with ease, even though Windows 10 does not include Windows 10 Easy Transfer program any longer.
Why You Need Windows 10 File Transfer Tool
Windows users, especially those of Windows 7 and Windows 8.1, get very familiar with Windows Easy Transfer, an extremely easy-to-use and powerful Windows files and settings transfer program. But Microsoft dismissed the free utility ever since you upgraded to Windows 10, instead, it's replaced by PCmover Express, which is not free offered.
Is there any other free alternate for Windows Easy Transfer in Windows 10? The answer is YES, and the recommendation goes to EaseUS Todo PCTrans, a third-party Windows 10 easy file transfer wizard, with which Windows users can perform the following tasks:
1. Transfer program files, user data files between PCs; i.e. Transfer OS, data, files, software from an old computer to a new computer.
2. Transfer application files between local hard disks within one PC; i.e. Safely transfer programs from C drive to D drive in Windows 10.
3. Transfer program files, user data files from previous Windows OS to new Windows OS after Windows in-place upgrade. i.e. Windows 7 to Windows 10 easy transfer.
How to Use The Recommended Windows 10 File Transfer Wizard?
EaseUS Todo PCTrans allows users to transfer all types of files in three modes: via network connection, via an image file, transfer local applications. The three modes can be best applied in the following situations.
Transfer files, settings via connected network
Applicable to two PCs in the same LAN; from lower Windows operating system to a higher one; with uninterrupted network connection.
Guide:Run Todo PCTrans on both of the two PCs and choose "Via the connected network". Windows file transfer wizard will automatically detect the other PC, or manually connect the other PC by clicking "+" icon and input IP address. After successfully connecting the two PCs, select the application files, user data files to start the transfer.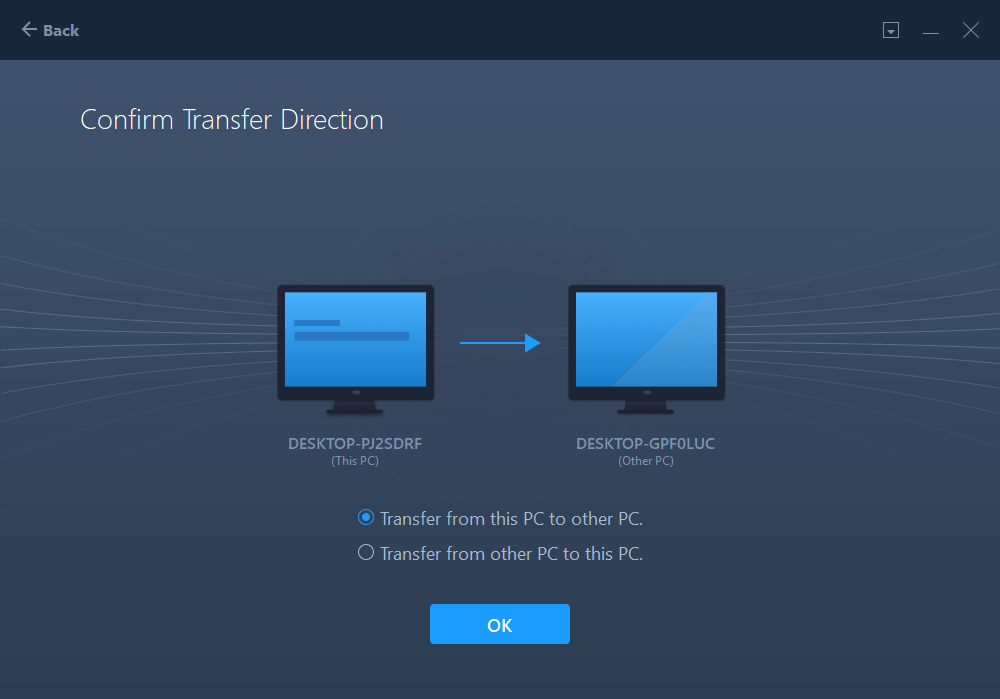 Transfer files, settings via an image file
Applicable to file transfer within one PC or two PCs without requiring the network connection, and versions of Windows operating system.
Guide: Launch Todo PCTrans, click "via an image file" and choose folders, program files to create an image file for the source computer (you can create the image file to an external storage device). Copy the image file to the target computer. On another computer or on a new system, run Todo PCTrans, choose "Transfer from the image files", you can restore the image to a new environment.
Transfer local applications files, settings
Applicable to large-size application files, games files transfer from one drive to another, especially for the case that C drive shows low disk space warning, and you need to free up some space for it.
Guide:Launch Todo PCTrans and choose "Transfer local applications". All movable applications will be listed and be marked as "Yes". Choose applications that you want to transfer, and specify a location at "Transfer to". Click "Transfer" to move the selected applications.