Can I move and transfer Chrome bookmarks to a new computer? How?
"Hi guys, does anyone of you know how to move and share Chrome bookmarks to a new computer? I recently bought a new computer which is installed with Windows 10. And everything works so great on the new computer.
And recently, I'm thinking to move and transfer some saved useful bookmarks from Chrome to new PC. Do you have a similar experience about transferring saved bookmarks on Chrome, IE Edge or even Firefox to a new Windows machine? If anyone of you knows how to realize this goal, please help me. Thank you."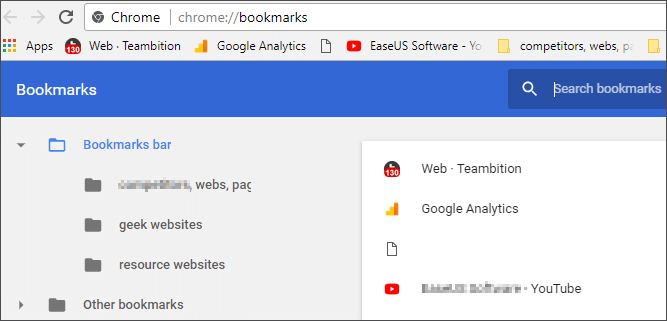 To migrate and transfer browser bookmarks, history, and even downloads files to a new PC is no longer a new need among worldwide users. Some ordinary people still don't know how to make this possible to share their own saved Chrome bookmarks on two computers.
Here, in the below, you'll find two recommended methods for Chrome bookmarks transferring between two PCs:
Method 1 will guide you to directly move Chrome bookmarks by exporting and importing the bookmarks from original computer to the new computer. Method 2 will provide you a straightforward way to directly transfer Chrome with all bookmarks to a new PC without redownloading a Chrome browser on your new PC. Just follow either one to resolve this issue now.
Method 1. Manually Transfer Chrome Bookmarks to A New Computer with Google Account
If you don't want to use a third-party software for Chrome Bookmarks transferring, you can directly redownload and install a Chrome browser on your new PC and then follow the guidelines below to manually do the bookmarks transferring job now:
1. Connect a USB or external hard drive to your PC.
2. Open Google Chrome on Windows PC and Click Customize and Control Google Chrome menu.

3. Click Bookmarks and select Bookmarks manager.

4. Tab on Organize > Export bookmarks to HTML file.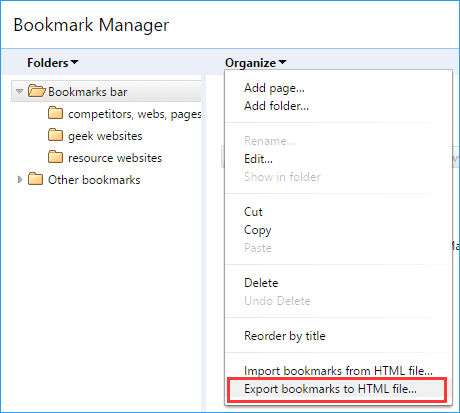 5. Select a location - external USB or SD card to save the file and click Save.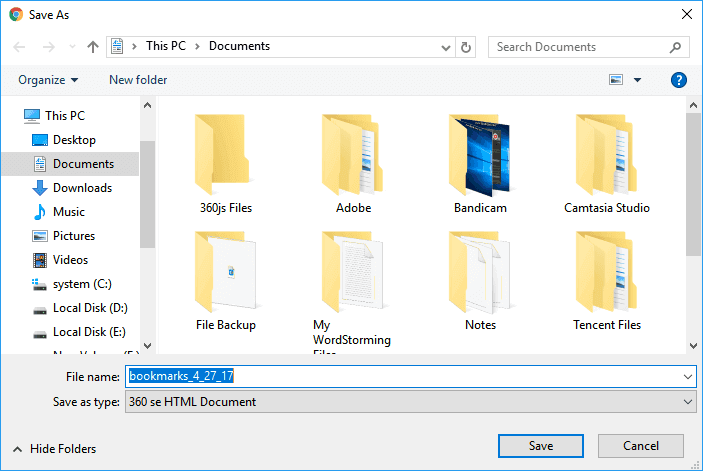 Then you can connect the USB or SD card to your new PC, and follow the next steps to import and transfer Chrome bookmarks:
6. Open Google Chrome > Click Customize and Control Google Chrome menu.
7. Click Bookmarks > Select Bookmarks manager.
8. Tab on Organize > Import bookmarks to HTML file.
9. Choose the HTML document and click Open to finish the process.
If you have upgrade Chrome to the latest version, the way to manually transfer Chrome bookmarks to new PC will be a little bit different:
1. Launch Google Chrome and click the 3-dots in the right top corner of Chrome browser.
2. Select Bookmarks and click on Bookmark Manager.
3. The 3-dots at the right top corner of Bookmark manager window and select Export Bookmarks.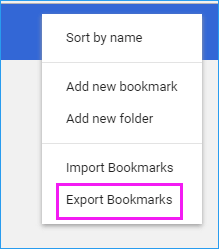 4. Navigate and save the Bookmarks to your external USB and save the HTML file on your device.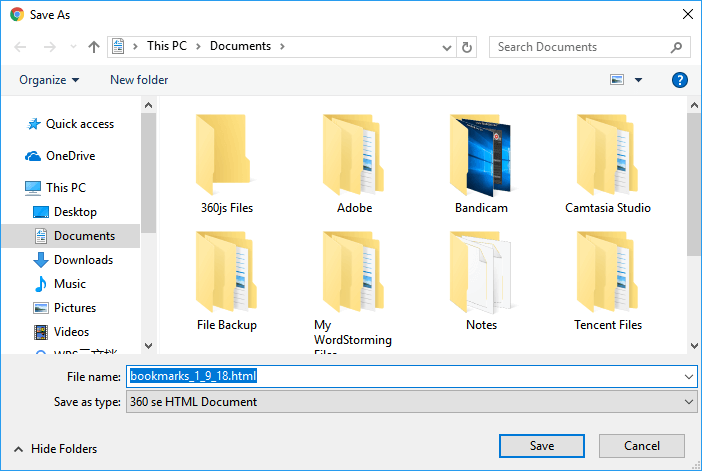 5. Connect the USB to your new computer and open Chrome, click the 3 dots and move the mouse to point Bookmarks.
6. Then select Import bookmarks and settings, select HTML bookmarks and click Import to continue.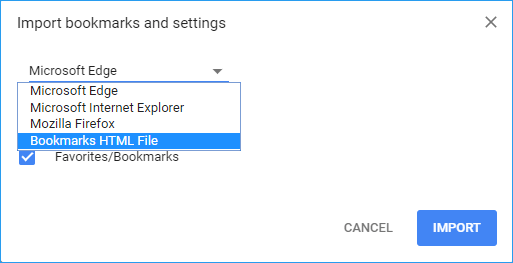 7. Click Choose File and then select the HTML bookmark file to import to your Chrome.
After this, just restart Chrome and you should be able to use Chrome bookmarks on your new PC again.
Method 2. Directly Transfer Chrome Bookmarks to A New PC
without Reinstalling Chrome
Another simpler way that you can try is to use professional PC transfer software to transfer Chrome browser with bookmarks to your new computer with just a few simple clicks.
You can directly transfer Chrome with bookmarks to your new PC without downloading and reinstalling Chrome on the new PC with the help of EaseUS PC Transfer software - Todo PCTrans. Just download, install this software on both of your present PC and your new computer for free, activate it and follow below tips to transfer bookmarks and Chrome from your old PC to your new laptop now:
Note: To do this job, do remember that you need to install this program on both of your PCs for a smooth transferring experience.
Step 1. Run EaseUS Todo PCTrans on both of your current computer and the new PC.
Select Via network connection as the way to transfer Chrome with bookmarks to your new PC.
Step 2. Click + icon on your old computer and input the IC address of your new PC, click Connect, then input the password of your new PC to connect both two computers.
Step 3. Click the edit button of Application.
And select Chrome that you want to transfer to the new PC. Click OK to confirm.
Step 4. Click Transfer and wait for the transferring process to complete. EaseUS Todo PCTrans will automatically transfer the Chrome browser application with its bookmarks and password to your new PC and save those files to the default location (usually C drive) on your new computer.
Click Finish when the transferring job ends.
After this, you will be able to use Chrome with the original bookmarks on your new computer without any problems. And if you've created a shortcut for Chrome, you may also be able to find the shortcut icon of your Chrome on the desktop.