The User folder on Windows 11 is a folder created for PC users when they set up the new system. This folder contains all the vital library folders such as Documents, Downloads, and many other Desktop folders. 
Primarily, the user folder is saved on the C drive from where you can easily access it. However, if your C drive or any other drive where your user folder is located doesn't have sufficient space, you better plan to move the user folder to another drive on Windows 11. That's because the user folder can be a bit heavy based on your data size, which can slow down your system performance. 
But isn't it risky to move the user folder? 
Yes, it is slightly risky to move user folders to a new location, but you can seamlessly move your user files if you follow the right method. In this post, you will find the right methods to move user files to another drive on Windows 11 without losing data. So, let's get started!
Quick Navigation:
Why Do You Want to Move User Folders to Another Drive?
There are numerous scenarios when a user wishes to move user folders from one drive to another on Windows 11, such as: 
Updated to Windows 11 
If you have recently updated to Windows 11, your C drive is now 64GB heavier. That's because Windows 11 is graphic-rich and requires adequate space to run smoothly on your PC. Since both user folders and Windows 11 settings are stored on a C drive; thus, it is good to move user folders to new locations so you run Windows 11 properly. 
Backup Purposes 
If you have important photos or documents stored in your user folder, you can move them to another drive to create a backup. If your hard drive gets damaged or corrupted, this backup will help you retrieve back your important files. 
Low Performance 
If your PC isn't booting properly or crashing up a lot, this might have something to do with an overburdened C drive. So, here shifting some user folders can release pressure from the drive and improve your system's performance. 
Unequal Disk Partition 
If disk space isn't equally divided into different drives on your Windows 11 computer, you can have numerous system problems. Therefore, you should move user folders to another drive to maintain equal space on all of your system drives. 
Whether you have any of the above-mentioned reasons to move user folders or anything else, it isn't that hard to transfer user folders on your Windows 11 with the right approach. There you have various modes to move data within your drives, such as:
Method 1. Use PC Migration Software to Move User Folder to Another Drive
PC migration software is the best option for you when you want to move user folders to another drive without going through system settings. Simply you have to download the software, and in a couple of steps, you can move your user folder to the new location. 
Today, there is plenty of different PC migration software available in the market. But the simplest, robust and free PC migration software is EaseUS Todo PCTrans. 
This tool can easily transfer all your custom user settings, programs, and user files to another drive with just a few clicks. Additionally, you can create a user folder backup with this software in case of an emergency. Importantly, the software is compatible with all available Windows versions, including Windows 11. 
For user folders migration, EaseUS Todo PCTrans has a very powerful feature called Large File Cleanup. You can find all the large user files on your system and then seamlessly move them to another drive or PC using this feature. You can use this simple feature as follows:
Step 1. Click "Large File Cleanup" on the left panel, and click "Start" button.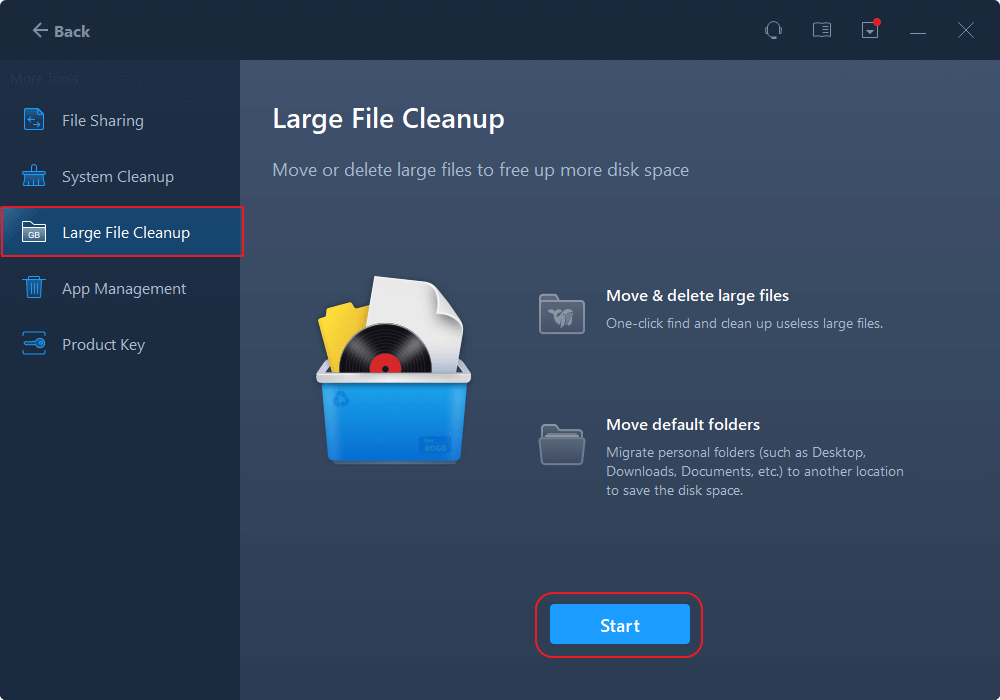 Step 2. Select "Folder" tab, check the folders you want to move. Choose target drive and click "Move" button.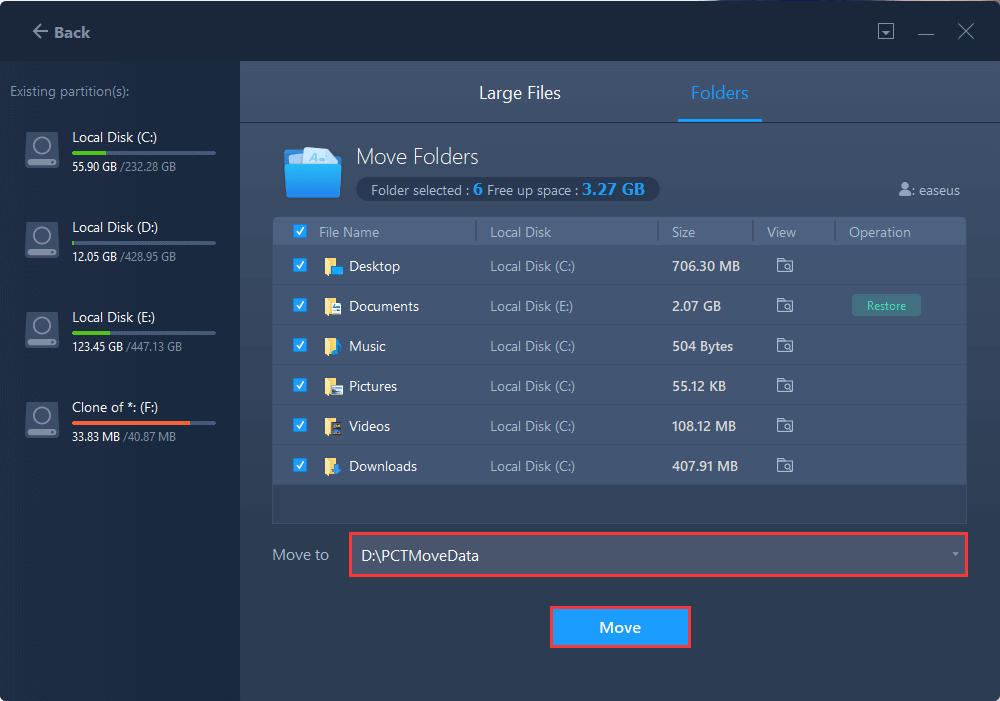 Step 3. Wait for moving process completes. Click "Finish".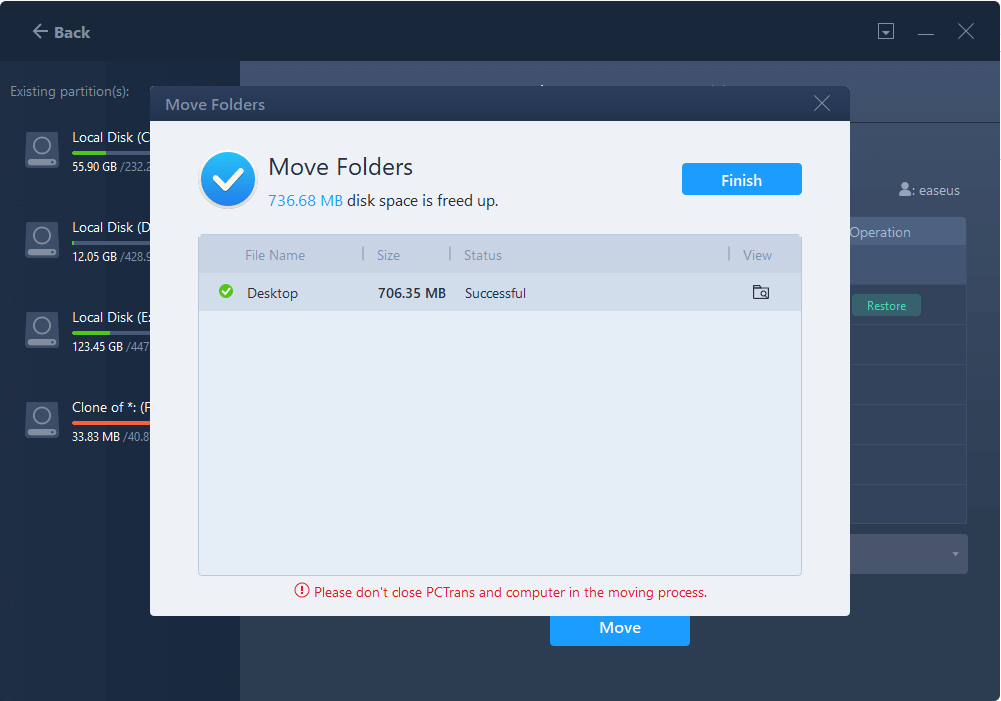 Note: You can click the "Restore" button to restore the current folder to the default location.
Method 2. Use Windows Settings to Move User Folder to Another Drive
Besides the easy PC migration software method, you can take a manual approach to shift user folders on your computer. Using the Windows Settings, you can move folders as:
Go to Windows Settings > Systems > Storage > Change where new content is saved. 
Select the new save location, let's say D drive or another location, and save the changes. 
Method 3. Use File Explorer to Move User Folder to Another Drive
Another manual method to transfer user files and folders to another drive is using File Explorer. This method works as: 
Open File Explorer > This PC > Device and drivers, select the new drive location.
Go to the location where you wish to move user folders.
Tap on the New folder button and name the new folder.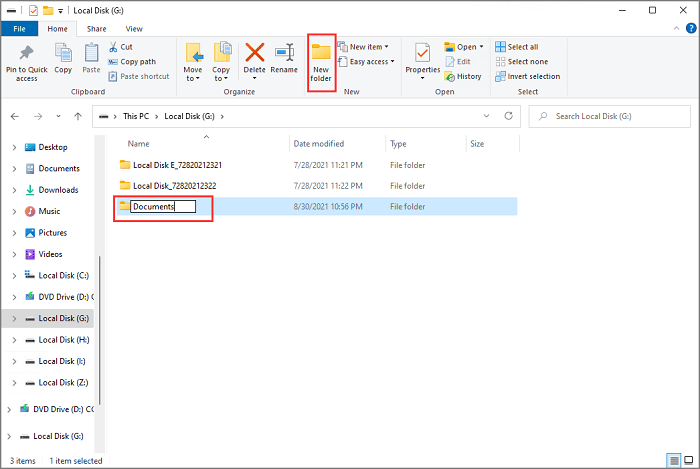 Repeat the steps if you want to transfer multiple folders to another drive. 
Now, open the Run command by pressing Windows + R keys together.
Type the path to open the location with the user account default folders — %HOMEPATH%
Right-click on the folder you prefer to move and click on the Properties option.
Click on the Location tab > Move button > Select the folder in the new location.
Click on the Select Folder button > Apply > Yes, and your default user folder is moved to the new location. 
Restore Default Folder Location 
If you have changed your mind, you can easily move back user folders to the default location using these steps:
Launch File Explorer. 
Go to the current user folder's location, right-click on the folder and select the Properties option.
Click on the Location tab > Restore Default button > Yes, and the folder will be moved back to the previous location.
Method 4. Use Registry Editor to Move User Folder to Another Drive
If you are comfortable tweaking with the Registry settings of your computer, you can use Registry Editor and the following command line to move user folders to another drive:
Press Windows + R to launch the Run box and then type regedit in the box.
Follow this path — HKEY_CURRENT_USER\SOFTWARE\Microsoft\Windows\CurrentVersion\Explorer\User Shell Folder
Right-click the files you want to move and click on Modify. 
Add the new drive location.
Now, just restart your PC, and your files will be moved to the new location. 
Wrap Up 
So, you have now checked out the four methods to move your user folders to another drive. Here the File Explorer and Registry Editor methods are a bit tricky. Although the Windows Settings method is simple, one wrong click here can lead to big system trouble. 
So, it leaves you with the PC migration software method, which is both safe and easy to move files on Windows 11. And there, you also have EaseUS Todo PCTrans that can quickly migrate your files anywhere. 
Now, it's up to you whether to go for an easy software method or complicated manual methods!
About the Author
Updated by Tracy King 
Tracy joined in EaseUS in 2013 and has been working with EaseUS content team for over 7 years. Being enthusiastic in computing and technology, she writes tech how-to articles and share technical solutions about Windows & Mac data recovery, file/system backup and recovery, partition management and iOS/Android data recovery.

Roxanne is one of the main contributors to EaseUS and has created multiple posts on digital devices like PCs, Mobile phones, tablets, Mac, etc. She loves to share ideas with people of the same interest.
Reviews and Awards
EaseUS Todo PCTrans Free is a useful and and reliable software solution created to serve in computer migration operations, be it from one machine to another or from an earlier version of your OS to a newer one.

 Read More

EaseUS Todo PCTrans is by the folks at EaseUS who make incredible tools that let you manage your backups and recover your dead hard disks. While it is not an official tool, EaseUS has a reputation for being very good with their software and code.

Read More

It offers the ability to move your entire user account from your old computer, meaning everything is quickly migrated. You still get to keep your Windows installation (and the relevant drivers for your new PC), but you also get all your apps, settings, preferences, images, documents and other important data.

 Read More