Why do you need to backup installed programs on Windows 10 computer
Windows 10's fall update is deleting certain apps without prior warning. The only notification that a program has been removed comes after it has been uninstalled. Even though the reason for the removal is cited as "incompatibility", the software in question appears to work without problems once reinstalled. The problem has troubled numerous users. The affected programs include hardware monitoring tools CPU-Z and Speccy as well as the AMD Catalyst Control Center for tweaking your Radeon graphics cards and SmartFTP. And the list of the program continues to grow. 
Many users choose to reinstall all the deleted programs manually one by one. Yes, it is a solution but not the ideal one. Because you have to spend much of your time in configuring the applications or finding the registry keys to activate some programs. Things could become much more complicated if you have over 100 or more desktop programs. So, Windows 10 apps data backup that allows you to backup all the installed programs in Windows 10 in advance seems to be the best solution. In this case, you can easily restore them when something goes wrong. 
Windows 10 installed software backup for PC
Now, you have known the importance of Windows 10 application backup. The next task is to find a reliable Windows 10 apps data backup and restore software in order to prevent applications as well as files getting deleted automatically without asking in Windows 10. But what tool can you trust? We recommend you EaseUS PC transfer software. The program is an easy, efficient and safe solution for Windows 10 apps data backup to anywhere you prefer. It allows you to selectively backup your installed programs with all its associated data and registry keys in Windows 10. Let's take a look at how this Windows 10 apps data backup software helps to back up your installed programs on a Windows 10 computer.
- EaseUS Todo PCTrans -
Your Smart Windows 11 File Transfer
Transfer Files, Apps, Settings from Old OS to New Windows 11
1-Click Product Key Finder for Windows, Office, Adobe apps.
C Drive Cleaner & Windows 11 Performance Optimizer.
Rescue Data When Windows 11 Corrupts or Dies.
Steps to back up installed programs in Windows 10 
Step 1. Create a backup image of installed apps
1. Launch EaseUS Todo PCTrans on your PC and go to "Backup & Restore", click "Start" to continue.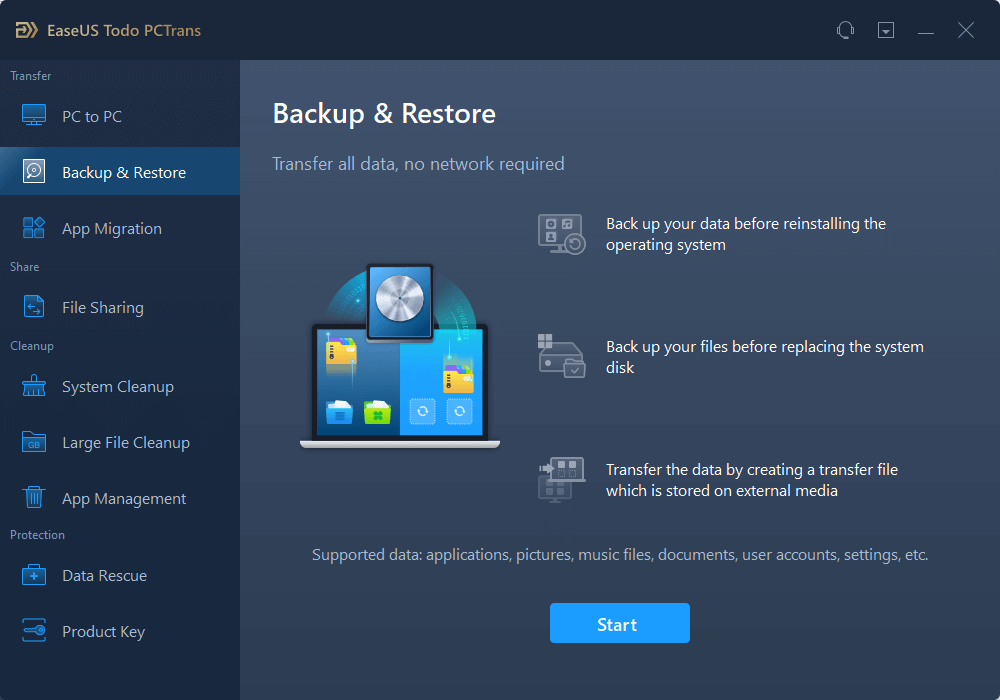 2. Select "Data Backup" on the Backup Method window and click "Next" to continue.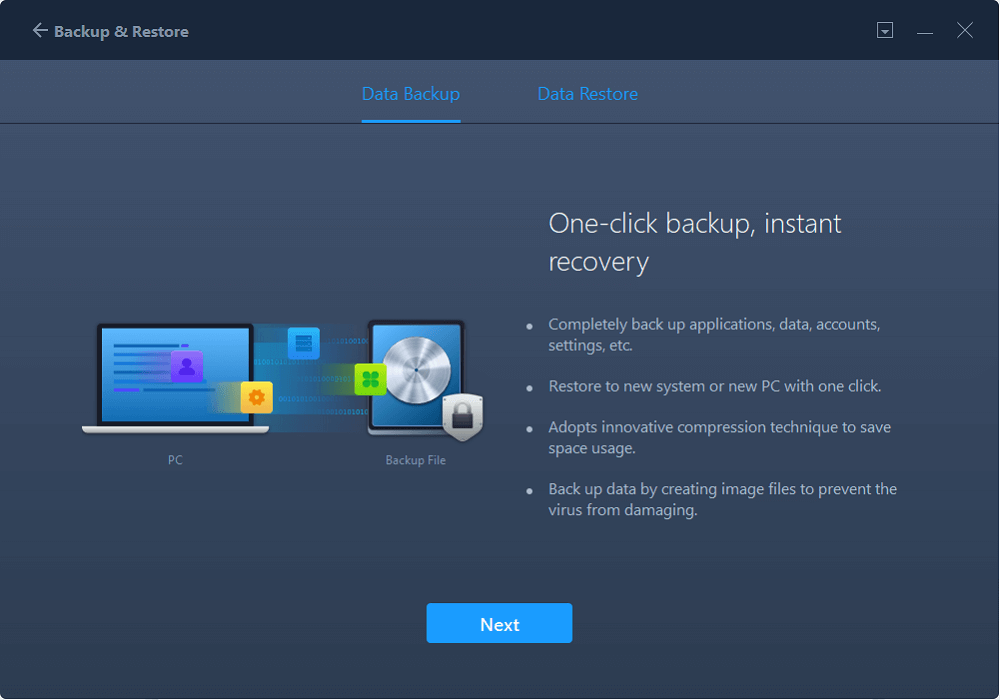 3. Click "Browse" to set a target location for saving the backup file. 
4. On the "Application" section, select applications that you want to back up.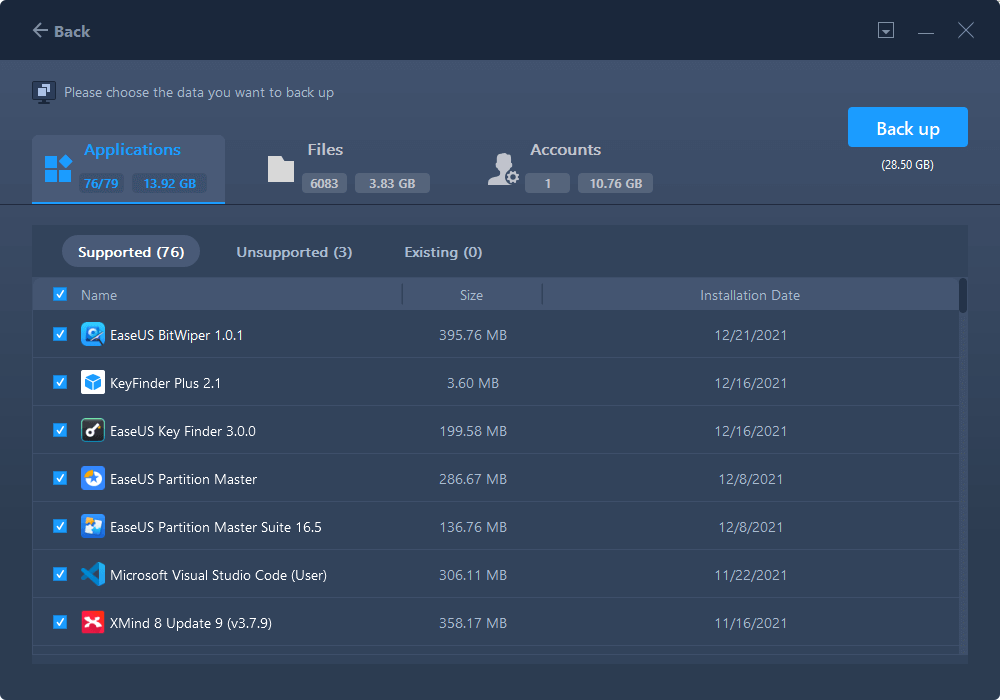 5. Last, click "Back up" to start creating the backup image of selected applications. When the process to completes, continue with Step 2.
Step 2. Restore apps from the created backup file
Note: If the app exists on your PC, it won't restore the app image to your PC. You'll need to uninstall the existing one and retry again with the next guidelines.
1. Copy and save the backup file to your target computer, and run EaseUS Todo PCTrans.
On the "Backup & Restore" section, click "Start" to continue, then select "Data Restore" as the transfer mode.
2. Click "Browse" to select the EaseUS Todo PCTrans image and click "Restore" to move on.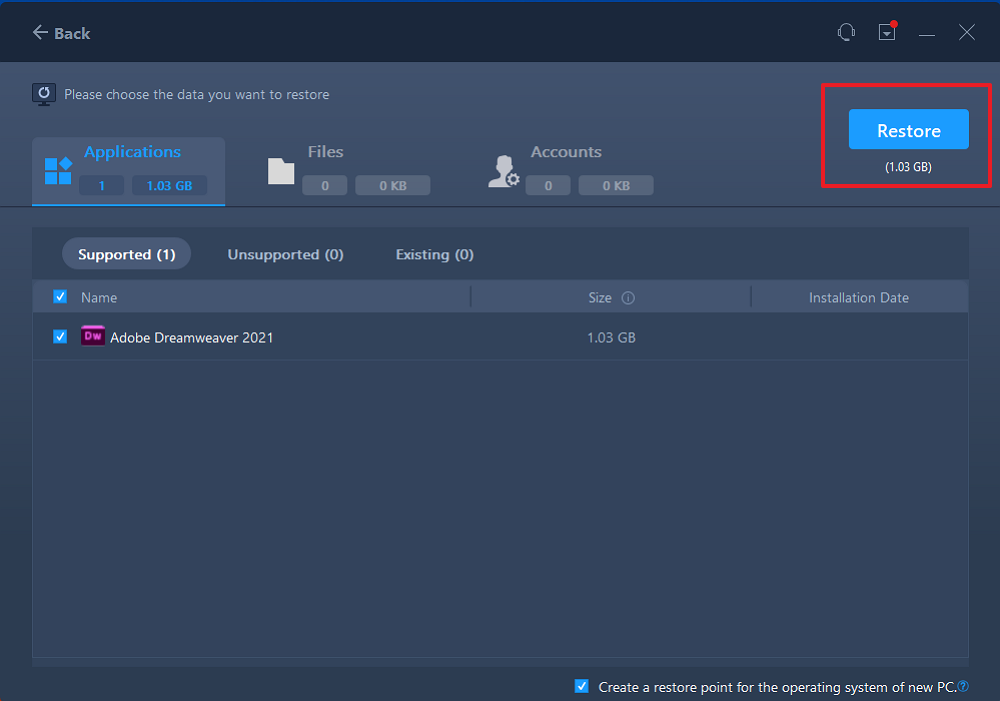 3. On the Application section, tick programs and applications that you want to restore from the image file and click "Restore".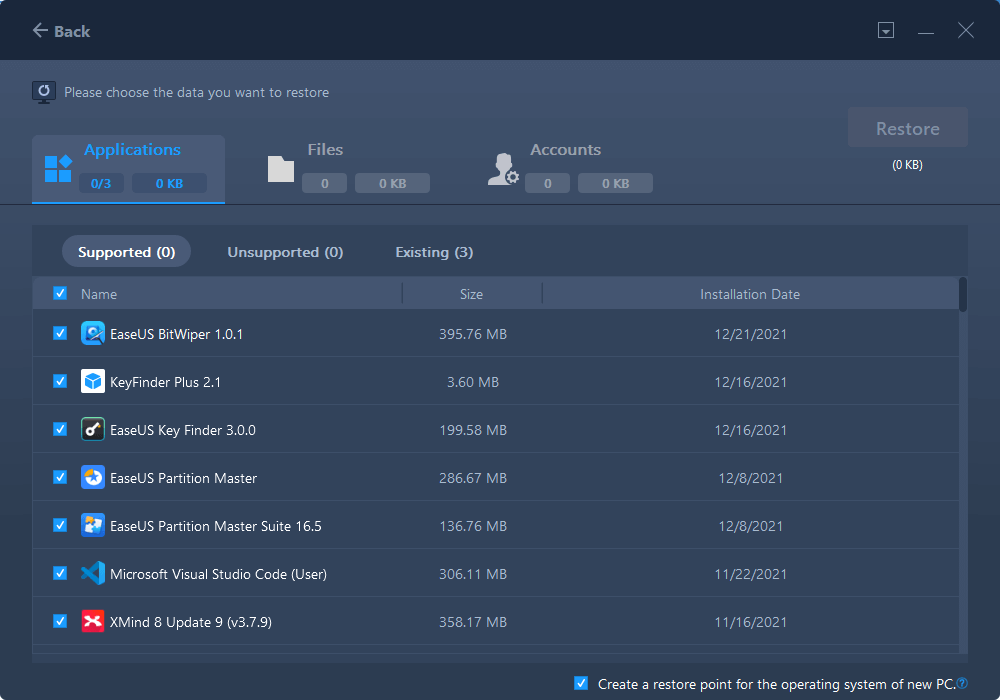 Backup Installed Programs in Windows 10 - Control Panel
If you ask about Windows built-in tool, yes, it has. But you need to make sure your external hard drive or USB drive has enough room before backup applications in Windows 10. Your storage hard drive must be larger or equal to 64 GB, or the backup will fail. Things can become easy that EaseUS Todo PCTrans can compress files during backup. It's totally up to you to choose any methods.
Step 1. Input Control Panel > Click Backup and Restore > Choose to Create a system image.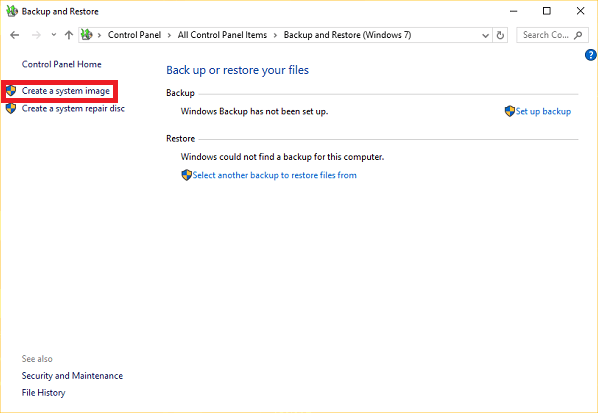 Step 2. Choose your destination to save a backup file and start back up.
About the Author
Daisy is the Senior editor of the writing team for EaseUS. She has been working in EaseUS for over ten years, starting from a technical writer to a team leader of the content group. As a professional author for over 10 years, she writes a lot to help people overcome their tech troubles.
Reviews and Awards
EaseUS Todo PCTrans Free is a useful and and reliable software solution created to serve in computer migration operations, be it from one machine to another or from an earlier version of your OS to a newer one.

 Read More

EaseUS Todo PCTrans is by the folks at EaseUS who make incredible tools that let you manage your backups and recover your dead hard disks. While it is not an official tool, EaseUS has a reputation for being very good with their software and code.

Read More

It offers the ability to move your entire user account from your old computer, meaning everything is quickly migrated. You still get to keep your Windows installation (and the relevant drivers for your new PC), but you also get all your apps, settings, preferences, images, documents and other important data.

 Read More