How do I transfer MS Office 2013 to a new computer
"I have MS Office Professional 2013 running on my laptop. And I have purchased a new laptop and would like to move the applications to the new laptop from my previous one. Is it possible to transfer Microsoft Office to a new computer without a product key? Or will I need to transfer the license together with the package to the new PC?"
How to transfer Microsoft Office from one laptop to another
Like the case above, when you get a new computer and plan to replace your old one with it, you may want to transfer Microsoft Office from one laptop to another. Unlike data transfer, moving programs to a new computer is a little bit difficult because of activation problem. Then, a question - how to transfer Microsoft office to another computer without disks, CD or product key comes out. Here you can read on to get the answer. This page introduces how to copy Microsoft Office 2010/ 2013/2016 and more to a new computer without activation problem.
Part 1: Transfer Microsoft Office package to a new computer without the product key
Download and launch EaseUS PC Transfer software on both of your computer, then learn how to transfer your app from one laptop to another:
Step 1: Connect both PCs before Office transferring
1. Install and run EaseUS Todo PCTrans on both PCs, select "PC to PC" mode on the source computer.
Note: If the target computer has installed Office, the transferring process won't succeed. If the target computer has installed Office, uninstall it or continue using the current Office. If not, continue with the next steps.
2. Connect two PCs on the same LAN and click "Continue" to move on.
3. Choose the target PC and click "Connect" to continue. You can identify it via the IP address.
If the target computer doesn't show up, click "Add a PC" and enter the IP address to connect.
4. Enter the login account and password of the target PC and click "OK" to link both PCs.
Then select the transfer direction and click "OK" to confirm.
Step 2: Select Office to transfer
1. Click "Edit" on the Applications column to access and select wanted applications to transfer.
Tick "Create a restore point" option in case a system error occurs on the target PC.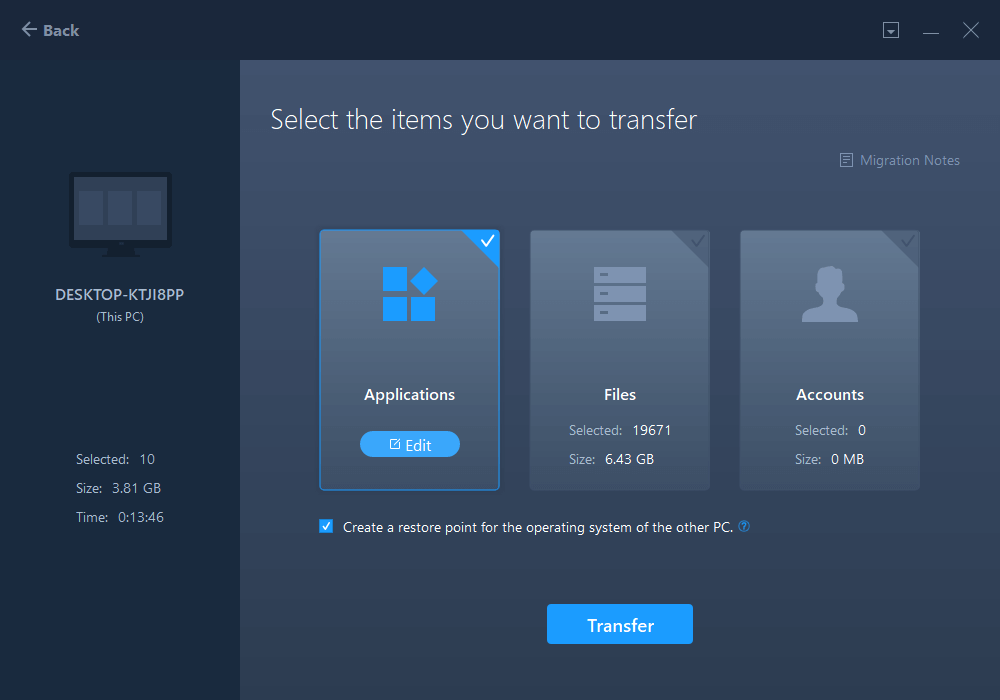 2. Select Office and click "Finish" to continue.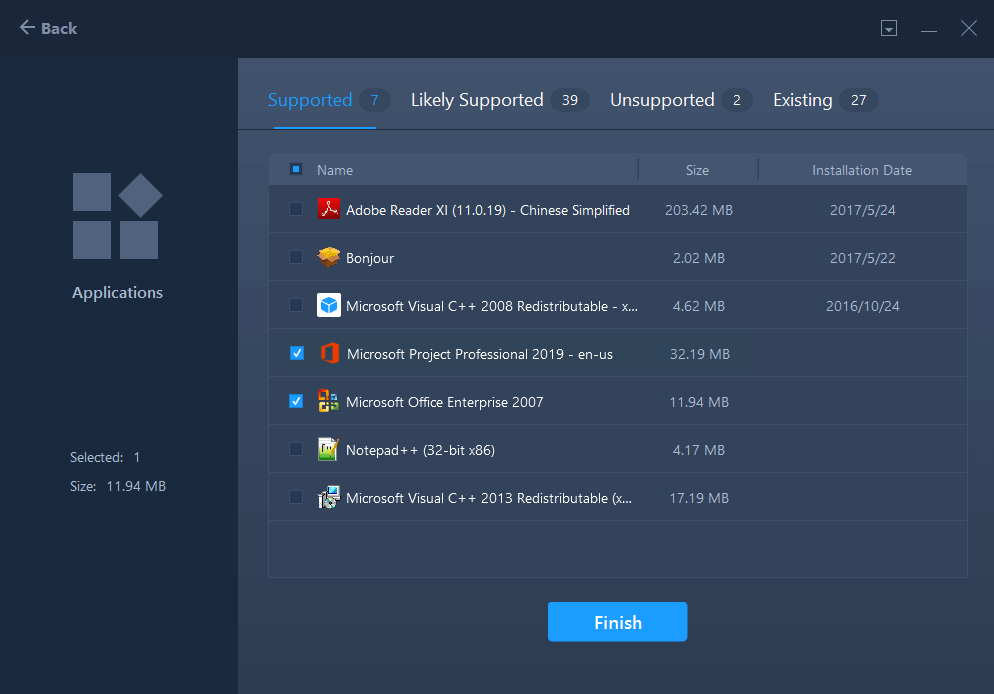 Step 3: Transfer Office to new PC
Part 2: Find a Microsoft Office product key to activate the application on another computer
After copying the Microsoft Office package to another computer, you should first uninstall the apps from the old computer if you have reached the number of allowable installations, and then find the product key for activation. Then how can you locate the product key supplied with your copy of Microsoft Office?
Here, if you have a boxed version, the product key can be found on the inside of the DVD case. And if you purchased the software as a digital download, the product key is printed on the order confirmation email. Finally, enter the 25-digit product key when prompted by the software, and then Microsoft Office to new computer transferring job is completed.