The Best Free PC to PC File Transfer Software
If you are looking for a free tool to transfer files from one computer to another, you are in the right place. EaseUS Todo PCTrans is a reliable and easy-to-use PC transfer software. It can easily migrate or move your programs or selected files including data, documents, music, pictures, favorites, emails from an old computer to a new one or system upgrade.
Three Methods to Realize File Transfer
There are three ways to realize file transfer with the help of EaseUS Todo PCTrans. Read on to know more details.
Connect two PCs on the same LAN to transfer files/programs to target machine directly.
Create image file and transfer programs to a new computer for Windows in-place upgrade, etc.
Transfer all updated applications between local disks easily and make full use of local disk space.
How to Transfer Files With the Best Free Software
EaseUS Todo PCTrans allows users to transfer all types of files in three modes: via the network connection, via an image file, transfer local applications. You can choose one of the modes according to your actual situation.
For example, transfer via the internet:
Step 1: Launch EaseUS Todo PCTrans on your source and target computers, connect both PCs via internet
1. At the "PC to PC" section, click "PC to PC" to continue.
2. Connect both of your computers to the same LAN and click "Continue".
3. Select your target computer by its IP address from the devices available and click "Connect" or click "Add a PC" and enter its IP address.
4. Enter the login password of the target computer and click "OK". (If there is no login password, tap on "OK" directly.)
Confirm the transferring direction - "Transfer from this PC to other PC" and click "OK" to continue.
Step 2: Select the categories Applications, Files, and Accounts to transfer via the internet.
If you want to transfer data selectively, click "Edit" under each category and choose the specific items. After that, click "Finish".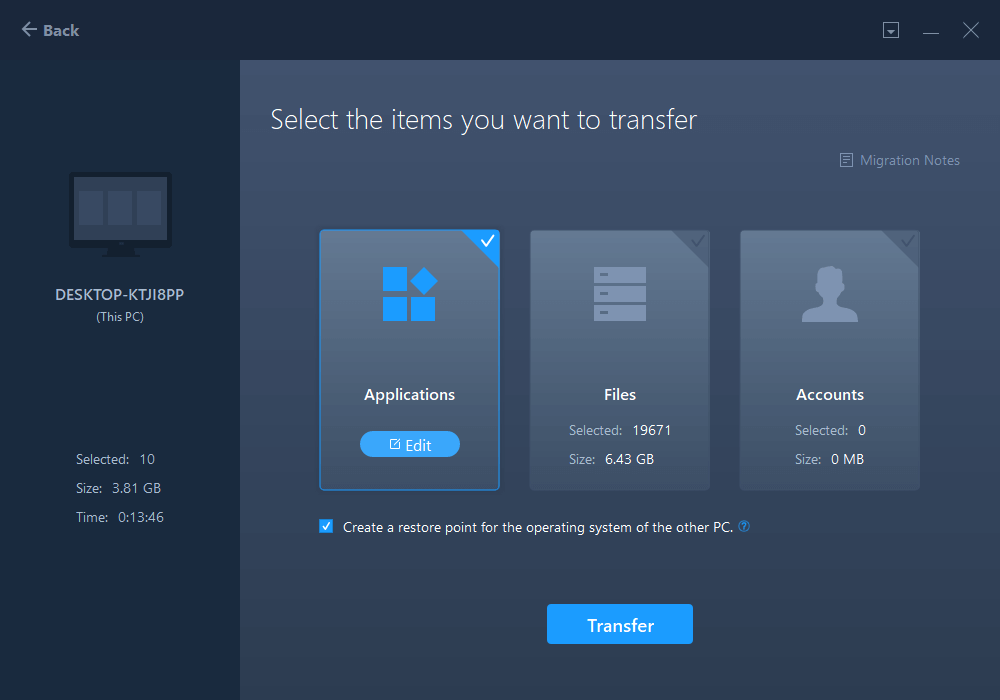 Step 3: Click "Transfer" to start transferring your apps/files/accounts from one computer to another computer.
The time it will take depends on the size of the items you'd like to transfer. Wait patiently for the process to finish.
If you need to transfer programs and apps into a new drive in one PC, please refer to Transfer installed programs, apps to a new hard drive.