Applies to: transfer files on Windows 10/8/7/Vista and XP computers for free.
Here are the two main reasons why people are looking for free file transfer software for PC:
On this page, you'll be able to download the best file transfer software to easily move or transfer files from one computer to another PC with ease.
Download the Best Free PC to PC File Transfer Software
If you are looking for a free tool to transfer files from one computer to another, you are in the right place. EaseUS Todo PCTrans Free is a reliable and easy-to-use PC transfer software. It can easily migrate your programs and move selected files with its powerful features:
Install Size: 1.20MB (Installer)
File Transfer Features: PC to PC, Image Transfer, and App Migration.
100% Free for Transferring: 2 apps and 500MB files to a new PC, 2 apps to another hard drive.
Support All Windows OS: Windows10/8.1/8/7/Vista/XP & Windows Server 2019/2016/2012/2008/2003.
 Tip

If the files and applications that you need to transfer exceeds the limit of EaseUS file transfer software, don't worry.
You can directly upgrade it to EaseUS Todo PCTrans Pro and activate it for unlimited transfer.
Now, you can refer to the two tutorial guides below to effectively transfer files to a new PC with ease.
How to Transfer Files from PC to PC with EaseUS Todo PCTrans (2 Ways)
EaseUS Todo PCTrans allows users to transfer all types of files to a new PC with two modes: via the network connection and via an image file. You can choose either mode for transferring according to your actual situation.
Mode 1. Transfer Files via The Internet
Applies to: Instant file, application transfer between Two PCs under then same LAN.
Step 1. Launch EaseUS Todo PCTrans on your source and target computers, connect both PCs via internet
1. At the "PC to PC" section, click "PC to PC" to continue. Connect both of your computers to the same LAN and click "Continue".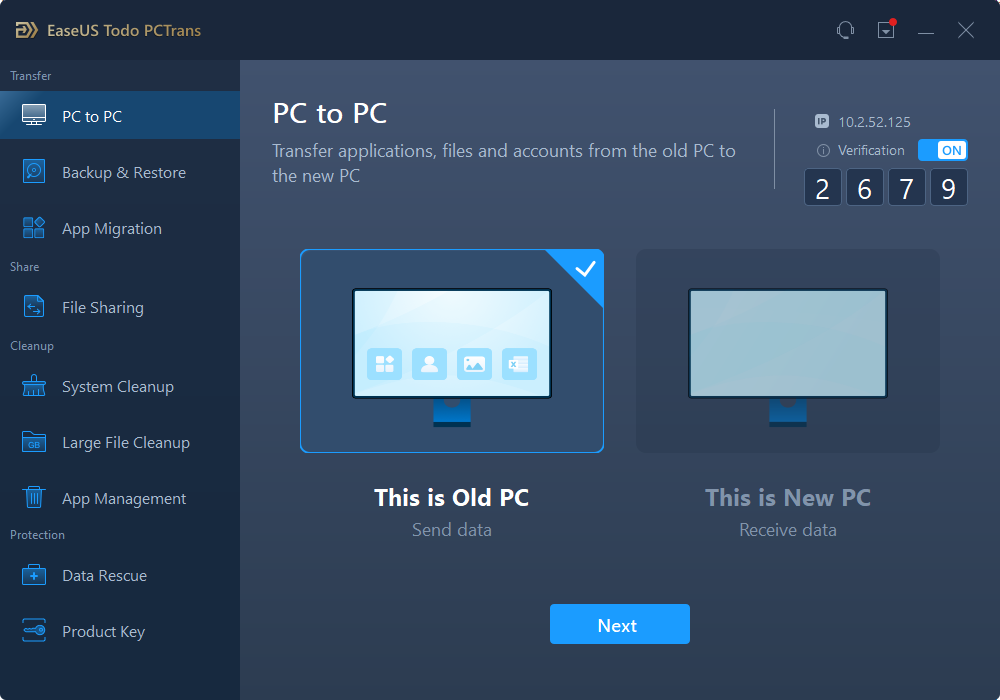 2. Select your target computer by its IP address from the devices available and click "Connect" or click "Add a PC" and enter its IP address. Enter the login password of the target computer and click "OK".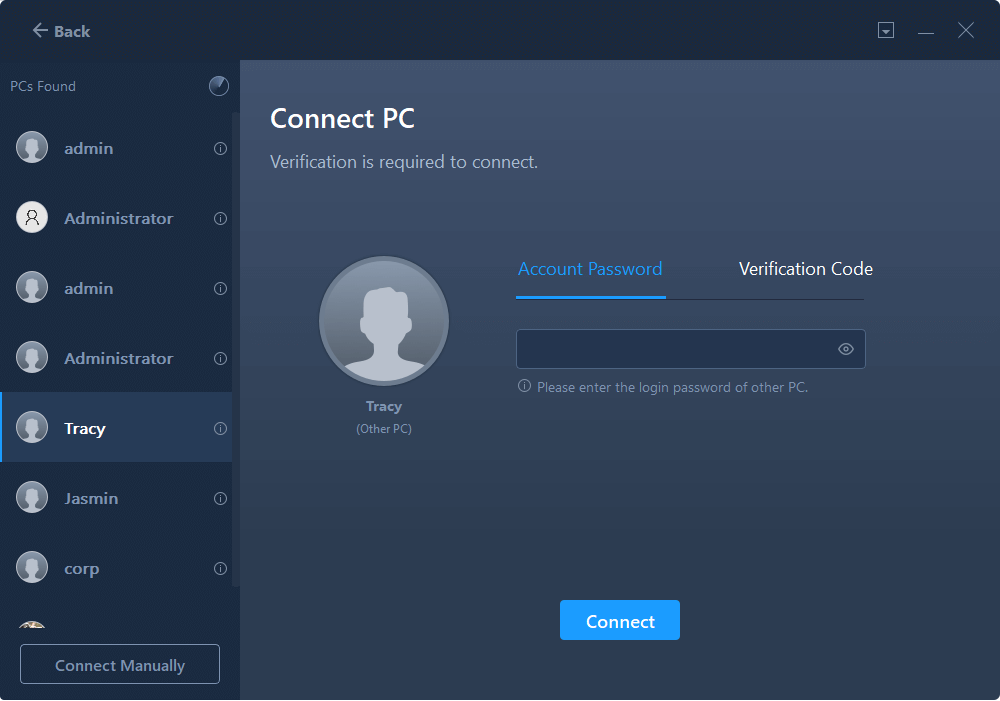 Step 2. Select the categories Applications, Files, and Accounts to transfer via the internet.
If you want to transfer data selectively, click "Edit" under each category and choose the specific items.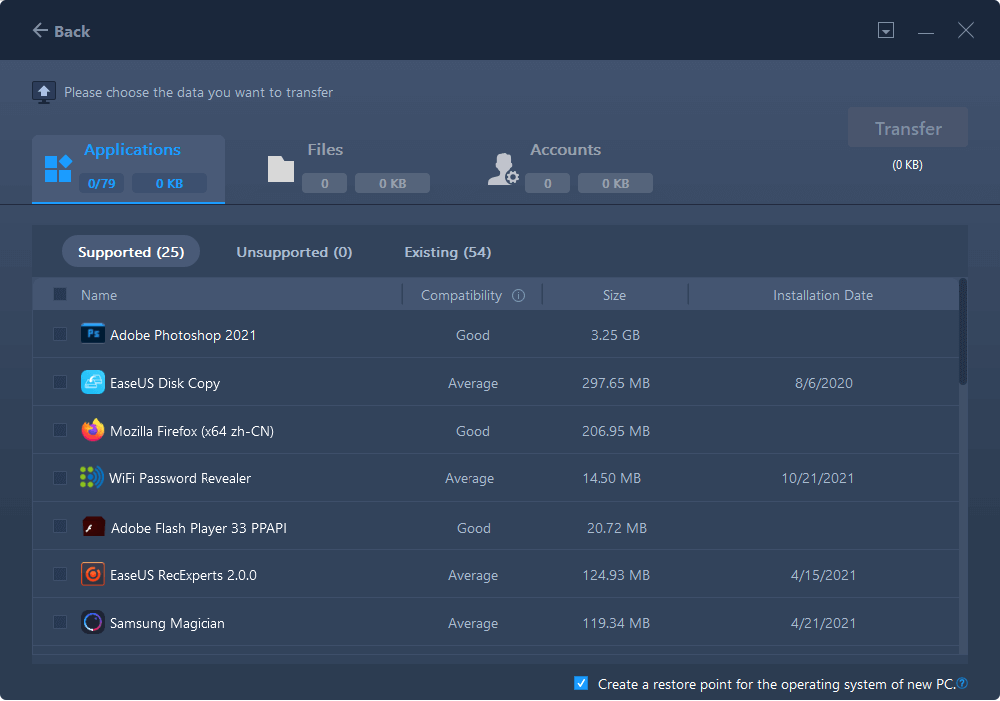 Step 3. Click "Transfer" to start transferring your apps/files/accounts from one computer to another computer via the Internet.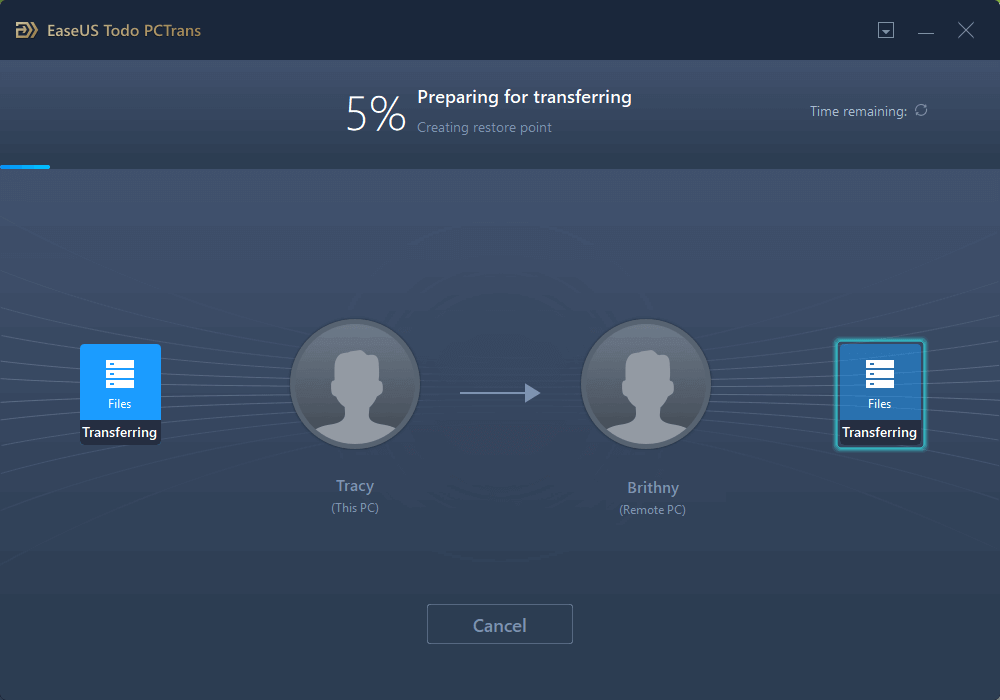 Mode 2. Transfer Files via Image
Applies to: Offline, remote file, application transfer between PCs, PC to Laptop/Laptop to PC, etc.
PLUS: This feature can also be used for back up important data and programs.
Step 1. Create an image file.
1. Connect your USB (flash) drive/external hard drive to your source computer. Launch Todo PCTrans, click "Image Transfer > Start" on the main screen.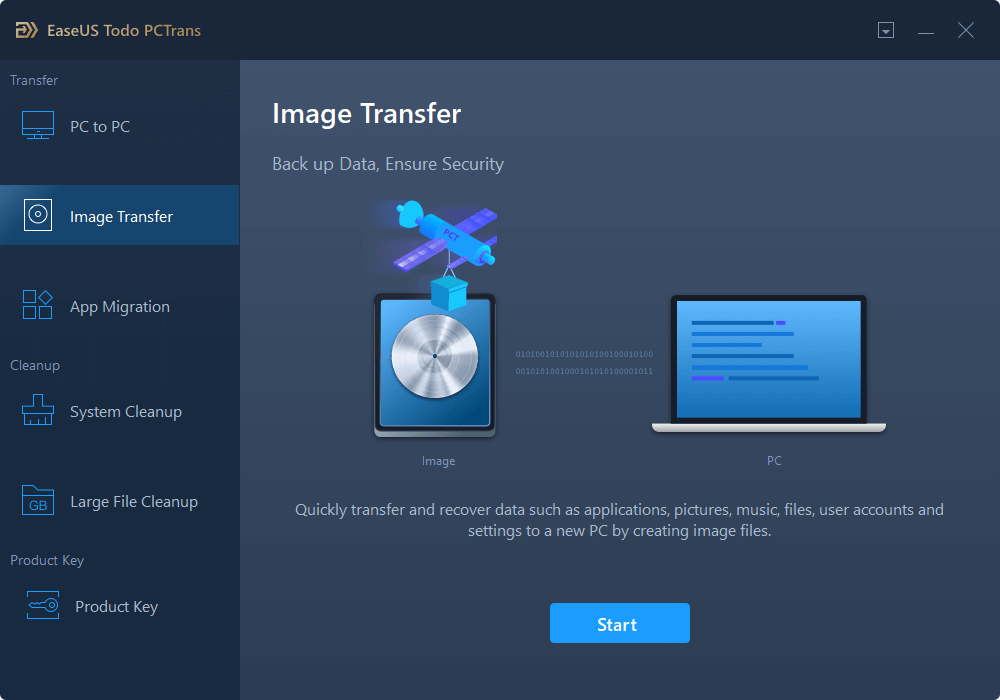 2. Select "Create Image File > Create" to move on.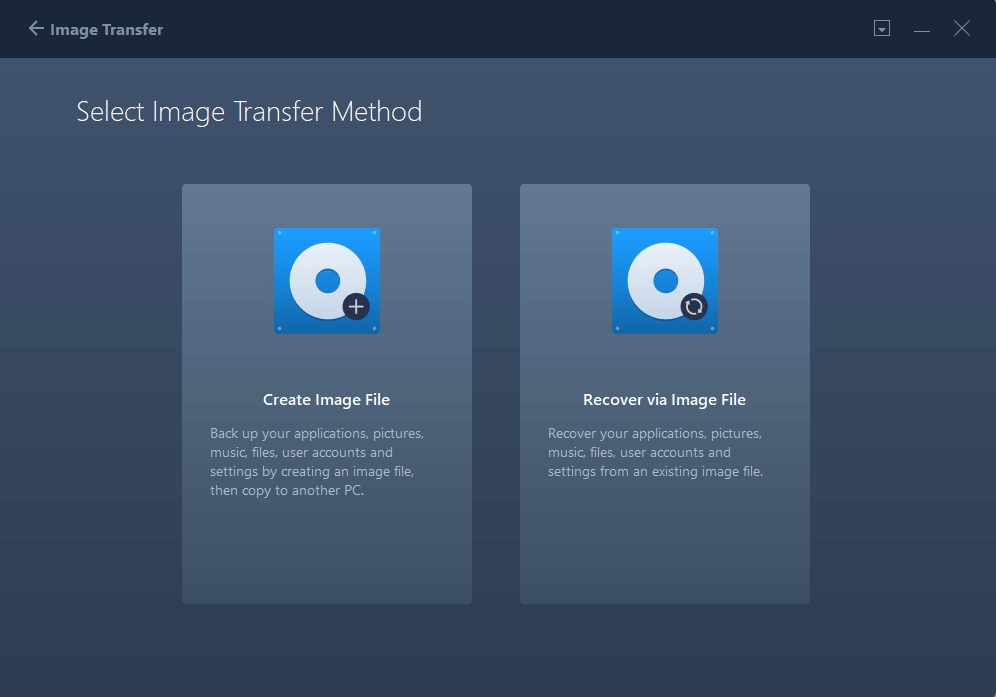 3. Click "Edit" at Applications, User Accounts, and Files columns to choose the specific data, applications, etc. to create an image.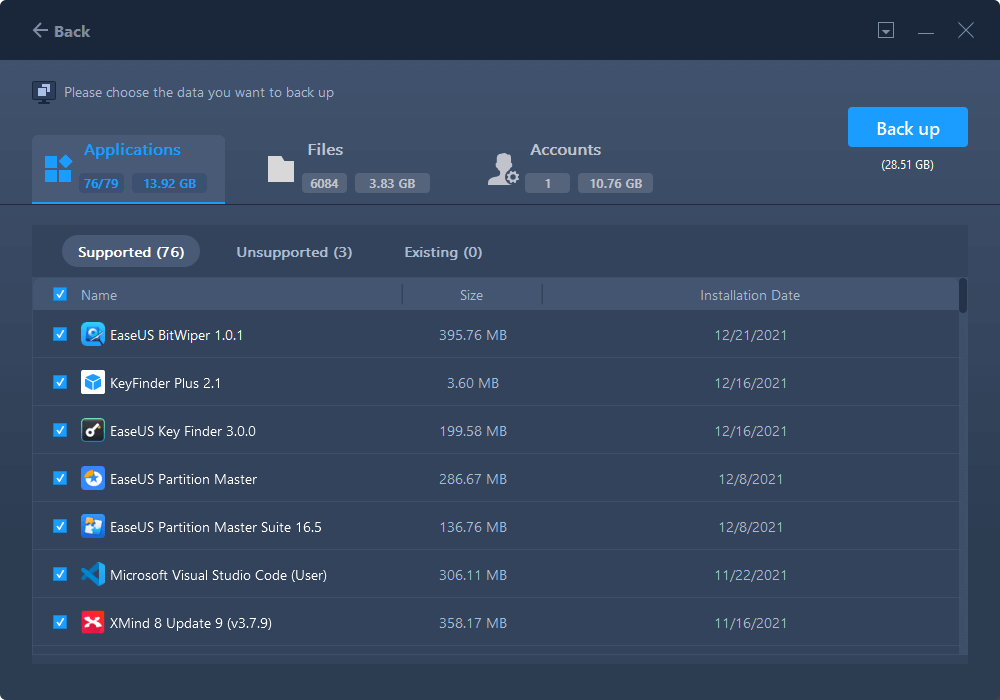 Step 2. Recover via the created image file.
1. Plugin your USB drive which stores the created image file to the target PC and open EaseUS Todo PCTrans. Click "Image Transfer > Start > Recover via Image File > Recover".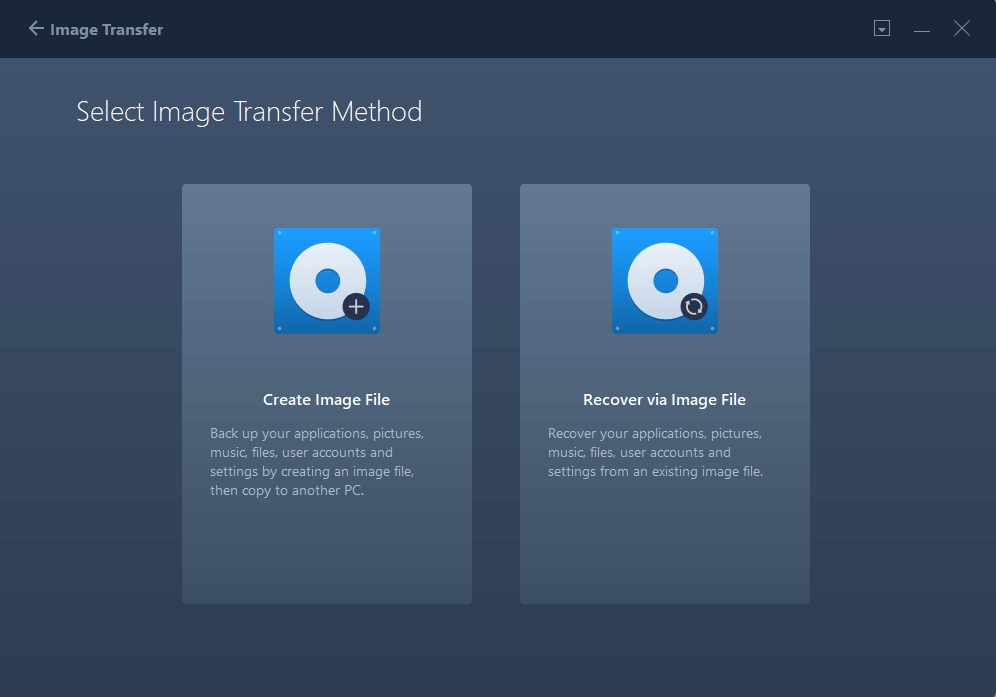 2. Click "Browse" to locate the image file. Then, choose "Recover" and go to the next step.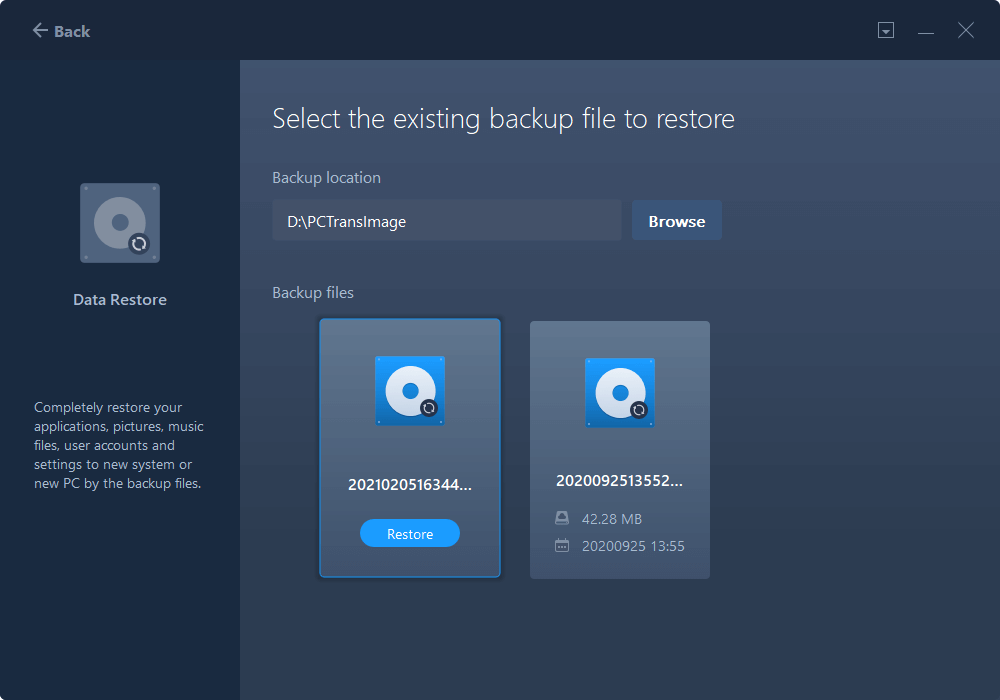 3. Now, you can select Applications/Files/Accounts you want to recover.
Or you can click the "Edit" button to choose the specific data to be transferred flexibly. Click "Finish" to confirm. Besides, you can also click the edit icon > "Submit" to change the target path to recover and save the files.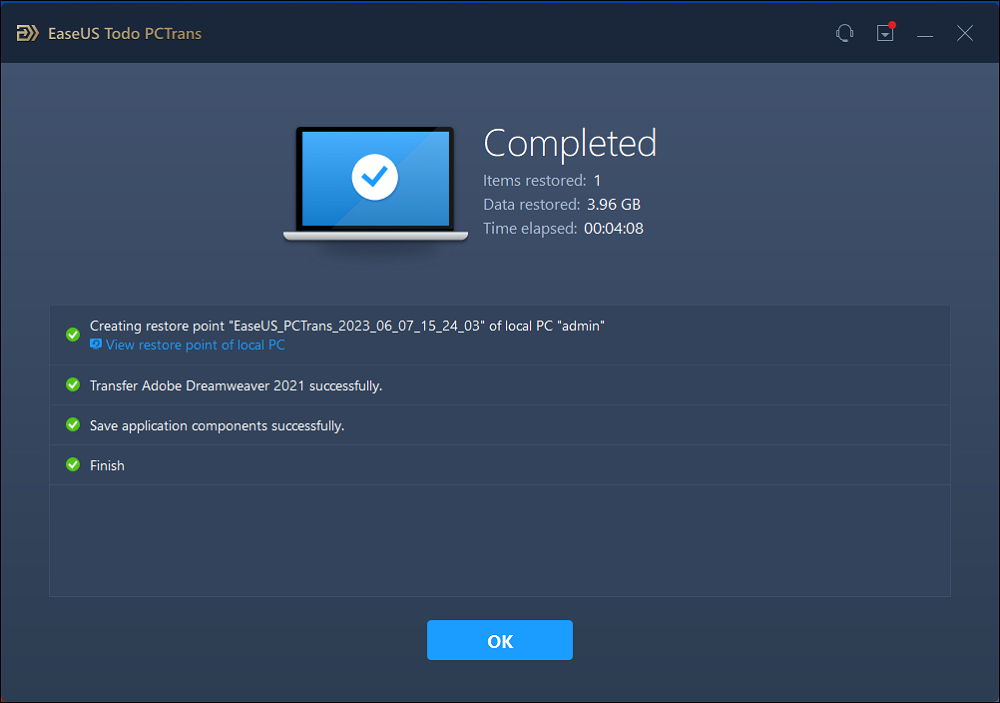 To sum up, this page offers a reliable free file transfer software to help you transfer files between two PCs in two reliable modes - via the internet or via image.
If you need to transfer programs and apps into a new drive on your current PC, please refer to Transfer installed programs, apps to a new hard drive.