What will I lose when upgrading Windows 7 to Windows 11/10? 
I've been learning about those good new features of Windows 11/10. If I decide to upgrade, what will I lose? I'm willing to follow the Windows 11/10 trend, but at the same time, I have been used to playing with my current Windows 7 computer which holds all the data, my favorites, photos, music, applications, email and many things I feel reluctant to abandon. So what's the best solution for me?
Using Windows Easy Transfer to Migrate Windows Files and Program Settings
Windows Easy Transfer is a powerful file transfer program developed by Microsoft, which allows you to transfer files and settings from the old computer version to the new one on Windows 7/8/8.1.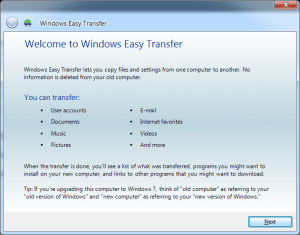 How to use Windows easy transfer 
1. On the local computer:
Input Windows Easy Transfer on the Start screen > Click Windows Easy Transfer
Welcome to Windows Easy Transfer > Next > Select An external hard disk or USB flash drive > plug in your external devices
Choose This is my old PC > Customize > Advanced > Save > Next > Save files to the external hard drive
2. Input the files and settings on the new computer:
Run Windows Easy Transfer on the new pc.
Welcome to Windows Easy Transfer > Next > Select An external hard disk or USB flash drive > Choose This is my new pc
plug in your external devices > Select Yes > Open the Easy Transfer file location > enter the password > Next 
Customize > Advanced > Save > Click Transfer > Close Windows Easy Transfer > Restart your computer
Does Windows easy transfer work from windows 7 to windows 11/10
Windows Easy Transfer is not available in Windows 11/10. But it still works to transfer data among Windows 7, Windows 8, Windows 8.1, Windows XP, and Windows Vista. 
Can I transfer programs via Windows Easy Transfer
Unfortunately, the answer is No. Windows Easy Transfer transfers only move program settings, not the applications themselves. 
 Notice:

If you want to transfer programs or more data from Windows 7/8 to Windows 11/10, we will recommend a Windows easy transfer tool - EaseUS Todo PCTrans for transferring selected data from your old Windows pc to new Windows 11/10 pc.
Using Windows 11/10 Easy Transfer Wizard 
The direct upgrade of Windows 7/8 to Windows 11/10 will somehow miscarry many of the existed data, files, email and settings. But you can choose to save them by using Windows 11/10 easy transfer software. And we recommend EaseUS Todo PCTrans Free, which is the most useful and efficient tool to migrate items from one Windows-based system to Windows 11/10.
How to Migrate Data and Applications Along with Settings from One Windows-Based System to Windows 11/10
No matter the items transfer happens on one computer or two machines, EaseUS Todo PCTrans is capable of handling the process easily. There are two options designed for different demands, which can be realized through a connected network or creating an image file.
1. Transfer via the Network
Run Todo PCTrans on both of the two PCs and choose "PC to PC". The programs will detect another PC or through clicking "+" icon and input IP address to connect another PC. After successful connecting two PCs, we could select the specific data, folders, applications to transfer.
Step 1. Launch EaseUS Todo PCTrans on your source and target computers, connect both PCs via the internet.
1. At the "PC to PC" section, click "PC to PC" to continue.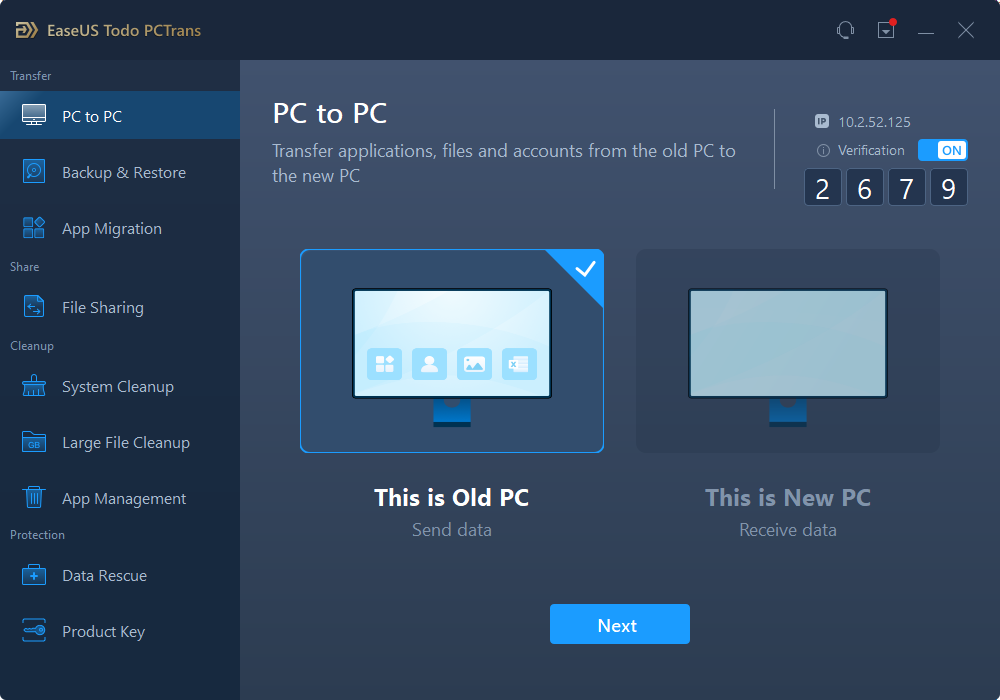 2. Select your target computer via its device name, then enter its account password or verification code and select the transfer direction. Then click "Connect" to continue.
You can check the verification code on the right top of "PC to PC" mainscreen on the target computer.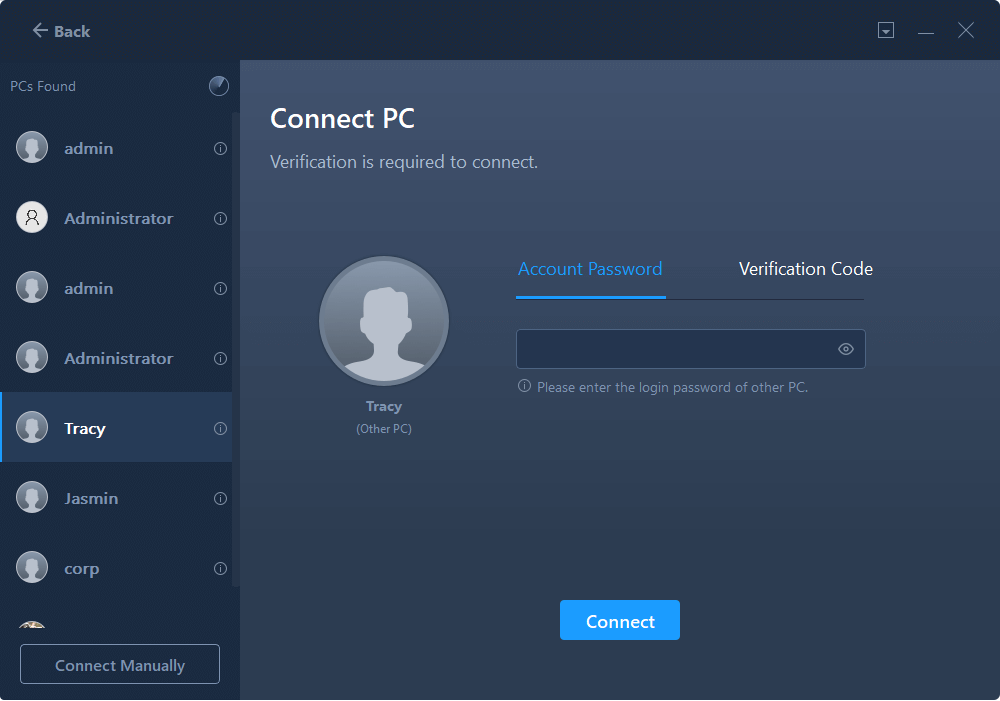 Step 2. Select the categories Applications, Files, and Accounts to transfer via the internet.
If you want to transfer data selectively, click "Edit" under each category, and choose the specific items.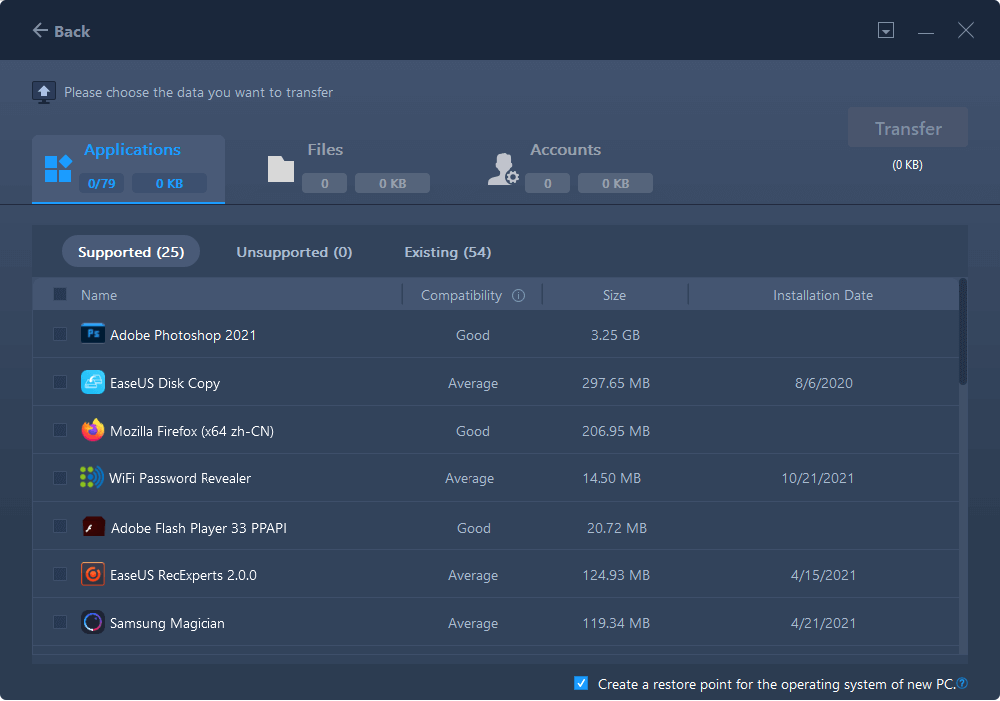 Step 3. Click "Transfer" to start transferring your apps/files/accounts from one computer to another computer via the Internet.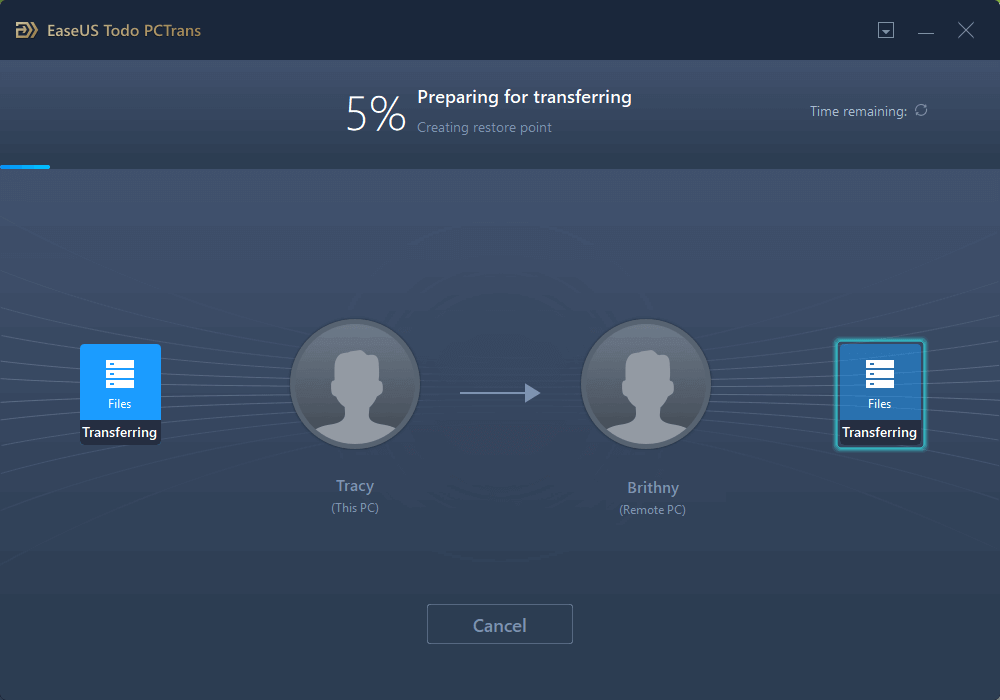 2. Transfer via the Backup File
Launch Todo PCTrans, click "Backup & Restore" and "Data Backup", choose the folders, programs to create the image. Then copy the image to the targeted computer, run Todo PCTrans on the new system, choose "Data Restore ".
Learn from the video tutorial of transferring files, software to Windows 11/10 by using EaseUS Todo PCTrans
About the Author
Updated by Tracy King 
Tracy joined in EaseUS in 2013 and has been working with EaseUS content team for over 7 years. Being enthusiastic in computing and technology, she writes tech how-to articles and share technical solutions about Windows & Mac data recovery, file/system backup and recovery, partition management and iOS/Android data recovery.
Jerry has joined EaseUS as an SEO editor for a few years. As a technical writer at EaseUS, Jerry writes articles about solutions to common computer problems and data security, including file backup, system backup, etc.
Reviews and Awards
EaseUS Todo PCTrans Free is a useful and and reliable software solution created to serve in computer migration operations, be it from one machine to another or from an earlier version of your OS to a newer one.

 Read More

EaseUS Todo PCTrans is by the folks at EaseUS who make incredible tools that let you manage your backups and recover your dead hard disks. While it is not an official tool, EaseUS has a reputation for being very good with their software and code.

Read More

It offers the ability to move your entire user account from your old computer, meaning everything is quickly migrated. You still get to keep your Windows installation (and the relevant drivers for your new PC), but you also get all your apps, settings, preferences, images, documents and other important data.

 Read More